Here's our mailbox dimensions resource guide including the standard large, medium and small USPS mailbox sizes, brick mailboxes, and installation measurements.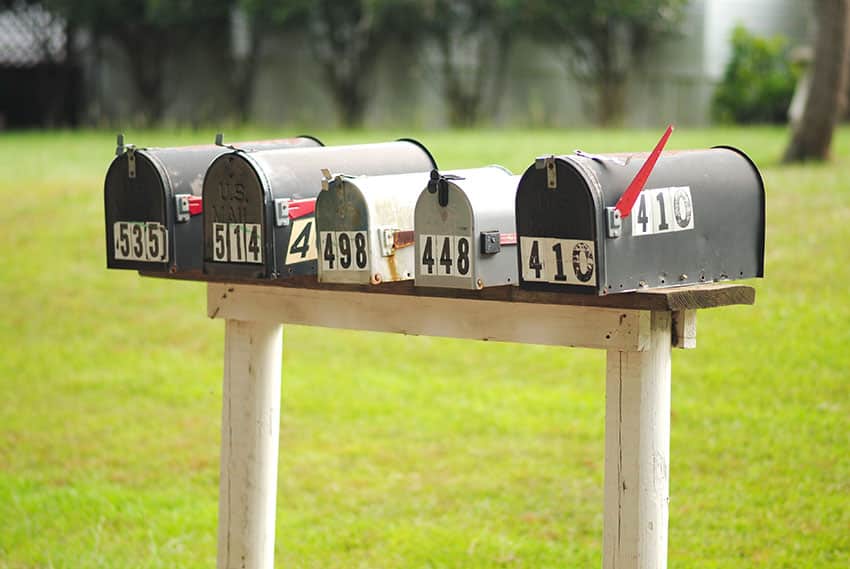 Mailboxes can come in a wide range of shapes and sizes. This is why it can be challenging to know exactly what's right for you. Whether you need a larger mail box for your orders and packages for your business, you need to replace your old mailbox, or you want to install your first one, its important to get the right size to fit your needs.
Standard Mailbox Dimensions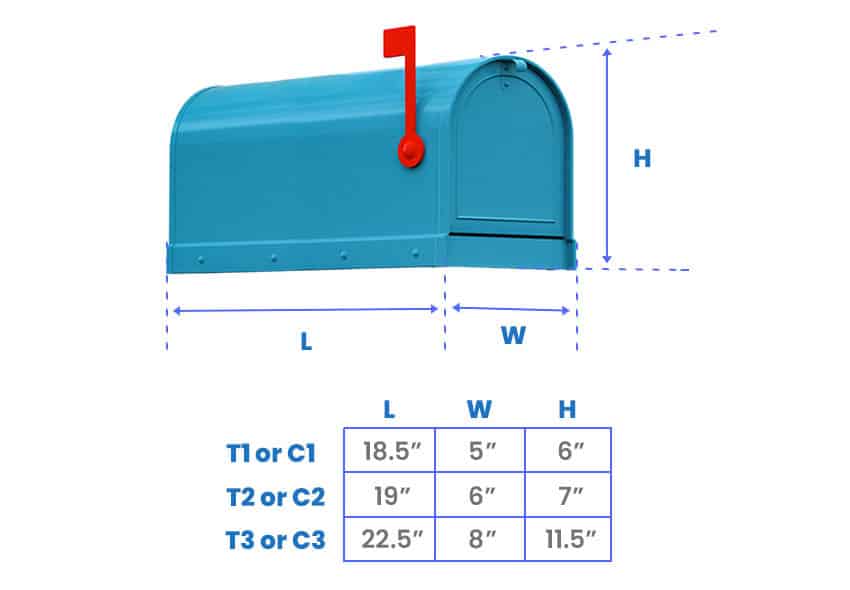 Every mailbox in the United States must be approved by the standards of the United States Postal Service (USPS). T1 or C1 size (small mailbox) is about 5 inches wide and 6 inches tall and 18 ½ inches long.
Then, there is T2 or C2 that is about 6 inches wide by 7 inches tall and 19 inches long (medium). Finally is the T3 or C3 size (large) that is about 8 inches wide by 11 ½ inches tall and 22 ½ inches long. (T means traditional and C stands for contemporary.)
Large Mailbox Dimensions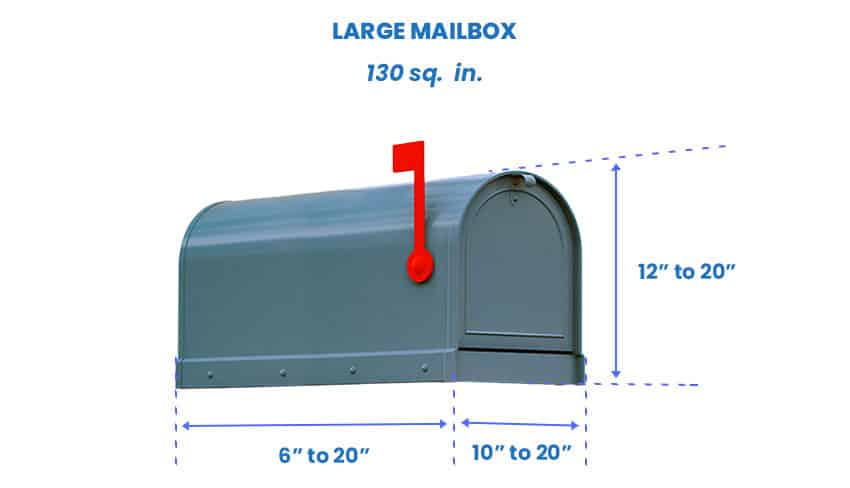 Residential property owners can still use a large mailbox and even commercial properties can benefit from its extra space. Magazines and newspapers don't need to be rolled to fit inside large mailboxes because they have extra room for them inside.
The standard large mailbox is designed to hold a parcel that measures 8 by 11 ½ by 22 ½ inches. One side of it is lying flat on the box floor. The measurement of the inside width at the bottom is 10 1/2 inches and 130 square inches for the minimum door or slot opening.
Typically, large mailboxes measure 12 to 20 inches tall, 10 to 20 inches wide, and 6 to 20 inches deep. They can be installed at a driveway's end with a post.
Medium Mailbox Dimensions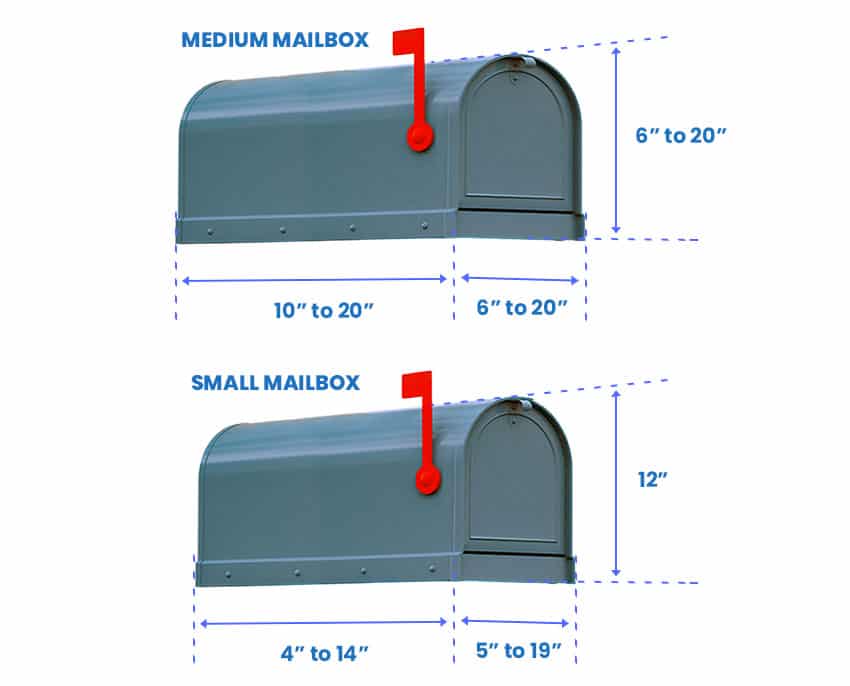 Medium sized mailboxes are slightly larger than a small sized mailbox. People who are subscribed to different magazines and newspapers and love online shopping opt for a medium mailbox, which is installed either on a post or mounted on a wall.
Typical medium mailbox dimensions are 6 to 20 inches tall, 6 to 20 inches wide, and 10 to 20 inches deep.
Average medium mailbox sizes can accommodate small boxes, envelopes, rolled magazines, rolled newspapers, bundled mails, padded documents, and padded envelopes. They can hold things that a small mailbox can accommodate even small packages.
Small Mailbox Dimensions
Homeowners who don't receive a lot of mail or packages opt for a small mailbox. They don't have a lot of newspaper or magazine subscriptions and rarely receive mail as well.
A small mailbox is just perfect for them because it can accommodate two rolled magazines and newspapers and up to 15 standard letters.
Like other types of mailboxes, it can be installed on a post or on the wall. Average dimensions of small mailboxes are approximately 12 inches tall, 5 to 19 inches wide, and 4 to 14 inches deep.
Brick Mailbox Dimensions
A brick mailbox's primary design involves a concrete block core and a decorative brick veneer and has a side opening that faces the street. This opening is large enough to accommodate a standard mailbox.
A brick mailbox can provide a durable and strong structure to your property. One can also add curb appeal and requires less maintenance.
For their dimensions, masonry mailbox structures shall not be more than 24 by 24 inches or two feet and no more than 5 feet tall.
Its front edge shouldn't be set closer than 15 inches from the curb's rear edge or within 2 feet of the Buffalo box. Its front shouldn't be closer than 6 inches nor farther than 15 inches from the curb's rear edge.
Mailbox Flag Dimensions
A flag, which is also called the carrier signal flag, on the side of the mailbox alerts couriers that there is outgoing mail in the mailbox. A universal outgoing mailbox flag typically measures about 8.25 inches tall and 1.25 inches wide.
For the color, a carrier signal flag can be any color preferably fluorescent orange, except shades of white, blue, yellow, and green. This color should also have a contrast with your mailbox's predominant color.
However, carrier signal flags shouldn't be mounted anywhere you want. The USPS requires that they're on the right side when looking at it from the front.
Mailbox Mounting Board Dimensions

See this mailbox mounting plate at Amazon [sponsored link]
Depending on the manufacturer, a steel mailbox mounting board, for instance, can have dimensions of 0.8-inch high by 6.1 inches wide by 11.8 inches deep. It can be installed on a four by four hollow post or wood.
Meanwhile, another example is a plastic mailbox mounting board that measures 1.1 inches high by 6 inches wide x 12.5 inches deep. It can fit different sizes of post mount mailboxes and mounts to a four by four inches plastic or wooden post.
How Tall Is A Mailbox Post?
Let's take a four by four mailbox for example. The bottom of the mailbox must be between 41 and 45 inches above the highway shoulder or road surface, according to USPS standards.
The total height is approximately 45 inches being 42 inches from the ground and a few inches added by the curb.
How High Does A Mailbox Have To Be?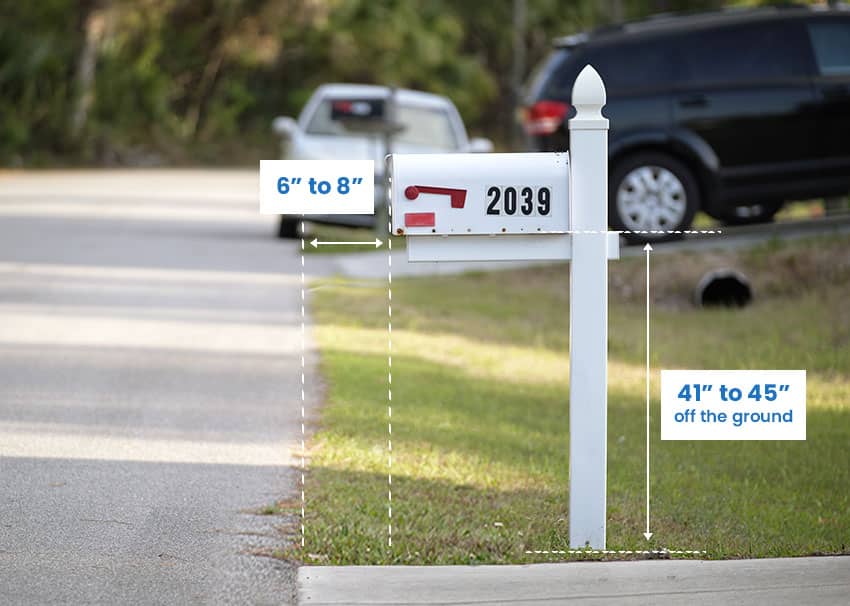 The standard height of a mailbox should be between 41 and 45 inches, per standards of the USPS.
How Far Should A Mailbox Be From The Road?
A mailbox should be installed between 6-8 inches away from the curb, according to the USPS because it can keep couriers from pulling off the roadside if it would be closer than six inches to the curb.
On the other hand, installing one more than 8 inches away from the curb makes it hard for a courier to reach it.
Apartment Mailbox Dimensions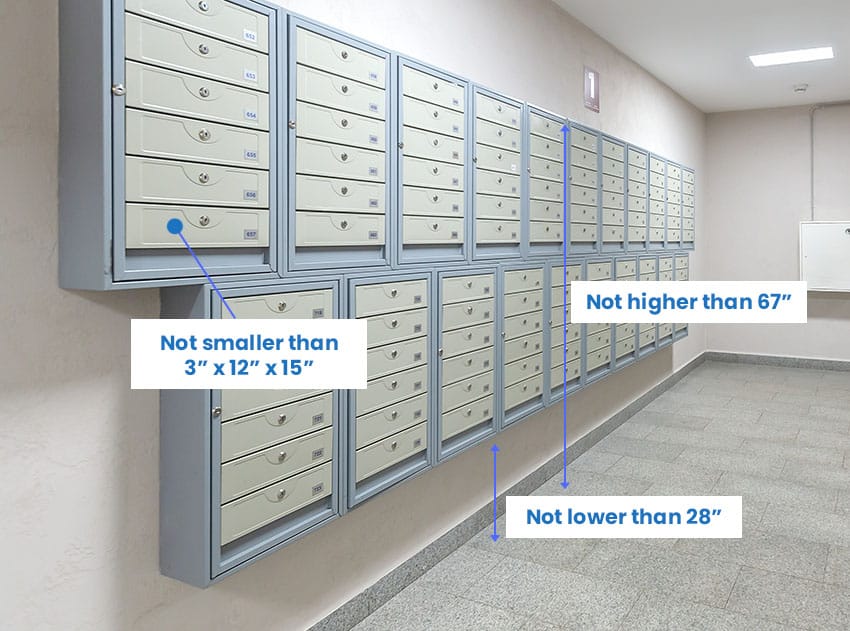 The USPS also set rules and standards on how high landlords can install a mailbox. The mailboxes' bottom row should not be lower than 28 inches from the floor, with the parcel lockers the only exception. They can be installed at least 15 inches from the ground.
On the other hand, the top row of apartment mailboxes shouldn't be more than 67 inches high to allow the average height tenants to reach them.
For the mail compartment size, a standard apartment mailbox shouldn't be smaller than 3 inches (H) by 12 inches (W) by 15 inches (L). The USPS regulations accept anything larger than these dimensions.
USPS Mailbox Dimensions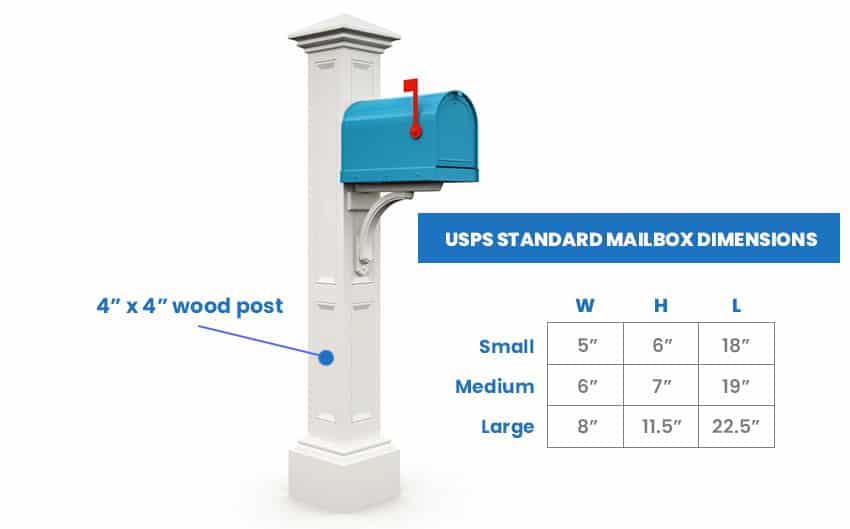 Curbside residential mailboxes should be six to 8 inches away from the curb and have a slot or door that is 41 to 45 inches from the ground. Posts must not be larger than 4 by 4 inches and can be made of aluminum or steel at most 2 inches in diameter.
For the standard dimensions, a small mailbox should be 5 x 6 inches (WH) and 18 inches (L). Meanwhile, a medium box should be about 6 x 7 inches (WH) and 19 inches (L). On the other hand, a large box should be about 8 x 11 ½ inches (WH) and 22 ½ inches (L).
T4 Mailbox Dimensions
If you receive large packages or run a business sending a lot of them, an extra large or T4 mailbox can be for you. It can hold a lot of daily mail if you choose it for your mail deliveries.
Homeowners who want to store their incoming inventory may also opt for a T4 mailbox, which can be positioned to the side of the porch or installed at the end of the driveway on a post.
Their average dimensions are from 20 to 40 inches (height), 15 to 40 inches (width), and 10-17 inches (depth).
These are the important dimensions to remember for homeowners looking to install or use an extra large mailbox to suit their equally large needs.
For more related content visit our gallery of the types of fences on this page.