Here we share our types of glass doors guide including the different door construction styles, glass materials, and their respective pros for homeowners.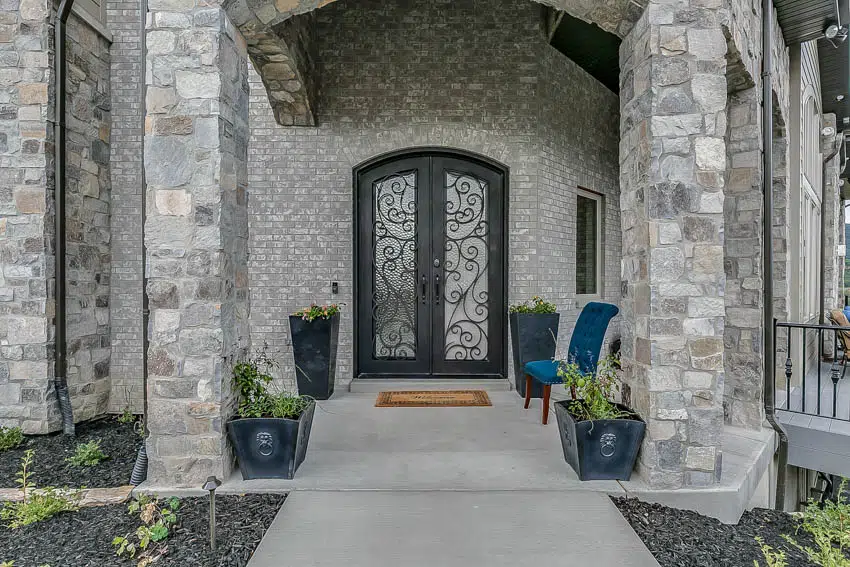 Glass doors have always been fascinating. As a matter of fact, it would be even fair to consider it as one of the biggest innovations of the interior designing world.
They're fascinating because of their sense of duality. Glass is known as one of the best materials for protection and yet, at the same time, it is brittle enough to shatter into pieces if hit in the right spots.
Still, glass is one of the most sophisticated yet at the same time functional types of door you could get for your home, be it indoors or outdoors.
They're ubiquitous in the home. You can find them as shower doors, cabinet doors, shelves, as parts of appliances, and so on!
We know there are so many uses for glass but in this article, we'll focus more on how aesthetic and at the same time essential they can be when used as doors. Read on below for the ultimate guide on all things related to glass doors.
Glass Door Styles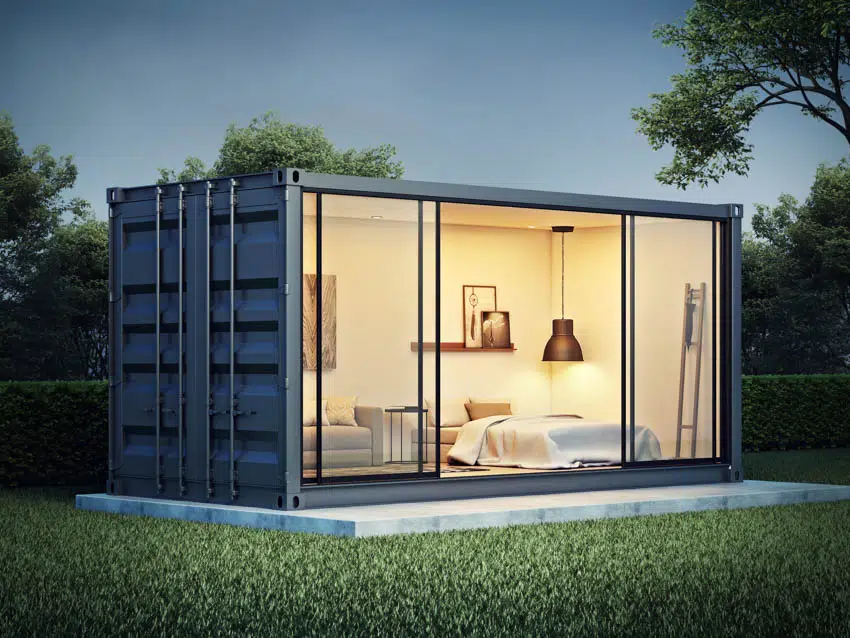 We know what you're thinking. There are so many glass door styles out there and they all sound so technical that it can be overwhelming but they really aren't. The rundown on glass door styles is pretty simple and we'll give you the most important details you need to know.
Hinged Single Glass Doors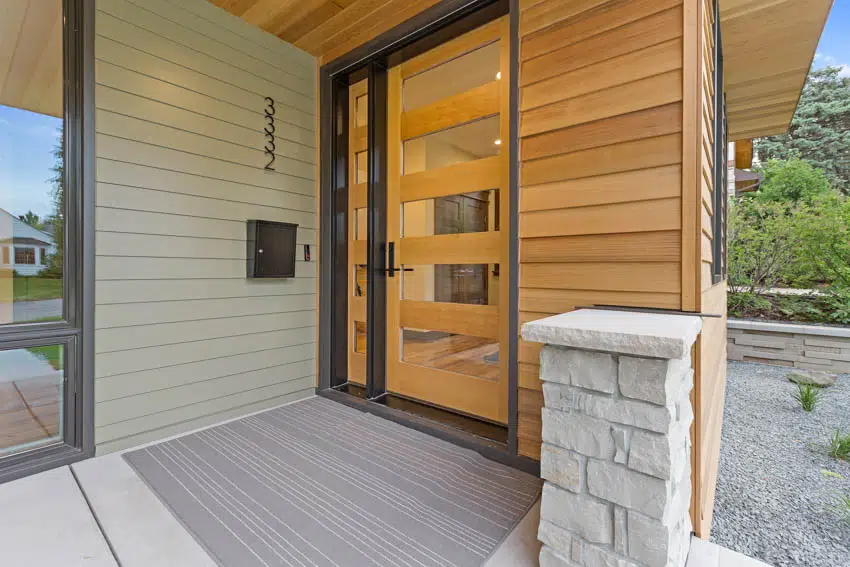 The hinged single glass doors are the most traditional of all of the glass door styles out there. They function in pretty much the same way that a regular door does.
A hinge is attached on one side of the door glass, and that same hinge is attached to a side of the structure it's being installed to. The door can open inwards or outwards or in some cases, even both.
Hinged single glass doors can either be frameless or framed. If you want something that looks more like it floated out of thin air, then you might want to look into the frameless glass setup.
Their structural integrity lies in the ability of the hinges and the frame structure to support the weight of the glass door especially while it's open.
They're great for saving space and giving the optical illusion of having a larger space but one thing that you need to keep in mind is that you would need enough space for the door to swing in or out of.
Even if you don't really have that much space, just make sure that the hinged motion can go back and forth unimpeded so as not to damage the glass in the long run.
Sliding Doors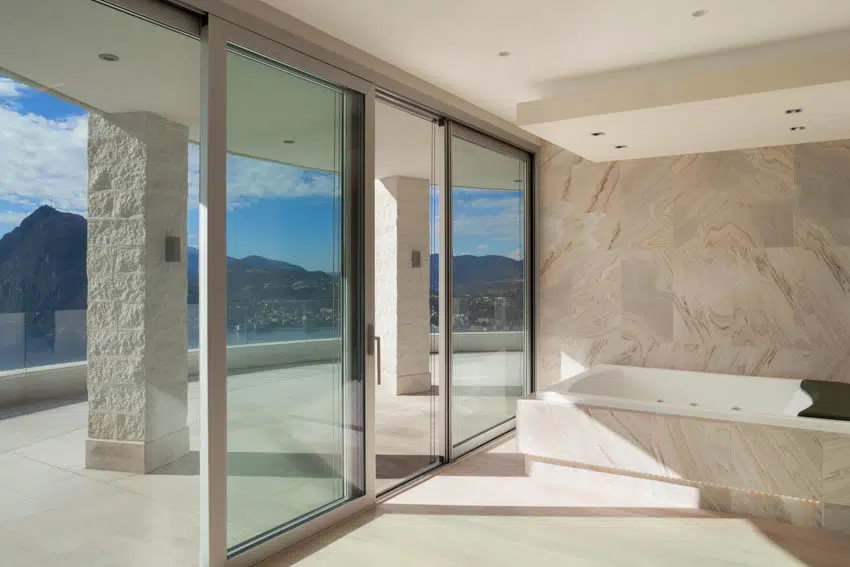 As opposed to the single-hinged glass doors, sliding doors, on the other hand, open sideways. They don't open outwards or inwards. What's great about these doors is that they can also slide over another panel, allowing bigger openings.
This can be quite advantageous when installed in areas of the house that has great views and you want to maximize it. Sliding doors are the perfect transitionary elements between your indoor and your outdoor spaces and the best part in all of it is that they do it in style.
Sliding doors are easier to structurally support because they only need to be properly installed on stable bottom and top tracks. These will allow them to slide to and fro sideways.
Another cool feature that you might want to take advantage of if you're planning to get sliding doors is that they can be fully recessed into your walls. Meaning, they can completely disappear from sight if you want them to. It's great for maximizing space in the house.
Sliding doors are space-saving and can be quite impressive. Imagine having completely open and unimpeded openings from one side of the house to the other.
The experience is unlike any other and they don't require space in front or at the back because they don't swing inwards or outwards. Read more about our guide on the different types of sliding doors here.
French Doors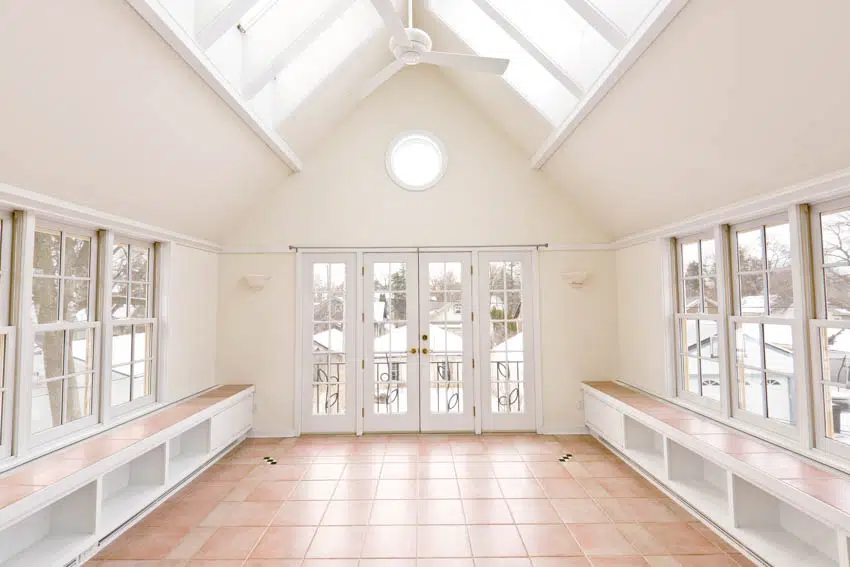 In essence, French doors are a couple of single-hinged doors that are facing away from each other. The traditional setup for glass French doors is that they usually have multiple square frames to support the weight of the glass and they almost always swing inwards.
However, today, they come in so many styles and varieties that they can swing inwards or outwards, depending on what your preferences are during the time of purchase.
Like we mentioned, French doors are like 2 singled hinged doors so they definitely cover more surface area compared to your typical hinged door. They're charming and traditional and they'll remind you of old movies, bringing in that old world charm and sophistication.
They also serve multiple functions. In most cases, the addition of French doors can upgrade the overall real estate value of the home; especially the types that have either minimalist or colonial or stately designs in the frame structure.
Either way, they're great investments to have as additions in the home. Read more about our guide on French door sizes here.
Bi-Fold Doors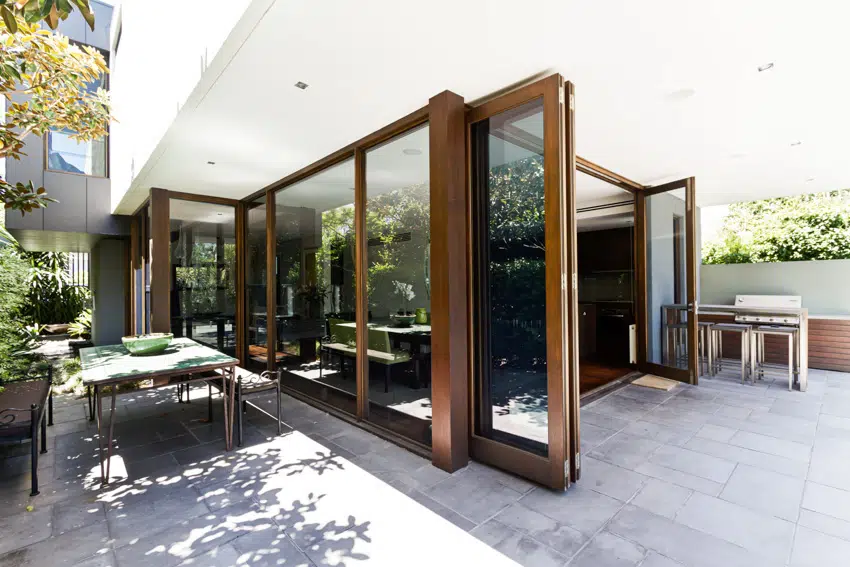 Bi-fold doors are basically the glass door versions of opera curtains. They can also come framed or frameless so in terms of aesthetics, they can be as flexible as you want them to be.
They're made up of two to three panels or even more, depending on how big your space opening is. These panels are hinged and they can "fold" along a sill. These glass panels can be pushed to one or both sides of the door opening.
These types of doors give the illusion of a much larger space because there aren't any wall obstructions such as posts or bulky frames or anything of the like. They can also open inwards or outwards depending on your preference.
They can also be used indoors or outdoors but given the usual amount of space they can provide as doors for, they're usually used as more of outdoor doors. Bi-fold doors also offer some functional flexibility as you don't have to open all the panels to get the doors to work.
If you only need a smaller opening, you can opt for just one of the panels to be opened and leave the rest as is. Read more about our guide on folding patio doors here.
Stacking Glass Doors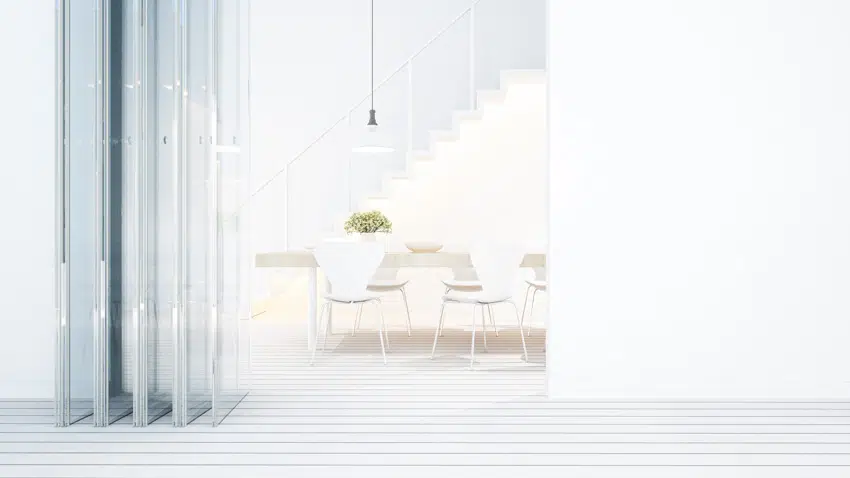 Stacking glass doors are very similar to sliding glass doors. The only difference is that, unlike sliding doors, they're made up of multiple panels, enabling them to cover up a much larger surface area for the door opening.
If you're a bit short on space near the opening that you're planning to get the door installed on, stacking glass doors might be your salvation.
Their sliding mechanism doesn't take up as much space as the other door options. More than that, you can fully control the amount of space and air you're planning to let in because you can move them in panels.
Unlike the sliding doors wherein you would have to move entire panels at times, stacking glass doors come at a bit of an advantage since they come in smaller glass panels and you can decide to only have one or some of the panels open, and not all in one go.
Pivot Doors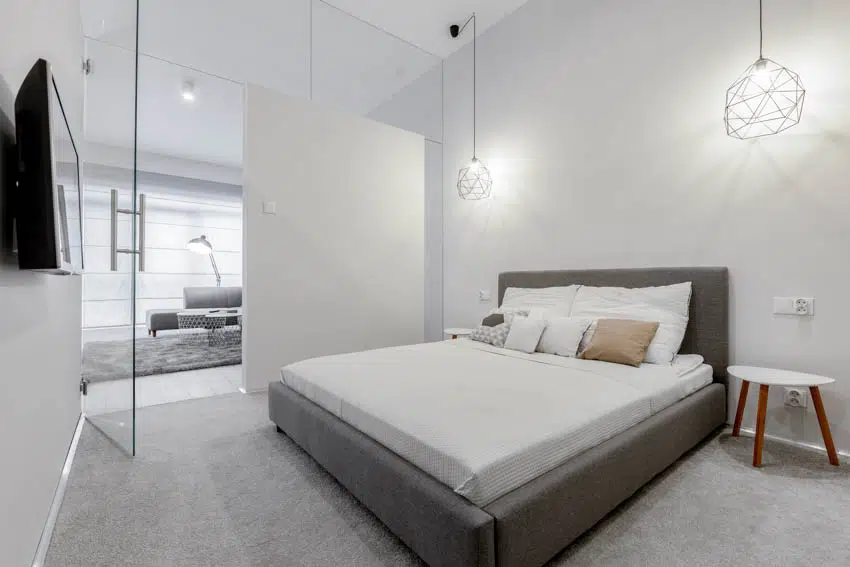 Pivot glass doors are swinging doors. They rotate on a single vertical axis called a spindle.
They're quite different from the other hinged doors in the market because most of these doors have their hinges attached to the side of the door and then on to the frame or structure that's supposed to support them.
A pivot door, on the other hand, spins from its axis at the top centermost part of the frame. It is this central point or axis that takes care of the rotation motion of the pivot door.
Pivot doors can be very convenient and easy to have around. They're one of the only doors in the market these days that don't have mandatory professional contractor installation needs. If you're a bit handy with construction, pivot doors are something that you can definitely attempt to do yourself.
Pivot doors also require less space as they don't necessarily turn inwards or outwards, but instead, they "pivot" in place. This means that they don't need as much clearance space compared to the other doors.
And overall, they look very stunning and expensive. If you have a home with a modern design, pivot glass doors will blend in just fine and will even upgrade the overall look of both your interiors and exteriors.
Types Of Glass Door Options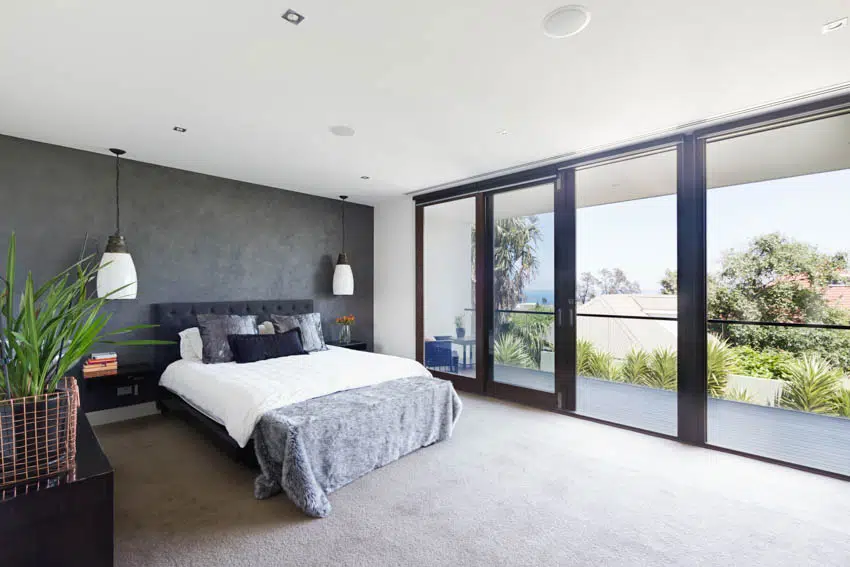 Doors that are made out of glass can welcome and let the light in and can easily open up any space like no other type of door can. There are different designs and grades of doors.
In order for you to figure out what your best door options are, it would be wise to know what the different glass options are out there first.
This way, you can easily choose and customize your glass doors as you see fit. These are the different types of glass to consider:
Clear Glass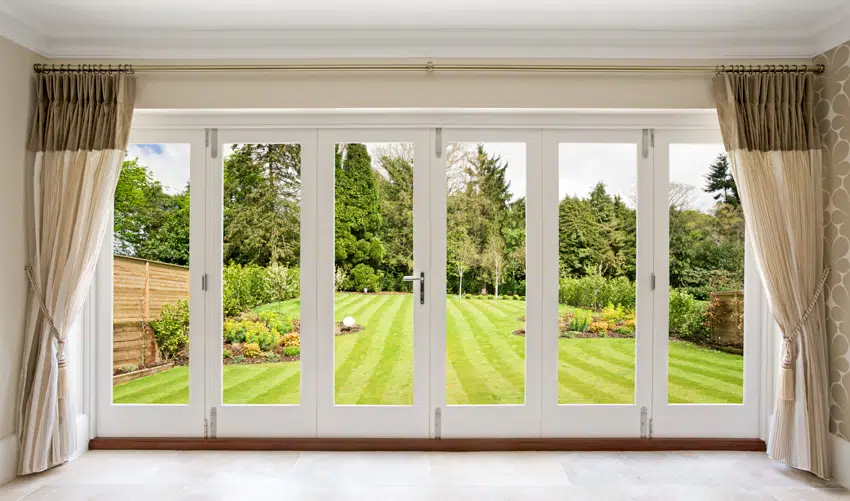 Clear glass started it all for glass doors. Before the rest of the other enhancements have been brought in, clear glass has a pretty good thing going; and it still does.
This material is perfect for drawing natural light into the home. It makes your space appear brighter and airier. It's sleek and stylish and is an ideal match for any design in the home as glass can be design chameleons.
Having clear glass for your front doors will give the illusion that the inside of the home is bigger than it actually is and that's always a welcome advantage.
Textured Glass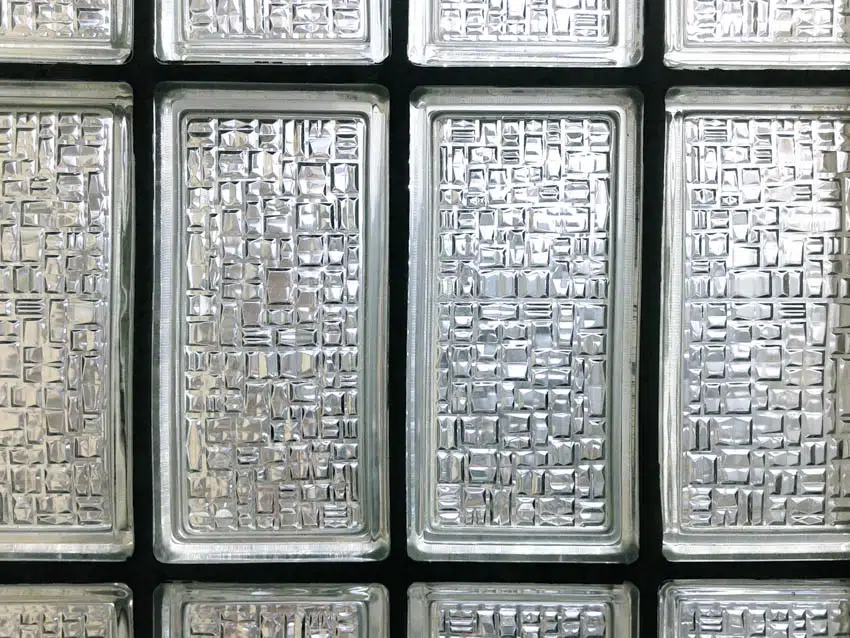 Textured class is interesting because it's created by putting a smooth sheet of clear glass on a textured mold and then heated to extremely high temperatures in some sort of oven or kiln.
This heats and melts the clear sheet of glass, turning it into liquid, which then takes on the shape of the mold that it's placed in.
The end result is what we now regard as textured glass. Textured glass is similar to frosted glass because it distorts your view through the glass pane, giving you added privacy.
They are also great conduits for natural light. You can put this type of glass as a door in spaces where you want to maximize daylight. And lastly, it can make for very stylish interiors. It adds a somewhat rugged appeal that ordinary glass panels just can't bring to the table.
Insulated Glass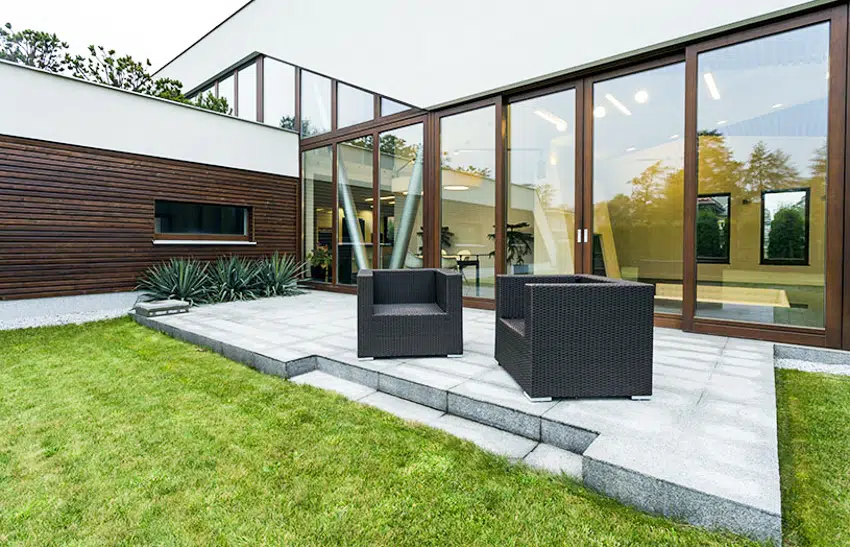 Insulated Glass Units or IGU glass is usually made out of 2 pieces of glass. The air space between the 2 pieces of glass initiates its insulating properties.
This type of glass is highly recommended if you're keen on getting doors that are energy-saving and efficient. But a word of caution, they aren't exactly the best options out there if what you're looking for is protective glass.
They're usually perfect as outdoor doors as they're quite efficient in keeping the cold or the humidity out, depending on what the climate is.
Tinted Glass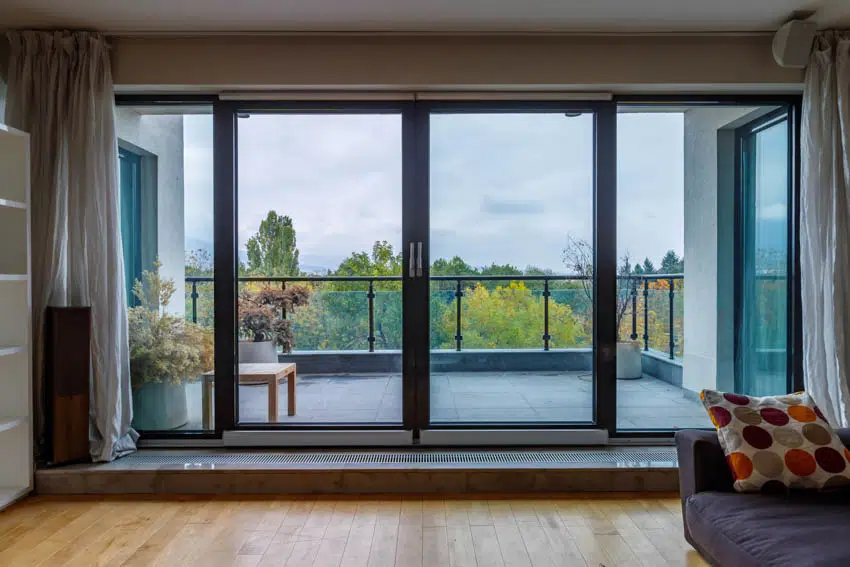 Tinted glass is made by adding a certain amount of metal oxide to its original glass composition. This changes the transmission of light and changes its color without changing the glass' basic properties.
The result is reduced effects of sunlight, protecting the interiors of your home and everything else that's in it. This type of glass is built to absorb heat, which reduces your indoor heating needs and costs. It also reduces your home's exposure to the sun's UV rays by as much as 99%.
It's great at deterring intruders as they can't see inside the home. And most importantly, they're easy to maintain and clean as tinted glass is scratch-free and has extensive durability compared to other types of glass.
Frosted Glass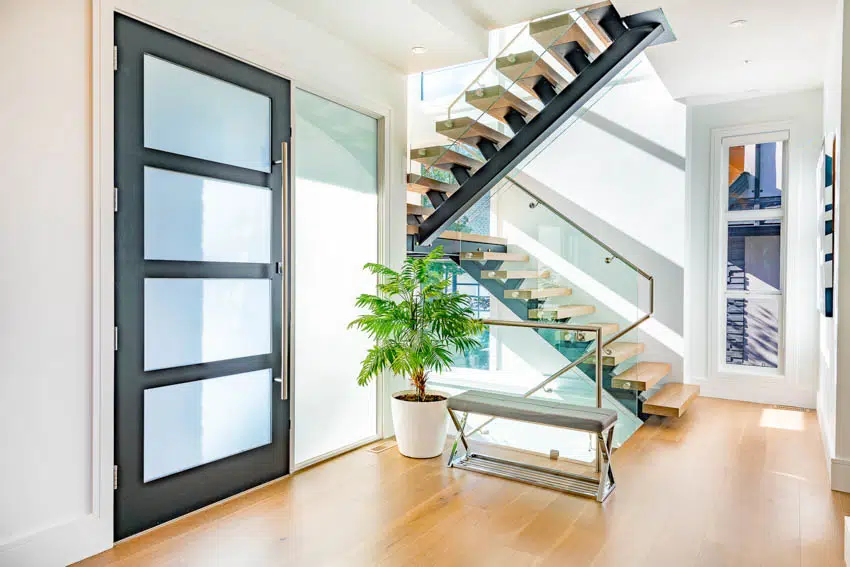 This type of glass is basically clear glass that has been sandblasted or acid etched. This extra etched glass processing creates a somewhat pitted and unclear surface that renders one side of the glass to appear somewhat translucent and as the name suggests, frosted.
Frosted glass scatters the light which passes through it which blurs the images, not making the glass completely see-through. Frosted glass is easy to clean as it doesn't streak like regular glass.
It also promotes privacy as it isn't completely see-through, is energy efficient because it maintains an ideal indoor temperature, helping you conserve on utility bills. Lastly, frosted glass has an extra layer of protection as there's an extra film for added durability.
Stained Glass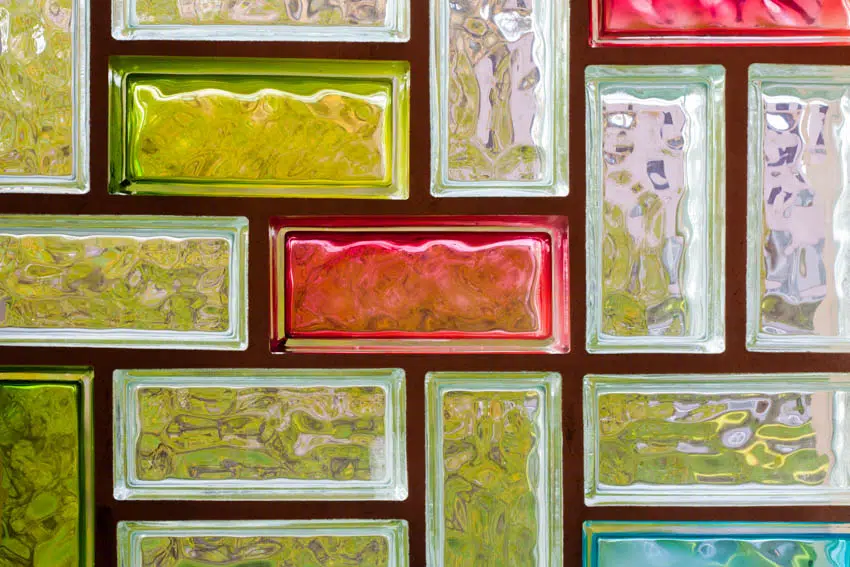 Back in the early days, stained glass doors and windows were reserved for the wealthiest and the most influential people and institutions, such as the Catholic Church. They were impossibly expensive during those times which explains their sense of exclusivity.
Over time though, manufacturing has evolved and it has become easier and slightly more cost-friendly to get this type of glass. Thankfully, it's an availability that you can take advantage of as well.
Stained glass is a visual art all on its own and once added to certain spaces in your home, can make them stylishly attractive. They cast colorful light patterns that can either be intricate patterns and sceneries.
Their combination of colors can cast a whole new light in the room and can evoke emotions that no other clear glass can. It's very difficult to see through the glass so when used as a door, it can provide better privacy as well.
Not only can stained glass doors add value to your home, but they also help you save money as well. Not a lot of people know this but the space between the panes actually provides extra insulation for your home, which has the potential of saving you money on energy costs.
Beveled Glass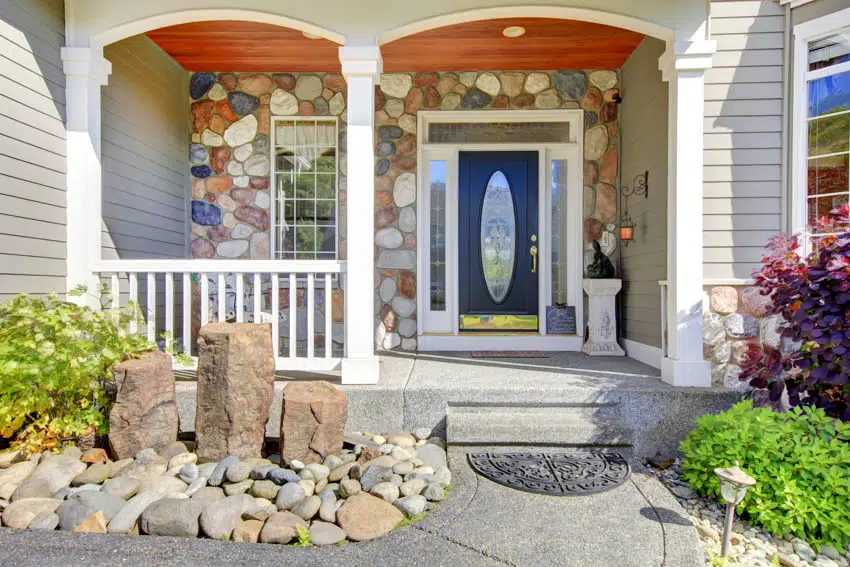 If you want to add an element of old-world elegance to your home, then beveled glass can be a great option to consider.
What a bevel does is that it creates a prism which in terms refracts light and creates a beautiful explosion of colors. This is created when artisans grind down the polished areas of glass at certain angles.
The more decorative a beveled glass is, the more expensive it turns out to be. Beveled glass is much heavier than regular glass in order for it to accommodate the bevel being ground on it.
If properly installed by a skilled contractor and maintained, it has been said that a beveled glass door could last around 75 to 100 years.
Double/Triple Pane Glass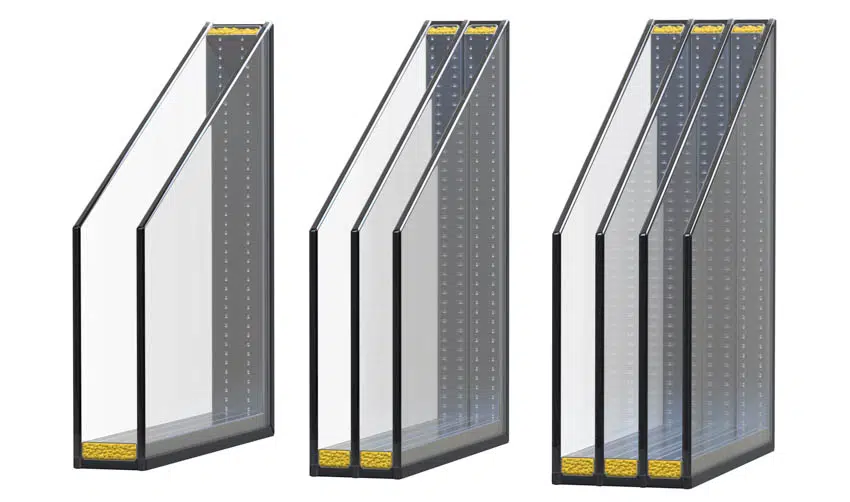 For starters, what exactly is a triple pane glass? Let's start off with what a double pane glass is first.
It's basically two pieces or sheets of glass that are filled with some type of gas, oftentimes krypton or argon. This contributes to the door's energy efficiency once installed.
A triple-pane glass door is basically comprised of double those sheets, making it even more energy efficient. This is the biggest feature of this type of glass. It can keep the heat in when the days are cold and it can keep the heat out during those scorching summer days.
This translates to huge savings on your cooling and heating costs. And because it is quite resistant to moisture transfer, sweaty glass door panes have also become a thing of the past.
Overall, it increases your home's safety because it's a lot harder to break through because it has more layers of glass compared to the single-sheet ones. It can also be used effectively for commercial business projects to improve noise quality and security.

This means that your door will be able to withstand issues that might put it to the test such as break-ins, earthquakes, or even rocks and other hard object projectiles thrown at it.
Safety Glass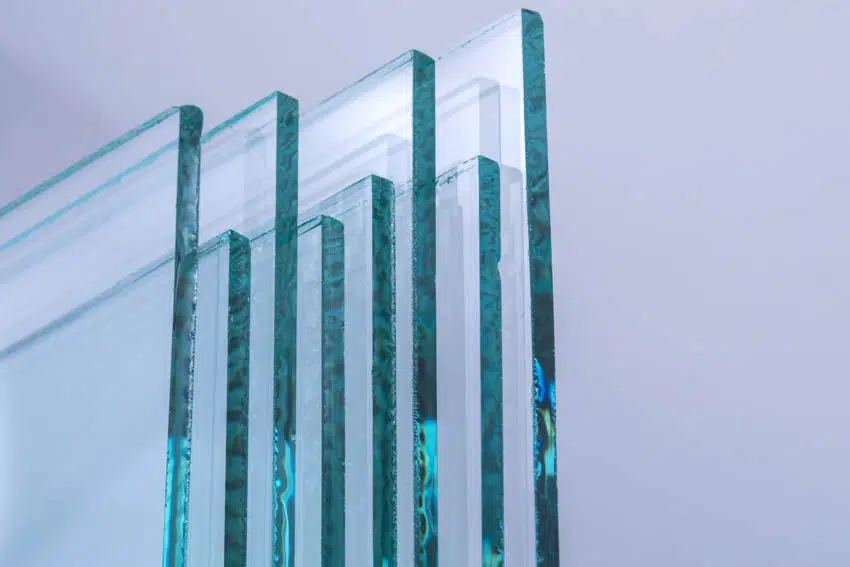 Safety glass is basically processed or manufactured glass that has been compressed and tempered with heat and cold during the time that it was produced. This gives the glass its durability and strength, making it shatter-proof.
They make for perfect materials to be made into doors. On top of all of that, safety glass is known to have twice the soundproofing ability of regular glass.
They can provide noise reduction levels of up to 60 decibels. They are also known to absorb up to 65% of UV rays, making them perfect as exterior door materials. They still let the light in, just less of the harmful UV rays from the sun. Source: Benefits of toughened glass F, M &G.

Mirrored Glass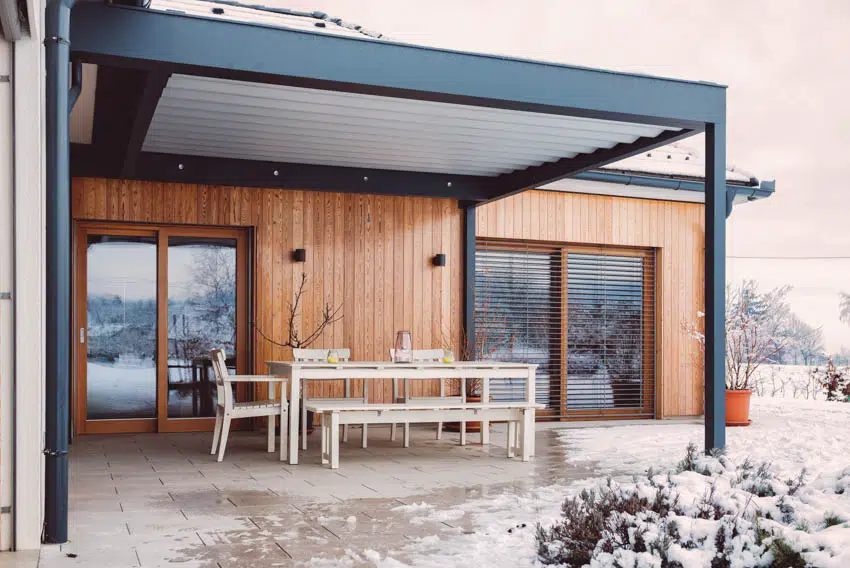 The science behind mirrored glass is interesting because it is brought about by a process called silvering. Multiple layers of silver or aluminum are applied to the back of the glass.
Modern innovation has allowed the process of getting the glass smoothened and flattened first before the metal coating is applied in uniform thickness on the inner side of the glass. Using mirror glass for your doors could open up some spaces to make them appear larger.
They can provide you with that sense of airiness and space even if you might be a bit challenged with your square footage. Your door doesn't just have to be a door at all. It can be a focal point for the space that you're installing it on.
It's ultimately a statement all on its own and if you want show-stopping pieces in areas where people will be walking in, then you should keep mirrored glass doors at the back of your head.
Laminated Glass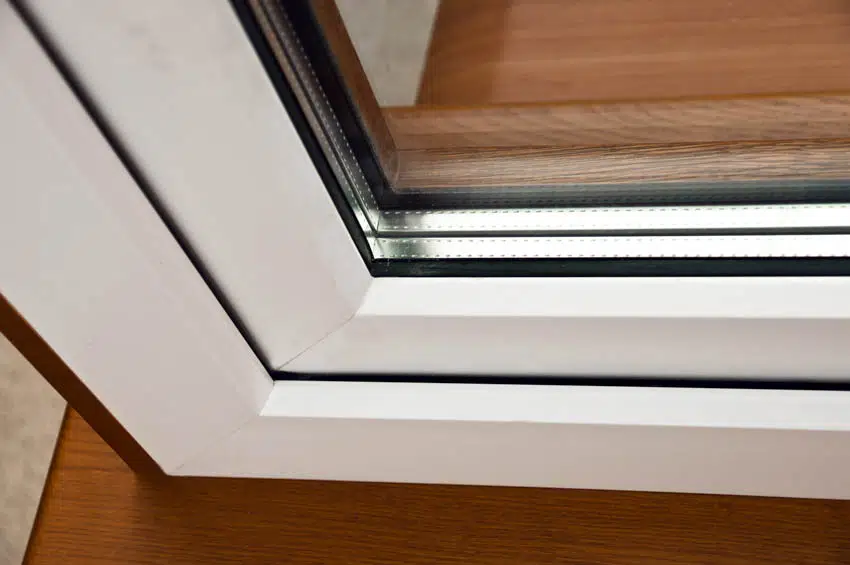 Similar to safety glass, laminated glass is known for its safety features. It's constructed by putting two plies of glass together, forming a permanent bond in their interlayers, creating a strong and uniformed layer, even in the event of the glass sheet getting broken.
They can also come in varying thicknesses and in different coatings, even. They're great to use as glass door materials because they will remain in their frames even in the face of natural disasters such as violent weather or even earthquakes.
This ensures that they get to make the situation safer, potentially saving lives while at it.
Colored Glass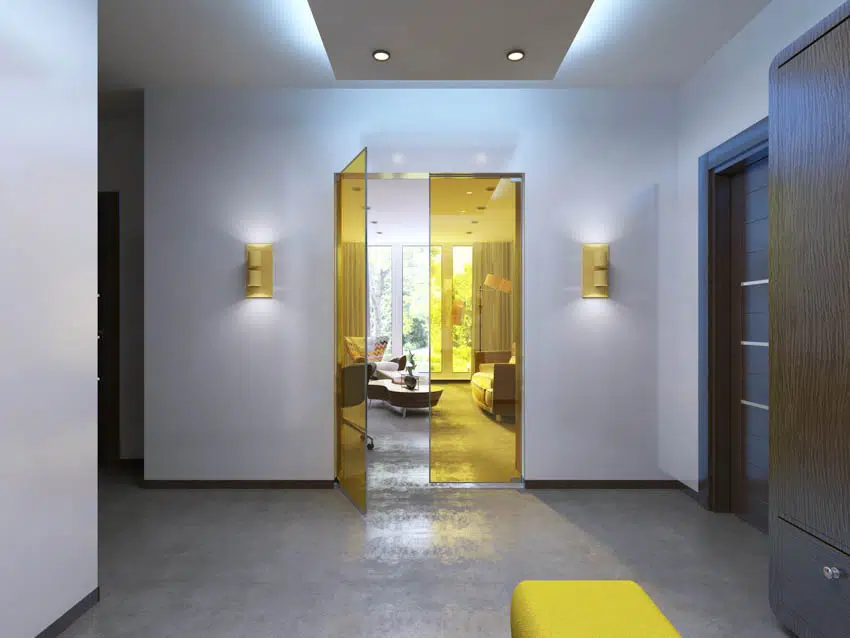 This type of glass is perfect for bringing color and vibrancy right from the very first time someone sets foot in your home.
This glass is known for its durability as well as for its ability to withstand moisture. It's perfect for that pop of color you've always been looking for and it will hold up well against the elements, too.
Did we miss answering any of your questions or is there any glass door types we missed? Let us know below in the comments. See more related content at our article about the types of interior doors on this page.