These are the different front door sizes, including standard, double & custom style dimensions with size chart, frame measurements, and how to measure front doors.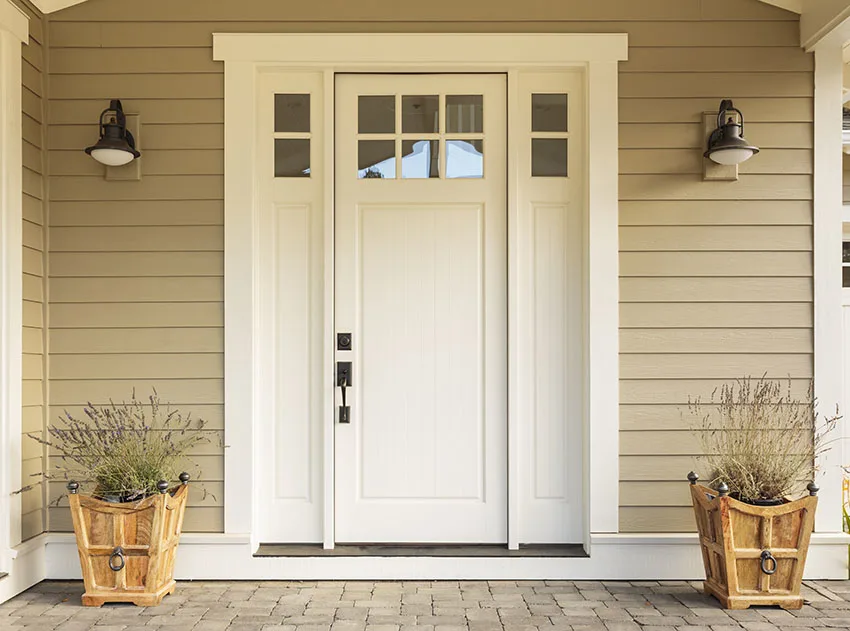 Having a perfected-fitting front door is essential because it is the gateway to the home and plays a role in defining the curb appeal of a home's exterior. A front door must be well sized and strong to withstand many outdoor elements like strong winds, heat, and snow.
Choosing doors that provide the right combination of utility and design is important. Knowing the many sizes available for front doors will ensure that it is the right fit both for the function and exterior look of the house.
Standard Front Door Size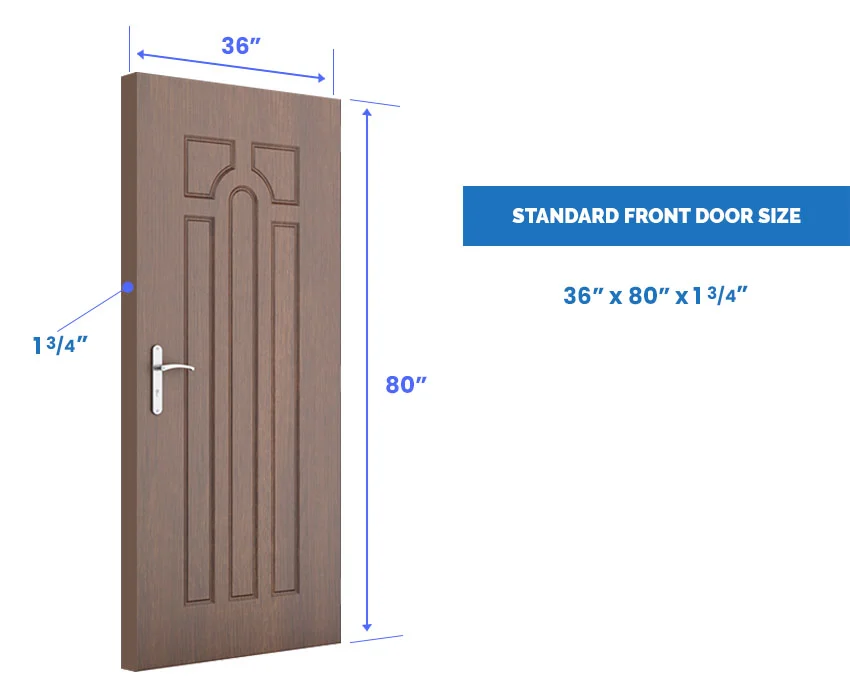 One way to revamp a house's exterior is by replacing the front door with a new one. Front doors are made to last for a long time, but circumstances like warping or weather damage will call for a replacement. If this is the case, all a homeowner needs is to grab a measuring tape to measure what they are looking to replace.
Unlike windows or kitchen cabinets, there are not many size variances available for front doors. This is excellent since finding the perfect one for a home should be easier than deciding on window size.
Most standard front doors in the markets stand with a width of 36 inches or about 91 centimeters with a height of 80 inches or about 203 centimeters.
Beyond this size, homeowners can also find doors with a width of as thin as 30 inches or 76 centimeters to front doors as tall as 96 inches or around 244 centimeters.
For a standard front door's thickness, most will be around 1 3/4 inches or 4.45 centimeters thick. For a foolproof method of figuring out how thick one should be, simply measure the thickness of the existing entry. Visit this page to find the standard interior door sizes.
Custom Door Dimensions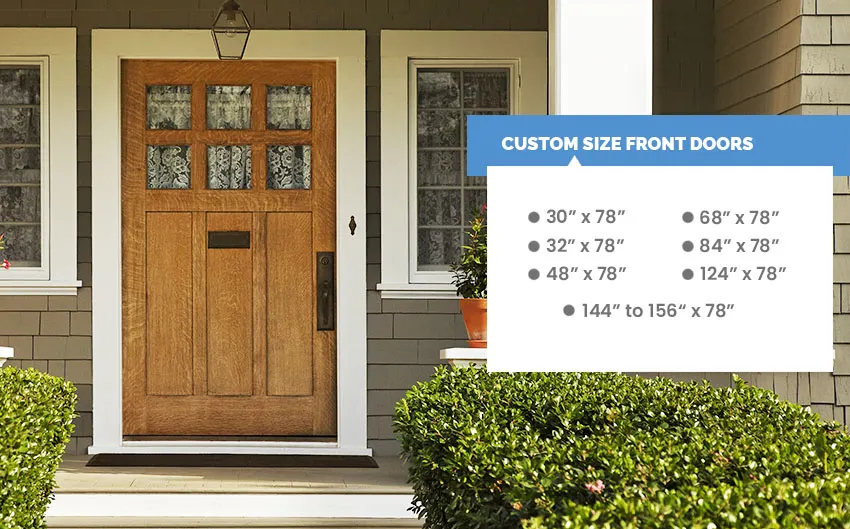 Aside from the standard front door size available widely in many product manufacturing, a homeowner also has the choice of custom-sized options.
This will give them the flexibility to decide on how big or small they want their front doors to fit their home design or aesthetics. Homeowners can purchase specific customized styles and materials if they want them made from solid wood or steel.
Custom front doors can be as small as 30 by 78 inches or around 76 by 198 centimeters to 32 by 78 inches or 81 by 198 centimeters. There are also doors custom-made at 48 by 78 inches or around 122 by 198 centimeters.
Wider front doors are also available from 68 by 78 inches or 173 by 198 centimeters, 84 by 78 inches or 213 by 198 centimeters, 124 by 78 inches or 315 by 198 centimeters, to grander ones at 144 to 156 inches by 78 inches or 366 to 396 by 198 centimeters.
Double Door Dimensions
For bigger and grander houses, the best type to get are large double doors to complement the house size fully. Double doors are the height of luxury, and they are available in many styles, colors, and materials, giving the homeowners a variety of options to choose from.
A double door will consist of two panels of the same width and height. Most double doors available stand with a height of 80 inches or 203 centimeters.
The widths will usually vary from one size to the next, according to the manufacturer, but most will have a minimum width of 60 inches or 153 centimeters. Sixty-inch double doors will have two panels of 30 inches or 76 centimeters each.
Other usual sizes for double doors will include the 64 inches or 163 centimeters wide and the 72 inches or 183 centimeters wide options. The former will have two doors of 32 inches or 81 centimeters, while the latter has 36 inches or around 91 centimeters.
Double front doors will be around 1 3/4 inches or 4.45 centimeters thick like most types.
Dimensions of Doors with Frames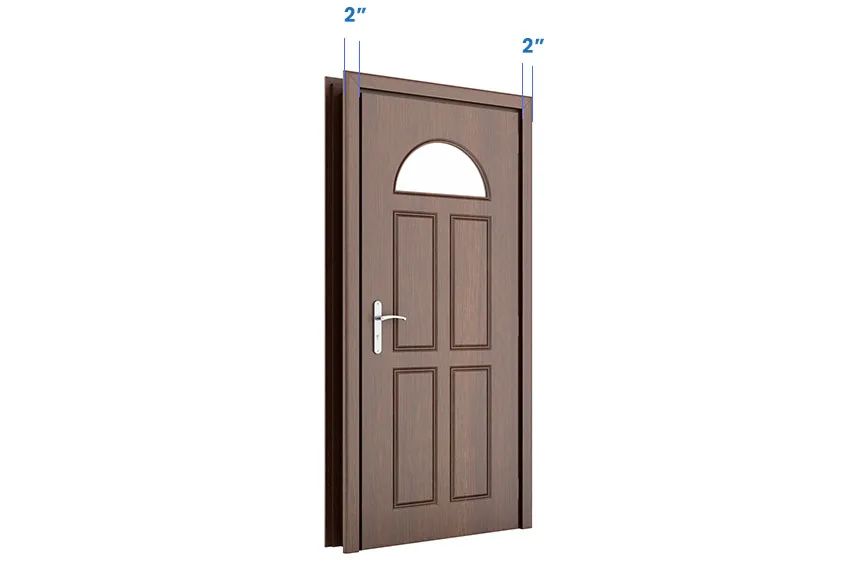 It has already been established that most standard front doors will have a size of 6 feet and 8 inches, but this size often does not include the size of a frame.
A door frame is wider than the opening itself, and depending on whether a homeowner is opting for a standard frame size or a custom one for more oversized spaces, size is usually decided based on the width of the frame itself.
Most front door frames have a width of 2 to 4 inches or around 5 to 10 centimeters. To calculate the total width, including the frame, add the width of the frame to each side of the door's panel.
For instance, if the door's width is 36 inches and the frame's width is 2 inches on each side, you would calculate it as follows: 2 inches (frame width) + 36 inches (door width) + 2 inches (frame width) = 40 inches in total.
Door Sizing Chart
Here are the single and double standard front door sizes:
Single Door Measurement Chart
| | | | |
| --- | --- | --- | --- |
| Height in Inches | Height in Centimeters | Width in Inches | Width in Centimeters |
| 80″ | 203 cm | 30″ | 76 cm |
| 80″ | 203 cm | 32″ | 81 cm |
| 80″ | 203 cm | 36″ | 91 cm |
| 96″ | 244 cm | | |
Double Door Sizing Chart
| | | | |
| --- | --- | --- | --- |
| Height in Inches | Height in Centimeters | Width of each wing in Inches | Height of each wing in Centimeters |
| 60″ | 152 cm | 30″ x 2 = 60″ | 76 cm x 2 = 152 cm |
| 64″ | 163 cm | 32″ x 2 = 64″ | 81 cm x 2 = 162 cm |
| 72″ | 183 cm | 36″ x 2 = 72″ | 91 cm x 2 = 182 cm |
Rough Opening Size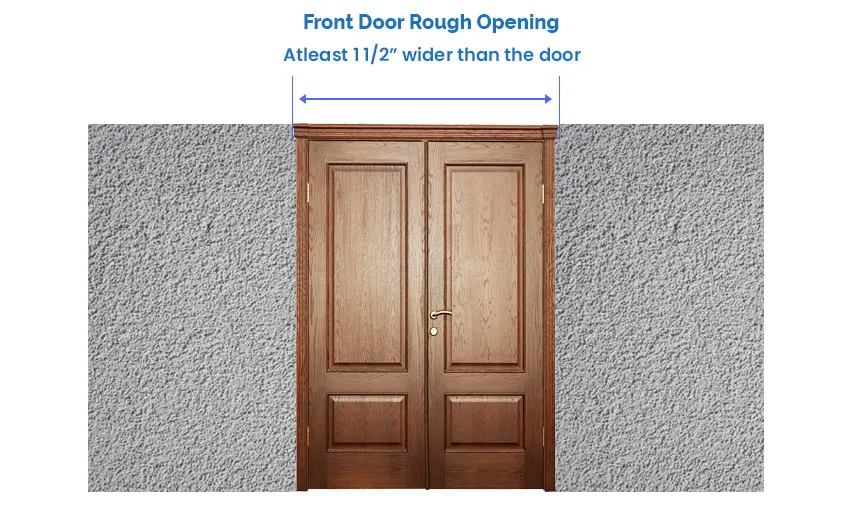 Besides the frame, there is a front door's rough opening size measurement to consider. This is the second largest dimension, which is especially important during new construction.
To be specific, the rough opening refers to the space between two walls to which a front door will be affixed. This size is usually at least an inch and a half or 3.81 centimeters wider than the actual doors size and at least an inch or around 3 centimeters taller than it will be.
If you are looking to attach a single front door with dimensions of 30 by 80 inches or 76 by 203 centimeters, the rough opening of the space allotted for the front door should at least be 31 1/2 by 81 inches or 80 by 206 centimeters.
Door Jamb Size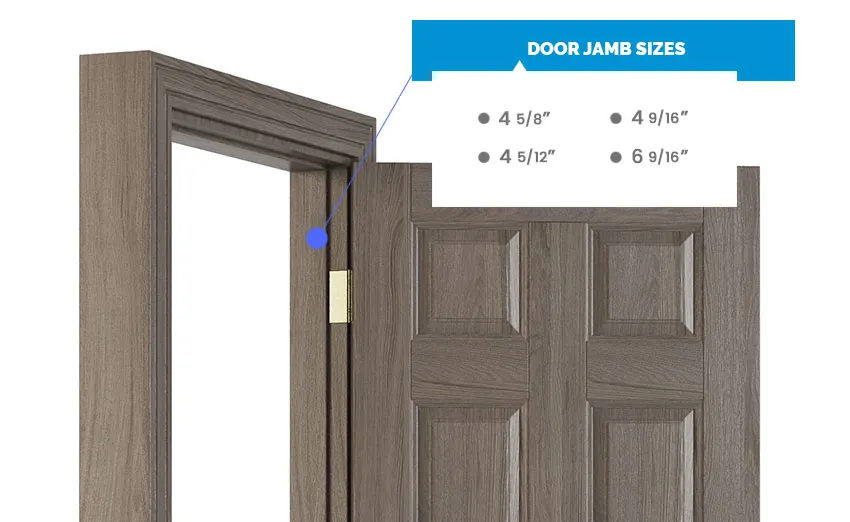 Besides the frame and the rough opening size, there are the jamb size dimensions to consider when looking at and buying a product. Door jambs are where hinges and the strike plate are installed for their operation to be fully functional.
Most door jambs are 4 5/8 inches or around 12 centimeters. This depth also has an allowance of about 1/8 inch for more than thicker walls.
Jambs are available in other sizes, and if the standard is too large or too small, it's best to opt for different sizes available.
There are bigger jambs at 4 9/16 inches or 11.59 centimeters. There are also even larger ones at 5 1/2 inches or 14 centimeters to 6 9/16 inches or about 17 centimeters.
How to Measure Door Size?
To fully get the perfect front door size, every homeowner should take out their tape measures and a pen and paper to prepare for measuring. Measuring a door will pose a lot of benefits. It makes shopping easier and eliminates the hassle of purchasing the wrong one.
The foremost thing to do is to assess its width: the top, the middle, and the bottom from side to side, with the widest determining the door width.
The next is looking at the height on the inside of the vertical side of the frame. This measure will take the longest, dictating the height you need.
The last is measuring the thickness, which is especially important for the strength and quality for replacement doors. All a homeowner needs to do is measure the depth of an existing entry from front to back.
Tip: Having someone help you with measurements can make the process smoother and ensure the details are correct.
Are All Door Handles the Same Size?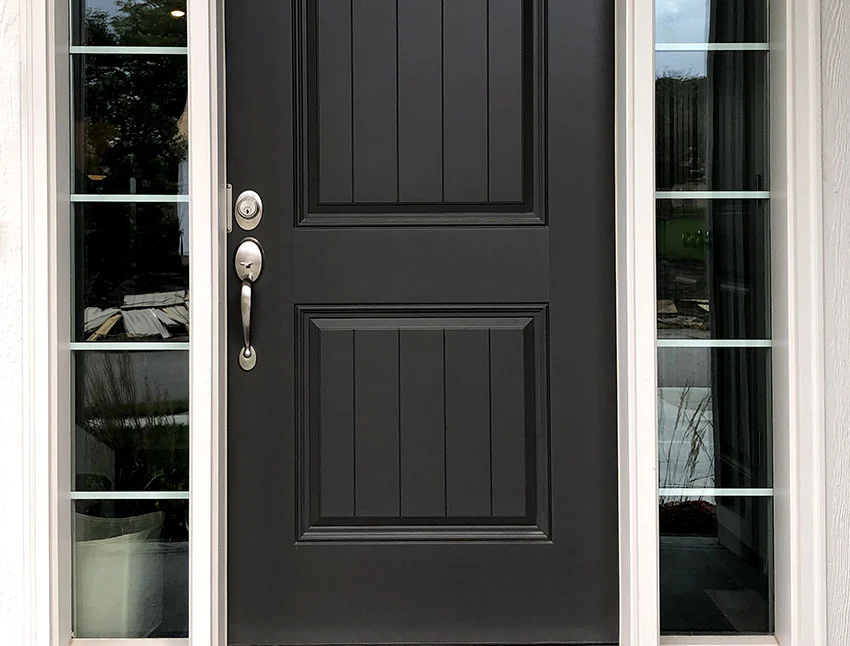 Accessories like door locks and handles will not have the same size since they are available in different configurations and designs, with some being more grand or minimal.
Before buying and the installation of hardware, knowing the thickness is essential, and most front doors have a thickness of 1 3/4 inches or 4.45 centimeters.
Bore hole size is also usually standard, ranging from 1 1/2 to 2 1/8 inches or 3.81 to 5.40 centimeters in diameter.
Did you find all the information about measuring and requirements for your project? Share your experience or any questions you have with our readers below. Visit our guide to French door sizes for more related content.