Find out what a basement in-law suite is including tips on how to transform this space, the different considerations, cost, and different ideas to consider.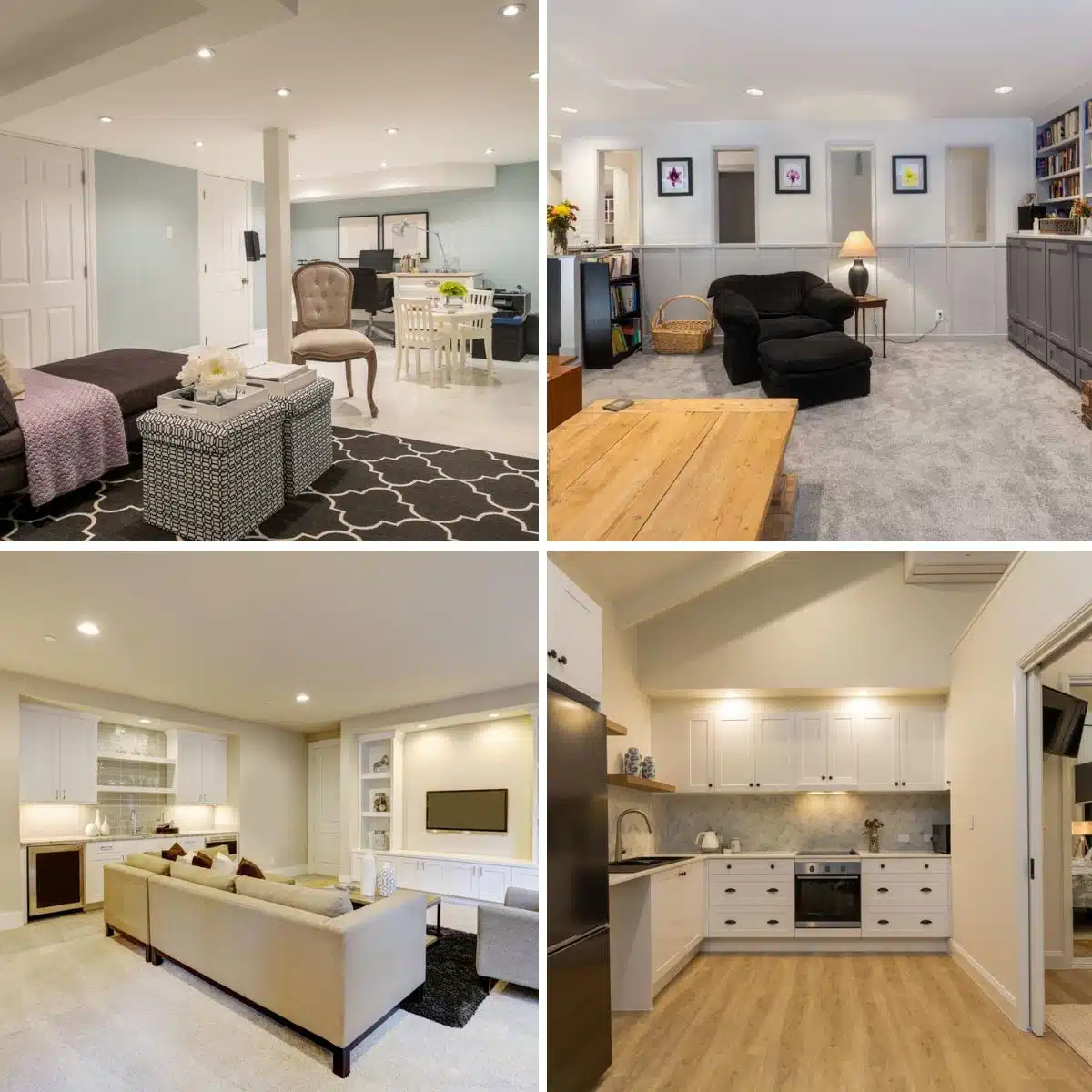 Whether it's providing a permanent space for your parents to stay or a guest suite for visiting relatives, the basement in-law suite is a wise investment as it increases the value of your home.
Transforming an unused space can also be a potential income-generating avenue as the extra space can be rented out during months when relatives are unlikely to be visiting your family.
For long term family care, remodeling in this way can ensure that your senior loved one can be close enough so that you can care for them yourself and provide them with their own living space at the same time.
Turning a Basement into an In-law Apartment Suite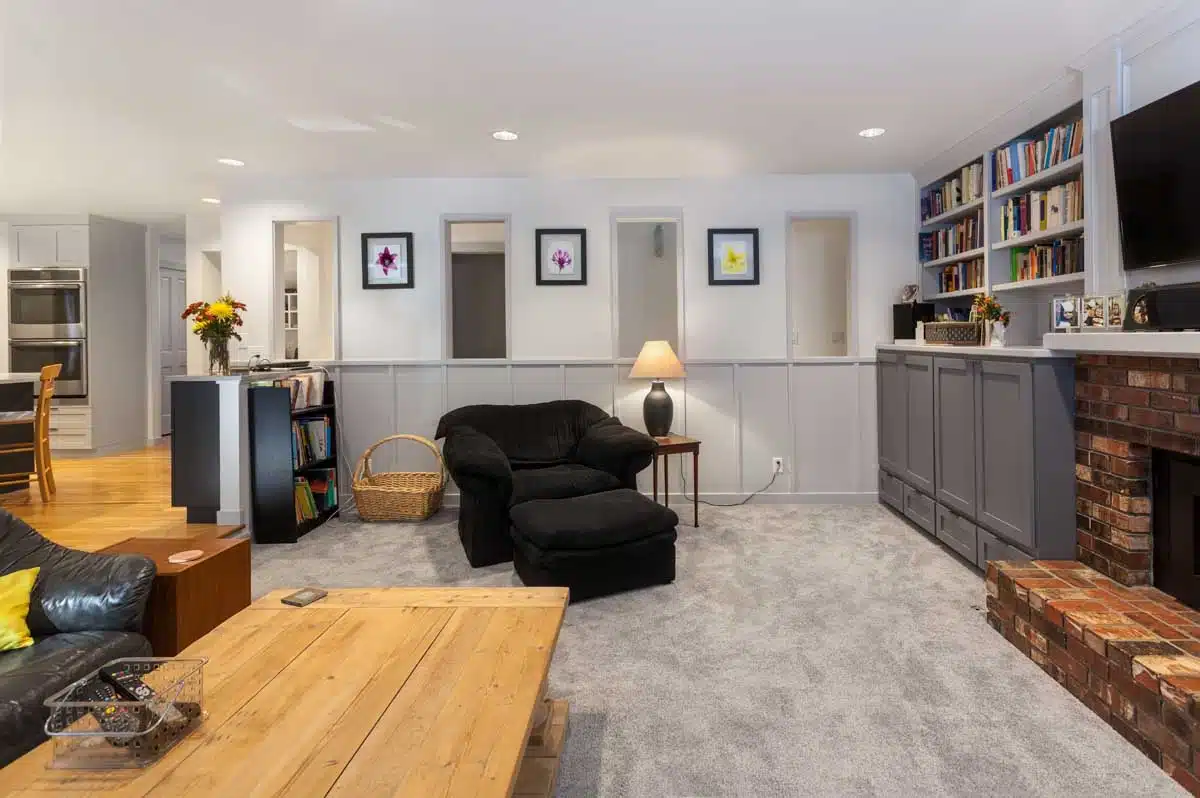 Know these important considerations before starting any apartment suite construction.
Define your goals and needs from the space: As a basement in-suite, you'll need the basic functional areas such as a small kitchen, bedroom, bathroom, egress windows or doors as well as storage areas, etc.
For senior occupants, specific modifications are needed such as having wider doors to have to accommodate wheelchairs or maximizing natural light to maximize vision should be in mind when designing the space. Other details such as adding a grab bar or using rubber flooring should also be considered.
Possible Modifications for Elderly Occupants:
• Railings should run on both sides and along the entire length of the staircase.
• Wide doors for wheelchair or walker accessibility. ADA or the Americans with Disabilities Act specifies a minimum of 32 inches and 48" maximum door width. Standard wheelchairs have a width of 27 inches, and the standard width of an interior door is 28 inches. The 1-inch allowance is a tight space for maneuvering.
• Reachable and safe storage systems.
• Install a bathtub transfer bench or chair.
• Consider lowering your light switches. ADA requires a range of 15 to 48 inches in height for light switch placement.
• Raise convenience outlets from the standard 12 inches to 18 inches from the floor level. This prevents seniors from the need to bend down when using the sockets.
• Consider an electric stove for cooking. Aside from the risk of burning from open flames when using a gas stove, the burners turn red in an electric stove and stay black when cool. This helps seniors easily tell when a stove is on or off.
• The ideal indoor temperature for the elderly ranges from 68 to 74 degrees. Though also consider any health conditions or preferences of the occupant as well. A radiant heater or heated basement flooring is a recommended heating system since it distributes heat evenly and costs less energy and maintenance.
• Ensure two accessible exits to minimize fire hazards, possibly requiring a new door installation.
• Create a separate entrance that facilitates home-sharing and gives in-laws freedom of movement without disturbing the main house.
• Make the design wheelchair-friendly, incorporating accessibility features such as bathroom grab bars, pull-out drawers, shower seats, and adjustable sinks.
• Maximize natural light by adding extra windows or installing a glass sliding door.
• To foster privacy and independence, include a full kitchen and bath in the renovation.
• Make sure the basement has sufficient headroom or incorporate design elements that give an impression of height to avoid a constricted feel.
Note: Homeowners should check the local codes for specific rental requirements.
While accommodating the special needs of aging parents, it is possible to create a flexible space when you plan to rent out the space if the basement in the In-law Suite is only used during visits.
Refer to your in-law or relative who is intended to occupy the bedroom basement: Before beginning the building process, discuss with your relative what requirements or features he or she needs. Define requests from musts and reevaluate if it is feasible for the project.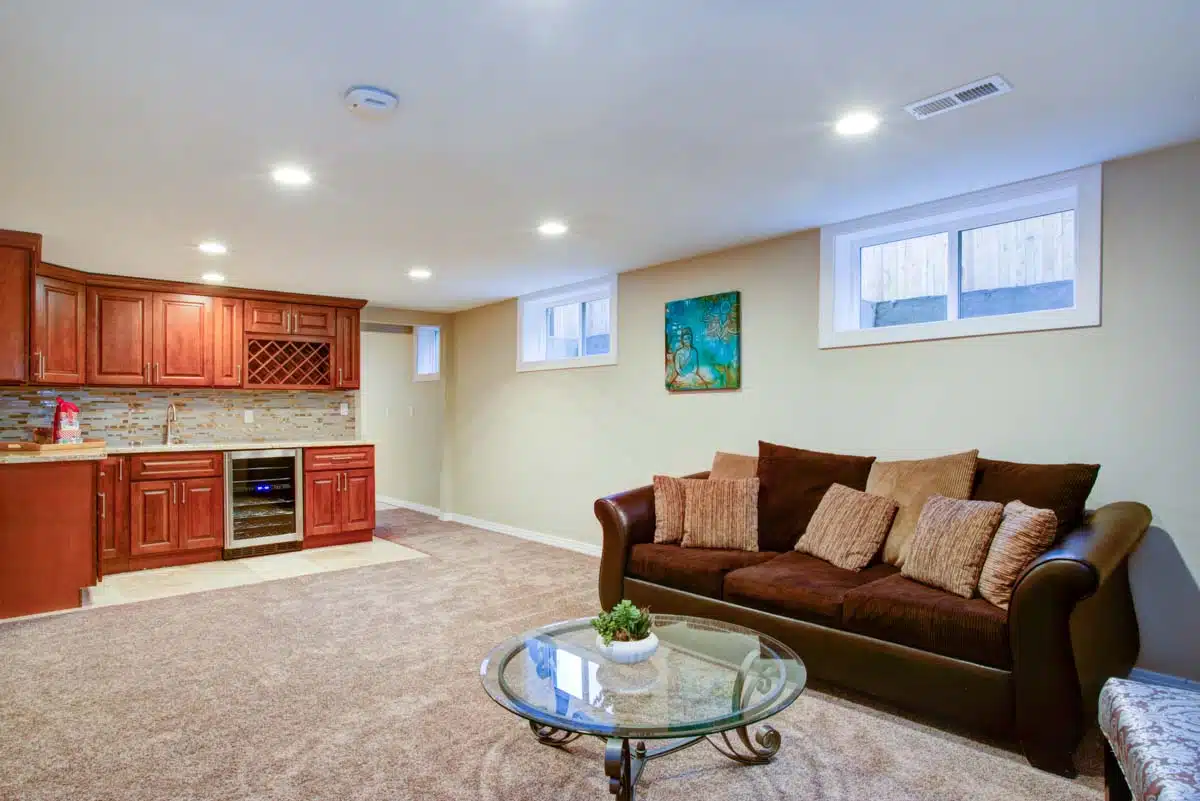 Measure the occupiable space of your basement: Basements commonly house HVAC systems which means you have your pipes, electrical wires, duct system, and columns in the way. Take note of the locations and determine how to work around these areas. You can make a dedicated room for these elements that can be accessed with minimal disturbance while the basement suite is occupied.
Check for water or moisture damage in your basement: Moisture and water leakage can cause serious health problems, especially to immunocompromised people such as the elderly not to mention can damage the foundation of your home. Check for any water seepage along the floor seams, walls, or foundations. Address these problems before doing any construction.
Radon Testing: Due to being ground level, basements are prone to having higher levels of naturally occurring gas radon, which can cause health problems. Be sure to check with a professional to determine the presence of radon and to measure the level of radon in your basement. Knowing the amount of radon will help you determine the best radon mitigation system to apply.
Check the Foundations: Check your foundations for any cracks or structural damage and fix them immediately before any construction.
Determine the Best Layout: After knowing the available area, consider the best layout for the in-law suite. This may involve making some structural changes, such as adding walls or windows, especially if you are working with small spaces. Make sure to account for things like natural light, electrical outlets, and ventilation.
Adequate and Comfortable Dimensions: Be sure to have rooms have a spacious and easily maneuvered layout. The in-law suite should have adequate living space to accommodate the needs of the occupants. This can include a bedroom, living room, dining area, and other amenities depending on the specific needs of the occupants.
Ensure everything is up to code: Following building codes and getting the proper permits safeguards your investment while ensuring the safety of the occupants.
Common Requirements:
• The minimum total area as per local guidelines.
• Proper ventilation and access when near a garage.
• Fire code regulations for the basement applies.
• Required off-street parking.
• Shared or separate entrance from the main home.
• Shared or separate laundry options
Don't forget to an Egress Door or Window: Most local codes require an egress door or window for bedroom basements. Make sure to include it in the layout and planning.
Construction Timeframe: When converting an unfinished basement, expect to have a project timeline of an average of two months. New structures can take around four to five months. Permits are issued one to two months before any construction is allowed.
Tip: Consider prefabricated or modular construction as it can be a cost-effective alternative to traditional construction methods. These methods can save you money on labor costs and can often be completed faster.
Basement Living Considerations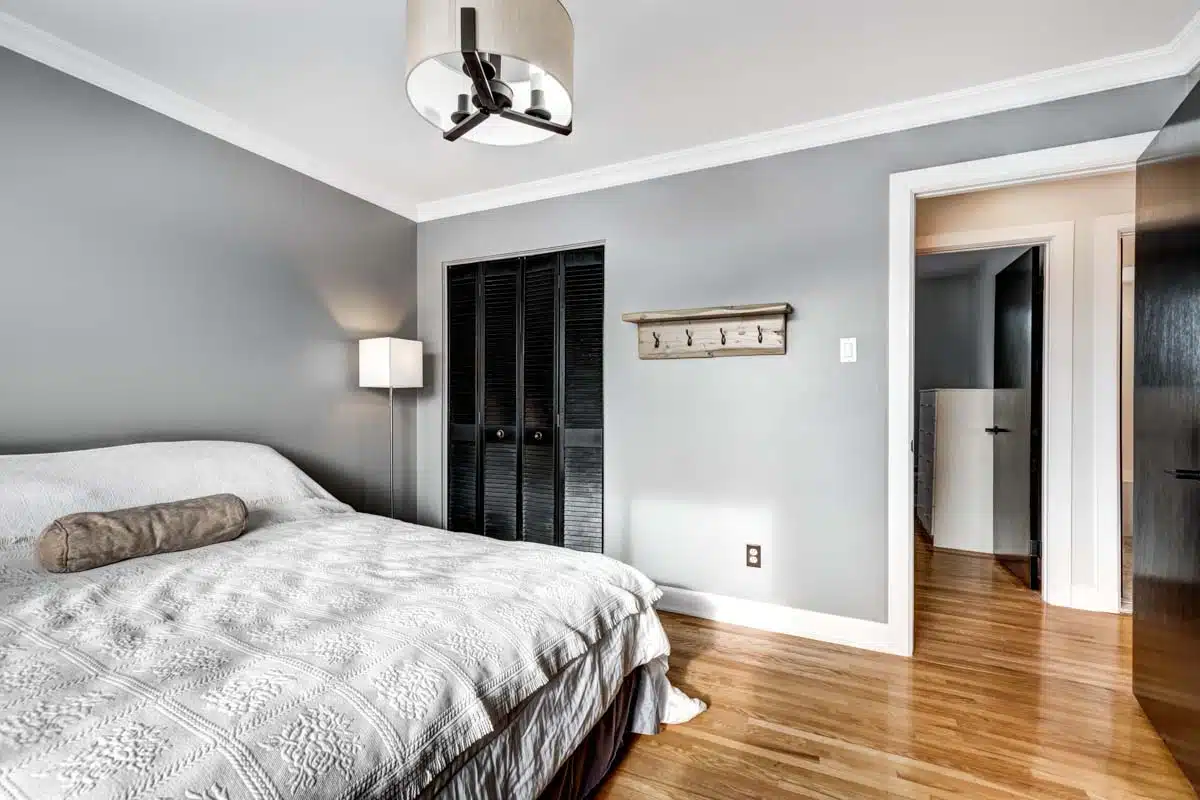 Create a living space that is aesthetically pleasing and offers warmth and vibrance suitable for senior occupants. A gas fireplace is one great option to add to the basement in-law condo since it is directly vented and connected straight to a gas source which allows it to function more efficiently than traditional fireplaces.
Basements can get cold, so installing a heat fan in the bathroom can also go a long way as well as humidity control is definitely something a basement in-law suite should have. Every basement can use an extra window that lets in more sunlight and drives away the dark feeling of being in a basement in addition to increasing ventilation features to the in-law suite.
If the basement is at ground level, adding a sliding glass door that steps out onto a private patio not only provides egress from the basement but can offer a pleasant view of the outdoors, boost the mood, and let natural light flow into the living space. For a basement that is entirely underground, consider adding window wells so you can install taller and larger windows that will brighten the room.
Finally, if you can afford it and it's practical, utilize some soundproofing. This can be as simple as a carpet and some wall hangings, or as complex as commercially available material that is hung on the walls and absorbs a large percentage of outside sound. – From the Basement To the Boardroom, Jeeremy J. Burns
The need for privacy and soundproofing are important. Enclosing the bottom interior stairway will provide complete privacy and separation between the in-law suite and the main house. Create sound-insulated walls and ceilings in your basement in-law suite by using sound-insulator products designed for wall and ceiling applications that reduce sound transmission.
These sound-insulating fiberboards trap and contain noises originating from the basement as well as catch sounds from other parts of the home's interior and exterior. Soundproofing the basement ceiling by applying foam, fiberglass, cotton, or polyurethane acoustic panels will help downgrade the noise in the basement. For a large open floor plan, hanging ceiling baffles will absorb sounds even better.
Basement walls should be well insulated so they can stand the humidity or withstand an area that may be high in moisture. Improperly finished types of drywall could develop moisture issues, which can lead to mold growth in the walls. Installing wall panels will help insulate the basement, prevent moisture, and have soundproofing capabilities as well.
Basement floors should be water-resistant since basements are extremely prone to water flooding and leaks. The best type of flooring for basements is vinyl floor tiles since they are installed on pegs and do not directly adhere to the basement floor.
Vinyl floor tiles allow air movement underneath which prevents mold from growing. Vinyl tiles take up less space than wood subfloors giving more headroom in the basement and they are warmer to the feet than ceramic or stone types of floor tiles.
Basement ceilings that are most common are drywall ceilings and basement drop ceilings. Drywall ceilings have the advantage of taking up less headroom making them the best choice for a low-ceiling basement. Drywall or sheetrock ceiling will not sag and will have the look, feel, and match the rest of the main house creating a natural design flow.
However, drywall doesn't give easy access to plumbing, ducts, and electrical wiring should there be a leak from a sink above. One solution would be incorporating access panels to an area of plumping and electrical wiring. On the other hand, drop ceilings provide immediate accessibility to wiring, mechanical, drain lines, and water lines.
Drop ceilings are much better at reducing sound traveling between the basement and the upper floor of the house. In addition, drop ceilings are mold resistant, work best with different types of recessed lighting fixtures, and require less installation time.
How Much Does It Cost to Build an In-law Dwelling?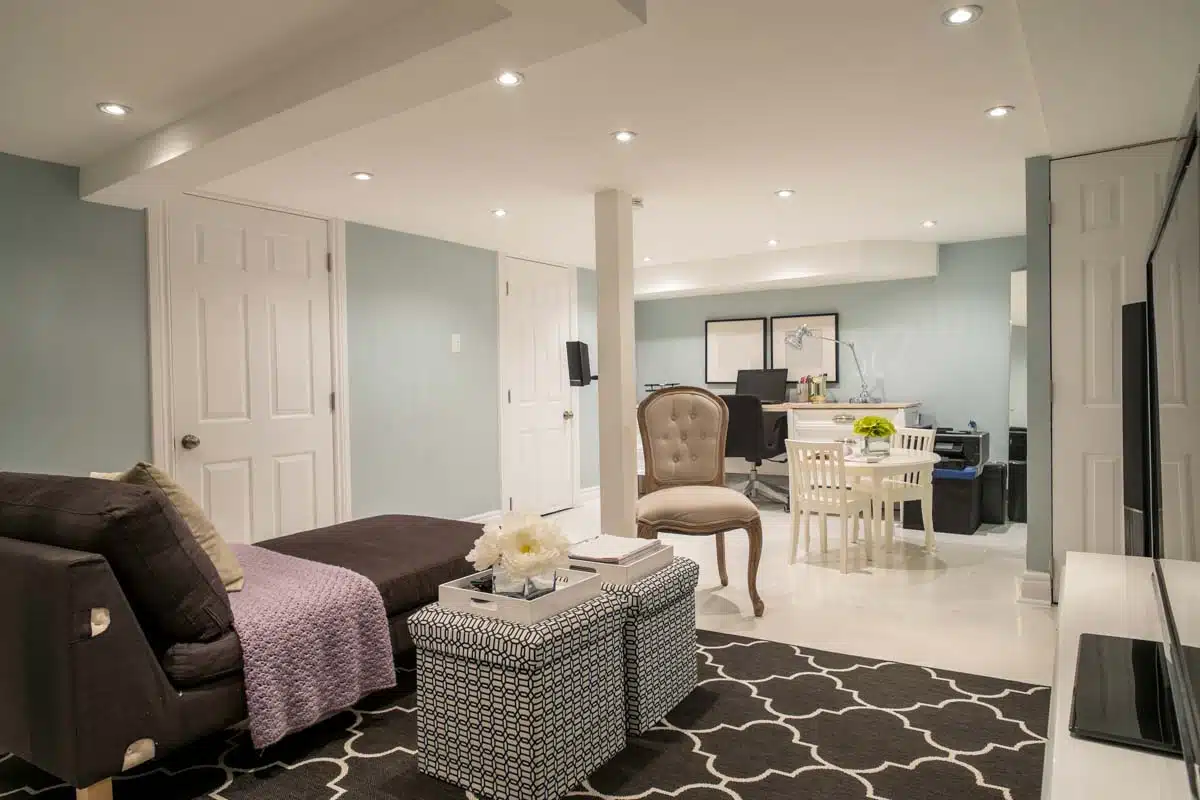 The range building an in-law suite costs around $40,000 to $130,000. However, the cost is lower for converting a basement into an in-law suite which can cost significantly lower with a range of $10,000 to $30,000.
This is because existing utilities such as plumbing, electrical, and gas can be easily tapped from the main house. The costs will vary depending mainly on the square footage, locality, and amenities you wish to add to your in-law suite.
The cost per square foot for a basement in-law suite range from $100 to $200 which includes materials and labor costs. It is unavoidable to get licensed contractors for your electrical, plumbing, structural, and other professionals when building your basement in-law suite.
A general contractor is also needed especially when building the different functional areas of the suite as the project especially when modifications are needed. Although an experienced DIYer can undertake the job saving around 30% to 50% of the total construction cost.
Another minor job to save on construction costs is laying down the floors which can cost only around $.40 to $25 per square foot. Doing your own finishing such as painting the walls will only cost $200 to $300 per square foot.
Basement In-law Room Ideas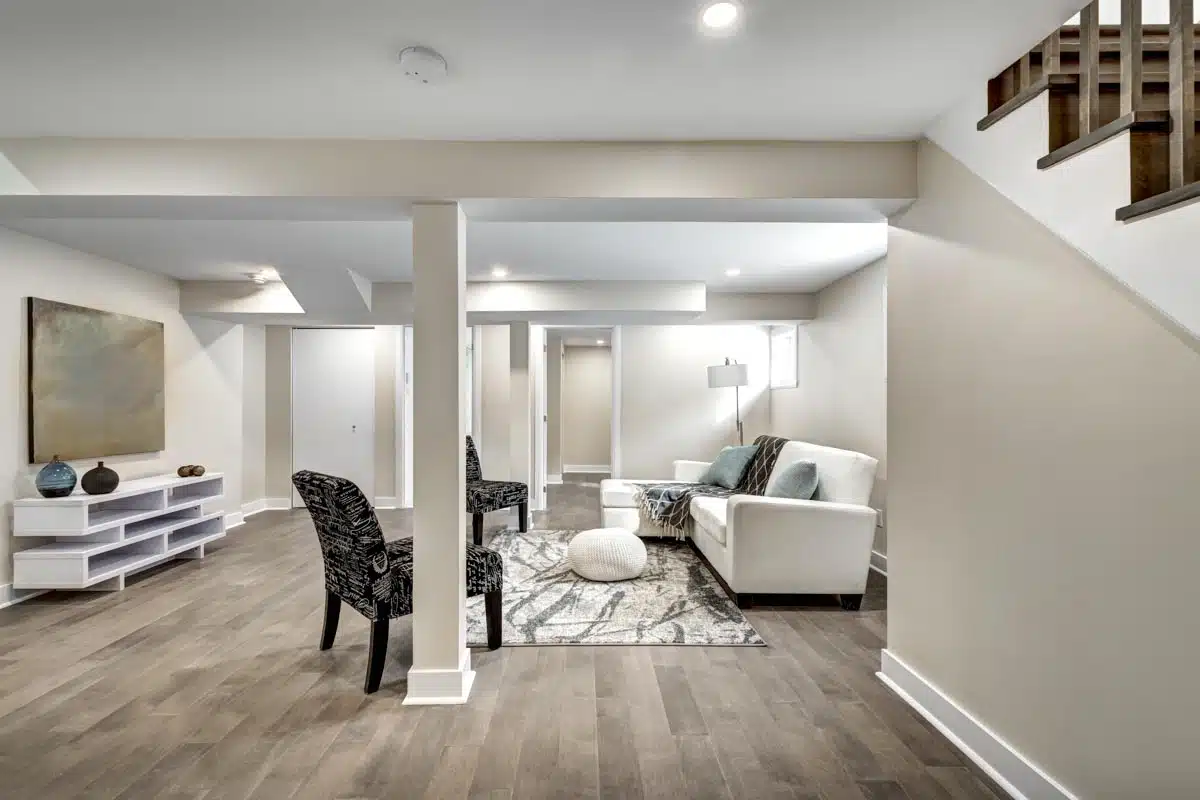 Open Floor Plan Concept: Opting for an open floor plan guest room allows you basement in law-suite to be reconfigured for different types of occupants. Eliminating transitions, walls and partitions also helps the elderly to navigate the space easily. The uninterrupted visual flow also provides an airier feel to the space.
Separate Entrance: A separate entrance to the in-law suite can give your guests their own private space and allow them to come and go as they please.
Outdoor Access: Creating a walkout basement can provide your tenants or guests with direct access to your backyard or patio area, which can be ideal for outdoor activities or relaxation.
Consider Placing Grab Bars in the Bathroom: Aside from eliminating partitions and having a spacious turning area for a wheelchair, add placing grab bars on the sides of the toilet seat.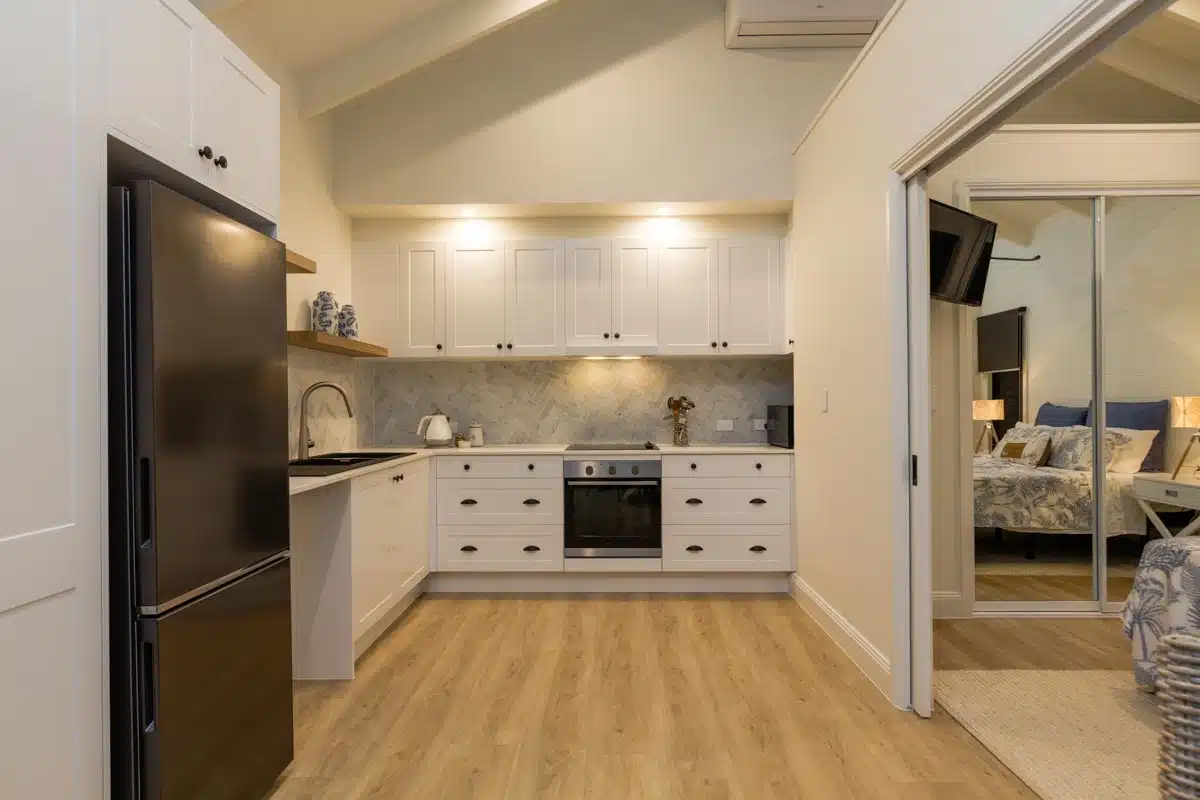 Specify wider door openings for easy access: If you have a spacious basement, consider sliding doors or pocket doors with easy to grab handles. Also, be cautious on the placing of switches behind doors.
Bookshelf Doors: Maximize storage space and add create a hidden entrance to the HVAC systems with a bookshelf door.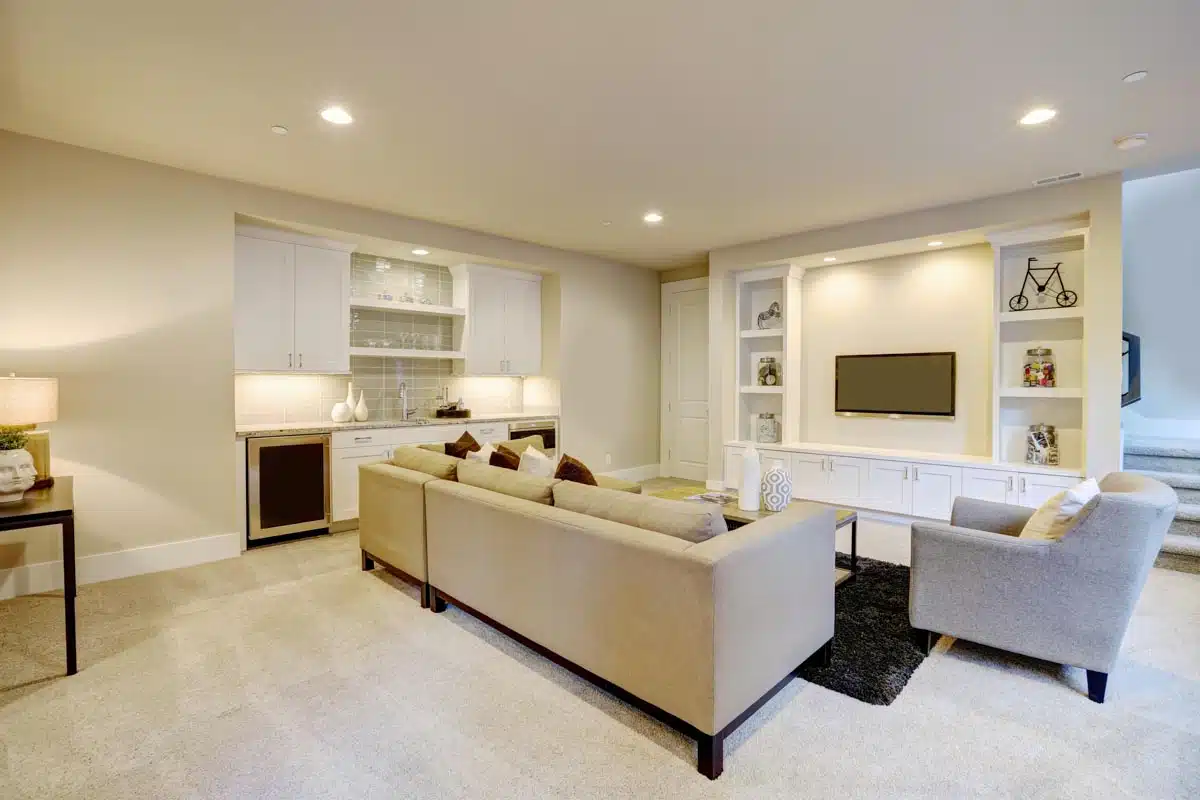 Brighten up areas with white walls or a light neutral color and layer lighting: A warm white or cream can brighten up the basement bedroom. Layer the lighting fixtures to prevent dark corners in the space.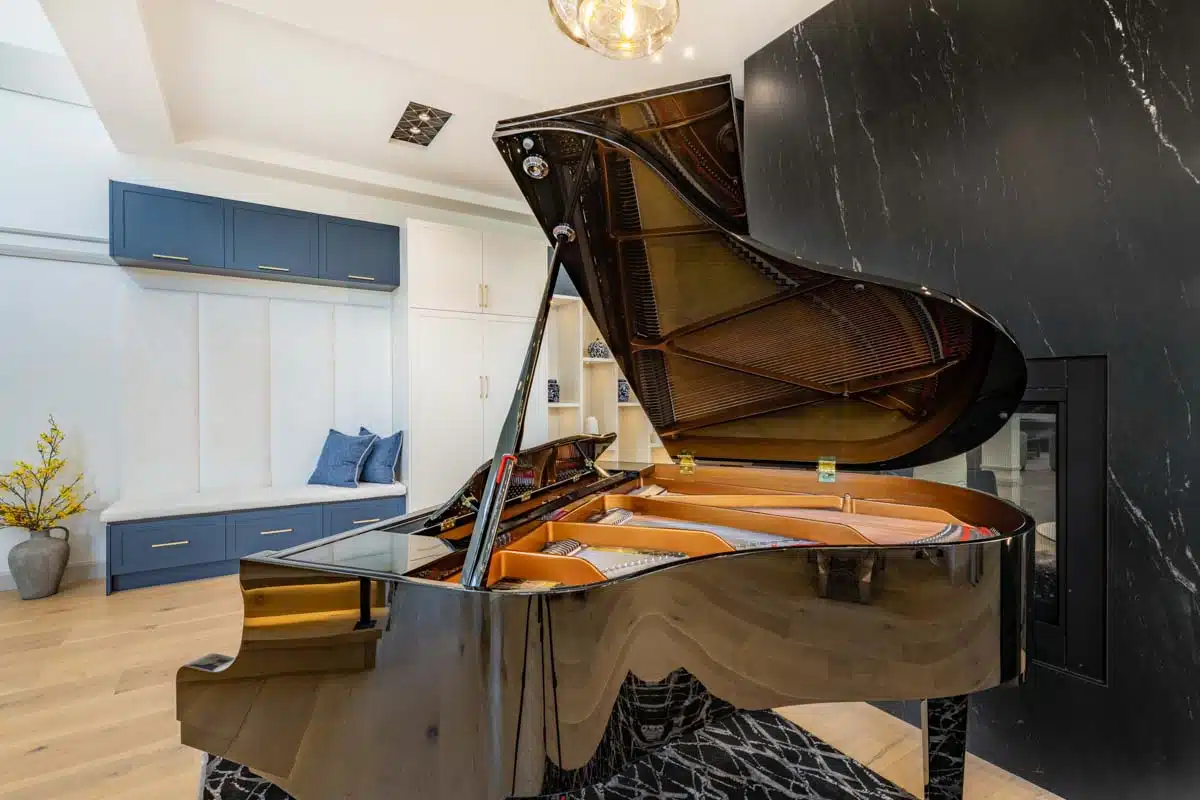 Add elements that can help your in-law comfortable or entertained: Whether opening into a patio or garden, or placing a drawing table or his or her favorite musical instrument, these extra living space elements can make your in-law more comfortable or entertained.
A furnished interior design can help if you want a short term AirBnb rental unit that you can have people use while your basement apartment is not in use.
Do Basement In-law Bedroom Suites Increase Home Value?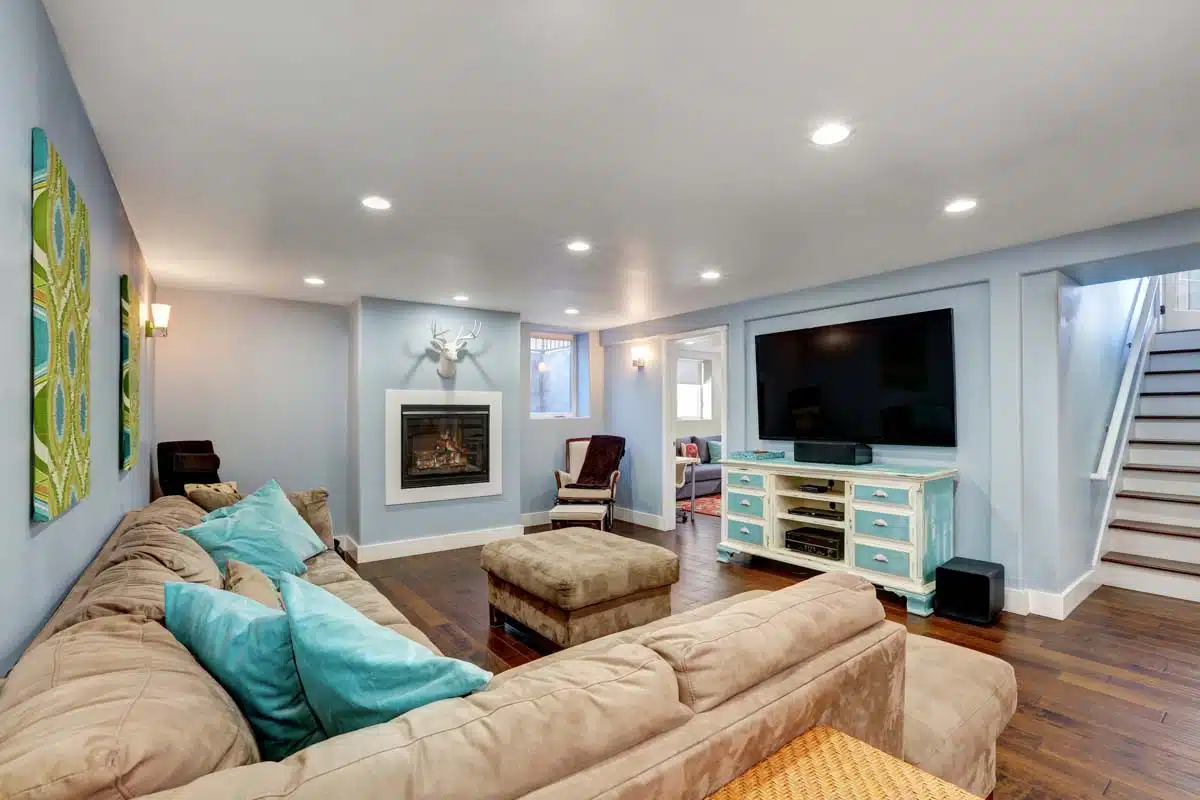 A basement in-law suite does add value to a home as you increase the livable square footage to your structure. However, the extent of this increase depends on some factors.
For instance, the quality of the construction, the finishes used, the demand of in-law suites and the situation of real estate in your locality are major factors to consider. The rate of the return of investment is also affected by these variables.
Aside from an accessible support from family, having an apartment space for aging family members can actually save you more by avoiding expensive retirements homes. Renting in a hotel can be expensive and if you live in an area where there's a lot of tourists during the peak season, you're sure to rent out an in-law suite in any season.
Adding a kids playroom or home office space can be an excellent idea for homeowners who want a multi-purpose interior design when relatives aren't on a visit.
What Should Be Included In a Basement Suite?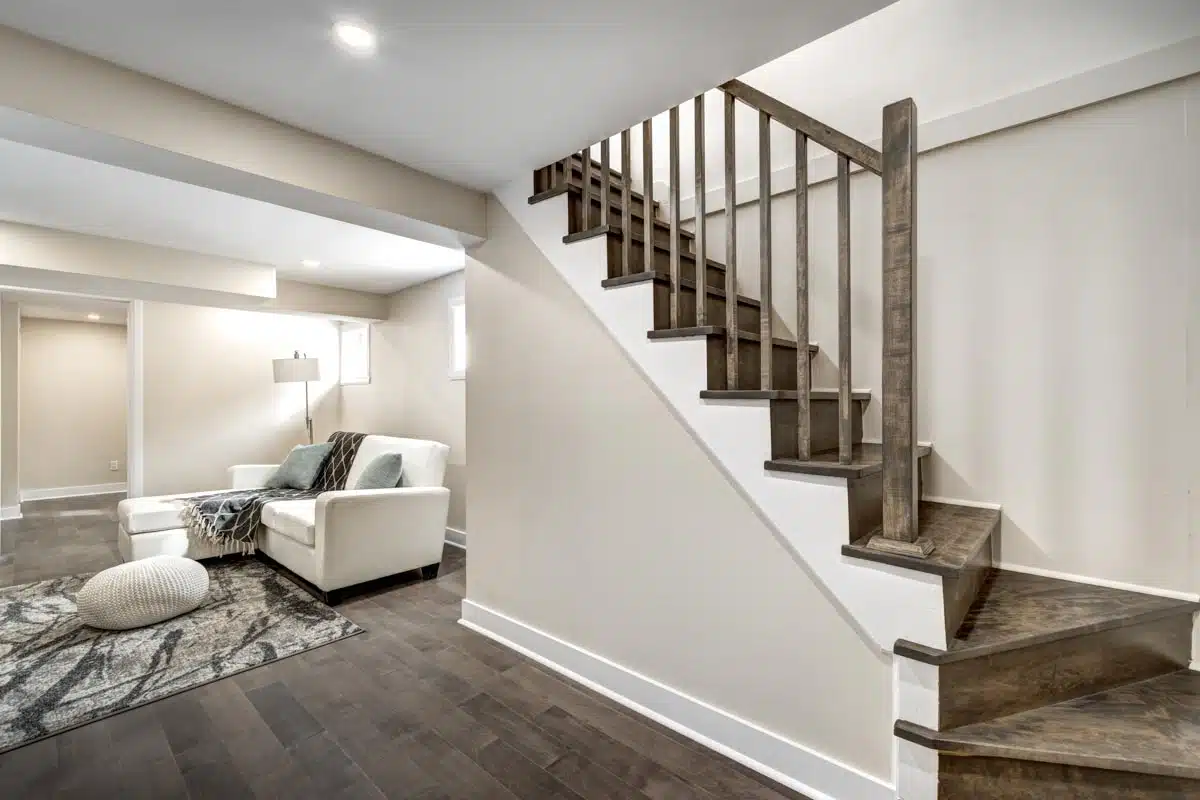 On average, 500 to 700 square feet is a good size for an in-law suite and regardless of the general layout of the home. Included are all of the standard amenities of a standalone unit such as:
• A separate bedroom from the living or dining area.
• A fully functioning kitchenette with a stove and cooking area.
• A half or full bathroom with grab bars and an easy access shower stall with a seat.
• A walk-in closet and storage space.
• A private entrance leading straight outside, preventing the need to pass through the main house.
These interior design amenities offer the convenience of proximity while maintaining privacy, as the main family area is above, providing everyone with their own space.
Did we miss any important basement remodeling design tips or questions? Share your comments below about basement suite ideas for our readers. See more related content in our article about the best basement bedroom ideas on a budget on this page.