Find out what color to paint exterior chimney including the best design ideas and exterior paint finishes for metal and masonry chimneys.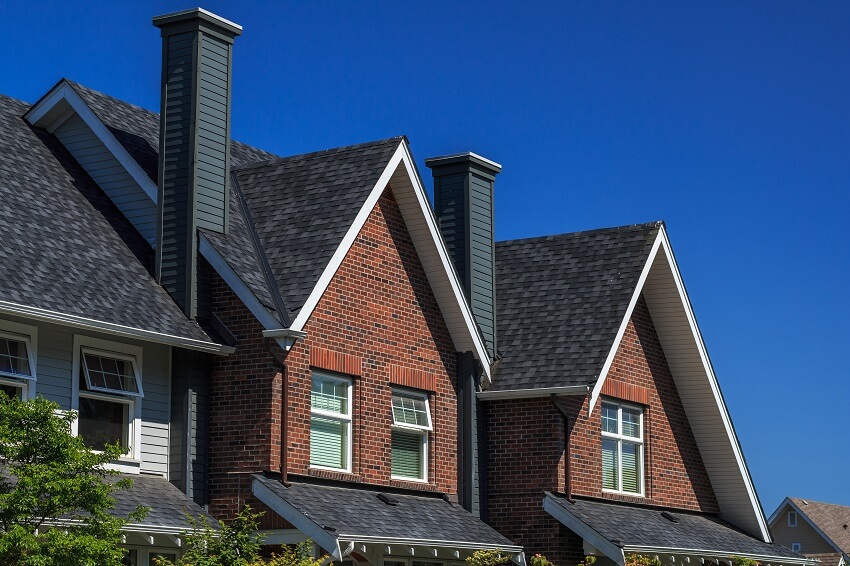 Painting your home, whether the interior or exterior, is one of the easiest ways to give it a makeover without having to undergo a complete renovation. A fresh coat of paint works wonders not only by changing the aesthetics of your house but also by making it appear much more inviting and welcoming.
Sometimes, you do not need to repaint your whole house to give it an update, you can start with something small — like the chimney. With the right paint colors, you'll be surprised how painting your exterior chimney can make a big impact in your house's overall look.
Painting a chimney can seem like a big undertaking at first, but it can be done easily with the right colors, paint and tools.
Below, we take a closer look at the best color choices you can use to paint the exterior of a chimney, as well as some guidelines which you can follow in choosing the right type of paint and finish which will fit your home.
Should You Paint Your Exterior Chimney?
Painting your chimney will not only make it look more attractive, but it will also make it last longer by adding an extra layer of protection against natural elements like the heat from the sun, moisture and humidity. High quality exterior chimney paint will also prevent it from rusting over time.
Exterior Chimney Ideas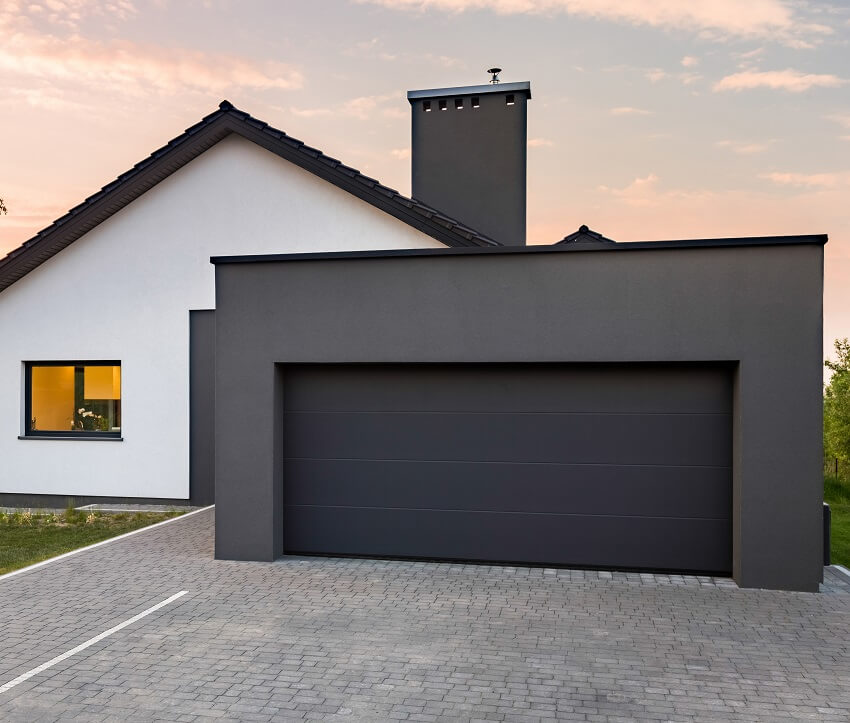 Ultimately, the color of your chimney must complement the exterior scheme and style of your home, but at the same time it should also reflect your personal aesthetic.
Before choosing any color, you first need to decide on whether you want your chimney to stand out or blend with the rest of your house's exterior.
The visual effect that you want to prevail will have a bearing on your choice for the final color. Read more about our exterior house colors that sell guide.
Popular Colors to Paint a Exterior Chimney
Although it can be painted in any color, here are some of the most popular colors for exterior chimneys are:
• White
• Beige
• Tan
• Cream
• Light Gray
• Black
Here is a guide for some of the best choices for exterior chimney colors along with some of their descriptions:



Neutral Colors

Neutral colors are the most popular choices for exterior chimneys because they are fail proof and versatile.

Shades of white, cream, beige, brown and tan help create a more natural look and fit with almost any color scheme. These colors are also widely available in any paint brand and generally cost less than "designer colors"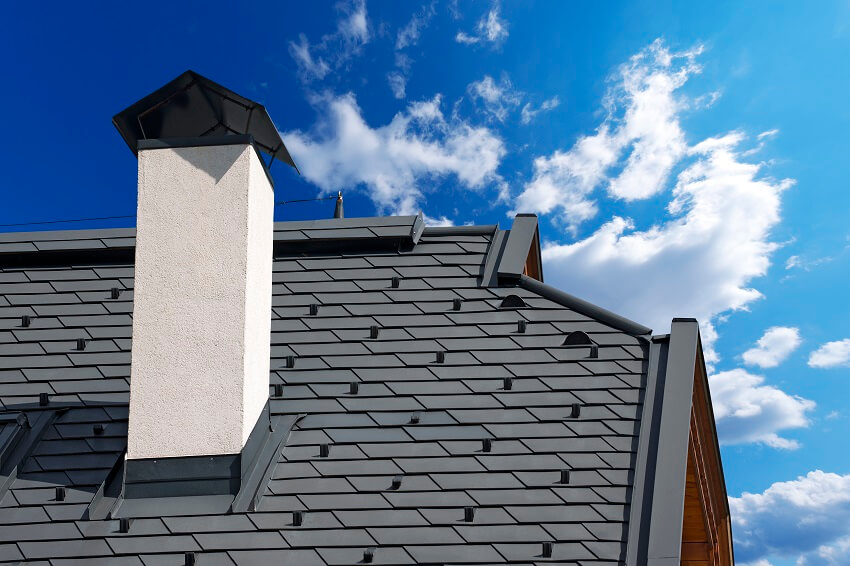 Painting your chimney in white can help brighten up the exterior of your home, while a shade of off-white or beige can give it a softer look. On the other hand, tan can help render warmth and a more inviting feel. Going with a shade of brown is also a safe choice and helps hide any dirt that is collected in your chimney over time.

If your house has a contemporary or modern style, try neutral colors like black or gray for your chimney.
Contrasting Colors
If you want to add a more interesting visual effect and depth and to the exterior of your home, try painting it with contrasting colors. There are several ways you can create contrast — but the most popular method is to use complementary colors based on the color scheme.
Complementary Colors
These are colors that are directly opposite each other in the color wheel. It can be as simple as a classic black and white pairing, or a more bold combination of colors like red and green, yellow and purple or orange and blue.
The intensity of the colors may be adjusted but it is best to keep them muted and subtle to prevent the overall exterior scheme of your home from being too overwhelming. This contrast can also be used on other parts of the house like the trims or shutters to make the overall look more cohesive.
Monochromatic Colors
One of the easiest design approaches in choosing your chimney color is to use a monochromatic scheme. This means that your chimney and your house will be the same color. Choose a color that is two shades lighter or darker than the rest of your house's exterior.
For example, if the overall paint of your house is dark chocolate brown, choose light mocha for the chimney to create a bit of contrast or vice versa.
To make the whole look blend altogether, you can also choose other shades for the trim and the shutters. Read more about shutters by visiting our guide to the various types of shutters.

Choosing colors from the same family will help create a more harmonious color scheme. This will also result in a subtle contrast between the different exterior details of your home.
Best Paint For Exterior Brick Chimney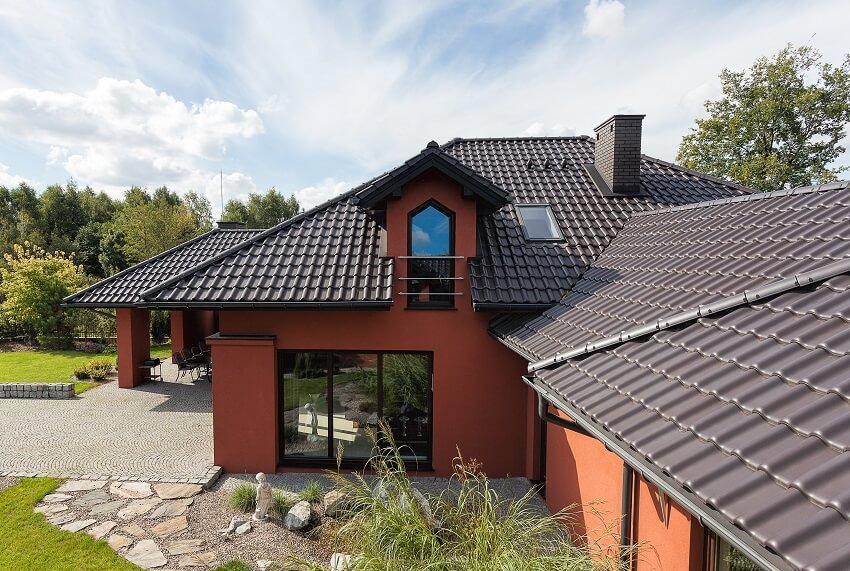 Painting is one of the best ways to spruce up a brick chimney, however, a chimney is more exposed to weather changes and can deteriorate more quickly.
Water tends to seep and get trapped into the bricks and mortar, and overtime the moisture contacts and expands, which in turn damages the brick and the paint that covers them.
Although masons tend to recommend not painting an exterior chimney because of their high exposure to outdoor elements, you can still paint them.
With proper paint and application, your brick chimney will last longer. Make sure to follow the right steps to prevent any further damages.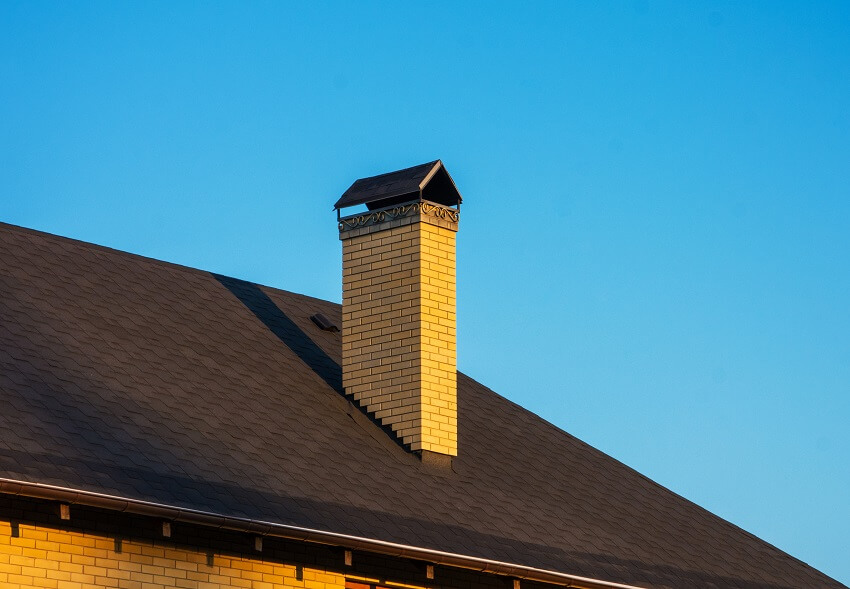 Like all masonry, a brick chimney is porous, which means it will easily accept any type of paint. Because of its porosity, the best applicator which you can use in painting brick chimneys is a paint sprayer.
This is much more efficient compared to using a paint brush or roller. This method will also save you as much as 80 percent in terms of labor and time and the coverage is better.
When it comes to the type of paint, the best paint to use for an exterior chimney is a high quality exterior latex paint. Latex paints are more flexible than oil based paints.
Unlike the latter which can harden and crack, latex is less prone to water damage and can handle temperature fluctuations better. In addition, latex paints also dry faster than other types of paints.
Painting your Exterior Chimney Tips
Here are some guidelines in painting your exterior brick chimney:
• Begin with a block filler. Before painting the brick, make sure to apply a block filler for your masonry. This is a thick product that is used in masonry preparation to fill in any gaps and pores in the surface.
Aside from making the masonry smooth, flat and uniformed, it also helps keep the water from seeping into the bricks. A block filler is applied before top coats like alkyd, epoxy and latex paint. It also ensures that the top coat adheres thoroughly.

• Start applying your primer. Once your block filler dries, paint the chimney with a latex primer. If your chimney is exposed to higher temperatures, you can use a high-temp primer. Apply the paint using a paint sprayer and let them dry completely.
• Paint the chimney. Choosing the type or color of paint will determine how your chimney will look like. You can choose the color depending on the style and overall scheme of your home's exterior. Make sure to use a high quality exterior latex paint.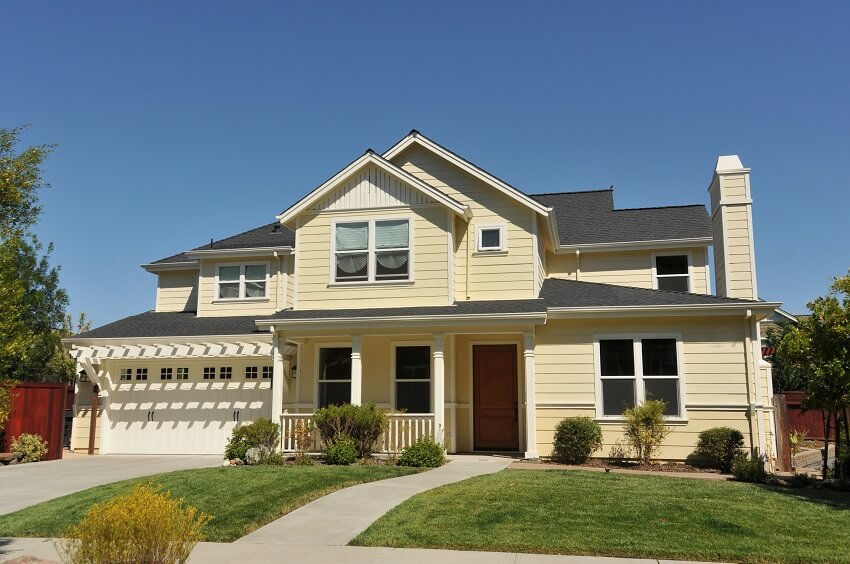 Once the primer has dried, apply your paint of choice using a paint sprayer. Alternatively, you can use a paint roller with long fibers to cover the surface of the bricks. Use a small paintbrush to touch up the joint lines.
Apply a second or third coat as needed and make sure to let each layer dry completely before applying a new one. Typically, you use two coats for light colored paints.
Ideally, the paint of a chimney can be refreshed every five to eight years just like any regular exterior house paint.
Exterior Chimney Finishes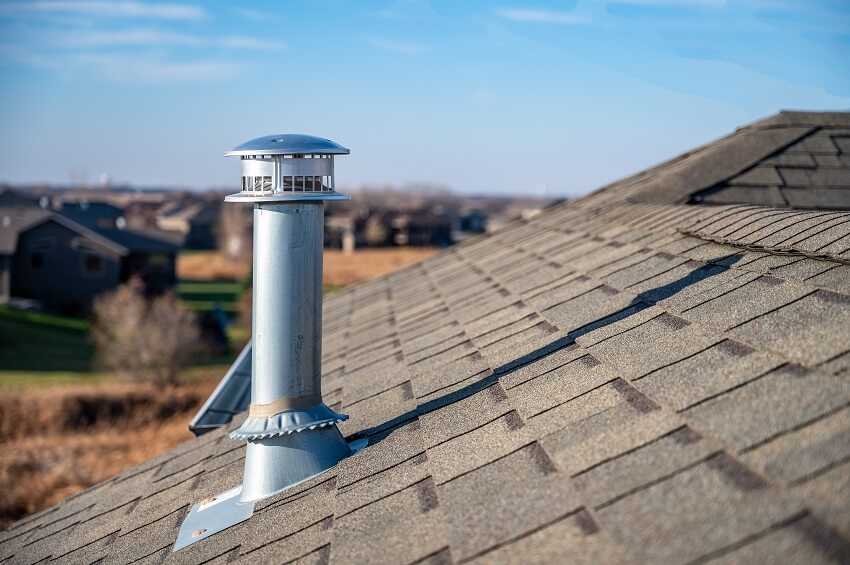 Before you paint your chimney, you first need to know the type of material it is made of. Knowing whether your exterior chimney is made up of masonry, stone or metal will dictate the type of finishes which you can appropriately use.
There are two main types of chimneys namely masonry chimneys and metal chimneys. Masonry chimneys are built with stone, bricks, mortar, masonry or blocks.
Concrete, pumice and clay or ceramic are also collectively classified in this category. On the other hand, metal chimneys are made with stainless steel , aluminum or galvanized iron. This type of chimney is often prefabricated or factory built.
There are a lot of types of paints available in the the market and this includes latex, oil based paints, acrylic, lacquer, epoxy and high temperature or high heat paint.
Each type of paint typically comes in an exterior or interior formula. Below is a guide you can use in choosing exterior chimney finishes.
Exterior Chimney Finishes for Metal Chimneys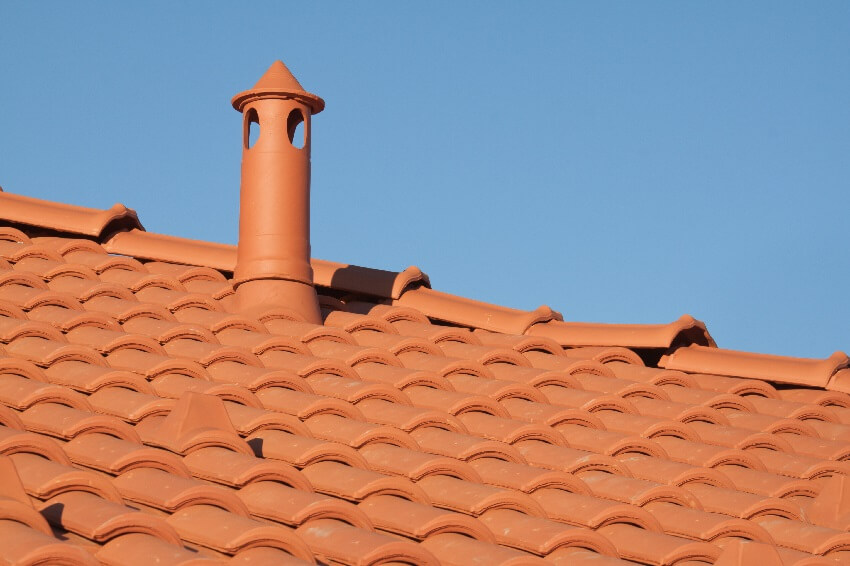 Because exterior metal chimneys are subjected to high temperatures, the best type of paint that you can use is one that is specifically rated for high heat.
High temperature acrylic latex paints are paints that are rated for a minimum of 250 degrees Fahrenheit. Make sure to use a primer and finishing color that can withstand high heat. High temperature paints come in aerosol or brush on forms.

Aerosols also have high heat paints which you can use to paint a metal chimney. This is easy to use and can be effectively applied using continuous motion.
Make sure to use painter's tape for any surrounding material so you don't overspray. Do not hold the can too long in one spot to make sure that the paint is dispersed evenly.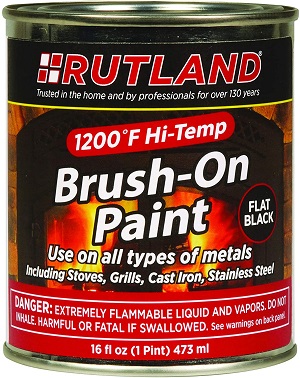 See this brush on paint at Amazon [sponsored link]
Brush-on high temperature paints come in liquid form and are applied using a brush or roller. When applying brush-on paints, make sure to apply using light even strokes. You can add an extra coat if needed.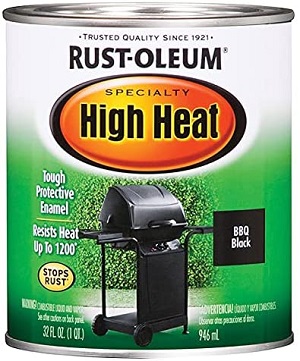 See this protective enamel at Amazon [sponsored link]
Preparation. Before painting your metal chimney, make sure to check it for any rust. Rust will not hold paint effectively and needs to be removed before any application of a new finishing material.
You can use a steel wool pad to remove and san off any rust, then wipe any residue with a damp cloth. You can also use high temperature primers before applying your color of choice on your exterior chimney.
Exterior Chimney Finishes for Masonry Chimneys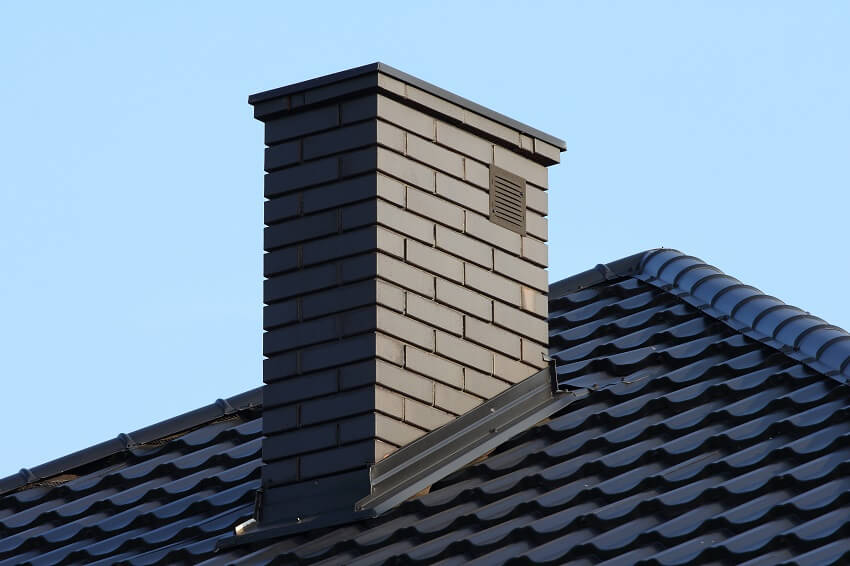 For exterior masonry chimneys or brick, concrete and stone chimneys, opt for any latex based paint and primer. Latex based paints are more suitable for this application because they are durable and breathable.
This type of paint is also preferred if your chimney is only used occasionally for a heater or fireplace, however if your chimney is used extensively, you have to use high temperature latex paint.
Preparation. Painting a masonry chimney requires more preparation than other surfaces to ensure that the paint adheres to the surface and lasts long.
This preparation includes thoroughly cleaning the cricks including the cracks and crevices and repairing any missing mortar.
Use a pressure washer to remove any dirt or flaking in the exterior chimney's surface. Reapply mortar to any missing parts using a drywall knife and make sure to let it dry completely before applying your paint of choice.
For more related content, visit our guide to the types of chimneys here.