Discover the different outdoor ceiling panels including what they are, popular types, their pros and cons, sizes, cost, and best ceiling panel material for porch designs.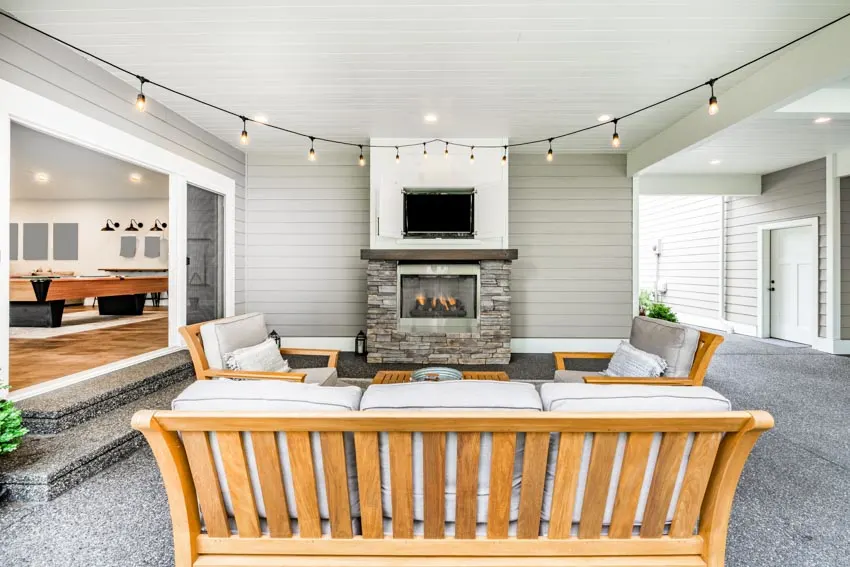 It should come as no surprise that choosing the right product for your outdoor ceiling construction is a critical choice given the amount of heat, rainfall, humidity, and other foreign, external elements they are frequently subjected to.
Any property with an outdoor living area is distinctive in terms of size, users, environment, and demands. There are many different types of outdoor ceiling panels and materials available depending on your needs.
What Are Outdoor Ceiling Panels?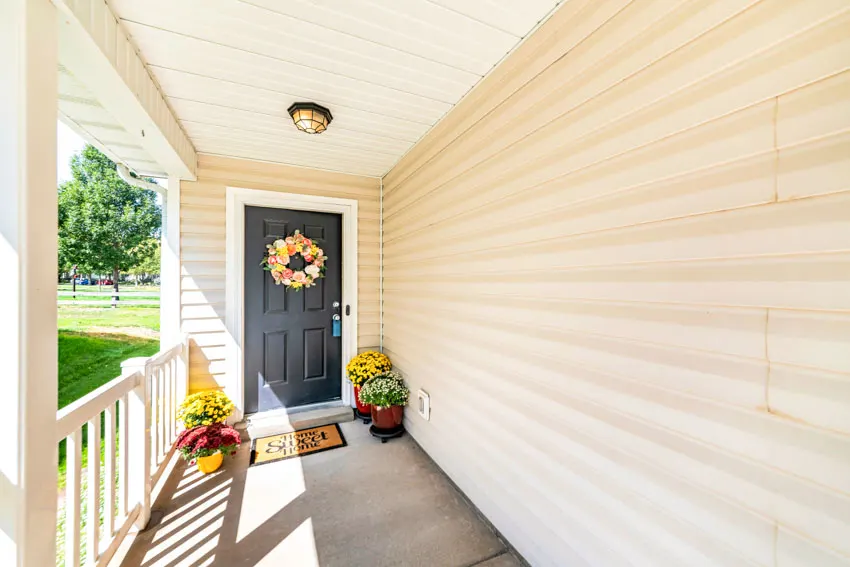 Outdoor ceiling panels are usually built differently when compared to common interior ceiling panels. In fact, outdoor ceilings must be able to withstand everything nature and individuals hurl at them.
Therefore, outdoor ceiling tiles or panels are frequently rated for wind lifting and designed to be washable and soil-resistant. They are also typically linked with an exterior grid, making them a robust structure that you can rely on to meet the standards of exterior efficiency.
Outdoor ceiling panels can be classified in a variety of ways, the most common of which is by the material employed. Outdoor ceiling panels are commonly made of wood and vinyl, but aluminum and PVC are also options.
The selection is affected by the positioning of the outdoor space, its function, and the costs that a homeowner may incur, both during installation and in the long run.
Types Of Outdoor Ceiling Panels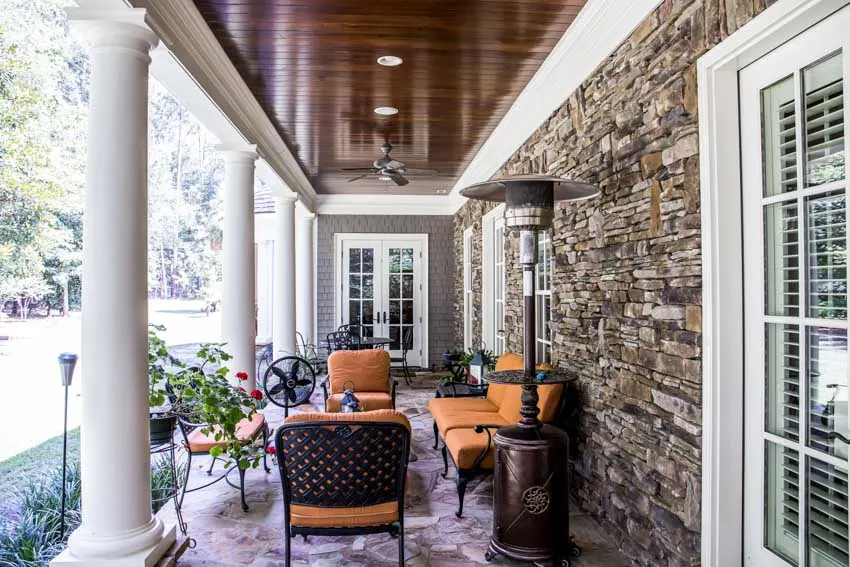 Not all outdoor ceiling panels are created equally as each one of them has its own set of features, advantages, and functions. Here are the different types of outdoor ceiling panels:
Outdoor Vinyl Ceiling Panels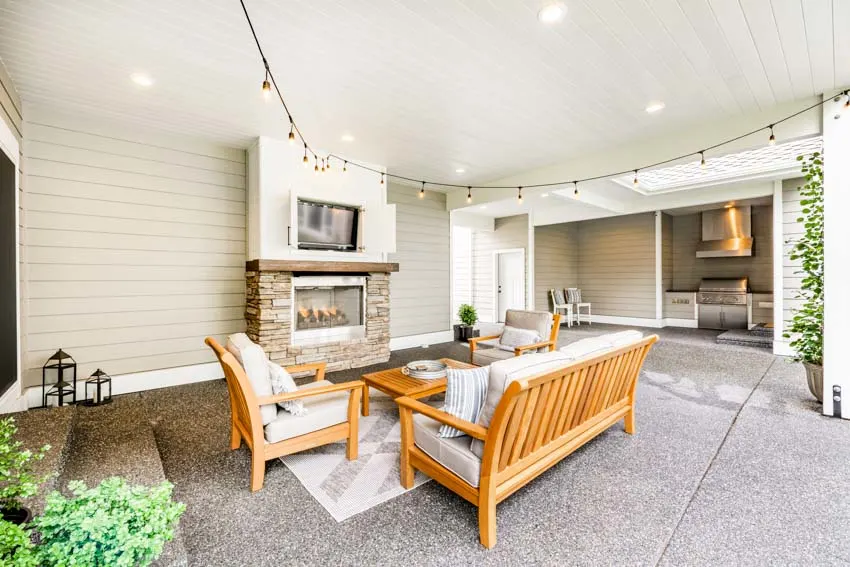 Vinyl may be the most preferable outdoor ceiling panel material, provided that it is inexpensive and the outdoor space understructure supplies adequate support. The material is neither warped nor rotted.
As a matter of fact, if you do not want to spend a lot of time cleaning your outdoor space, particularly your outdoor ceiling panels, you might think about installing vinyl ceiling panels as they are incredibly low-maintenance.
Because of the outdoor vinyl ceiling panel's durability, the surfaces may be cleaned easily with conventional cleaning materials. Furthermore, most panels of this variety are prepared to allow the surfaces to have a subtle gloss. This aids in the reflection of sunlight in the environment, making the outdoor space more attractive.
Moreover, when planning to make some upgrades, Instead of having to repaint the surrounding walls, changing the color scheme of the individual outdoor vinyl ceiling panels used in the ceiling layout makes it reasonably simple to adjust the appearance of the outdoor space.
The inexpensive cost of vinyl ceiling panels is a major advantage. When compared to some of the other ceiling panel alternatives, vinyl provides a remarkably affordable solution that does not appear cheap.
The overall outcome is the potential to construct a new ceiling that looks fantastic even if your funds are limited. Because the panels come in a range of colors and designs, most ceiling design types may be created without spending a great deal of your budget.
Truly, vinyl is extremely simple to clean and, once installed, should last the whole life of the outdoor space, unless damaged by a destructive accident or natural calamity. However, vinyl can be pierced, although it is quite affordable and convenient to replace and may be finished in pieces as needed.
Composite Outdoor Ceiling Panels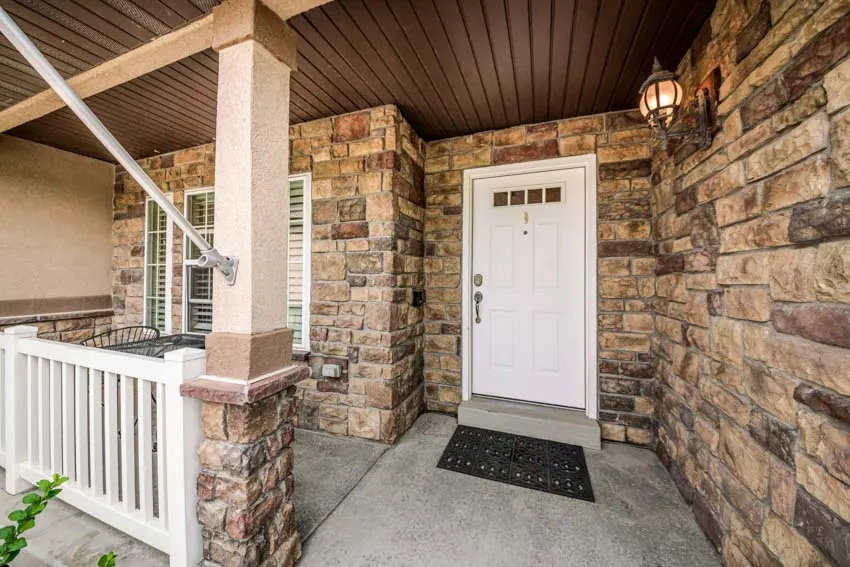 The composite outdoor panel material is very durable, smooth, and mold-resistant, making it ideal for soffits and outdoor ceiling panels. If you have had a bad experience with mold and would like it not to happen again, a composite outdoor panel that is specialized to combat mold may be the best option.
When mold is discovered in the corners of a composite outdoor ceiling panel, it can be effortlessly washed away until the mold is eradicated. Composite outdoor ceiling panels are great since they withstand moisture penetration, do not rot, and require very little maintenance.
They also typically use a less expensive cladding material as opposed to other options on the market. Normally, these panels are unbreakable, stain-resistant, and weatherproof. They are also available in a range of finishes and colors.
Furthermore, despite their lightness, composite outdoor ceiling panels are indeed a firm, sturdy, and powerful substance. The application process is quick and simple as well. The material is available in standard sizes, rendering on-site transportation simple.
Outdoor Aluminum Ceiling Panels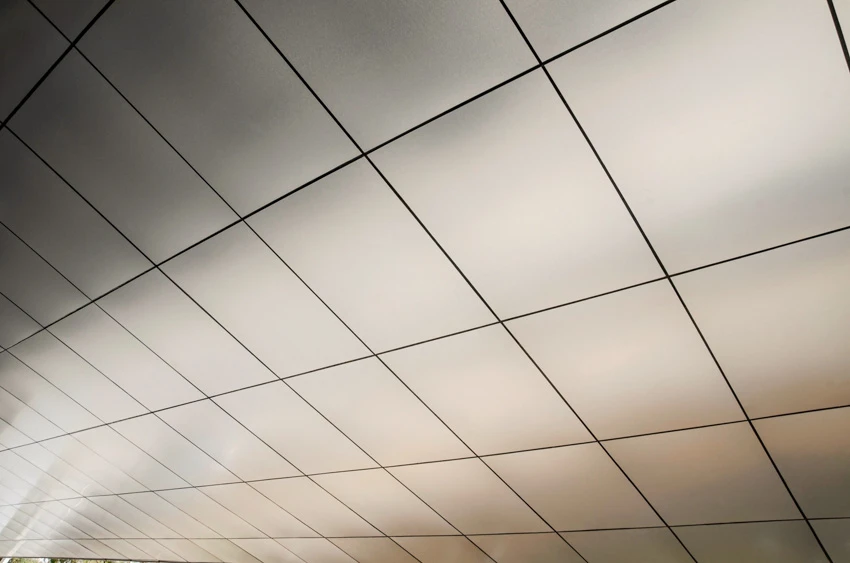 Outdoor ceiling panels could also be made of aluminum. Although vinyl has mostly replaced aluminum as the primary rival to wood, aluminum can still be utilized particularly to preserve the original look and feel of a classic porch.
Aluminum is also more durable than vinyl, and thus the outdoor ceiling will not droop in locations where there is insufficient support. It is also easy to install as it is very lightweight.
An aluminum ceiling panel system is ideal for both outdoor and indoor use. It creates a gorgeous and purposeful statement outdoors, whether in a breezeway or entryway.
Accent lighting fixtures can even be used to illuminate the outside space in an aesthetically beautiful manner that retains the emphasis on the design. Whenever an aluminum outdoor ceiling panel becomes damaged, it can be easily replaced without affecting the remainder of the design.
Maintenance and replacements of aluminum outdoor ceiling panels are simple and straightforward in the event of water damage or other issues with the aluminum ceiling structure or the building elements surrounding it. Unfortunately, aluminum might not be the best option in regions near the ocean or saltwater.
Outdoor Wood Ceiling Panels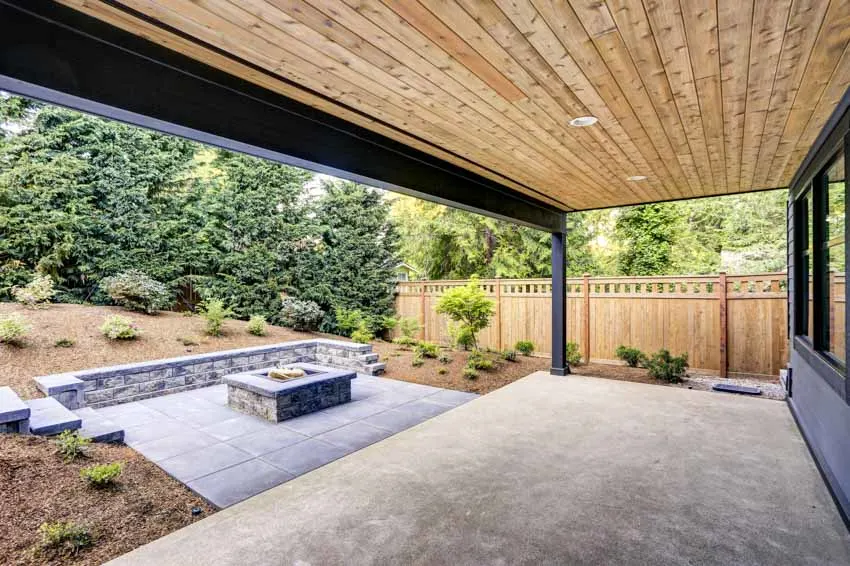 Wood has traditionally been the material of preference for outdoor ceiling panels, primarily because it is less costly to acquire and because it was available before vinyl. Wood offers the benefit of being quite durable, yet it can be prone to warping and rotting. Wood beadboard or plywood panels can be used to create outdoor ceilings.
Wood beadboard panels, an outdoor ceiling favorite, are simple to install over plywood. Furthermore, wood beadboard can be stained or painted to provide warmth to your patio. Such outdoor ceiling panels are designed to be installed straight over uncovered joists.
Plywood, on the other hand, is generally the least expensive wood ceiling panel option and is pretty quick to install, but wood beadboard adds a more distinctive character to the outdoor space.
Nonetheless, plywood is a very adaptable wood-based building material. It can be used for practically everything, from furniture to building a ceiling system. Thin layers of wood veneer are stacked to create it. As a result, plywood has exceptional flexibility and strength, making it excellent for outdoor ceilings.
As further information about wood ceiling panels, they also have the benefit of being easier to paint than vinyl, allowing the homeowner to have more freedom to change the appearance with the least amount of effort and expenditure.
Additionally, wood ceilings enhance the natural charm of any outdoor space. They are also safe for our health. Wood ceiling panels, in fact, allow you to make your outdoor space more inviting and naturalistic.
Outdoor Beadboard Ceiling Panels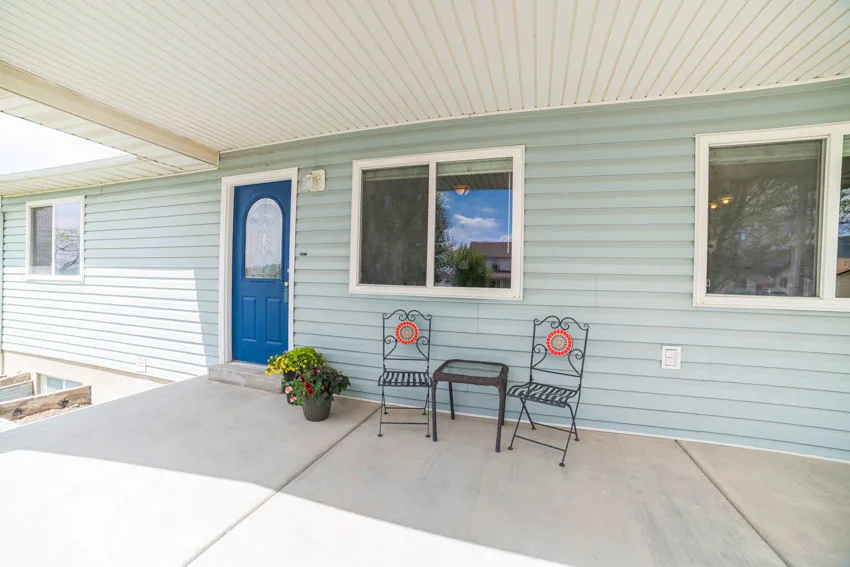 Beadboard, a grooved paneling available in either vinyl or wood, is also one of the most common materials for outdoor ceiling panels. The material has a distinct appearance in outdoor spaces and can be made as tongue-and-groove or flat panels.
Flat panels are typically the most inexpensive, although patio owners might appreciate the streamlined look of tongue and groove. Wood beadboard ceiling panels are also less expensive than vinyl.
There is also a new advanced and powerful material construction solution that can eliminate a lot of major issues associated with vinyl paneling, and that is the fiber cement beadboard ceiling panel. Indeed, fiber cement beadboard ceiling panels are meticulously constructed utilizing cutting-edge technology to survive even the harshest conditions.
Because of the special formulation used in fiber cement materials such as these outdoor ceiling panels, this outdoor ceiling system is indeed impervious to cracking, bending, dampness, and fire.
This option is a superior investment since it saves money and time that might otherwise be spent on maintenance and replacement of broken ceiling panels. Furthermore, because fiber cement beadboard is ecological, you may enjoy the beautiful appearance of classic wood without getting resources from unsustainable sources.
Since the benefits of fiber cement over vinyl beadboard ceiling panels are evident, you may consider fiber cement as an efficient alternative ceiling choice when planning to redesign your next outdoor ceiling.
Outdoor PVC Ceiling Panels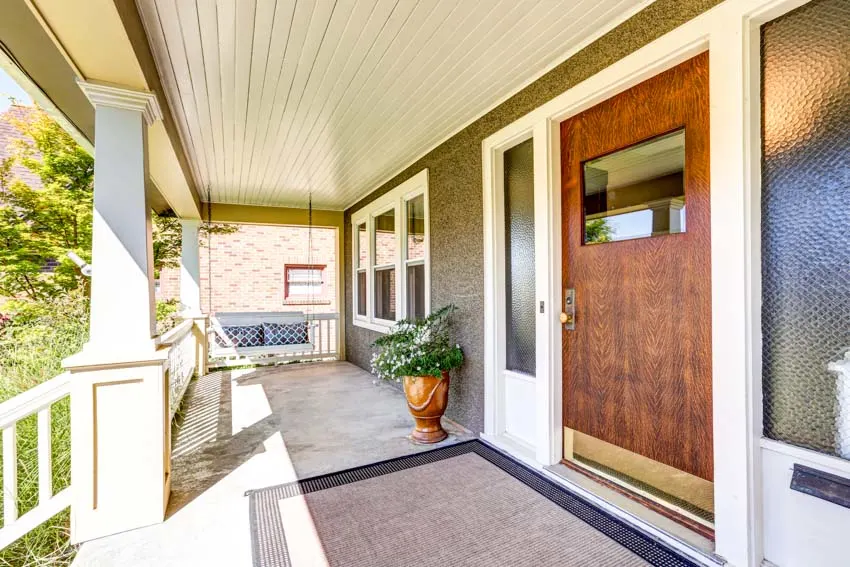 PVC (Polyvinyl Chloride) material withstands harsh weather conditions and is ideal for outdoor ceilings. PVC ceilings are available in a number of colors and typically feature changeable edges, allowing you to choose between center bead or v-groove designs.
PVC ceiling panels are strong and long-lasting. They can survive years of usage without distorting or warping. PVC outdoor ceiling panels are not fragile and are less prone to damage during handling.
PVC might quickly become your favorite outdoor ceiling panel option, particularly if you live near a beach or a coastal environment. Aside from its capacity to survive even the most severe weather, its greater stability can reduce material expansion over time. When it comes to aesthetics, you can choose from a variety of colors and designs.
Moreover, PVC outdoor ceiling panel construction is simple because the panels can be easily cut and shaped. Furthermore, they do not emit dust throughout the installation. Also, because these panels are waterproof, they are the finest alternative to traditional mineral fiber outdoor ceilings.
Outdoor Ceiling Heating Panels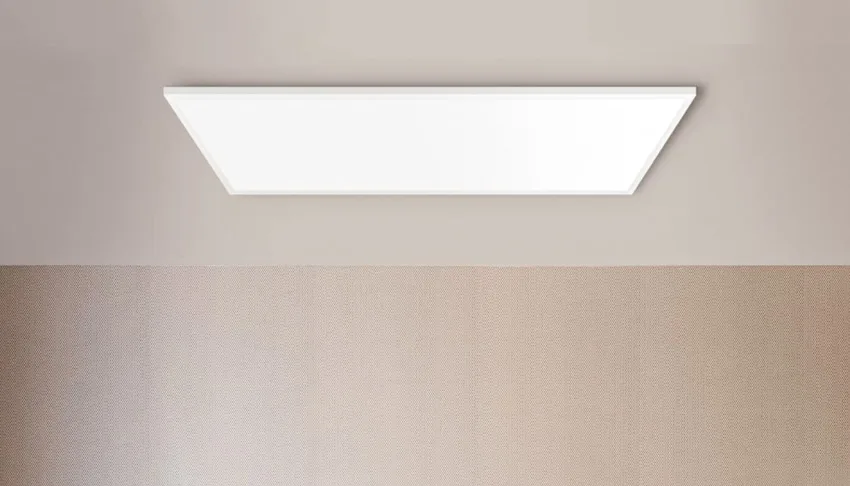 See this infrared heating panel at Amazon [sponsored link]
Outside ceiling heating panels radiate and heat the outdoor space to a pleasant temperature. Because it is spread out across a vast area, it may work with low-stream temperatures.
Outdoor ceiling heating is a surface heating technology that heats the entire surface area. Unlike radiators, they provide warm, direct heat to the space. Convection is minimal because of the low surface temperatures.
Flat heating panels that can be readily affixed to or installed in the outdoor ceiling are known as outdoor ceiling heating panels. The surface is often made of white silicon alloy and comes either with or without framing. The ceiling installation saves space in the outdoor space that must be heated.
The heat that normally comes from the infrared panels is felt instantly, providing a delightful warm sensation. Since infrared heats individuals and mass initially, and then the air volume, substantially lower consumption is a distinguishing property.
This system is appropriate for both main and secondary heating and is a very cost-effective replacement for obsolete electric convection heating, including accumulation heating or all other ventilation systems, or as a replacement installation.
Outdoor Ceiling Panel Sizes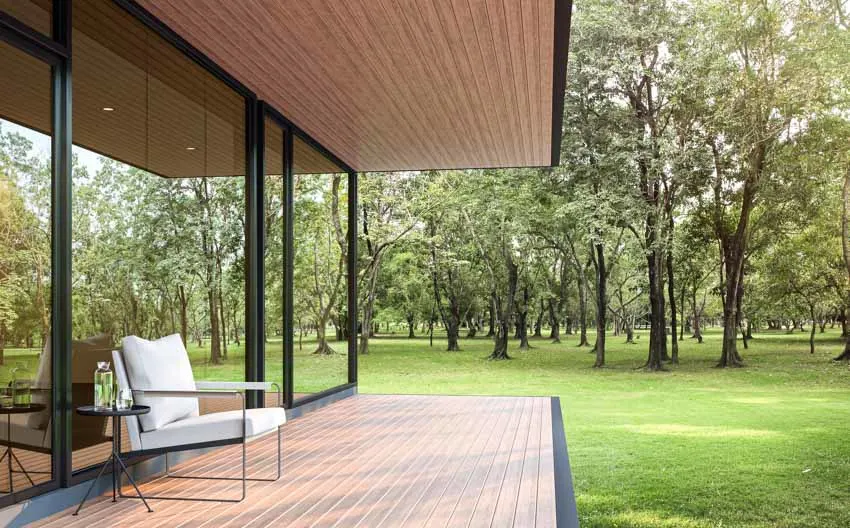 Here are the usual measurements of outdoor ceiling panels:
• Length: 9.5 Feet, 10 Feet, 12 Feet, 18 Feet, 20 Feet (The length of outdoor ceiling panels can be customized according to your needs and preferences)
• Width: 2 Inches to 15 Inches (The width of outdoor ceiling panels can be customized according to your needs and preferences)
• Thickness: 0.20 Inches to 0.40 Inches (The width of outdoor ceiling panels can be customized according to your needs and preferences)
How Much Does It Cost to Replace A Porch Ceiling?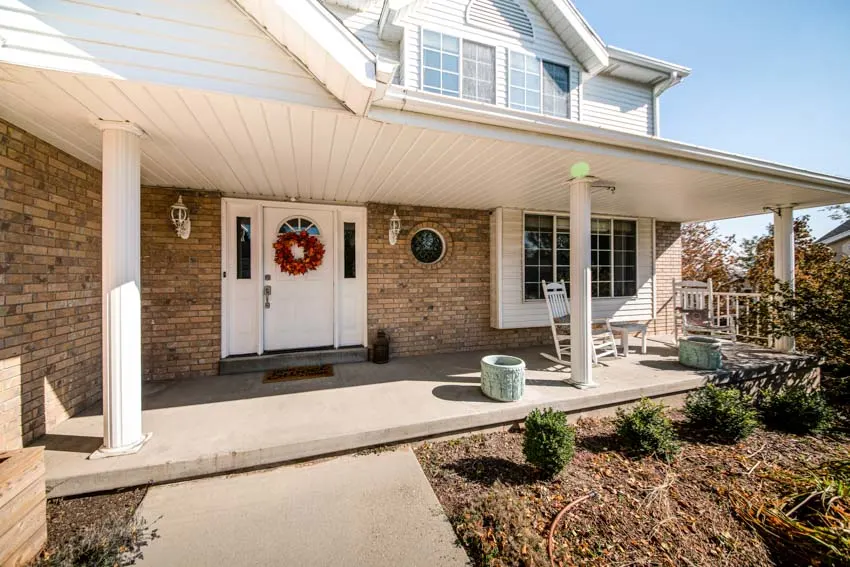 In some cases, the damage to your porch is too vast or serious to repair, and the damaged portion or component should be replaced. This can be substantially more expensive since it takes more time and money to replace broken components rather than repair them.
However, the average cost of replacing a porch ceiling would be around $750 to $2,000 (on a 250-square-foot porch).
What Is The Best Material For A Porch Ceiling?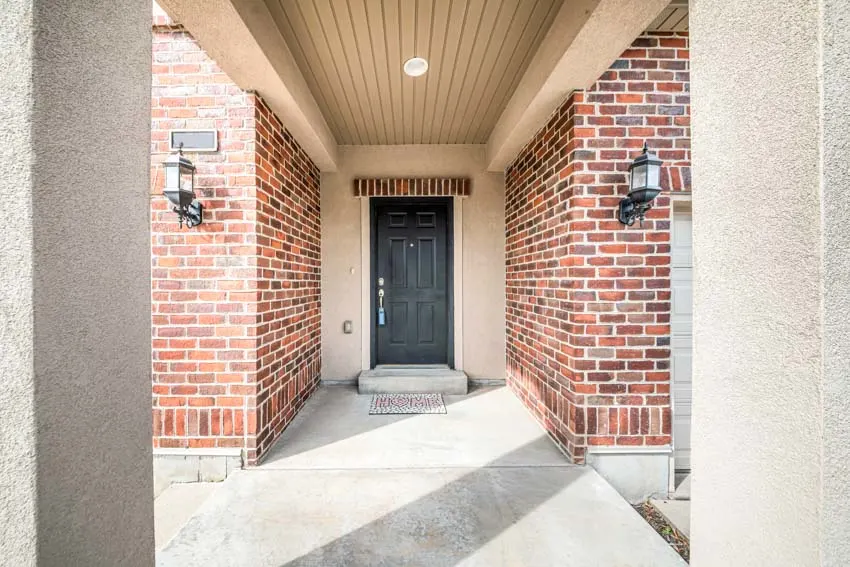 Although a porch ceiling is not subjected to the outdoor elements, it must tolerate more environmental challenges than an interior ceiling. Wood options, as long as they have a protective coating, are arguably the best and most recommended material for porch ceilings.
If you happen to look up while standing on the porch of an antique clapboard or brick building, you will most likely discover a beadboard or tongue-and-groove ceiling. The ceiling boards are normally 2 or 3 inches wide and made of pine or fir.
Considering the antiquity of the house, they may require numerous coats of paint to protect them. This traditional ceiling material for porch ceilings is equally popular in modern and traditional homes.
Wood beadboards are ideal for both newer and older types of porches. However, you do not need to meticulously nail each panel to the rafters as previous civilizations did.
You can also use plywood panels that have been stamped to appear like tongue-and-groove boards. Nobody will be able to discern that the panels are not at all genuine wood after you paint the ceiling.
Plywood can be used on a porch ceiling, but only in such a way that no one notices. You can cover the seams with 1-by-3-inch fir, cedar, or redwood trimming for a board-and-batten look. Aside from that, you can try installing a one-color ceiling or a two-tone look by painting the trimming a matching color.
Can Drywall Be Used For Porch Ceiling?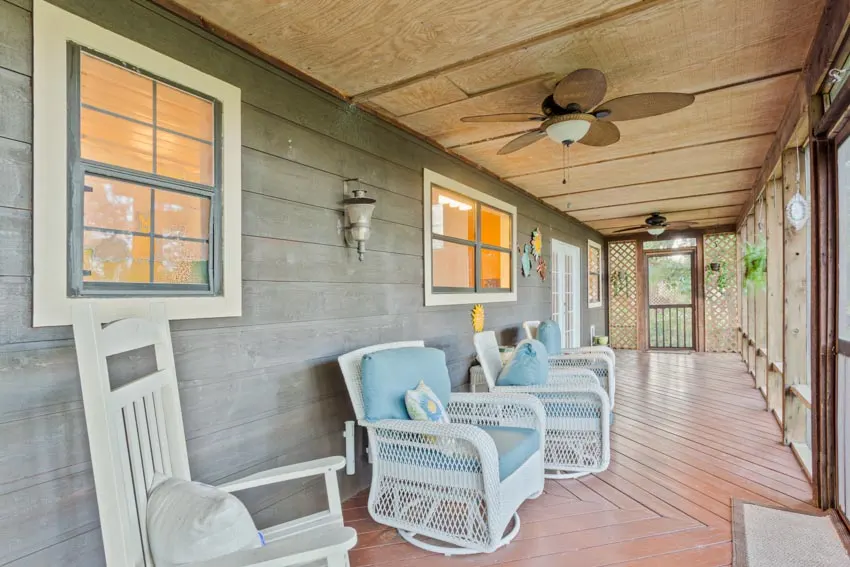 Generally speaking, the answer would be no. For porch ceilings, drywall is usually never a wise option. Even moisture-resistant drywall suitable for installation on an open porch might not be recommended.
Although moisture-resistant drywall is resistant to damage from moisture, significant exposure to moisture may cause it to collapse. Drywall is intended to be utilized underneath bathroom surfaces but not to be in direct contact with water.
Moisture-resistant drywall joints and nails are typically left unfinished because they will be hidden by tile or other finishing materials. The joint material will not be able to survive the elements on a porch.
What Wood Is Best For Outdoor Ceiling?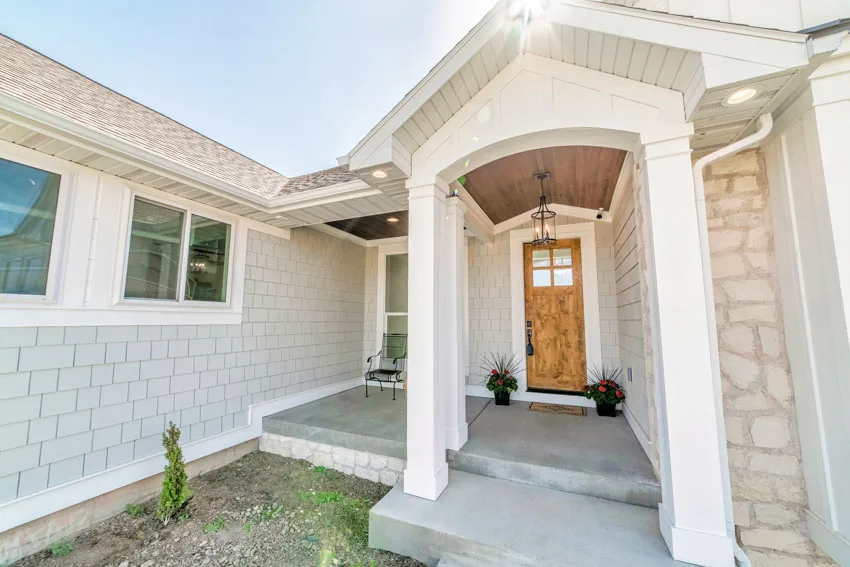 Even though you can seal your outdoor ceiling to try and prevent water problems, no finish can completely protect the wood. Because sealants can only help with water resistance, the best solution is to pick a wood species that is inherently water-resistant.
The following are some of the best woods to utilize for your outdoor wood ceiling boards:
Redwood: Because of its low seasonal displacement and shrinkage, redwood is an excellent choice for outdoor ceilings. Nevertheless, due to the scarcity of Redwood forests, lumber costs are frequently exorbitant and uneconomical.
White Oak: White oak is a dense, linear-grained type of wood that is naturally resistant to rot and moisture. White oak is a widely accessible species with established durability that is nearly universally used for wine and whiskey barrels.
Brazilian Walnut (Ipe): Ipe, which is supplied from Central and South America, is also referred to as Brazilian Walnut and Ironwood. Ipe is a solid, strong, and durable wood that is completely resistant to displacement, surface defects, bending, fracturing, rotting, and dampness.
Ipe, as with many imported exotic timbers, is subject to unlawful logging, which has very devastating environmental consequences and thus is not always the best option for exterior applications in some countries.
See more related content in our article about enclosed patio ideas on this page.