Here's our wooden hot tubs pros and cons and buying guide including types of wood, cost, wood fired models and how to clean.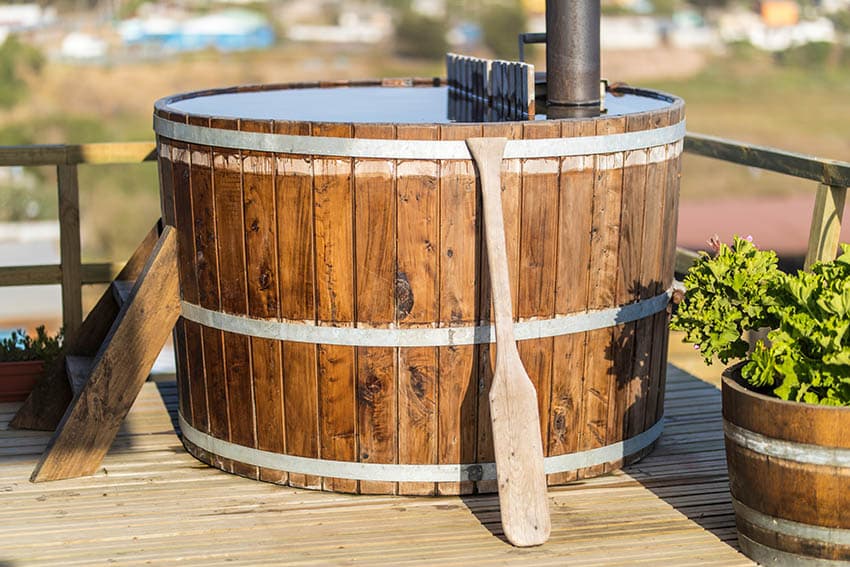 Hot tubs are a great way to add a touch of relaxation and luxury to your home. You have plenty of options when you're considering what type of hot tub fits your needs and home decor best.
For a classic look plus an array of options, it's worth considering a wooden hot tub that will last you years to come.
Here, we'll take a look at everything you need to know about wooden hot tubs to make your decision!
Pros and Cons of Wood Hot Tubs
Before we get into the specifics of what a wooden hot tub can offer, it's important to take a broader look at what a wooden hot tub can offer you. It's also worth taking the time to look at any cons that could come up with this type of hot tub.
The biggest aesthetic advantage that many take note of about wooden hot tubs is their traditional appeal. Not only are they timeless but the design serves as a nod to the first hot tubs.
Of course, though, modern renditions of the design have been updated to offer modernity alongside their traditional appeal.
In addition, you can adjust the exact appearance and dimensions of your wooden hot tub to cater to your needs. On top of that, you can take advantage of these pros for a cheaper cost than other hot tub materials like acrylic.
However, there are some drawbacks to wooden hot tubs. For one, they aren't as well-insulated as their acrylic counterparts.
This can make it harder to keep your hot tub at the temperature you want, making wooden hot tubs less eco-friendly and energy-efficient than a better-insulated option. You can offset this effect by opting for a hot tub with thicker wood.
What Wood is Used for Hot Tubs?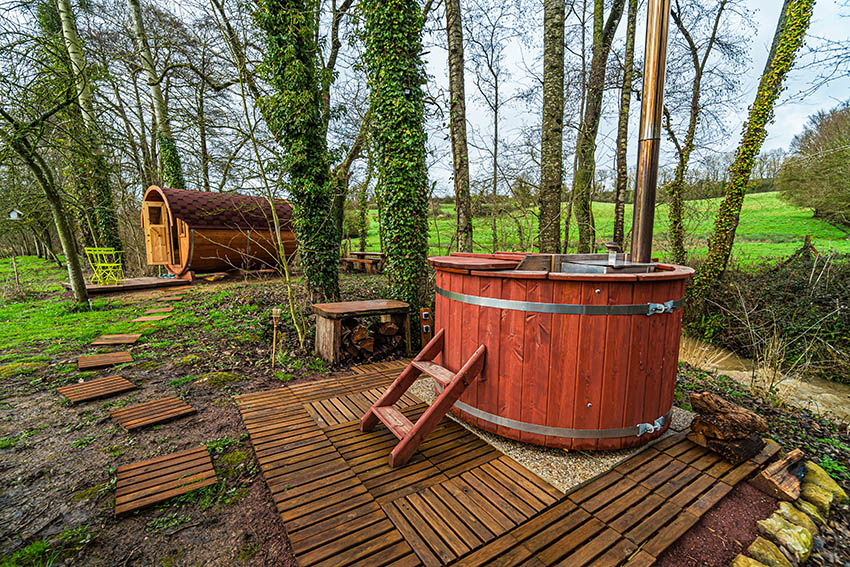 There are a number of different types of wood that hot tubs can be made out of. These are some of the most popular choices used in manufacturing wooden hot tubs.
For a luxury choice, many people opt for teak. Teak is often used in boats for not only its general durability but its ability to hold up against frequent exposure to water.
Plus, teak features an incredibly high oil content which helps to naturally boost the ability to restore the wood later on. Unfortunately, this is also one of the most expensive options.
Alaskan yellow cedar is one type of cedar commonly used in wooden hot tubs. Cedar is popular for a few reasons but Alaskan yellow cedar is especially valued for its durability since it will help your wooden hot tub will last for years to come. It's unique in appearance as well since it doesn't typically feature knots in the wood.
The most popular choice for wooden hot tubs, though, is western red cedar. This is largely because this type of cedar is the most readily available and affordable.
Are Cedar Hot Tubs the Best?
As we mentioned, cedar is among the most popular choices for a wooden hot tub. For one, they're valued for their affordability but that's not all. There are a number of other benefits that cedar hot tubs offer as well.
This includes a long lifespan: if you take care of a cedar hot tub, it can last you as long as two decades. However, for this timeline to play out, you have to make sure to take care of your hot tub diligently to ensure that the cedar lasts as long as possible.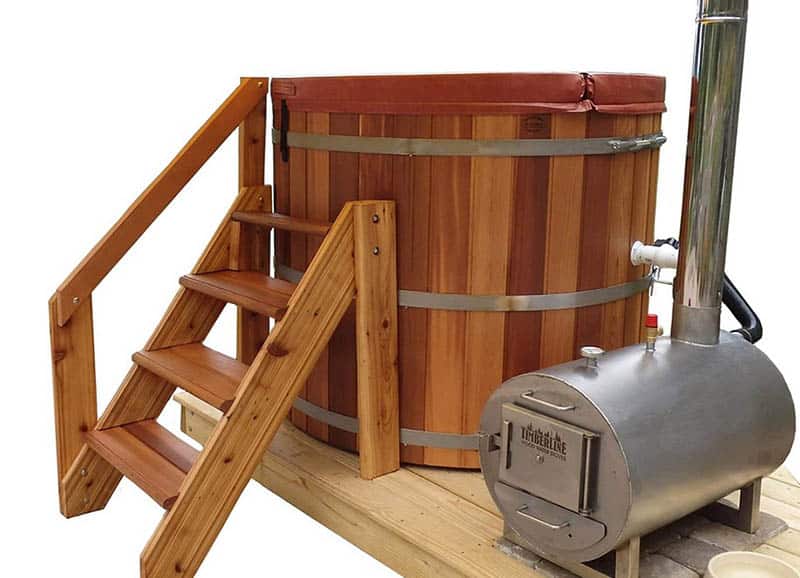 See this cedar wood fired hot tub at Amazon [sponsored link]
How Much Does a Wooden Hot Tub Cost?
Considering your budget is a big part of any renovation or addition to your home. As such, it's important to consider the cost that goes with a wooden hot tub.
A large part of this cost will also take into consideration the power source for the hot tub. Another consideration is the different hot tub sizes available.
The most expensive wooden hot tubs are gas-powered options. These start at a baseline of around $4,000 but the average costs range from around $5,000 to $10,000.
For something slightly less expensive, electric-powered wooden hot tubs start at $3,000 but typically range from $4,500 to $9,000. The least expensive option is a wood-fired hot tub at about $2,500 to $5,000.
How Long do Wooden Hot Tubs Last?
As mentioned previously, the most popular options for wooden hot tubs can last up to 20 years. Some higher quality or luxury wooden hot tubs can even last longer but wooden hot tubs typically don't last longer than 30 years.
Remember, this lifespan comes with stipulations. If you don't make sure to take care of your wooden hot tub, it won't last as long as 20 years.
Luckily, by making sure to commit to regular maintenance and upkeep, you can extend the life of your hot tub. The biggest thing to watch out for here is protecting your wooden hot tub from wood rot, especially if it's exposed to the elements.
Do Wood Hot Tubs Have Jets?
Generally speaking, yes, you can get a wooden hot tub with jets. However, hot tubs vary in what they offer to their customers, so you'll want to double-check that the specific wooden hot tub you're considering to make sure that it features jets or any other features you may be interested in.
How Do You Keep a Wooden Hot Tub Clean?
Naturally, people collect bacteria on themselves as they go about their day. Unfortunately, this means that it's easy to accidentally introduce that bacteria into your hot tub if you aren't careful. There are a few rules that you can follow to help limit this and keep your hot tub clean.
First, make sure to shower or bathe before you get in the hot tub. This way, you're already clean. You should also wear shoes up until you get in the hot tub or clean your feet before getting in the hot tub. This way, you won't track anything in.
Once you get out, make sure to use a non-toxic cleaner. This can be a product like an ozone sanitizer or hydrogen peroxide to sterilize the water.
Finally, make sure to drain the water in your hot tub so you can clean it on a regular basis. It's recommended that you deep clean your hot tub every four to six months.
What do you think of these wooden hot tubs pros and cons? Let us know what you think about these types of hot tubs in the comments section. For another related article check out or comparison of Jacuzzi vs hot tubs here.