Here we share the differences of a jacuzzi vs hot tub including the cost and other popular features.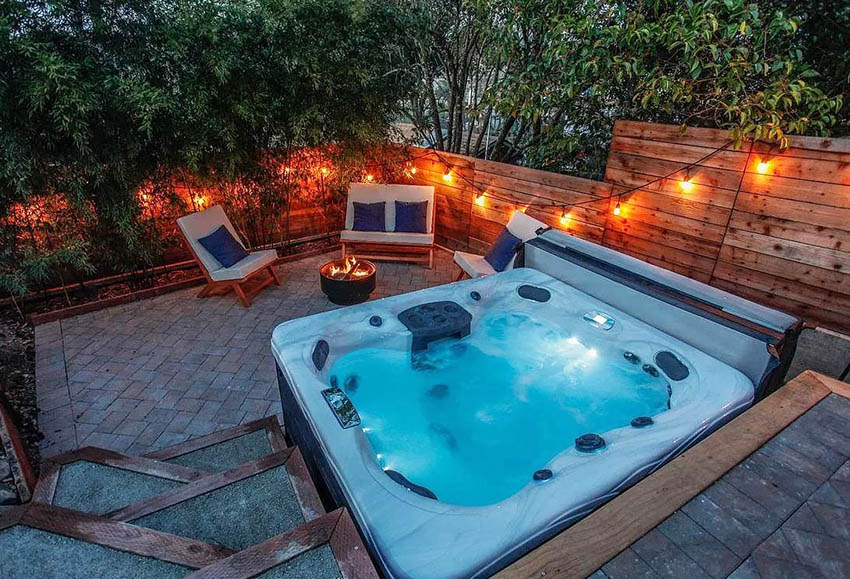 A hot tub can be an amazing place to relax after a day's work, hang out with friends and family or just soothe sore muscles. Choosing the right type of hot tub first starts with knowing which one is right for you. One of the most popular brands of hot tubs is Jacuzzi.
Difference Between Hot Tub and Jacuzzi
Hot Tub: A hot tub is an above ground tub of hot water. These typically have whirlpool devices and serve as a place for people to soak. Hot tubs are also commonly called spas, which holds the same definition, and can be used interchangeably.
Hot tubs can have a great deal of different features and amenities. Some of the hot tubs can include: TVs, sound systems, LRD Lights, headrests, waterfalls, jets, massagers, and can be made into a plethora of different shapes and sizes.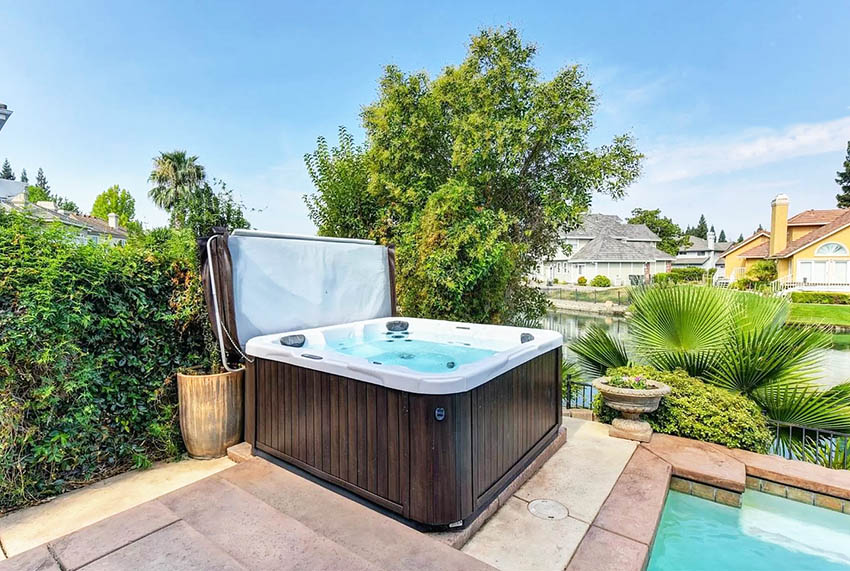 Jacuzzi: A Jacuzzi is a BRAND of hot tub (and other similar items). The Jacuzzi brand is used on hot tubs, poll equipment and even some bath products. The company has been around so long, that it has become a common word similar to how we call things 'thermos','frisbee' or 'kleenex' which are all brand names that we have used as item descriptions.
What is the Difference? The difference is that a Jacuzzi is (in most cases, they do make other products as well) a hot tub, but all hot tubs are not necessarily Jacuzzi brand.
Cost of Jacuzzi vs Hot Tub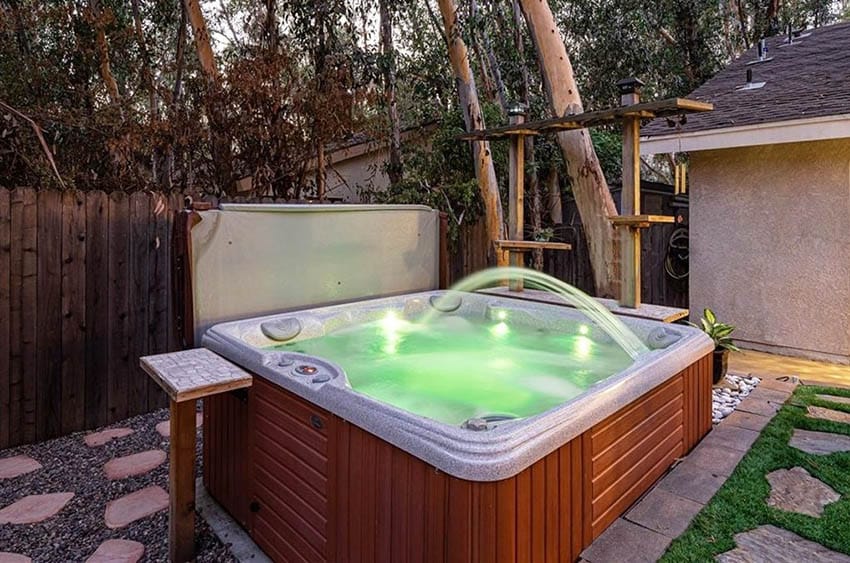 Hot tub with water feature.
As mentioned above, the only real difference of a Jacuzzi and a hot tub is the brand name. That will mean that a hot tub has a lot larger a range of price tags than the Jacuzzi.
These costs can also change vastly based on the size, location, shape and features that are selected on both the Jacuzzi and Hot Tub fronts. It is best to get quotes of the tubs before making the final decision. That being said, below is an overall idea of what the cost breakdown of each type is.
Hot Tub Price
Low Range – The low range of a standard hot tub will run about $3,000 to $7,000 with the minimal features and quality available.
Medium Range- The mid range options put the price tags at about $5,000 to $10,000,giving a large range of features and quality to the products.
High Range – Looking at the higher, more luxury options those can run anywhere from $10,000 to $20,000 or even more if there are custom qualities that you are looking into.
Jacuzzi Price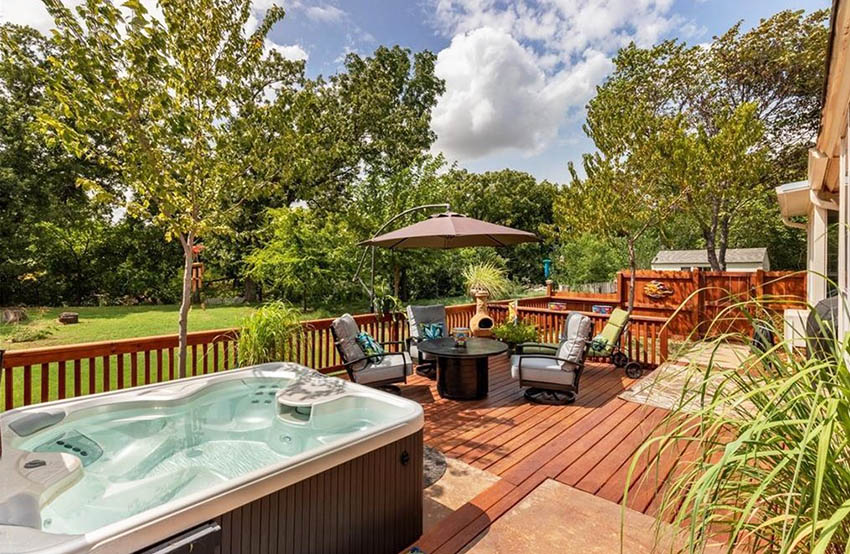 Low Range – Sticking to the basics with a budget to entry level Jacuzzi you will be looking at a chunk of change about the size of $3,000 to $6,000. These usually seat about 2-4 people and the big selling point is the price tag. While the options are a bit more limited, sometime the price tag is going to sway what you can and cannot get.
Medium Range – A good mid level Jacuzzi is going to run you about $8,000 to $10,000. These types of Jacuzzis typically seat 2 to 5 people and are some of the best selling options based on offering great features while keeping a reasonable price.
High Range – The LUXURY version of Jacuzzis can from $15,000 to $20,000. These types of Jacuzzis will typically sit about 5 to 7 people and has the best features available as well as the most jets and options.
Other Popular Types of Tubs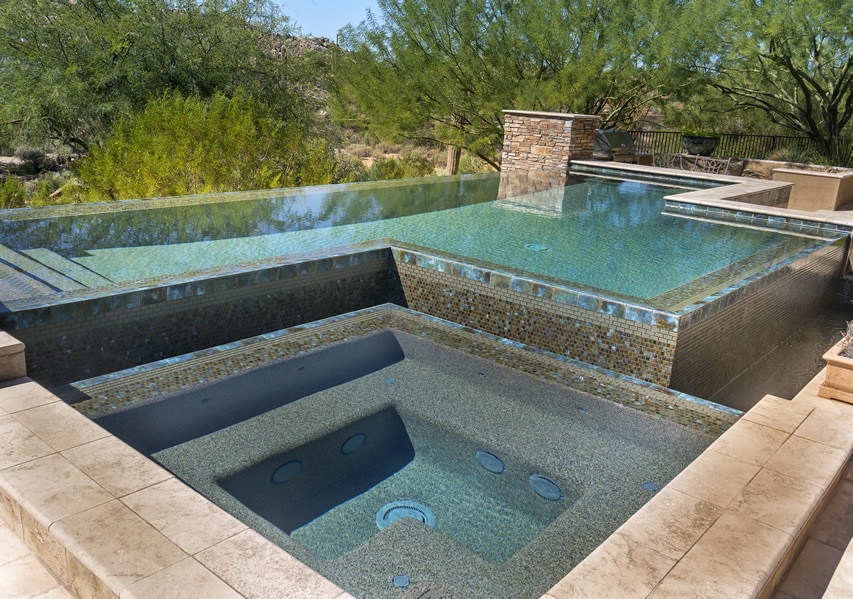 Lagoon style swimming pool with spa.
Spa: A spa, as mentioned above, is another name for hot tub, and can be used interchangeably to describe a tub filled with hot water that is above ground. The word spa typically suggests that it has additional features such as jets or massaging features, but it is not necessary for it to be classified as a spa. One difference of a spa though, is that it could potentially be in ground, unlike the hot tub that it an above ground element.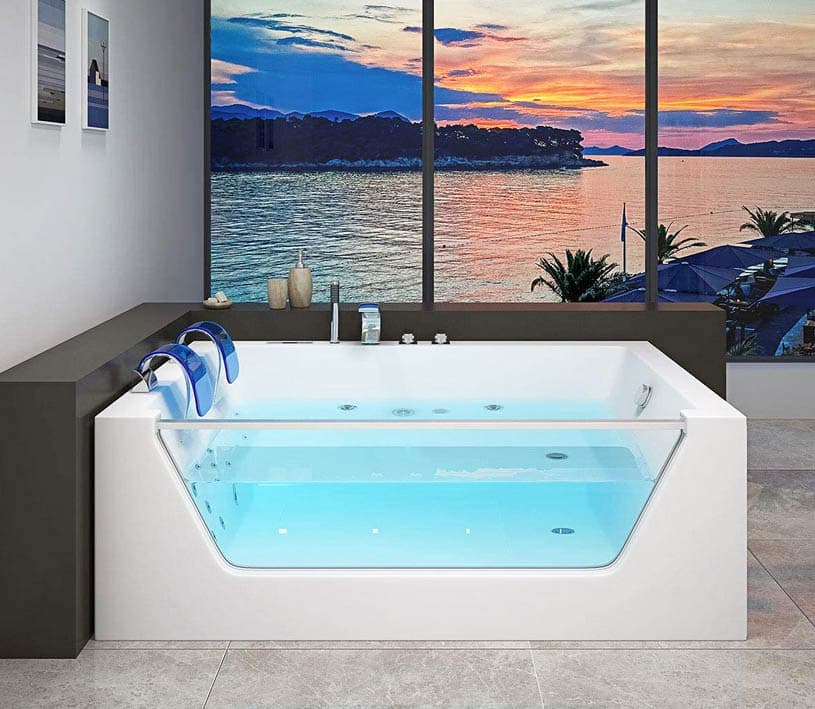 Whirlpool bath: A whirlpool bath is a bath that is therapeutic by using forceful currents of water. Since these are classified as baths, they are often used in bathrooms, by one person at a time, versus in a social setting. These whirlpool baths are designed to give a therapeutic massage to the user using only water and not any physical touch.
Jetted tub: A jetted tub is simple put as a bathtub with jets. This is another example that is commonly single person use in a bathroom. The jets provide a similar therapeutic feel as the whirlpool bath, but a bit less extreme. A jetted tub could even just be a smaller tub for just feet!
Therapy tub: A therapeutic tub, also known as a therapeutic bath, is used in medical treatments and hydrotherapy. Theraputic baths are used to relieve itching from crusts, scales and other skin issues. This type of bath can also be used for speeding up certain types of healing from wounds, to sore muscles and joints, to even menstrual pains.
Therapy tubs are often placed in clinics, medical centers, and hospitals, but in some case they can be placed in homes. They often have to be regulated by ADA and other codes in the medical field as they are used not recreationally but for therapies.
Fore more related content check out our luxury bathtubs gallery.