Here's our guide to teak shower floors including what it is and their pros and cons.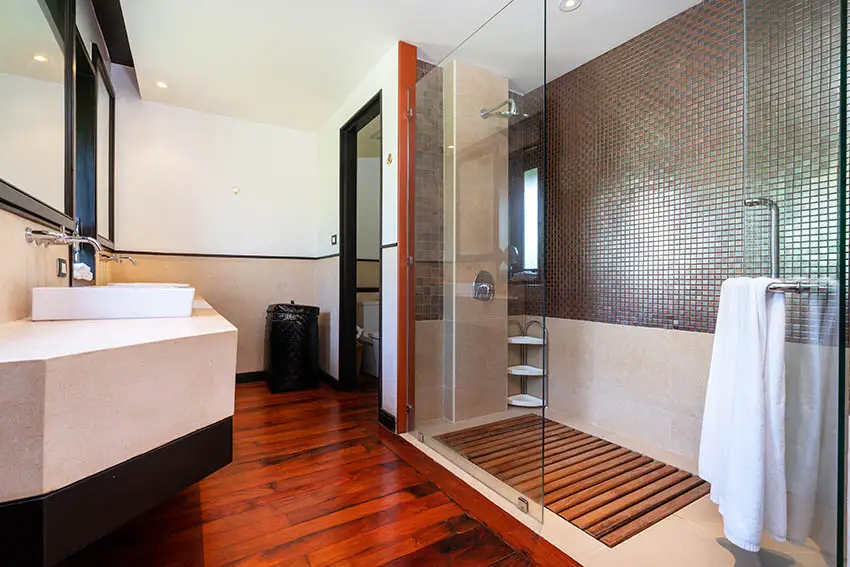 Teak is a popular hard wood known for its strength and durability. Teak wood has the ability to withstand extreme heat and cold which makes it an excellent choice of wood for outdoor; it is also becoming a trendy choice of wood to use indoors.
Its durability with its high quantities of oil and rubber, contribute much to the fact that teak wood is unlikely to be afflicted of rotting, or many other wood damaging elements.
The warm color and its natural grain are elements that make it one of the most attractive wood to designers and homeowners.
These natural benefits of teak wood such as its strength, durability, color, water-resistant properties, and tendency not to splinter easily makes it an extremely adaptable wood and one of the best choices for bathroom shower flooring.
What Are Teak Wood Shower Floors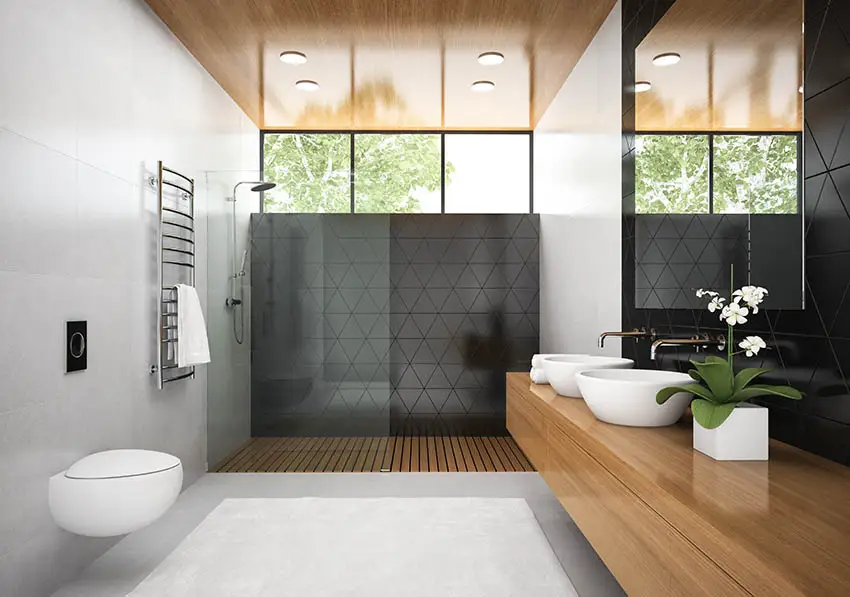 When planning for a bathroom design, one thing that should always be taken into careful consideration is the shower floor – after all, the idea that we should be standing on something that will be soothing and relaxing for our feet.
Wooden floor showers made of teak are an elegant upgrade, warms up the bathroom, very calming and a lovely way to handle the floor itself.
Due to the teak wood's high oil content, it makes it more moisture resistant than other types of wood.
Teak wood is one of the viable options for a shower floor since it has a slip-resistant surface and requires less maintenance even in the dampest conditions; its inherent oils make it resistant to fungus, bacteria, mildew, and other impurities.
However, we strongly recommend doing routine cleaning and a deep cleaning at least every 3 months or when you notice some soapy build-up.
For a modern design look, teak wood shower floors are perfect because the way water trickles through the slats and into a large shower pan underneath; these teak wood floor conceals the water drains making way for a fluid, sleek and minimalist statement.
The dark, rich stained teak wood slats paired with tiles and other wood accents creates a bold and modern design space.
Teak Shower Floor Pros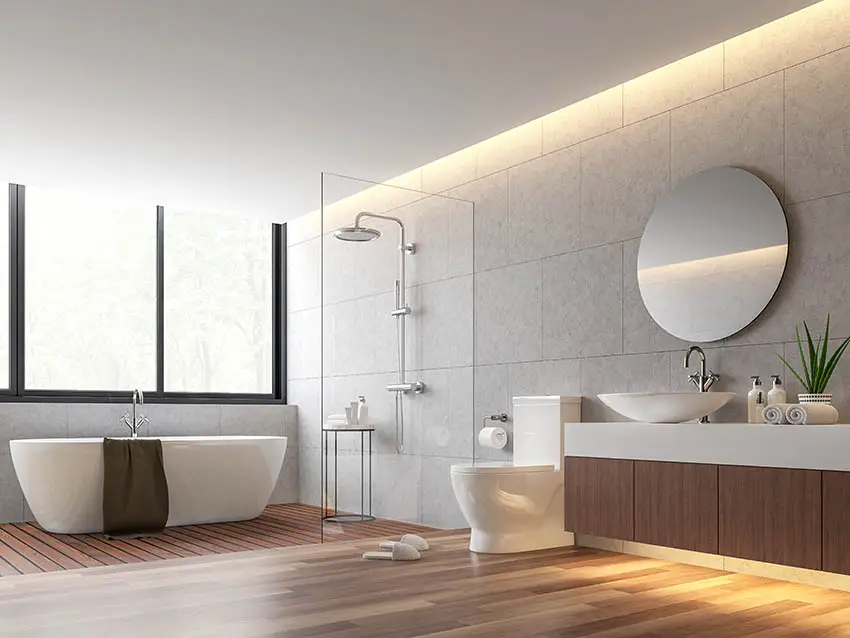 Teak shower flooring often boosts the appeal of the bathroom due to their aesthetic design elements. Teak wood has incredible strength and durability.
Its inherent natural oils makes teak wood water-resistant and allows this wood to preserve its beauty in moist environments and makes it possible to deter wood-eating pests.
Teak wood shower floors can add warmth, rustic feel and character to the shower area of your bathroom and can really give you a soothing and relaxing feel on your feet.
Teak Shower Floor Cons
While teak wood does responds well to moisture, it tends to age faster and change its color to a shade of silvery grey in moist environments.
Even though teak wood contains the natural oils which ensures effective moisture protection and prevents mold contamination, teak wood is also prone to be impacted by colored chemical compounds such as hair dye, bath salts and shower gel. These abrasive components could compromise the teak's appeal.
While teak wood is incredibly durable, if not treated, finished and sealed well it will roughen up and wear out eventually.
Maintenance of teak wood shower floor requires a fair amount of time and effort to ensure they keep looking their best. While the design appeal is worth the cost of having a teak shower flooring, it can get costly.
Teak Shower Floors Q & A
Here are some of the most popular questions regarding teak flooring in the shower.
How Long Does Teak Wood Last in Shower?
Even hardwood won't last long when exposed to enough water – but, because teak wood has a natural oil which gives it waterproofing characteristic and has an unusual resistant to molds and mildew than most other woods.
You can expect teak wood to last at minimum of 10 to 15 years in the shower. When teak wood is treated and maintained properly and used for outdoor furniture it can even last for as long as 50 years.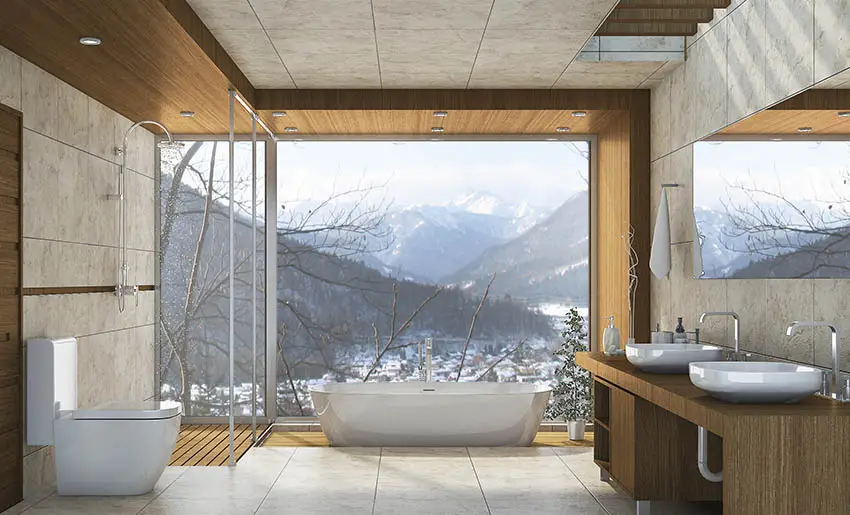 Which is Better in Shower Teak or Bamboo?
Both teak and bamboo are excellent choice in the shower primarily because both have high water resistance; but teak can handle water better than bamboo.
Being a hardwood type, teak has darker and more luxurious finish than bamboo and because bamboo is lighter in weight, it is unable to handle much weight as the teak would do.
Bamboo costs less than teak wood and so it fairly remains a popular choice for a shower material, simply because bamboo is more affordable.
Bamboo is more sustainable than wood because it matures rapidly and it is less prone to warping. On the other hand, using teak in shower is considered to be a worthwhile investment because teak wood can last for decades and that is enough to get your money's worth.
What is the Best Material for a Shower Floor?
Whether you are designing, renovating or constructing a bathroom, the shower floor requires special consideration and choosing the right shower floor material from a variety of options is a big factor to take into account.
When choosing the best shower flooring for your bathroom, bear in mind that the material you choose for the flooring need to withstand the constant moisture in the bathroom and the shower floor must be completely sealed.
Take into consideration the type of flooring and ease in maintenance. Your shower floor material should be able to hold up to the "stress" of constant cleaning which often requires using harsh chemicals and rough cleaning materials; in order to free it from mold, mildew and soap deposits.
Consider well the frequency of resealing and reconditioning of your shower floors. Bathrooms should be functional, safe, clean and gives you the feeling of relaxation.
Shower floors also need visual appeal that would go along with your bathroom design scheme. Just because a shower floor needs to be durable and holds up well, doesn't mean it should not consider the aesthetic look and how it can add to the ambiance of the bathroom.
From a durability standpoint ceramic and porcelain tile are often considered the best materials for a shower floor. Read more about bathroom tiles here.
Other popular materials for a shower floor include tiles, marble, wood, pebbles, slate, acrylic, fiberglass and enameled cast iron floor.
For more related types of bathroom showers visit this page.