The essential guide to the best pergola furniture ideas including popular outdoor furniture like rattan, teak, aluminum, powder coated and synthetic wicker.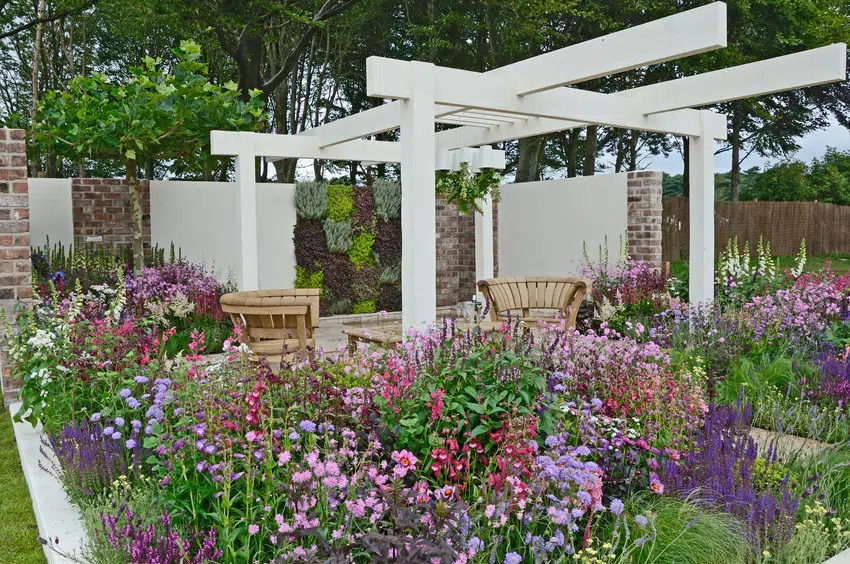 Pergolas are a great addition to a yard. However, to make the best use of this space, it needs to be furnished according to your own style and preference.
When purchasing outdoor furniture sets for your pergola, there's a wide range of materials you can consider based on looks, price, quality, and durability.
Below are some of the best types of outdoor furniture that could be a great fit for your pergola.
Types of Outdoor Furniture For the Pergola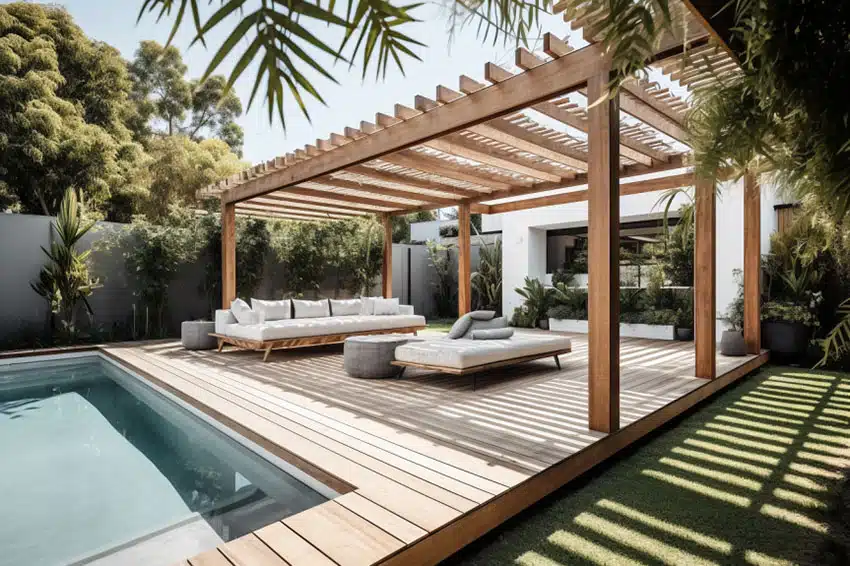 Here are some great furniture ideas that could be an excellent addition to your pergola. Check out our gallery of various beautiful pergola ideas here.
Synthetic Wicker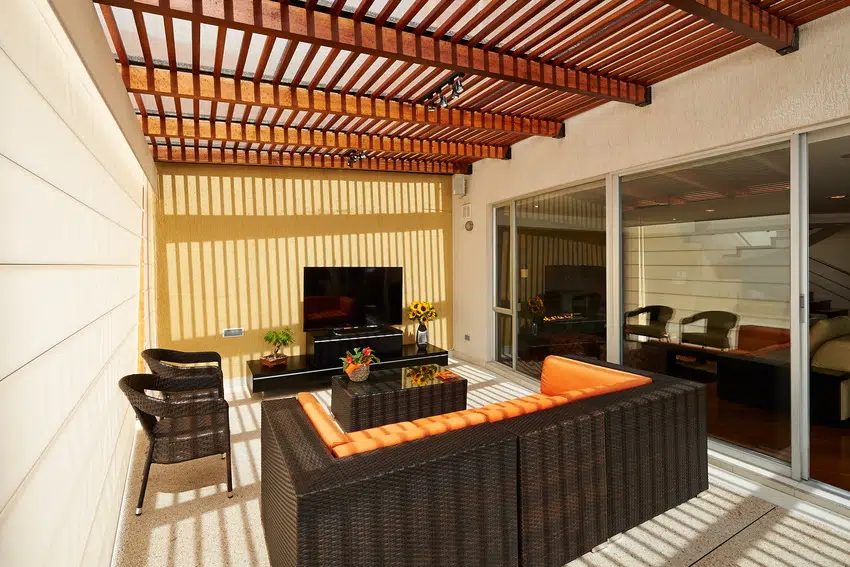 Durability – Synthetic wicker is quite durable, especially compared to its alternatives like natural rattan. This type of material is less susceptible to both sun and water damages, making it an excellent choice of outdoor furniture in a pergola.
Design – The "wicker" in synthetic wicker actually refers to the design style rather than the material of the outdoor furniture.
Basically, wicker is a weaving method that can be used for both synthetic and natural materials. In this case, the weaving style looks a little less underwhelming and attractive compared to when used for other natural materials available.
Maintenance – Synthetic wicker needs less maintenance compared to its counterparts. Synthetic wicker is moisture-resistant, as well as mold- and mildew-resistant.
This limits the care and maintenance to a quick spray and wipe without any worries about damaging the product.
It is quite uncommon for synthetic wicker to break, while the repairs are usually done without any hassle. Normally, one would just need to weave a new strand into the furniture.
Cost – The price of synthetic wicker is almost similar to both natural wicker and rattan, although the former is a little on the lower side because of mass production.
Rattan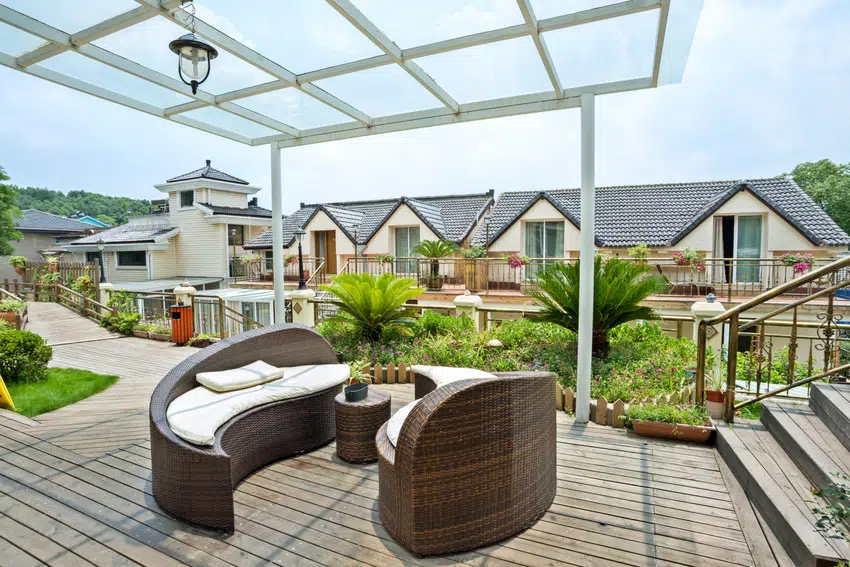 Durability – Rattan furniture pieces are made of naturally strong, durable, and sustainable materials that are readily available at any furniture store. However, they are a lot less durable than synthetic materials and metals.
Rattan is resistant to fading from the sun and temperature changes. Unfortunately, this type of material is not waterproof.
Design – Rattan shares the same design with synthetic wicker, but the former is made of natural materials, providing a softer and more appealing look. Read more about our article on the difference between rattan vs wicker here.
Rattan furniture continues to grow in popularity even to this day. Still, trends do come and go.
Ultimately, longevity won't even matter as it's still best to consider any outdoor furniture that will suit your taste.
Maintenance – Since it's made of natural materials, rattan requires regular maintenance to prolong its lifespan. Rattan furniture should be oiled and cleaned every few months to keep it in good working condition.
If you notice any loosening fibers with the furniture pieces, they should be repaired as soon as possible to avoid further damage.
Cost – The cost of rattan is significantly cheaper than any metal or fully resin material. You can often get your hands on this type of furniture for a very inexpensive price at any thrift shop or resale store.
Aluminum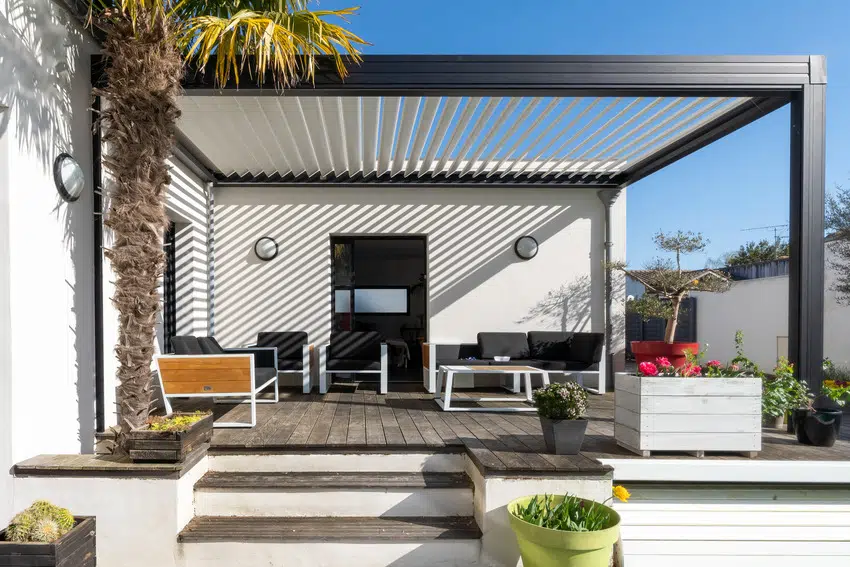 Durability – Aluminum is commonly used as a material for outdoor furniture particularly due to its extreme durability. This material is also rust-resistant despite constant exposure to rain, snow, and other natural elements, making it an excellent choice for outdoor furnishings.
Design – The design of aluminum outdoor furniture is greatly dependent on the quality of aluminum. Normally, these types of furniture pieces can look aesthetically pleasing.
But, low-quality aluminum can often result in deformed or misshapen furniture over time, giving it an unattractive look.
Aluminum is relatively lightweight and extremely versatile, making it easy to incorporate in any home design theme.
Maintenance – Aluminum furniture is less likely to require maintenance, particularly because of its rust- and moisture-resistance properties. Because of that, repairs are also less frequent, if not rare.
Cost – Because of its extreme durability and low maintenance properties, expect the cost to be high.
For aluminum furniture, a low-quality material would basically cost you less and vice versa. However, you should also take into great consideration the quality of the material when purchasing aluminum furniture.
In the end, a high-quality material, despite its higher price, would be a more cost-efficient option in the long run.
Powder Coating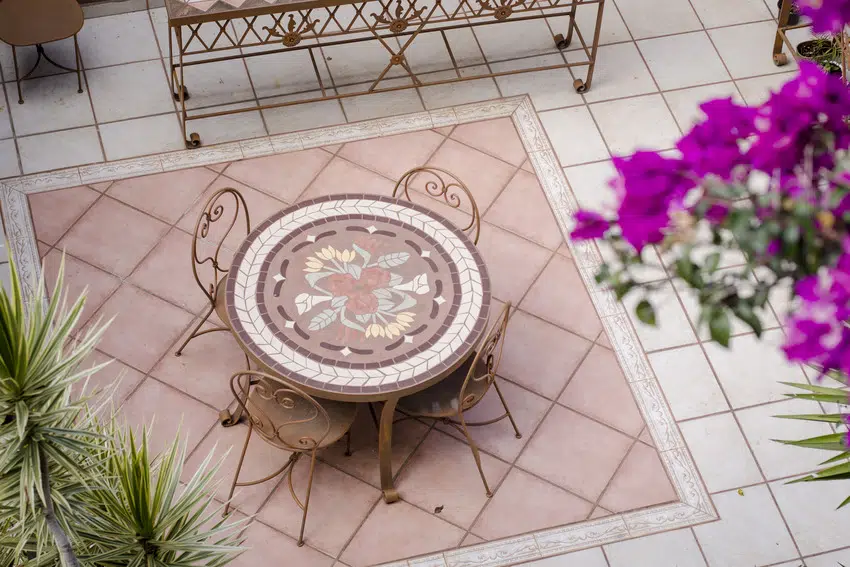 Durability – Powder coating is a furniture finish that adds an additional barrier to prevent corrosion, dings, and scratching, making the furniture more durable.
Design – The design of powder coating is meant to act as both a barrier and a great way to add splashes of color to an otherwise plain outdoor furniture.
The design of powder coated furniture is very similar to the material under it, which is typically aluminum or other metals.
Maintenance – In most cases, maintenance for this type of material is slim to none. But ultimately, it would depend on the material that is coated.
Normally, powder coated furniture could use a quick pressure washing when they haven't been used in a while and they are good to go!
Cost – Powder coated outdoor furniture is a little pricier compared to aluminum outdoor furniture. This is because of its extra durability and versatility, offering a wide range of design options available for any furniture piece.
Teak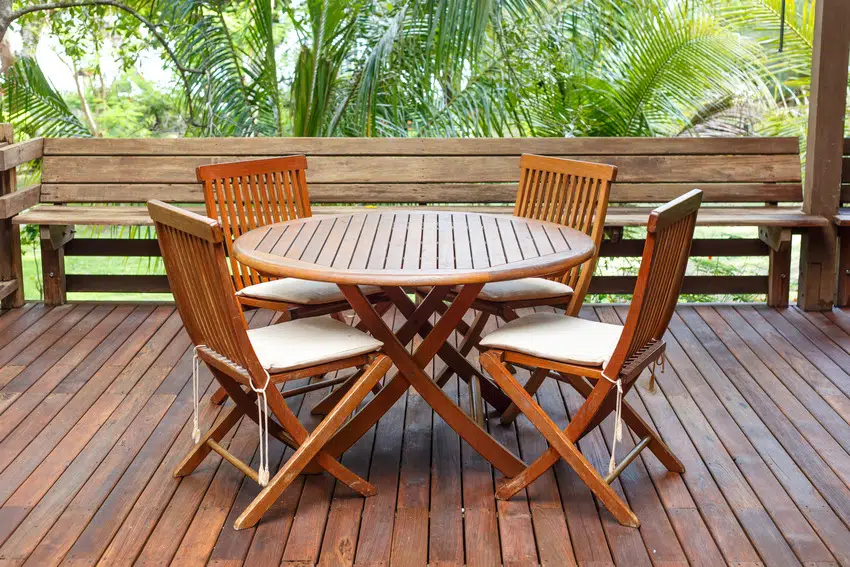 Durability – Teak is an extremely strong and durable wood, particularly when considerations such as sun and extreme weather exposures are taken into account.
The oils and compact wood makeup of teak furniture are highly resistant to rotting, acids, pests, and moisture.
Design – Teak outdoor furniture has a natural wood look that is quite popular for its aesthetic appeal and durability. This type of outdoor furniture has a striking golden brown look that changes to a light gray color with age.
Maintenance – Teak outdoor furniture requires little to no maintenance. As it gets weathered over time, the wood will also change colors.
If the color change is not what you desired, the wood can be sanded to bring back its original color. Other than that, all the piece needs is a quick brush or spray depending on the overall circumstances.
Cost – Known for its luxurious qualities, teak is one of the most expensive materials when it comes to outdoor furniture.
However, this type of furniture is definitely worth the investment because it really lasts a long time, while still maintaining its attractive look and qualities.
For more related content about pergola furniture ideas, visit our page about pergola lighting ideas.