See how to position outdoor furniture on grass including if it should be done, how to make a seating area, ideal grass patio ideas, and the best outdoor furniture to use.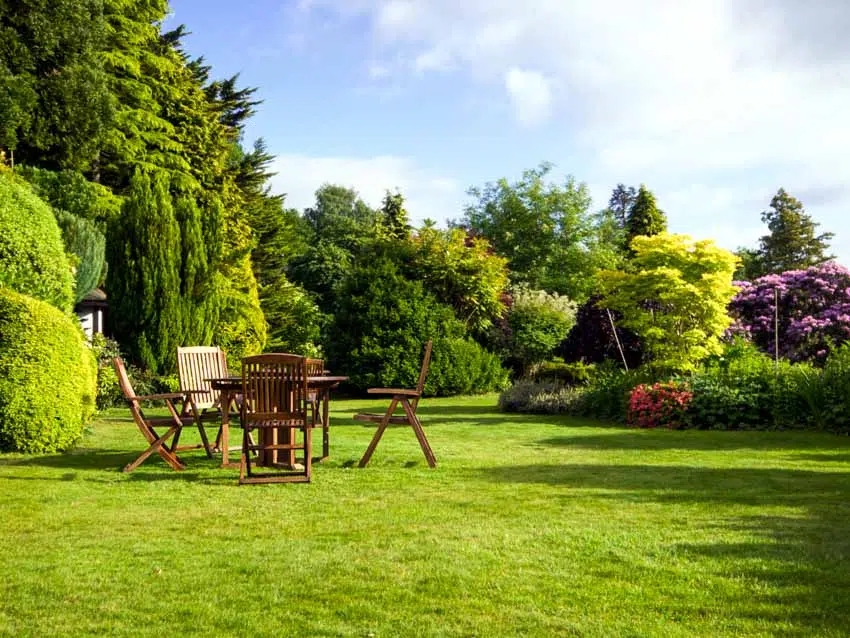 The greatest part about your outdoor area is that you can freely customize it. There are no limitations to your imagination; all you need to do is consider your budget as well as the quantity of space available.
However, if you have a large grass-covered garden, you might think about investing a significant amount of money to construct a hard floor on which to put the outdoor furniture.
Nonetheless, have you considered placing the outdoor furniture directly on top of grass? There are numerous reasons why you should consider placing outdoor furniture straight on grass. Simply put, this is possible under the right conditions.
Can You Put Furniture On Grass?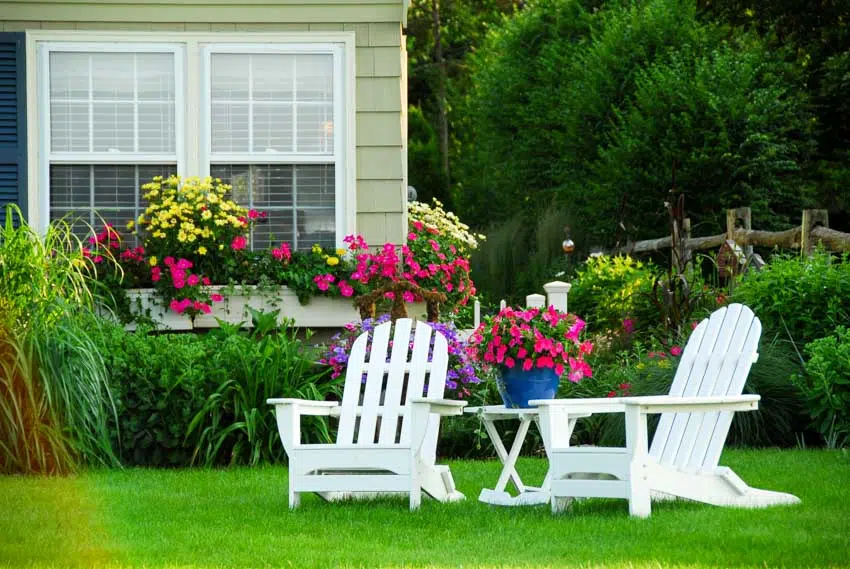 Generally speaking, the answer would be yes, but as long as you have other options to protect your grass, then the answer would be no. Not all homeowners and designers would confidently say "yes" to this question, and they all have identical reasons.
For example, they believe that putting furniture can damage the grass, which is reasonable. In fact, placing outdoor furniture on the grass will pressure it, causing the grass to be destroyed and bald spots to form across the garden. Nevertheless, as aforementioned, you can freely customize your outdoor space.
You can always try to put furniture on grass, but should only under the following conditions:
• Your outdoor space is flat, dry, and substantial.
• You are using furniture with wide feet.
However, these conditions will not be followed 80% to 90% of the time. Hardly any grass outdoor space will be level enough to properly seat and accommodate household members and guests. That is why using the right types of outdoor furniture and choosing the right space can more efficiently make an outdoor seating area.
How To Make An Outdoor Seating Area On Grass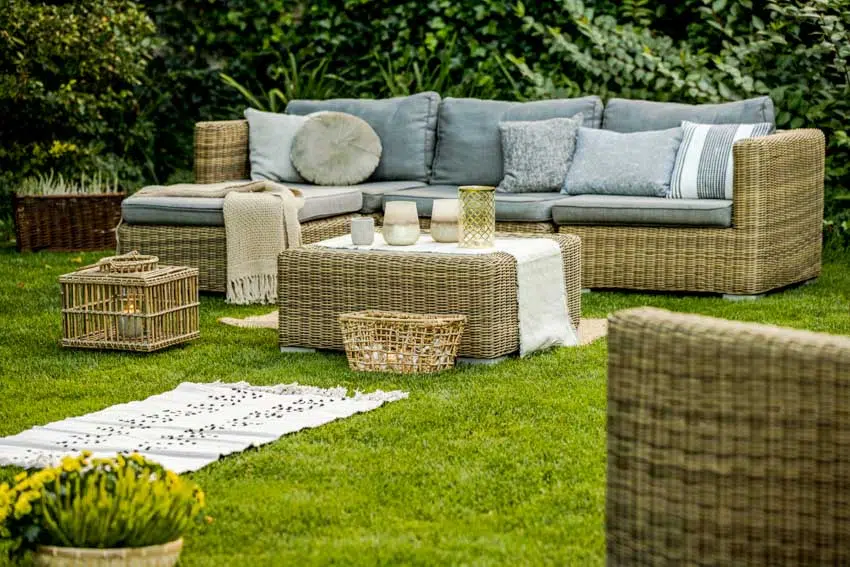 You can buy affordable patio pavers to help strengthen the grass furniture arrangement. Once you have them, you can start laying them beneath each of the outdoor furniture legs. At the very least, this will make the pieces of furniture, particularly the types of tables you're using, stable enough.
Unfortunately, the seating area will likely be difficult to deal with. We recommend that you go around the day beforehand, and observe and mark the uneven surface. You must also fill in the low spots with more dirt or fine gravel.
If you are not conscious of the appearance, you may also buy sheets of plywood and make temporary flooring above the grass. Put them in the areas where you will put the outdoor seats. Nevertheless, you want this to be a short-term solution only so that you will not damage your grass.
Patio Furniture On Grass Ideas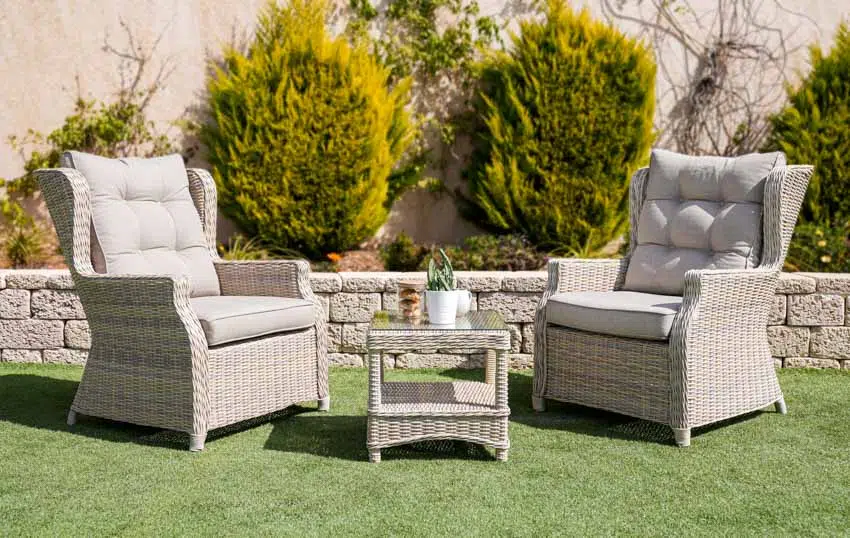 Patio types of furniture styles for grass allow you to enjoy the advantages of this incredible setup while avoiding complications such as damaged grass and bald spots on your lawn.
Outdoor tables and chairs with wide feet, lightweight patio furniture, as well as plastic garden furniture are some of the most ideal patio furniture that may be used on grass.
You can use one of the available patio furniture layout tools if you need help visualizing the space you want before doing any furniture buying or moving things around.
Best Furniture For Grass
Here are the best outdoor furniture elements that you can safely put on grass surfaces:
Wide-Footed Furniture for Outdoors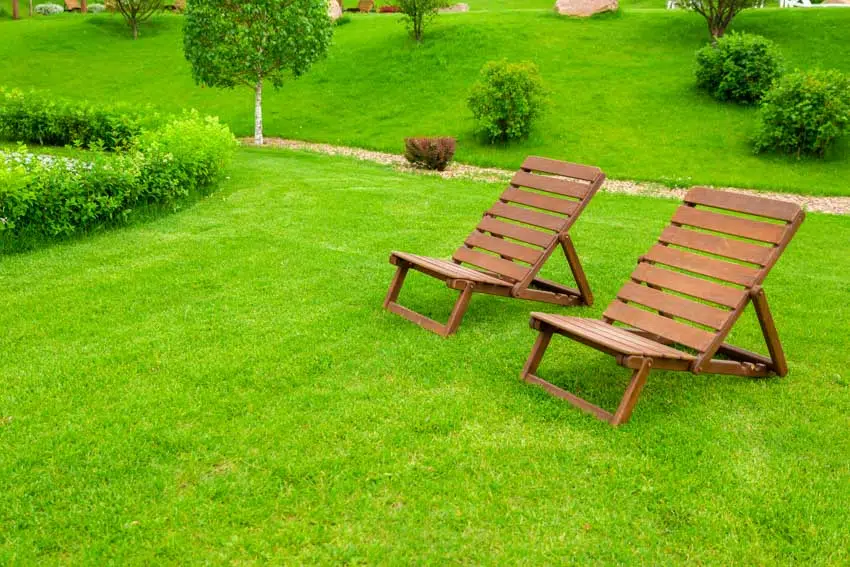 The furniture's wide feet keep it from burying itself in the ground. They can lessen the harm done to the lawn as well. The table and chairs must have wide feet. Additionally, they increase stability on unlevel ground.
Lightweight And Portable Garden Furniture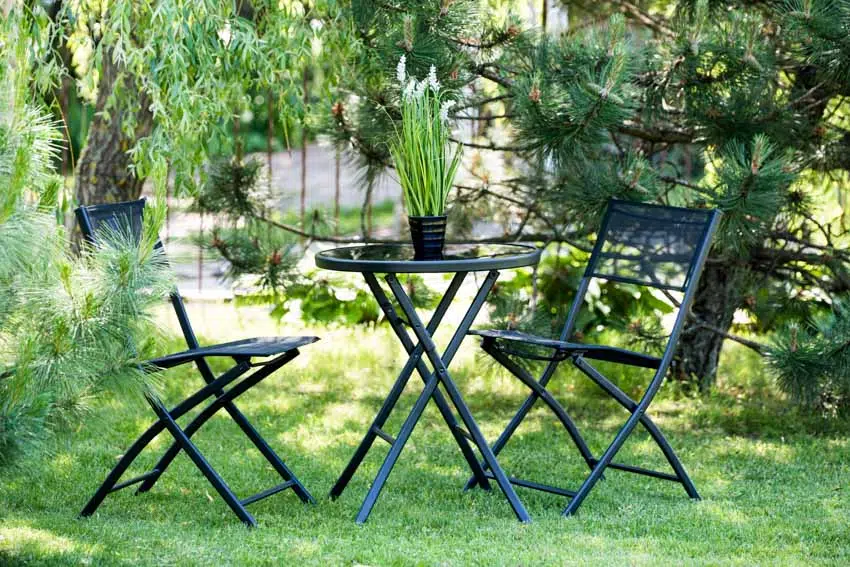 The less stress the grass will endure, the better. Because of this, you should refrain from setting any heavy furniture, no matter what kind of feet it has, on the grass.
The weight of the table, as well as the chairs, should be taken into account whether you choose rattan, aluminum, PVC, or wood. If you decide to use wood, you have to pick something lightweight such as cedar.
Portable outdoor tables and chairs are wonderful options since they are easy to relocate. The reason for this is that before the furniture can harm the grass, you will be able to move them effortlessly to another location in your garden.
Plastic-Made Garden Furniture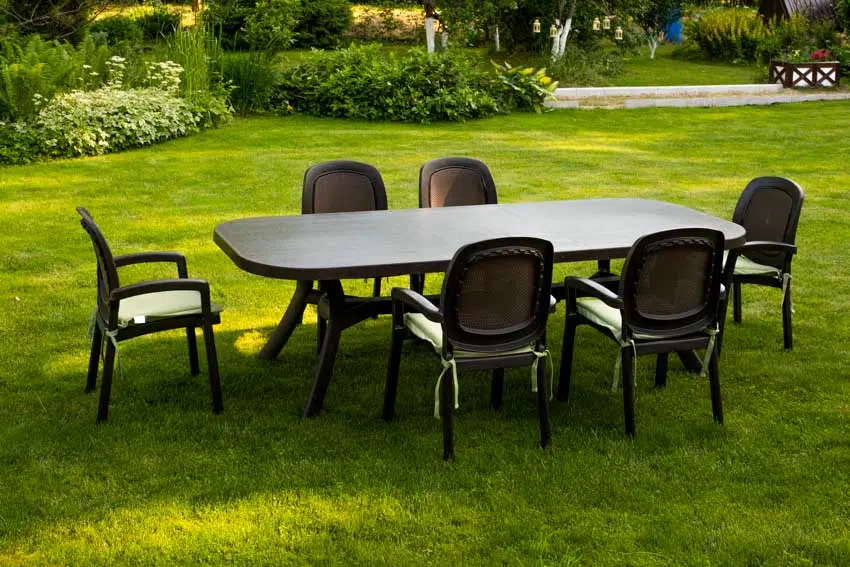 Plastic is among the greatest types of outdoor furniture for grass since it is lightweight and does not decay or corrode. It is indeed simple to set up and transfer as well.
Inflatable Furniture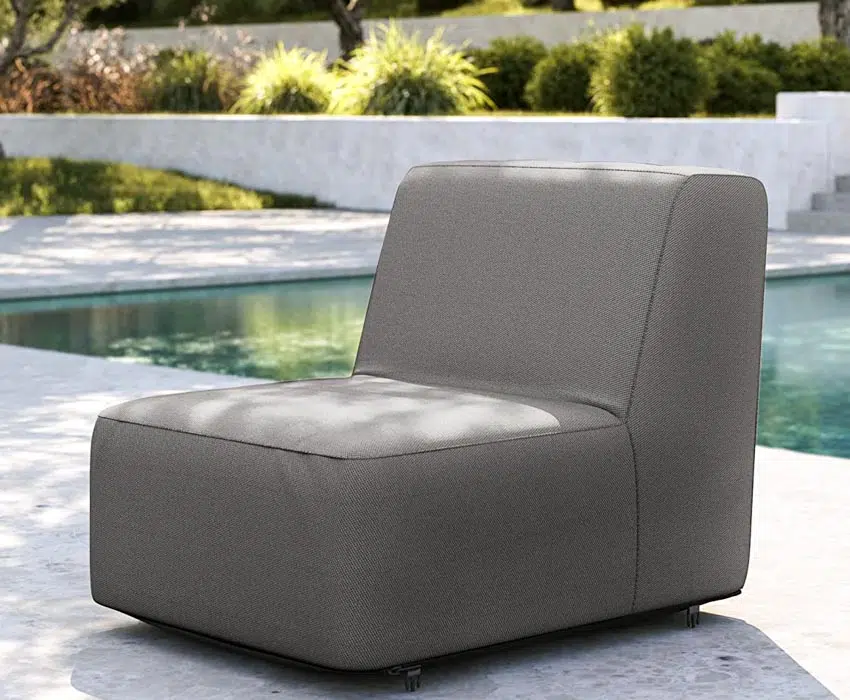 See this inflatable sofa chair at Amazon [sponsored link]
Inflatable patio chairs and air couches might not be the most attractive pick, but they are ideal for children. And unfortunately, they can occupy a lot of space.
However, if you want something portable and easy to transport, they can be useful. They can be paired with a low plastic table and placed on grass without causing too much disturbance.
How To Make A Temporary Patio On Grass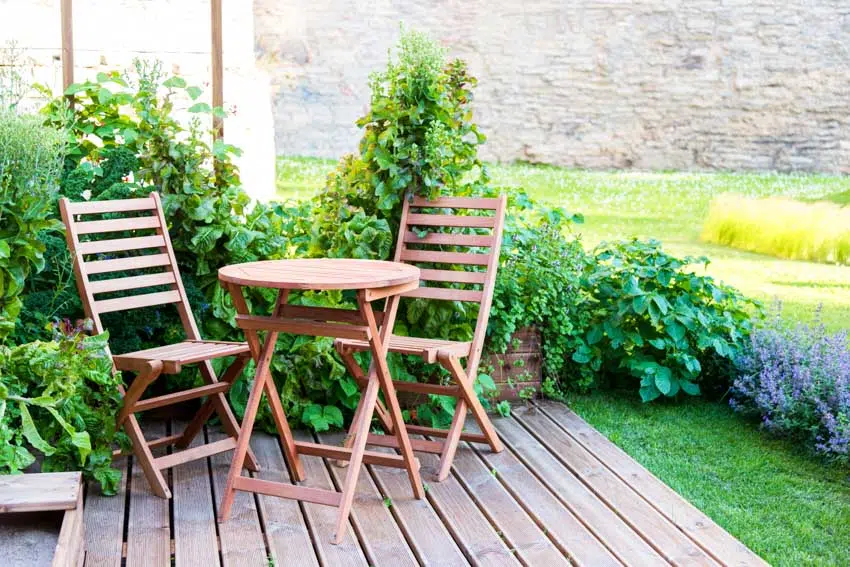 Alternatively, you might decide to remove all of the grass from the area and replace it with temporary outdoor flooring. Various manufacturers offer rubber patio tiles that are designed to be laid down directly on the soil. They offer a wonderful middle ground between setting up a full-fledged patio and placing your patio chairs straight on the grass.
To create a temporary yet ideal patio, you can also purchase something as uncomplicated as gravel or small stones to use within a perimeter. You may place and move your different types of outdoor furniture as you want by employing these little rocks. For stones to function, the ground must still be level and cleared, though this would be a simple operation.
Moreover, incorporating a wooden deck or floating deck may be practical if your finances allow it. You can achieve the solidity and weatherproofing you could want by establishing a wooden deck. However, you must construct it on a level platform and use pressure-treated wood.
Thus, you must guarantee that the ground is level to produce a flat deck surface. Aside from these techniques, you can also try the following ways how to make a temporary patio on grass.
Temporary Interlocking Floor Tiles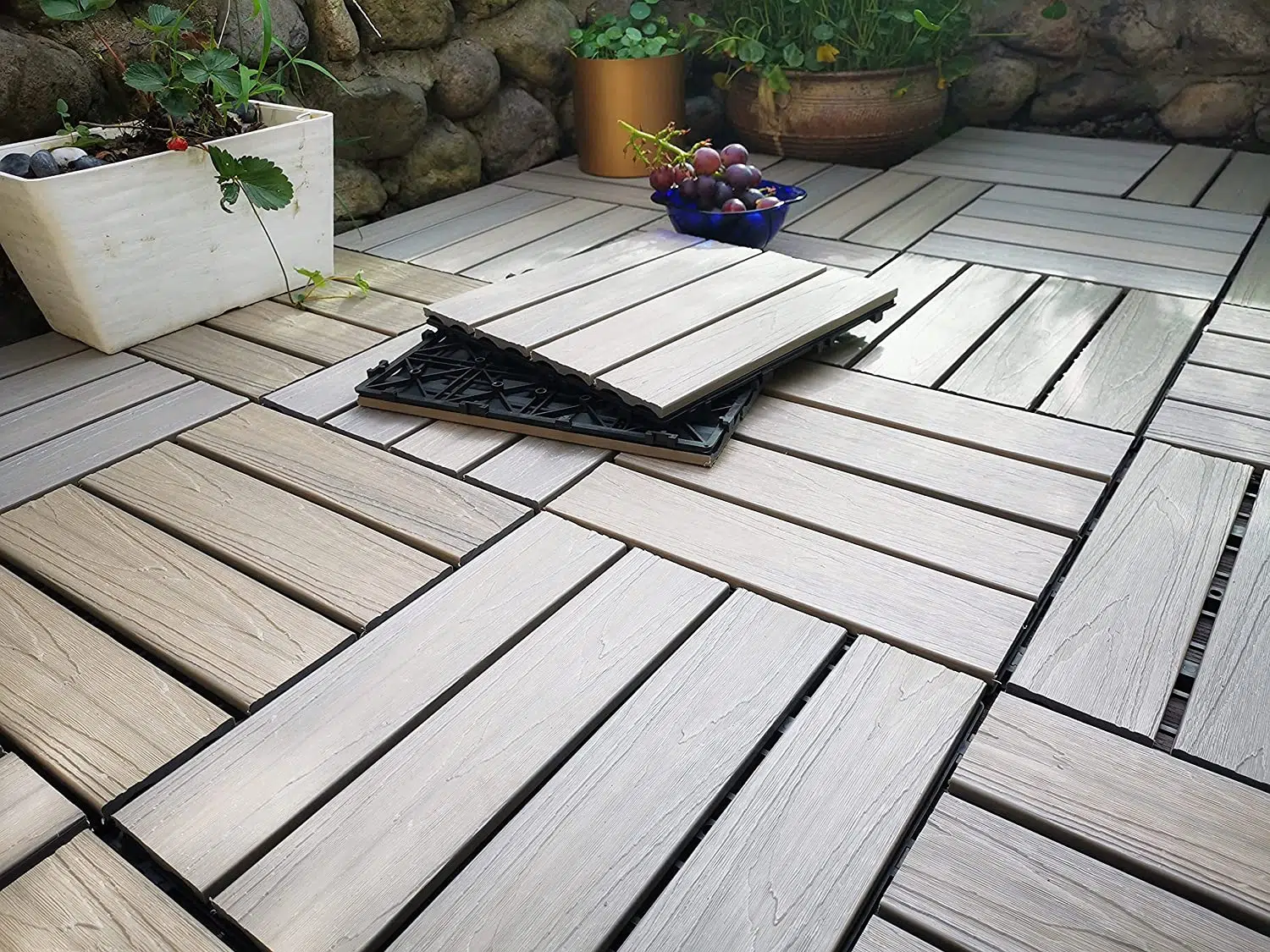 See this interlocking floor tile set at Amazon [sponsored link]
You can also put interlocking teak or acacia floor tiles on your lawn to protect the grass from being damaged by your outdoor furniture. Without the expenditure of a deck or paved surface, interlocking teak or acacia wood flooring can offer increased sturdiness to your chairs and table.
The interlocking teak outdoor flooring option is both attractive and long-lasting. Because this is made out of genuine teak, you will be confident that it is long-lasting. You can simply place these interlocking teak tiles beneath your patio furniture and you are already done.
On the other hand, the acacia wood outdoor flooring is also very appealing. It is nearly as durable as teak and available in a variety of hues. This is normally recommended to many households since it is less expensive and has more color selections.
How To Keep Chairs from Sinking in Grass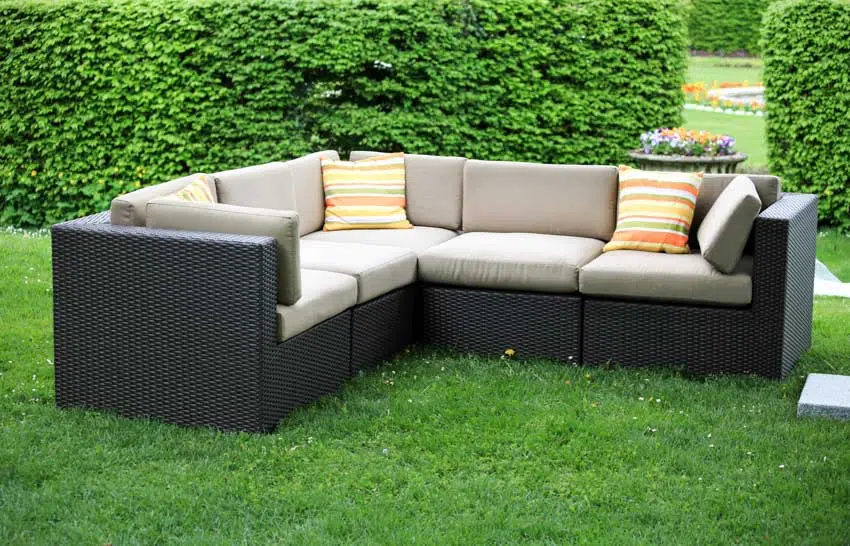 You have a few options to prevent your outdoor furniture from sinking into the grass. First, look for chairs with shorter legs. You might also try inserting something under the chairs' legs, such as stones or bricks. This may assist in equally distributing the weight of the chair and keep it from sinking into the grass.
Second, be careful when pushing the chairs into the ground to prevent excessive movement. Third, incorporating chair leg coverings can prevent your chairs from sinking into the grass. And the last option is to purchase or construct customized outdoor furniture that is designed for usage on grass.
How To Protect Your Grass
Directly placing outdoor furniture on your grass will end up damaging it. However, without the grass, you will encounter the presence of mud, and no one likes to have a dirty outdoor space with lots of muck.
The following are some rapid and simple ways to protect your grass and ensure that putting your outdoor furniture on grass would not ruin your lawn.
• Every week at the very least, you should regularly move your furniture. This guarantees that your lawn receives adequate water and sunlight.
• Once you observe brown or bald patches appearing, relocate the outdoor furniture immediately and administer treatment to the damaged area.
• Rehydrate the area frequently because continuous foot traffic can compact the dirt as this will impede the ability of the grass to receive adequate water.
Can You Put Furniture On Artificial Grass?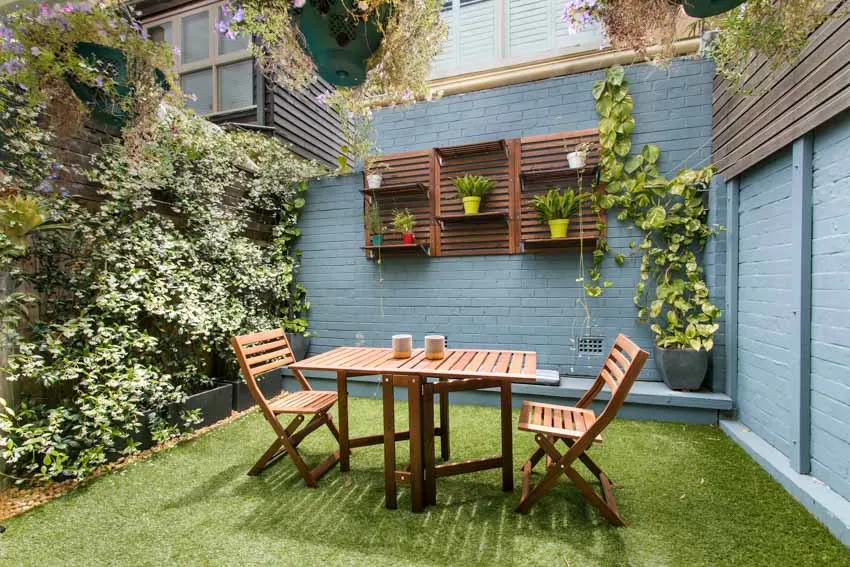 Artificial grass is a practical and appealing alternative to natural grass. It is less difficult to maintain and lasts far longer than real grass. And yes! The greatest thing is that you can place garden furniture on artificial grass effortlessly and safely.
All you need to do is make sure the furniture does not have any sharp corners that could pierce or tear the artificial grass. Putting furniture on an artificial grass patio is the same as putting it on a regular carpet.
Nevertheless, extremely heavy furniture left on the artificial grass for an extended duration may leave an indelible mark. If sufficient maintenance is not followed, this mark may be unable to be removed. Relocating heavy furniture around every several weeks can help avoid dents and imprints on the artificial grass.
It is preferable to choose sturdy and dense artificial grass if you intend to put heavy outdoor furniture. Because it is more adapted to holding weight than thinner artificial grass, this style of grass lasts far longer under the furniture's weight. The thick artificial lawn will also help keep the outdoor furniture level and solid at all times, preventing it from sinking.
See more related content in our article about the different types of sod grass on this page.