Here's our guide to the various types of patio covers including wood, aluminum, and acrylic, the best patio cover style, and lightweight roofing options.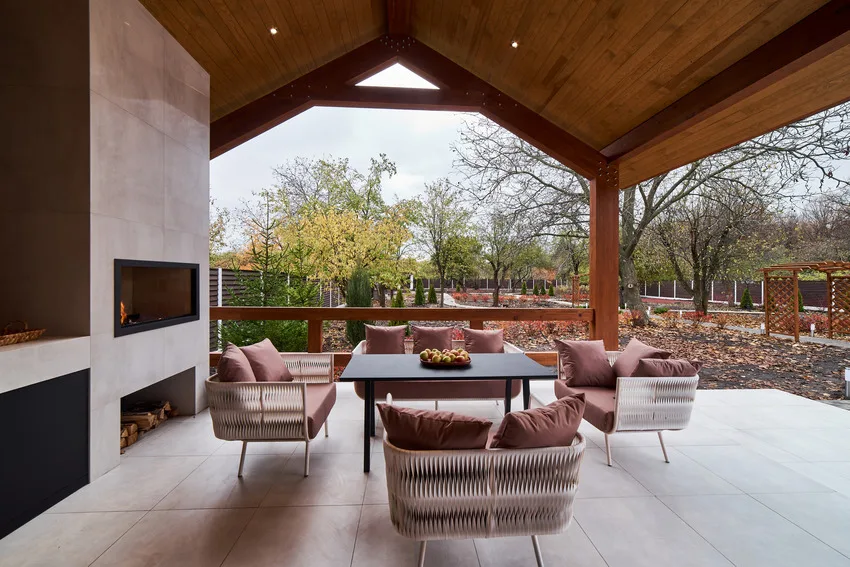 Patios are great outdoor spaces at home. They provide a means for you to savor the beauty of your garden in a secured, enclosed space.
Most homeowners considered a patio as a safe refuge to relax and unwind. It's also a great place to hang out with your family and friends, as well as entertain guests.
Others prefer their patio to be closely integrated with the architectural design of the home. While some feel like it's better off as a standalone space.
Either way, it'd be best to invest in and equip your patio with a patio cover. It provides enough security and protects your patio from the elements.
Ideally, the best way to go if you're planning on getting your patio covered is to hire a professional to do the job. Read on to learn more about the different types of patio covers and materials you can consider for your patio.
Patio Covering Options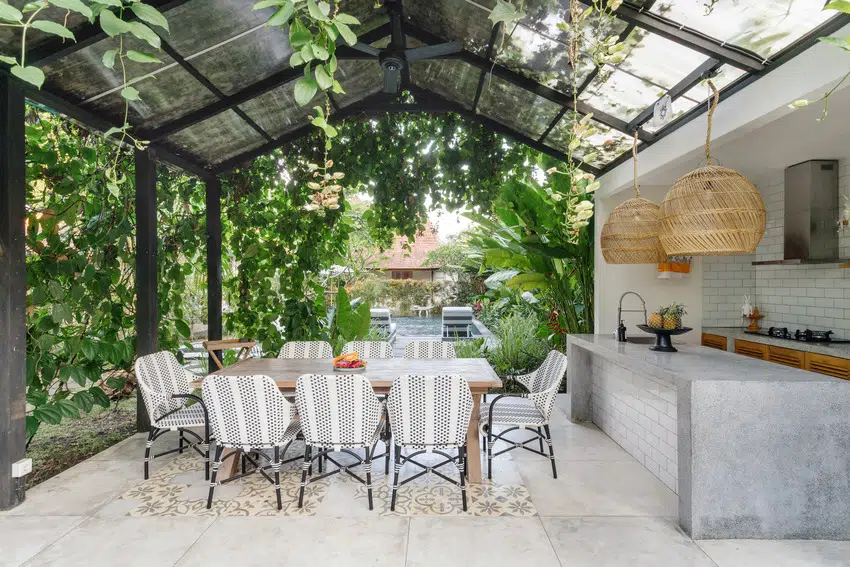 Before you go all out and start investing, here are the most common types of patio covers you should be well acquainted with to make sure that you get the best bang for your buck.
Wood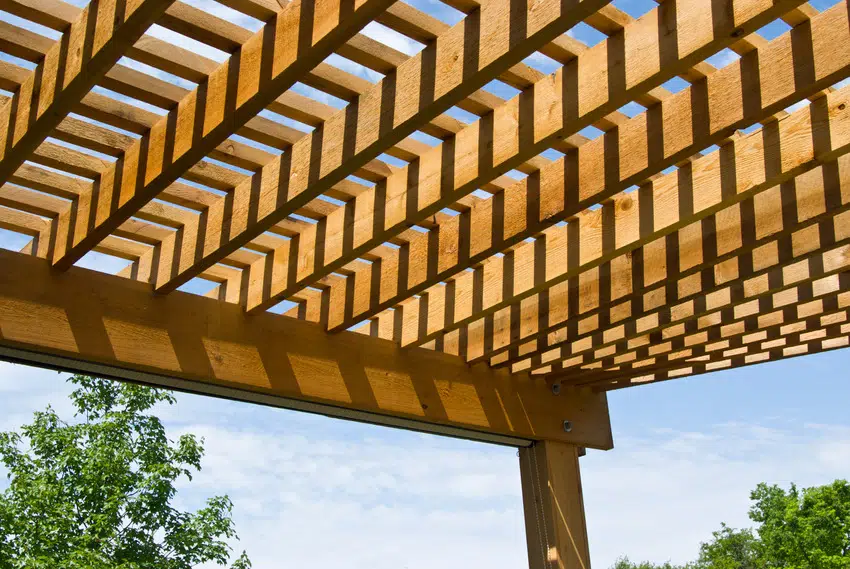 Wood is a construction material that has been around for quite some time now. It remains the top choice building material even to this day, and with good reason.
It's both natural and elegant that comes in all sorts of stains, grains, and patterns. Wood also blends in well with any style or design. Given the right treatment and maintenance, it can also last for quite a long time.
The only downside to wood is, as mentioned, it requires regular maintenance. Patios are naturally exposed to the elements, which means that the wood you'll be using as a cover will be too.
Waterproofing your wood is necessary to ensure that it maintains its elegance and durability all year round.
Aluminum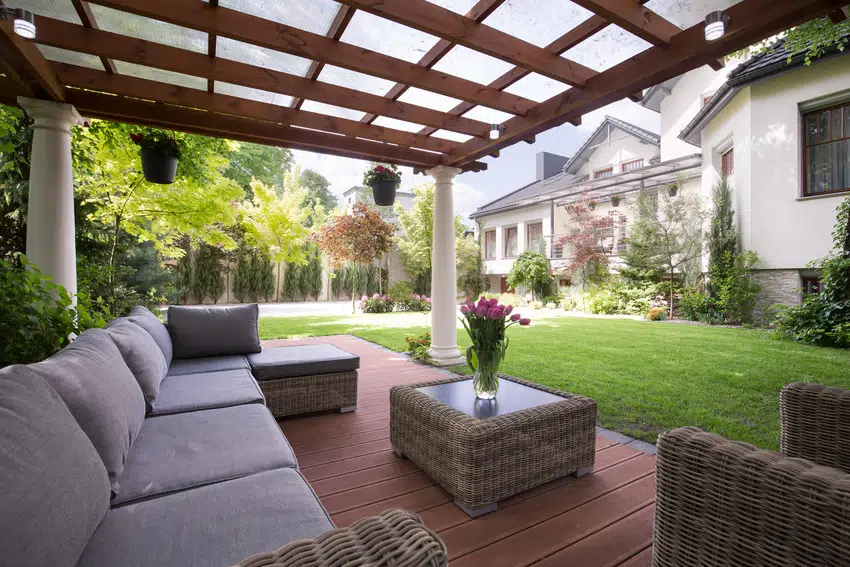 Aluminum is the most commonly used metal material. It's highly valued for its lightweight trait, durability, and flexibility, making it an excellent patio cover material.
Because of their durability, aluminum patio covers also require less maintenance. On top of these benefits, aluminum also comes in a wide array of colors and styles. You can even apply faux finishes on aluminum to achieve any type of look you desire.
Aluminum is also highly resistant to extreme weather conditions. Similarly, it can withstand wear and tear. All of these benefits make them an excellent material choice for a patio cover.
Acrylic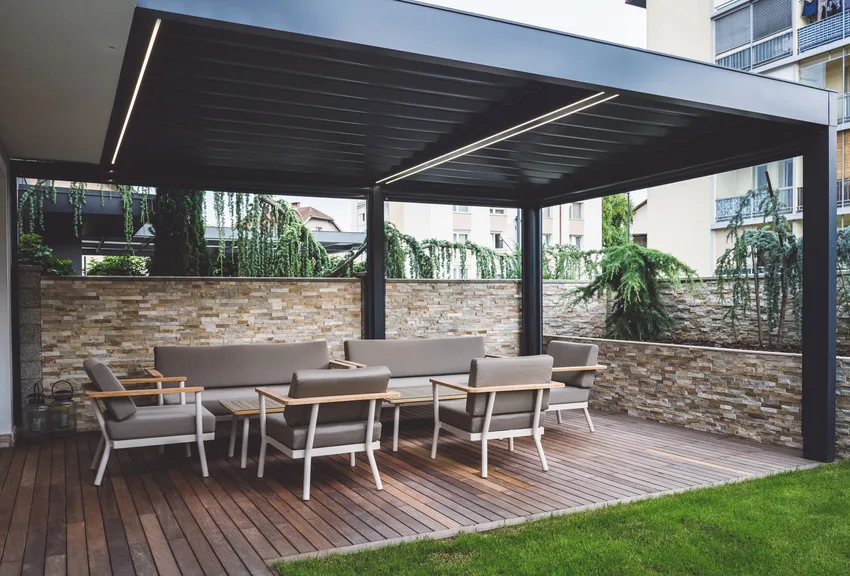 Also known as vinyl patio covers, acrylic is quite flexible in terms of design since it's available in varying colors and finishes. It's also commonly used as a driveway sealer.
Because acrylic is mainly made of high-grade plastic, it can fully withstand harsh weather conditions. However, it does have a weakness: UV exposure.
Discoloration can be an issue especially when it's exposed to extreme sunlight. It'd be best to use a durable paint or finish in this case.
Patio Cover Styles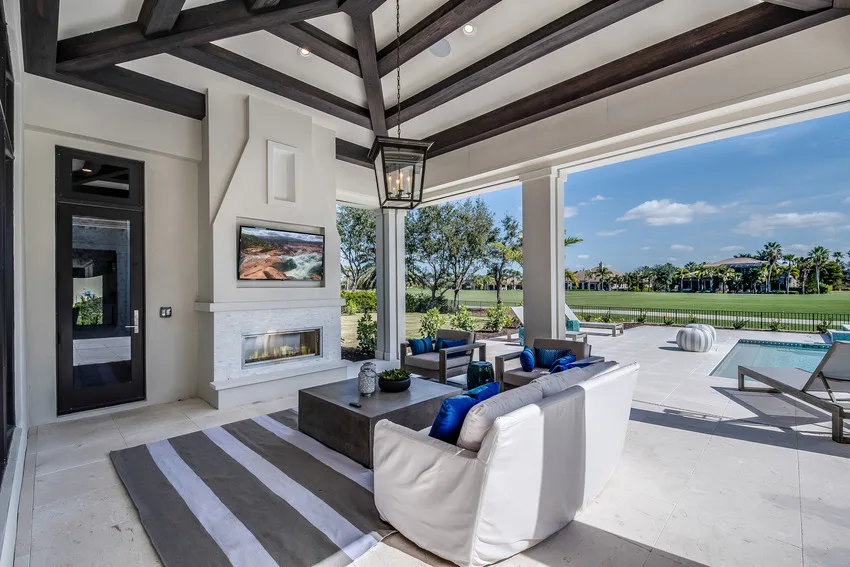 Let's take a look at the various cover styles for your patio.
Solid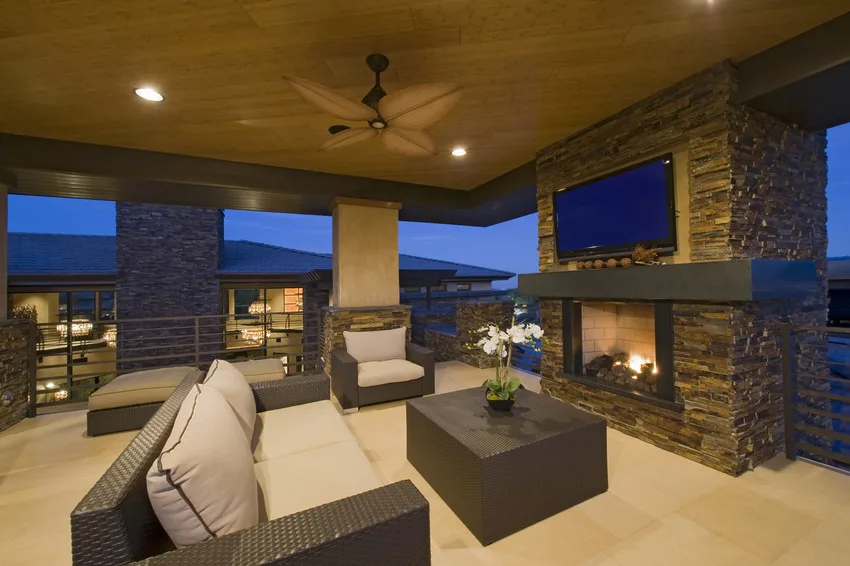 If you happen to live in an area that's prone to heavy rainfall or snowfall, a solid patio cover would have to be the safest and most efficient choice. This style covers your patio completely, protecting you from inclement weather.
Check out this shade sail at Amazon [sponsored link]
Latticed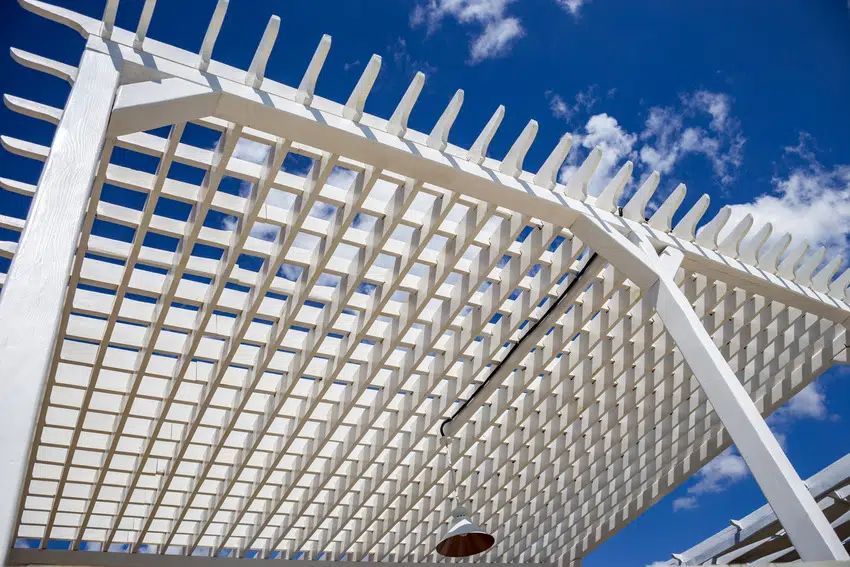 The latticed style provides partial cover for your patio. They come in varying colors, designs, and sizes. Check out various lattice fence design ideas here.
This roof style is quite distinctive because of its interweaving joist or wooden beams structure, making them look aesthetically pleasing. But aside from its aesthetic factor, this roof also offers enough shade and protection from sunlight.
Pergolas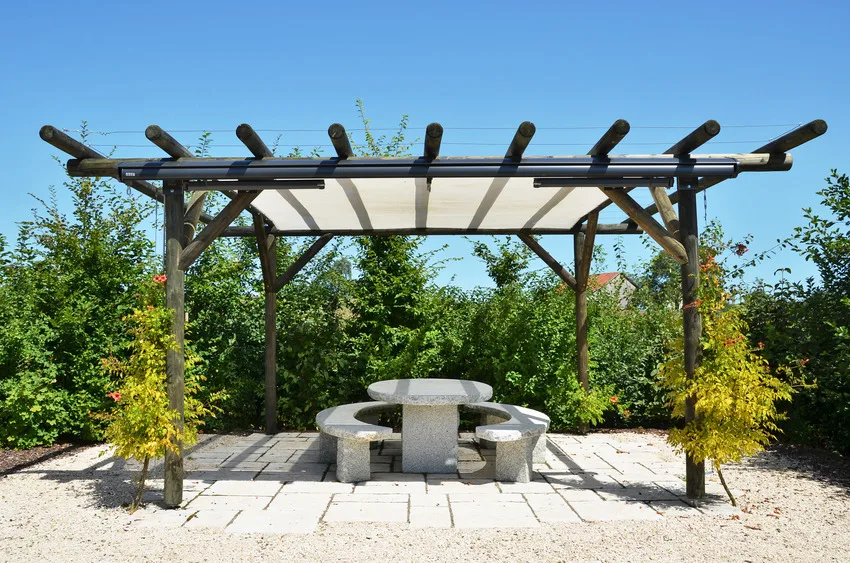 Pergolas are usually made of wood or metal. They're a standalone outdoor structure comprised of columns that support a roof made of beams or rafters.
Pergolas come in a diverse range of colors, styles, and sizes that look beautiful and intimate. In essence, they're a perfect place to relax while savoring the gentle breeze and enjoying the view of your garden.
Lightweight Patio Roof
Roofs that are made of lightweight materials are an excellent option for a patio roof. Most people often overlook the implications of roofing materials for their patios.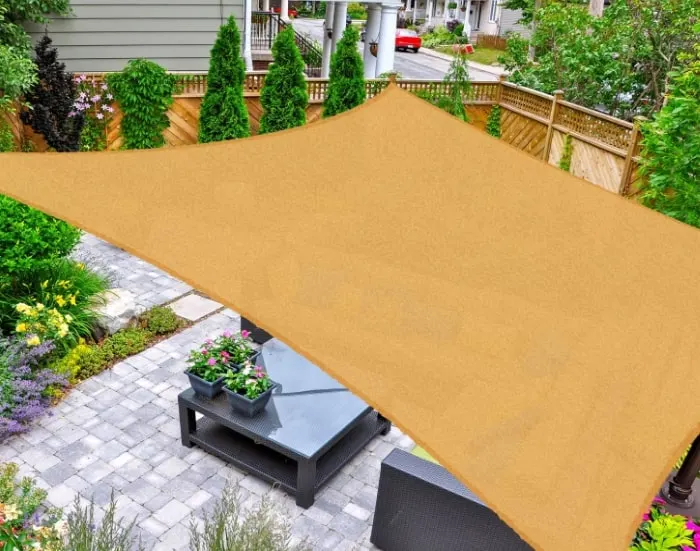 Check out this polyethylene fabric shade sail at Amazon [sponsored link]
Similarly, not many people know that metal is actually made of lightweight materials, particularly aluminum.
Despite being ultra-lightweight, aluminum is actually quite strong and durable, making for a great combination. Here's how aluminum compares to the other roofing materials.
Aluminum: 70 pounds per 100 square feet
Acrylic (5mm): 123 pounds per 100 square feet
Wood: 300 to 400 pounds per 100 square feet
What Is The Best Patio Cover
Overall, it's a matter of your location, needs, and preference. If you're from a humid area, a pergola would be your best bet.
They're elegant, classic, and rarely go out of style. A patio cover is a huge investment so it's always best to go with whatever meets your needs and personal taste.
Modern pergolas are available in varying architectural styles and structures, including minimalist, rustic, and a few more other creative or intricate designs. It's the perfect place to just sit back and relax, while still providing enough protection from sunlight and other elements.
What Is The Best Patio Cover Material
All things considered, including style, durability, and aesthetics, the vote for the best patio cover would have to go to wood.

For starters, it's the most eco-friendly choice. There's also a timeless appeal to it that's quite hard to replicate with any other material.
Wood is naturally elegant and beautiful. If you want a visually pleasing patio, wood is definitely an excellent option.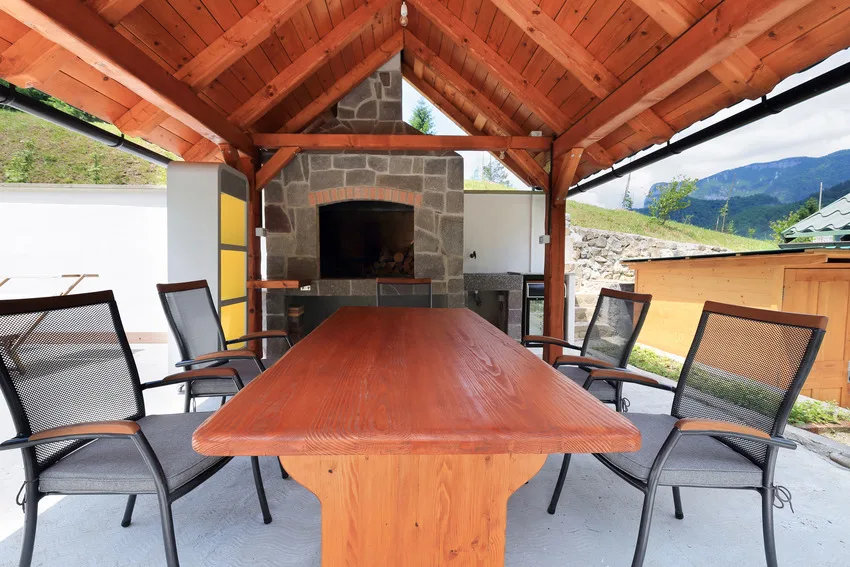 However, this doesn't come without a price. Wood actually requires high maintenance because it's also prone to rotting and warping. Still, its benefits far outweigh its drawbacks.
For comparison, here are the downsides to acrylic and aluminum:
Acrylic or Vinyl: It's not visually appealing. Sure, it's pretty easy to maintain. But for lack of a better term, it has the tendency to look cheap.
Aluminum: Although it has great merits for its durability and lightweight properties, aluminum has a major problem with heat retention.
As we all know, metal is a conductor of heat. Like acrylic, it's also easy to maintain but it can get pretty hot especially on humid days, which can be uncomfortable.
For more related content about the types of patio covers, check out our guide to pergola furniture ideas.