Find out the best paint color with cherry cabinets including recommended paint shades with tips on how to choose the right wall colors for your kitchen designs.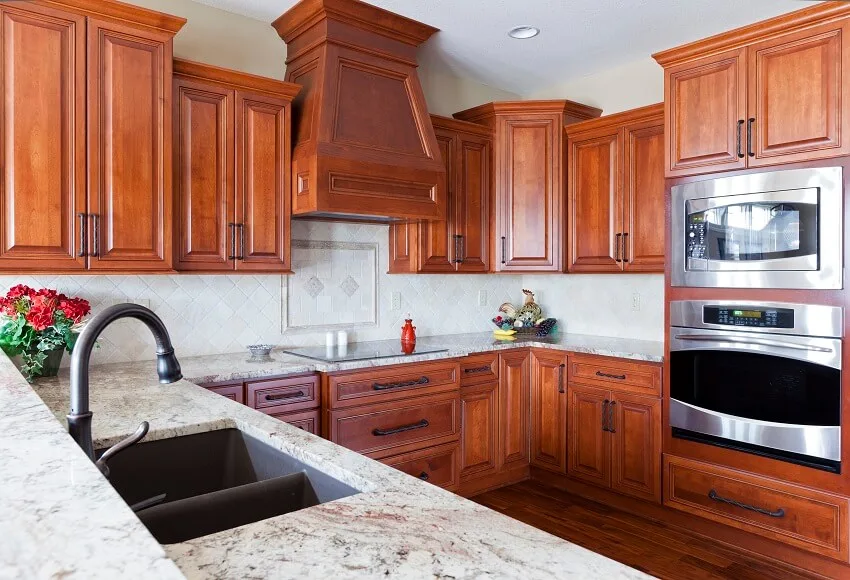 The rich, warm tones of cherry wood make cherry cabinets a great and functional addition to any room. While plain or varnished cherry cabinets can go with almost any room design, the color of your walls will help the beauty of the wood stand out and enhance the look of your room.
Best Paint Colors With Cherry Cabinets: 8 Great Paint Shades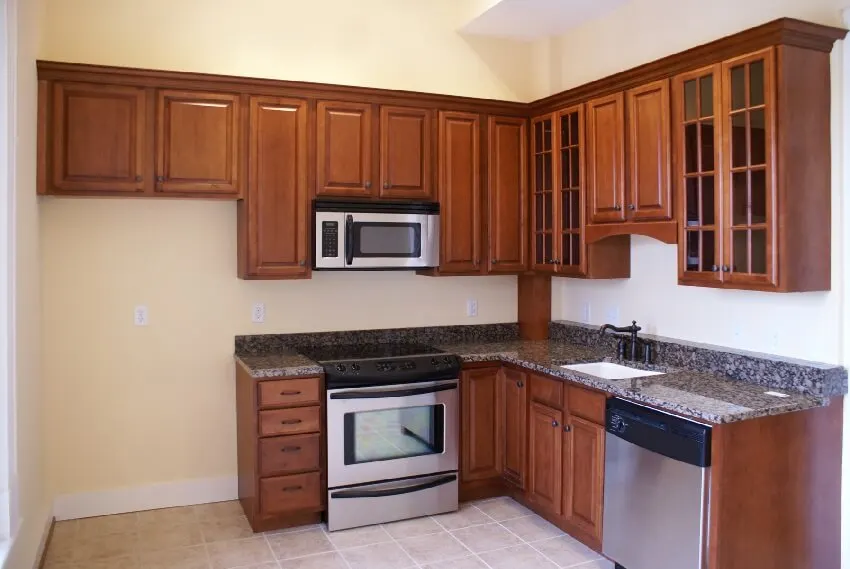 Here are some of the best paint colors with cherry cabinets. We've also included some recommended paints in these shades.
1. White

Recommended paint: Rust-Oleum 285140 Linen White
White is an easy and safe choice of paint color to go with cherry cabinets.
White paint will make the cherry cabinets stand out while also softening the intensity of some of the darker shades of cherry wood.
2. Cream Recommended paint: Farrow and Ball 203 Tallow
Cream is another neutral paint shade that will go nicely with cherry cabinets.
Cream walls will balance and compliment cherry wood nicely.
Using a light shade such as cream will allow your cabinetry to draw the eye and make the cherry wood the star feature of the room.
3. Taupe

Recommended paint: Prestige 983BM-PCM Smokey Taupe
Taupe is another neutral hue that works nicely with the rich shades of cherry wood.
The warm grayish-brown shades of taupe paint enhances the wood's color and texture.
4. Gray

Recommended paint: Sherwin Williams SW7658 Gray Clouds
A light gray, maybe with a tinge of blue, is a good shade to use if your cherry cabinets are made of dark cherry wood.
Darker greys will also provide a good contrast for the lighter cherry woods.
5. Lemon Yellow Recommended paint: Valspar 3006-2b Lemon Twist
Bright yellows aren't really recommended with cherrywood cabinets, but the richer shades of yellow, such as mustard can provide good contrast.
A soft, pale yellow also work, especially if you want to open up the space and make the whole room seem sunnier.
6. Pale green

Recommended Paint: Glidden PPG1120-5 Harmonious
Another interesting shade to pair with cherry cabinets are shades of pale green.
Green is a contrasting color with red, so pale green will help bring out the beauty of dark cherry wood.
It will also work well with light cherry wood and help them stand out and lend more depth to the room.
7. Sienna

Recommended paint: Sherwin Williams SW7598 Sierra Redwood
You can use shades of red or reddish-brown to create an overall harmonious look for a room with cherry cabinetry.
The reddish-brown of sienna is a good match for cherry wood in both light and dark shades.
8. Soft Blue

Recommended paint: Dunne Edwards DE5812 Dreamy Blue
Blue is also a contrasting color to red, so soft blues make a great contrasting background for cherry wood cabinets.
Go for the paler, neutral shades of blue with a lot of cool undertones to bring out the richness of the wood.
How To Choose Wall Color With Cherry Cabinets: Best Tips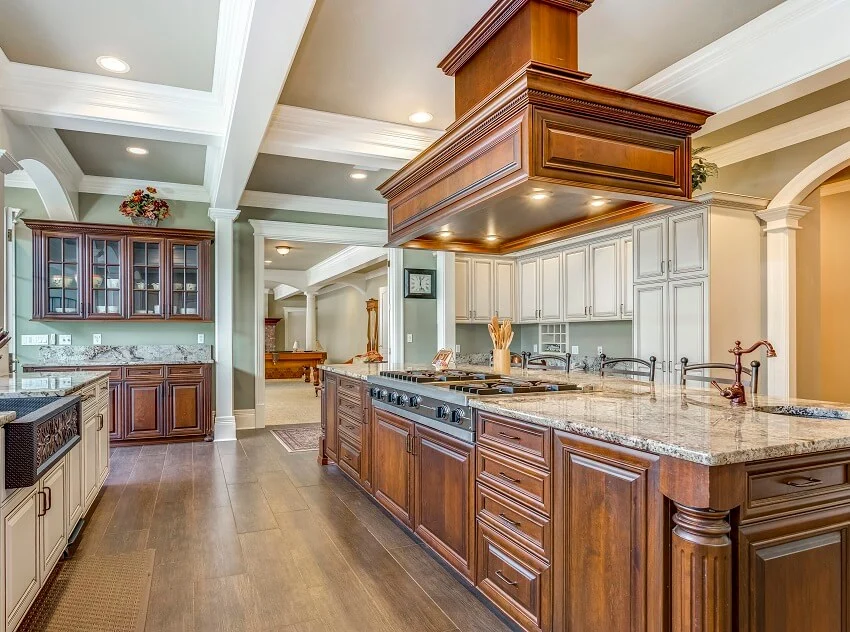 If you want to bring out the warm, red tones of your cherry cabinets, choose contrasting colors for your walls. Contrasting colors are colors that are on the opposite side of the color wheel.
Since cherry wood comes in red and red-brown shades, the contrasting colors are shades of green or blue. Check out our guide to contrasting kitchen islands to get more ideas.
Choosing contrasting colors for your cherry cabinets, especially for your walls, will help the natural beauty of your cabinets stand out and lend more depth to the room.
Make sure that, if your cabinets are dark cherry wood, you choose lighter paint shades for your walls. Darker shades of paint should be paired with light cherry wood.
Another good way to choose wall color with cherry cabinets is to pick harmonizing or coordinating paint colors. See our gallery for the best kitchen paint colors here.
Good coordinating colors for cherry cabinets are neutrals such as cream, taupe, pale beige or light greys. Walls in these colors will provide a great backdrop for the warm, rich red of cherry wood.
Paint Colors That Go With Cherry Wood Cabinets: How To Choose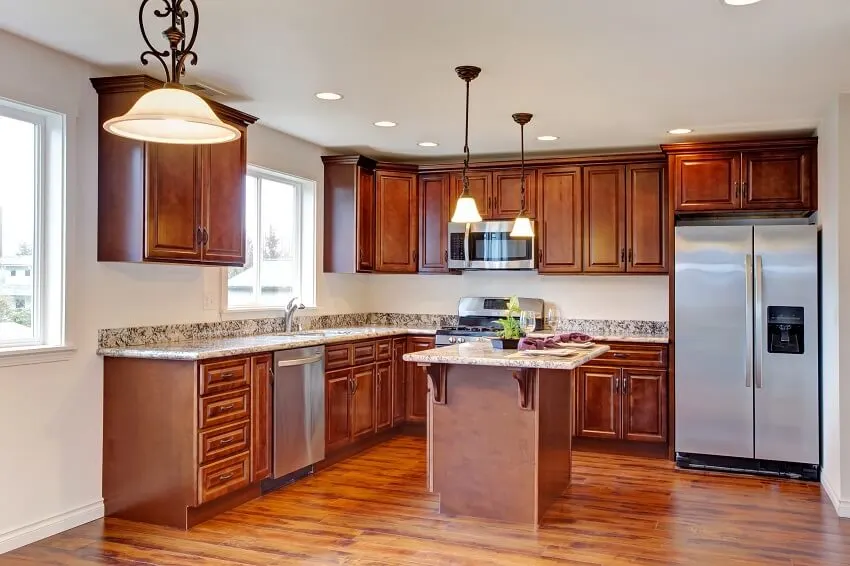 As we mentioned, neutral paint colors that go with cherry wood cabinets are the way to go if you want your cabinets to serve as a focal point for the room.
A particularly good paint color to look into if this is your main goal is something in a shade of white.
White walls serve as great neutral backgrounds that can help your cherry wood cabinets stand out and make them the focal point of a room. They can also brighten and lighten a space and give the room more depth.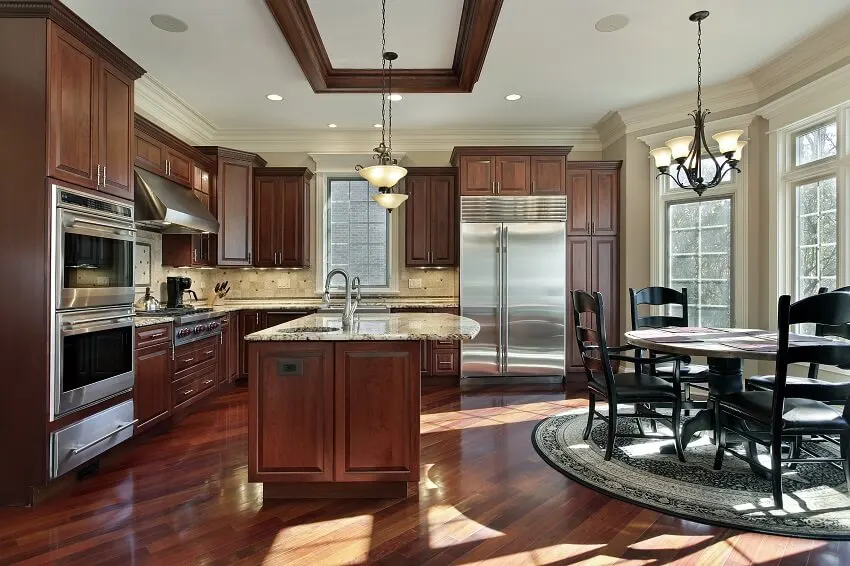 If you don't want to use white, you can also use other neutral paint colors like pale beige or light gray. You want a color that is light and bright and doesn't "overpower" the cherry wood but instead provides a contrast to it.
If you want to use darker paint colors with your cherry wood cabinets, it is best to go for rich and intense shades of blue, red, and green. You can also consider the darker shades of yellow.
Don't go for light and bright shades of these colors, however. The goal is to create a background that allows the cherry wood to blend in and create a harmonious look for your rood. Go for royal blues, hunter greens, wine red, and mustard yellow shades.
Earthy paint colors are also a good choice as they provide a neutral background for cherry wood cabinets while still adding some light and fun elements to the overall look for the room. Pastel greens and blues are good earthy colors to go with. So are grayish pastel shades.
A good rule of thumb when choosing paint colors that go with cherry cabinets is to take your cue from the cherry wood itself.
If your cherry wood cabinets are a rich dark red, you can make the reddish shades stand out even more by painting the walls red. Read more about the types of cherry wood here.
Purple is an interesting choice for walls in a room with cherry wood cabinets but, if your cabinets are on the darker side, it will compliment them well.
For more related content, visit our guide to Cherry Wood Kitchens Cabinet Designs & Ideas.