These swing gate designs include information about uses, different types, fencing materials, ideal dimensions, latches, and the cost of swing gates.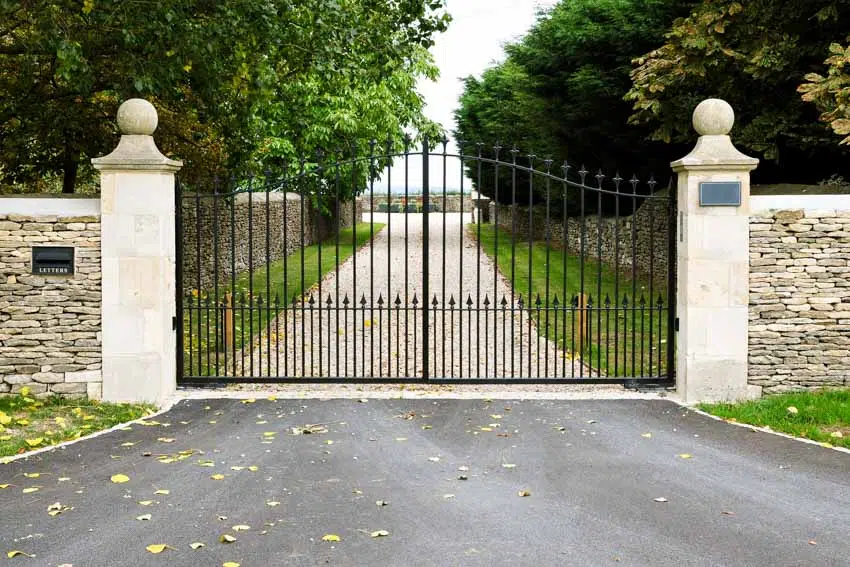 A swing gate is a type of gate that is attached to one or two posts and opens and closes on hinges. A single swing gate utilizes a single post, and a double swing gate has two posts to which the gate panels are secured and meet in the middle.
Most swing gates are manually operated. However, there are also designs that open automatically using swing gate systems, which can be electronic, hydraulic, or mechanically-based. In addition,
Modern swing gates, which eliminate the need for individuals to manually open and close the gate, are also becoming more common in public facilities like airport facilities. Swing gate utilization is being driven by technological advancements and the necessity for automation in a variety of industries.
However, what are the different swing gate designs? What is a swing gate used for? How much does it cost? We will cover all of these questions in this article.
What Is A Swinging Gate Used For?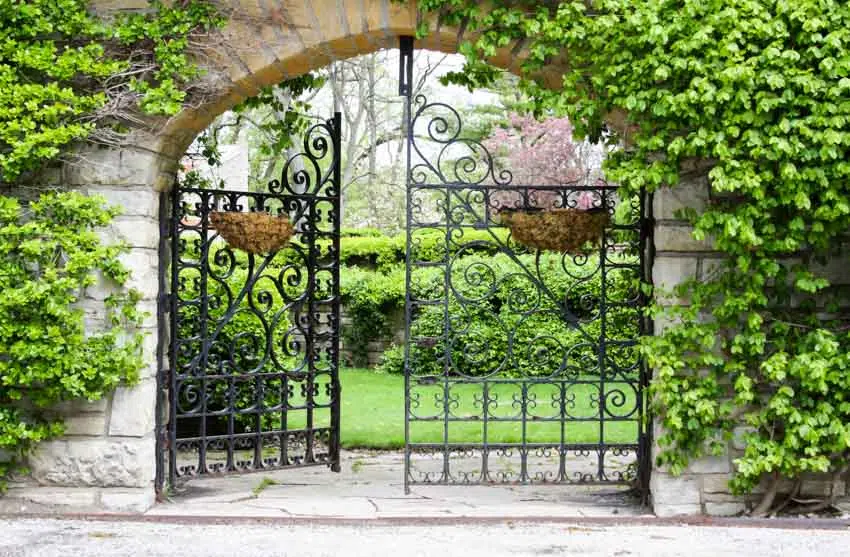 Swing gates allow for easy traffic supervision, human safety, and the creation of a safe workplace management platform or private property. They are normally automated or manual and have a sturdy structure with a metal post and frame.
Furthermore, because passenger safety and adaptability are crucial in major airports, military facilities, plant sites, houses, and other communal spaces, swing gates are beneficial for maintaining safety and safeguarding individuals from intrusion.
Swing gate designs, for instance, could be used to prevent unauthorized people from entering subway and metropolitan transport hubs as well as at festivals and other big events, or to restrict permitted vehicles from accessing staff parking areas.
Smart automatic swing gate varieties, on the other hand, will not harm the passenger. This feature aids in the reduction of any liability concerns.
Swing gates can also help enhance the movement of cars or passengers. Subway station terminals, for example, can improve traffic management during peak hours by allowing individuals to enter using swing gates rather than merely toll booths.
Additionally, swing gates can be customized to meet a variety of passenger requirements. For instance, if a traveler in an airport terminal line employs a stroller, wheelchair, or luggage, the swing gate can be changed to match the dimensions of these travel objects.
Lastly, because of their long-lasting construction, swing gates provide a huge value for money over conventional doors and gates. Because of their well-constructed material, most swing gates, whether manually or automatically controlled, are quite durable.
They can also work in a range of climates, irrespective of how hot or cold it is. These characteristics make them simple to maintain and, as a result, save maintenance expenses over a period.
Driveway Swing Opening Gate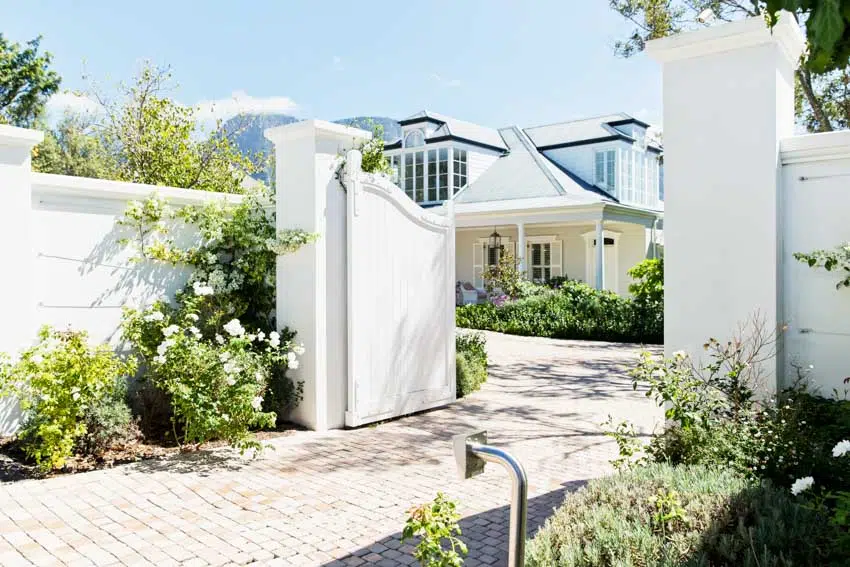 The driveway is the one place where you may draw attention to your property when it pertains to the front entry. No doubt, you want to deliver the best kind of interest to your home – an interest that makes onlookers fall in love with the appearance of your house.
Driveway swing gate designs are one sort of gate that will draw attention to your property for all the best of reasons. Driveway swing gates, in reality, add an elegant and professional appeal to your home's front entry. If you want an elegant aesthetic, normally, iron or metal driveway swing gates are the way to go.
However, as with any sort of swing gate, some factors must be considered whenever installing a driveway swing gate. Swinging gates, for example, require a vast room to function, hence if you have short-spaced types of driveways, driveway swing gates might not be suitable for your property.
You have to take into account the space constraints when choosing swinging driveway gate sizes. It makes better logic to swing the gate from within instead of the outside. It is advisable to leave enough space for the gate to swing open, whether it swings outward or inward. There may be drastic consequences if there is insufficient space for the driveway swing gate to open.
If you are looking for flair and refinement, you cannot go astray with the charm of a driveway swing gate. To give you an idea, one material that can genuinely make these swing gates shine is using iron.
Finial tops, as well as gothic styling, are widely used and sought after for creating luxurious iron driveway gate ideas. Admittedly, the gothic aesthetic has been fashionable for countless years, and iron is an excellent material for this design.
Swing gates are classified as either single- or dual-swing based on how many components of the driveway swing gate move while operating. Let us discuss these two configurations of driveway swing gates.
Single Swing Driveway Gate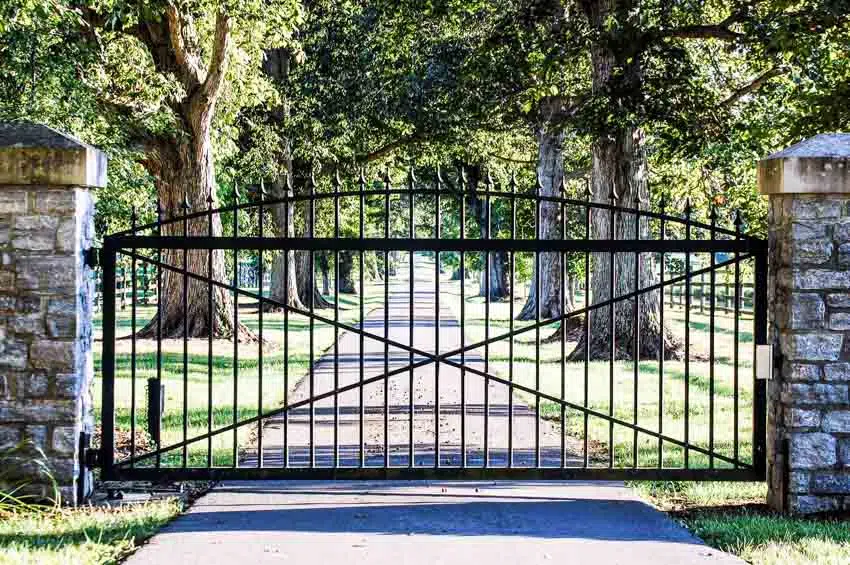 A single-swing driveway gate is made up of one solid element that swings open and closed throughout the operation. If you possess less than 12 feet of area, a single swing gate should suffice.
If you are on a limited budget, this would be the most affordable alternative. This is less expensive since single-swing gates necessitate nearly half the components that dual-swing gates do such as hinges, bolts, hinge posts, or reception posts.
The swing distance is critical when using a single swing gate. A 12-foot single swing gate, for instance, needs twice the space available as a dual-swing gate. Your area requirements are cut in half with a dual-swing gate because every gate panel swings only 6 feet.
Because all of the weight is on one post, these driveway single-swing gate designs necessitate a substantial duty post to suspend the gate. Heavy gates on single posts require more constant adjustments than lighter gates. Once the weight of the gate is divided between two sections, the stress on the posts is reduced, making adjustments less necessary.
What You Need to Remember with Single Swing Driveway Gates
• Because just one automatic opener is required, it is less expensive.
• They need half the hardware that a double-swing gate does.
• Additional swinging distance is required behind the gate. A 12-foot single gate requires 12 feet of space behind it to swing smoothly, while a 12-foot double gate requires only 6 feet.
• Because all of the weight is on one post, a heavier-duty post is required to hang the gate from.
• The maximum width for a single-swing driveway gate is 14 feet.
Dual Swing Driveway Gate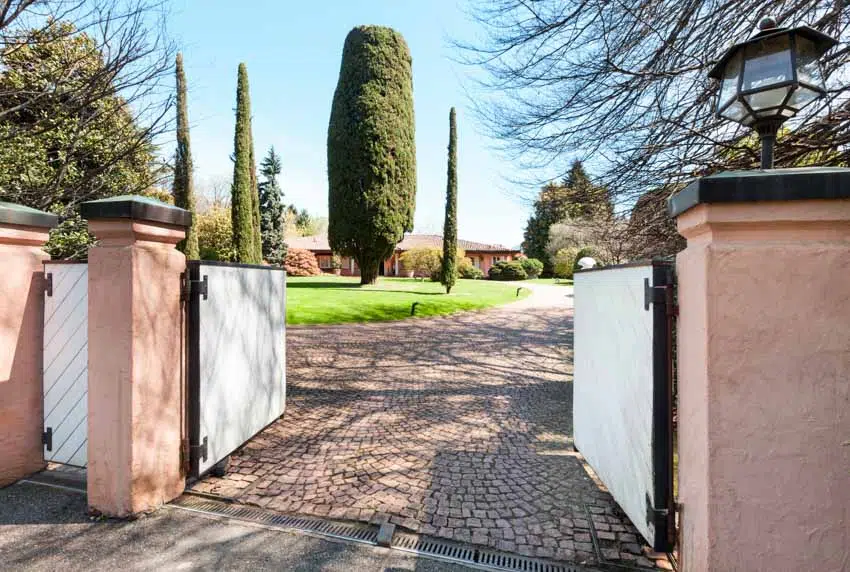 Dual-swing driveway gates are made up of two gates that constitute the whole. These driveway gates are more expensive than single-swing gates because they necessitate additional hardware.
You will need two gate openers and nearly twice as much hardware (hinges, bolts, hinge posts, or reception posts). Dual-swing gates additionally take greater planning as well as installation time and effort.
Dual-swing driveway gates can fit into larger driveway entrances than single-swing gates. The entire weight of the material necessary to cover the width of the driveway is distributed among two posts instead of only one.
Furthermore, driveways with dual swing gate designs have the classic and timeless appearance that we enjoy in gates all over the globe. This is the gate that opens from the center, conveying a sense of hospitality or opportunity. A dramatic welcome to a property is the progressive revelation of a gorgeous property through an opening, dual-swing gate.
What You Need to Remember with Dual Swing Driveway Gates
• Minimal swing distance is required behind the gate. A 12-foot dual-swing driveway gate will only require 6 feet, but a single-swing driveway gate would require the entire 12 feet.
• Dual-swing gates can handle larger driveway openings better than single-swing gates.
• When opened from the center, these represent a classic design and have a more beautiful aspect.
• Dual-swing driveway gates necessitate additional hardware.
• It will be more costly to automate these gates because each leaf will require a separate opening motor.
Manual Swing Barrier Gate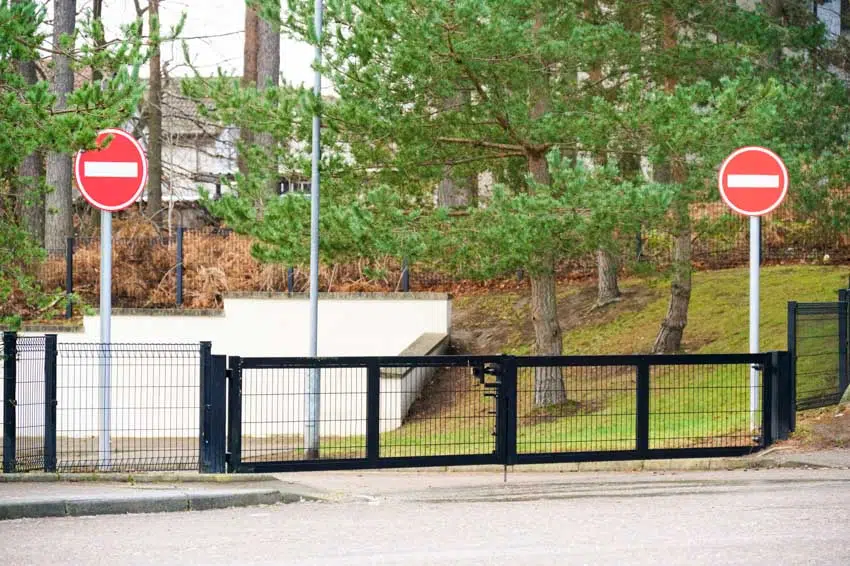 Manual swing barrier gates would be the best option for many locations, because, in some areas, a completely mechanized or automatic gate barrier is neither cost-effective nor essential. Sometimes, a manual swing gate is enough to operate as a structural barrier and deterrent without having to open by itself.
High-quality manual swing barrier gates are typically built of strong steel and are ideal for unattended zones with low traffic numbers. They normally come with an extra latch post and padlock for added security.
While other security systems, such as surveillance cameras are useful for monitoring activities and detecting suspicious human behaviors, perimeter security is required to actively prevent unauthorized individuals from entering.
Automatic Gate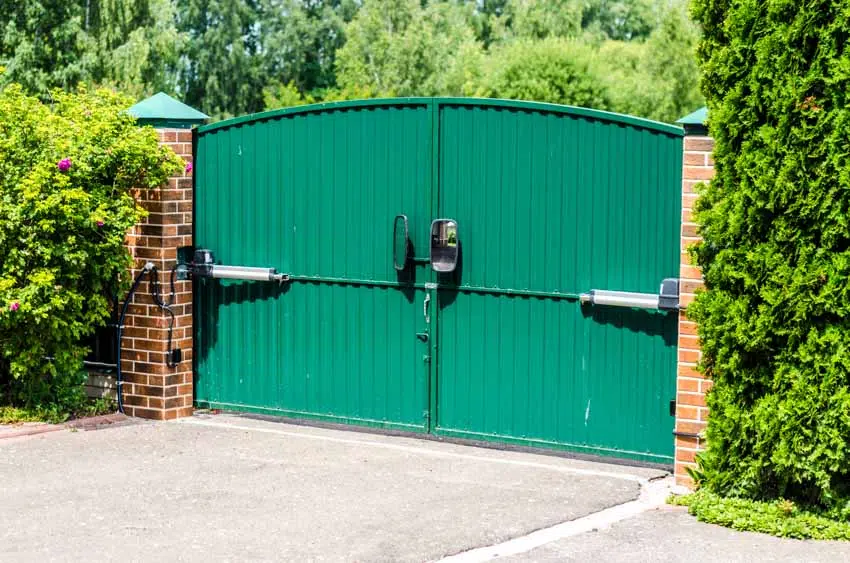 To provide you with more control over your security, automatic swing gates are normally equipped with high-technology sensors and remote controls. They are also convenient because they do not have to be opened manually each time.
Top-quality automatic swing gate designs are typically fully constructed and can bolt down on-site, causing minimal inconvenience to your business while they are installed. Swing gate operators, which can be electronic, mechanical, or automatic in nature, open and close these swing gates instantaneously.
Swing gates eliminate the need for people to physically open and close the gate, and henceforth they are becoming more common in public areas and households. Swing gate use is being spurred by technological advancements and the requirement for automation in a variety of applications.
Fence Gate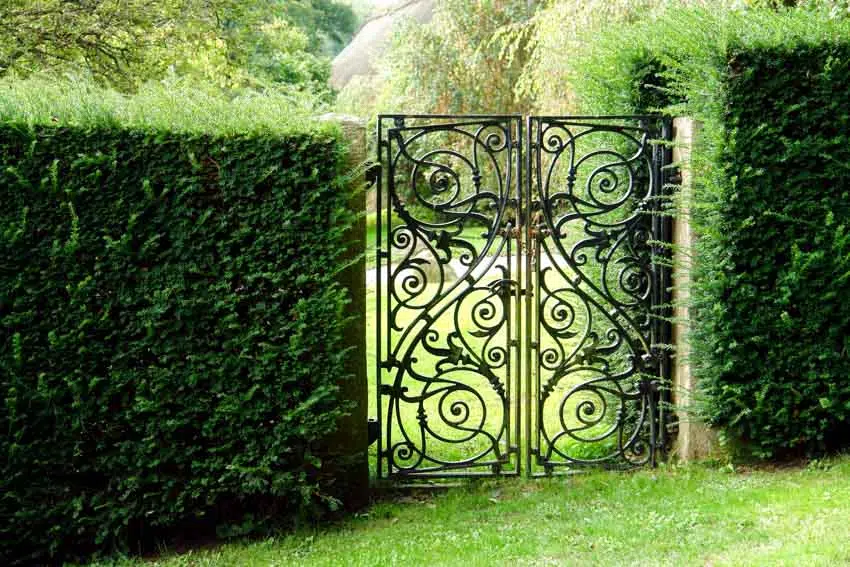 A swinging fence gate opens just like a typical door in your home. Several swinging fence gates feature two sets of doors, whereas others have one gate that covers the entire entrance. The gates may lock, swing in one motion, swing in both directions, and accommodate almost any style.
Swinging fence gates are a good choice if you have minimal space on the fence's sides. For example, if you place a gate on the smaller side of the fence, there may not be enough room for the gate panel to completely move over. If you have sufficient space, a swinging gate could be your best selection.
Swinging fence gates are hinged and are very useful in cramped corners. These types of fence gates do not require any type of track to operate, making them easier to set up in most cases and more versatile for different types of houses. They are also less costly than sliding fence gates, rendering them a more economical and practical choice.
Gate for Stairs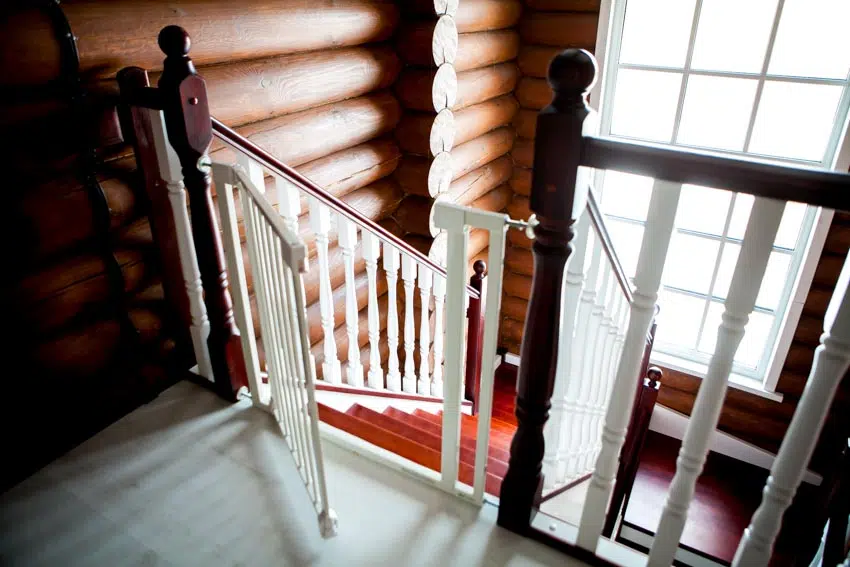 A swing gate for stairs is normally called a baby gate or child safety gate. A baby gate, also known as a child safety gate, is a safety barrier that prevents infants and toddlers from entering places of the home that may be unsafe for them such as stairs.
Baby gates or swing gates for different types of stairs are generally made out of metal, plastic, or wood, and can be enlarged to accommodate a spectrum of doorway dimensions and configurations. They can be used indoors or outdoors and can be hardware- or pressure-mounted.
Pressure-mounted swing gates for stairs are normally held in position by tension with the adjacent walls, whereas hardware-mounted baby gates are bolted into the wall framing and swing completely open like a normal door. Hardware-mounted gates, as well as mesh-made folding baby gates that roll out of the path, can be tailored to fit large and oddly shaped apertures.
Aside from that, baby gates are widely used to confine little pets, particularly those that have not yet been house-trained. When a youngster is able to open or climb over a baby gate, it can already be removed.
Swing Style Gate Materials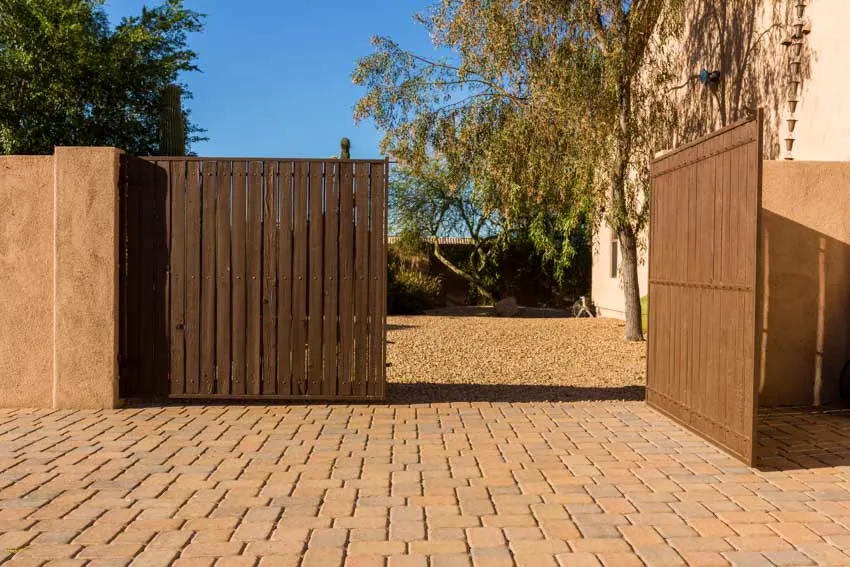 Here are the different types of materials that are normally used to construct swing gates:
Iron Swing Gate: Iron is noted for being heavier and firmer than most other metals, making it ideal for heavy-duty and ultra-durable swing gates. It is, nevertheless, an option that gives an impression of elegance and richness to any property to which it is added.
Iron, which is normally available in wrought varieties, is often a deep black hue, though it can be painted if desired. The most important feature of wrought iron is its strength. It will not quickly wear out or bend over time.
Furthermore, iron can be embellished with a wide range of artistic patterns. Wrought iron gates with specific patterns engraved on top can be ordered, as can additional posts that stand on the upper end of the gate.
Trespassing wrought iron gates by cutting them is a challenging task for anyone. This is owing to the thickness it possesses, which makes it very ideal for properties that are susceptible to intruders.
Aluminum Swing Gate: Because of its strong appearance, aluminum is a preferred material for swing gates. It has a great luster and can be painted in a variety of techniques. It is very lightweight and is normally made out of recycled materials.
In addition, because it does not absorb water or rust, aluminum is incredibly low-maintenance. It can be thin or thick; you can select any type of body here. Door knobs and opening accessories can also be incorporated into the aluminum frame.
Wood Swing Gate: Wood is one of the more conventional materials for swing gates for your property. Wood is intended to have a vintage appearance. It provides a warm and friendly atmosphere to any location.
Aside from that, it can be stained with a variety of various stains. It can also be cut in a variety of fantastic ways because it can be constructed with some column styles among certain points. You can also have the wood trimmed at the upper end to create some eye-catching effects.
PVC (Polyvinyl Chloride): Typically, PVC (Polyvinyl Chloride) swing gates are utilized to create a wood-like frame. The polyvinyl chloride body can be rigid or in the shape of sleeves that can be put over preexisting wood surfaces. It results in a solid and non-porous architecture. Stakes can also be fixed to a location using an adhesive compound.
PVC is a widely known choice since it can withstand a broad variety of environmental conditions without rusting. PVC can be ordered in a variety of colors. The design is adaptable to any door opening functionality.
Chain Link Swing Gate: A chain link swing gate has a simple appearance. This is basically made of a hard metal such as iron. Multiple metal bars are interwoven together to form a robust open design. This is commonly utilized in industrial buildings, but it can also be employed in your residence. You can get it in whichever configuration you choose.
Bamboo Swing Gate: Bamboo has become a favorite wood material for gates in farmhouse-style properties. This is due mostly to the fact that bamboo is a fast-growing, eco-friendly wood with a rustic aesthetic. Furthermore, bamboo has a strong body that will not wear out rapidly.
Swinging Gate Dimensions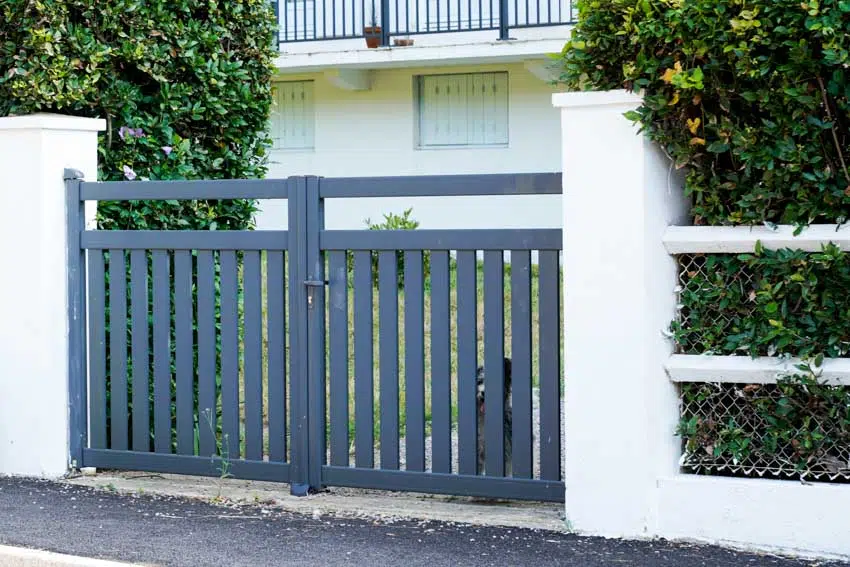 A single swing gate is the most cost-effective and simple gate design to set up. This is also applicable for single-swing gate automation. As previously stated, single swing gates have a convenient width of roughly 16 feet. There are gates wider than 16 feet, and gate operators can manage gates up to 20 feet wide.
Dual-swing gates are regarded as the most attractive entrance-ways. Such gates can be substantially larger, up to 32 feet in length. Most of these dual-swing gates range in width from 12 to 24 feet.
Leave no more than 1 inch of space between the leaf portions of dual-swing gates for a neat, well-designed aesthetic. On these gates, grading beams are advised.
Furthermore, a 3- to 6-inch clearance under a swing gate is appropriate. However, 4 to 5 inches is the ideal length for aesthetic purposes. A swing gate that is too elevated off the ground will appear to float. A gate that is too near to the ground will resemble a fence rather than a swing gate.
Gate Openers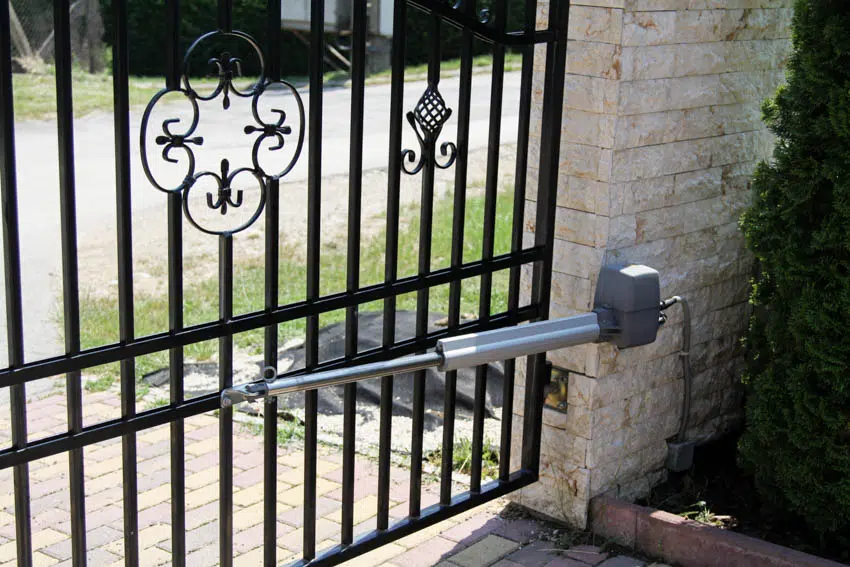 Automatic Swing Gate Opener: Automatic gate openers for household, business, and industrial gates are becoming increasingly common. They give a significant level of protection and comfort by enabling you to unlock your gate from the safety of your vehicle with the press of a button.
Hydraulic and mechanical gate openers are both available. Hydraulic gate openers function with hydraulic fluids, whereas electric gate openers function with power from the electricity system.
In addition, automatic gate openers are either worm- or screw-driven, while either arm or subsurface openers are used. Using a wireless receiver or a manual mechanism, such mechanical components can be automated to open and close as well as lock and unlock.
Manufacturers nowadays have equipped their automatic gate openers with solar panels to ascertain that they continue to function in the absence of power. Thus, even if there is a power outage or someone cuts the power to your house, your gate will continue to function normally.
Dual Swing Gate Opener: A dual-swing gate can be opened inward or outward, equivalent to how you push or pull a standard door open. They typically need minimal maintenance than sliding gates and are less expensive. They do, however, necessitate greater space to function.
Dual-swing gate openers typically use a ring gear mechanism. Firstly, the gear engages with a drive shaft. The drive shaft then pulls an arm connected to the dual-swing gate using a universal joint, which unlocks and opens it. Remember that if your dual-swing gate is very huge or heavy, you may want a heavy-duty dual-swing gate opener as well.
Gate Latches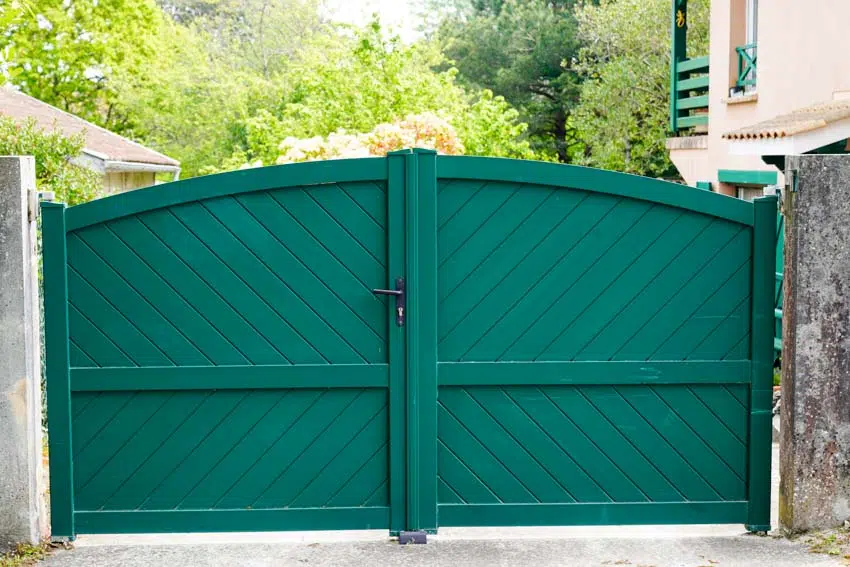 Iron, stainless steel, aluminum, brass, and bronze are the most commonly used materials for swing gate latches. Their style can either be traditional, rustic, modern, or contemporary.
Latches are often one-way, meaning they can solely be opened from within, or two-way, meaning they could also be accessed from the outside. Furthermore, some latches can be locked with a key or a padlock, whereas other latches are required for single or dual swing gates.
Bolt Latch: A basic bolt is one of the simplest locks. These bolts are extremely simple to install and can be installed along either end of the gate. A steel rod is inserted into a catch on the gatepost or framing to operate this sort of latch.
A deadbolt has the convenience of being available in a variety of sizes and designs. As a result, it is an excellent option for large, massive gates that require a powerful latch. Supplementary bolts can be placed on the lower end of a gate for added protection and reinforcement if necessary.
Gravity Latch: A gravity latch, often known as a fingertip-release latch, is among the most popular forms of gate latch. It includes a basic self-closing design that secures the arm inside a steel trap by using the weight of the closing gate.
These latches are typically mounted on the interior of the gate and are one-way. You can just easily lift the latch using your finger to facilitate access. If you wish to access the gate from the outside, there are two-way alternatives available, and the majority can be secured with a padlock.
Side Pull Latch: If you have dogs or youngsters, side pull latches are another acceptable alternative. They work by pulling the locking pin out of the catch using a spring-loaded knob. They can be put on any type of swing gate construction and installed vertically or horizontally.
Ring Latch: Because of its traditional, earthy appearance, a ring latch would be a popular option for wooden swing gates. It is often made of cast iron and has a huge decorative handle in the shape of a ring on either one or both ends.
Lever Latch: Lever latches are equipped with either a handle or a lever that should be lifted. Lever latches come in a variety of shapes and materials to complement both modern and classic gate designs.
Gate Cost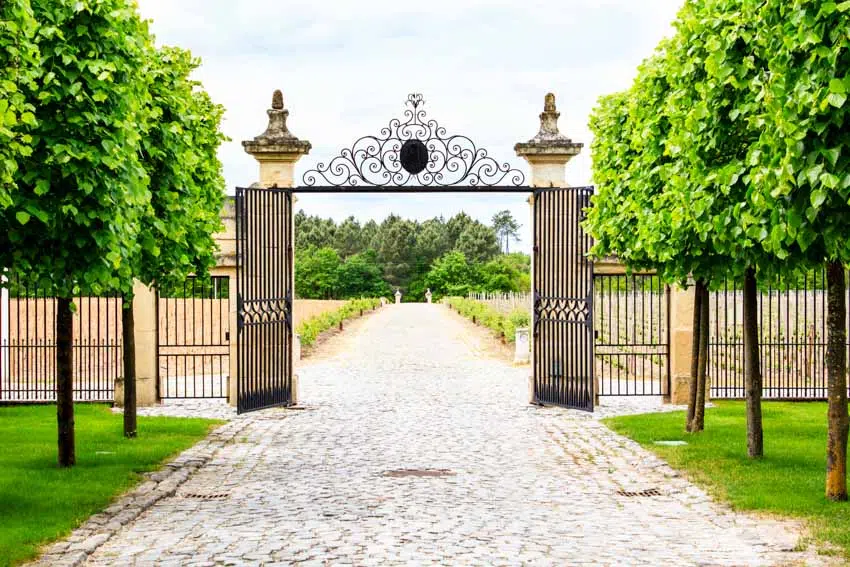 Because of its basic opening function, standard swing gate designs are often the least costly type of driveway gate when compared to other gate styles. These gates normally range in price from $500 to $3,000.
How Much are Automatic Gates?
Installing automatic swing gate designs typically costs $500 to $8,500, including up to $80 per hour in labor expenses. These gates are often hinged and require exact sizing to remain on your property line. Size, driveway slope, as well as material will all help you get a more precise quote.
On average, an automatic electric gate costs $5,000 to $7,000 to install. If you want additional features like sensors and intercoms, the total cost of labor and materials might exceed $10,000 to $12,000.
How Much Does An Electric Gate Opener Cost?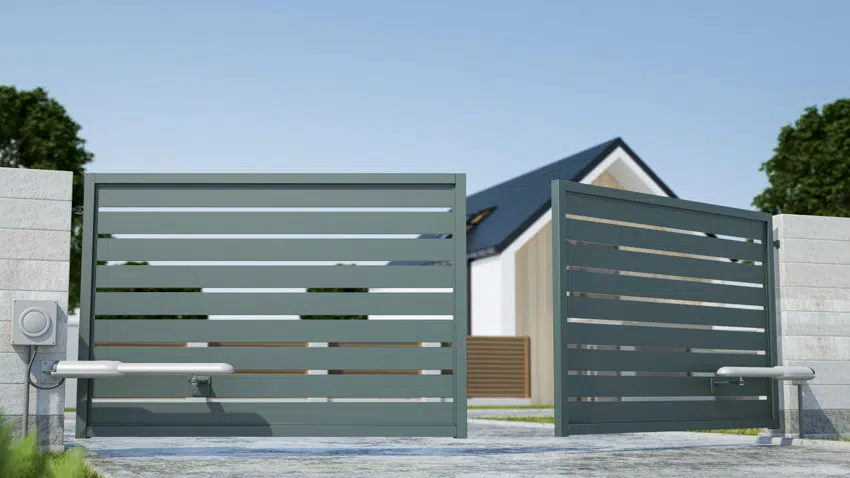 Automatic gate motors are often sold in complete opener packages ranging in price from $850 to $4,500. They are not available separately.
Electric motor prices vary greatly depending on the gate style and size. Complex swing gate units, such as the cantilevered design, necessitate huge and costly electric motors.
Swing Hinged Gates On Sloping Ground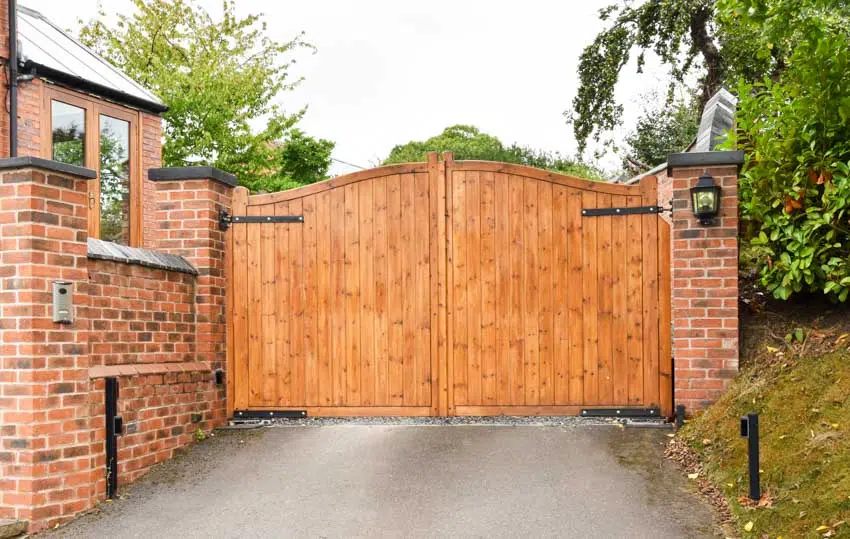 The slope dictates which side of the gate to hinge on. The gate must consistently hinge from the low side when fitted on parallel slopes. The reason for this is that when the gate opens, the distance between the lower end of the gate as well as the ground beneath it increases. This enables the gate to operate freely.
Whenever a gate hinges from the upper side of a slope and opens, the distance between the lower end of the gate as well as the ground reduces. Hence, your gate would only open a little beyond perpendicular. Moreover, you should always hinge the gate from a post on the slope's lower side.
Perpendicular slopes, similar to parallel slopes, define the orientation a gate should swing. The gate must always swing towards the lower side of the slope in this situation.
A gate swinging away from the higher side on a perpendicular slope, such as the gate swinging out from the higher side on a parallel slope, will give the additional distance between the lower end of the gate as well as the ground whenever it is opened.
If the swing gate managed to swing toward the upper side of the slope, it might drag the ground prior to fully opening, unless the swing gate is raised enough to provide clearance. Nevertheless, the spacing below the gate would be far larger than appropriate for most uses at that point.
Even if the slope is so minor that you do not think it makes a difference, it actually does. When the grass grows long, or when winter arrives and the snow starts to accumulate, every additional inch of clearance counts.
Sliding Gate Vs Swing Open Gate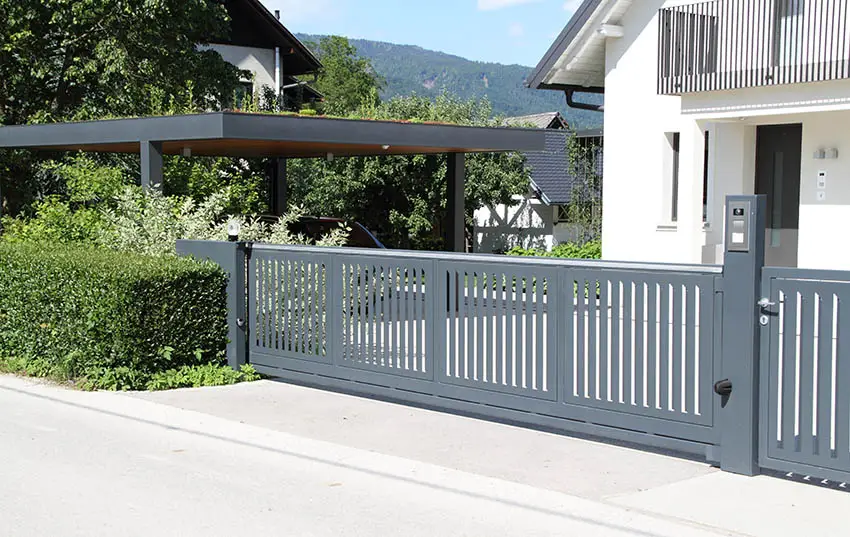 The primary distinction is that sliding gates slide in and out, whereas swinging gates swing open or closed in a broad half-circle. Sliding gates are typically used when conventional gate solutions are not conceivable. They are ideal if you have limited space and uneven ground as well.
Sliding gates are frequently utilized when swing gate designs are impractical. However, when compared to swing gates, owning and installing a sliding gate will cost more. Even if the gates are of the same design, materials, size, and overall quality, they are often more expensive.
However, in terms of aesthetics, swing gates have the conventional and iconic design of what we appreciate in a gate. This is the gate that opens from the central core, conveying a sense of openness and freedom. A theatrical welcome to a residence is the gradual unveiling of a gorgeous property through an opening single or dual-swing gate.
Are Sliding Gates More Secure?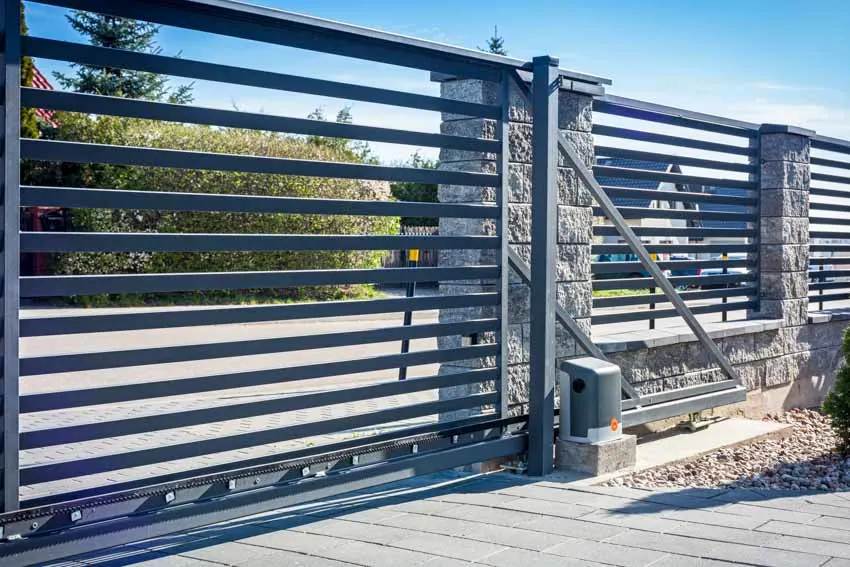 Sliding gates and swing gate designs can both be incorporated into your overall private or commercial security system. Furthermore, both kinds can either be controlled manually or automatically.
In most cases, sliding gates seem to give more security since they are more difficult to force open, and they also tend to be more protective, acting as a deterrent. Since this type of gate opens sideways rather than inwards, it also helps in maximizing the space.
Swinging gates, on the other hand, are regarded as more secure in some circumstances. Because it has fewer moving components and less chance of catching young hands or fingers as it opens than sliding gates, this gate is frequently used at childcare centers, parks, and other public settings.
Anyhow, these gates both offer security to the homeowners. But of course, it will mainly depend on how the gates are constructed and the security features they have on them.
Should A Gate Swing In Or Out?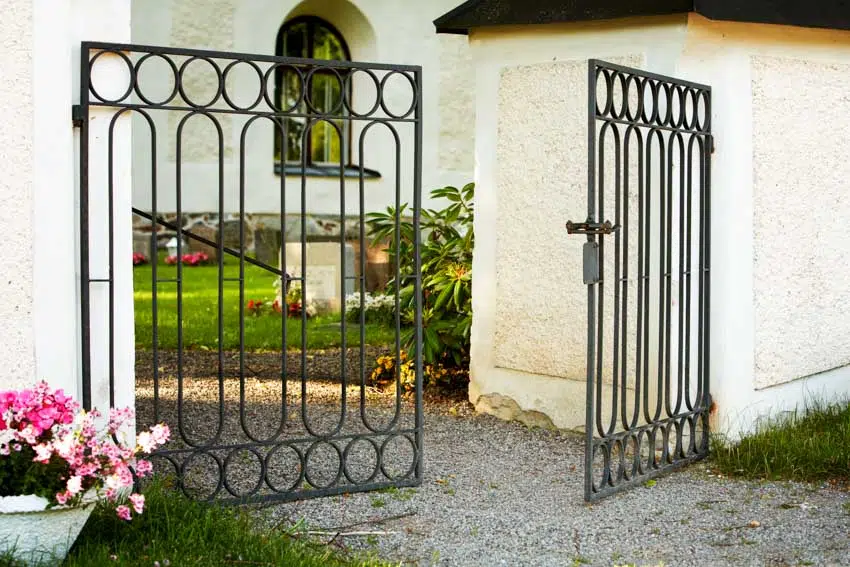 Single and dual-swing gate designs can swing in either an inward or outward manner, but the inward approach is usually more recommended. When heading inward, it is critical to allow enough space for the gate to open as well as additional space for objects such as a car behind the gate.
Indeed, a swing gate must always swing inward, into the private location, instead of outward, toward the public area.
See more related content in our article about modern driveway gates on this page.