Here we share what color to paint a closet with tips for choosing the best paint colors including accents, paint finish, closet door paint, and wall color ideas.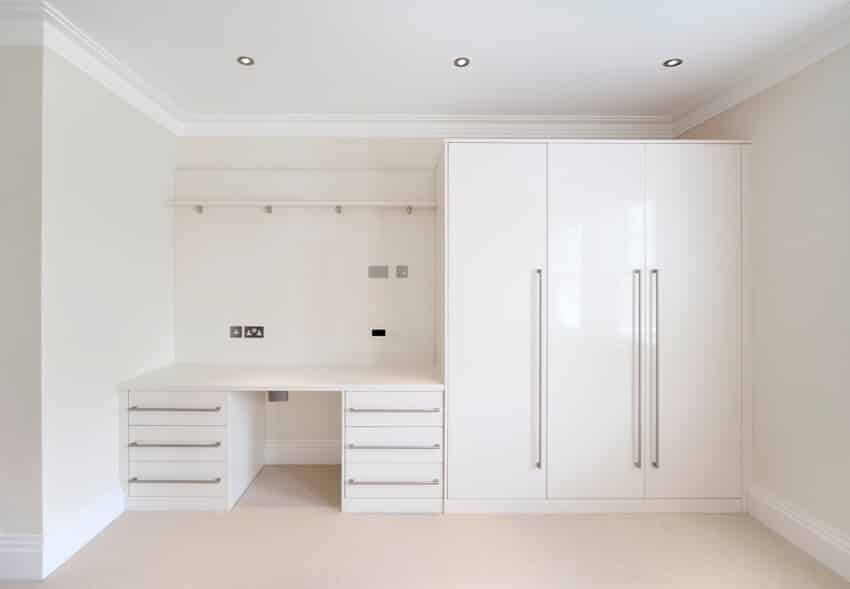 Deciding on which color to paint a closet? Great news! Choosing what color, painting closet is much easier than you first thought.
Choosing the right color and sheen will not only improve the appearance of your closet but your home will look stunning with those freshly painted closet doors once again.
We hope these tips for the best paint for closets will help you.
Choose Light And Neutral Colors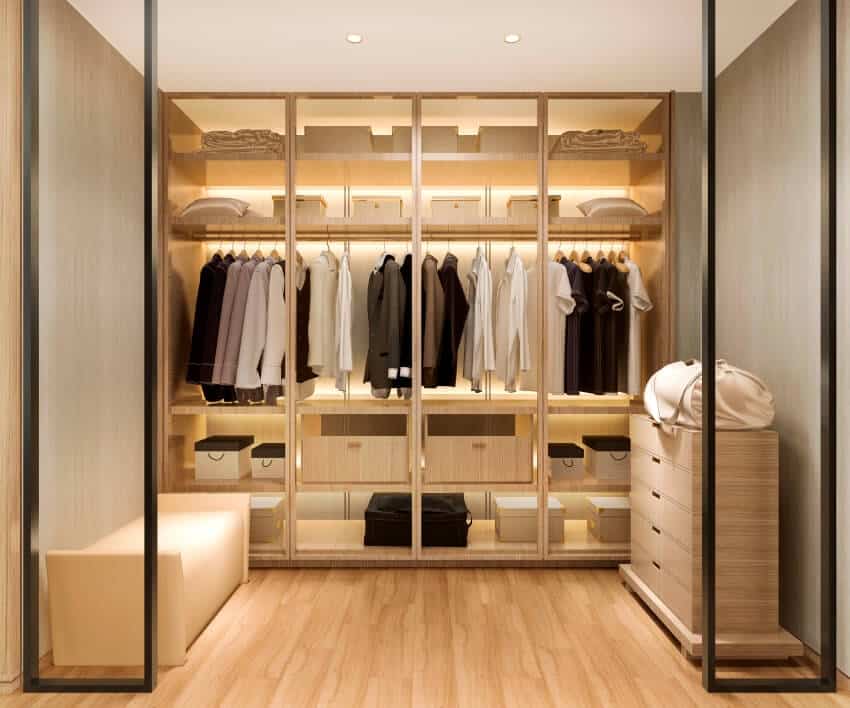 Selecting the right closet paint color for a dark wall shade can be a little bit complicated since it is difficult to see the items stored inside because dark shades don't reflect light very well.
Your closets will tend to show wear and tear more easily as well. We recommend that you choose a light, neutral shade such as white, egg shell white, off white, beige, gray or tan.
These light and neutral colors will work with practically any color scheme and will make it easier to reflect light so you can see better inside the closet.
Accent Closet – Choosing Colors That Pop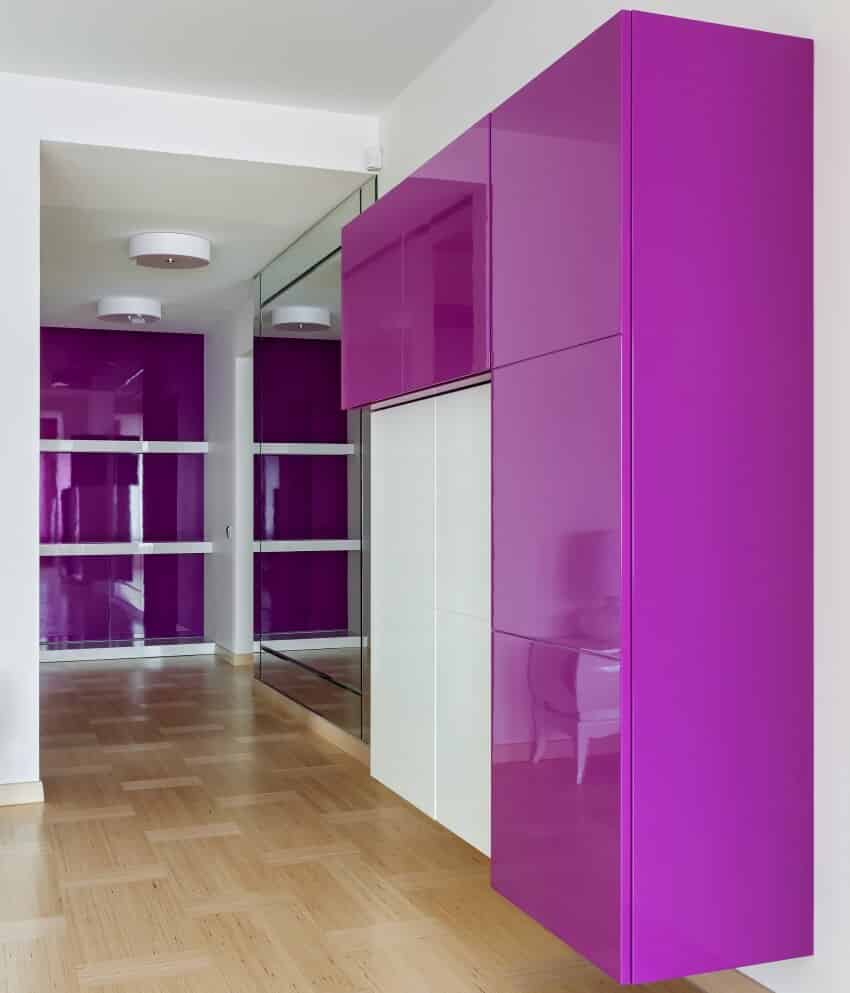 However, keep in mind that there are some circumstances in which with white or neutral tones are not the best option to be used when painting closets.
A small space like a closet can be a great way to experiment with louder colors, if you want to be a bit more daring without having to compromise the wall color of the room. See our closet size design guide here.
Choose The Right Type Of Finish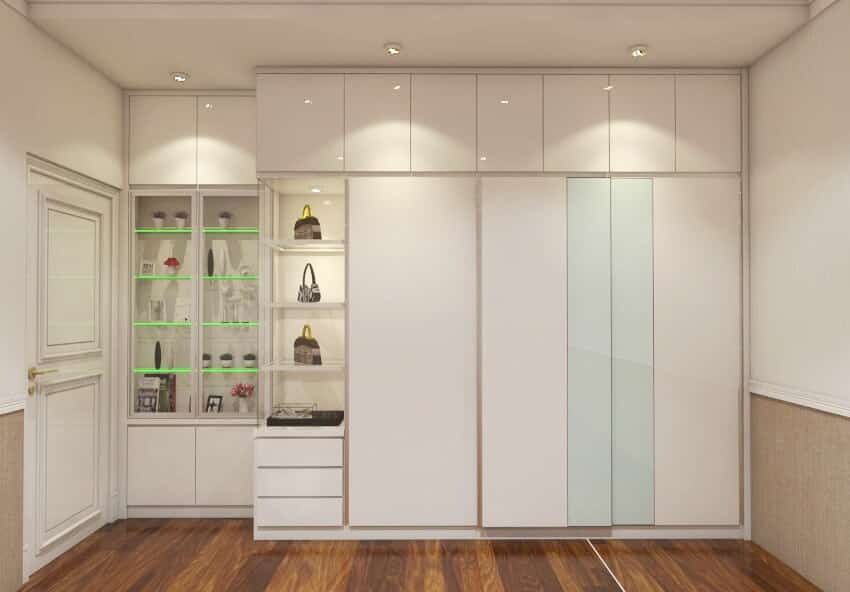 Satin Paint Finish – for closets, a better option is to use a satin paint finish since this type of finish is highly durable and doesn't show scuffs, and streaks. Satin finish is also easier to clean; you can wipe away any dirt or smudges on the closet walls.
Semi-gloss Paint Finish – using semi-gloss paint finish for closets will provide greater reflective light. This is a better solution to help brighten up dimly lit closets.
High-gloss Paint Finish – is the most reflective and long lasting paint finish. It is the best choice for closets that need maximum brightness.
Dark And Intense Colors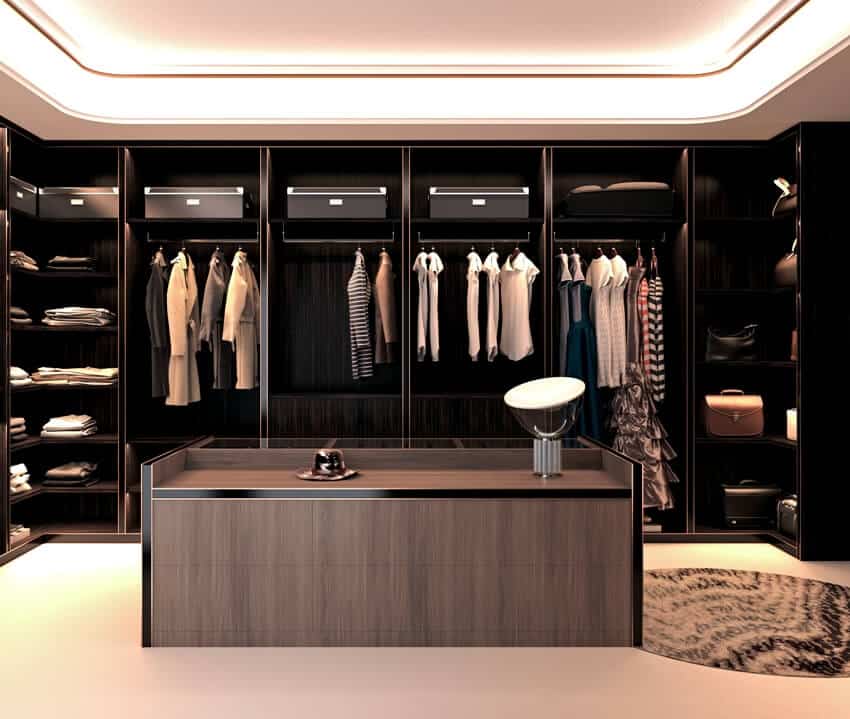 Dark colors can be a great backdrop and can have their place in some closets. A spacious closet built with lights can be painted with a dark paint color to add sophistication and personality.
We recommend dark, natural browns, navy blue, and steel gray since these colors will liven up any roomy closet and are sophisticated colors.
Do You Paint Closets The Same Color As Walls?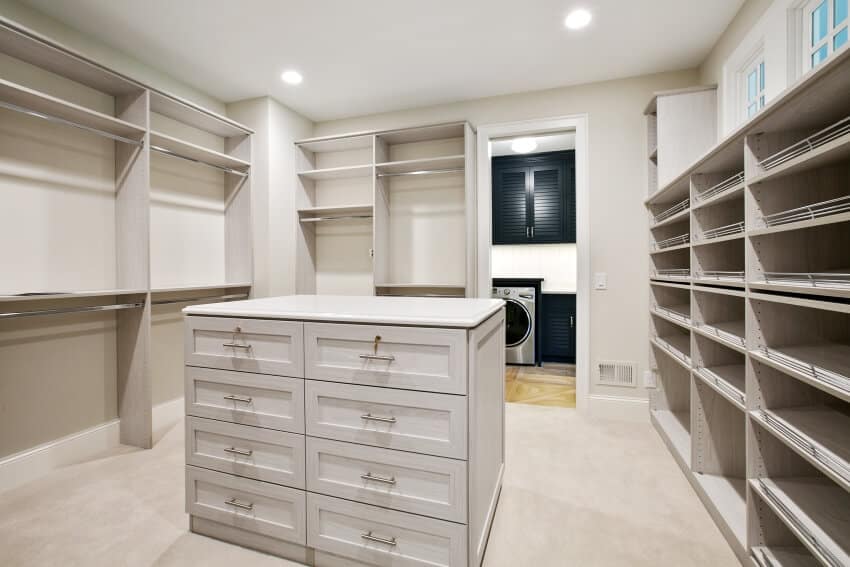 Typically, painting your closet space that has no doors is to paint it the same color as the room or use a paint color that is slightly lighter shade.
A lighter shade or same color will help you integrate your closet into the room and will less likely to draw attention to what is inside the closet.
However, if your closet has doors we suggest that you paint the closet doors the same color as the trim on baseboards or the same color as the door in the room.
White or light colors are good choices and choose a semi-gloss paint since it reflects more light.
Painting closet doors the same color or lightest shade as the trim and door will make it more pleasing to the eye and not make your color scheme too busy.
On the other hand, painting the closet walls to match the room they're in will create a sense of flow and inclusion rather than separate it.
Painting the closet the same color of the room can help make the room seem larger and will make more visual sense with the room.
What Color Makes A Closet Look Bigger?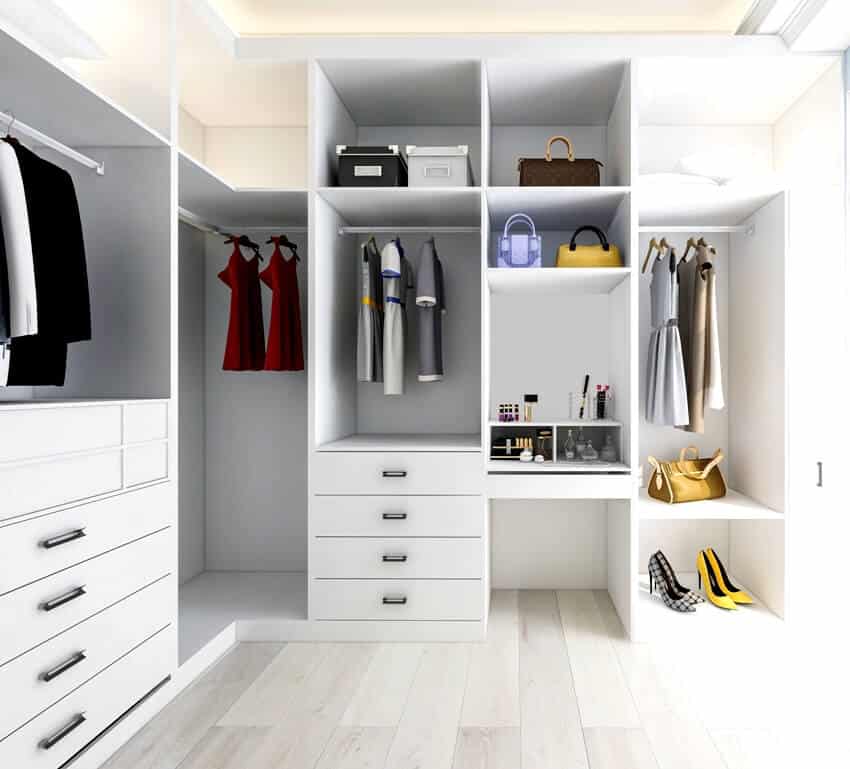 In order to make a closet look bigger and larger, choose a light color paint, off-white or white paint. This automatically will brighten the closet space, making it seem bigger.
Bright colors are also a great choice for small closets and closets that don't have a light inside them – a sunny yellow closet can make a closet look more spacious.
Light and bright colors can better catch and reflect the light in the room, improving visibility and reducing your chances of getting those dark and distant corners bright. High-gloss finish would help your closet look even more vibrant and manageable.
Then again, dark, jewel-toned paints can also make closets appear wide, larger and deeper. These vibrant colors and rich hues bring bold and beautiful colors back into homes.
Colors and hues which are derived from precious gemstones add drama and personality.
Jewel tones include variations of red, yellow, green, blue and purple and because of their depth that range from mid-tones to deep, saturated shades these hues offer color that doesn't feel excessively bright or overwhelming and are a colorful alternative to neutral color palettes.
What Color Should Bedroom Closets Be Painted?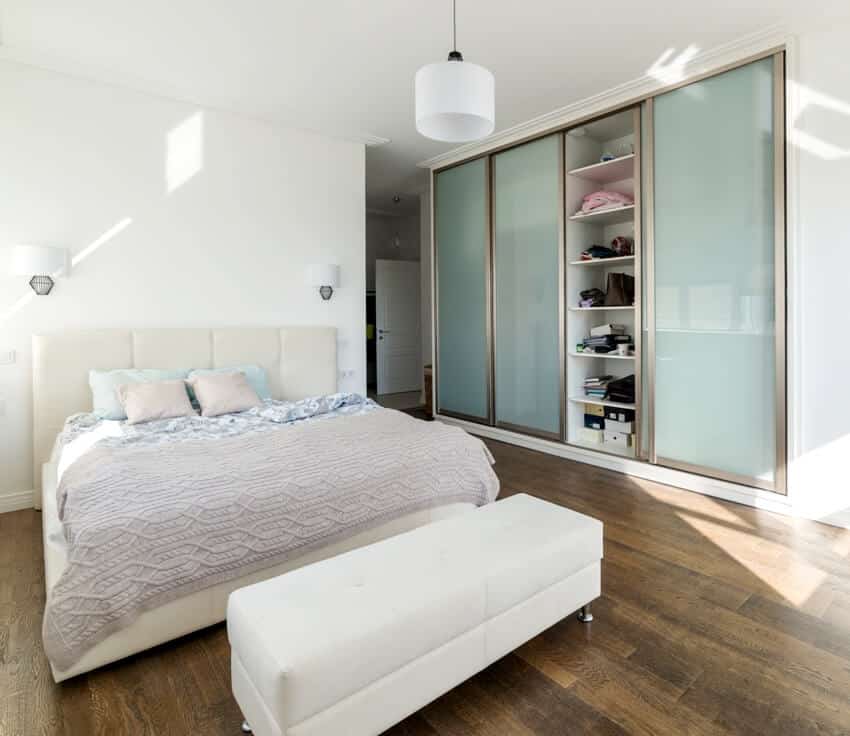 The bedroom is every homeowner's sanctuary for rest, relaxation and intimacy. Calm and soothing colors are best in a bedroom such as neutral colors that are always safe.
Neutral paint colors such as ivory, taupe, black, gray and white offer a clean backdrop for bedrooms because these paint colors go well with other bright colors used in bedding, curtains, carpeting, and even artworks.
Pastel colors such as soft blues, greens, pink, rose quartz and yellow are also a popular choice for bedroom closets since they offer a soft, relaxing and serene ambiance. Check out more ideas in our turning a bedroom into a closet guide.
Best Paint Color For Closets

Lamp Room Gray by Farrow & Ball – this is a strong color when used in smaller rooms but for a larger room with a well-lit closet, this color has a soft gray touch.

Screech Owl by Papers and Paints – this color is in the lilac shade with a "not so sweet" pink hue.

Kittery Point Green by Benjamin Moore – this color brings the outdoors in this shade of dusty clover paint color

Oyster Shoal by Valspar – with its soft biscuit shade, this color adds a layer of warmth in the room.

Calamine by Farrow & Ball – this shade has a light hint of gray balanced with a punchy pink shade, giving your closet a fresh finish.

Black Magic by Valspar – this black satin finish closet color goes best with vintage hardware and adds depth and drama into the room. Goodnight Moon by Clare – a soothing color of deep navy offers a soothing and relaxing feel when winding down for the day.

Inchyra Blue by Farrow & Ball – this green-blue color can change from peacock blue to a dark sage green, depending on the time of day.

Polar Bear by Behr – a nuanced warm white paint color like that of the Arctic summer dawn, has a hint of pink that brings a subtle, playful warmth to the space.
What Color To Paint Closet Doors
When deciding what color to paint your closet doors, we strongly believe that it depends on what color scheme you have in your home. Take some ideas from your interiors color palette, and furnishings to decide what color might be a good fit for you.
There is something fun about painting closet doors a different shade to contrast your wall paint color, in order to feature an accent piece. It just goes to show the power of paint and how a fun color can brighten up a room inside the house.
It is best to select a color that complements the room. Try matching the color of your closet door to other room tones, this way, your room will have a coordinated feel. Check more ideas about closet door types here.
Monochromatic Schemes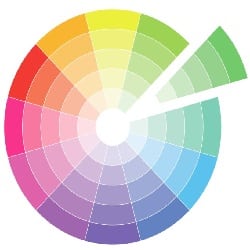 Colors from the same hue naturally complement each other. Choosing different shades from a single color can make the perfect accent color for closet doors.
Cool Tones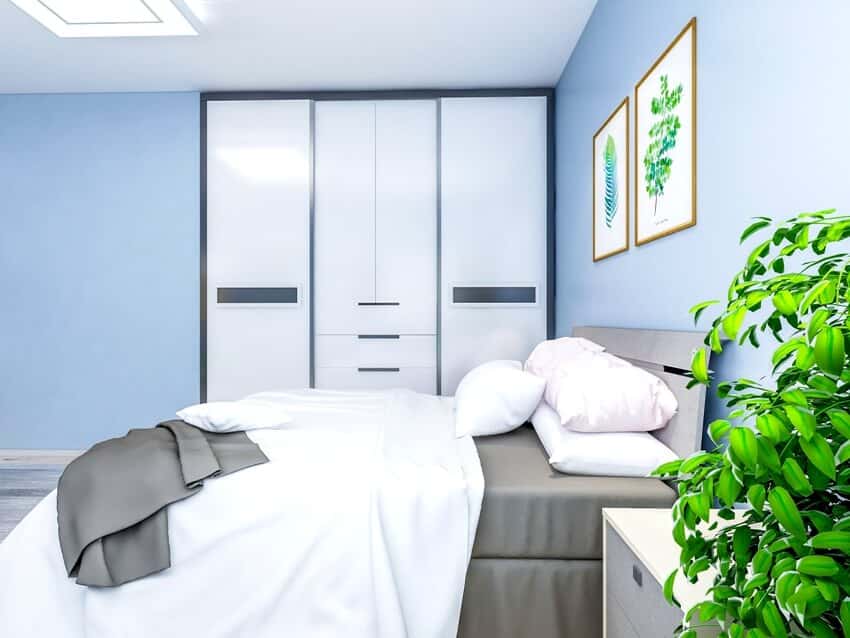 Choose colors with a blue hue are considered "cool." These calming tones are often used in the bedroom.
Muted Colors
Subdued tones are also suitable for bedroom closet doors. This gives the room a appealing quality, making it easier for you to relax and feel calm.
A muted color on a closet door in other rooms won't take away from the main feature of the room.
Neutral Hues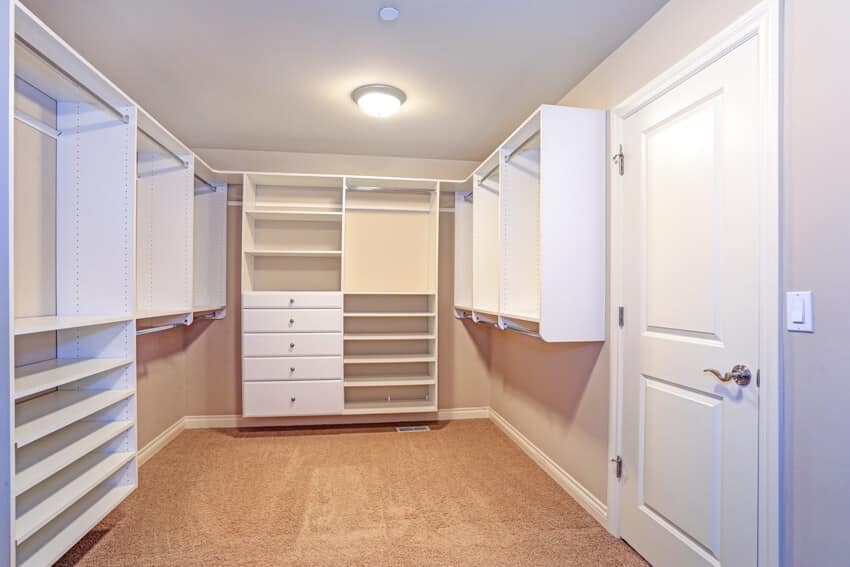 Usually, the less saturated the intensity of the color, the more neutral it becomes. Browns, grays and creams colors mix well with others, and can allow you to change the ambiance of the room.
These colors will enable you to see into the closet better, even without an additional light fixture.
See more related designs in our gallery of top luxury walk in closet ideas page.