Welcome to our guide of closet door types including popular styles such as bypass, pivot, pocket bi-fold, accordion, French, and mirror doors.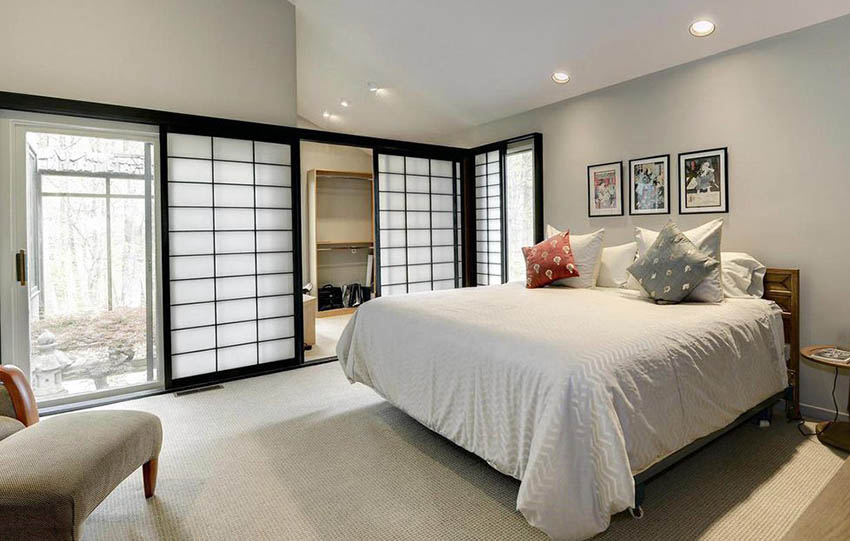 Designers know that everything in the home serves a purpose. Builders and architects just slap doors where they need them, their main focus is cost-cutting and ease of installation. But a linen closet doesn't serve the same needs as a bedroom closet or a pantry.
The type of door that you choose for you closet space should serve to enhance the usage of that closet and maintain the flow of design in the room. Getting to know the different types of doors available will help you on your way to having the beautifully designed home of your dreams. For a comprehensive guide to popular types of interior doors visit our gallery page.
Bypass Closet Doors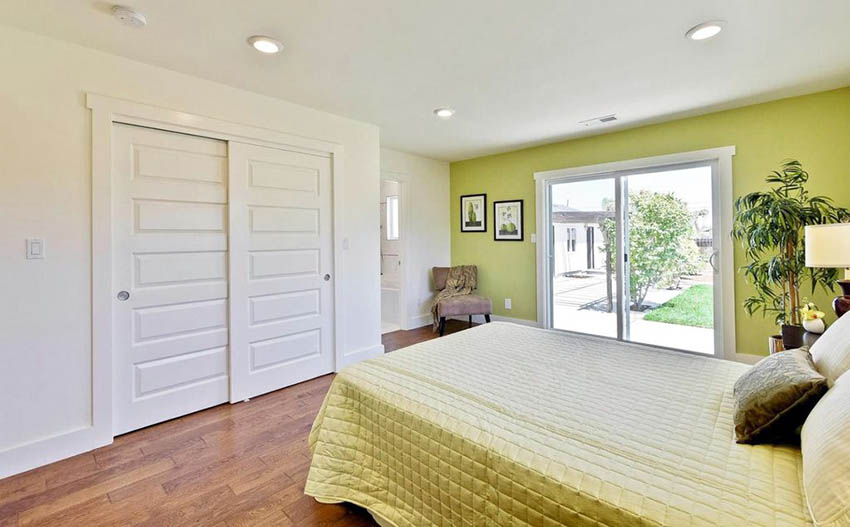 Bypass closet doors, also known as sliding closet doors are familiar to most of us. Bypass doors are installed within a frame that has a track that allows the doors to slide past one another. Today, they come in a wide variety of materials such as wood, aluminum, and glass. They can look clean and modern or be paneled to look more traditional.
Pros: Bypass doors are space savers, they don't open out into the space so you don't need to worry about clearance when opening the door. The variety of materials means that you can find a door that meets your design needs no matter what your taste. They are lightweight and sturdy and the new models have track systems that keep the doors in their tracks no matter what.
Cons: Because these doors slide one over the other, you can only access half of your closet at a time. If you have older bypass doors or install new doors on old tracks, they may come of out of the tracks and cause frustration.
Bonus tip – If you have a large, shallow closet across from a window or wall of windows, you can mimic the design of the windows by framing your doors with wood that matches your window frames and using frosted glass for the panels. It will really brighten up your space and lend a great modern but timeless look. This looks smashing in a bedroom.
Bifold Closet Doors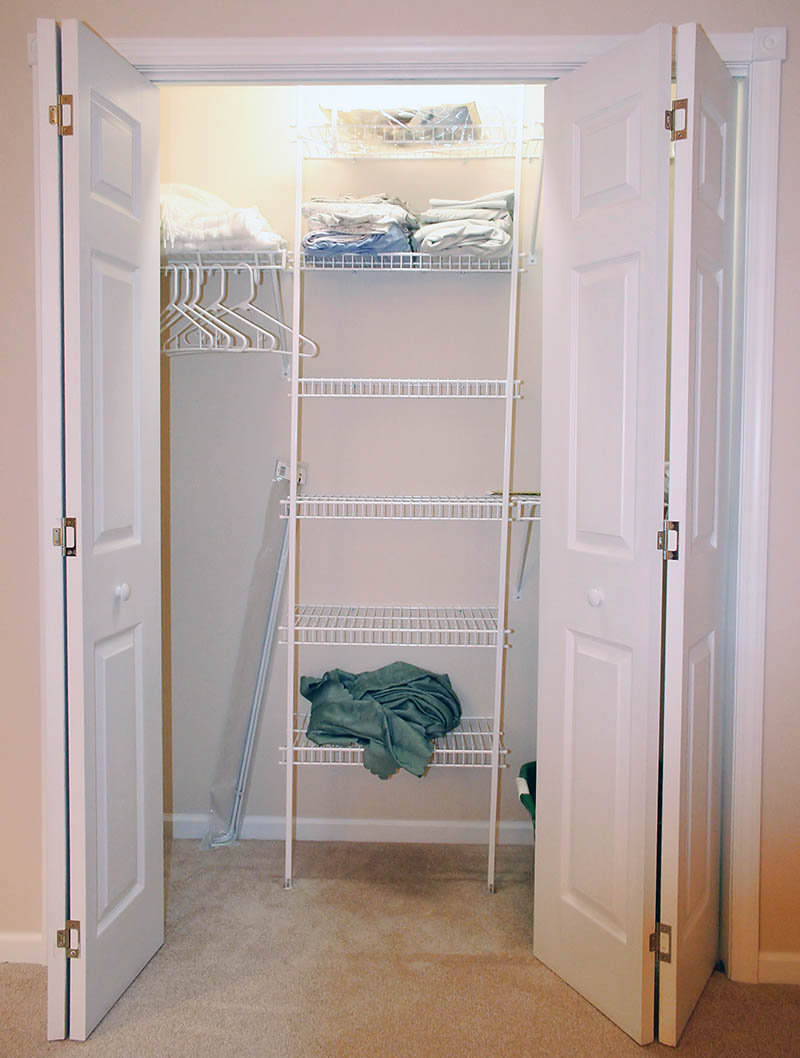 Bifold doors are paneled doors that are connected by a hinge. The panels are most commonly available in 2 pairs of panels for 4, 5, or 6 feet door openings but you can have bifold doors custom-made to fit an oddly sized closet. The most practical use for these types of doors is in a bedroom closet.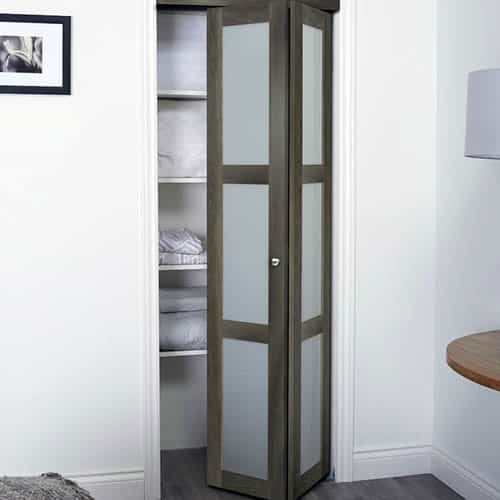 Wood bifold door
Pros: Bifold doors are budget-friendly and lightweight, they don't take up much space when they open and they can easily cover a wide closet opening. They can be flush mounted, no need for a casing, if you really want to save on materials and labor.
Cons: Can you say fussy? These guys just love to come out of the track, especially if they have younger kids tugging on them a few dozen times a day. They don't allow for full use of the opening because they take up space when folded open, which making access to the far sides of the closet a little difficult.
Bonus tip! Get these doors professionally installed to save yourself some frustration. The tracks need to be level and flush, it pays to have someone who really knows what they are doing install these doors, they will be less likely to fall of the track and will last longer with professional installation.
Accordion Closet Doors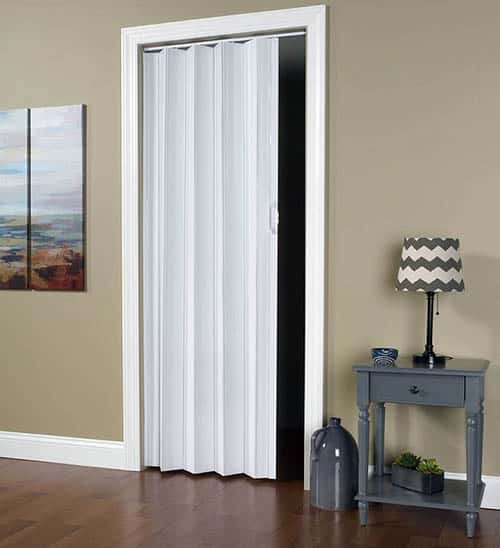 Vinyl accordion door
Modern accordion doors are made of lightweight pvc that can be made to look like a variety of materials, wood, and laminates, and lightweight fiberglass or aluminum. Some doors even have acrylic inserts that look like frosted or clear glass.
The panels of accordion doors are narrow and allow the door to be stretched nearly flat when shut or accordion into a compact band when they are open. Accordion doors are great for closets that need nearly full access to the opening without having to use a standard swing out door.
Pros: Lightweight, a lot of options, much better looking than they were twenty years ago. Great for kitchen laundry spaces or small closets in tight hallways or bathrooms.
Cons: There is no lower track so lightweight doors might feel a bit unstable when opening and closing them.
Pocket Closet Doors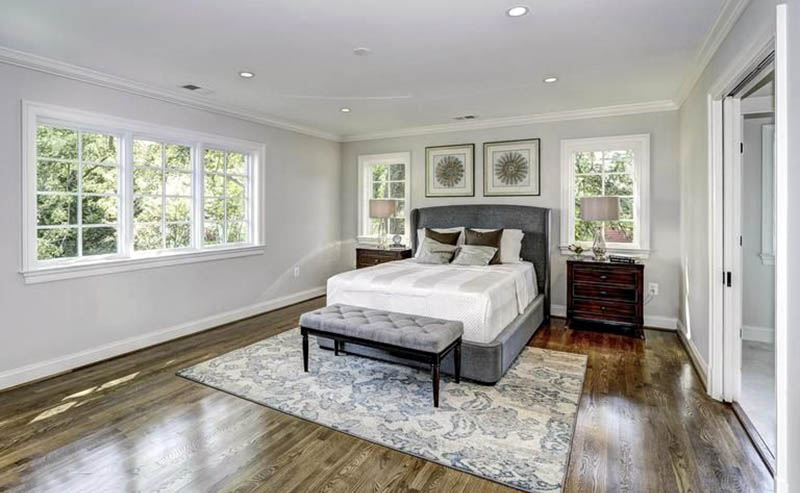 Pocket closet doors are doors that slide into a little pocket made in the wall when opened. Perfect for closets in spaces where you want to access the entire opening easily but don't have room for a swing door. Pocket closet doors can be easily matched to the other interior doors of your house.
Pros: After installation, you can frame out these doors to match the other door frames in your home or you can leave the opening as is for a clean-lined look. Super space savers, lightweight, easy to use, can access the entire opening.
Cons: If your closet opening is large, as most bedroom closets are, you may need custom doors, which can be expensive.
Bonus tip – If using a pocket door on a linen closet in a small bathroom, make it do double duty and save wall space by using a mirrored panel. You'll gain a full-sized mirror but still have room to hang up your towels!
Pivot Closet Doors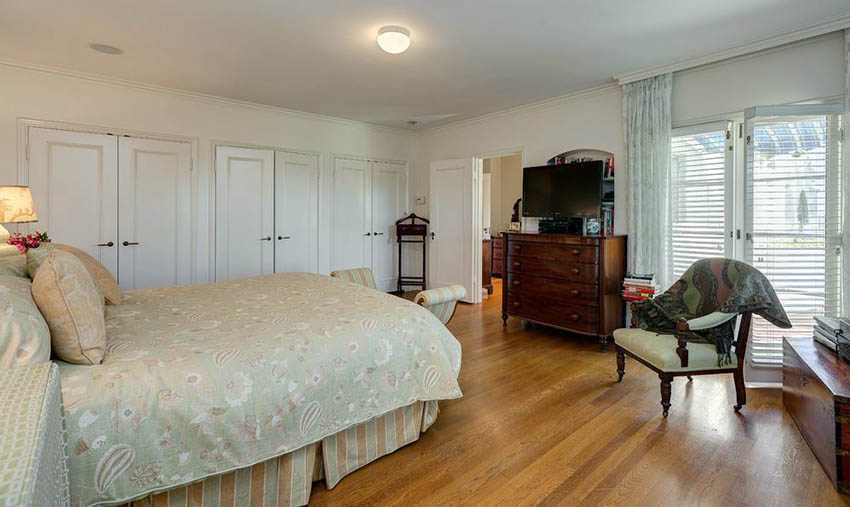 Pivot doors make a bold statement in a space. Instead of standard hinges installed along the frame, pivots are installed at the top and bottom of the door. This allows the door to open out fully, giving access to the entire closet opening.
You can easily go floor to ceiling drama with these modern beauties. The door blanks can be made to match existing doors, be flat with no paneling, have glass inserts, they are fully customizable. They are also frameless, which means no finish carpentry needed for the door frames.
Pros: Pivot doors are bold and beautiful, they can make an impact or blend in. They allow for full access of the closet opening.
Cons: Pivot doors and hardware can be expensive and need professional installation
French Closet Doors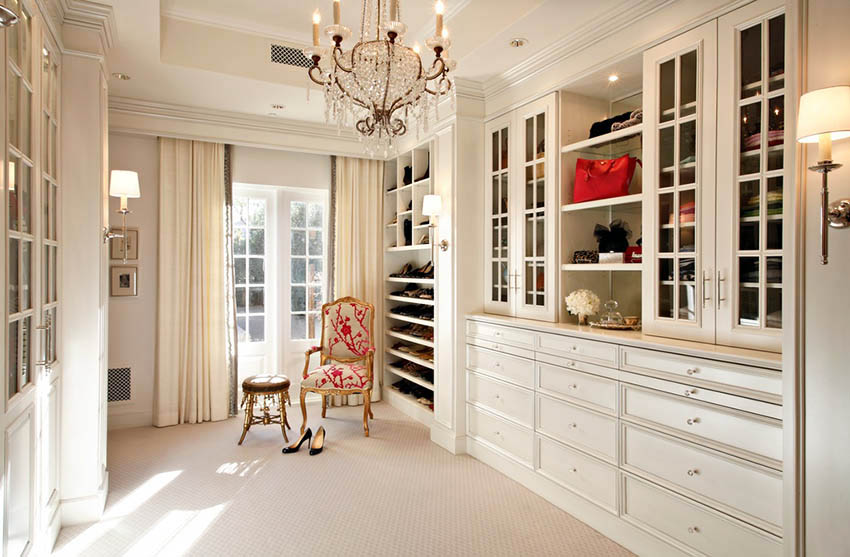 French closet doors are just that. French doors are made narrow and lighter, to fit a closet opening. They are traditional hinged doors. The frames are lightweight fiberglass or wood and the glass frames can be given a variety of treatments, from frosted to stained glass.
Pros: These doors are great for walk-in closets and give an air of sophistication to a large walk-in closet in a master suite. They don't need any special installation or treatment.
Cons: They will need enough clearance to be able to be fully opened, they aren't for small rooms where the door will hit the bed or other furnishings when fully opened.
Bonus tip! What is a pantry if it isn't just a fancy kitchen closet? If you have a pantry with a wide enough opening, you could opt for narrow French closet doors with milky glass. It adds an extra dimension of brightness and glamour and is great for transitional, eclectic, modern, or traditional design aesthetics.
Mirror Closet Doors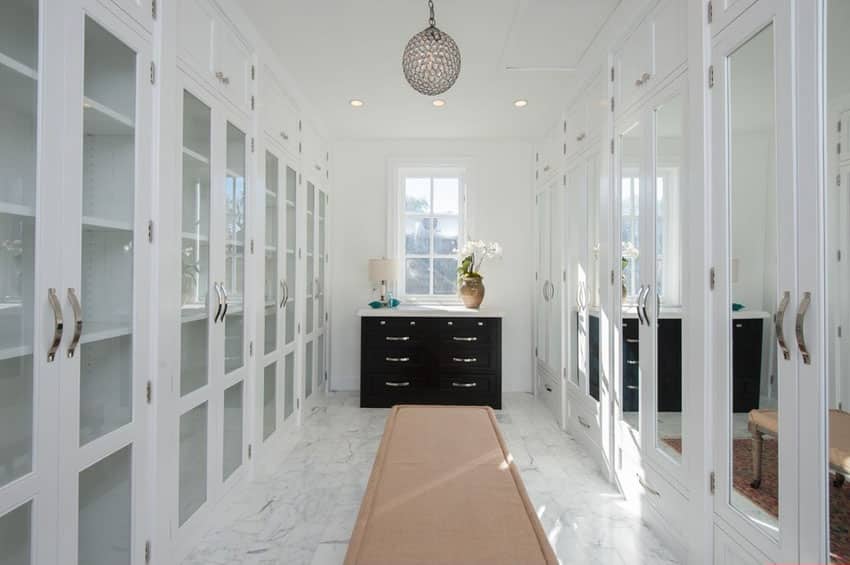 Most, but not all, closet doors can be made into a mirrored closet door. Some styles, like the Bypass closet door, are available in frameless mirror options, so you can have a full, door-sized mirror in your space. By using mirrored closet doors, you save wall space and you bounce more light around your room, making it look larger and more inviting.
Pros: Versatile, available in several styles, framed or not. Your mirror is right on your closet so you don't have to roam around the house looking for a full-sized mirror in which to check your outfit.
Cons: Can look dated, can bring unwanted glare into a bedroom, expensive. Mirrors are easily breakable, if using in a child's room, please use impact resistant mirrors and make sure they are coated in a safety film.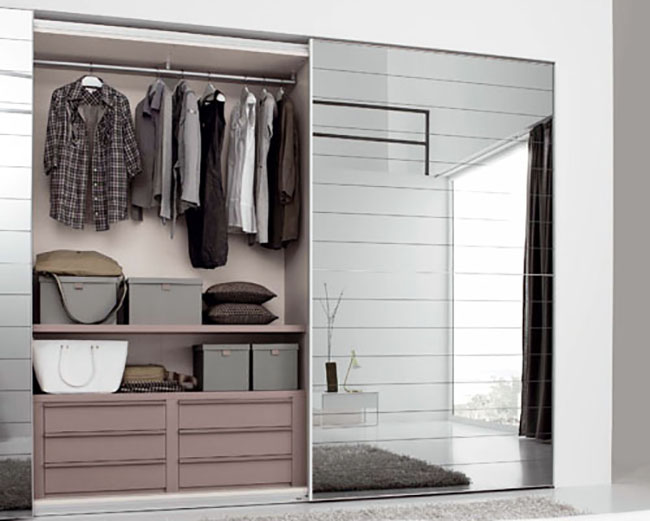 There is a lot to consider when designing a home, closet doors are an important part of your homes design. You want durability, ease of use, ease of access, and for your door to create cohesion with the rest of your design. Whether you are building, remodeling, or just freshening up one room at a time, take time to plan.
Ask yourself who will be using this closet, how often will the door be opened, what will be stored here, will by kids climb up the door like little lemurs, what is my budget? Take your time, decide what is right for you and your space, and you will be confident that you have made the right choice.
Closet Door Ideas
Below are an assortment of closet door ideas featuring a variety of styles and finishes.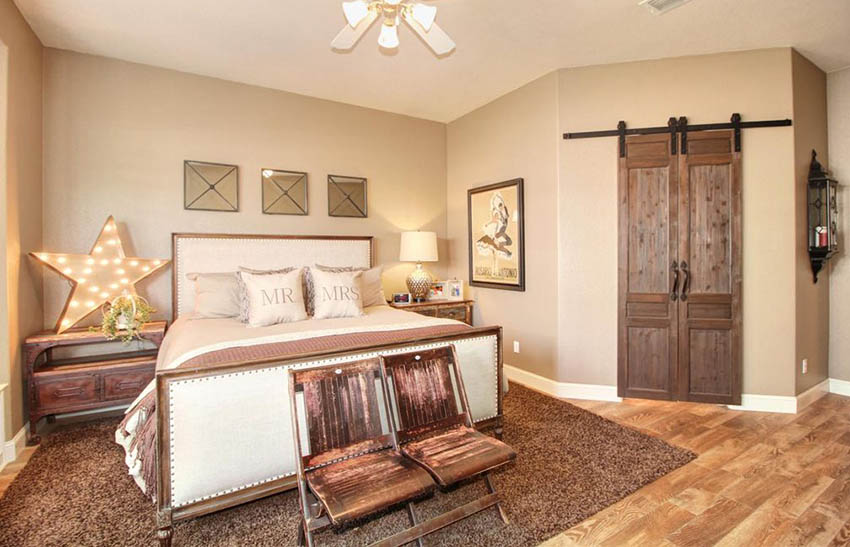 This rustic bedroom closet with sliding barn doors on a metal frame looks attractive and matches the rooms country decor.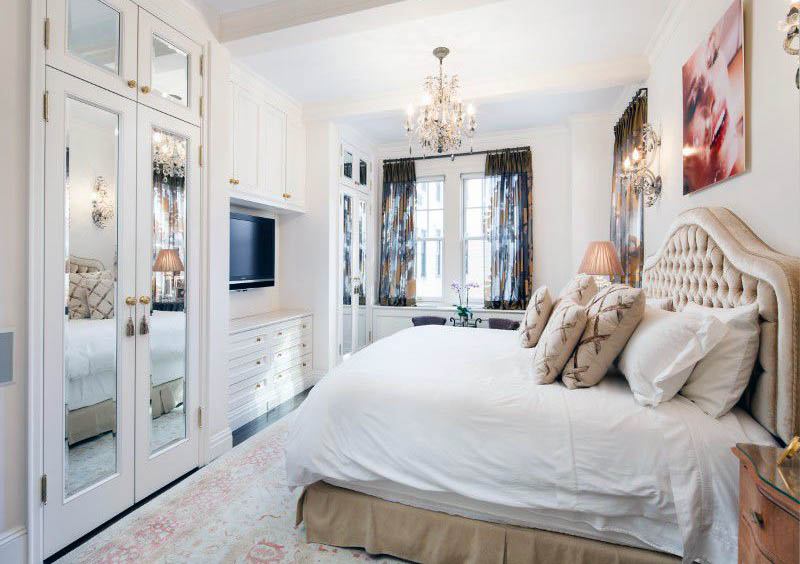 This glamorous bedroom offers mirrored closet doors which helps to create the appearance of a larger space as well as provide a place to see how you look as you're getting dressed.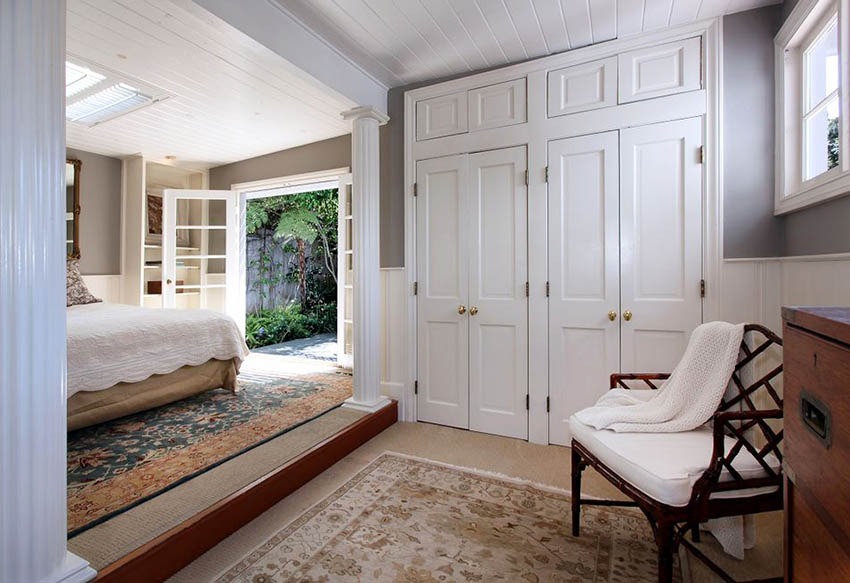 This decorative master features shaker style double doors with overhead storage.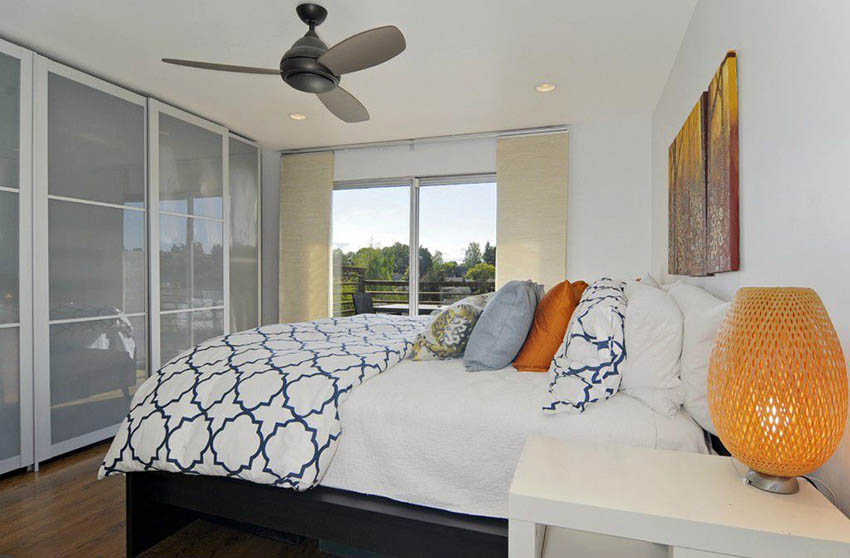 The stylish frosted panel bedroom closet in this bedroom reaches from floor to ceiling and creates a discrete method for storing your shoes and clothing. See more types of sliding doors on this page.
[expand title="Show Image Sources" swaptitle="Hide Image Sources"]
(1) Anastasia2011 from Wikimedia (Creative Commons License)
[/expand]