Here's our guide to the types of shelves including the different designs, materials, styles used by room, and the variety of shelving materials to choose from.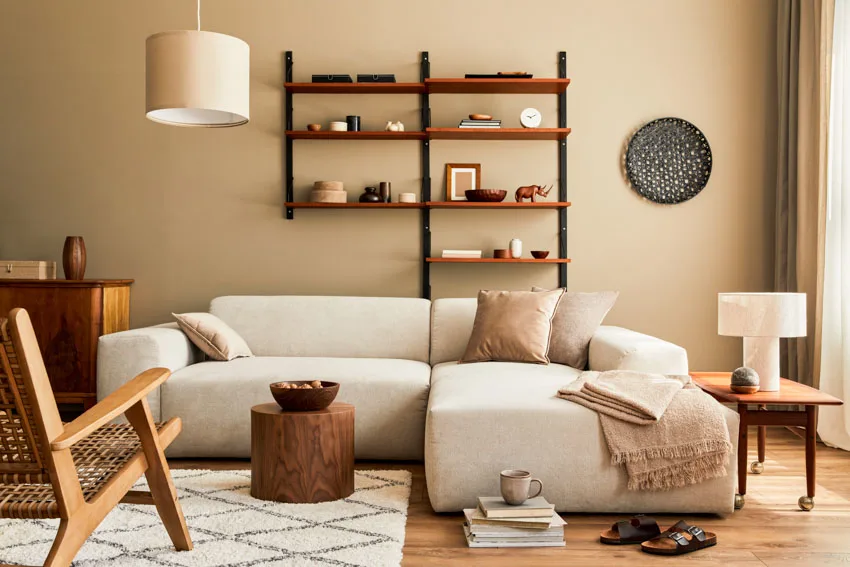 Despite how much technology advances or how clever and modern home improvements become, there are important interior design elements that can never be substituted, let alone removed entirely – shelves.
Shelves are a piece of essential household furniture that has been around since the beginning of human history. Shelves are crucial in every home because they allow you to store and organize objects like books, clothing, and innumerable other items, which would otherwise be thrown on the floor.
A suitable shelving system, in addition to supplying storage space and keeping the house orderly, enables you to embellish and improve your home by freely displaying gorgeous adornments and decorations.
Therefore, if you are searching for storage solutions for your home, read this complete information on the various types of shelves available. This article also includes a list of the most common types, which have been grouped based on the material, mounting method, and function for which they are most suited.
Suspended Shelves (Fixed Bracket)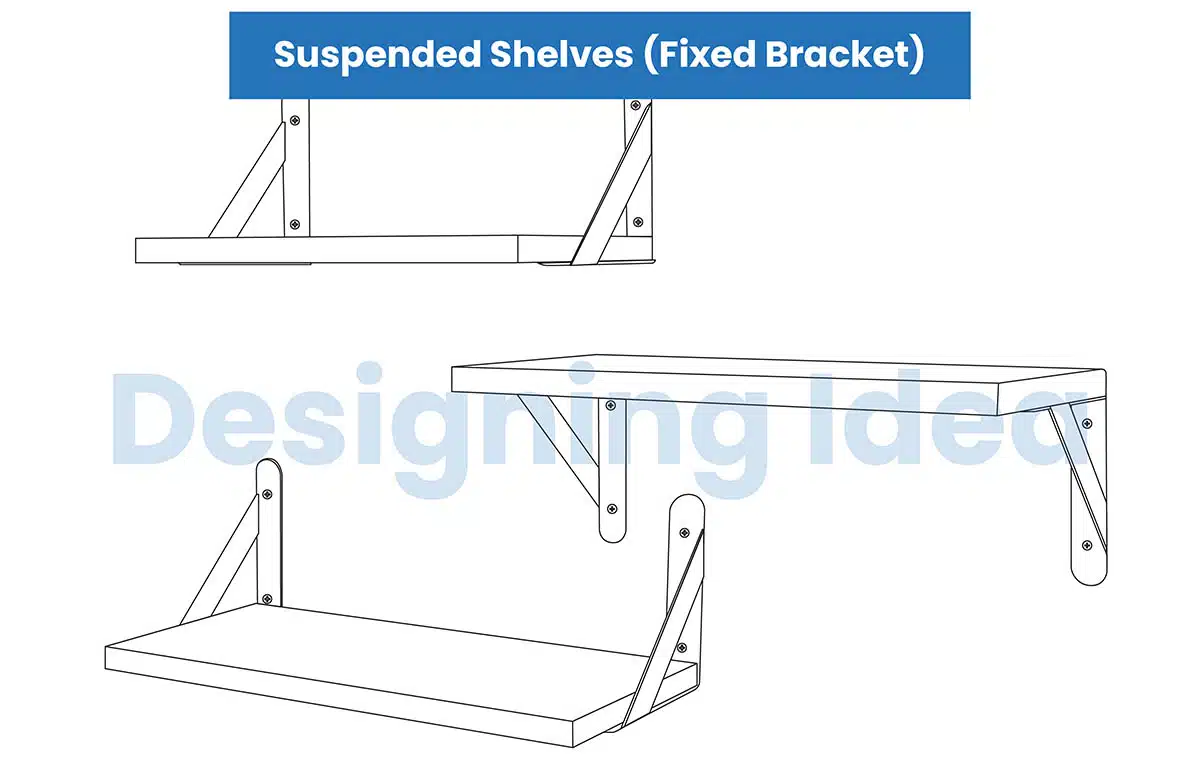 Fixed bracket shelves, also known as suspended shelves, are possibly the earliest type of shelves, having been used for a very long time-frame. They are very popular even nowadays.
As the name implies, they are made up of separate 'brackets' that are 'attached' to the surface where the shelf is to be installed. The brackets are often constructed of metal and shaped like an upturned L.
They are affixed to a wall or any vertical surface, and shelving is therefore supported by the other 'arm' of the anchoring attachment.
This type of shelving frequently includes other sorts such as open storage shelves, bookshelves, cubed shelves, as well as anything else that is bracketed to a wall and used to store multiple and diverse objects.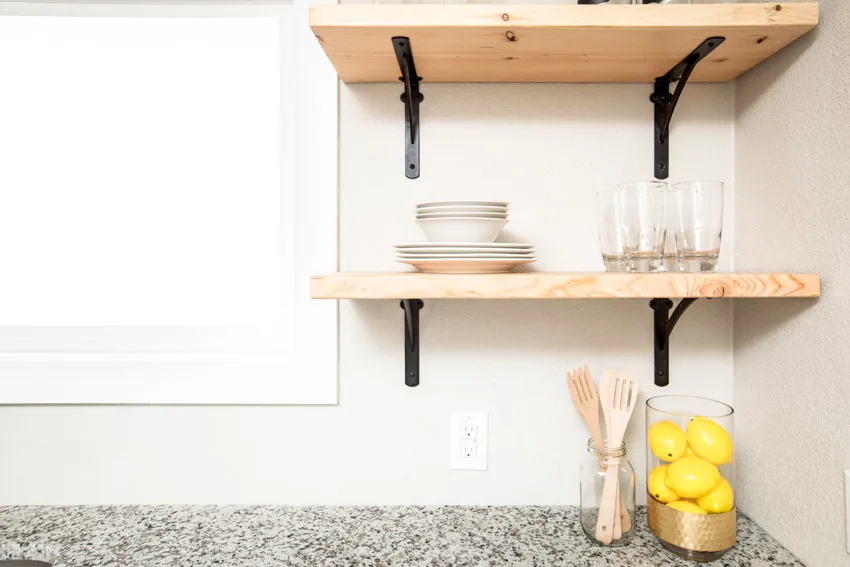 Suspended shelves can either be a single unit that stands alone or a hybrid of two or more shelves that are positioned tightly together using supplementary brackets to create a multi-unit storage solution.
These shelves are popular in bedrooms, living rooms, study areas, and even workplaces because they are quite adaptable. They are obtainable in a variety of materials, including metal, wood, and plastic, as well as various styles.
Furthermore, suspended shelves can be purchased as-is (prefabricated or ready-to-install shelving kit) or you can purchase racks, shelves, as well as brackets of your preference and then install them yourself. A comparable type of shelving system known as floating shelves is frequently confused with suspending shelving systems.
However the key distinction is that the origin of attachment in floating shelves is not apparent, but in fixed bracket or suspending systems, the bracket is commonly visible. It is not necessarily a negative thing, particularly since homeowners can now select from a wide range of elegant brackets.
These can include brackets made of wood frames, wrought-iron shaped into intricate patterns, and a variety of other materials. With the correct material and brackets, this type of shelving system may give a lot of usefulness while also being stylish.
Floating Shelves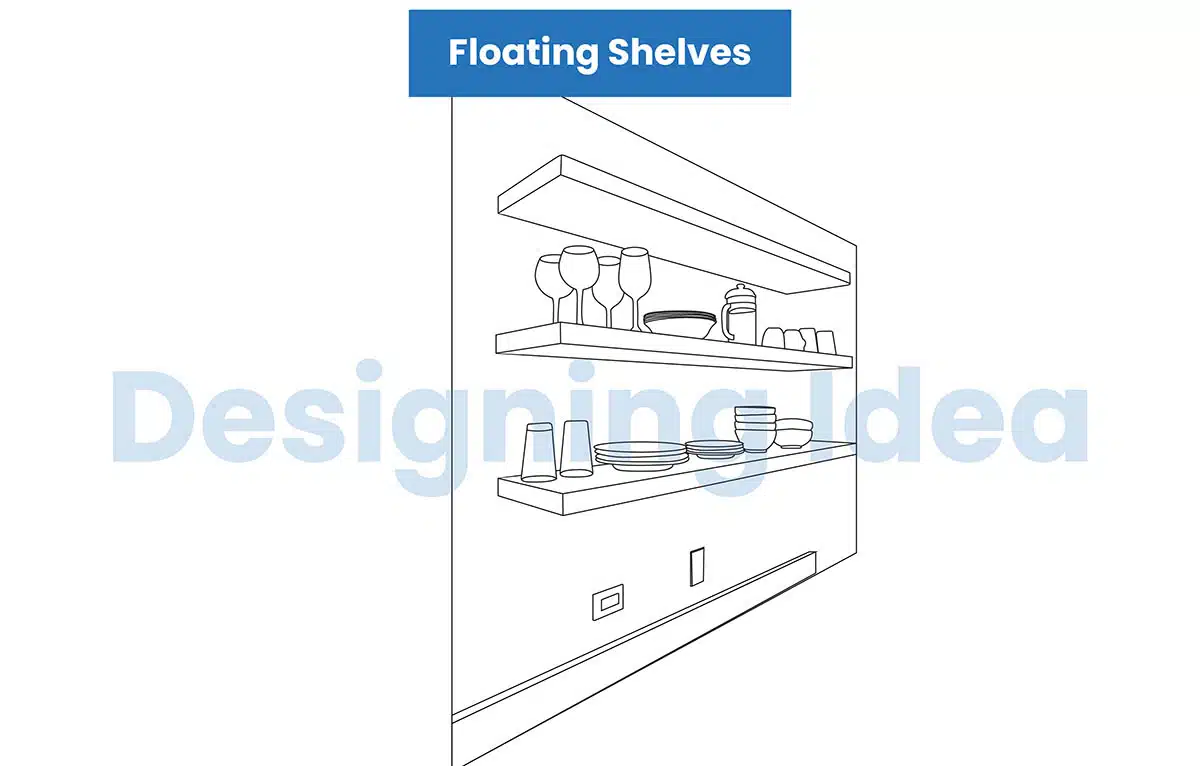 Floating shelves are without a doubt the most elegant and beautiful shelving arrangement. These shelves, also known as torsion-box shelves, are a truly exceptional method to arrange your items while also transforming them into unique and captivating décor elements.
Floating shelves are identical to fixed bracket or suspended shelves in that they come in a variety of styles and shapes and must be anchored to a wall or other appropriate surface.
The key distinction that distinguishes floating shelves from suspended shelves and renders them a better alternative over the other is because, unlike suspended shelves, where the screws and nails used to connect the shelf to the wall are exposed, the mounting hardware in floating shelves is obscured.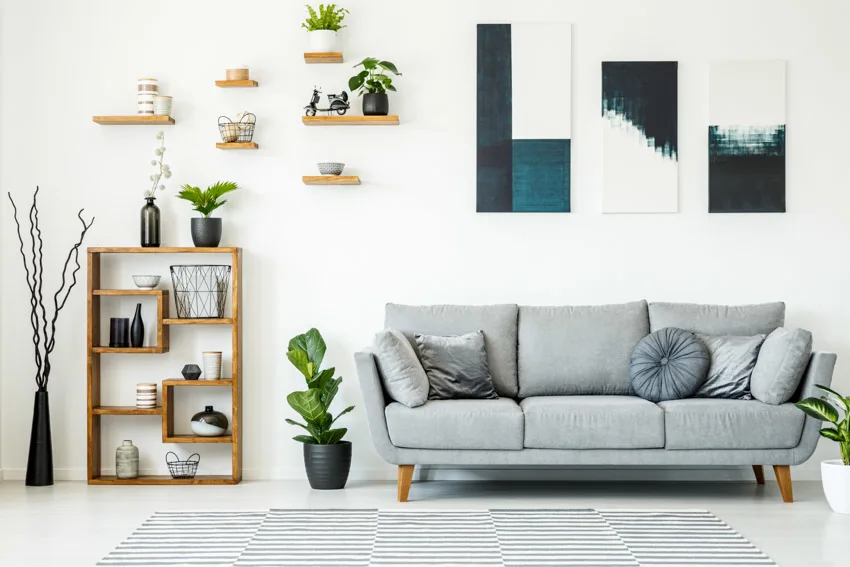 Moreover, it suffices to say that it is this feature that produces the deceptive appearance that these shelves are 'flying' in the air. Another distinguishing element of floating shelves is that they are usually made of wood veneer, which gives them a more sophisticated and upscale appearance.
The system is held together by underlying screws, nails, as well as brackets that keep the multiple racks collectively and are employed to install the entire structure to the wall.
Floating shelves, like most other kinds of shelves, come in a variety of colors, sizes, and designs, but unlike most other shelving solutions, floating shelves can also be used as an interior adornment. See our gallery of kitchens with floating shelves here.

Adjustable Shelves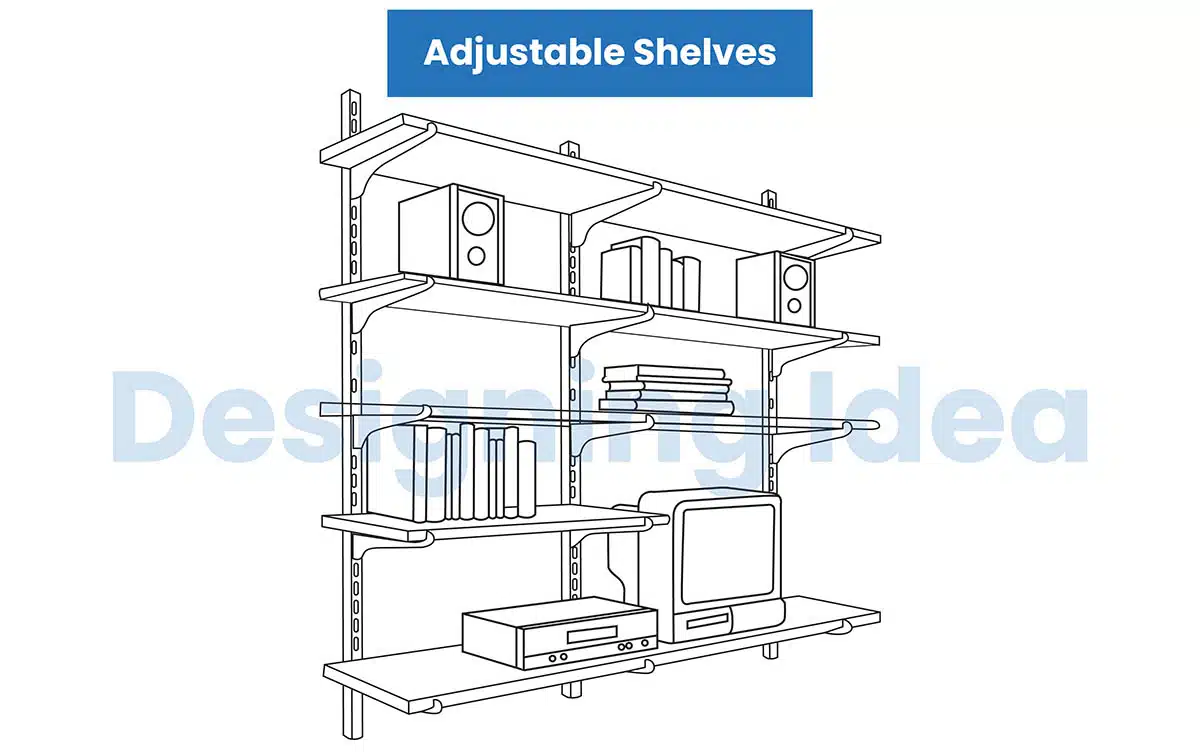 Vertical tracks, connectors, and also the shelf itself form an adjustable shelf storage solution. As the name suggests, this variety of shelving is one of the most adaptable storage alternatives accessible to homeowners. It originates in the form of a set that includes all of the required pieces for self-assembly.
Primarily, the vertical screws must be secured to the wall at a specific spacing so that the shelves could be installed between them.
The brackets are put in the correct slots once the railings have been attached to the wall. The brackets are fitted or clipped into holes or slots in the tracks or racks.
Such brackets, like those in suspended shelving systems, are formed like that of an inverted L-shape. Adjustable shelves can be thought of as a subset of fixed bracket shelves.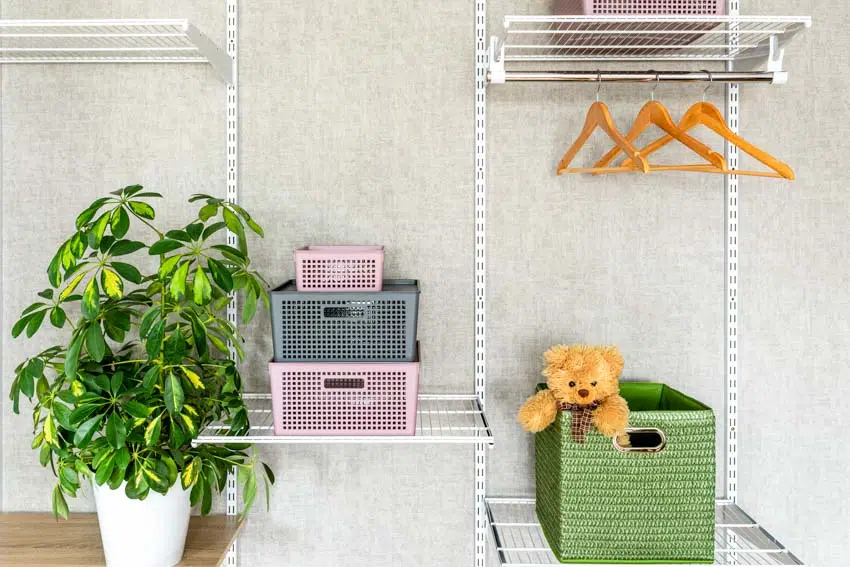 Unlike permanent bracket shelves, which cannot be adjusted once installed, adjustable slotted shelves can be adjusted up and down on the tracks as needed.
Furthermore, the adjustable shelves are typically composed of light metal, but wooden slabs are also available. The brackets and tracks, on the other hand, are constructed of aluminum or any metal for strength and endurance.
Various engineers and manufacturers provide adjustable shelves in a variety of styles and configurations, thus you can select one that meets your requirements. However, their parts are not usually interchangeable.
Ultimately, these shelving systems are ideal for most types of garages since the option to add, detach, or relocate specific racks allows for greater versatility in housing objects including tool boxes, clothing bins, gardening tools, and other home items.
Even though they are not commonly used in bedrooms and other such areas, you may want to try installing them if you want. Adjustable shelves are an effortless way to store your belongings neatly and securely.
Freestanding Shelves
Freestanding shelves are not required to be wall-mounted. These storage components are, as the name suggests, set to use. It is typically rectangular and has 3 to 6 shelves. This type of product requires little to zero installation, depending on where you purchased it.
If it was delivered, there is a good possibility it arrived disassembled. Freestanding shelving can be made of a variety of materials, including wood, steel, and aluminum.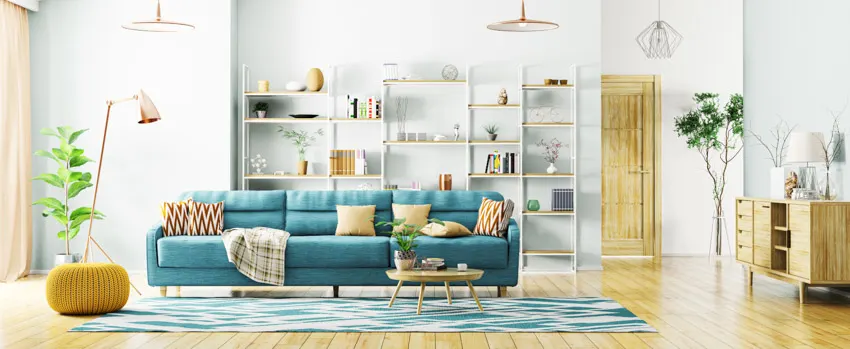 These shelves are often open storage options, but in some situations, they may have doors to conceal your goods or drawers to store confidential items. You can also buy a freestanding shelf with both open and closed storage portions, depending on your needs and accessibility.
They are not only extremely practical, but they also appear modern because you can confidently show beautiful accessories and other such objects to enhance the appearance of your library or living room.
Ladder Shelves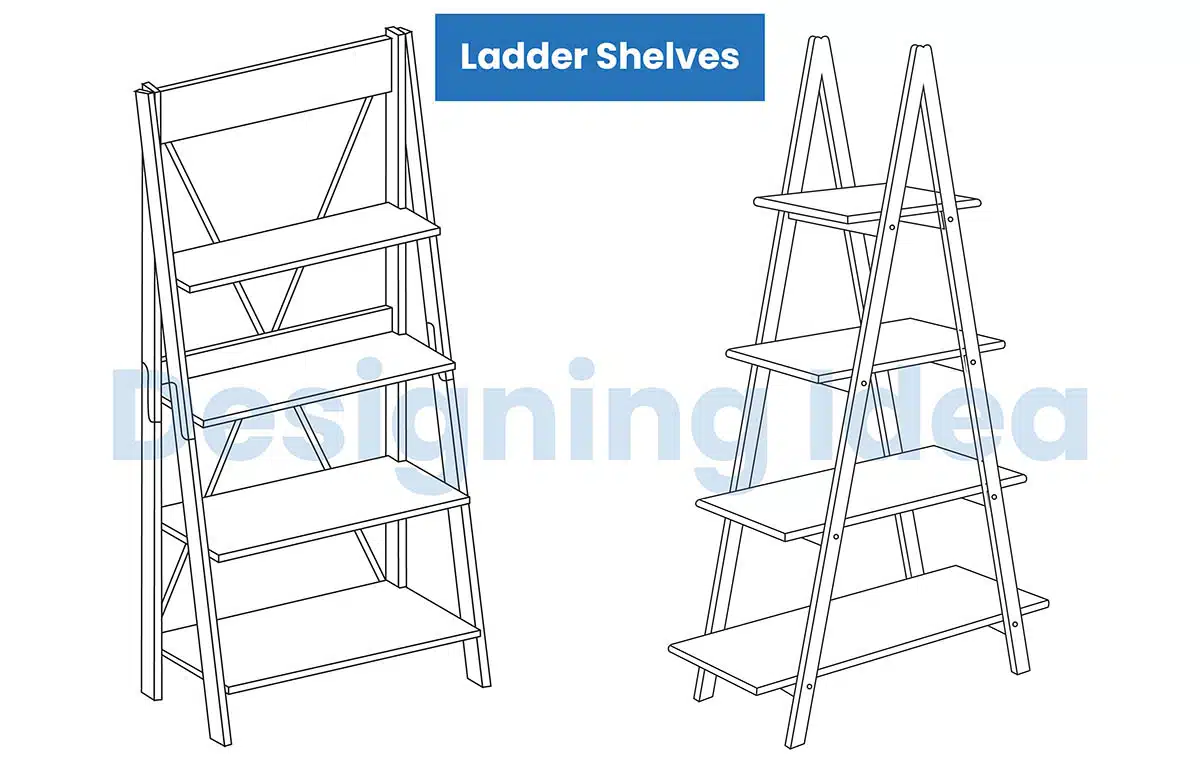 A ladder shelf is a type of furniture that is normally used to store books, toiletries and other objects. Because the bottom shelves are typically bigger than the top shelves, and the supports enable the shelves to be positioned like ladder rungs, this form of shelf frequently resembles a leaning ladder.
A ladder shelf's benefits include portability and minimal weight, appealing designs, and versatility. Depending on its size, the shelf can be put in narrower places, and the design is frequently eye-catching and appealing.
A ladder shelf is very easy to build for the do-it-yourselfer because they are not particularly complex to create and use few materials, lowering the cost.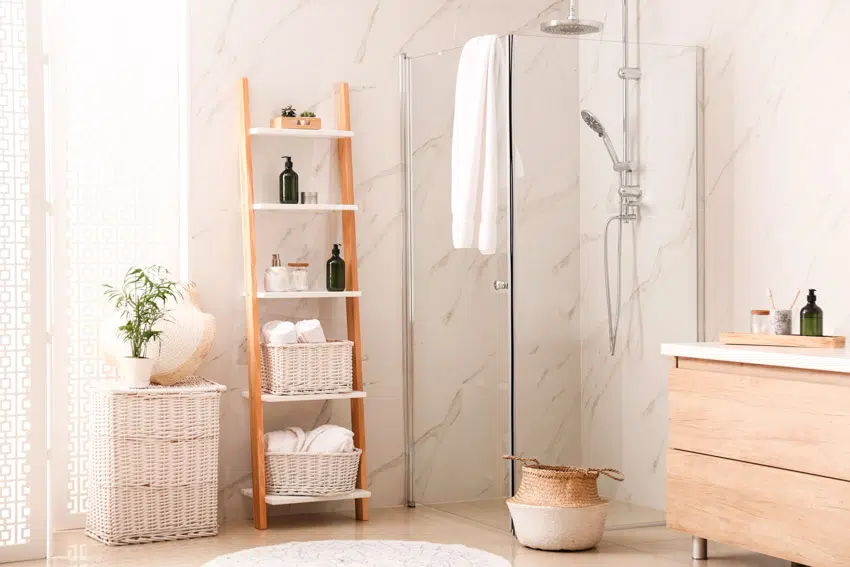 Such lightweight ladder shelves can generally store a decent number of books or other objects and may be simply relocated from one area to another if the homeowner wants to remodel.
Certain ladder shelves have a backing to keep a book from tumbling out the back of the platform, although many designs do not have this backing for aesthetic reasons.
Different versions of freestanding ladder shelves will include vertical supports that enable them to stand without resting against a wall, and the construction will frequently be triangular for sturdiness.
This design will feature 4 feet rather than 2, increasing the unit's stability. It is not required to place this shelf flush against a wall, though it will look great if you do. Because this way of positioning the freestanding shelf is more solid, it is a superior option for keeping heavier books or other objects.

For A frame style units the difference from the bottom shelf to the top is that the leaning tier design has smaller shelving as you go up the furniture piece.
Cube Shelves
Cube shelves are made up of a variety of shapes such as rectangles, octagons, and others. The number of cubes or sections is one method of distinguishing these sorts of shelves.
The most widely known cube counts are 6, 8, 9, and 12. Nevertheless, you can also obtain 4, 5, 16, and even more cube shelving pieces.
Certain cube shelves have a backing, whereas others do not. Drawers are available on some cube shelving units but not on others. Cube shelves can be made of a variety of materials such as wood, plastic, glass, metal, and laminate.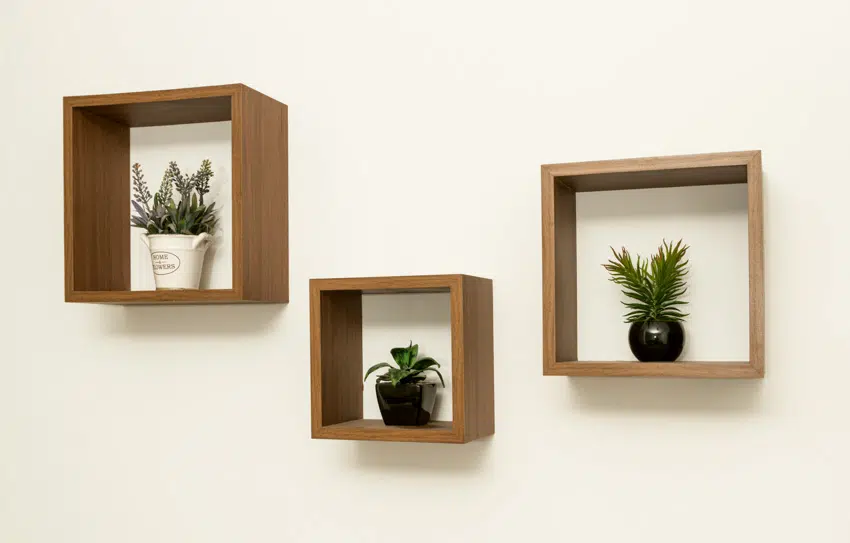 Other cube storage units have doors that allow you to close off some or all of the shelves. Although this is not common, it does exist. Some cube shelves are constructed to be placed either sideways horizontally or upright vertically.
Normally, there are two types of cube shelves, modular and adjustable. Building and organizing parts into a specific shelving structure are referred to as modular cube shelves. You can purchase the number of cube components required to build the shelving unit you want.
Independent shelves that can be adjusted, nonetheless, are referred to as adjustable cube shelves. Since the nature of cube shelving is that the cubes are preset in shape, adjustable is not that popular.
Rolling Shelves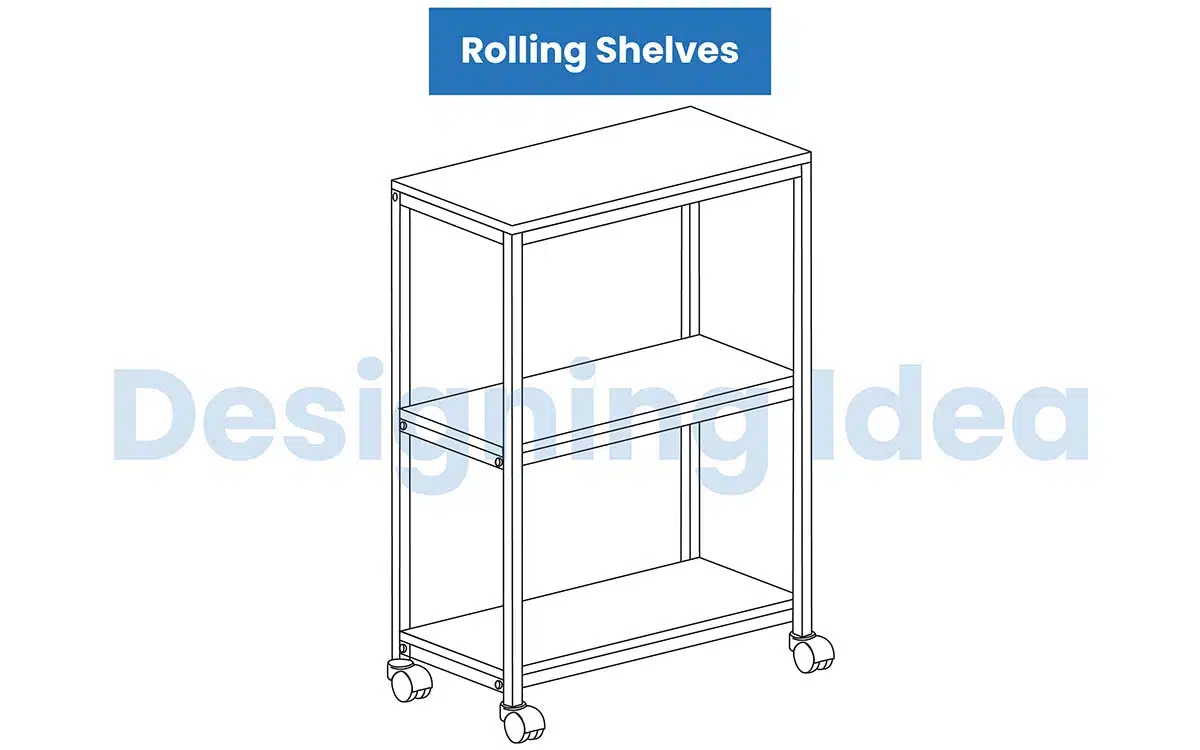 Rolling shelving systems are a novel approach to space and organization problems. Rolling shelves are simple to operate and can increase an organization's storage space without taking up unnecessary room.
These moving shelving units are supported by a rail and carriage configuration. The overall structure is oscillating back and forth or side-to-side.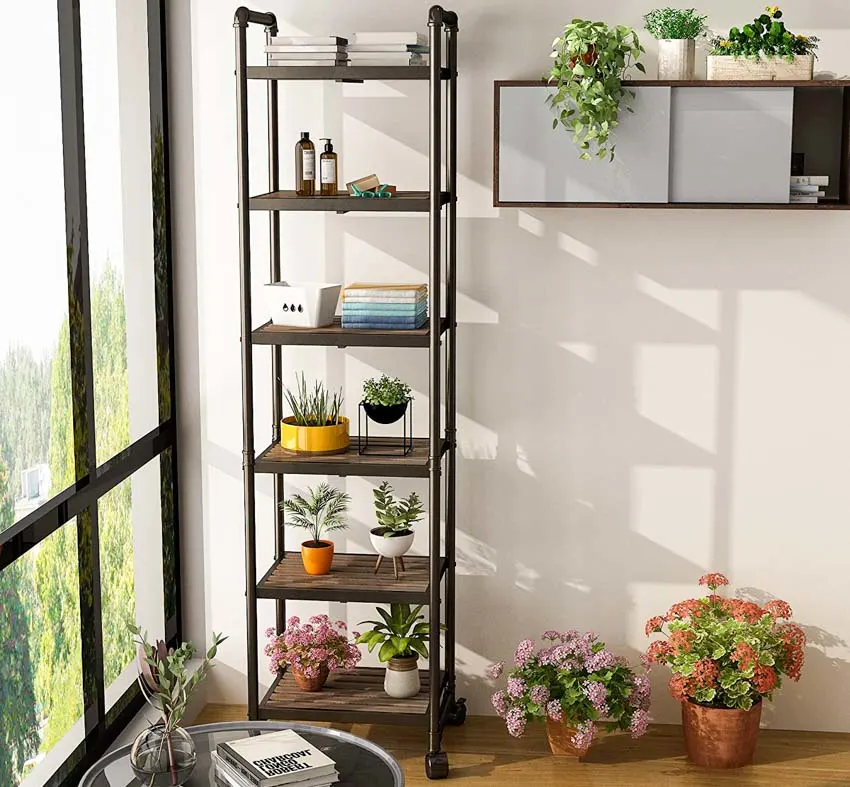 See this rolling shelf at Amazon [sponsored link]
This results in increased storage with less than half the floor area. Only one or two needed aisles are reachable whenever the shelves are pushed together. Several rows can be adjusted at once using unique shifting technology by rotating a handle.
Corner Shelves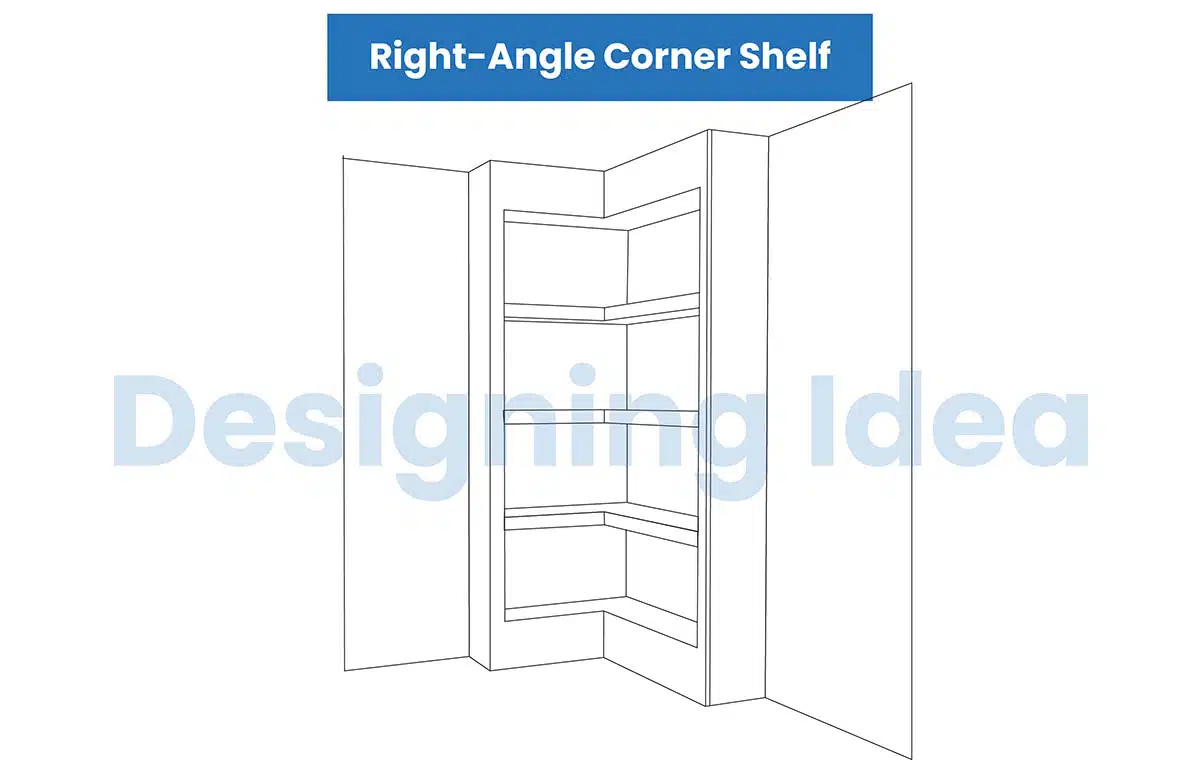 Corner shelves are an excellent method to maximize storage space in your home. These shelves are available in a wide range of forms and patterns, and they are occasionally adjustable to accommodate varied requirements. In other circumstances, they can be tailored to your preferences.
Moreover, corner shelves can be composed of plastic, steel, wood, or manufactured or laminated wood for enhanced longevity and durability.
Furthermore, they can be wall-hung so that they can be placed next to cabinets like those in the kitchen, or they can be floor-based so that you could place them in corners like your wardrobe or side table to maximize storage capacity.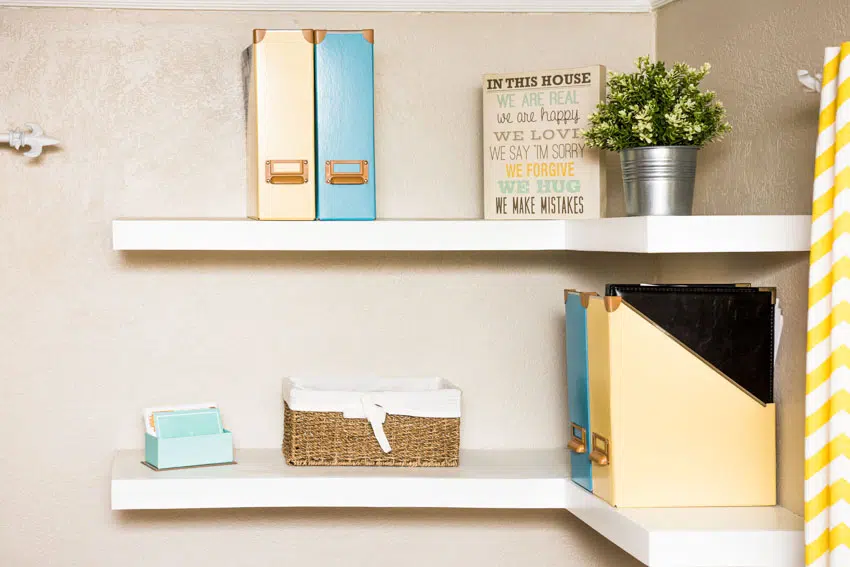 Corner shelves are a brilliant way of managing your belongings in convenient locations and turn seemingly unusable corner spaces into useful storage options. These shelves are further classified into two types – adjustable corner shelves and fixed corner shelves.
They can also be classed based on the manner in which they are built. Curved corner shelves and right-angled corner shelves are just a few examples. The following is a quick summary of each of the corner shelf kinds.
Right-Angle Corner Shelf
The most basic form of a corner shelf is a right-angled shelf. It is created by simply connecting two components of shelving or racks (either the same or varying lengths) at right angles to one another.
Since it is the least expensive form of corner shelving, this perpendicular construction is quite common. Furthermore, it is quite simple to manufacture, so you may easily build one for yourself.
Angular Shelf for Corners

This style of corner shelf called angular corner shelf is similar to curved corner shelves, but they differ in that they have a sharp and well-trimmed cut in the racks, whereas curved shelves have a smooth and gradual curvature.
They are typically in the shape of an isosceles triangle, which implies that the 2 front ends are each 45 degrees, whereas the angle at the backside is 90 degrees, allowing the total rack to fit on both the outside and within a corner.
If you enjoy quirkiness in interior design, you can also get more irregularly angled corner shelves.
Corner Rotating Shelf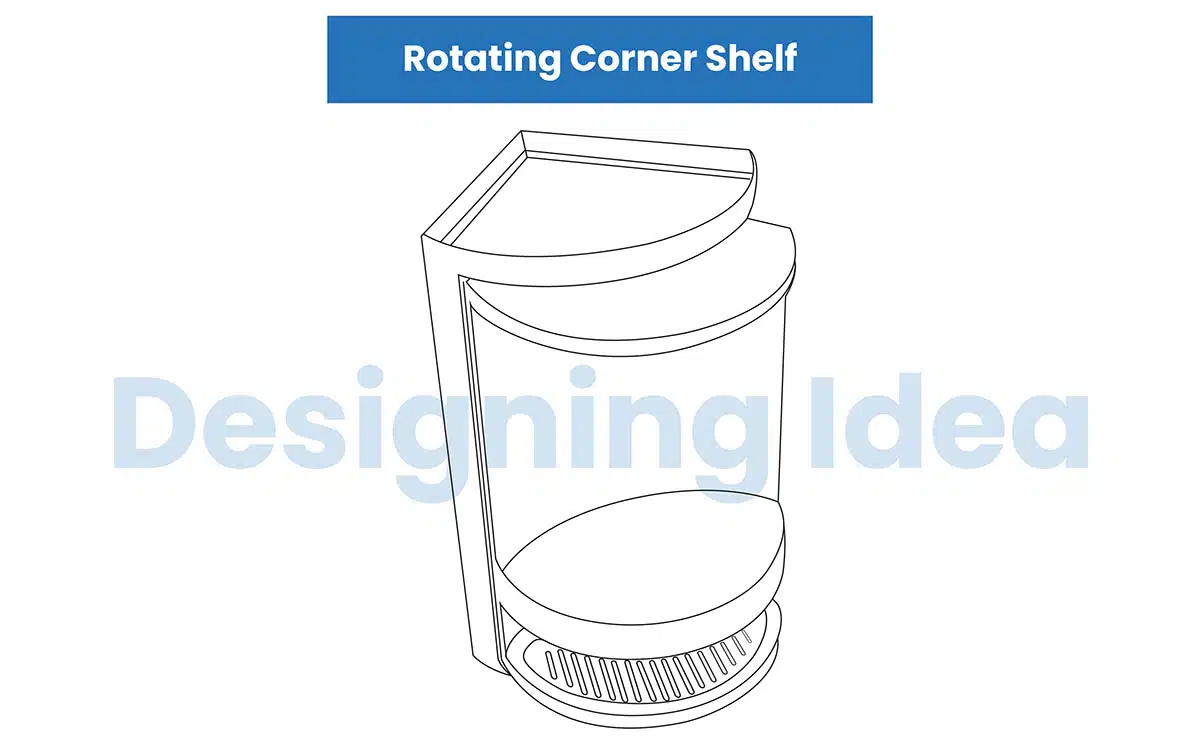 This innovative corner shelf design is, without a question, the best method to make the most of every bit of space in the corners or between any two large components.
These corner shelves are made up of a disc or spinning surface and shelves that revolve on an immovable base. In kitchen cabinets these are often referred to as a Lazy Susan.

Nevertheless, these shelves are typically marketed as part of a bigger arrangement of rotating shelves or a cumbersome shelving system that includes a revolving shelf in the corner.
The unit is often partitioned into 4 components that can be physically rotated to face various areas. See some of our other bedroom corner decor ideas here.
Curved Corner Unit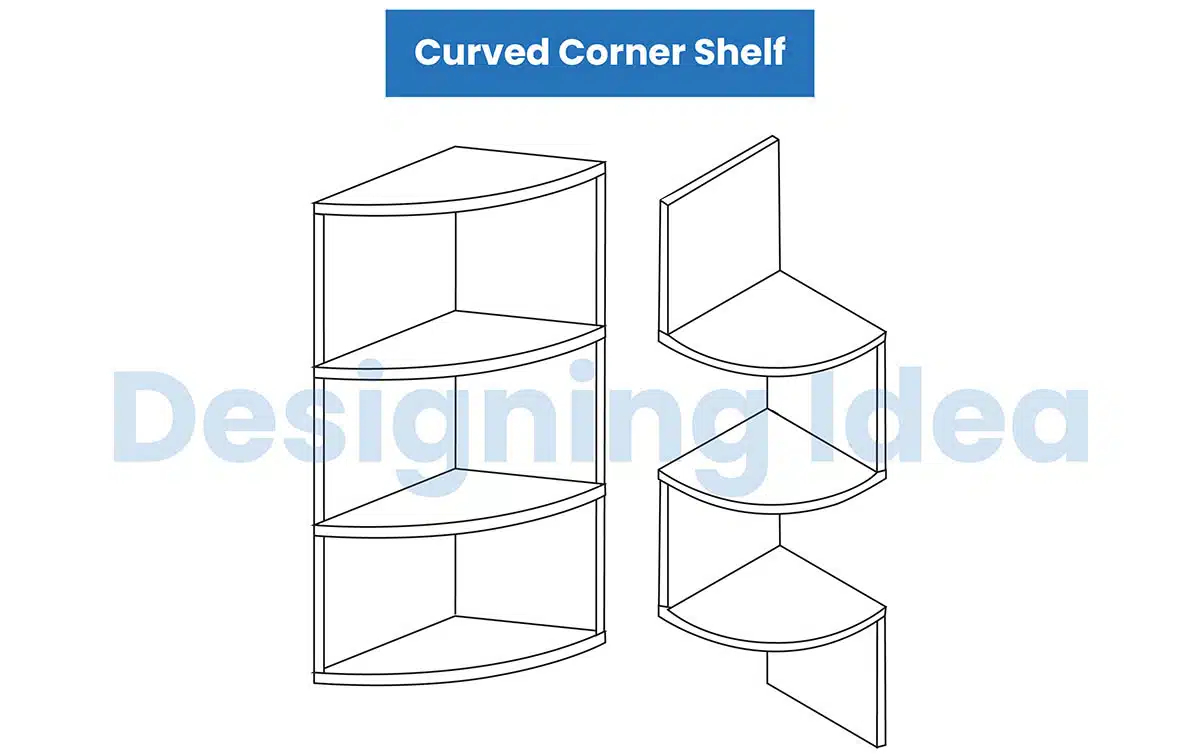 Curved corner shelves can be used in your pantry to improve storage space, in kitchen cabinets to arrange additional dishes, and alongside your closet to create a sophisticated design.

A curved design allow for improved accessibility without sharp edges that can snag clothing or skin. This space saving design is advisable for smaller bedroom spaces to help avoid night time collisions.
Built-In Shelves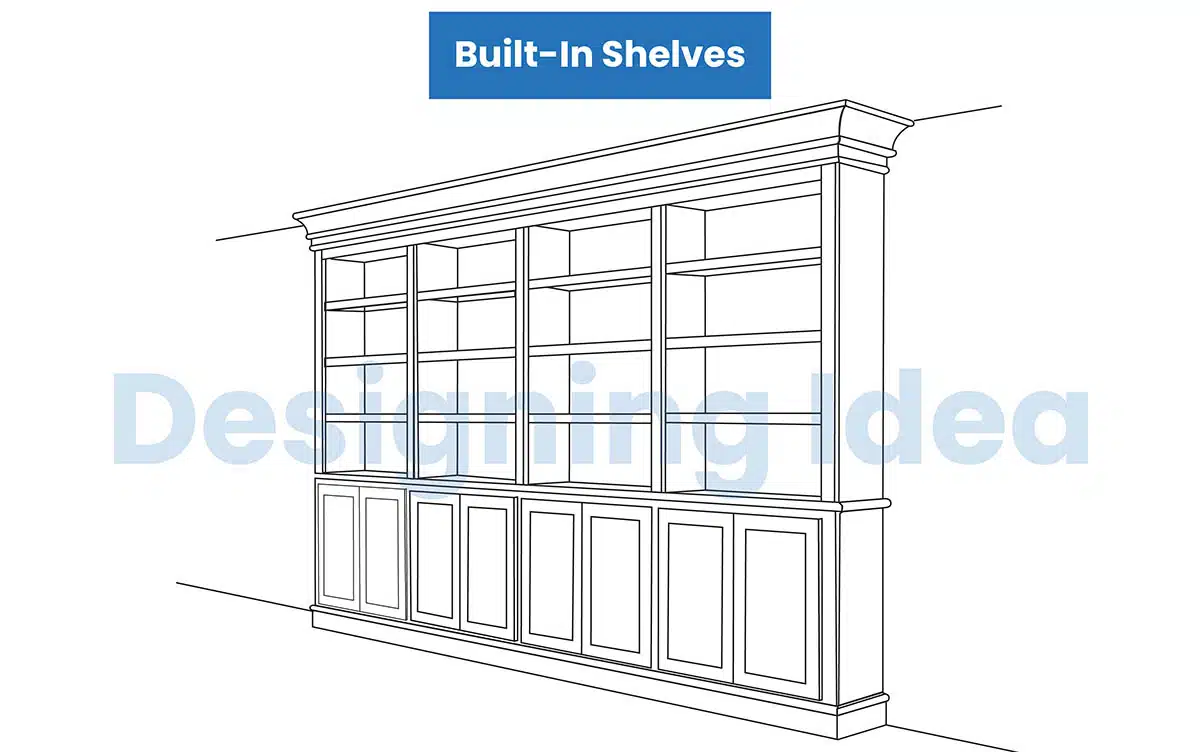 Built-in shelves are less complicated than other types of shelves, yet they are still quite effective because they give plenty of storage capacity without looking crowded.
Built-in shelves, as the name implies, are shelves that are 'built-in' within nooks or vacant corners in your home. Alcoves and other similar spaces, for example, are often transformed into built-in shelving systems.
This is the most basic sort of shelf since, more frequently than not, all you really need is only several planks of wood installed horizontally and you have space for storage in a matter of minutes.
Nevertheless, for a more refined and elegant appearance, you can purchase shelves designed specifically for this function or get a custom one to match your indented walls.
If you want to optimize the storage area in your home, built-in shelves would be the best solution. They can be used in a variety of locations, including alcove designs, the recess next to a chimney head or a fireplace, beneath or above bulging wall cabinets, and any tiny open space that would otherwise be wasted.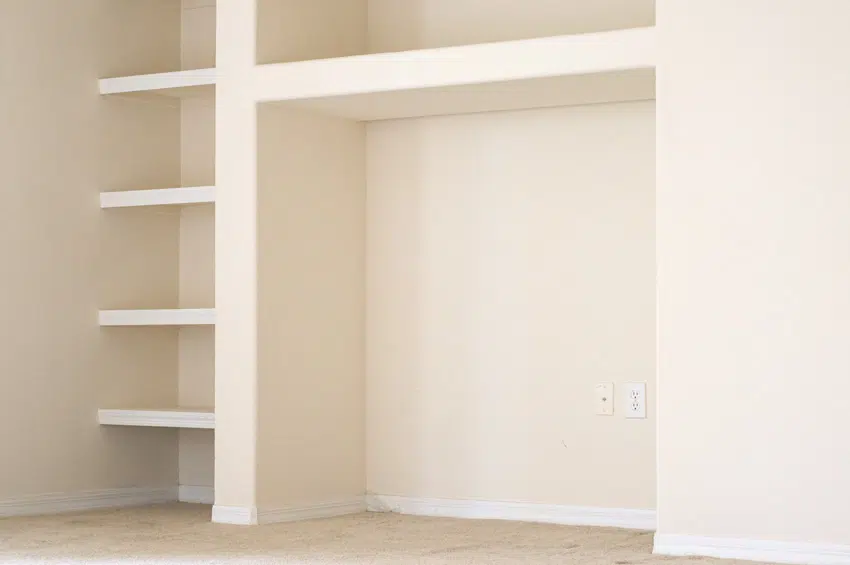 This shelving system is constrained in that its measurements cannot surpass the depth or width of the wall recess. Nevertheless, they are still versatile in certain ways since you can experiment with different shelf sizes as long as they are within the necessary limit.
You can merge racks of varying widths and depths, as well as position them at various angles, to transform a seemingly unused space into a useful one.
Furthermore, if the recession is large enough, you may allow some space at the bottom and place furniture or a small bench for further practicality.

To give a built-in shelving more personality and even create an accent wall design is to use recessed, or under shelf lighting to illuminate the back wall. A lighted wall backdrop can create visual interest and add cool character to the room.
Hanging Shelves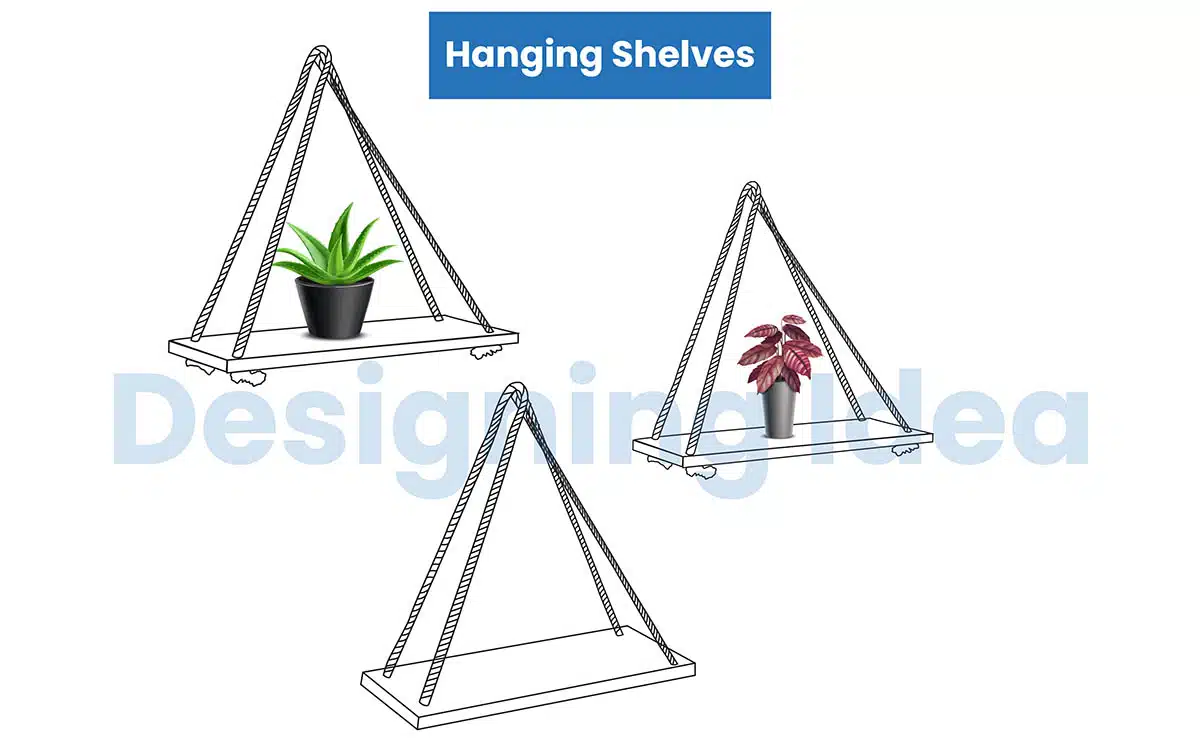 Hanging shelves are another creative way of storing and displaying your stuff. Simply put, such shelves are hung from a high specific surface area like the ceiling or from the underside of a cabinet or other object that is positioned at a specific height.
Many homeowners place hanging shelves with clear glass doors in the kitchen or over the kitchen island to give a splash of color while also enhancing storage space.
These shelves are widely used in schools, garages, and workshops to store stuff that might otherwise be laying around and cluttering up the space.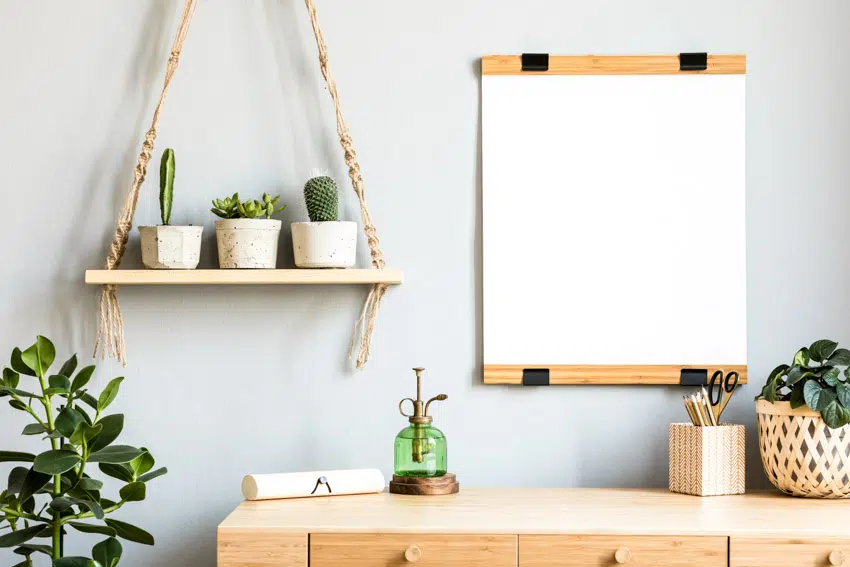 They come in a single tier or multiple tiered shelf designs. Books, newspapers, notebooks, and other items, for example, can be stored in a readily accessible location if your home has a hanging shelf.
It should be noted, meanwhile, that hanging shelves should not be placed on flimsy walls. You must pay close attention to the maximum load capacity that the threshold weight-bearing capacity is not exceeded at any point.
Pull Out Shelves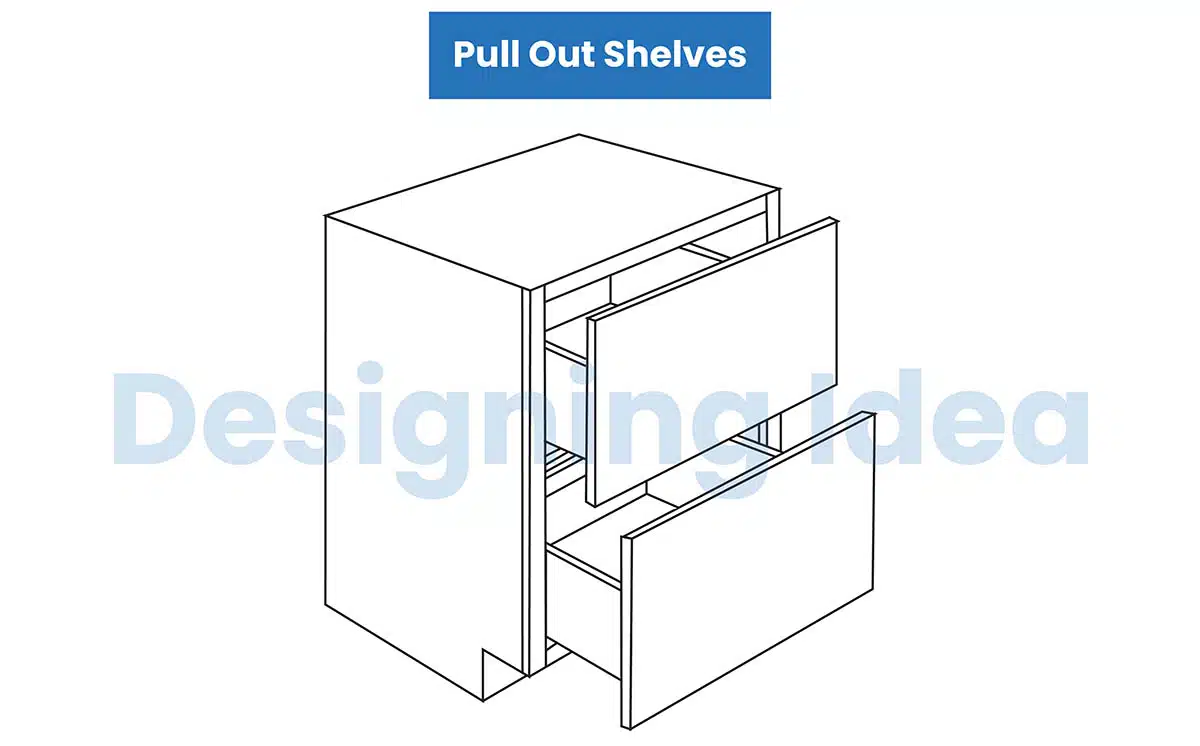 Pull-out shelves are a somewhat unfamiliar storage alternative, albeit they are not exactly new. Pull-out shelves are shelves or racks that are installed with sliders attached on both sides.
Instead of being utilized as a single item, these shelves are usually mounted in a closet, table, or other storage systems.
A typical drawer can be thought of as a form of a pull-out shelf, although various pull-out shelves merely have a level sliding surface with no sidewalls.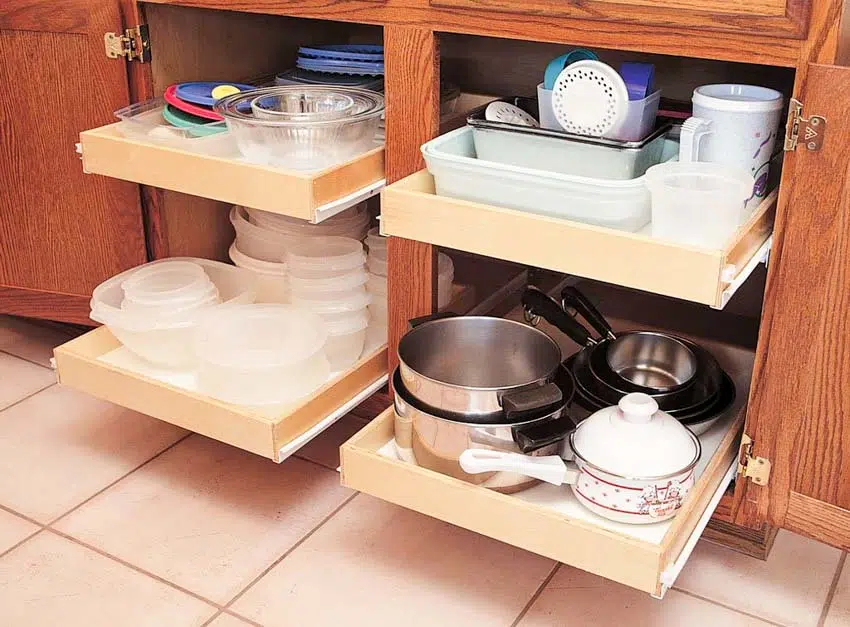 See this pull-out shelf set for kitchens at Amazon [sponsored link]
A pull-out shelf, for example, is a portion of a work desk that can slide backward and forward as well as house the mouse and keyboard. Pull-out shelves are classified into several types based on their construction and primary purpose.
Shoe Shelves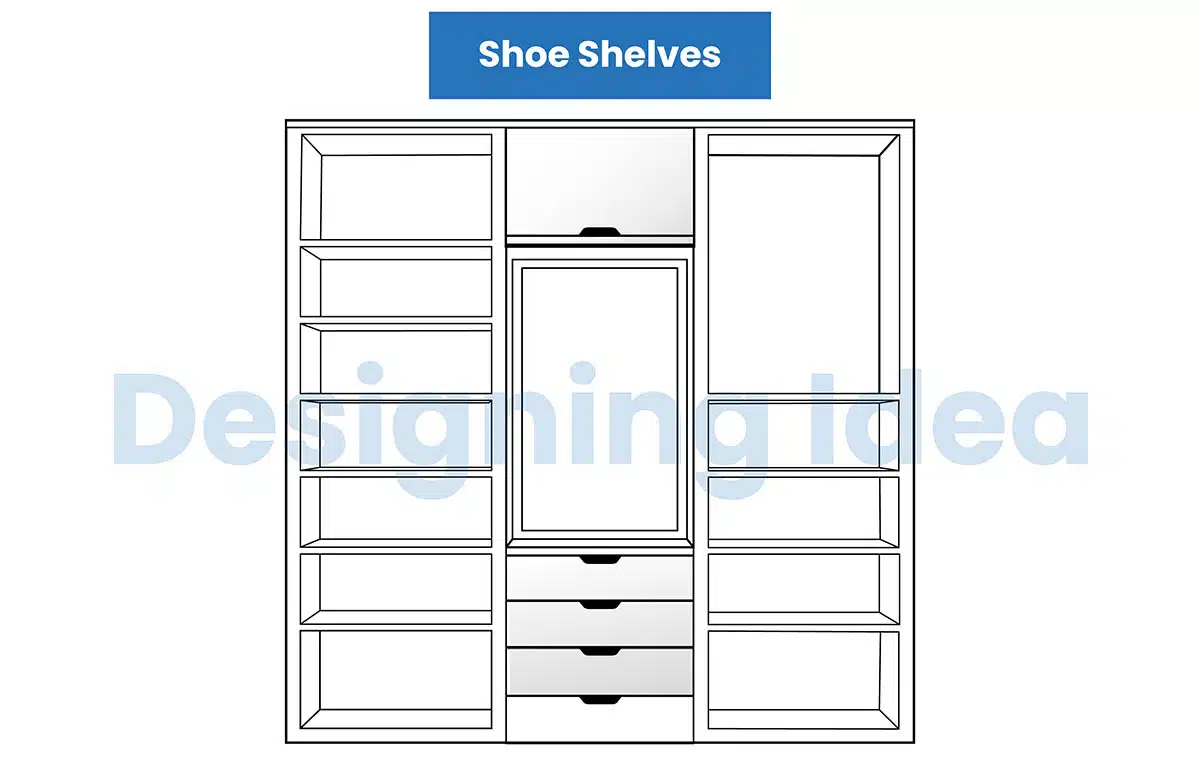 A shoe shelf is a type of storage item intended to keep and organize shoes. Shoe shelves can be freestanding in a closet or permanently fitted into a closet organizing solution.
The ideal style of shelf for you relies on the number of shoes you need to keep and where you wish to store them in your house.
Numerous individuals who gather shoes have built-in shelves in their bedroom closets. Every rack may accommodate multiple pairs of shoes.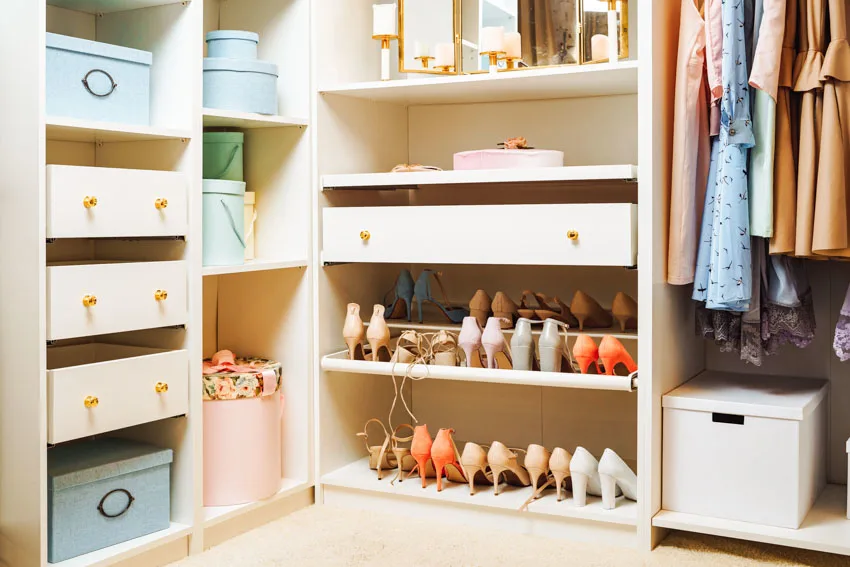 Other shoe shelves have tilted wooden boards with a panel across the backside to place the heels of the shoes on, displaying the shoes for easy choosing. See our gallery of closet shoe storage ideas on this page.

Decorative Shelves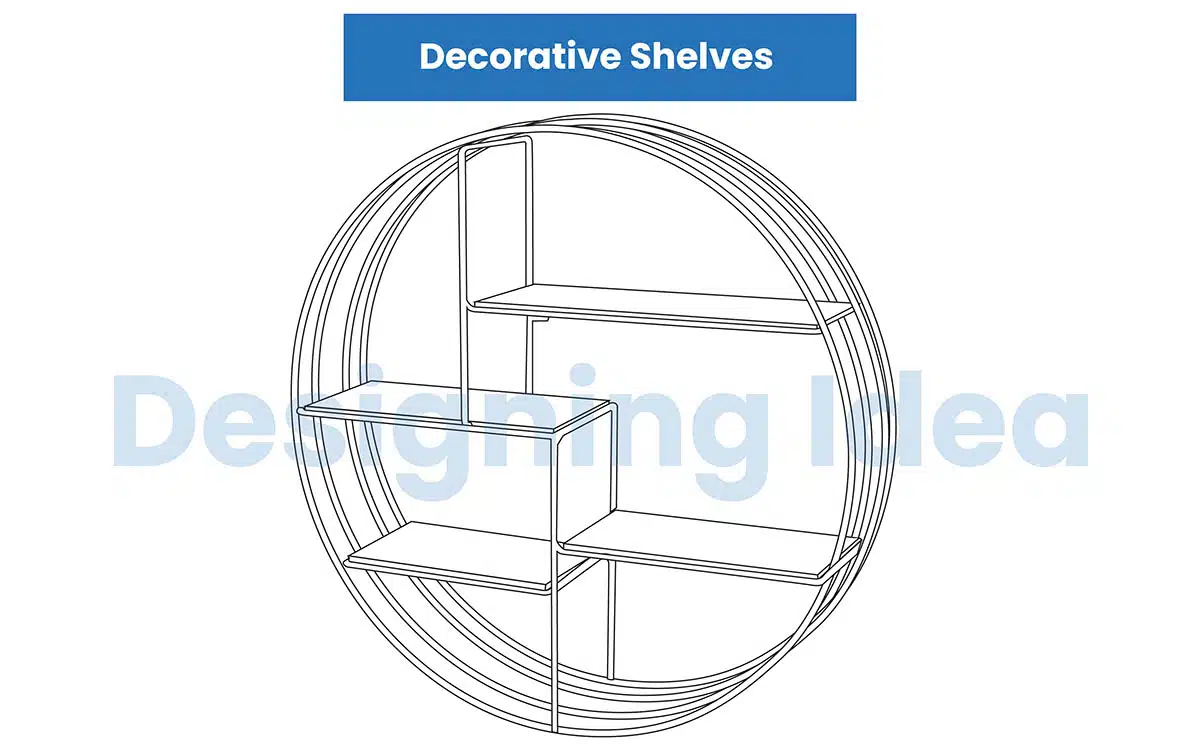 Decorative shelves can be used as focal points while designing your home. Rather than a standard basic shelving unit, you can take into account something attractive.
By recurring or bringing in a new color or design feature, this style of shelf design can enhance your overall space and showcase your Pinterest worthy décor.
There are numerous beautiful shelf designs that may be used in every room of your house to showcase artifacts, books, framed portraits, and other stylish items.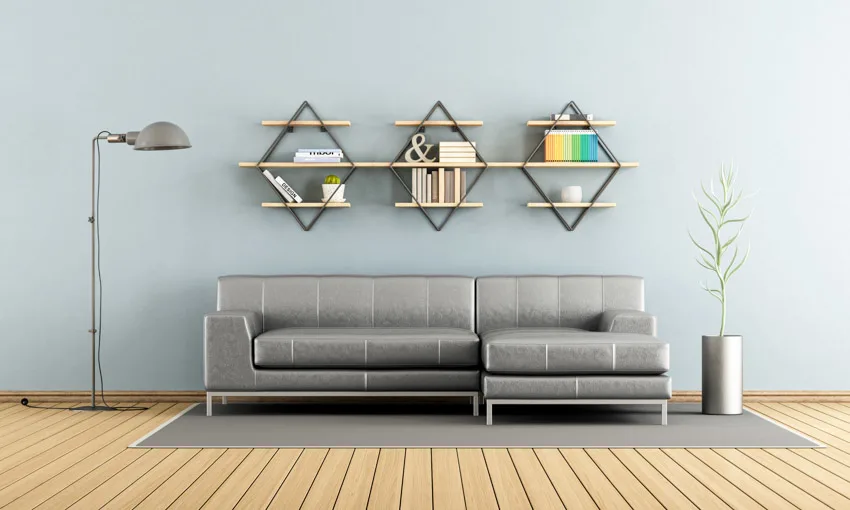 To create a fashionable vignette, you can use wall areas over a desk, fireplace, couch, chair, toilet, bathtub, mattress, and even disused corners. Pedestal, cubby, stacked, and single-style decorative shelves are among the options.
Under Stairs Shelves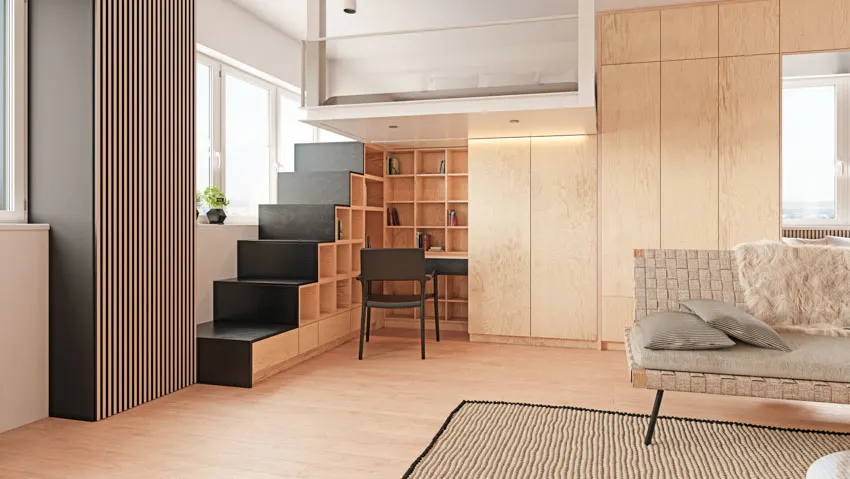 Oftentimes, the space beneath the stairs is unused. One alternative is to build shelves under the steps, or as in the previous case, shelving stairs.
It not only gives a stylish impact to your living space but also provides it with added functionality of storing clutter or everything you don't want out when guests come over.
Self Adhesive Shelves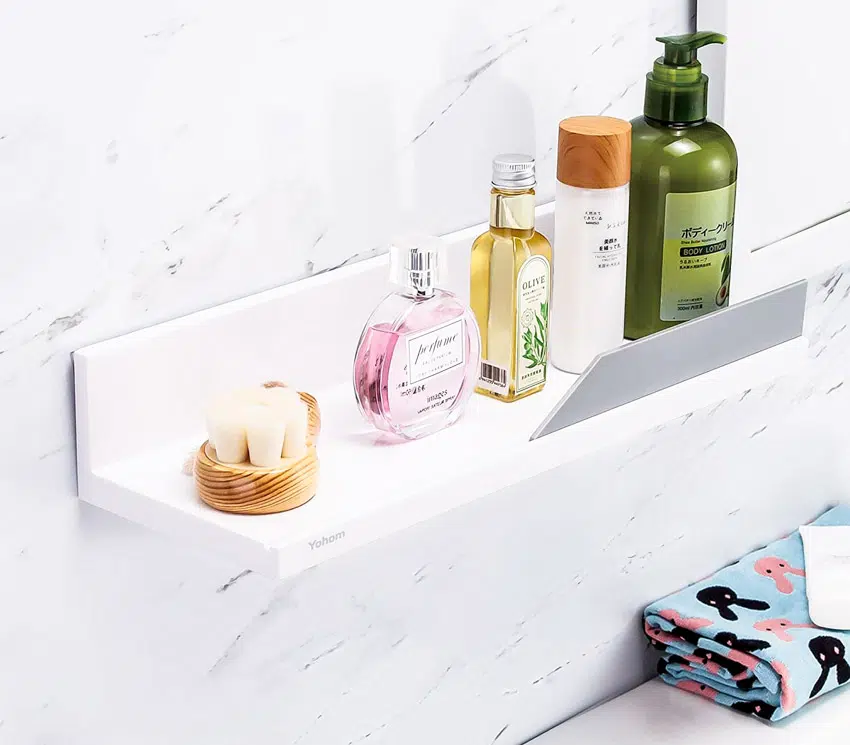 See this self adhesive shelf at Amazon [sponsored link]
Self-adhesive shelves are among the most affordable types of shelves commercially available. They are often constructed of lightweight materials like thin wood or plastic.
These shelves are normally bought in small-sized racks and can be adhered directly to the walls using self-adhering tapes.
Shelving Materials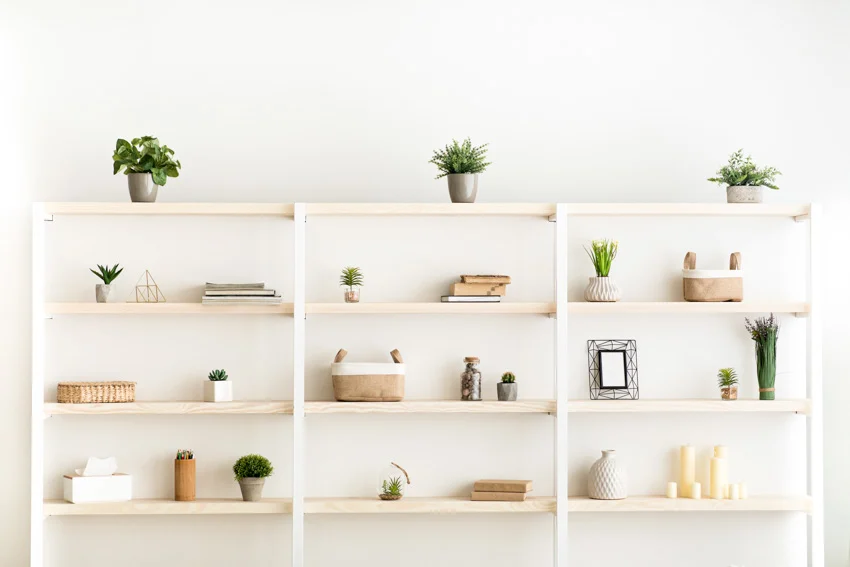 Metal: When compared to wooden and glass shelving, metal shelves deliver strong and secure shelving systems that are significantly easier to clean and maintain as well.
They can withstand considerable loads and are henceforth commonly used in offices, food service establishments, retail stores, and warehouses. In a typical home, one or two metal shelves in the kitchen may be used to hold heavy cookware.
Metal shelves are most typically found in various locations throughout the home. Sleek and beautiful metal shelves in living rooms, for instance, are very stylish, whereas adjustable metal shelves are a common sight in garages, storage rooms, and laundry spaces.
Wire Shelving: Wire shelving is extensively used in commercial and industrial settings, and has recently gained popularity in residential settings.
This is also referred to as wire decking or ventilated shelf. This shelving material is a load-bearing structure made of wire mesh reinforced by metal framing.
The mesh is often bonded to the supports, although it can also be fastened in various ways. When the round-shaped wire is utilized in business and industrial applications, the wire mesh normally has a standard wire gauge of 0.105 inches.
Wire shelving is utilized in a variety of applications. Because of its capacity to resist corrosion and mold, it is frequently used in restaurant, catering services, and retail store settings.
Wire shelving is ideal for places where fire safety is emphasized since its open system enables sprinkler units to operate where solid shelves would obstruct water flow.
Chrome-plated steel is substantially less expensive and less scratch-resistant. Chrome, white, and black are common colors of wire shelving materials.
Wood: When it pertains to house shelving systems, wood is by far the most popular and commonly utilized material. The reason for its tremendous popularity is that wood is a long-lasting material that also has a sophisticated and gorgeous appearance that no other material can match.
Furthermore, wood can be blended with other materials or treated in a variety of ways to meet the needs of various shelving solutions. For example, particleboard is valued for its robust, firm surface with a crisp finish.
Plywood is valued for being a more cost-effective option, and genuine pine hardwood is valued for its grand beauty and high durability. Engineered wood is becoming more popular due to its qualities such as a longer lifespan and a pleasing appearance.
Wood shelves are not only found in bookshelves, but also kitchens, bedrooms, lounge rooms, and almost any other space in your home.
Glass: Although glass shelves are not as robust as wooden shelves, they are a widely known shelving material for home storage solutions due to their aesthetic attractiveness.
Glass shelves are widespread in current bathrooms since they are an excellent choice for supporting light loads while also adding a gleaming and luxurious touch.
Nevertheless, glass shelves in living rooms and bedrooms can be used to display various trinkets and tiny vases to embellish the interiors of your home.
Plastic/Acrylic: Although different kinds of wood as well as metal are often favored for either large or small shelving solutions, plastic is commonly utilized in storage units for children's rooms and also different storage dividers and home organizing units.
Plastic shelving can be utilized in the home for a variety of functions, including shoe storage, a compact bookshelf or magazine rack, and so on.
If you want to construct a durable wall shelf out of acrylic, you can choose a sheet that is at least 0.4 inches in thickness. However, for closet shelves, a sheet 0.20-inch thick is frequently sufficient.
Types Of Shelving By Room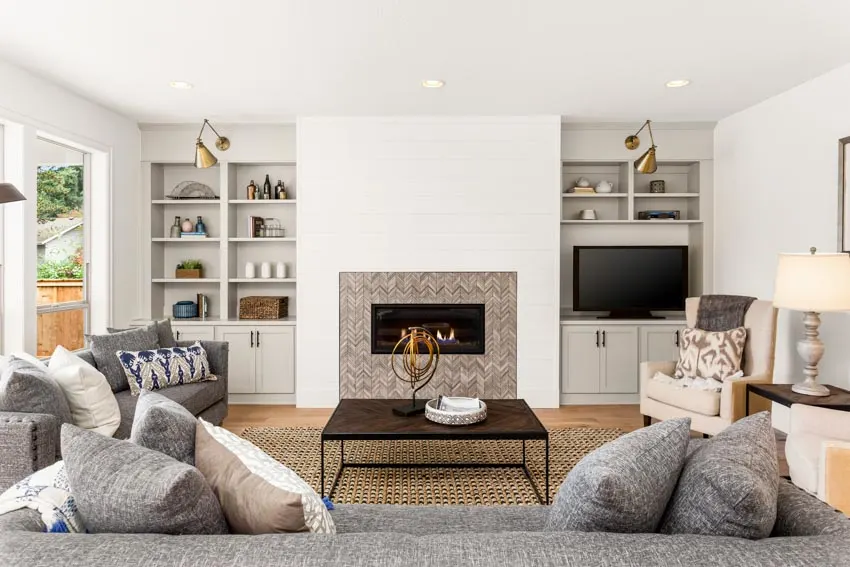 Here we share the different types of shelves by room.
Bathroom Shelves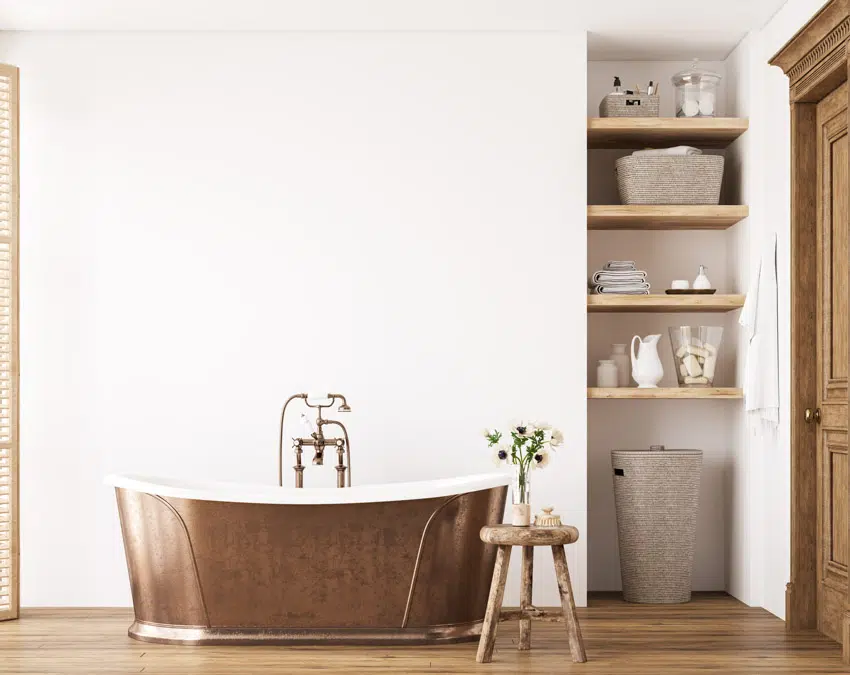 Bathroom or closet shelves are fantastic options to add plenty of elegance and practicality to your area. Closet shelves are customized shelf pieces that fit within a closet or can be tailored to meet the dimensions specified. Such shelves can also be partitioned into additional compartments for storing small items like jewelry, wallets, wristwatches, and other belongings.
Likewise, bathroom shelves are employed to store daily necessities such as toothbrushes, mouthwash, soaps, toothpaste, and shampoo. A standard bathroom shelf is set behind or alongside the wall mirror, but if that is insufficient or if you require extra space to store items such as laundered towels, you can choose from a variety of bathroom shelves that suit your style and needs.
Over The Toilet: If you are limited on countertop space, an over-the-toilet shelving system is a terrific way to add tier storage to a bathroom that is likely already vacant.
Such units are also ideal for rental homes because you can add storage and shelving without having to install permanent items like cabinets. Over-the-toilet shelving is often used to hold toiletries, mainly toilet paper rolls.
Shower Shelves: Shower shelves, also known as shower niches, are recessed shelves that are installed in the hollow of a shower wall. The shelf is polished and waterproof, making it ideal for holding shower necessities such as soap, shampoo, body wash, and, on occasion, a wine glass.
Shower niches are often used to store items in the shower, but many users have been able to use them in a number of imaginative ways.
Attractive shower shelves are used as focal pieces in bathrooms, outdoor shower facilities, steam rooms, saunas, and exterior pool and spa settings. You may also put LED light fixtures into a shower niche to add a lovely ambient illumination to any bathroom or outdoor location.
Garage Shelving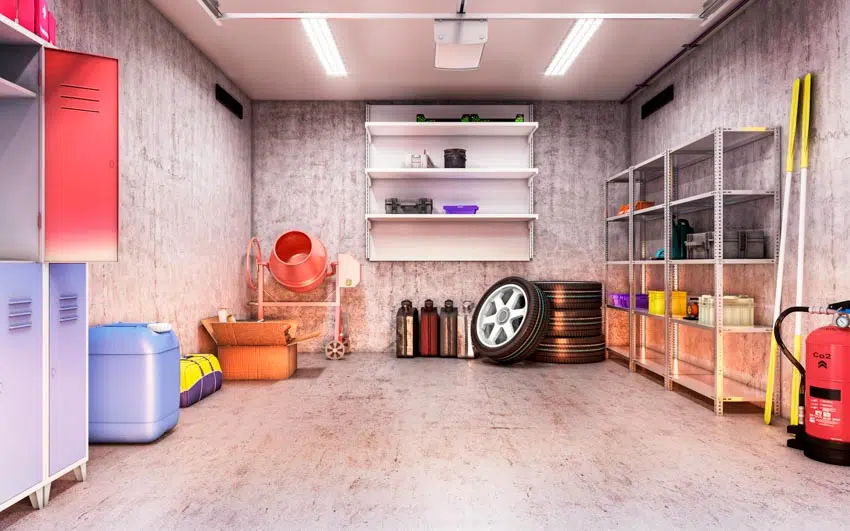 Garage shelving is intended to hold tools and equipment as well as keep them organized and in one location. The units can be made of a variety of materials, although metal shelving is most used as shelving in barns, garages, workplaces, and other industrial spaces. See more garage storage ideas here.

Bedroom Shelves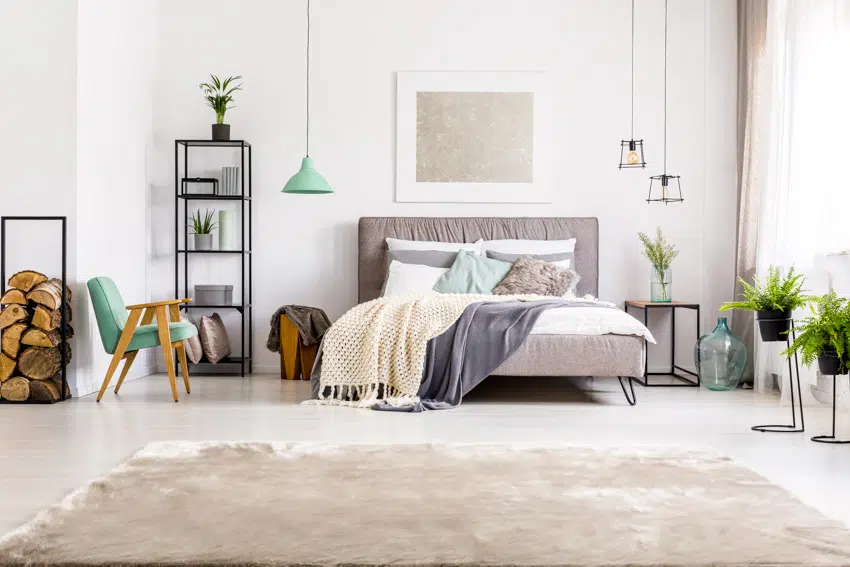 Shelving systems are also necessary for bedrooms for a variety of reasons. You will need a location to keep items like a clock, books, magazines, and any decorative objects that will embellish your space and make it feel more customized and inviting.
You can select from a wide range of bedroom shelves. Freestanding bookcases, wall-mounted open shelving, floating racks in diverse types, and headboard shelves are among the most widely used bedroom shelves.
You have to take into account how big your space is, what you want to use the shelving for, and whether the style and material composition will complement the interiors or not when choosing one for your getaway zone, which is your bedroom.
Closet Organizer Shelves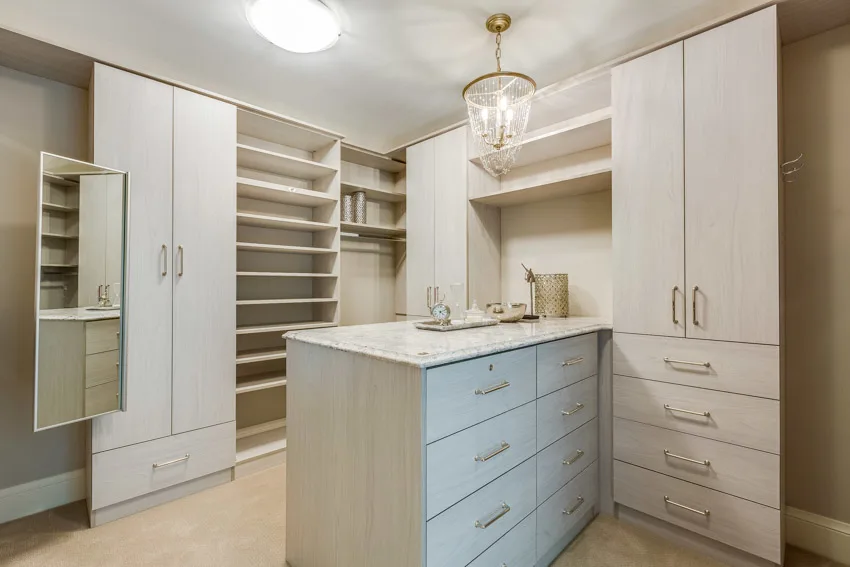 Closet organizer shelves can be positioned on a wall or a door and then used to organize belongings. They are simple to install and are available in a range of sizes and shapes.
When you need additional storage than a dresser can work or for tall, unoccupied closets, these closet organizer shelves are an easy method to optimize space. Additionally, a large space can benefit from a walk-in closet island or peninsula with built-in shelving.

Cubby Shelves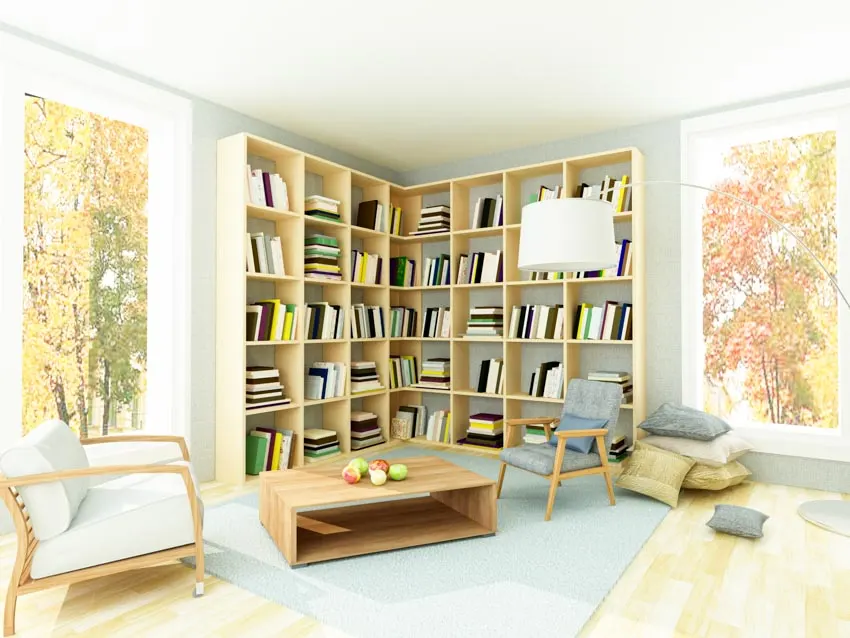 Cubby shelves were designed with farmhouse décor in mind, as each wire wall basket typically has a grate-type cover. You can use them to store books, footwear, wallets, keys, or any other little objects you need to keep close at hand.
Each basket also has a spot where you can tuck in name labels for certain household members. Many of these are stackable, meaning you can easily customize the amount of shelving you want without making holes in the wall.

Kitchen Shelves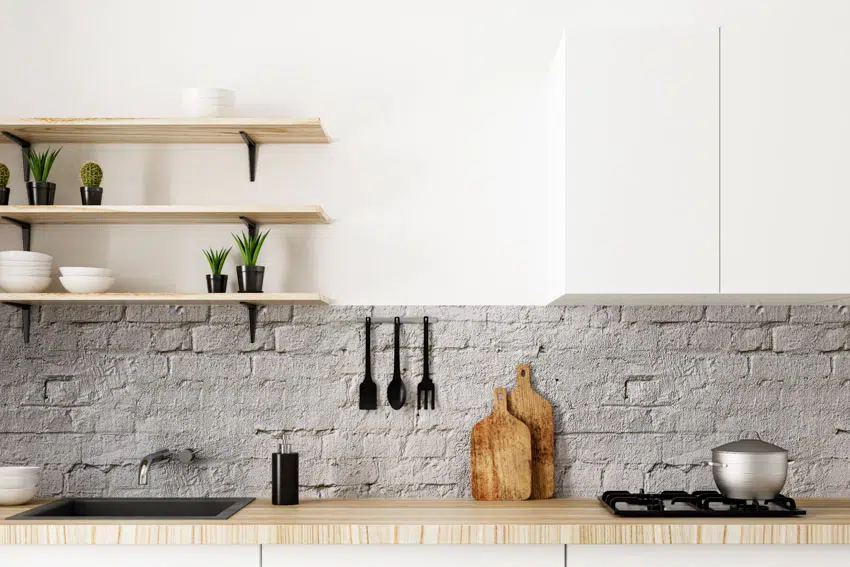 A kitchen is not complete until it is well-furnished and has enough storage space. Although cabinets are undoubtedly the most important consideration for this purpose, a decent shelving system may also assist in elevating the style and efficiency to a whole new level.
Open storage shelves have become increasingly popular in modern kitchen designs. Sleek and extended shelves that cover a substantial portion of a wall are becoming extremely trendy in modern kitchen designs. Aside from maximizing usable space, these kitchen shelves also offer a tremendous amount of gloss and sheen to the room.
Numerous open-style kitchen shelves have hooks and screws on the underside where you can place cookware or even other decorations to make your kitchen a modern area with flair. As previously noted, other kitchen shelves can either be corner shelves, hanging shelves, or wall-mounted shelves.
Kitchen Cabinet Pull-Out Shelves: A kitchen cabinet pull-out shelf is a shelf that slides forward and backward on rails, allowing each shelf to protrude from the cabinet to optimize storage and usability in the backside of a cabinet.
Most pull-out shelves have a thin margin around the edge to prevent items from falling off when the shelf slides in and out. Kitchen cabinet pull-out shelves are often used to store other kitchen items like plates, spoons, forks, knives, and many more.
Pantry Shelving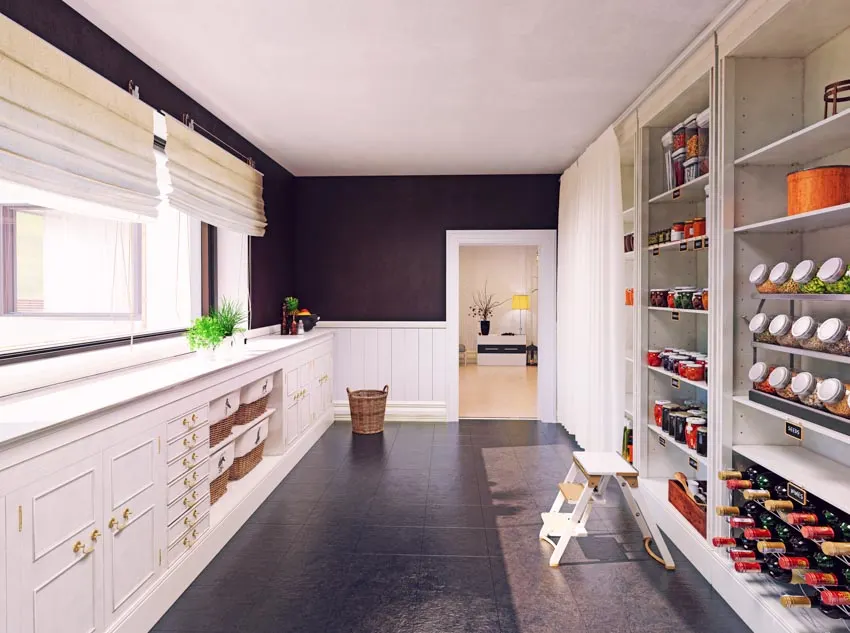 Pantry shelves are pull-out shelves that look similar to drawers. Pantry pull-out shelves, on the other hand, are typically more open to allow better visibility and convenience of access to various food products.
Pantry shelves keep food containers, jars, condiment sachets, cereal boxes, as well as other products visible and do not sit neglected in the back of the pantry just to expire because you were not able to use or consume them.
With a pull-out pantry shelf, all of the goods are properly stacked and nothing is concealed at the back. These shelves typically include handles or scalloped borders that allow you to easily glide the shelves. Read more about pantry shelf dimensions and spacing here.

Types Of Wood for Shelves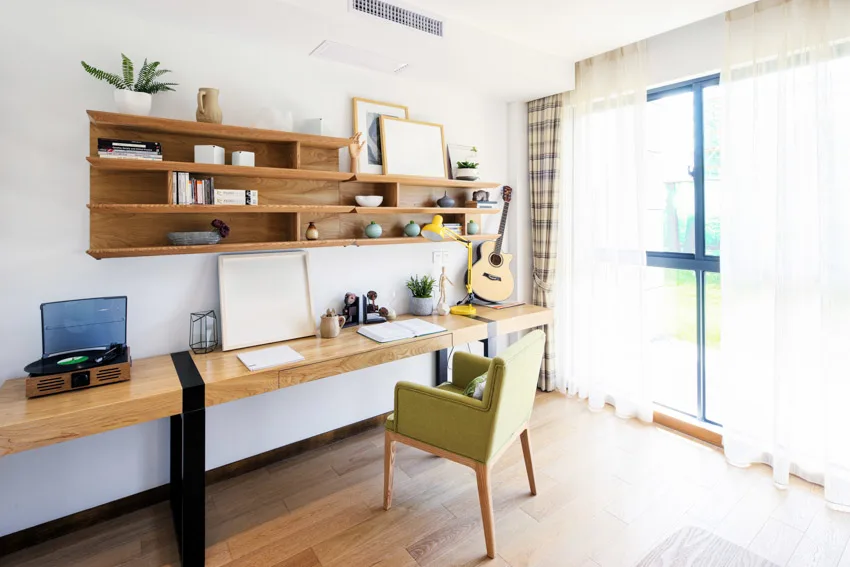 Mahogany: Mahogany is very popular. It is stronger than most other types of wood including oak. This makes mahogany an excellent option for a long-lasting, scratch-resistant shelf. Mahogany also has an extremely iconic and antique appearance that most people find appealing.
Red Oak: Red oak is a popular wood for shelving among amateurs and inexperienced carpenters. Red oak appears much more expensive than it is due to its red grain. It has a stunning tint that will make any shelf appear stunning. At the same time, oak is both long-lasting and affordable.
Cherry: Cherry wood is regarded as one of the most aesthetically pleasing wood kinds for shelves. It is frequently used for panels and boards due to its deep, red color and fine texture.
Cherry is a firm favorite among enthusiasts and antique craftsmen when properly maintained. Aside from its lovely look, Cherry wood is also quite uncomplicated to shape and polish. It is also one of the lightest hardwoods on this list, making transportation simpler.
Walnut: Walnut is one of North America's most durable hardwoods. It is a lovely option because it frequently has different hues on a single board. Walnut is extremely sturdy, durable, and reasonably easy to deal with all at the same time.
Birch: Birch is a very sturdy wood that is frequently used for types of shelves and furniture. It can resist a lot of stress while still looking decent. It can even accept paint nicely, giving it an excellent choice for painting the shelf.
Maple: If you already have several types of wood in your house, your shelf should probably match. For this reason, maple would be an excellent choice. It is incredibly robust and can be simply stained to match other sections of the room.
Pine: Although pine is not the most durable or hardest wood for shelves, it is lightweight and appealing. It is an excellent choice for novices because it is simple to work with and can even be easily stained. If you are hanging light weight items, the difference in price for using a softwood like pine is worth the savings.

Types Of Shelving Brackets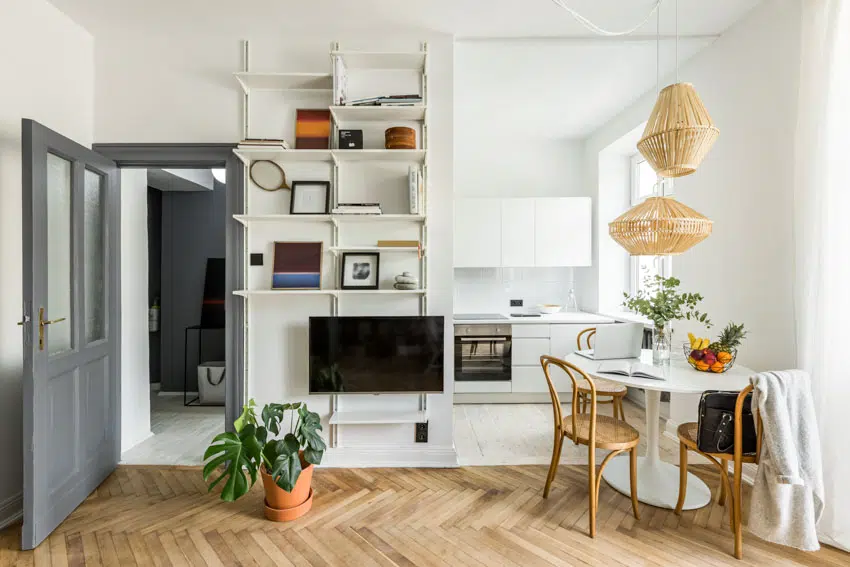 Angle Bracket: This is also known as an angle brace. It is essentially an L-shaped fastener with a 90-degree angle, thus the name. Its most common application is to attach two pieces of furniture together. Although metal angle brackets are the most common, polymer and wooden angle brackets are also obtainable.
Wood Bracket: The naturalistic aesthetic of wood shelf brackets does not ever go out of fashion if you want the whole farmhouse or vintage effect. They can either be L-shaped or angled.
Contingent on the interior décor of your home, they can also be painted, painted, stained, or unpolished. They can be cut and engraved as well. There is no doubt about the flexibility and sturdiness of the wood, thus it continues to be the leading selection for bracketing shelves.
Heavy-Duty Bracket: This one, also known as the large weight capacity industrial brackets, is designed to accommodate heavier furniture. It has a supplementary mounting gear and is regarded as one of the toughest types of brackets available, having been drilled into the wall studs with 6 bolts.
Floating Bracket: When placed, floating brackets are essentially invisible, as the name implies. They are also known as hidden shelving brackets since they are placed at the rear of the shelves to give them a modern, floating appearance. Although they are one of the simplest brackets to install, they do not withstand a lot of weight, thus avoid using them for larger furniture or it might fall.
Decorative Shelf Bracket: They are referred to as decorative shelf brackets since the wide variety of patterns and styles available with this sort of shelf bracket improves your décor. They can be made of wood, plastic, rubber, vinyl, fiberglass, or steel.
They can also be modified for increased impact. This is the perfect option if you want shelf brackets that add more display area while maintaining an upscale appearance.
Lip Bracket: This sort of shelving bracket is quite adaptable. It differs from the other varieties due to the curled lips at the end of the bracket, as the name indicates.
This one serves to prevent skidding on the end of the furniture while also acting as an added aesthetic aspect to make the setting look more attractive. It is ideal for ruined shelves since it exudes the ultimate rustic aesthetic.
Brass Bracket: Brass shelf brackets could be an excellent solution for contemporary or antique shelving layouts. They might be uncoated or coated, minimal gloss, or extreme gloss. They are commonly seen in heavy shelving and toilet shelving, and many more.
Folding Bracket: This is a modern approach to conserving room for wall-mounted furniture. After using it, this shelf attachment allows tabletops, workplaces, and shelves to be folded neatly. All you need to do is remove the simple clip-folding shelf brackets and you are ready to go.
Adjustable Bracket: Depending on your needs and preferences, this one could either be too lengthy or too short. Because it is made up of linked metal hooks, you can either attach or detach it more or less depending on the weight of the items you are hanging.
Pipe Shelf Bracket: This is a high-quality bracket. It is commonly used as a safety or security tube for heating, plumbing, or electrical applications in both outdoor and indoor installations.
How To Hang Shelves On Drywall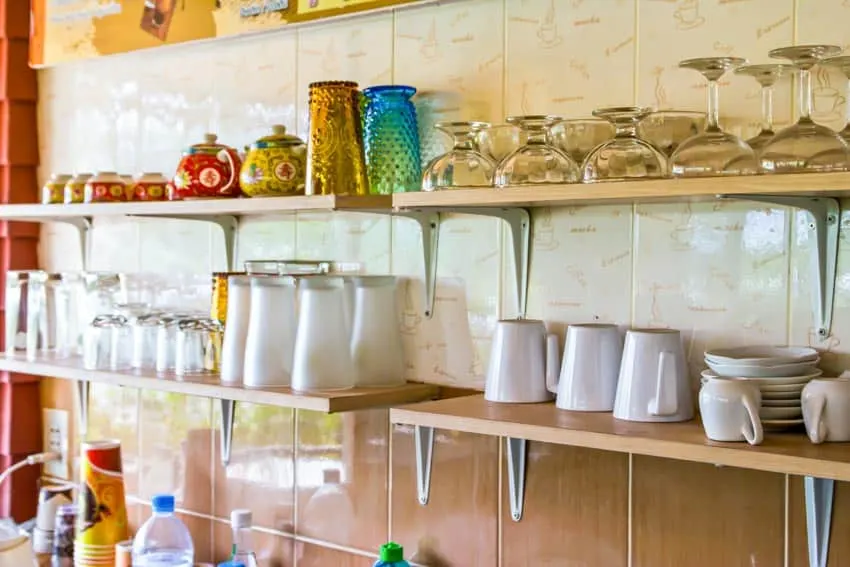 Here we share tips on how to hang shelves on drywall.
Things You Will Need:
• Shelf
• Tape Measure
• Two Shelf Brackets of Your Choice
• Power Drill
• Level Bar
• Screwdriver
• Toggle Bolt
Steps on How to Hang Shelves on Drywall:
1. Take measurements of the shelf you are going to install. Determine the location on the wall where the shelf will be positioned.
2. Place the shelf on a level surface, flat on the ground. Place a bracket 4 to 6 inches from every edge of the shelf on the board. Match the backside of the bracket to the rear of the shelf. Put a mark on the shelf in each of the bracket's holes using a pencil.
3. Start drilling starter holes through each pencil mark. Screw into the starter holes in the shelf via the openings in the bracket.
4. Place the shelf against the wall and a level bar above it. As you use the level bar to keep the shelf level, let an assistant make markings through each of the openings in the supporting brackets. Use every accessible opening to provide appropriate support for the shelf you are about to install.
5. Once again, start drilling a starter hole that's large enough for the metal toggling bolt to fit through each of the pencil marks on the drywall. Select bolts that offer a powerful foundation for the weight of the shelf hung.
6. The toggle bolt's wings pop open in the free space behind the drywall. Twist the screw until the wings are securely fastened to the back wall.
7. Remove the screws from the toggle bolt components and align the shelf bracket openings with the toggle bolt components put in the wall. Tighten the screws once again into the toggle bolt components through the bracket.
How High To Hang Shelves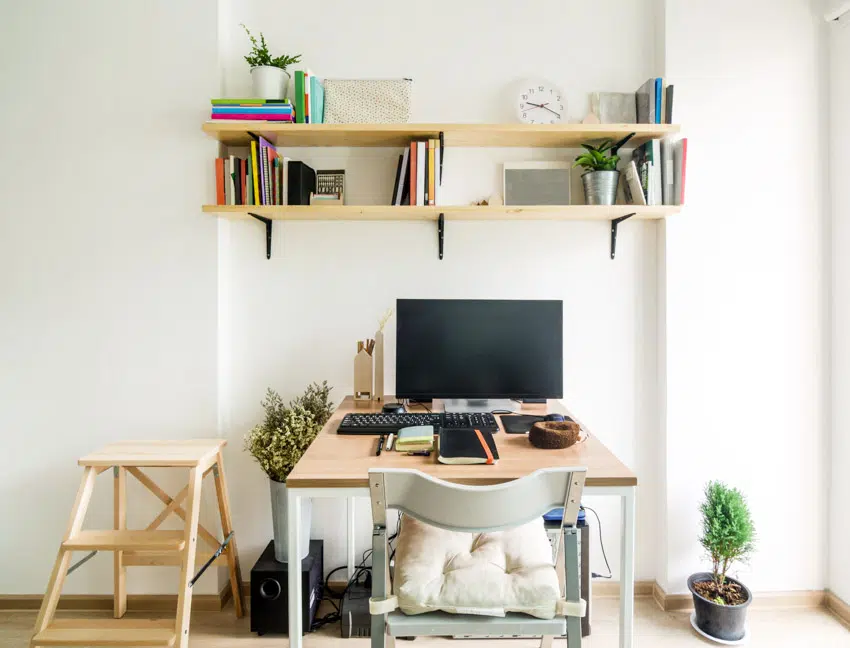 Shelves, similar to the principle of hanging artworks, must be hung at eye level or 4 to 5 feet from the ground. Measure around 10 inches from the upper end of the table or sofa if you are hanging the shelf atop the furniture.
How Far Apart Should Shelves Be?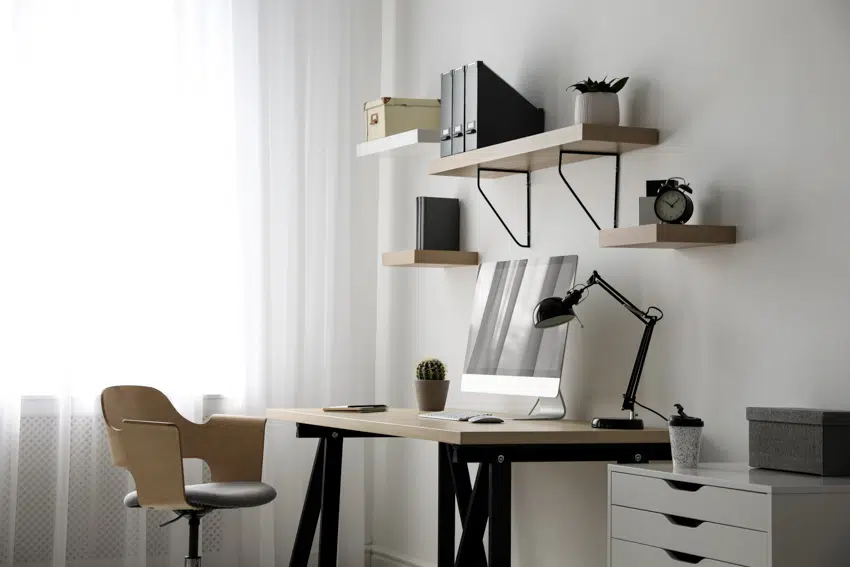 Most types of shelves in the living room, dining area, or bedroom are 8 to 12 inches apart. A space of 7 to 15 inches between shelves is acceptable as well.
Shelves on bookcases are typically 8 to 12 inches apart. Overall, keeping a space of 12 inches between shelves is ideal.
How Far Apart Should a Floating Shelf Be?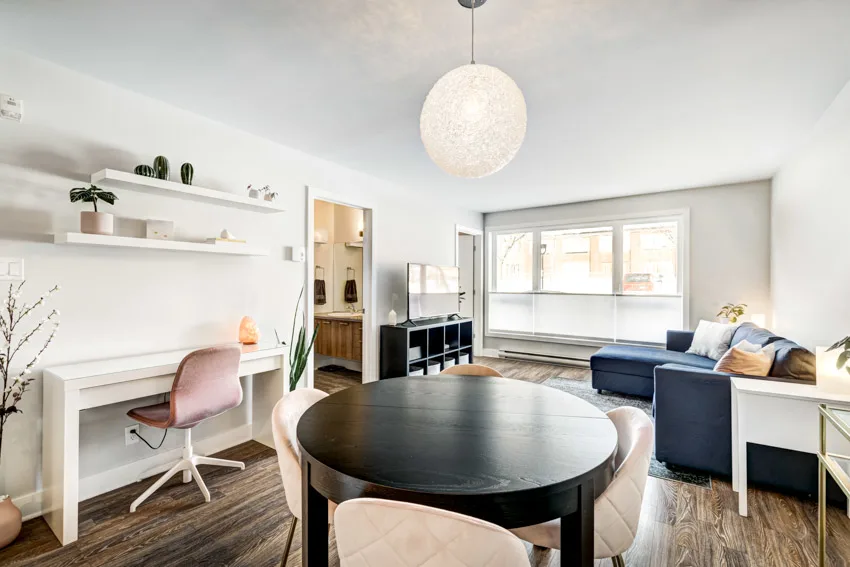 The standard distance for floating shelves is 12 inches between each shelf according to VanDykesRestorers. However, increasing that height to 15 or 18 inches increases the sensation of openness and convenient access.
How Much Weight Can Shelves Hold?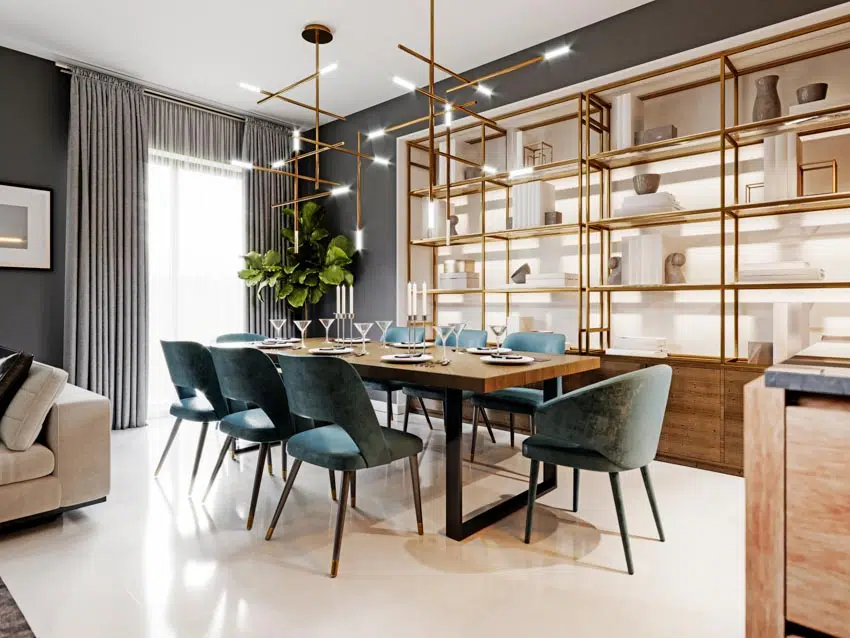 The quick answer is that the supported weight is mostly determined by the brackets that secure the shelf in place. They will hold the specified maximum weight ranging from 20 to 600 pounds or more if fitted appropriately as per the manufacturer's specifications.
As it turns out, there is no straightforward answer to this question. We know that the weight capacity of a shelf is normally controlled by two factors: the measurements of the shelf and how it is fastened to a wall – the thicker and shorter the shelf, the more weight it can store.
Check the manufacturer's requirements before purchasing any shelving equipment. It will provide an excellent indication of how much weight it can support.
If you are doubtful, or if it is a DIY project, use the most sturdy wooden boards. A wood pallet for instance can hold a lot when all pieces of wood are intact, however as a stacked shelf it may only hold 100 pounds to 200 pounds according to Pallettower.

How Much Weight Can Shelves that are Floating Hold?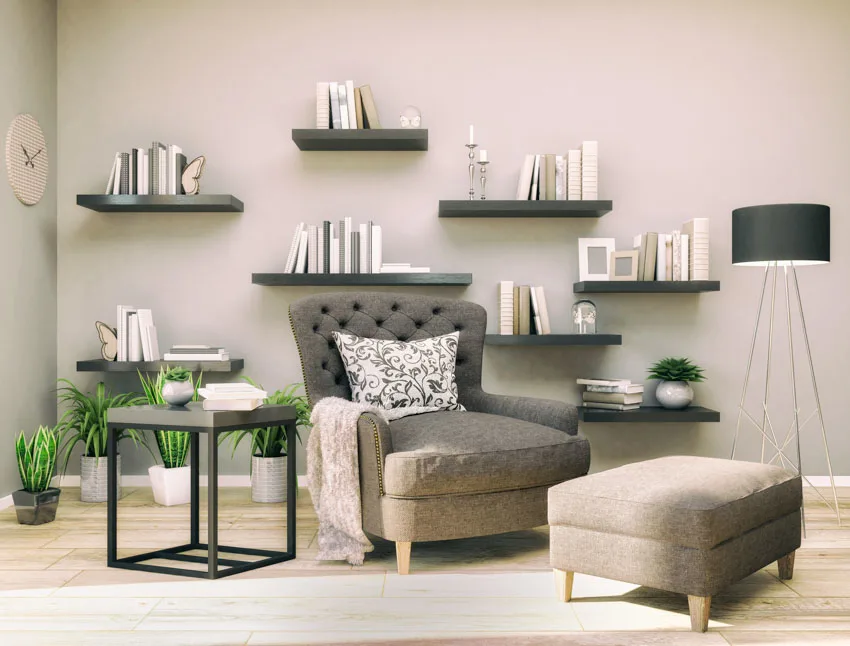 Your floating shelf can support 50 pounds for each stud to which your bracket is mounted. That indicates that a 3-foot shelf attached to 2 studs can safely support 100 pounds. The same is true for a 2-foot shelf linked to 2 studs – it can support 100 pounds.
Are there any types of shelves we missed? If so let us know what you think or share your questions in the comments below. See more related content in our article about the types of picture hangers on this page.