Welcome to our guide to polished concrete floors including what they are, cost and different types such as stained, grind & seal and mechanically polished concrete flooring.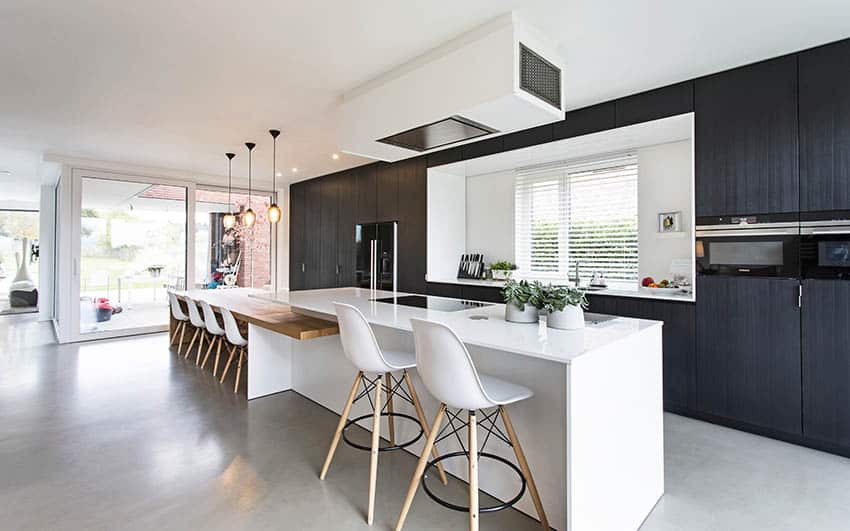 Today is an exciting time for building projects, whether you're building or renovating a new home or place of business, material innovations make it possible to achieve the tailored look you need at a more affordable price.
One of the building materials that benefit from these modern advancements are polished concrete floors.
With polished concrete flooring one can get the classic terrazzo look, create unique trowel-cut designs or simulate the look of marble, just to name a few versatile design options for homeowners.
What Are Polished Concrete Floors?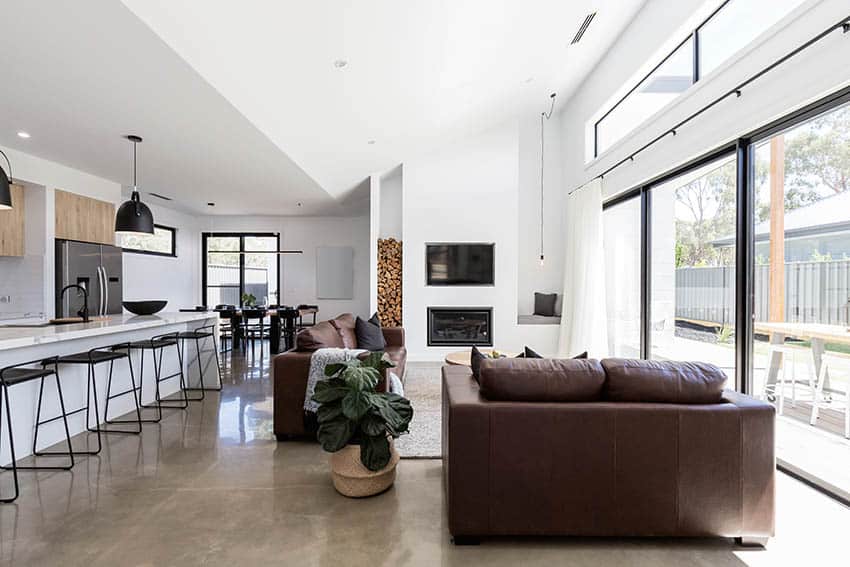 Polished concrete flooring is a type of finish that has undergone multiple steps using polishing equipment applied on either an existing or newly cured concrete slab to achieve a smooth and high-luster surface.
Basically, polished concrete floors are like sanding down wood, where the floors are mechanically ground, honed, and polished using abrasives to achieve a mirror-like finish.
There are varying design options for your polished concrete with different degrees of glossiness. You can also choose to have it in color, embed aggregates, and engrave or cut patterns on the surface.
Polished concrete floors have been a favored finishing for both commercial and industrial use because of their durability, low maintenance, and affordability.
It is a cost-effective option for commercial and industrial spaces since they typically cover large areas. The polished concrete surface is also ideal for residential use since there are a lot of attractive designs to choose from, far from the usual plain concrete surface.
You can have polished concrete floors on both interior and exterior applications by using different levels of glossiness to fit your needs.
The length of the service life of polished concrete floors varies but it is agreed upon, depending on many factors such as the quality of your concrete slab, installation process, amount of foot traffic, and maintenance.
The range of how long your professionally installed polished concrete floors could last is from 20 years up to 100 years.
The resilient polished concrete floor is considered a sustainable flooring solution. According to Eneref Institute, polished concrete flooring has a much lower global warming potential, does not give off VOCs, requires low energy to maintain, and non-flammable. On top of this, the concrete material can be reused and recycled.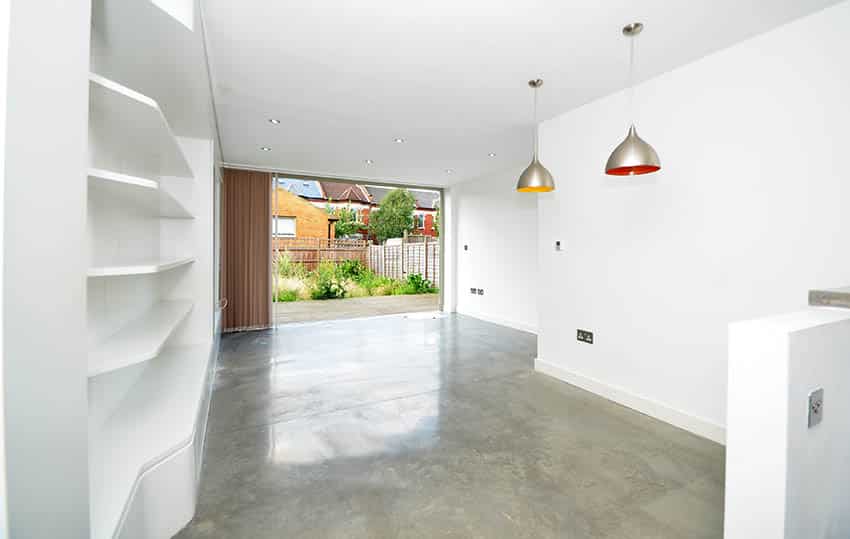 Benefits of Polished Concrete
Cost savings
Longer life cycle
Less maintenance
Resistant to high foot traffic
Resistant to moisture transmission issues
High light reflectivity
Environmentally responsible
Allergen friendly
Polished Concrete Floor Finishes
Types of Polished Concrete
There are two main types of polished concrete: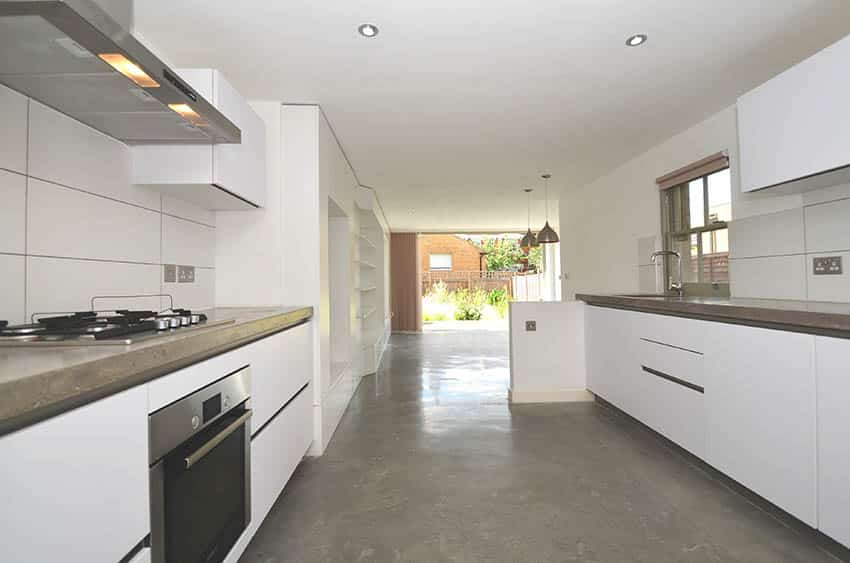 Grind and Seal Concrete
For grind and seal concrete (G&S) the top of the concrete undergoes coarse grinding to show as little or as much as stone or aggregate depending on your preference.
It is great for indoor or garage floors and by adding a non-slip grit powder if you want them on wet areas which can reach whatever slip requirement.
Grind and seal concrete is very durable, water, and stain-resistant, however, as it is a topical sealant, you may need to reseal or recoat every 3 to 10 years depending on the product you wish to apply,
Compared to the Mechanically Polished option, Grind and Seal is more cost-effective upfront but will need to recoat a worn-out top coating periodically thus an added expense.
Types of Grind and Seal Concrete Exposures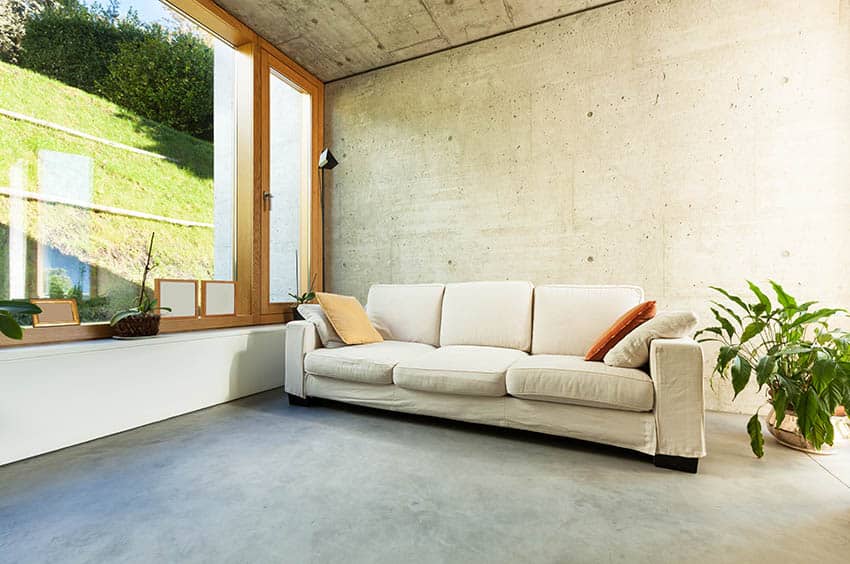 You can choose the following types of grind and seal concrete exposures:
Nil Exposure – A highly desirable concrete finish that is ideal for newly poured concrete that follows stringent specifications to prevent roughness or undulation on the concrete surface and that the aggregate beneath could show through.
The surface should be grinded with the least amount possible so that there is little to no stone showing. The surface is then grouted to fill tiny crevices or holes giving you a smoother and refined finish. After which, the surface is polished to the required level of shine.
Minimum Random – Also known as the "salt and pepper look" the concrete slab receives the grinding process off the surface of 1 to 3mm. There may be areas with little to no aggregate exposure and there are parts that may expose more stones depending on how it is poured.
You can find the minimum random surface mostly on industrial-looking spaces such as garages and outdoor flooring. Compared to Nil and Full exposure costs less making it the most cost-effective of the three surface types.
Full Exposure – As the name implies, the aggregates are fully exposed. From the three this type of exposure is most labor extensive and will typically take 2 to 3 times to grind over the floor to fully show the stone.
Generally, the surface is grinding down 4 to 6mm or more depending on the slab hardness. The stone exposure is more decorative and is an ideal finish for homes, restaurants, and showrooms.
Popular Types of Concrete Finishes For Interior Design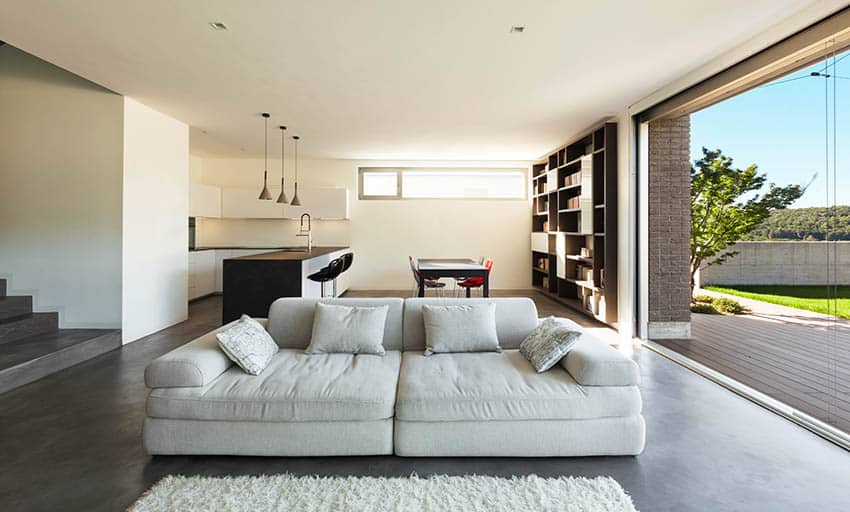 After the grinding process, these are sealed using different types of concrete finishes namely matte, semi-gloss or high-gloss.
Matte Finish – This finish is a perfect choice when you want a subtle amount of reflectivity but don't want it to be overbearing to the room or space. It gives it a more industrial or rustic look and is popular for homes, restaurants, cafes, shops, and other casual spaces.
Semi-Gloss – A popular option as it has just the right level of shine with a reflective side to see good light reflectivity that is easier to maintain compared to a high-gloss finish. Typically, it uses an 800-grit or higher diamond abrasive to achieve the gloss finish.
High-Gloss – You can easily spot a high gloss finish when you can see your reflection on the floor and the surface look as if it is wet when viewed at certain angles. A high-gloss finish can be a stunning choice for hotel lobbies, administrative offices, and other formal rooms.
The stunning surface typically will need a 3,000-grit resin-bond diamond or the floor can undergo a high-speed burnisher fitted with buffing pads. The processes are repeated until achieving the high-gloss finish.
Then, the surface is coated with a sealer depending on the requirements and life expectancy:
Water-based
Solvent-based
UV stable
Acrylic and Polyaspartic Coating.
Mechanically Polished Concrete
For mechanically polished concrete (MPC) it's the actual concrete itself that shines not the topical coating.
To achieve the polished look, it undergoes the same processes as the grind and seal but this time the floor is grouted and undergoes different processes of densifying or hardening before it is polished several times to get the number. There are high levels of craftsmanship and technological processes needed.
Mechanically Polished Concrete is a process that is recommended to be used more on indoor flooring surfaces.
Like grind and seal, you can choose your mechanically polished concrete type of exposure that includes nil, minimum and full exposure. This also goes the same with the level of glossiness namely matte, semi-gloss and high-gloss.
Stained Polished Concrete Floors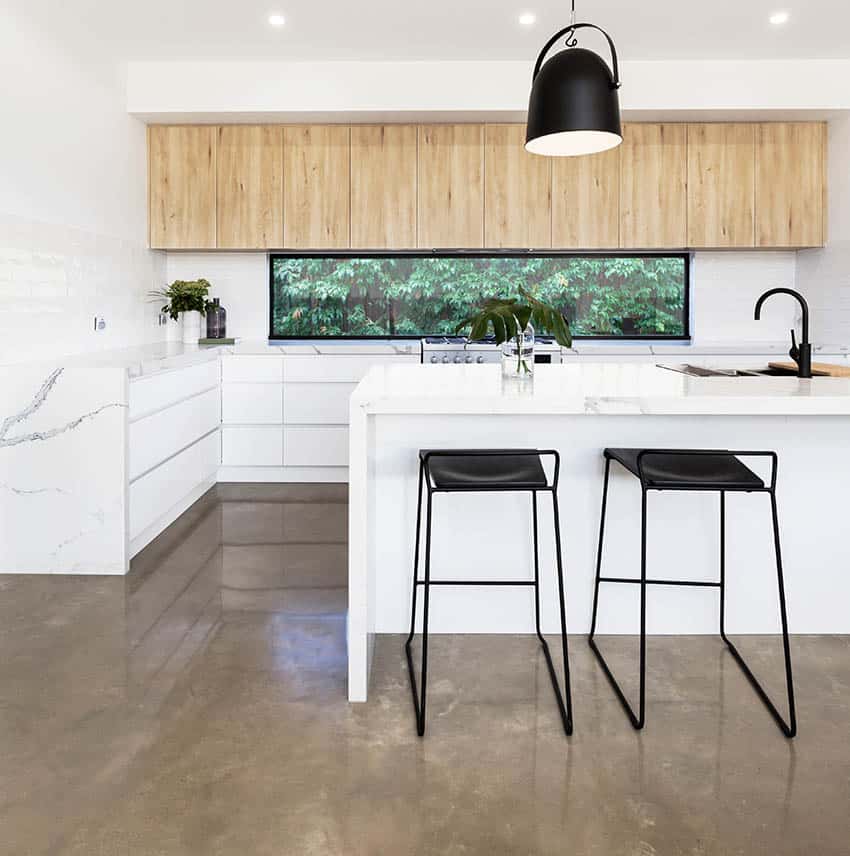 Concrete flooring today offers more than the usual grayish look that we typically see on pavements. Modern polished concrete floors can virtually have any design and coloring that fits your design preference and budget through the process called staining.
Stained polished concrete floors are great for both residential and commercial use and the process can be done on both a newly installed concrete slab on an existing concrete floor.
It's a permanent color. Since concrete stains are infused deep into the concrete surface, it becomes a permanent color. Unlike using paint or coating weathering and other factors can peel off or discolor the surface.
It can simulate any color or look. Achieve any color of your choice with the versatile stained polished concrete. From subtle hints, bolder colors, or any other design accents you can think of, a professional staining contractor can help you achieve your desired look on your concrete floors.
Aside from the color choice, the process of introducing the color into your concrete floor will influence the look and cost of your stained polished concrete floors. The following are the
Introducing color to a polished floor is not just a matter of making a color choice. It requires a good understanding of the different coloring products available and how they impact the installation of polished concrete. There are four products or methods for coloring gray concrete. Each has its distinct color palette and method of application.
Types of Concrete Staining Products
Admixtures
Shake-on Color Hardeners
Penetrating Chemical Stains
Dyes
Integral – New Concrete Floors
Integral coloring admixtures are considered the simplest and environmentally friendly way to infuse a uniform color to your concrete floors. It is best applied on newly poured concrete to achieve a uniform coloring without any variations.
Take note that your cement color will affect your final color. So, for instance, a white cement will create brighter and richer tones while a gray cement will produce a muted tone.
Integral – Floor Overlay – Adding integral coloring admixtures on the top region during the process of power trowel finishing. The admixtures are added on the concrete overly or cementitious topping to create a consistent color. Also termed as seeding a cement or pigment mixture.
Dyes – Water Based – Applied during the polishing process and is an environmentally friendly option though it produces a lighter or muted color than the solvent-based dyes.
Dyes – Solvent Based – Applied during the polishing process and is not an environmentally friendly option but produces a more vibrant color than a water-based one.
Acid Staining – Applied during the polishing process where water, hydrochloric acid, and acid-soluble metallic salts are mixed together to produce a mixture that chemically reacts with the hydrated lime in concrete. This then gradually etches the concrete floor which helps the metallic salts to penetrate through the slab easier. The staining forms a permanent part of the concrete surface.
White Polished Concrete Floor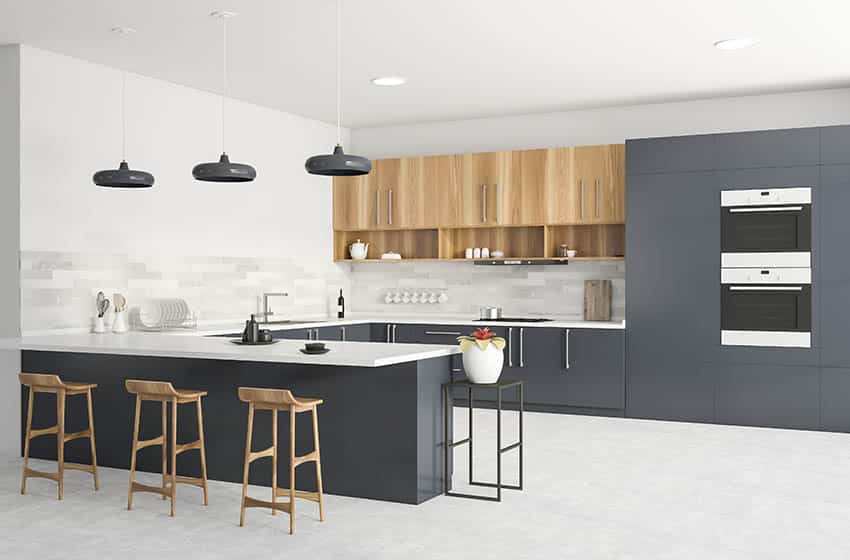 The visual impact of white polished concrete floors is undeniably beautiful and with the right coloring, the technique can last for a very long time.
Bright and clean white polished concrete floors are amazing in any style that are can be used from homes to commercial establishments. Have a pure white room and you can easily create a beautiful backdrop for a minimalist or modern theme.
Not everyone may be brave enough to dawn the white finish because of its maintenance issues, but with a white polished concrete floor, it's easier to maintain because of the sleek surface.
Black Polished Concrete Floor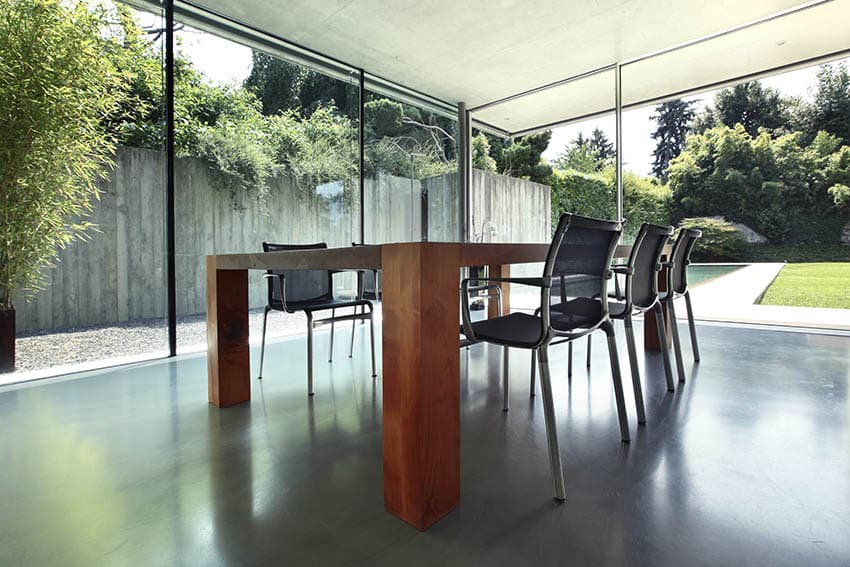 Get the beauty of onyx floors without breaking the bank with a black acid-stain polished concrete floor. It's a gorgeous flooring surface that will look elegant in an office, lobby, or any commercial space.
If you want to add mood and sophistication to any part of your home the black polished concrete floor is a great option. The higher the gloss level of your black concrete floor the more undulation and brilliance of the color.
Multi-Colored Polished Concrete Floor
With concrete floors, you can virtually add any color you can think of. To better achieve the color, you want on your floors, opt for the dyeing process instead, as staining can give you an unpredictable color because of the slow chemical reaction.
A multi-colored polished concrete floor is a vibrant and playful option that you can add to your patio, children's room, or any part of your home where you want an eye-catching polished concrete floor. See more polished concrete patio ideas here.
Walnut Polished Concrete Floor
The rich brown hue of walnut wood applied on the polished concrete creates a warm and cozy look to space without the high maintenance needs of wood flooring. They're also great for your kitchen and living areas with their inviting surface.
If you're planning to have a more traditional style for your home's interior, the walnut polished concrete floor is the perfect option that's less costly and faster to install.
You can either choose from the dyed or stained polished concrete floor but dyed polished concrete floors are now a popular choice because of their fast installation.
Another choice is between water-based dyes or solvent-based dyes. Water-based dyes will produce a softer color appearance while solvent-based products offer more vibrant colors.
Polished Concrete Floor Cost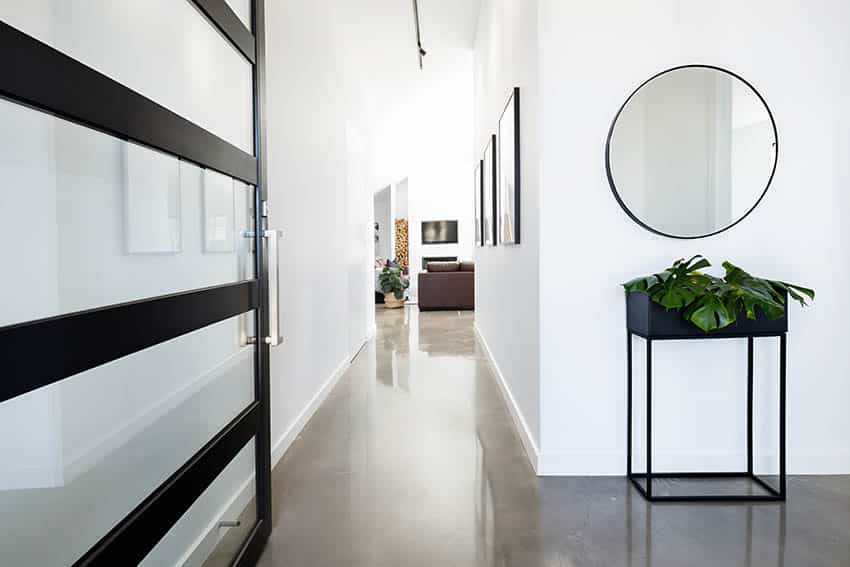 The cost in installing polished concrete floors varies widely which will depend mainly on the location of the project, levels of grinding, gloss level, coloring, and the complexity of added designs. On average, expect to pay from $3 to $12 per square foot.
For residential floors can be higher in cost due to the need for smaller equipment and other special design conditions.
The best way to estimate your project cost for polished concrete floors is to get a quote from your contractor. Though here are some average prices to give you a general idea of how much you'll be paying on your concrete flooring.
Economical choices From $3 to $5 per square foot
Reduced surface preparation
Ground and polished for moderate shine
Single layer for stain color.
Mid Range $5 to $8 per square foot
Additional customization options
2 stain colors
More glossy finish
Scoring for simple patterns or design elements
Substantial surface preparation
High-end Minimum $8.00 per square foot
Substantial surface preparation and grinding
Manual staining details
Multicolored stains and customized color matches
Intricate designs, stencils, or patterns
Cost to Polish Existing Concrete Floor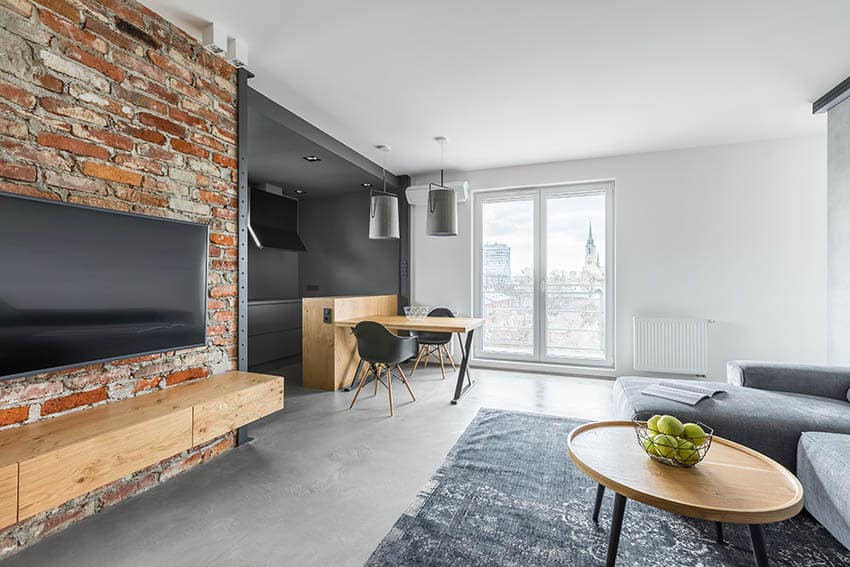 Extensive repair for an existing concrete floor ranges between $1 to $2 per square foot for grind and seal. An added $2 to $3 per square foot for resurfacing.
There's a varying range on the added cost for stamping, staining, and sealing work depending on the design, size, and other decorative finishes which can start at $1 to $10 per square foot.
Polishing an old concrete floor may need to undergo added processes, unlike that of fresh concrete. The added preparation can involve removing stains, filling in dents, and cleaning the surface from any contaminants is needed.
Ask your contractor to evaluate your existing concrete floor and know whether it is better to replace it with outer flooring options or go on with a polished concrete floor.
Grind and Polish Concrete Floor Cost
Polished concrete with plain color can cost around $1.75 to $4.00 and for the dyed polished concrete, it can cost $2.50 to $8.00.
There's a wide range of flooring costs when it comes to polished concrete floors that depend on many factors such as the size and location of your project. The pricing is also dependent on the grinding levels and surface smoothness.
Cost of Polished Concrete Floors vs Tiles
A basic polished concrete without any complicated designs is usually cheaper than installing other flooring options and with a low maintenance cost annually you also save more long term. They hardly need replacements with durability ranging from 8 years to 20 years.
And if you're evaluating between the flooring surfaces based on cost, clearly concrete is the cheaper option, but ultimately your personal preference and needs will influence the cost.
Where to Use Polished Concrete Floors for Interior Design

Now we'll cover some of the best applications for different types of polished concrete floors throughout the home. These are just some of the most common design ideas used for polished floors and do not cover all available options one can use.
Polished Concrete Living Room Floor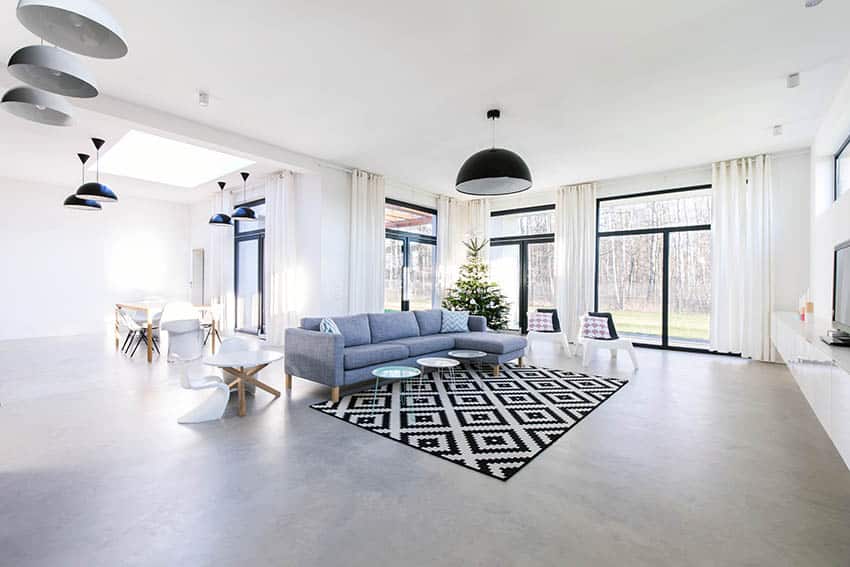 Type used for polished concrete living room floor – Classic Polished Gray Concrete
At the forefront of your home, a living room should be a welcoming and attractive space that's design-forward yet practical.
You can achieve a modern look with the classic look of polished concrete, the gray and industrial look of this flooring surface gives way to add in architectural and decorative elements that will go along well with your neutral floor.
Add textures, color tones, and other design elements to define your design style.
Polished Concrete Kitchen Floor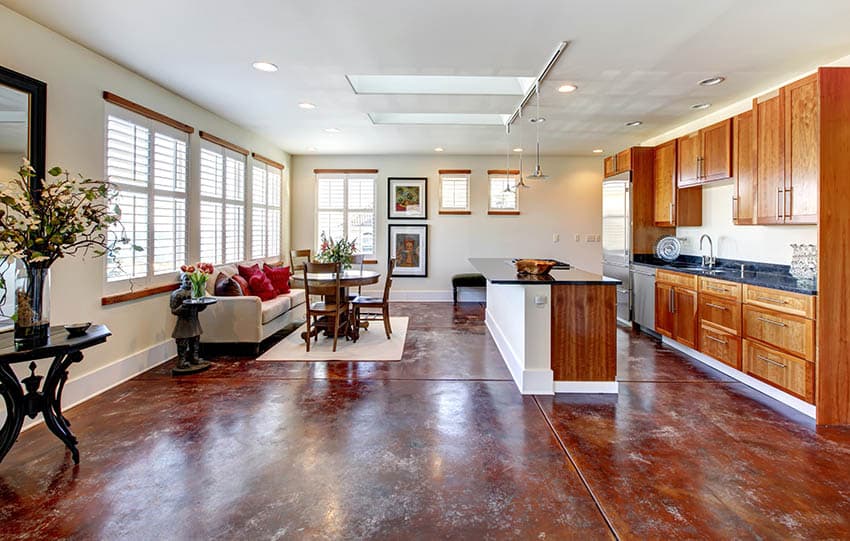 Type used for polished concrete kitchen floor – Acid Stained
With an impermeable surface, a kitchen can benefit greatly from a concrete kitchen floor. It doesn't easily stain and the smooth surface means it's easier to wipe down and maintain.
Though you can choose to acid-stain your concrete floor to give the floor a mottled appearance to help mask dirt on a high-traffic room. The result is an interesting three-dimensional look that is very durable.
Polished Concrete Bathroom Floor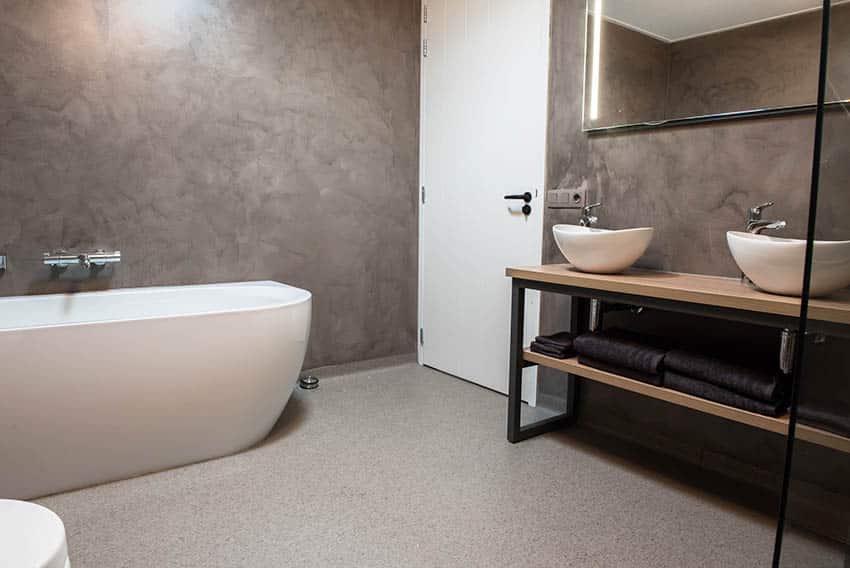 Type used for concrete bathroom floor – A Terrazzo Look
There are a good number of polished concrete finishes that can make your bathroom look amazing such as a stained polished concrete floor to simulate a marble-like appearance.
You can also opt for plain polished concrete for a minimalist approach to the space that's clean and sleek.
If you want to add coziness to your modern bathroom a terrazzo look is an appealing choice as the exposed aggregates add visual interest to your bathroom. The pebbled look can also extend to your sink and counter to have a more cohesive design.
If you're worried about slipping on your polished floor, add an anti-slip conditioner or add extra sanding during the finishing process to add some texture.
Polished Concrete Garage Floor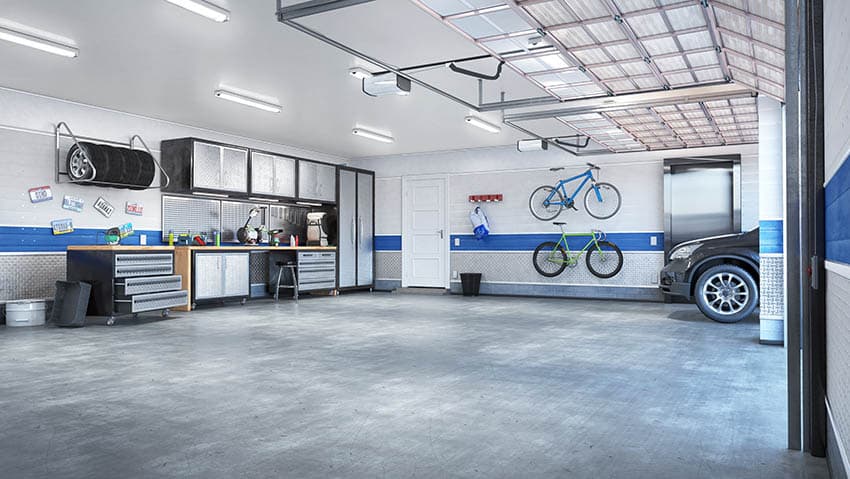 Type used for garage floor – Honed Concrete
Honed concrete is recommended for outdoor areas such as driveways, footpaths, porches, pools, and other low or flat surfaces. Though take note that it only comes in a matte finish but the polished concrete floor will have a degree of sheen when finally sealed off.
Compared to the grind and seal the sealer is absorbed into the concrete so it does not remain on the surface floor. The infused sealer makes it more hard-wearing making it an ideal surface for the elements and activities of outdoor floors.
Yet the grind and seal can still be a great option if you want a higher degree of sheen in your outdoor space. An added non-slip grit is introduced to the surface to help it from being slippery. Additives are also added to make the floor UV resistant preventing the surface to discolor over time.
Polished Concrete Basement Floor
Type used for polished basement floor – Grind and Seal
The advantage of polished concrete floors on a basement is that it can increase the floor's light reflectivity up to 100%, this makes the room look livelier. If you have limited daylighting a polished concrete basement will reflect and distribute the available illumination.
Another great benefit from polished concrete floors is that it does not harbor dust and can easily be wiped down when needed. This means you get a better indoor air quality compared that of hardwood floors or tiles where dust and debris can easily fill in the gaps and crevices in between.
How to Clean Polished Concrete Floors
While polished concrete floors are relatively easy to clean and maintain there are cleaning agents to avoid preventing damage or weakening the sealant applied. The key is to keep your cleaning routine simple and regular.
The maintenance routine does not require sealing or waxing and a simple mop and a bucket of water will do.
However, this does not restrict you from using other chemicals, but you must be aware of what chemicals you're using to avoid dulling the colors or ruining the patterns.
Avoid acids or any chemical with hydroxides and sulfates like detergents, these include ammonia or bleach. Chemicals that help separate particles from the floor are okay choices, though, stay away from hard brushes then can cause the surface to dull or leave unwanted markings.
Don't use ammonia, bleach, or any highly acidic substance on polished or stamped floors. Some good cleaners include Castile soap, liquid dish detergent, stone cleaners, and mild floor cleaners. Mix a solution, apply to the floor with a wet mop and then rinse with a mop dipped in clean water.
Best Polished Concrete Floor Cleaning Agents

Castile Soap
Liquid Dish
Stone Cleaners
Mild Floor Cleaners
What to Avoid
Ammonia
Bleach
Citrus Cleaners
Pine Based Cleaners
Vinegar
Polished Concrete Floors Conclusion
Concrete is no longer a dull gray slab of rock beneath our feet. Through advancements in interior design, chemistry, engineering, and other related industries, we are now able to turn such a basic material into something aesthetically pleasing that can contribute to the overall look of an interior space.
Stencils, decorative patterns, a wide array of colors to choose from can turn concrete into a canvas that can potentially last a lifetime, given the proper care.
For more related information visit our page about wood flooring patterns.