Here's our Asian walnut hardwood flooring design guide with what it is, how it compares to acacia, hardness scale, price, grain, colors and pros and cons.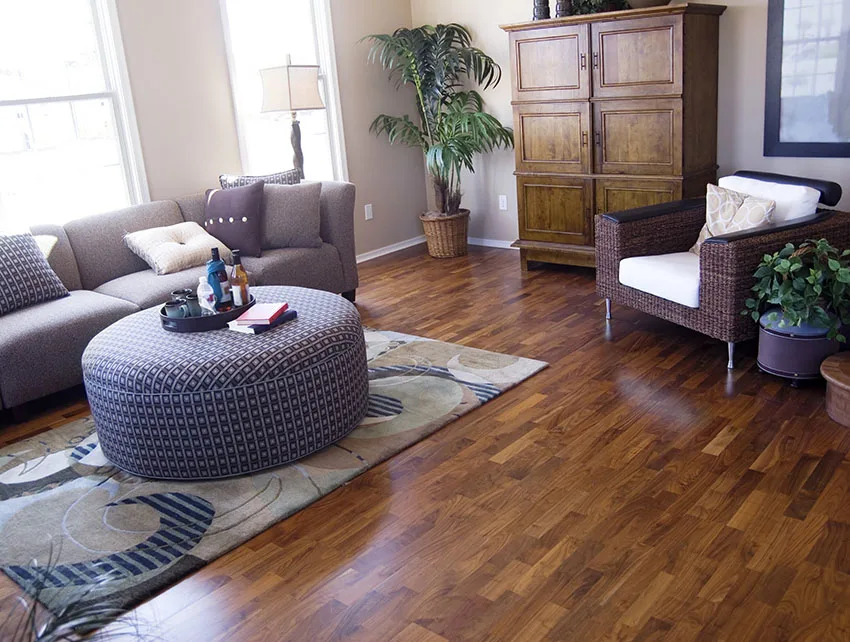 When it comes to hardwood flooring, the go-to choice is oak. With a little research, however, you can find unique options in the market that are worth some consideration. One of these unconventional choices is Asian walnut.
What is Asian Walnut?
Asian Walnut is a type of lumber that is commonly used in flooring. Its unique grain pattern loose grain structure, and large swirls make it a popular choice for flooring.
The tree is native to the drier parts of Southeast Asia, Africa, Australia, and India. Despite the name, Asian Walnut is not part of the walnut family. Walnut trees belong to the Juglandaceae family while the Asian Walnut belongs to the Fabaceae family.
There are more than 1,300 species of Asian Walnut. However, they were split into five genera in 2005. The majority of the species are found in Australia while the new genus can be found in the Pacific islands and the tropical parts of Asia.
Is Asian Walnut the Same as Acacia?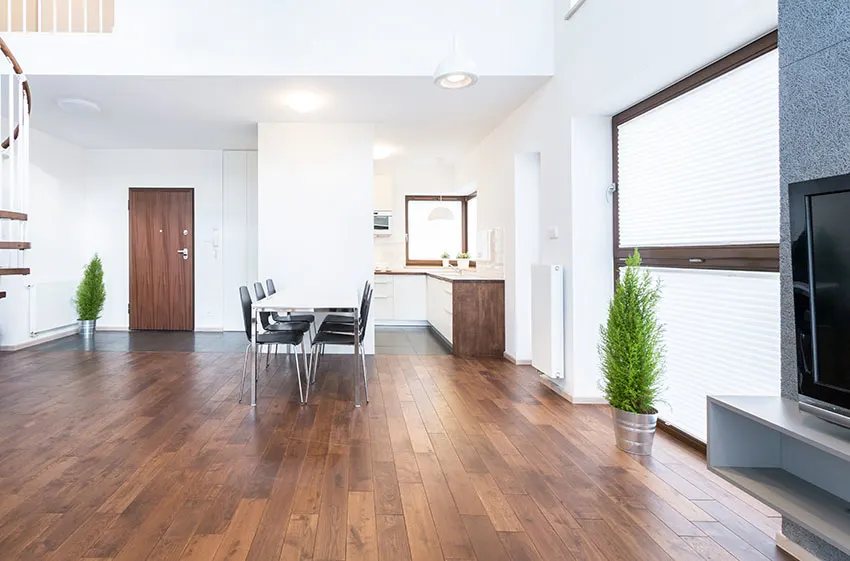 Asian Walnut is another name for acacia. It was marketed as Asian Walnut because vendors think the name is more appealing than acacia wood.
Acacia belongs to the pea family so they share the common characteristic of distinctive seed pods. There are different types of acacia trees but those that are sold for flooring comes from the dry and hot regions. One of the most common of these is the Australian blackwood.
There are many uses for this type due to its natural strength, including acacia wood furniture and flooring.
How Hard is Asian Walnut Wood?
The Asian Walnut is harder than other popular wood species like oak and maple. It comes very high on the Janka scale, a measurement that determines how hard a wood species is.
The Asian Walnut comes around 2,300 on the scale while the Red Oak receives 1290 and maple is at 1450. If the hardwood scores higher, then it is harder. Read more about oak wood flooring here.
Asian Walnut Flooring Price
The price of Asian Walnut flooring depends on the type, color, size, and finish. For example, a prefinished one costs higher than an unfinished one. That's because the processed wood has been treated and coated with multiple protective coats to make it more durable.
However, the ballpark figure of a normal-sized floor (300-1200mm x 120/90mm x 18mm, in average length above 600mm) is between $25 – $40 apiece.
Is Asian Walnut Good for Hardwood Floors?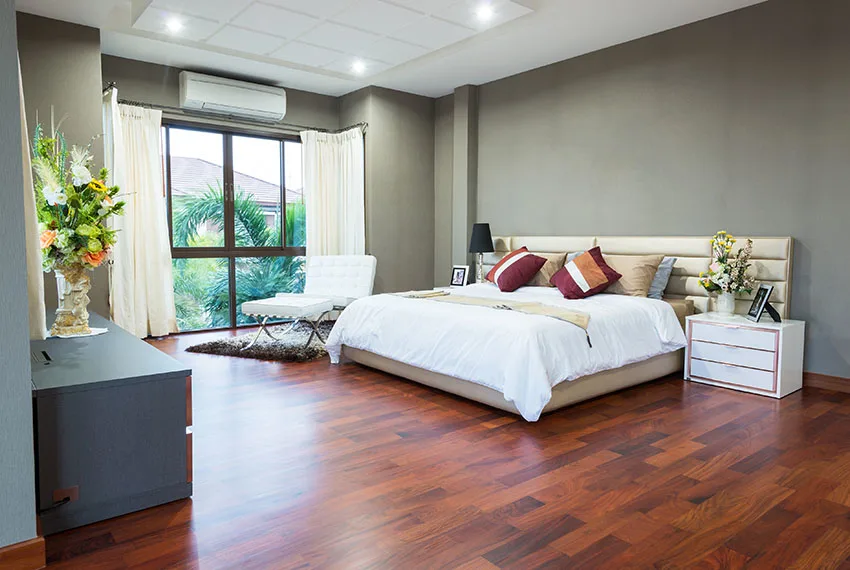 Asian walnut flooring has been steadily gaining popularity over the years. With a high score on the hardness scale, it can withstand the usual wear and tear for a long time. Despite that, it does not necessarily mean that it is scratch-resistant.
If you are considering it as your flooring material, here are a few factors to consider before making a decision:
Stains – Acacia comes stained in three different colors — natural, cherry-stained, and smoke.
Smoke or toffee-stained is slightly darker than other hues. Its color is similar to that of the black walnut wood. Toffee-stained is often used as an alternative to the black walnut since it is more affordable than the latter.
Natural stain only uses a clear, protective finish to preserve its natural color. Meanwhile, cherry-stained Asian Walnut has a vibrant reddish hue. It is typically characteristic of acacia hardwood boards.
Finish – Most hardwood floors have been processed or prefinished in the factory with a combination of polyurethane and aluminum oxide. It is necessary to make the wood last longer and be scratch-resistant.
However, there is unfinished flooring as well. But unprocessed and untreated wood is not as strong as the prefinished ones. Plus, it will still be treated once installed.
Grain – Asian Walnut is known for its unique whirling grain pattern. Some favor it while it's not the cup of tea for some. That depends on what your flooring preference is.
Color – The Asian Walnut comes in a wide range of colors. So if you're considering it as your flooring material, request two sample boards to help you visualize how your floors will look like.
Some homeowners want a level of uniformity in their flooring while others love the distinctive color gradients of acacia.
If you want to have a clearer picture of how your floors will look like, buy a few boards and arrange them on your floor. That will give you a better idea of whether acacia is for you or not. It will also save you from spending unnecessarily.
Aside from the factors mentioned, here are the pros and cons of using Asian Walnut flooring.
Asian Walnut Hardwood Flooring Pros and Cons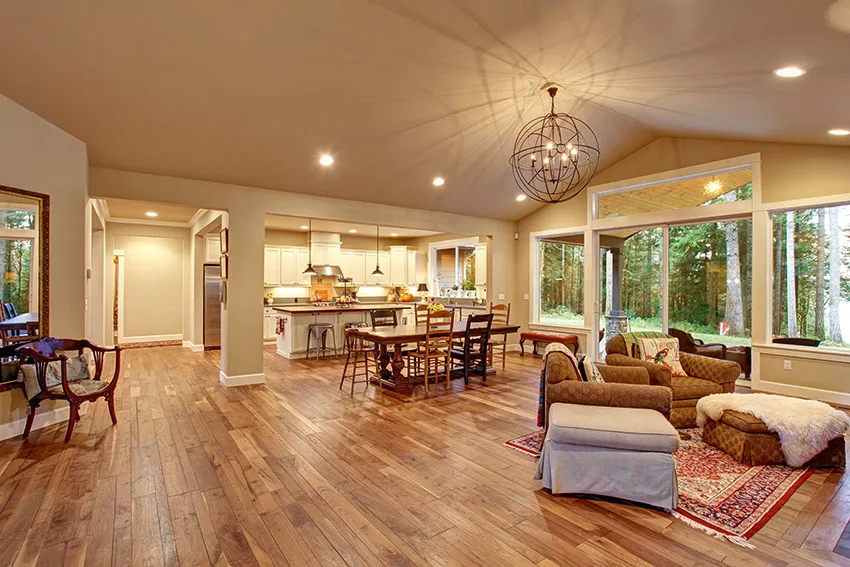 Pros:
Durable – Most Asian Walnut flooring comes with a 50-year guarantee — proof of its durability. And although not 100 percent scratch-resistant, it can withstand the usual wear and tear. It is resistant to mold growth so it won't warp or swell in humid climates.
More Affordable – Compared to other exotic hardwoods, Asian Walnut costs less. Include durability in your equation and you have a cost-effective long-lasting investment.
Environmentally Sustainable – Despite being considered an exotic hardwood, Asian Walnut grows fast. They also require little water or fertilizers, making them more environmentally friendly than other hardwoods.
Interesting Character – The attractive wood grain of Asian walnut provide plenty of visual interest for flooring. This makes them an attractive choice for the home.
Cons:
Short Planks – Because Asian Walnut is shorter than most hardwoods, its planks are shorter as well. It is typically 2 feet long so your floor might look a bit odd compared to wooden floors with longer planks. Also, the more joints a floor has, the more irregular it will look.
Wood Planks Can Shrink – Wooden flooring also has a tendency to shrink after installation. Thus, make sure you buy planks that have been kiln-dried to prevent them from shrinking.
Irregular Looking – Asian Walnut comes with irregularities. Others like it because it adds to the character of the flooring. However, some people find these irregularities distracting. So depending on the type of group you belong to, you will either hate or love this flooring type.
The Bottomline
Asian Walnut is an excellent type of hardwood for flooring. However, because it looks irregular and has shorter planks, it is not as popular as its cousins. But if you love something with character and is durable, it is a very good choice. More so, if you are on a budget.
For more content like this visit our page about walnut wood flooring here.