Here's our subway tile spacing guide including the standard & best spacing measurements for different aesthetic outcomes, spacing tips and subway tile spacer sizes.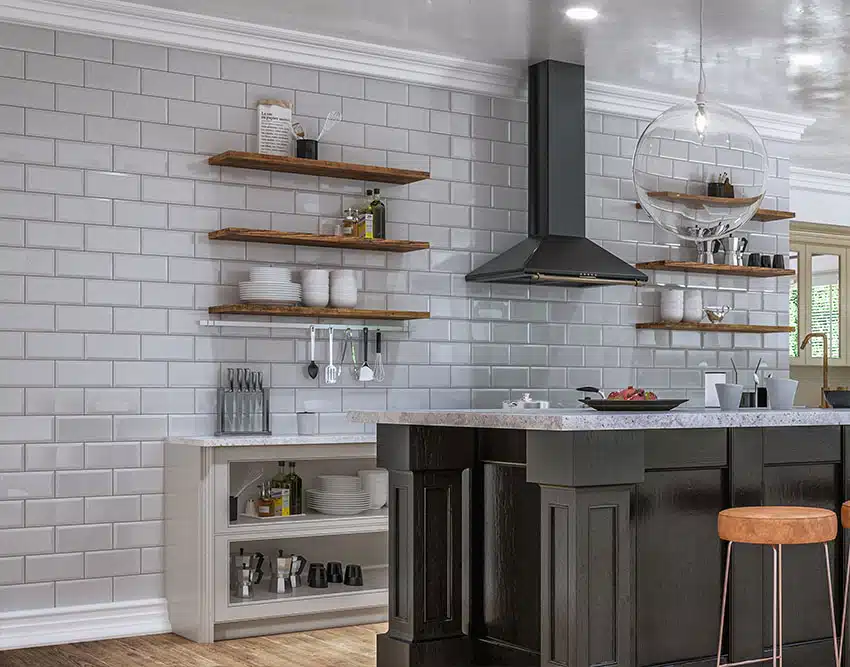 If you are a homeowner with big dreams for your kitchen, one of the things that are probably in your Pinterest folder is a picture of a kitchen with beautiful and sleek subway tiles.
Subway tiles are the most versatile of tiles, and they are often laid horizontally. They got their name because they were first used down under the New York City subway stations once upon a time in 1904.
Aside from being iconic and timeless, it is also stain-resistant and easy to clean, and its white and glossy finish gives the look of sanitary, which is fantastic for kitchens and bathrooms.
What Is The Best Spacing Between Subway Tiles?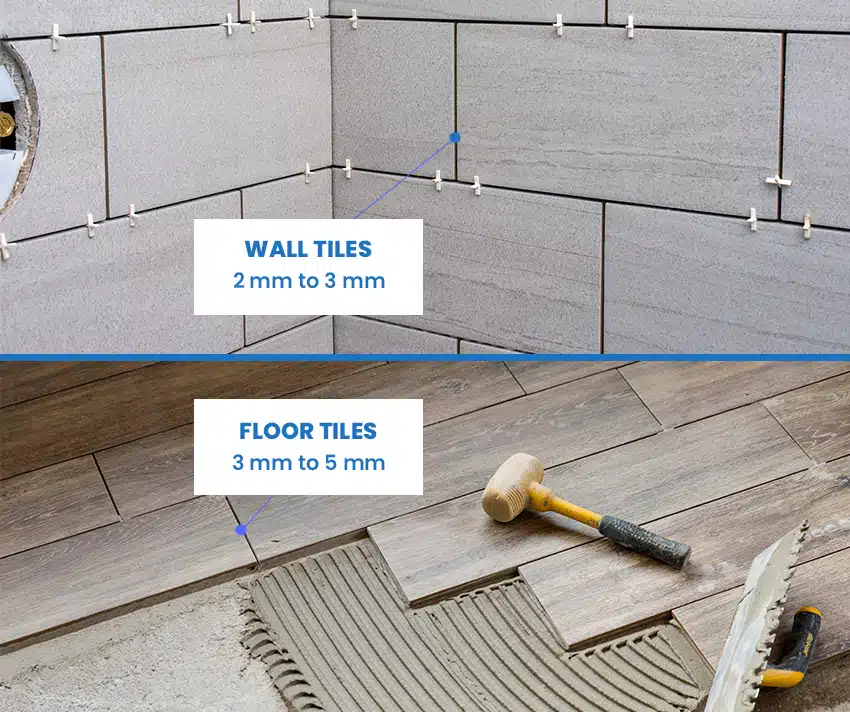 The space between each tile is referred to as grout lines, and this measurement will depend on the type of tile any homeowner will be using for their project plus their personal preference.
The standard spacing for tiles fixed on the walls is around 2 to 3 millimeters (.079 to 0.12 inches), while floor tiles can have up to 3 to 5 millimeters (0.12 to 0.20 inches) of space in between. However, this can always be the exact alignment, especially if they have the same subway tiles for the walls and floors.
Ultimately it is personal preference, and the best thing to do before fixing the subway tiles in place is to section out each tile with spaces to have an idea of the final results and how the subway tiles will look.
How correct and proportionate the tiles are to the room is also a decision for the homeowners, so opting for deciding between two to three spacers is recommended before a decision. It is also recommended to ensure that a larger or smaller gap is there to use as many whole and uncut tiles as possible.
Standard Subway Tile Grout Spacing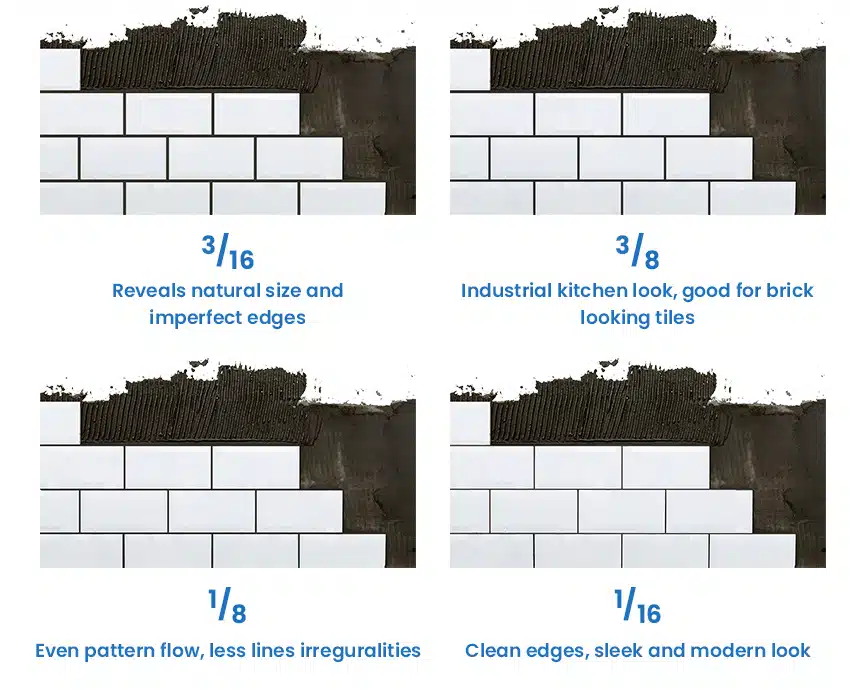 There is no standard spacing between each tile laid out on the wall or the floor since it will often follow what the homeowners are looking to achieve for their homes. At the same time, there is set spacing that is often chosen if they want to achieve that classic subway tile look for their spaces.
The standard subway tile grout spacing to choose from will vary from around 1/16 to 3/16 inches. Each of the spaces on both ends or in between will accentuate the difference in the size of each subway tile to highlight their full aesthetic potential.
The first subway tile grout spacing is 3/16 inches or a space of 0.48 centimeters in between each subway tile. This thickness in the spacing leaves room to showcase the natural size and imperfect edges of each uniquely handmade subway tile. Not all subway tiles, especially specialty and handmade ones, will have stationary measures, making this the perfect grout spacing to highlight.
Another grout spacing size is 3/8 inches or 0.95 centimeters. This is the standard for most brick-looking tiles and is also perfect as a subway tile spacing, especially for kitchen island tiling for that fully industrial kitchen look.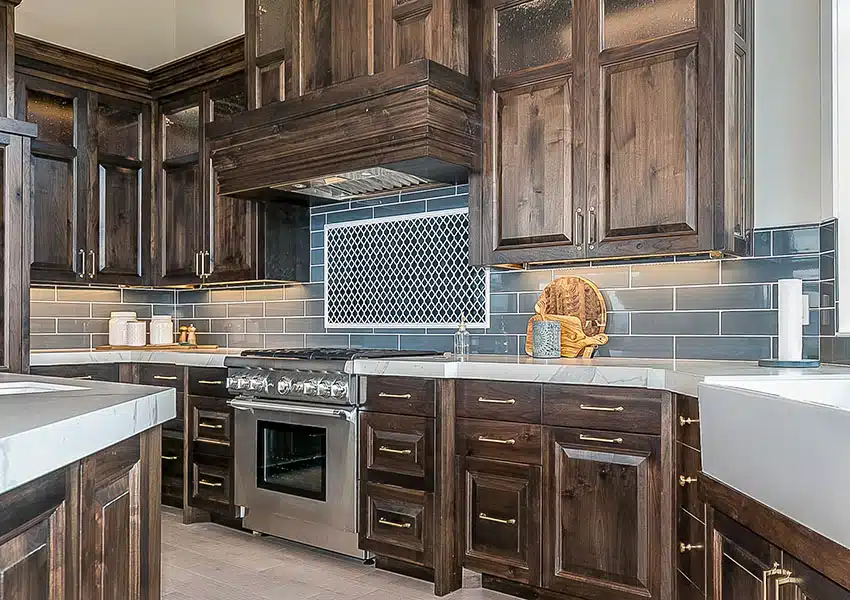 A grout spacing that will feature the clean-cut edge known for subway tiles is the 1/8 inches or 0.32 centimeters spacing between each tile. This is perfect for machine-cut subway tiles since there is less irregularity when it comes to their lines. This spacing will allow a flow in pattern from one tile to the next, whether the homeowners are going for a complicated herringbone or the classic horizontal subway tile pattern.
A tight fit for grout spacing is 1/16 inches or 0.16 centimeters spacing between each subway tile. This is a tight install for subway tiles with clean edges for a completely sleek and modern look. Sometimes, homeowners install subway tiles vertically for a new look, and this spacing vertically will give the space a modern feel on the fly.
No matter what grout spacing any homeowners go for, especially for the tighter ones, preciseness is integral because the tighter the installation for subway tiles, the more imperfections there can be seen.
Grout Spacing For Subway Tile Tips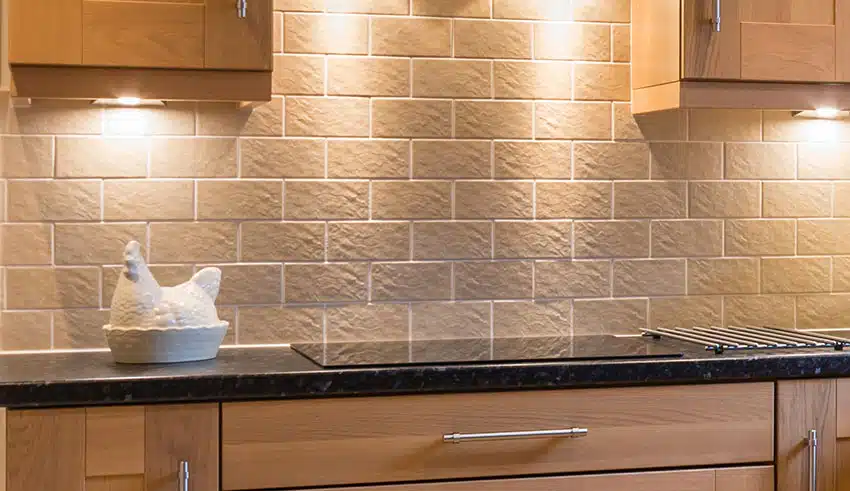 Choosing the perfect grout size for subway tiles might once upon a time sound like a simple choice, but in these times, there is more to consider than any homeowner could imagine.
There are three major elements to weigh when choosing grout spacing for subway tiles: the color, the spacing size, and the overall visual impact of what the homeowner would want to achieve. Here are some tips to consider.
To this day, the most popular grout color to get for subway tiles is the classic white and gray. Although these are only two colors, there are hundreds of shades between both these colors to choose from, and getting it right is essential.
Homeowners don't want their tiles to get out-shined by bright white grout, but getting one will also produce a great monochromatic tile look (assuming that the tiles are bright white.)
The overall visual impact when it comes to subway tile installation will cover how the tiles are applied and the drama any homeowner wants to achieve for their tile works. Depending on the room size, tile application and pattern can give the room a bigger or snugger feel.
The whole design can also affect mood since overstimulating patterns can make people feel tired, while going monochromatic is both a boon and a bane when done wrong or correct.
The last thing to consider is grout spacing. Thinner grout spaces will give a less dramatic effect and understated feel. In contrast, wider grout lines provide all the drama by giving the room a more retro feel. If a homeowner wants to achieve a monochromatic pattern in their tiles, it is better to go for narrow grout spacing with grout color close to the tile itself.
Subway Tile Spacer Size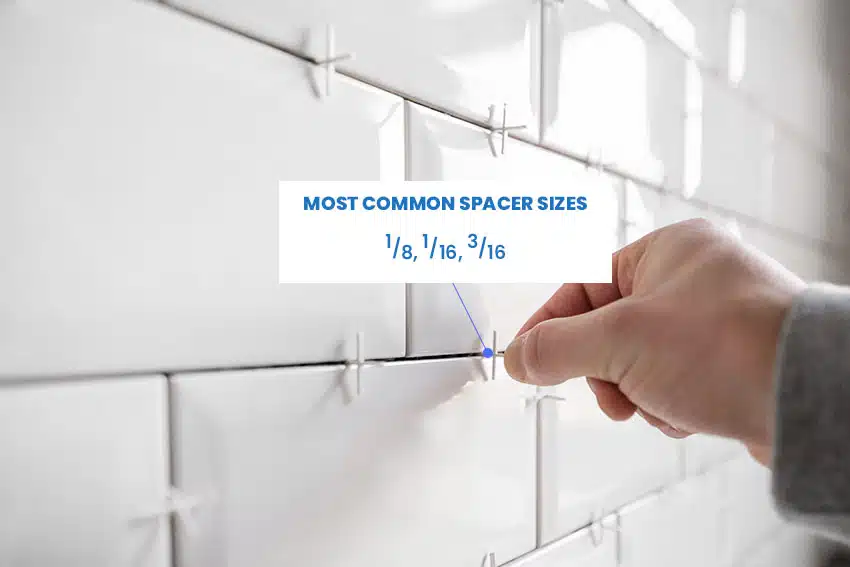 Another decision to make when thinking of installing subway tiles in any room inside the home is the size of the spacers to use.
Spacers are needed to achieve the perfect grout lines between each of the tiles, and the spacer size will affect the look and durability of any subway tile installation, no matter the store or whether it is hand-cut or not.
There are a lot of subway tile sizes to choose from; ultimately, getting a smaller one will make the space more airy and open. If they want a more dramatic look to their rooms, going for larger subway tiles is the way. At the same time, one thing that will affect the overall look is the spacer size.
The most common spacers are the 1/8 inches spacers, the 1/16 inches spacers, and the 3/16 inches spacers. These spacer sizes stand for how thick the grout lines are and how much space there is between each of the subway tiles.
For homeowners who are looking to use 1/8 inch spacers, the area for the grout line will stand at about 1/8 inch or around 0.32 centimeters.
There are a number of factors to assess for size spacers for a specific project, and knowing this will help any homeowner decide on the fly what spacer they will need for their use.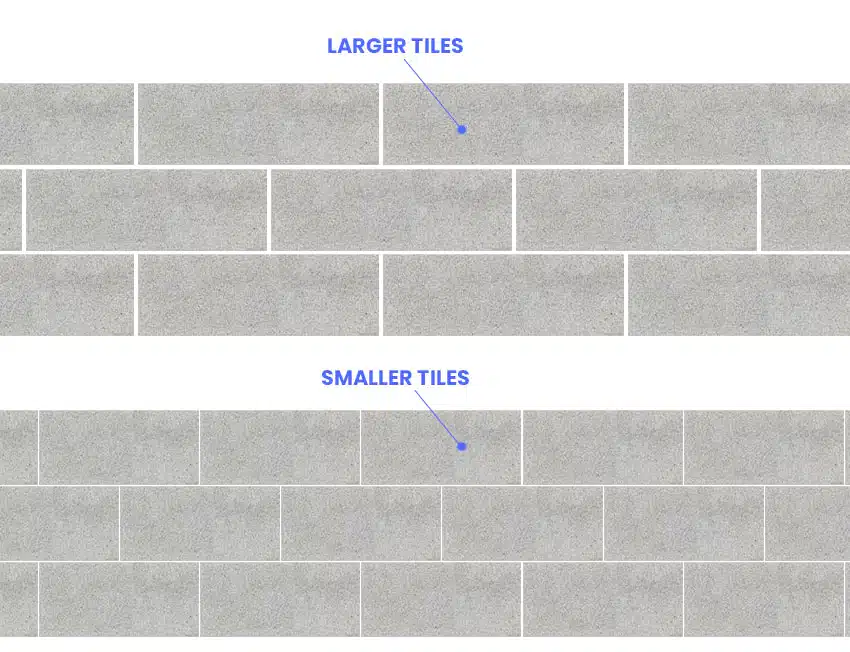 The first consideration is the tile size. Smaller tiles will require smaller spaces, while it's the other way around for more oversized tiles.
The next is the grout line width, where the wider they are, the bigger spacer it will need, while the narrow grout line will need smaller spacers.
The last consideration is knowing the overall look the homeowners are going for. Using smaller spacers will ensure a clean and refined tile look, while a retro and rustic feel is better and can be achieved with larger spacers.
Visit our article on how to install tile backsplash for more related content.