Welcome to our guide for walnut hardwood flooring including popular types, hardness, price, pros & cons and design ideas.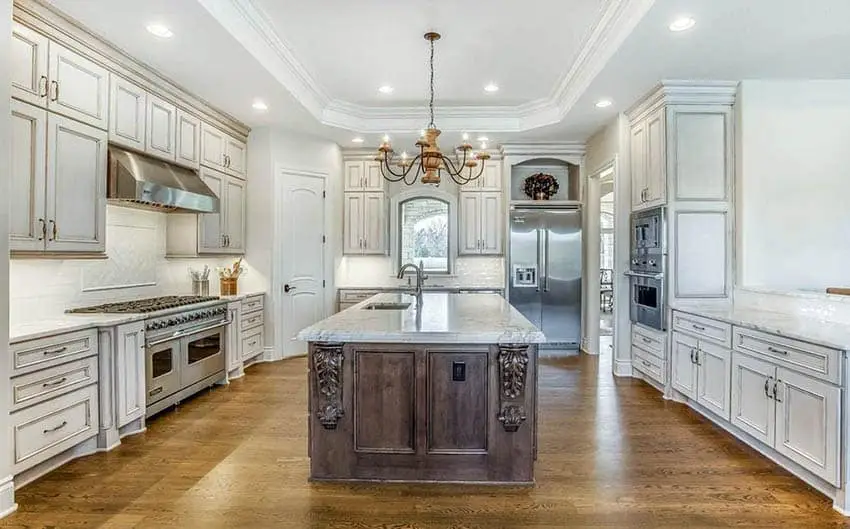 Hardwood flooring is a great addition to any home, and if you have made it here then you have decided on walnut.
There are still a few decisions to make though, what type of walnut, as well as what color to stain! Below are some pros and cons as well as examples of different options you will be presented with.
Types of Walnut Hardwood Flooring
The type of walnut you pick will have the biggest determination on the price and appearance of your hardwood floors. Each wood has a different hardness rating as well as a different cost grain, and color associated with it.
The most popular choices for walnut hardwood are American, Brazilian, Gunwood and Acacia walnut. Some examples of the types of walnut floors are listed below. Visit our types of hardwood flooring gallery for more popular styles.
American Walnut Floors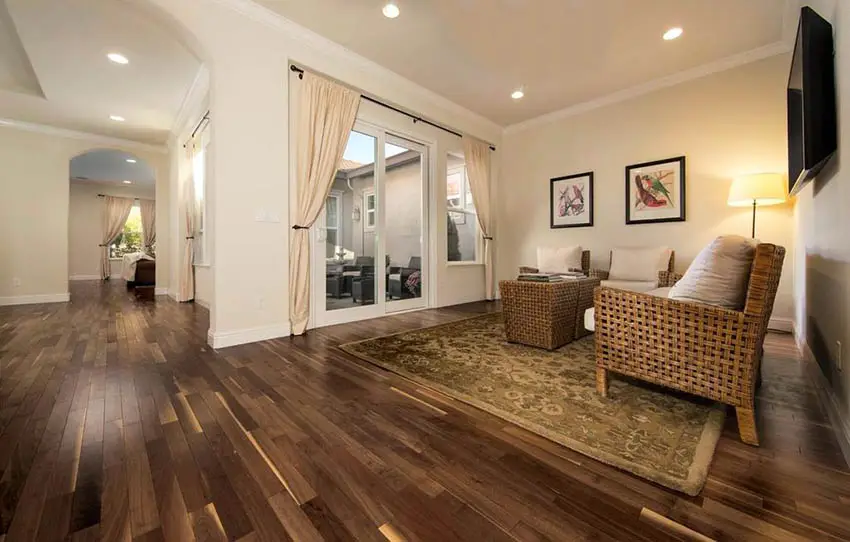 American walnut flooring is also known as common walnut flooring. This wood had a warmer, purple hue with lighter brown layers. To make a darker color this wood will be steamed during the manufacturing process.
American walnut has a wide variety of different grains available. Typically, it will have a straight grain, but getting a wavy or curly grain is no problem with a little extra costs.
American walnut flooring is low on the janka scale, at 1010, meaning it will be easier to dent or scratch. This can be counteracted by maintaining the floors and keeping them in good condition. Adding rugs and mats can help, and avoiding wearing any hard shoes inside.
Another way to maintain is to sand and refinish your walnut flooring every 3- 5 years. This tends to be the lesser expensive option than having to completely replace the flooring every 10 years.
Black Walnut Planks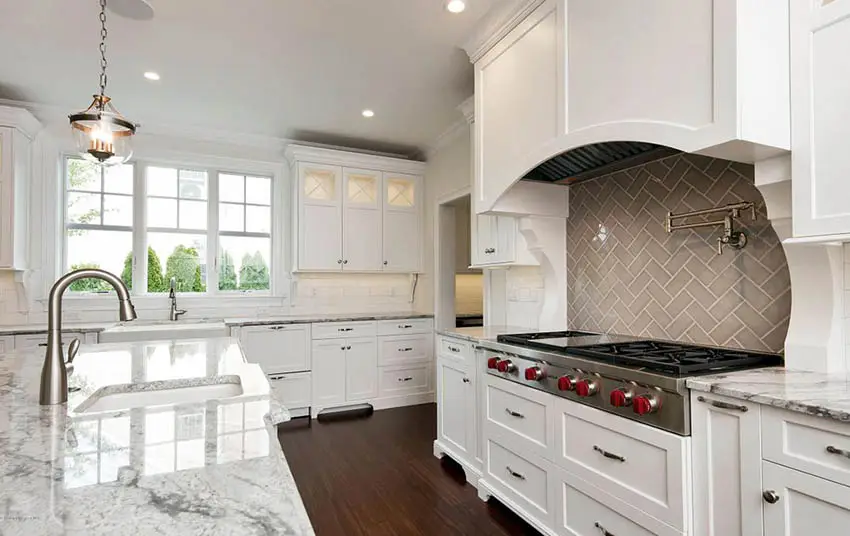 Black walnut flooring is sometimes known as Gunwood. This is because it had a very dark color with very deep grains. The heartwood will be a dark brown to almost a purple black, while the sapwood is a creamy white.
Sometimes the manufacturers will steam the wood to make the two colors blend better. This tree is grown in the United States as well which can put it under the category of "American" black walnut.
Black walnut flooring is raw and natural and will bring a rustic, eclectic feel to a room that you will not even believe.
Due to that it will fit in with almost any style imaginable, zen, Scandinavian, even industrial. Black walnut is such a versatile wood while still being extremely unique with an amazing array of design.
Brazilian Walnut Boards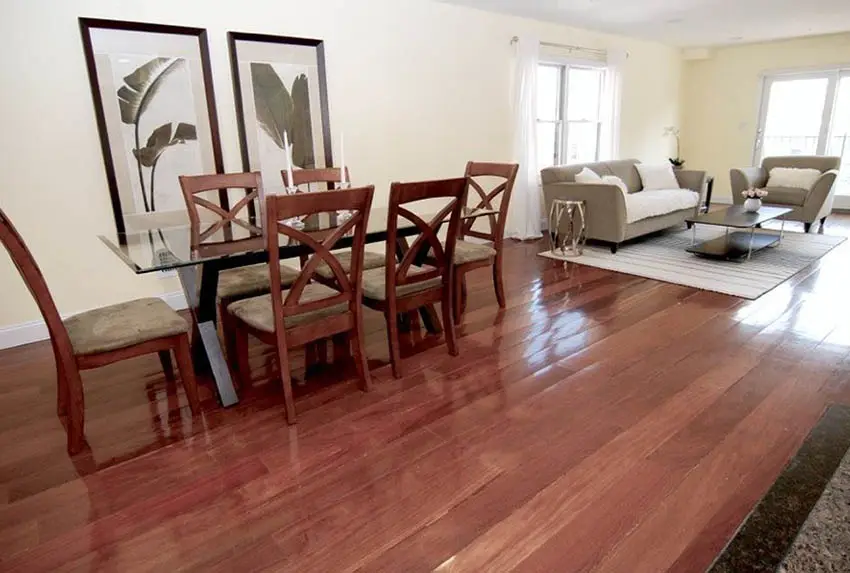 Brazilian walnut floors – See at Wayfair
Brazilian walnut flooring is also known as Ipe (pronounced ee-pay), which is the Brazilian word for walnut (lapacho). This wood is typically very dark in color as well as harder than any other walnut. Ipe is extremely resistant to insect damage and mold.
Brazilian walnut flooring is a lot harder on the janka scale, a 3684 to be exact, which is way above any oak flooring and is at the top of the list for hardest flooring. This will make Brazilian walnut flooring a better option for high traffic areas, or anywhere in the home looking for high durability.
Not only is Brazilian walnut extremely long lasting but it also is an exotic wood that will bring an elegant and regal look to any space.
Asian Walnut Parquet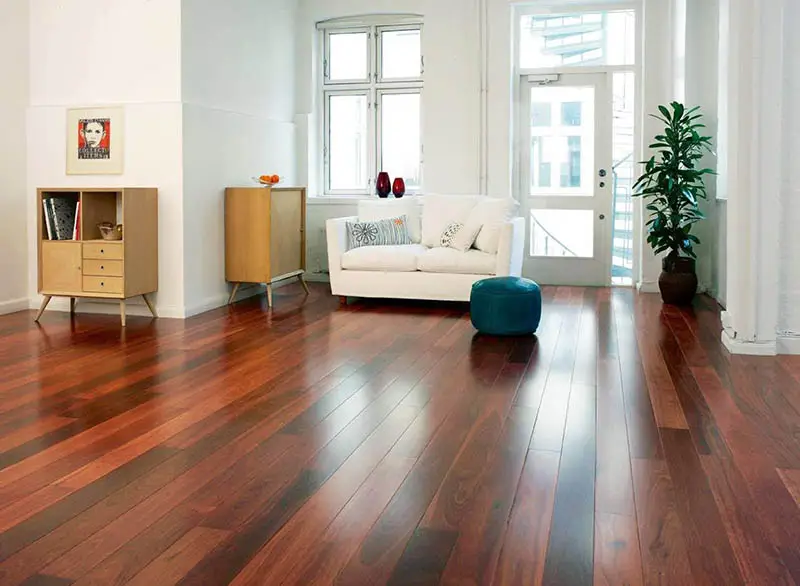 Asian walnut flooring is also known as Acacia walnut flooring. This wood is a light honey color with distinctive grain patterns. The most natural form of this flooring is an unstained piece with a clear coat over the top, but there is also a variety of other options ranging from browns to creams.
Asian walnut is found in Southeast Asia, India, Africa and Australia. It has a unique grain, with big swirls and loose structure, which will add a good contrast in larger spaces. This type of wood in particular rates a 2300, rating higher that the more common choices of oak which are only 1300.
Walnut Floor Options
When thinking about hardwood flooring your mind will automatically go to the typical, well known solid hardwood styles. It should be known that there are other more cost effective options.
Though the qualities of each product are different, sometimes going with the engineered or laminate flooring can be a project and budget saver, with almost exactly the same appearance.
Solid Walnut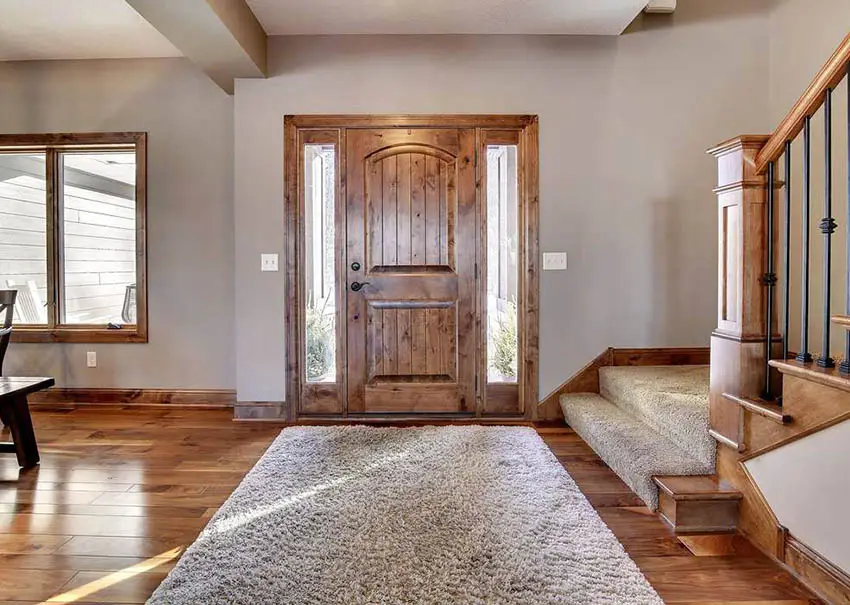 Solid wood flooring is a piece of wood, straight from the tree. It is, as the name suggests, solid wood. This type of flooring can be sanded or refinished many times to bring it back to life.
Solid Walnut Flooring will typically come in plank form, the most common varieties being 2 ¼" to 5" wide with a thickness of ¾". These will most commonly be found in both hand scraped and smooth finishes.
Walnut Engineered Wood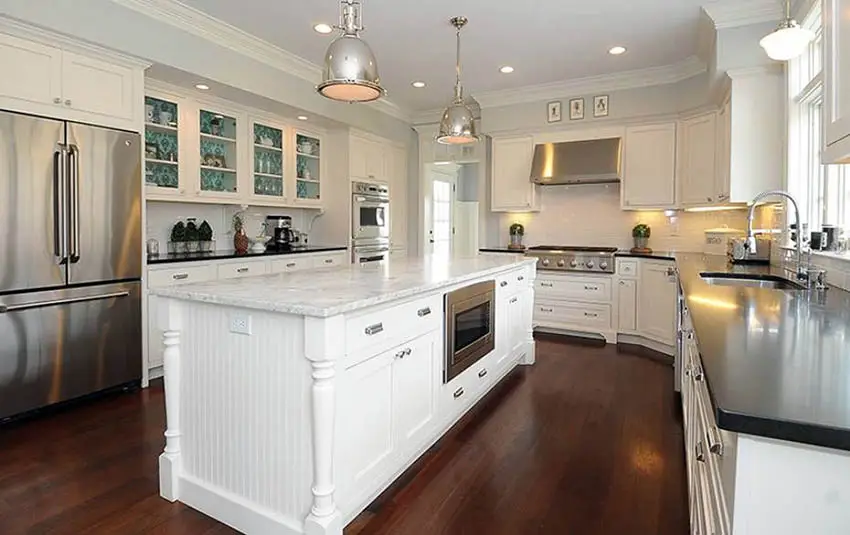 Engineered wood flooring is also made of real wood, but they are also made using multiple types of wood, or wood veneers. Engineered Walnut flooring will also come in plank form but the widths range from 3" to 5" with a thickness or ¼".
Since these will be quite a bit thinner than the solid flooring it will be smart to take caution and check wear layers on products before purchase.
Walnut Laminate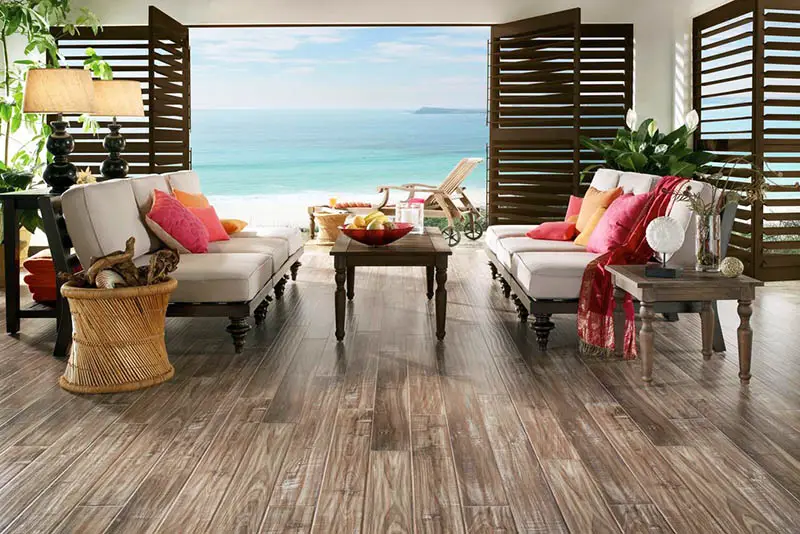 Walnut laminate flooring – See at Wayfair
Laminate flooring is synthetic materials laminated together to create a piece of flooring, This will have a photo applied to the top layer that will often appear as woods or stones, in this case walnut wood.
Laminate Walnut Flooring will typically come in at 5" wide plank. Laminate will be able to have a wider variety of color choices. Walnut laminate will have an inviting and warm look that can be easily matched in any room. Choosing from dark or light colors it will still give a luxurious appearance with an average cost.
Unfinished Walnut
While there are many different finishes and stains you can choose to apply to your walnut hardwood floors, sometimes leaving them unfinished will let the natural beauty of the wood will be the most beautiful solution. There are multiple different grades of the wood that will help differentiate.
For the unfinished look you will need to look for the common or "character" grade. These are typically quite colorful with shades of black, dark brown, light brown, and white streaks. This can give a space a rustic or cabin like feel.
If you are buying unfinished flooring and expecting to finish it yourself keep in mind that no matter what you do it will not be the same quality as professionally finished flooring and care must be taken to keep the flooring in pristine shape.
Wide Plank Walnut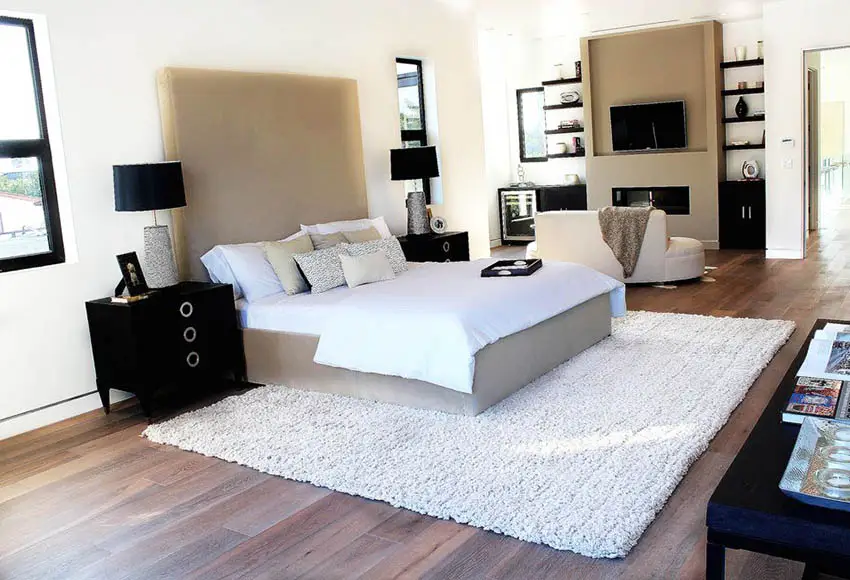 Wide plank walnut flooring can be used in most combination of flooring and flooring finish. This method is a unique option that will create a warm, rich feel that will make a room stand out.
Typically wide planks will be around 5 inches to 10 inches but they can go up to 12" wide. These will have a quicker install time due to not needing as many planks to complete the surface.
Walnut Floor Stains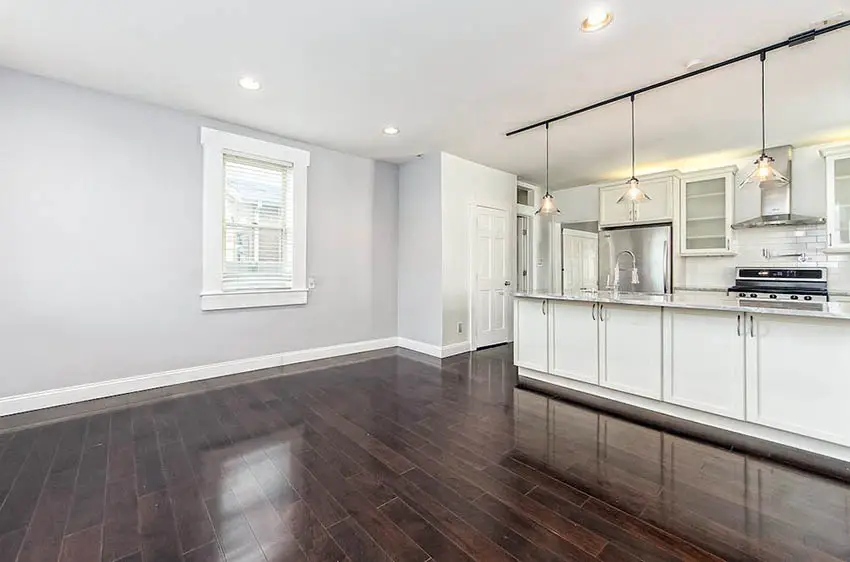 Even if you have picked the wood for your flooring based on the durability and price, you still have one last chance to change the color!
If you haven't fallen completely head over heels for the look of the wood, but still listened to your head to get the right qualities, here is where it pays off.
While walnut is beautiful in its natural state, there is always the option to get another color to better match your vision. If you wish for a lighter color walnut, there is a bleach treatment that can be applied.
This treatment will create a whitewashed appearance. If darker is the direction there are dark stains that can be applied to the walnut flooring as well.
Whether the floors are bleached, stained or left natural there is also the option to finish them. Oil finished can give an elegant look or if looking for a high gloss finish there are polyurethane varnishes that can be applied to the surface.
The colors virtually range from snow white sapwood to deep brown heartwood, making it the perfect fit for any style.
Walnut Hardness Rating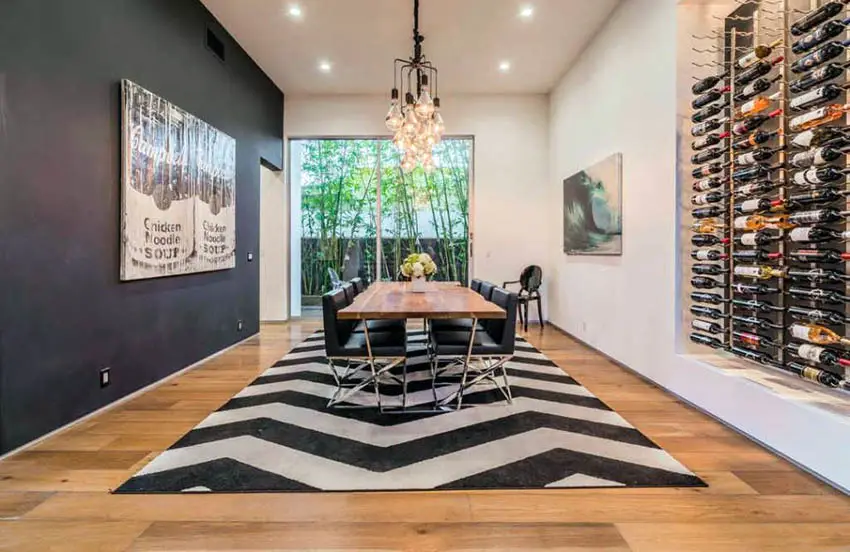 Now you have heard the word Janka rating a few times now and a probably wondering what exactly that means. Janka rating measures the force needed to embed an 11.28mm diameter steel ball halfway into a sample of wood. This will measure the hardness of the wood and help determine which woods are suitable for which applications.
Wood grain directions can make a difference in the testing so they will test perpendicular to the grain for side hardness. They can also test radial hardness, which is measured in the direction or the trees center, and tangential hardness, which is measures on a tangent to the tree's rings.
Occasionally it is measured on its end, which is does but testing the cure surface of a tree stump. Balsa wood is the softest wood coming in at 70 lbf and the hardest being Australian Buloke at 5060 lbf.
These are measured in pounds-force in the United States, this is often confused due to each country using its own system of measurement and are often just referred to as "# janka". This test is used to determine the strength of each wood to determine what it can be used for.
Walnut Janka Rating
Brazilian Walnut: 3684 lbf
American Walnut: 1010 lbf
Asian Acacia Walnut: 2300 lbf
Walnut Flooring Price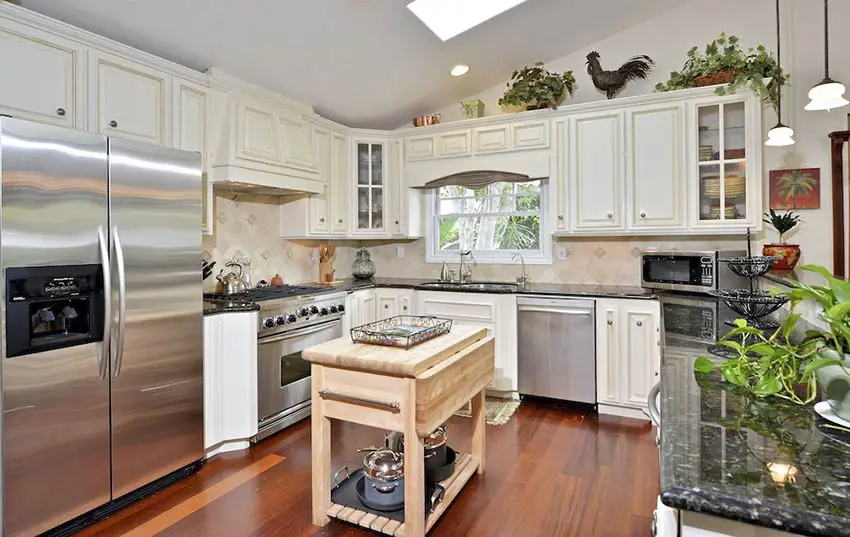 Walnut flooring can range in price depending on what sort of material you pick. Solid flooring will be the most expensive, coming in at around $4- $12 per square foot. The price will depend on style, finish, size, amount, etc.
Engineered walnut flooring will range in cost from $2 to $10, with an average of about $4-$5 per square foot.
Down to a popular middle ground we have laminate flooring coming in at around $1 to $8 per square foot.
Looking at the three prices in comparison, there is a $5 per square foot option in each category, but each will be a different quality, so beware when purchasing to not only keep price in mind but also durability and quality of the product.
Another thing that can affect the cost of flooring is the brand you choose and the finish you choose. Taking care of and maintain the flooring will make sure you get the long life and your moneys worth out of walnut flooring.
Walnut as Flooring Pros and Cons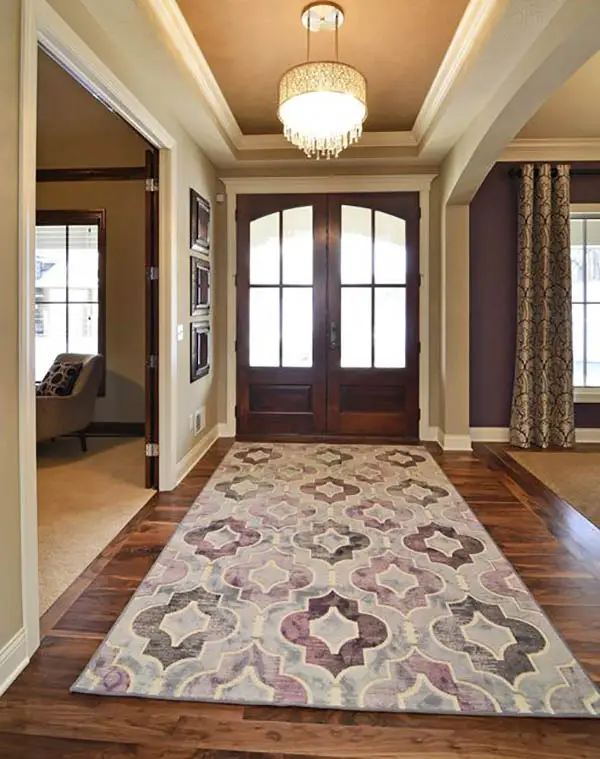 Pros or walnut flooring are not few or far between, but as with every other product there are cons too. Use these to gauge if walnut flooring is right for your project.
Pros – Walnut flooring is a typically good quality product with great durability and resiliency. This is true for the products made in the United States too.
Being grown and manufactured in the United States will mean that the environmental footprint will be quite a bit smaller than imported woods, plus that should keep shipping prices down.
Due to its rich and sumptuous feel walnut is often perceived to be a luxurious hardwood, though its price is merely mid-ranged. Looks like you can get the best of both worlds.
Walnut also comes in a wide variety of sizes and colors, which will allow it to be incorporated into almost any design.
As mentioned previously Brazilian walnut is extremely hard and durable if that is a need for your design. Walnut offers a good range to be able to let everyone to get what they want and need.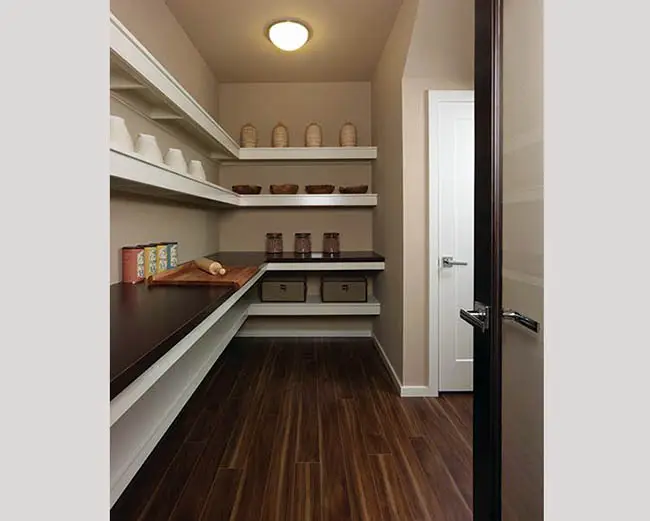 Cons – Unfortunately American walnut is not that hard on the janka scale coming in at just 1010. This will mean that it will be easier to scratch and dent.
With that being said though, there are steps you can take to protect the wood and walnut is a very stable wood flooring type. Also, the color of the wood is good at hiding the dents and scratches made between refinishing.
If staining the wood dark, beware that it will show more dirt and dust, as well as dark flooring can make a room feel smaller. Maybe lighter stains will turn out better than you think they will.
For more related content visit our page on how to match wall color with wood floors.
[expand title="Show Image Sources" swaptitle="Hide Image Sources"]
(1) Boa-Franc from Flickr (Creative Commons License)
[/expand]