This red oak flooring guide shares details about what it is, its different types, its hardness & durability, its cost, and how to use these wood floors without staining.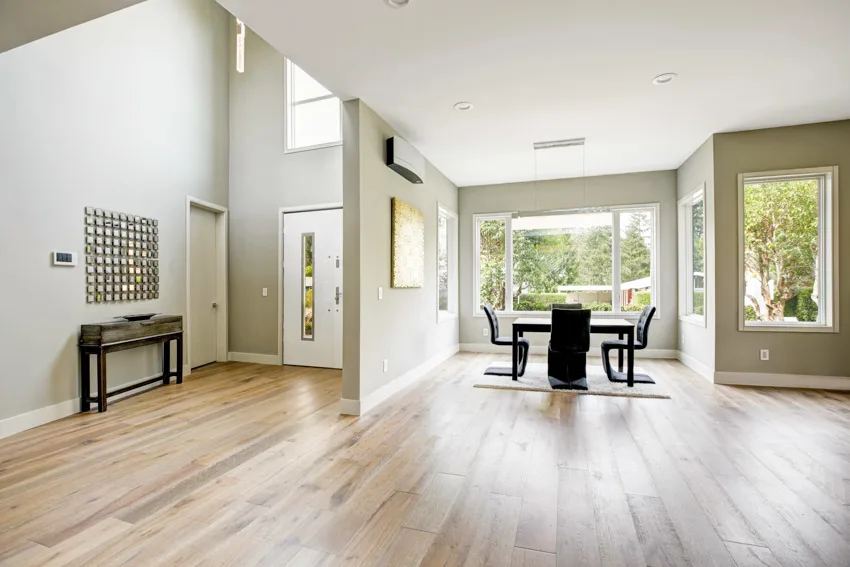 Red oak is a popular choice of hardwood for homeowners, primarily in the U.S. This type of oak species is very practical, easy to stain, and readily available as it's grown domestically.
If you want a practical hardwood floor, red oak flooring is a great choice as it is durable but workable. Moreover, its ability to be stained makes it easier to achieve any type of finish you need.
What Is Red Oak Hardwood Flooring?
Red oak hardwood flooring is a type of solid hardwood flooring material made or constructed from 100% wood timber that comes in narrow or wide planks.
Like many solid hardwood floors, the red oak hardwood floor is made from a single strip of wood cut directly from the tree, then milled into planks. Most solid hardwood floors have a standard thickness of ¾".
The single stock of wood, when seen through the sectional profile (side view) of each plank, shows a protruding wood along the edge's center, which is called the tongue. The other opposite end of the plank is a groove with this profile.
The hardwood floors, when aligned side by side, are adjoined together, creating a seamless look. Other methods of joining hardwood floors are click system and nail-down. Since red oak flooring has a very good dimensional stability of a score of 8.6, any of these connection methods can work.
Natural Red Oak Floors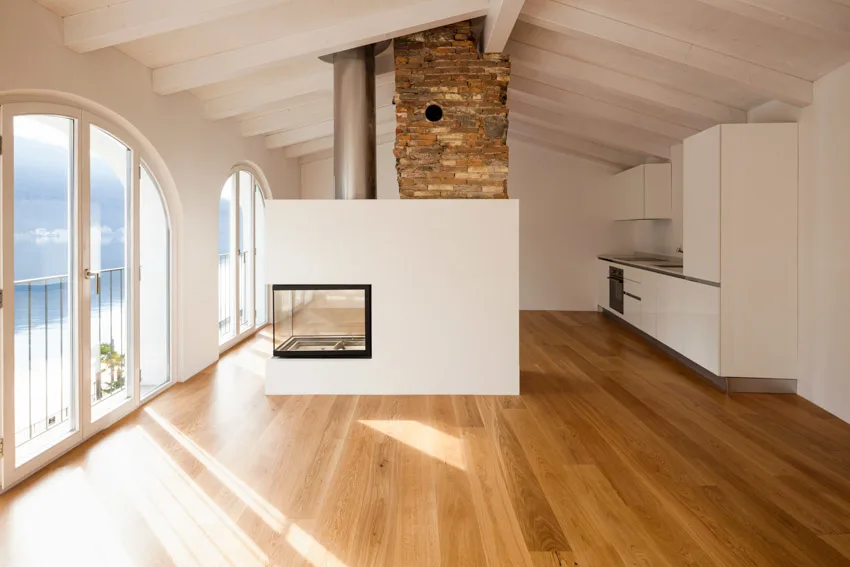 Red oak, in its natural state without any staining or treatment, has a pink or red undertone color with a lighter shade. The wood graining tends to have short, closely-knit markings giving a deeper and fuller look and tends to hide scratches and dents more easily. This wood's growth rings are spaced out with larger and numerous pores.
Natural red oak hardwood flooring remains popular as favored by both homeowners and craftsmen. You'll find this wood's timber throughout the central and eastern parts of the US and Canada.
Because of this availability, finding stair treads and accessories to match your hardwood floors is easier compared to its white oak flooring counterpart and other types of solid wood.
Due to the workability of red oak, accessories such as newel posts, handrails, and banisters are easy to find, and it is easier to create custom items. Craftsmen also favor this variety of wood for floors due to its durability and workability.

Red Oak Engineered Flooring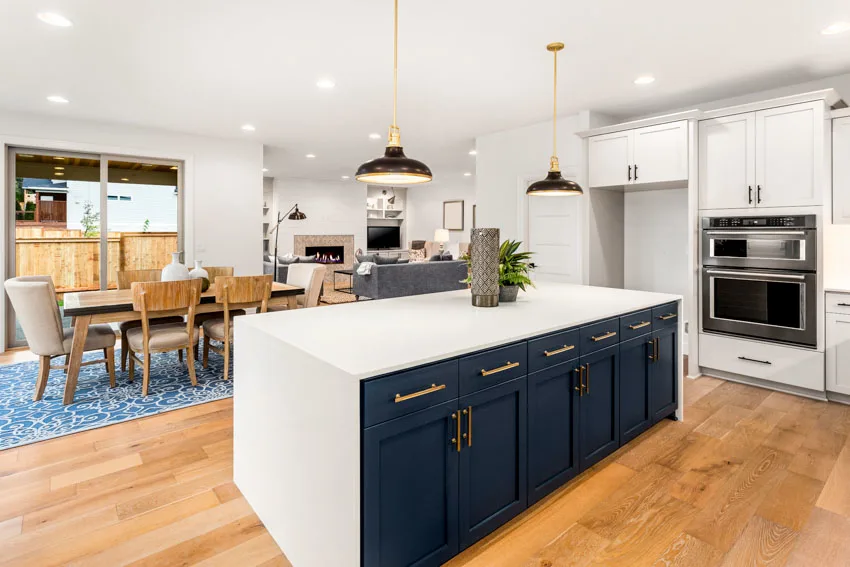 The red oak engineered flooring consists of layers of wood veneers joined together by heat, glue, or pressure, where the top layer is made from real natural lumber. They can come with a rustic, natural, or select prime-graded wood. Similar to any engineered floor, this variety of wood flooring comes in multi-ply or 3-core ply.
The typical 3-core ply will include the top layer being made with solid wood, with the middle layer typically made from plywood or any other softwood, followed by a supporting or balancing layer.
Most red oak engineered flooring will have a protective layer such as varnish or UV protection coat. When purchasing varnished engineered flooring, make sure to choose a formaldehyde-free coating.
Red oak as a top layer is among the excellent types of flooring materials for interior design since the hardwood has a 1290 score of Janka hardness. Its hardness enables the engineered flooring to withstand denting and damage.
Because of the red oak's high Janka rating is used to compare other hardwoods where the hard material becomes somewhat of a median measure stick for other hardwood floors.
The thickness of red oak engineered floors can range from 3/8 inch to 1/2 inch. Standard widths are 3 1/4 inches, with plank sizes starting at 5 inches wide.
On top of having more stable lumber, these engineered floors resist seasonal changes better compared to solid wood. This makes the engineered floor made from this wood an excellent choice for homes with a high-humidity climate or near waterfronts.
Red Oak Unfinished Flooring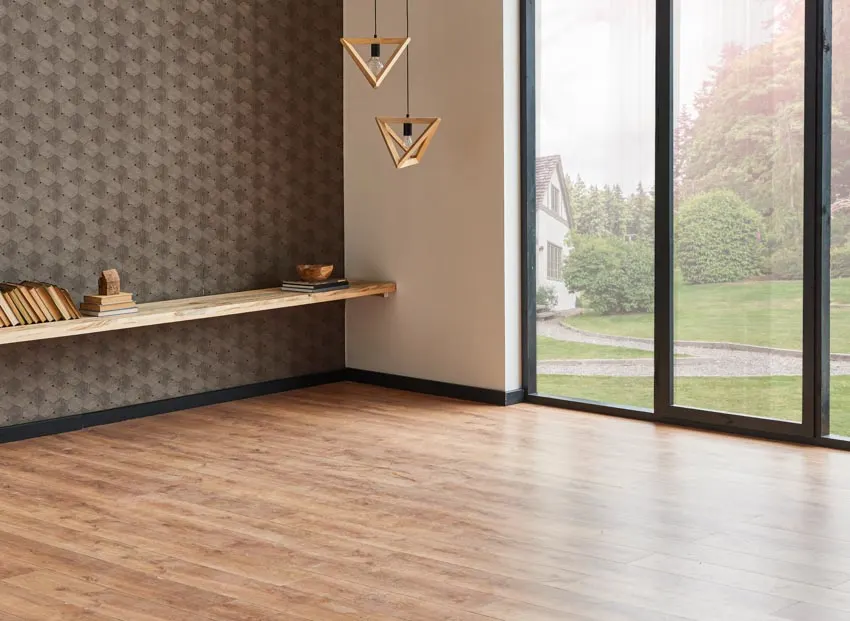 Red oak unfinished flooring, when milled accurately, is an excellent option for homes that are looking for that natural look while ensuring durable and timeless interior flooring.
These unfinished wood floors can also provide you the option to apply that particular finish that suits your unique taste, and that's cohesive with the room theme you are going for.
As natural-looking materials and sustainability are on the rise, you may also want to try the minimalistic finish system where it leaves your floors having the natural beauty to show through. Prefinished red oak floors, meanwhile, typically have that "plastic" appearance due to the multiple layers applied by the manufacturer.
Compared to prefinished flooring, the unfinished version is about $2 cheaper per square meter. This saves you on the onset if you need to install your flooring but are still undecided on the type of finish. Though take note that in the long run, you'll have to cover the finishing costs.
Another advantage of unfinished hardwood floors is that you get a uniform seal and finish after installation. Moreover, finishing your floors after installation helps in retaining the wood's natural features.
Prefinished Red Oak Flooring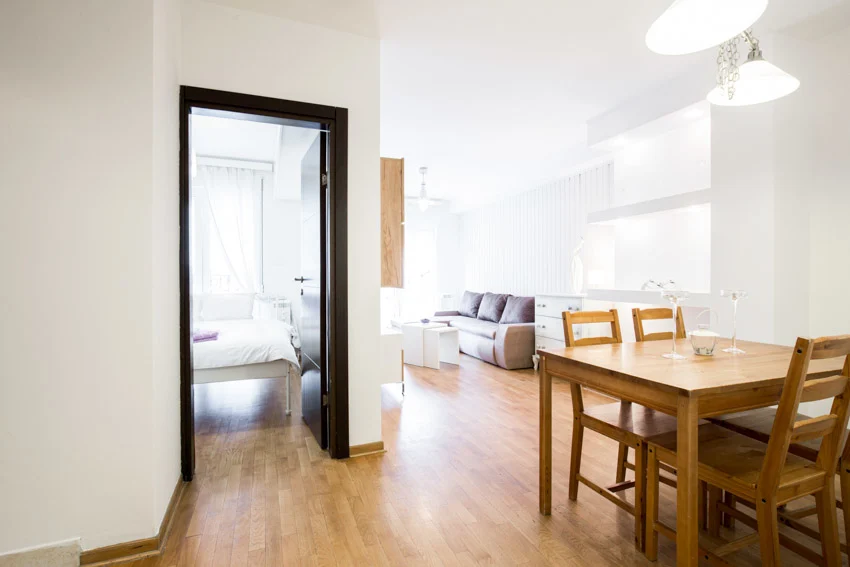 As the term implies, prefinished red oak floors are site-finished hardwood flooring where it has already been sanded, stained, and coated with polyurethane before being sold on the market.
Prefinished red oak flooring is great for interiors that need to be occupied immediately as the wood floors have already cured. Curing time is when your flooring finish hardens. This means solvents along the strong fumes should have already evaporated.
The curing time will depend on many factors, such as your interior's humidity, temperature, and airflow. Hard wax oils typically cure on average for four days; water-based finishes take longer, ranging from 7 to 14 days. But the oil-modified polyurethane takes the longest with around 30 days of waiting.
On top of curing time, you should also consider the drying time between each coat or layer. In general, two coats can be applied in one day. Choosing prefinished wood floors means you can install then use them on the same day without worrying about damaging premature curing.
While prefinished wood floors will usually cost more than your unfinished floors, you save more in the long run, especially on labor, cost, and time.
Quarter Sawn Red Oak Flooring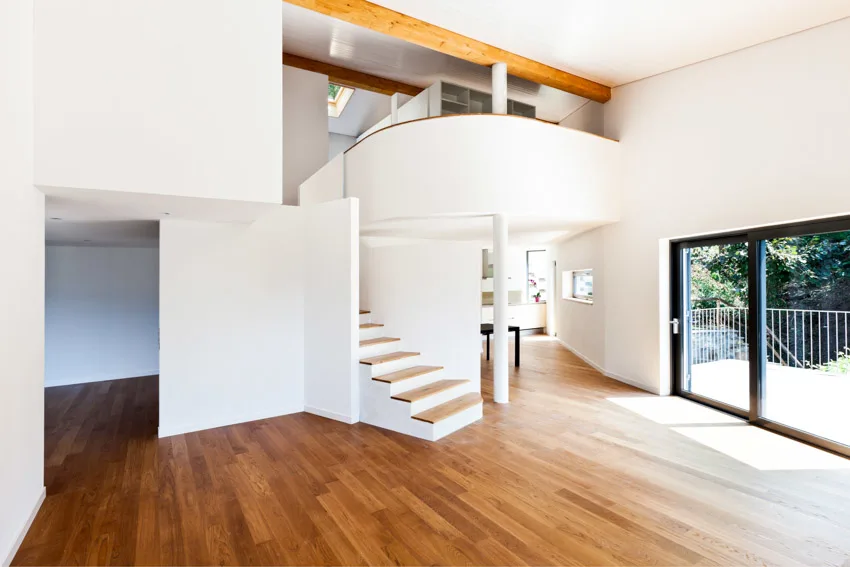 The quarter-sawn red oak floor is a perfect choice for a more dimensional (less buckling and warping) and resistant to moisture fluctuations in your hardwood floors. As the name implies, the log is first quartered lengthwise, which is cut perpendicular to the growth rings, producing wedges with a right angle, then wrapping around the original log's center.
This means they are divided into four pieces where each quarter is on a radial (radial cut). The quartered lumber is then separated by tilting it up on its point and moving it along the axis sequentially.
The result is a dramatic medullar figure or rayed pattern with straight tight grains. Red oak is a popular hardwood for quarter sawn cut because it produces the unique look of flake or flecking. The dramatic look can give any room an eye-catching three-dimensional element.
Since the quarter-sawn variety has annual rings almost perpendicular to the face grain, it would be difficult for it to cup or bend, making it a very good option for locations with high temperature and humidity fluctuations. Moreover, quarter-sawn red oak is easier to find compared to other solid hardwood that comes with quarter-sawn cuts.
Random Width Red Oak Flooring
A break from the standard flooring design, random width red oak flooring gives character to your interiors and brings you back to the traditional style of hardwood floors.
Historically, solid hardwood was created based on using the cut of a tree most efficiently. Understanding the sizes helps you stay more connected to the origin of your floor, creating a more natural feel. Although the random lists are based on tradition, try creating a pattern out of various-sized boards. This adds a layer of design and interest to your room.
Use the wider boards at a threshold between the rooms to signify a transition, or use the narrow boards in an alcove or a window seat to make the space feel more distinct. Don't be afraid to mix it up. Most random width flooring sold comes with 3″", 4″", 5″", and 7″" planks.
When your room lacks texture, or you want to add a layer of textures to your interior, the random-width red oak flooring is the perfect element to give that character and life to your home.
Red Oak Floors Hardness & Durability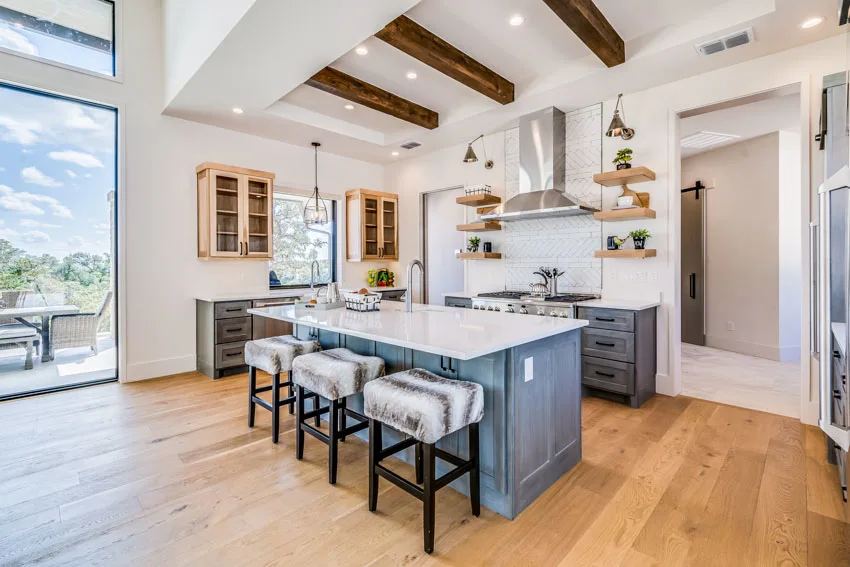 From castles to cottages, red oak's strength yet work-ability, the hardwood has been used for centuries and is known to last more than 100 years. Red oak has a Janka rating of 1,290, just trailing second from hard maple, which has a rating of 1,450. In addition, the wood expands and contracts less than most hardwood, with an impressive dimensional stability score of 8.6.
Red oak floors can be sanded down from 7 to 10 times (depending on the cut and grade) without significantly lowering their durability. Despite its hardness, this variety remains a favored hardwood for floors as accessories and other more intricate designs are possible to be crafted.
The strength of this variety is their work-ability and where you can sand them down several times without significantly lowering their durability.
Red Oak Hardwood Flooring Cost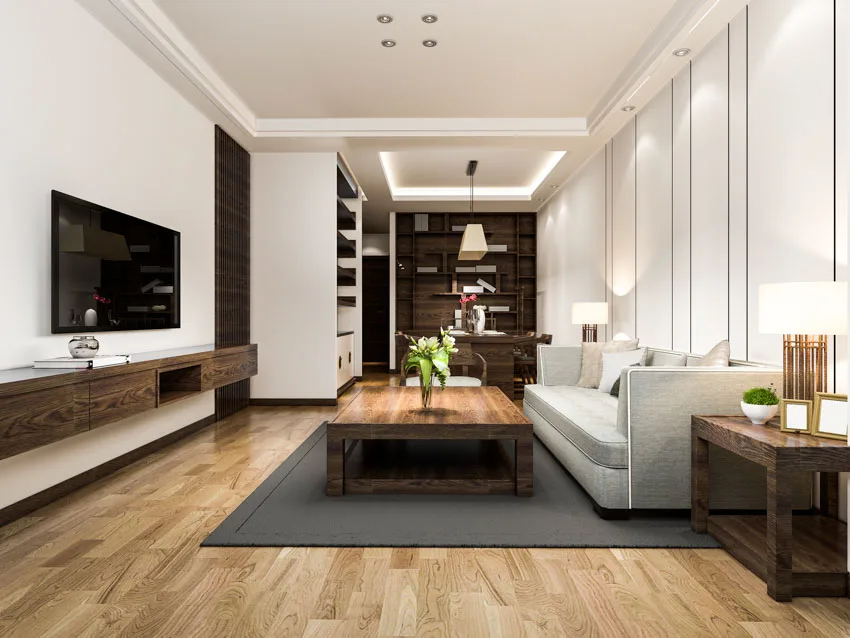 Red oak hardwood floors cost around $12 to $15 per square foot, while white oak will cost around $15 to $25, making red slightly cheaper than white. Compared to other hardwood floors, red oak is cheaper than Brazilian walnut, costing $20 to $25, but more expensive than pine and maple.
Pine wood flooring costs $5 to $8 per square ft, while maple costs $6 to $11 per square ft. Reclaimed red oak hardwood floors can cost $6.60 per square foot for materials and installation.
For additional costs, an average of $1 to $2 per square ft is added for labor, especially for other expenses such as underlayment fixes, closets, pattern changes, and site preparation. Engineered oak floors meanwhile cost $3–15 per square foot.
Using Red Oak Floors Without Stain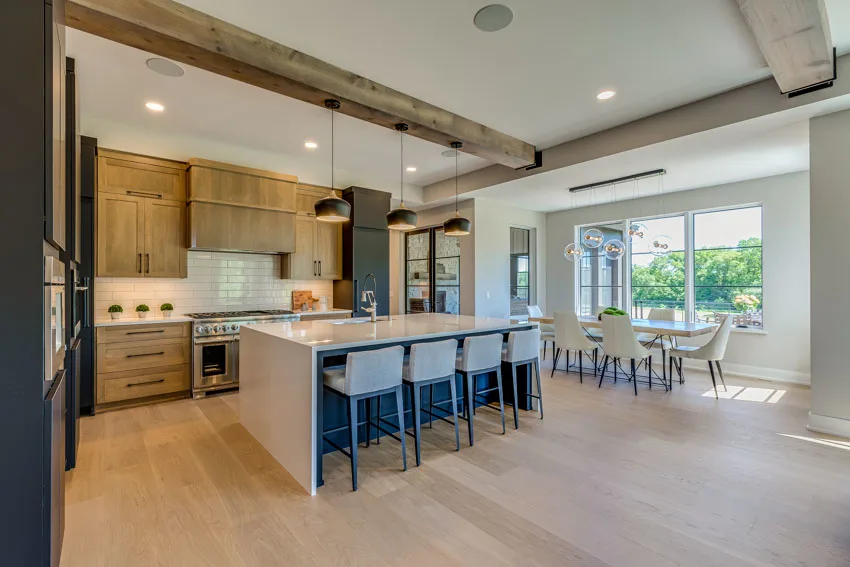 Not staining your red oak floors showcases the light and natural look of your hardwood floors but keep in mind it won't conceal the natural pink tones of the wood. A top clear coat, either oil or water-based sealer, is advisable to have a good level of protection on your flooring.
However, there are sealers that can bring out or deepen the natural reddish undertones of your wood. Instead of going for the glossy finish, you can apply a matte sealer instead.
Staining Red Oak Floors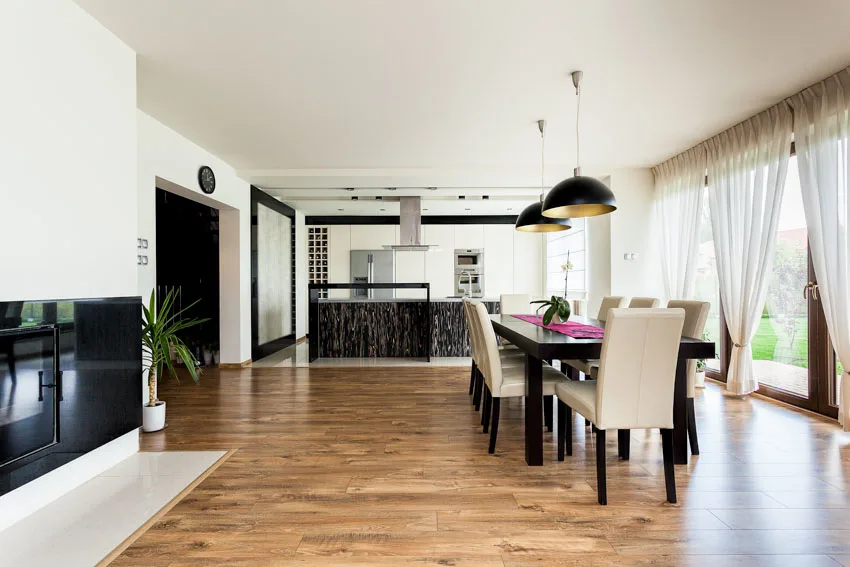 Staining your red oak floors can help you achieve any color, degree of warmth, gloss, and depth while enhancing the natural graining of your hardwood floors.
Before staining your flooring, it is recommended to buff your hardwood floor surface. A 120 grit is generally used for machine buffing; apply the first layer of your stain. For your stain to seep through and stay on your red oak floors, have the stain sit and dry for 24 hours, after which you can now apply the second layer of stain.
Red oak wood is porous, making it easier for the stain to seep through. If you want to improve the stain quality, each layer should be sealed with shellac, then sanded again for the next stain layer.
Be sure to test stain it on a small section of your hardwood floors, then check how it looks before deciding to stain the whole flooring.
Red Oak Floor Stain Colors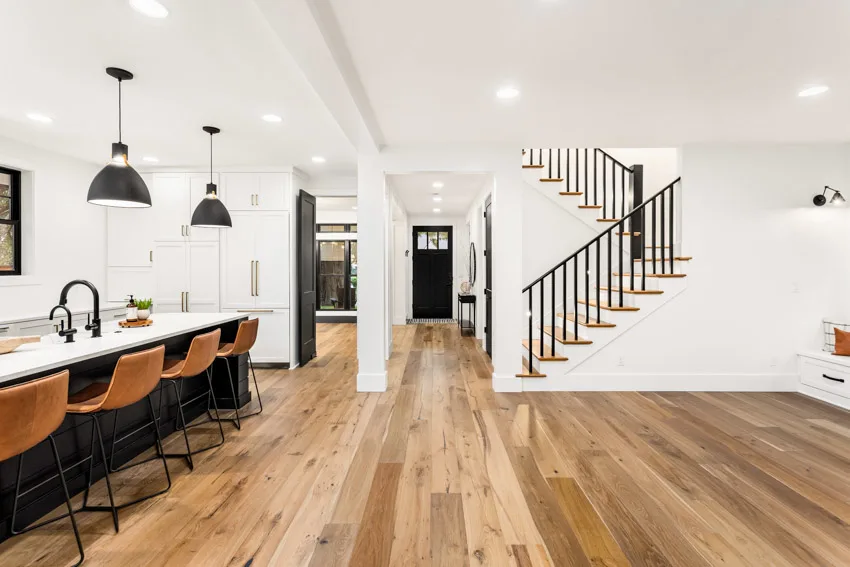 The best color stain to use on red oak floors if you want to reduce the orange or pinkish undertones is green. Green is the opposite of red on the color wheel. Any primary color mixed with its opposite color produces brown, neutralizing the redness of the wood floor. Look for stains with green undertones.
Basically, you can stain red oak to look like any wood color as it has an excellent absorption rate due to the porous surface. However, it can be challenging to use lighter stains due to the pinkish undertones. A method that can lighten these floors to almost look lighter in color is bleaching to remove most of the reddish tones.
The most popular color stains for red oak are weathered look, neutral, medium brown, rosewood, 1 part medium brown and three parts natural, rosewood, 1 part rosewood, and three parts neutral.
Red Oak Floors Natural Finish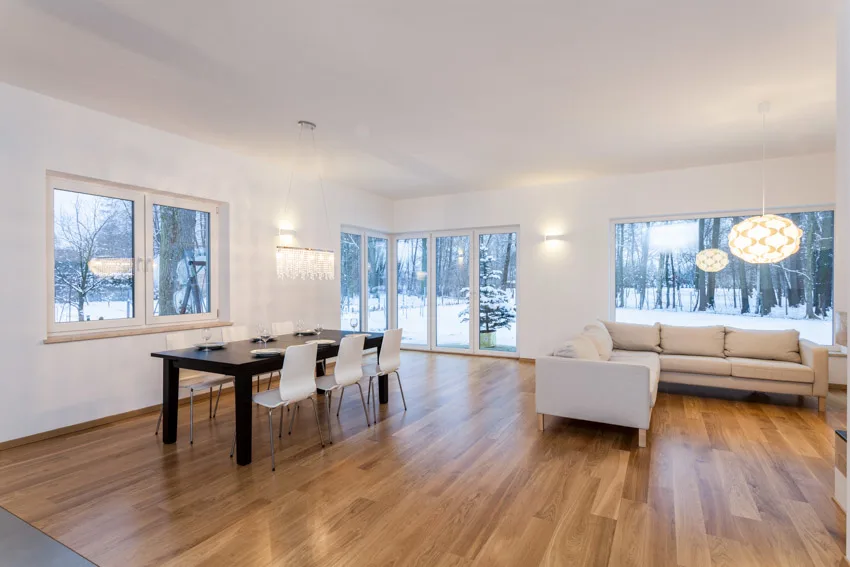 You can retain your red oak floor's look by using a natural finish that is without any staining, just a clear sealer. Water-based finishes look more natural compared to your wax, oil-based finish, or clear top coat. A matte finish is best to achieve the organic warmth of the wood.
However, note that water-based finishes are not as durable as their oil-based counterparts since the water-based finish has a thinner and less solid content. You will need multiple layers of coats to achieve a more durable finish.
Refinishing Red Oak Floors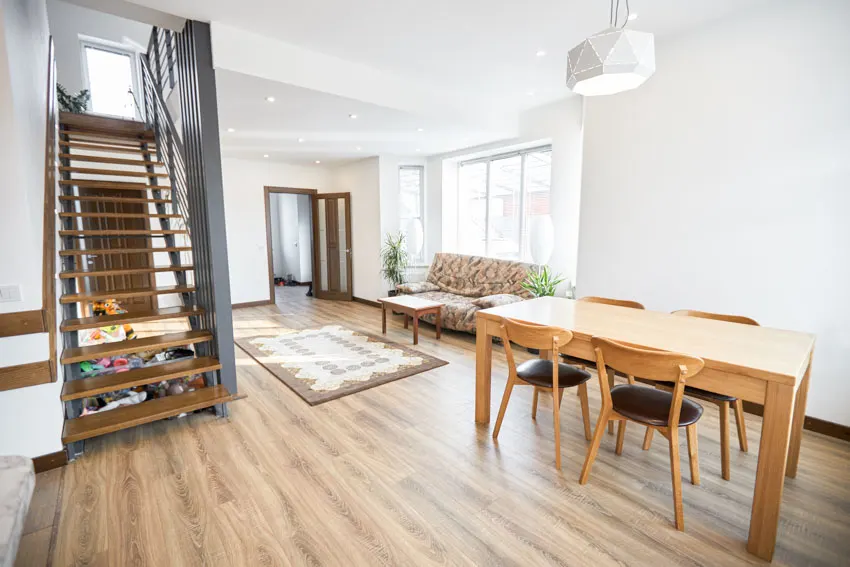 The benefits of choosing hardwood floors such as red oak floors are that they can be refurbished and refinished a number of times to update or renew the beauty of your floors since it has been installed.
Refinishing red oak floors is also an opportunity to upgrade the look and improve its structural integrity, for instance, repairing or even replacing damaged planks. Bringing back the sense of newness to your flooring can be done as a DIY project.
Be sure to remove protective sealants on your wood floors through sanding before refinishing them. Some bleaches will leave a yellowish tinge after your hardwood floors are exposed over time. Be sure to apply your wood floor products first in an inconspicuous area of your floor to test the effect of the product on your hardwood.
How To Make Red Oak Floors Look Modern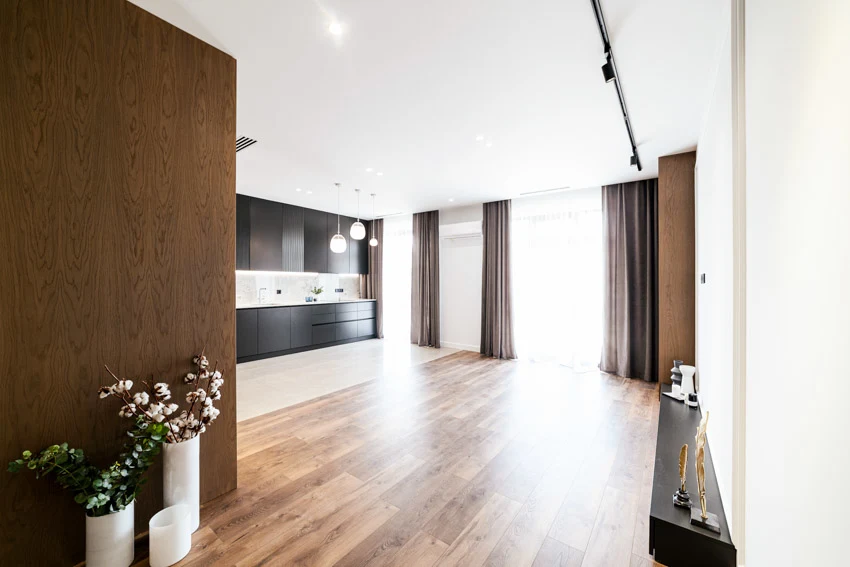 Modern flooring today is about having clean, sleek, and simple aesthetics. Neutral hues, such as the variety of white and gray seem to be the norm with it comes to modern floors.
As red oak floors project a more traditional coloring due to the reddish undertones, they can fall easily as a classic look when installed in your interiors. The easiest way to modernize your space is by painting the walls. You can try using paint colors that go with red oak floors to create a more appealing design.

If you're intent on changing the look of the floors, one way to make your red oak floors look modern is through bleaching, and this is done before staining. You can bleach your floors using hydrogen peroxide and lye solution.
Be sure not to put your bleach all at once on your floors as it may damage the surface. Instead, you a damp cloth and apply thin layers until you are able to achieve your desired results.
In addition to lightening up your wood floors, hydrogen peroxide is known to remove stains and clean and sanitize your floors since it loosens and removes dirt easily.
Another way to lighten up this flooring to make it look modern is using vinegar solution. Use one-part regular household vinegar and two parts warm water. Mix the solution thoroughly and apply the mixture using a damp cloth on your hardwood floors.
Take note that whitewashes used in white oak hardwood won't work well with red oak due to the reddish undertones that can get enhanced when applied with whitewashes instead of concealing the strong colors.
See more related content in our article about birch hardwood flooring pros and cons on this page.