This curtain sizes resource includes the standard dimensions with size chart, different types of curtain measurements, and how to size curtains & rod sizes.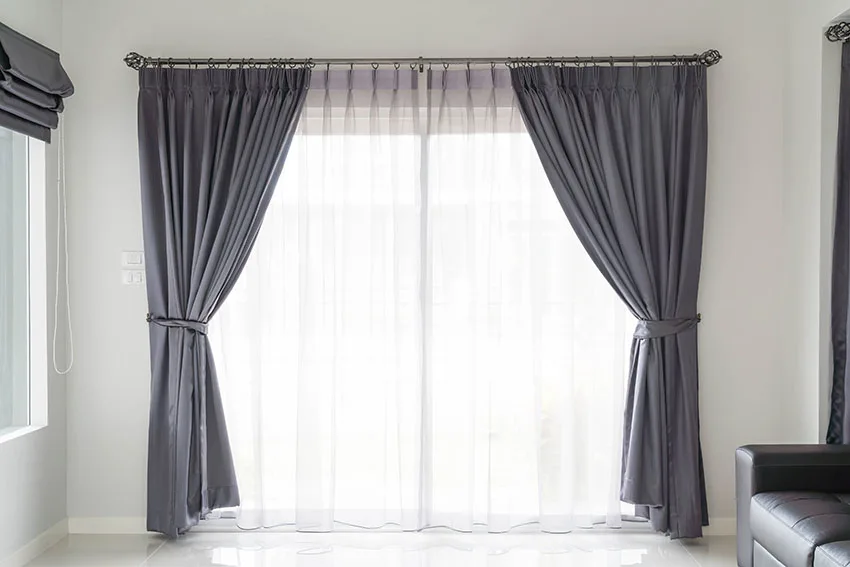 Picking out the correct curtain length for any homeowner's room might seem like a pretty straightforward task, but that is not the case since it can make or break the complete décor feel of a room. There are guidelines you need to follow to have a cohesive and cozy setup.
One of those rules is that curtains should graze the floor, and achieving this will entail measuring the windows correctly before setting out to purchase or order the fabric. Aside from the curtain size, there are other things to consider, like valance or rod sizes, to achieve a fully streamlined and finished space.
Standard Curtain Panel Sizes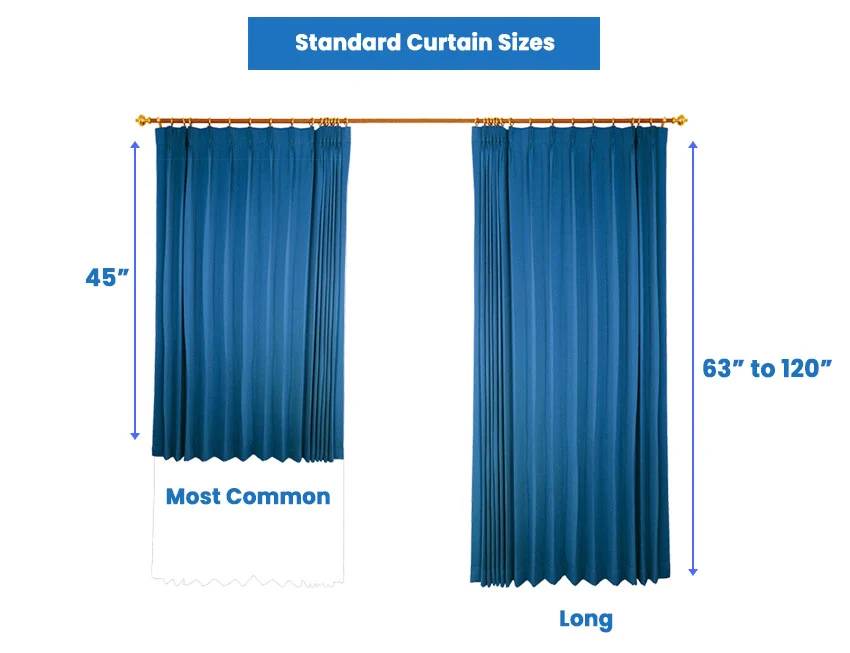 Curtain or window panels will come in various sizes, some homeowners will have them custom-made to be made on the fabric of their choice, but some would want an already available curtain ready to be used.
The good thing about these standard sizes is that they will fit the needs of most households wanting to use curtains for their window coverings. Also, many interior decorators and architects use and consider these numbers.
The most common size for curtains is 45 inches or 114 centimeters long. This size can efficiently be utilized for most homes, but there are also other curtain sizes available from 63 to 120 inches or 160 to 305 for homes that need longer curtains for longer walls.
Standard Tier Sizes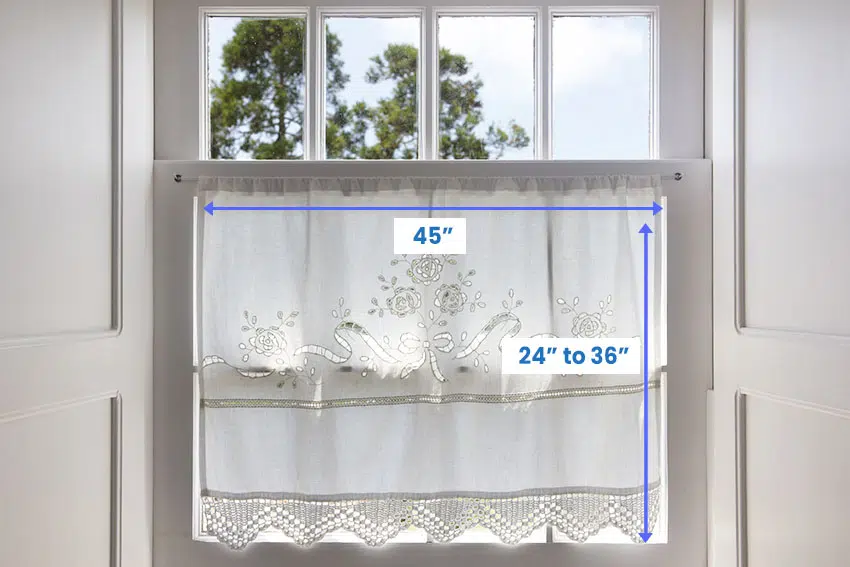 For smaller windows like windows located in most bathrooms, above the kitchen sink, or attics that will not require the need of full-length curtains to cover them, tier curtains are there to add privacy for covering these half windows.
Usually, homeowners will need to purchase tier windows in pairs so that they can easily slide both on the side, just like regular full-length curtains.
There are two commonly used lengths for tier curtains, the 24 inches or 61 centimeters and the 36 inches or 91 centimeters tier curtains. These lengths are usually available with a standard width of 45 inches or 114 centimeters.
Like regular full-length curtain panels, homeowners also have the option of having them made custom to fit the window tier curtains will cover.
Standard Valance Sizes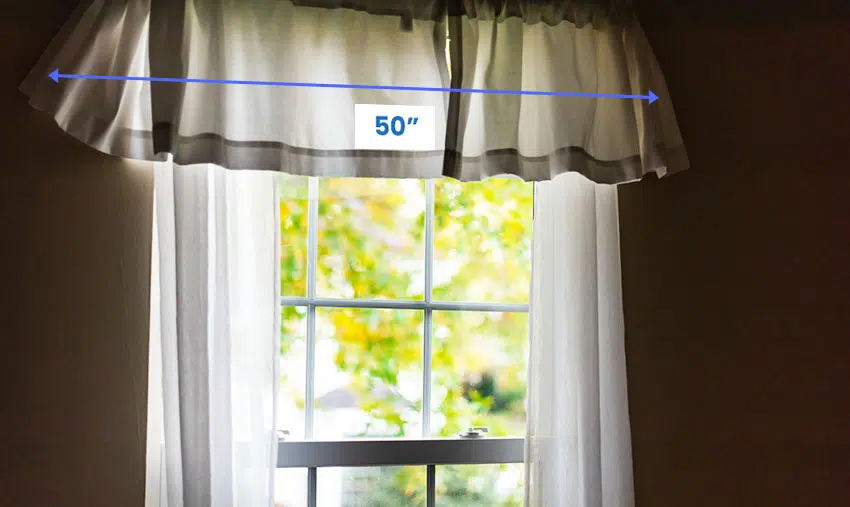 Valance in terms of curtain covering may be a foreign term to some, but once a quick web search is done, any homeowner might recognize valances from the cozy rooms of your grandparent's home.
It is the strip of fabric used to cover the upper half of any window but is most generally seen on the full covering setup of bay windows. Valances are also used to hide curtain rods, window blinds or shades.
The standard valance will have a width of 50 inches or 127 centimeters from side to side and will have a depth of 3 to 5 inches or about 8 to 13 centimeters. Depths can easily be adjusted according to any homeowner's window style and the valance design.
Curtain Size Chart
One of the most straightforward modes to determine a rough estimate of the curtain length and width you will need is by looking at a size chart. When looking at a curtain size chart, it is essential that you have an idea about your window length and width measurements to make the chart reading more effortless.
| | | | |
| --- | --- | --- | --- |
| Window Size | | Curtain Size | |
| Length | Width | Length | Width |
| 36 inches / 91 centimeters | 36 inches / 91 centimeters | 63 inches / 160 centimeters | 48 inches / 122 centimeters |
| 44 inches / 112 centimeters | 36 inches / 91 centimeters | 84 inches / 213 centimeters | 48 inches / 122 centimeters |
| 52 inches / 132 centimeters | 36 inches / 91 centimeters | 96 inches / 244 centimeters | 48 inches / 122 centimeters |
| 54 inches / 137 centimeters | 36 inches / 91 centimeters | 108 inches / 274 centimeters | 48 inches / 122 centimeters |
Wider Window Panel Sizes
Curtain panels are stationary curtains pushed to the sides to frame windows and even doors. Aside from the most common 45 inches or 114 centimeters width of curtain panels, there are wider curtains that any homeowner can utilize whether they want a fully gathered or a simple gathered setup.
For wider widths outside the standard 45 inches or 114 centimeters curtain panel, there are the 63 inches or 160 centimeters curtains and the 84 inches or 213 centimeters ones. If you have an even wider window or a full picture window, it is better to frame them using window curtains with a width of 95 inches or 241 centimeters.
The widest curtain width any homeowner could get from most stores without having it made custom is 108 to 120 inches or 274 to 305 centimeters.
Curtain Length Sizes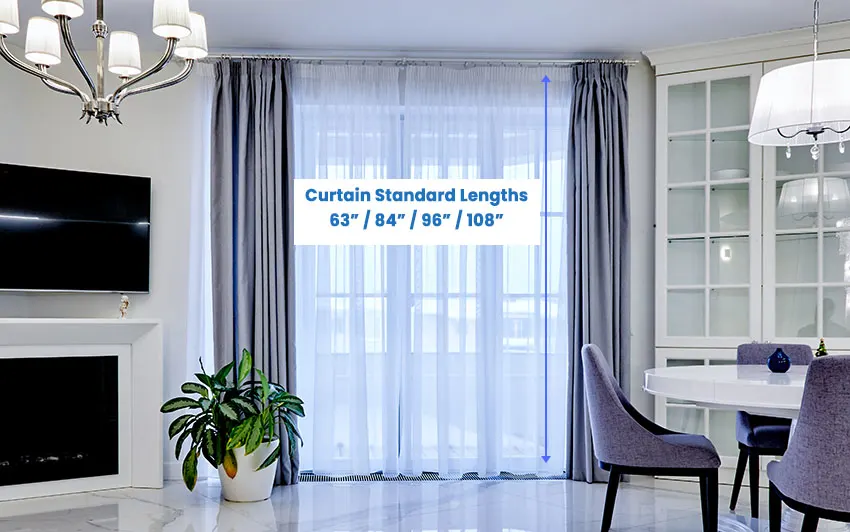 Aside from the curtain panel's width, there is also the length factor to consider, which is essentially the more important thing to ensure the full aesthetic effect of a curtain in a room. There are four lengths you can get ready-made in most décor and furniture stores and will be available in several types, from sheer to satin to blackout, etc.
The four standard curtain lengths are 63 inches or 160 centimeters, 84 inches or 213 centimeters, 96 inches or about 244 centimeters, and the longest at 108 inches or 274 centimeters.
The best choice for rooms with a lower ceiling is curtains at 84 inches or 213 centimeters. At the same time, the most versatile will be the 96 and 108 inches or 244 to 274 centimeters long curtains.
There are three primary styles of how curtains can drape and fall to the floor, and this factor will be affected by the length of your choice. So, if you plan to achieve a specific curtain fall effect, it's best to pick the size correctly.
Curtain Puddling Length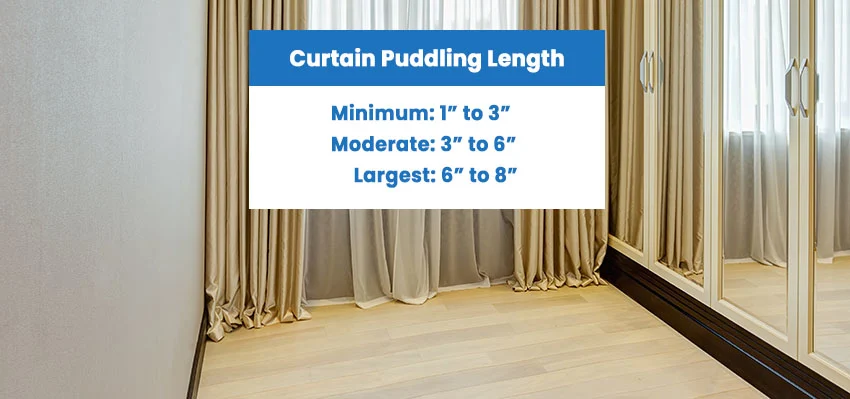 The base word for puddling is puddle, and from that, we can deduce that curtains following this fall effect will be made to look like a puddle. You can often see puddling lengths for more stately and official buildings to achieve the more traditional curtain style. This style will work best for thicker curtain fabrics like velvet, something you usually see on the sides of theater stages.
If you want minimal puddling add 1 to 3 inches or 3 to 8 centimeters to the final length of your curtains. Moderate puddling will require up to 3 to 6 inches or 8 to 15 centimeters of additional height to your curtains.
At the same time, an opulent drape with a larger amount of fabric gathered to the floor will require at least 6 to 8 inches or 15 to 20 centimeters of additional curtain height.
Curtain Floating Length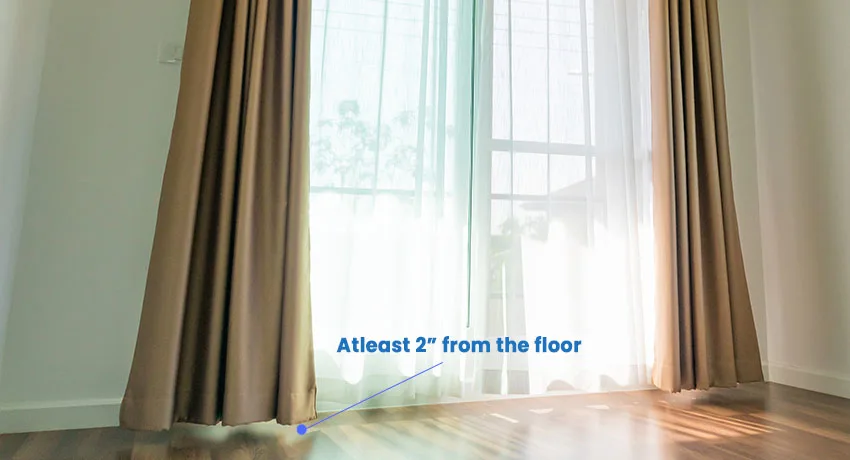 The floating curtain fall style will look best for sheerer and willowy fabrics to frame windows that offer a panoramic view. Homeowners can choose to add another layer of material to these curtains to add the effect that the curtains are floating.
This floating effect is named just so because of the open space between the curtain's end and the floor, making cleaning easier than puddling curtains. If you have pets around the house, it is better to employ the floating style so that your pets won't reach them.
To achieve this look, drill your curtain rod 4 inches or 10 centimeters up the window sill. This will give you a space of at least 2 inches from the floor, assuming you are getting the standard length. Homeowners can easily adjust this size by installing higher rods if they want more space between the floor and the curtains.
Kiss Length Curtains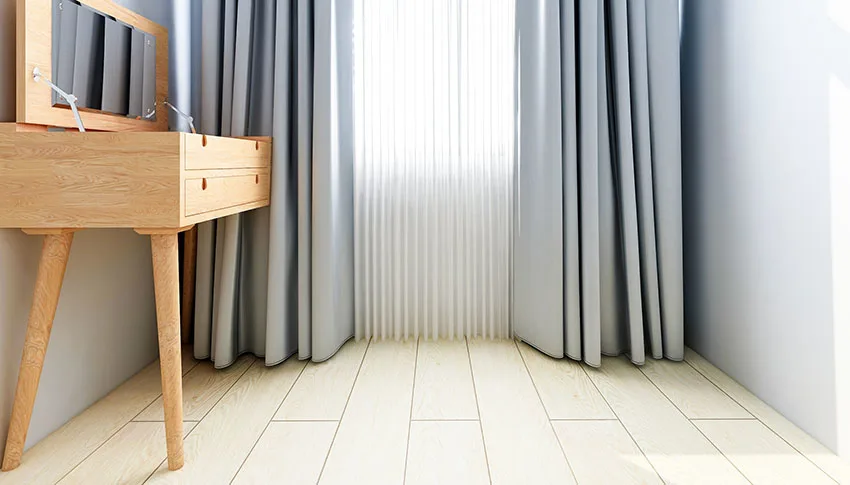 The floor kiss length is perfect for any homeowner planning to install blackout curtains for their bedrooms. Unlike puddling and floating curtains, kiss length will not spill or hover above your floor. What it will do is stop strictly at floor length.
The most common thing to do is buy any curtain size that covers any window from the floor up to the curtain rod. Getting longer curtains is also a better bet and simply shortening the windows to achieve the floor kiss length is the way to go; less risk and more choices with only a bit of alterations required.
Custom Sizes
Aside from getting curtains in standard sizes available in most décor and furniture stores, one way to get curtains, especially if a homeowner requires a specific size, is to have their curtains made to measure.
Custom-made curtains will be more expensive than ready-made ones, but their main advantage is getting the size perfect for whatever requirements a homeowner has, whether they want it pooling at the end or straight cut just to kiss the floor.
Most services that provide custom-made curtains will require the rod or the track width and height. Most of them will be the ones to calculate what will work best for the size with your requirements in check, like the material or the pooling style.
What Size For Sliding Glass Door Curtains?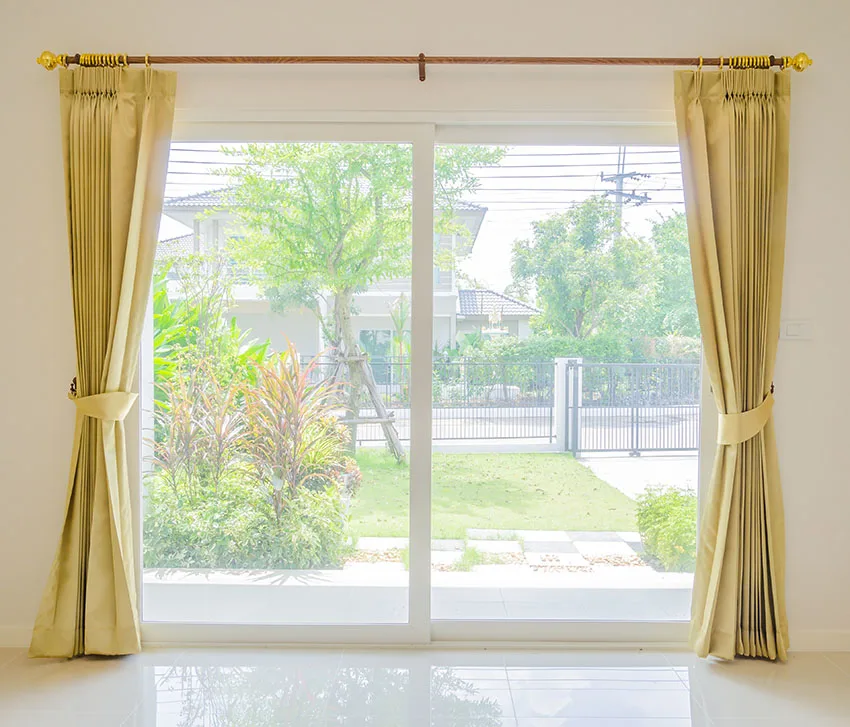 Curtains will typically cover windows, but they are versatile in covering anything that needs privacy, even doors. Sliding glass doors brings light into any room, but sometimes light can be a little overwhelming, especially in the morning; this is why many choose to cover them.
There are factors to consider when selecting the perfect curtains for your sliding door, and dimensions are only one of them. Most sliding doors sizes will have a length of 80 inches or 203 centimeters and a width of 60 to 72 inches or around 152 to 183 centimeters.
For this size, choose a curtain rod 80 inches or 203 centimeters in length to accommodate the door width of up to 72 inches. The lengths are more versatile and will depend on what hang style you are looking for, but getting curtains longer than the door length of 80 inches is always a safe place to start.
How To Size Curtains?
The most important thing you need to choose the right size of curtain panel for your home is to learn how to measure your windows for curtains, and here is how. The first thing to consider is the window's width.
You measure the width by taking a tape measure or any measuring device and stretching it from one side to the other. Typically, a homeowner will use at least two or three times the material to achieve a fuller curtain look. To illustrate: if you have a window width of 36 inches, multiply this size by two at 72 inches per side.
Standard curtain fullness will have you multiplying the width by two times; go up to multiplying by 2.5 times if you want a fuller curtain width when bunched up to the sides. You can always multiply the width by three for optimum fullness.
For the length, it will only entail measuring from the curtain rod to the bottom whether they want it at floor-length or pooling to the floor. No fixed length will matter since it will depend on a homeowner's preferences, plus the rod can also be adjusted easily.
What Size of Curtains Do I Need?
There are three factors a homeowner will need to consider to figure out what size of curtain they need: style choice, determine window width, and the number of panels they want to use.
Style choice for curtains will depend if a homeowner wants it at floor or window sill length or if they want their curtains puddling at the end. Once that decision is made, it will be easy to determine their desired size from top to bottom.
The second is the window width, which has been discussed in detail under how to measure for curtains. The window width will determine how full the whole curtain will look, whether bunged up on the side or not. The more the window width is multiplied, the more "waves" it will have, making it look beautiful and complete.
Aside from the width, the number of curtain panels a homeowner is looking to use will decide how full and beautiful a curtain will look.
Curtain Rod Sizes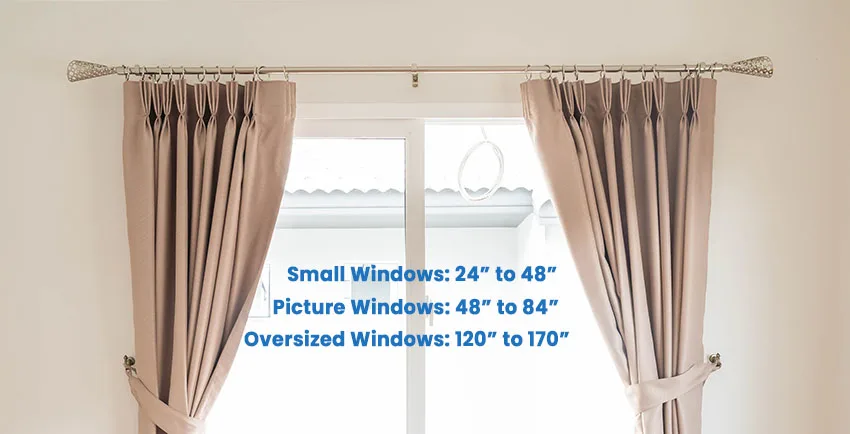 Curtain rods come in many sizes to fit any window width. On average, any homeowner can get curtain rods from 24 inches or 61 centimeters to 170 inches or 432 centimeters.
For smaller windows, there are 24 to 48 inches or 61 to 122 centimeters of curtain rods for laundry areas or guest bathrooms. Regular-sized picture windows benefit from rods at 48 to 84 inches or 122 to 213 centimeters.
There are more oversized rods, 120 to 170 inches or 305 to 432 centimeters. Such curtain rods will be perfect for homes with high ceilings and broader than average windows. Visit our curtain rod sizes guide for more details.
Should My Curtains Touch The Floor?
How a homeowner will hang their curtain panel or drapes will depend on how they want their space to look and other circumstances. Although curtains and drapes look their best when touching the floor (this drape style is sometimes known as kiss length), considerations like pets and how much cleaning a homeowner do at home are essential.
Curtains can only stop at the window sill, especially for bay windows with a reading nook or seating. At the same time, curtains for smaller windows like laundry rooms or kitchens will not be able to meet the floor at all. See pictures of kitchen window curtains on this page.

How Far Should Curtains Be Off The Floor?
Same as whether or not a curtain should meet the floor, how far from the floor a curtain will hang is dependent on the homeowner's personal preference. However, some use installing and decorating tips and tricks for curtains that some might want to consider.
For homeowners who want to achieve a long and taller look for their space, the best trick is to ensure the wall and not the window will determine their curtain length.
Many do this trick by almost hanging their curtains two to three inches lower from their ceilings. This will add texture to the walls for aesthetic effect and make your space seem taller. See our article about how high to hang curtains on this page.

What Is The Proper Length For Living Room Curtains?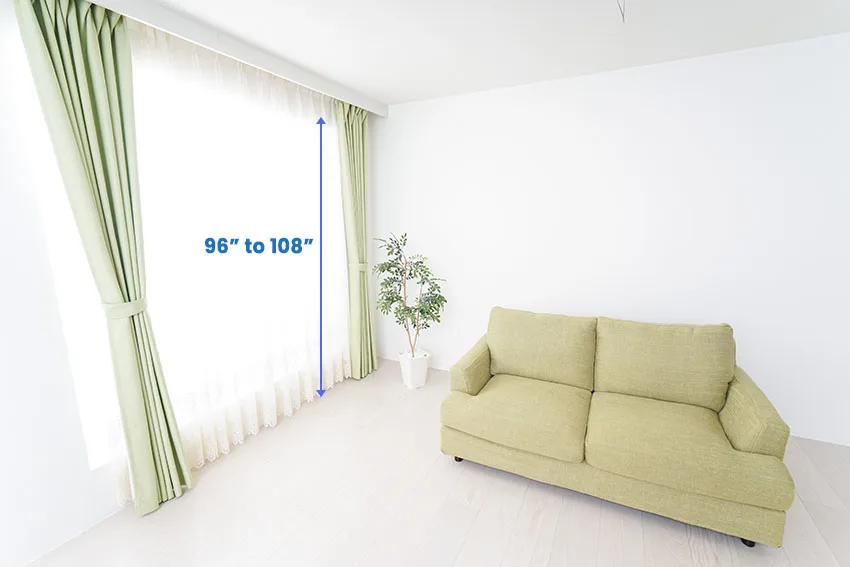 Any size of curtain you choose for your living will be appropriate, but if you can avoid it, do not choose the standard length of 84 inches or 213 centimeters unless you have low ceilings. What would work for your living room and make the walls look more extended will be curtains at 96 to 108 inches or 244 to 274 centimeters.
The golden rule is always longer rather than having it awkwardly short if that is not the look a homeowner is going for.
Should You Hang Curtains Above Window?
Hanging curtains above the window is an excellent trick if a homeowner wants to make it seem that they have higher ceilings. Some decorators even recommend installing rods close to the ceiling to achieve this effect. So, installing rods and curtains above the ceiling is acceptable, especially if they are not planning to add a valance to their curtain setup.
Should Curtains Sit On Window Sill?
If a homeowner prefers their curtains to hang just by their window sill, they can do that, especially for windows in the bathrooms, kitchen sinks, or other smaller windows around the house. A prime example of curtains sitting on top of the window sill is café windows or windows near radiators, mostly seen in city apartments.
See more related content in our article about the types of curtains on this page.