Welcome to our tray ceiling vs coffered ceiling design guide including their pros and cons and differences.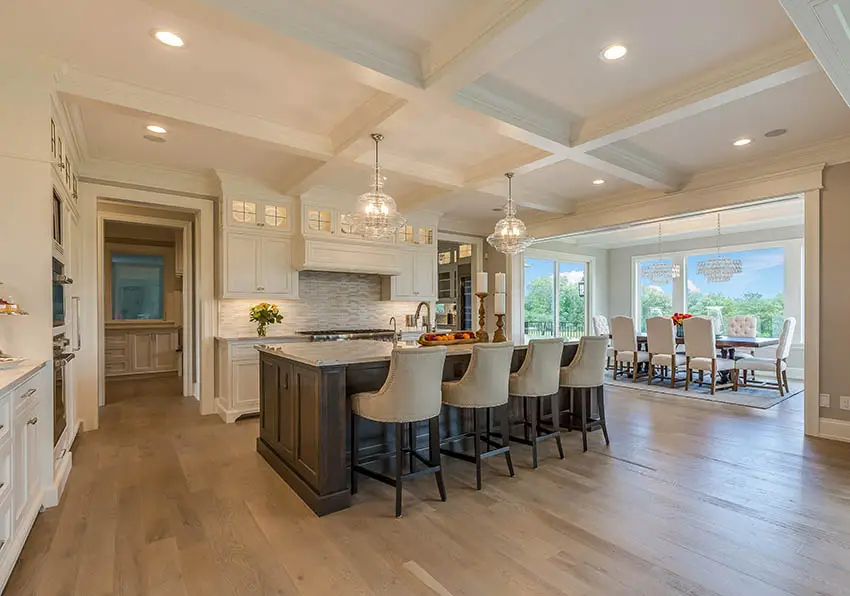 When it comes to decorating a home, interior design often focuses on the floor and walls and thus, the ceiling is the most overlooked surface.
Designing ceilings is more than just applying paint or installing the right lighting fixture. When given the proper attention, ceilings can also become the focal point of the room.
What Is a Tray Ceiling?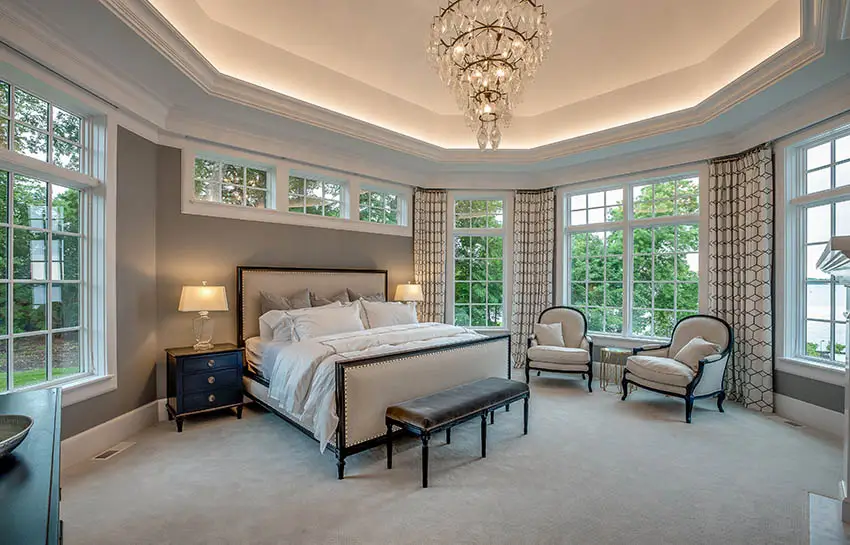 Recessed or inverted ceiling is another term used for tray ceiling as it is constructed wherein the center portion is built a few inches higher than the perimeter of the ceiling – looking like an upside-down tray.
Tray ceilings often times follow the contour of the room – rectangular rooms will have rectangular tray ceiling as square rooms will have square tray ceilings.
When designing the ceiling, consider the aesthetics that goes with choosing a tray design – the shape of the tray ceiling does not necessarily have to conform the contour of the room. It is possible to incorporate an oval shape recessed ceiling to a rectangular room.
Tray ceiling designs are quite flexible; there is no fixed height for the inner recessed part. The design usually depends on the height of the room, generally the center part of the ceiling is 6 and 14 inches higher than the perimeter.
Having a tray ceiling adds style and visual interest in a room. It can also be a clever way to hide the additional vent system in older homes and wires or plumbing in modern homes. When planning to install a tray ceiling, it is required to have a minimum ceiling height of at least eight feet.
Now to compare a tray ceiling vs coffered ceiling we will share each of their pros and cons.
Pros and Cons of Tray Ceiling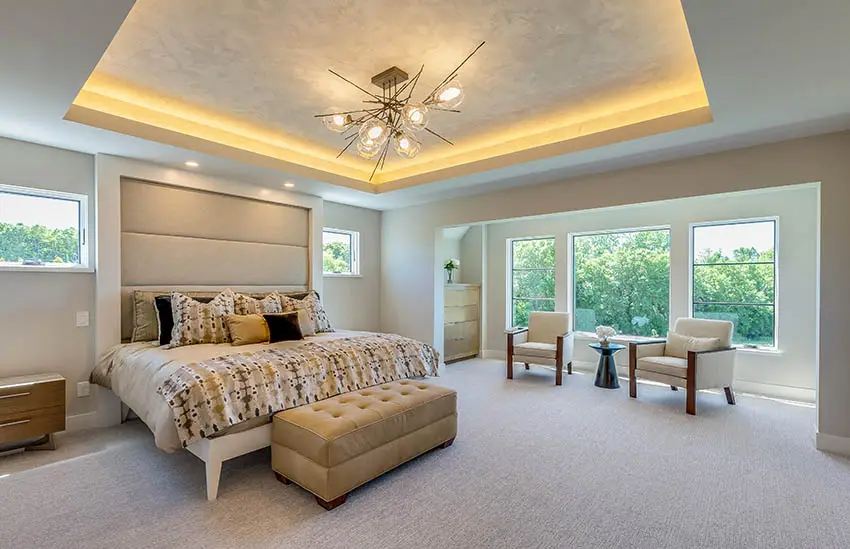 Pros
Creates the illusion of a larger space – Drawing the eye upward, tray ceiling easily creates the illusion of a height to the space and offers a dynamic architectural design style to any room.
Customizable – It is possible to customize tray ceilings by installing planks into the center section of the ceiling and creating other patterns such as shiplap and tongue-and-groove planks in order to make the ceiling more interesting and stylish. See shiplap ceiling designs here.
Can make a room appear larger – Tray ceiling can make any room feel larger and offers a feeling of spaciousness to small rooms.
Can use unique light fixtures – Tray ceiling also offers opportunities for unique ceiling lighting schemes and allows designers and homeowners to experiment with different ambient lighting techniques and change the mood and feel of the room.
Creates an elegant feel – Tray ceiling allows unique opportunities to transform ordinary and uninspiring ceiling into an elegant focal point of the home.
Adds depth perception to an interior design – Tray ceiling adds a unique three-dimensional effect to the room and changes the feeling and perception of the room.
Cons
Needs a drop down border – Tray ceiling is not complete without a drop-down border around the recessed tray.
It is important to consider the ceiling height of the room since the drop-down boarder can reduce the headroom especially in smaller rooms with short walls.
Can reduce cabinet space in the kitchen – Unless the kitchen has a very high ceiling, a tray design may not be the best idea because the drop-down border will reduce the space available for cabinets.
Hard to keep clean – Since tray ceiling designs have two distinctive heights, painting and cleaning can pose some difficulties and requires extra maintenance.
What Is a Coffered Ceiling?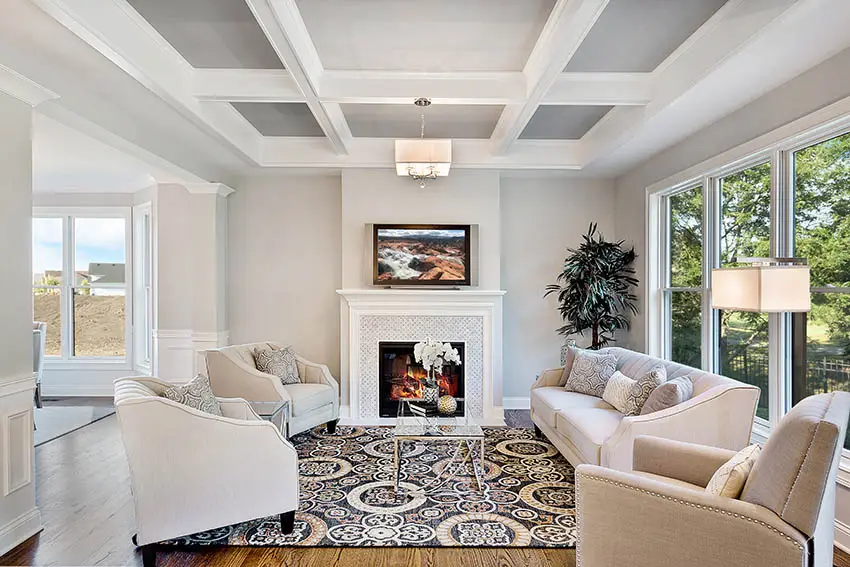 Coffered ceilings are a classic architectural detail consisting of multiple segments containing a series of rectangular, square or octagon grids in three-dimension recessed panels.
"Coffer" means indentation; thus, coffered ceiling is a pattern of indentations or hollows on the surface of a ceiling, including the interior surfaces of domes and vaults. Coffered ceilings are also referred to as box beam ceilings.
This architectural detail has been popular since the renaissance period and is considered dignified and formal. Caisson ceiling is another term used to describe coffered ceiling which means cross-beamed ceilings.
Coffered ceilings create the illusion of height, it is used to decoratively hides ceiling imperfections and disguise the architectural engineering such as using exposed beams that would be built for visual symmetry to hide a beam or brace which is structurally necessary.
Simple forms of coffered ceiling can be designed with crisscrossing beams which create geometric patterns such as squares or rectangles. Coffered ceiling can make a room look larger and more regal.
Traditional coffered ceilings are constructed using wood, nowadays metal, concrete or engineered materials make up for coffered ceilings.
Usually, a deep coffered ceiling is best for ceiling over 8 feet and 6 inches in height and has of a crown measuring 4 and 5/8 inches. Ceilings with only a minimum of 8 feet in height should use 3 and ½ inch crown.
The best ceiling height for coffered ceiling should have a minimum of 9 to 10 feet or higher for best result.
When constructing coffered ceilings, it is best to consider its depth, width, and appearance. Typically, the depth could range from 1 and ¾ inches or 3 and ½ inches while the width measures 4 and ½ inches to 8 and ½ inches and a length of 3 to 5 inches.
It is very important to consider the dimensions of the room when designing coffered ceiling in order to achieve a well-designed room.
The most common forms used for coffered ceilings are square, circle, cross or diamond design that repeats itself throughout the ceiling.
Pros and Cons of Coffered Ceiling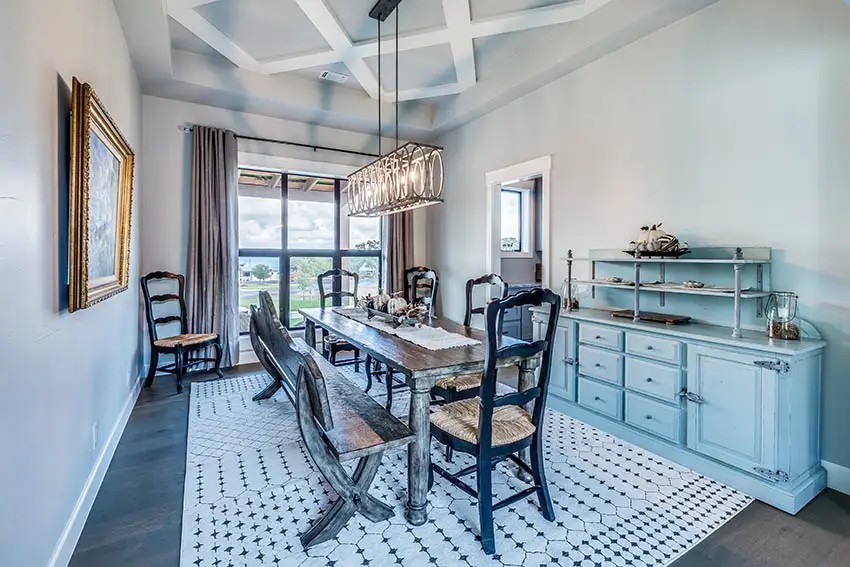 Pros
Can make a room feel more spacious – Due to the coffered ceiling's indentations, it creates the illusion of a higher ceiling and make rooms feel more spacious.
Adds visual interest to a room – Coffered ceilings create dramatic appearance especially when installed in an elaborate and decorative design pattern.
Customizable – The center panels of the coffered ceilings are customizable that it can have ceiling tiles, wallpaper or that its beams can be painted.
Reduces sound and echoes – Coffered ceilings can absorb sounds better than other ceiling styles and eliminate echoes. They can be the best choice for acoustics.
Increase home values – Coffered ceiling can increase resale value of homes by a significant amount.
Cons
More expensive – Coffered ceilings are expensive to install even for basic rectangular patterns because it requires professional installers who have advance carpentry skills.
Expect to spend approximately $25 per square foot and can cost can increase with more elaborate patterns, higher-end materials, and additional lighting features.
Requires a high ceiling – Coffered ceiling requires a high ceiling since it can take up some overhead space.
May need more support – Incorporating real beams may require extra support to prevent the ceiling from collapsing.
Can make a low ceiling appear lower – There is always a risk of making a low ceiling look lower.
Differences Between Tray Ceiling and Coffered Ceiling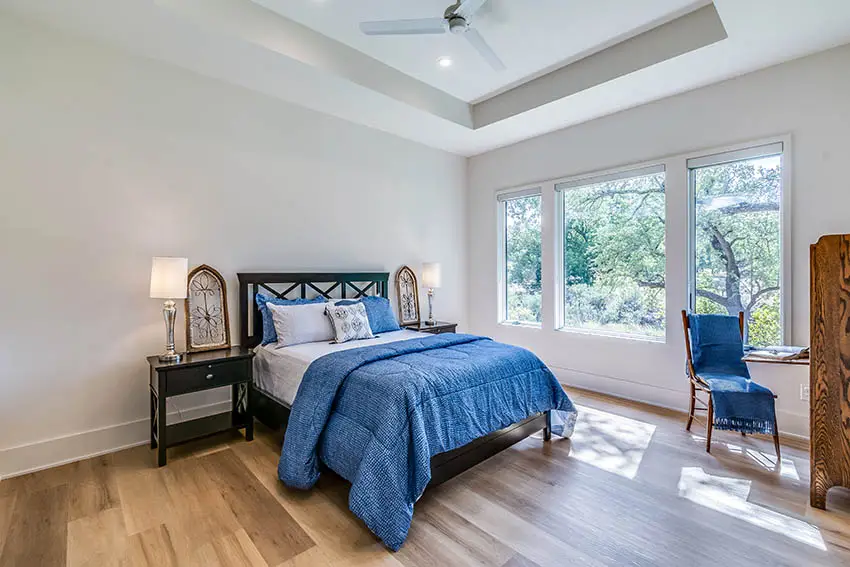 As far as ceiling treatments are concerned, both tray ceilings and coffered ceilings have similar features such as both have similar design elements including recessed sections and geometric expressions.
Both ceiling treatment adds depth and dimension to a room and have the same attributes when it comes to lighting and scale.
However, when comparing a tray ceiling vs coffered ceiling they have several subtle and obvious differences that set the two ceiling treatments apart.
Coffered ceilings have a series of dropped beams which creates a geometric grid usually rectangular in nature but can also be in the shape of hexagons and octagons.
Coffered ceilings have two primary elements of design – these are a crossed beam pattern and the infill panels that extend over between beams.
Tray ceiling on the other hand is made up of a single raised area in the center of a drop-down border that goes around the perimeter of a room.
Usually, the shape of the tray ceiling reflects the shape of the room; although it can also take the shape of an oval or diamond.
A coffered ceiling has the effect of breaking up an interior space making it feel more intimate while tray ceiling makes the room feel larger, more open and offers a much more lavish architectural style.
Coffered ceilings can be designed with a variety of materials; while tray ceilings are almost always wrapped in drywall and plaster and finished with a crown molding.
Coffered ceiling can have a various beam width and grid dimension. Unlike a tray ceiling, coffered ceiling can take on a wide range of styles and aesthetics.
The cost difference between tray ceiling and coffered ceiling isn't that wide of a cost gap; it will just differ widely depending on the materials being used and the design details that are incorporated in the construction of the ceiling.
What do you think of a tray ceiling vs a coffered ceiling. If you have a favorite type of ceiling design let us know in the comments. For more content like this visit our gallery of shiplap ceiling designs.