Here we share our guide to box beam ceiling ideas including a variety of wood types and room designs.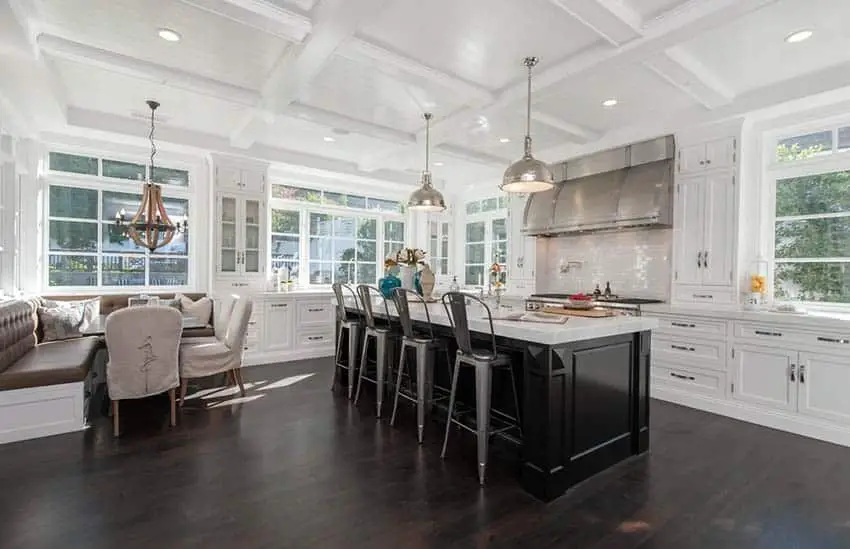 Your ceiling is an integral part of your home. Just like any other integral part of your home, you can modify your ceiling to fit your interior design dreams. Today, we're going to take a look at one beautiful option: a box beam ceiling.
What Is a Box Ceiling?
A box beam ceiling is a design element that features hollow beams affixed to the ceiling to create a repeating box pattern. This classic design element can be installed in virtually any room, and incorporated into any design scheme. Another name for a box beam ceiling is a coffered ceiling. They can most often be found in living rooms, dining rooms, offices and kitchens of luxury homes. However, they are also occasionally found in interior designs for bedrooms.
Box ceilings are sometime used in combination with a tray ceiling design where the ceiling is recessed in the center, to create an accent or focal point. This article will detail the various aspects associated with the installation of a box beam ceiling, from pricing to the steps required for installation.
How Much is a Box Beam Ceiling?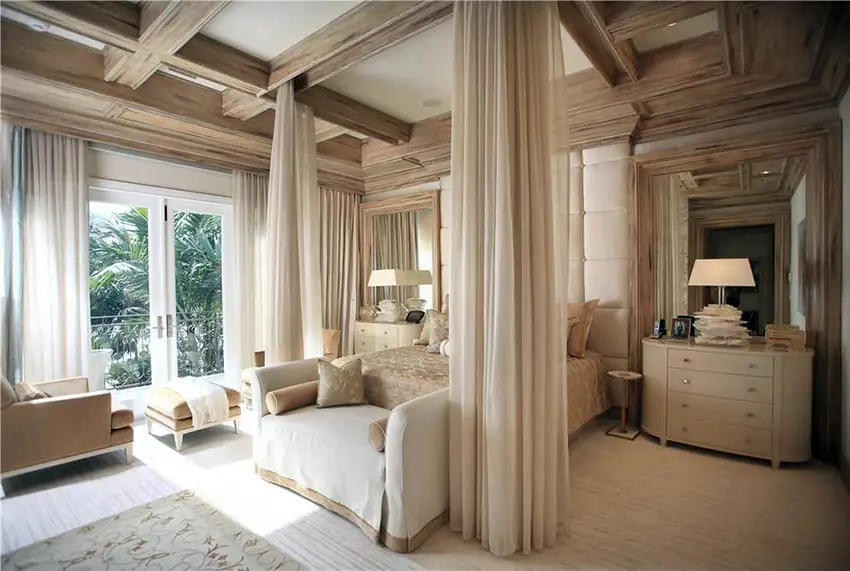 The price of installing a box beam ceiling depends on a variety of factors. The first factor is the type of wood in the beams that you're purchasing. Some types of wood are more expensive than others, so the budget of the project is going to depend highly on this choice.
The most common woods to use for a box beam ceiling are cedar, alder, and poplar. You may also have the choice to choose "reclaimed" beams, which are beams that have been used in previous buildings. Reclaimed beams are prized for their antique value, making them significantly more expensive than other wood beams. Not only that, they're a great way to add a rustic, environmentally-friendly touch to your home.
Another factor in pricing is going to be the size of the room in which the box beam ceiling will be installed. Larger rooms will require more beams for the design to cover the entire ceiling area. As a general rule of thumb, the price to install coffered ceilings typically runs about $25 per square foot. As a reference point a 300 square foot ceiling space with a standard design would cost approximately $7500. As mentioned above this will vary widely depending on the type of wood used and the total size of the ceiling area covered.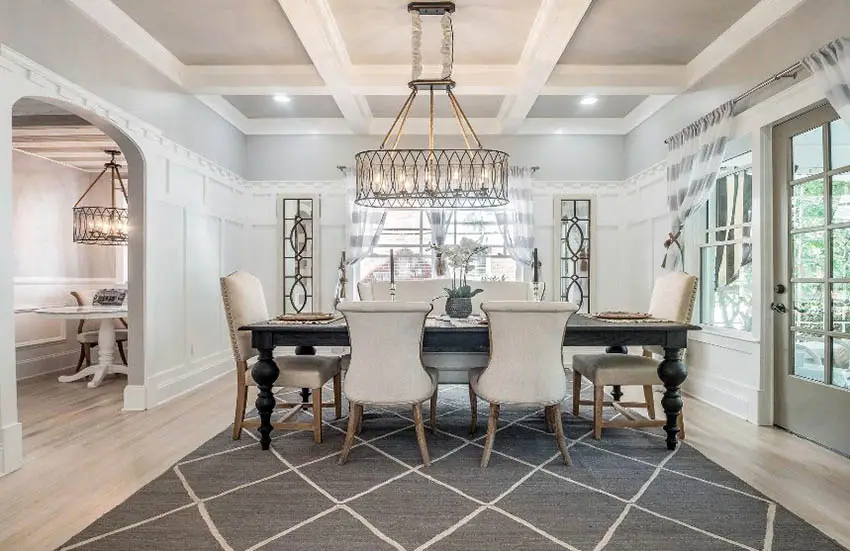 It's worth noting that the box beam ceiling design can also be achieved with planks that are attached to form beams. This will likely be less expensive than purchasing whole beams but will require some extra work during installation. For homeowners who are working with a tighter budget, individual planks may be a good option. If individual planks are used for the project, the type of wood will need to be chosen. As with beams, individual planks will vary in price by the type of wood from which they are made.
Another aspect of pricing is going to be the cost of installation. Contractors will each charge a different price, based on their individual hourly rate. It's important to make sure that the contractor is licensed, even if an individual offers to complete the job for a lower price than licensed contractors. A licensed contractor is going to be able to complete the job in a much more professional manner, and will likely be insured in the event of any damage to the home.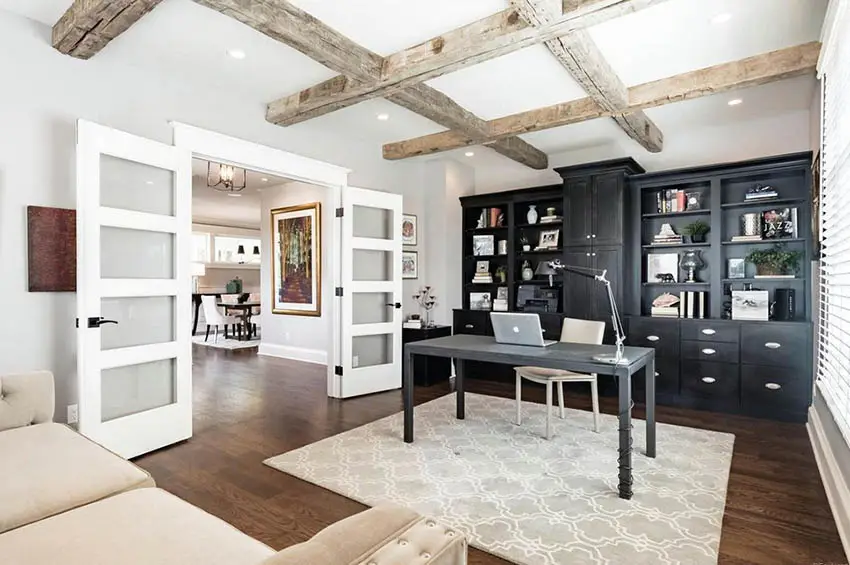 It may seem tempting for the homeowner to attempt to complete the project themselves to avoid paying a contractor. This is not advised unless the homeowner has experience in home renovation. Without the proper experience, it is likely that the project would be poorly completed and would have to be redone by a professional.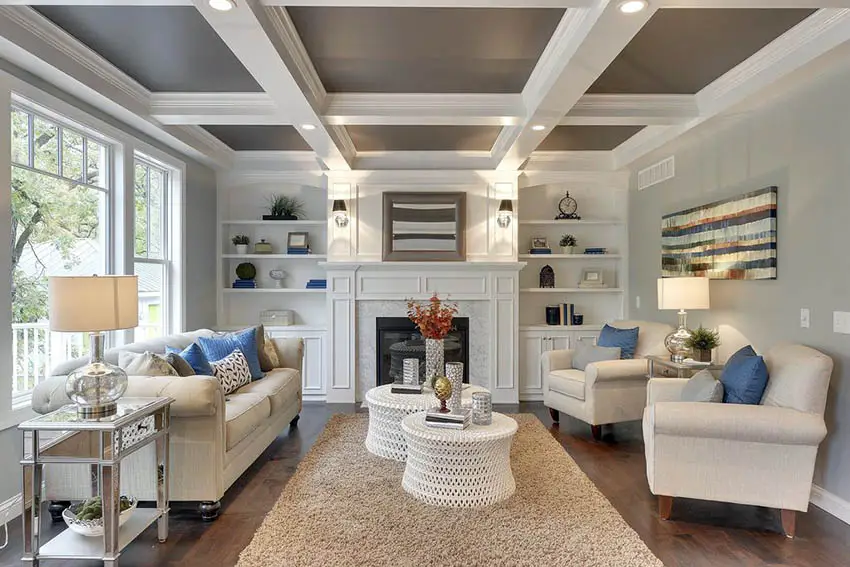 The final aspect of pricing is the cost of the other materials that will be required to complete the project. This will be the least expensive of any of the aspects of the project, but definitely worth noting. Other materials will include screws, painter's chalk, and the tools needed for installation. It is difficult to determine a close approximation for the price of these materials, as this will be determined by the store from which the materials are purchased.
What Rooms are Best for Box Beam Ceilings?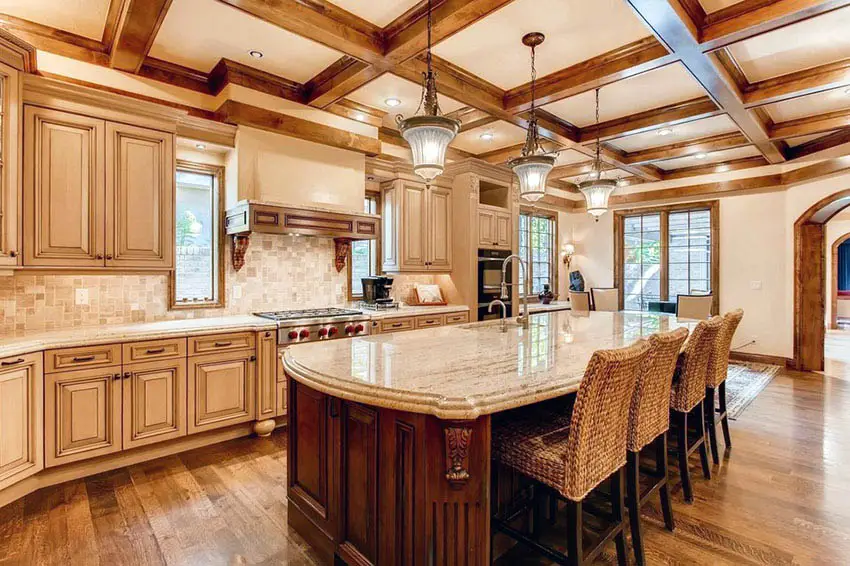 The beauty of box beam ceilings lies partially in their ability to be used in almost any room. Open concept kitchens, especially those will large windows, can easily accommodate box beam ceilings. Large family or dining rooms can also be great spots for box beam ceilings.
The hollow beams are perfect spots to affix light fixtures, particularly in the corners where two beams meet. This would be perfect for rooms that would benefit from multiple light fixtures, such as family rooms or kitchens. See more examples of kitchens with wood ceilings here.
The way that a box beam ceiling is incorporated will depend on the style of the room in which it is installed. For a smaller room like a bedroom or office, it's best to stick with light colors and a lot of light, to make sure that the room doesn't feel small.
How Do You Attach Decorative Beams To Ceiling?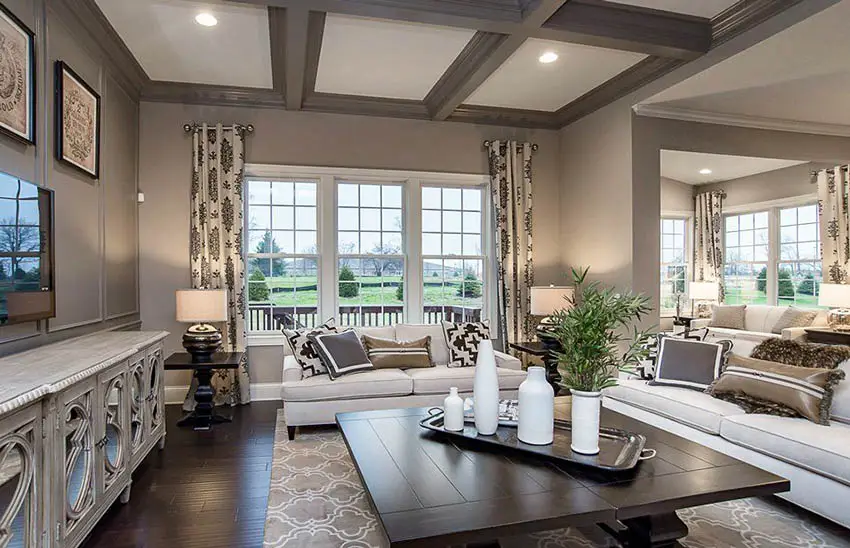 Installing a box beam ceiling won't be too hard for homeowners with significant home improvement experience. For more inexperienced homeowners, however, this may be a job where it's better to have a licensed contractor take care of the installation.
If you choose to tackle the job yourself, it can be done in one to two days with the help of a partner. If using faux wood beams, these will need to be cut to the appropriate length before being affixed together. Take two boards and nail them together at a 90-degree angle, using a clamp to keep them together until they are permanently held together. Take the third plank and nail it to the other side at a 90 degree to create a "U" shape.
A plank will be nailed into the center of the ceiling after the center has been located using a laser sight. The box beam will then be attached to the ceiling, with the open side facing towards the plank in the ceiling. This process will need to be repeated for all of the beams that will be parallel to the original beam.
Once the length of the ceiling is covered with parallel beams, it is time to install the perpendicular beams. The steps from the parallel beams will be repeated with the perpendicular beams. The only difference will be that the perpendicular beams should be installed at a 90-degree angle to the original beams. Once this is completed, the finishing touches on the installation will be added, including molding and paint.
A box beam ceiling is a wonderful design element that can be used in almost any room. With the right wood choice and proper installation, a box beam ceiling can add value to any room or home. To see more related ideas visit our gallery of shiplap ceiling designs.