Here's our corner tub dimensions guide including standard, small and two-person corner tub dimensions and corner tub benefits.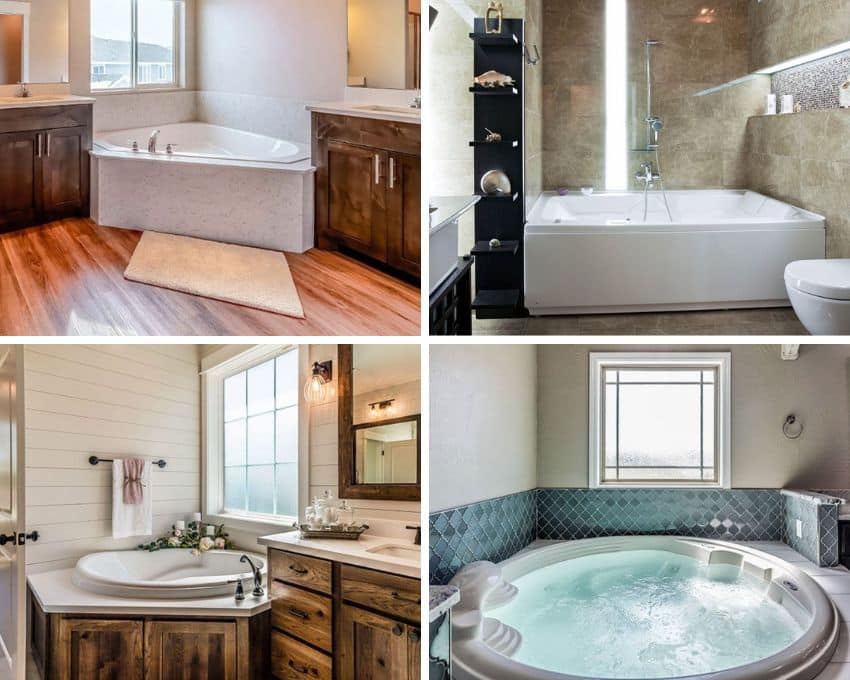 If floor space is the biggest problem in a bathroom, one of the best things homeowners can get for a tub is a corner bathtub. Although corner tubs are generally larger than most standard bathtubs, the fact that they use corner spaces that are usually empty is what makes them efficient when it comes to space saving.
Just like regular bathtubs, corner bathtubs are measured by their height, length, and width. Corner tubs are available in a variety of sizes and are made to fit whatever space anyone has in their bathrooms. The only downside to getting one is its price tag which is heftier compared with the standard bathtubs.
Standard Corner Tub Dimensions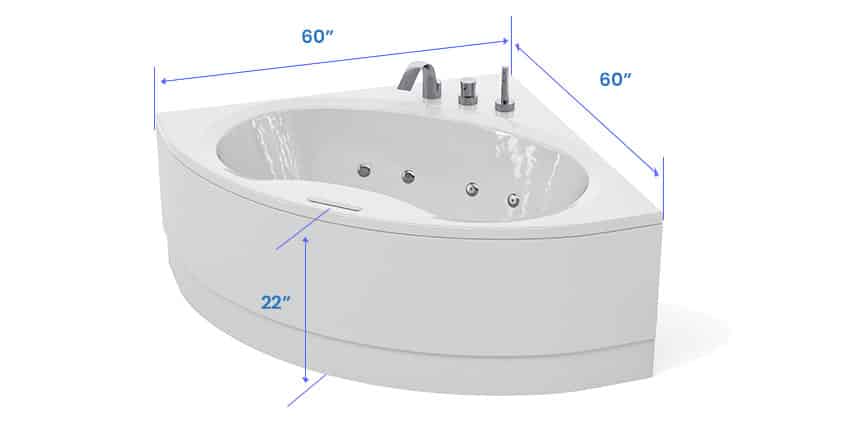 Whether a tub option for the main or the guest room bathroom, one of the best tubs to get are corner bathtubs. They are excellent for people who like to take their time in baths with a few candles lit on the corner and the waters smelling like freesias and vanilla. These tubs are the epitome of luxury, where it is more than about being clean.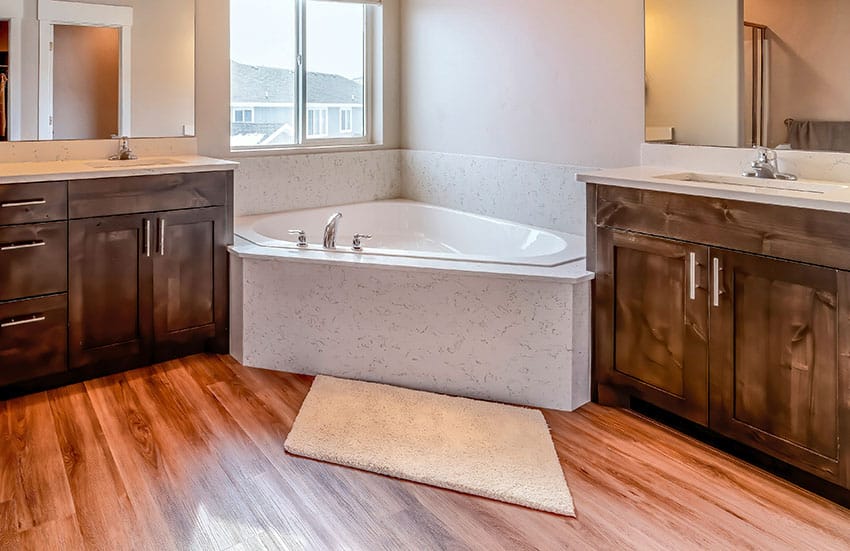 When homeowners look at a corner tub, it is essentially a square tub with one of its corners cut off. Although this is the standard corner tub, there are many other configurations that give buyers a lot of choices. Most corner bathtubs will fit in alcoves or corner spaces, and although they can save floor space, a bigger space is still needed to fit most corner tubs.
Standard corner tubs have a length and width of 60 inches or around 152 centimeters. They also have an average height of 22 inches or 56 centimeters.
Small Corner Bathtub Dimensions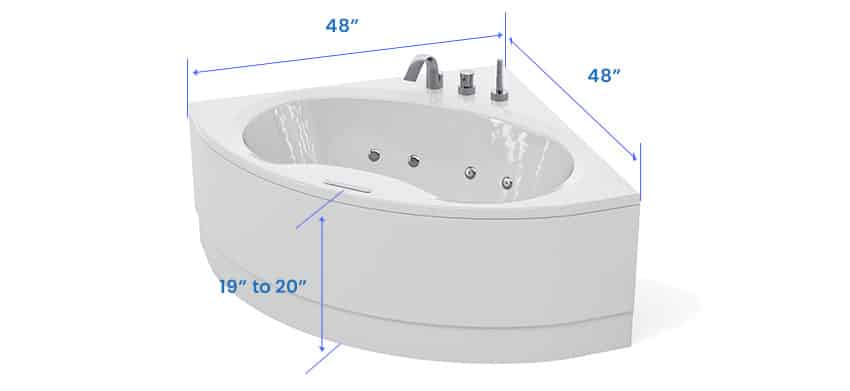 If the standard corner tub is too big for a particular bathroom, but corner tubs are still the tub of choice, it is best to look at sizes available for smaller corner tubs. They offer the same luxuries and benefits as a standard corner tub but have the advantage of being small enough to fit a standard bathroom size.
If the standard length and width of a classic corner tub is 60 inches, this size will go down to 48 inches or about 122 centimeters for smaller corner tubs. Heights will go down to 19 or 20 inches or around 48 or 51 centimeters from the standard corner tub height of 22 inches. This is the standard for the smallest corner tub anyone will find, and it can be big enough to fit a single to two persons.
Corner Tub Shower Combo Dimensions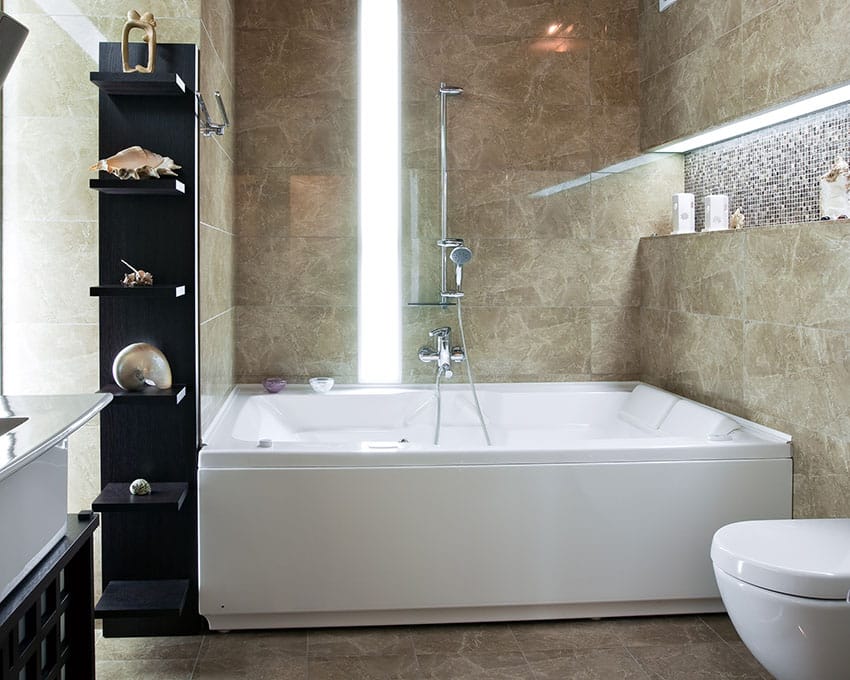 If homeowners are looking for a corner tub and shower combo, it is essential to know that some corner tubs will lend themselves to having that feature, and only some corner tubs can be utilized as tubs and showers. Aside from choosing a particular tub, structural modifications like fixtures and window placements must also be considered before choosing a corner tub and shower combo.
In a bathtub/shower combination, faucets may be mounted on the wall above the tub, or near the tub top. One is more convenient while bathing, the other while showering. – Knack Universal Design: A Step-by-Step Guide to Modifying Your Home for Comfortable, Accessible Living, Barbara Krueger, Nika Stewart
Most of the time, it will be a standard 60 by 60 inches or 152 by 152 centimeters corner tub fitted with a corner shower enclosure with a shower base and shower doors to account for a corner tub and shower combo. Aside from this size, a smaller 42 by 42 inches and a bigger 72 by 72 inches corner tub is also available.
Corner Jacuzzi Tub Dimensions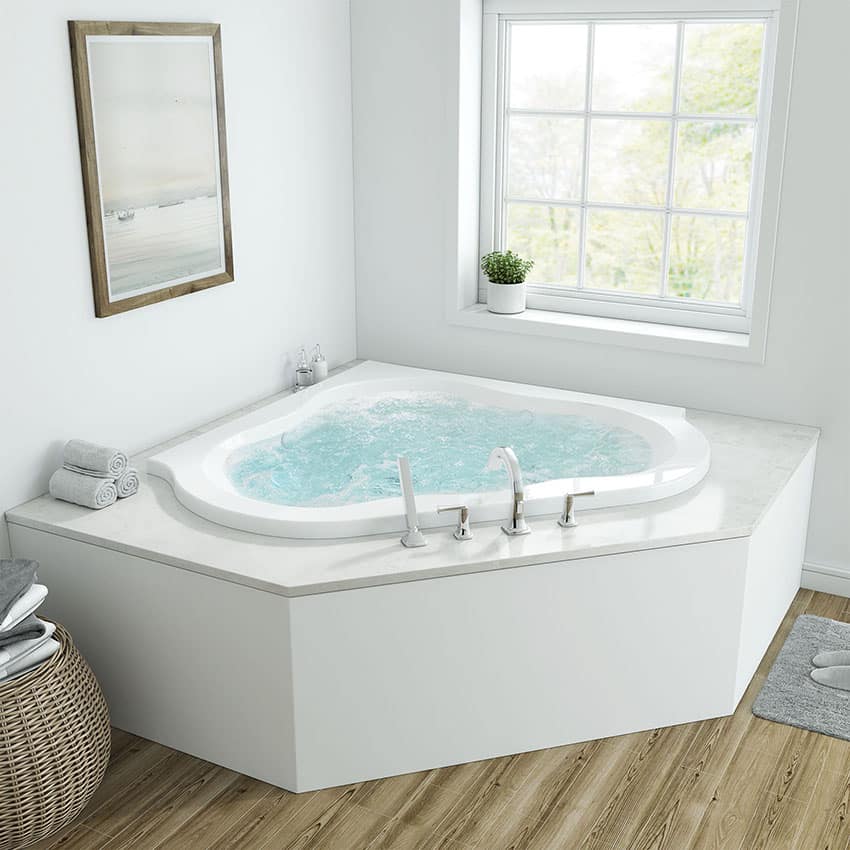 See this corner tub at Home Depot [sponsored link]
Some features of corner tubs have already been discussed. Still, there are more features available across brands to entice buyers to the luxury and benefits of corner tubs, and one is that some can turn into jacuzzis with their heated water and chromatherapy benefits. One such combo is from American Standard, a trusted brand among bathroom fixtures buyers.
The American Standard Everclean has a length of 63 inches or about 160 centimeters and a width of 65 inches or around 165 centimeters. This corner tub and jacuzzi combo has a height of 21.5 inches or 55 centimeters and a tub depth of 16.5 inches or 42 centimeters deep. This tub weighs roughly 108 pounds.
2 Person Corner Jacuzzi Tub Dimensions
The larger size of a corner tub makes this a great option when a couple of people are looking to utilize the tub at the same time. Since two-person corner tubs are made for this purpose, they have added features like overflow drains or even headrests to make bathing a pleasurable and luxurious experience.
One is the Whirlpool SMBA1100 Florence, perfectly designed for two persons. It has a total length of 70.8 inches or around 180 centimeters. It has a width of 47.2 inches or 120 centimeters and a tub height of 25.6 inches or 65 centimeters. The tub has a depth of 21 inches or 53 centimeters and weighs 220 pounds.
Does A Corner Tub Take Up Less Space?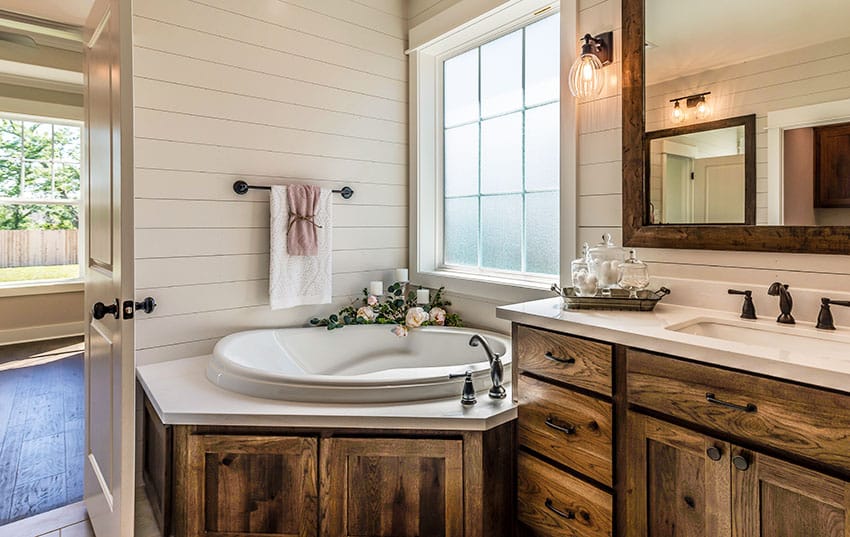 One of the corner tub's most important selling points is its claim to being space-savers. This is an excellent benefit since a cluttered bathroom is more of a headache than a place to clean and relax.
Yes, they take up less space by maximizing floor space, but corner tubs also use less wall space which is an outstanding factor of their space-saving capabilities.
Because corner bathtubs are situated on the corners of a bathroom, this opens up the central part of the bathroom for easy foot traffic or other uses. It also uses less wall space, making it great to add an overhead shower for the tub to be a shower and tub combo easily.
Are Corner Baths Deeper?
Aside from its space-saving abilities, a corner tub is also known for its deeper internal and usable spaces. Corner tubs on the inside are deeper than the standard bathtub, which makes them the greater options for a soaking tub since deeper means more ergonomic and less body strain when it comes to body positioning, which promotes a higher level of overall relaxation.
Another factor that could affect this is the tub's length since longer tubs will give the user more legroom, which is always a plus for some buyers.
See more related content in our article about the types of bathtubs here.