See if oak bedroom furniture is right for you, including what it is, its durability, color & wood grain, the different types, and oak furniture styles to consider.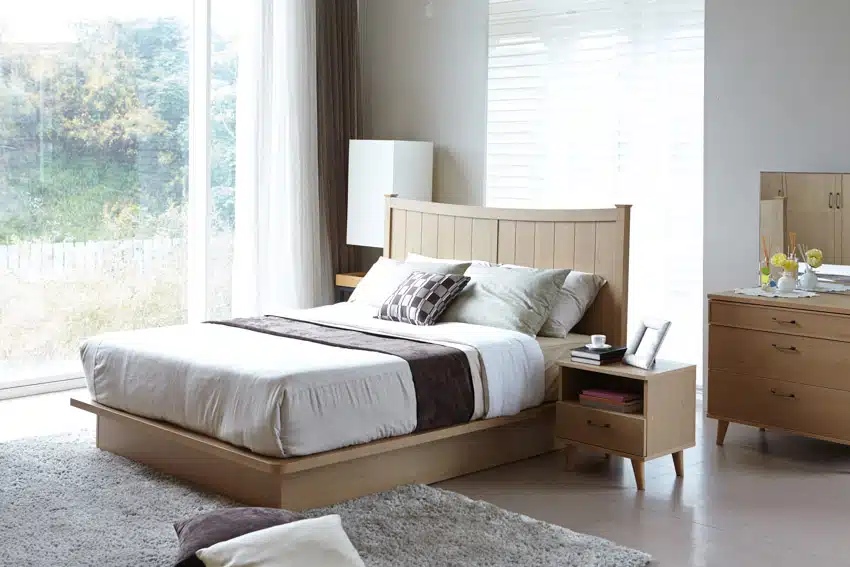 Your bedroom is your personal haven; it is where you constantly rest and sleep to get your energy recharged. Well, you might agree that adding a touch of nature to your bedroom evokes elegance and serenity.
Numerous homeowners appreciate the warmth and timeless charm of oak furniture as it brings the beauty of nature to your bedroom. However, oak is not just about beauty. Interior designers and furniture specialists prefer oak bedroom furniture pieces as they are incredibly versatile, durable, and long-lasting.
Moreover, with the right oak bedroom furniture piece selection, you can either transform your bedroom into a modern or traditional style. Or if you want a unique bedroom design, you can even do a combination of both. Is oak furniture the right option for your beloved bedroom? Let us find out.
What Is Solid Oak Furniture?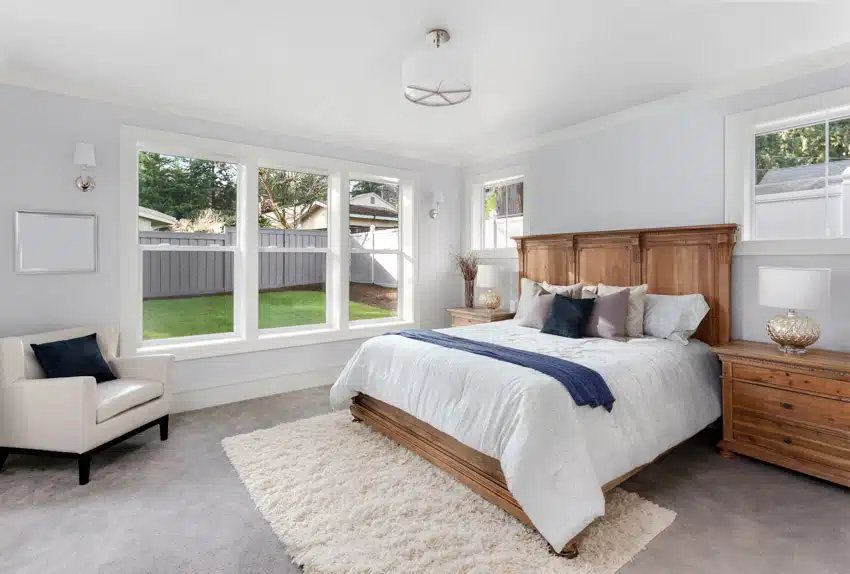 Solid oak furniture is a type of furniture constructed purely from hardwood that, as the name implies, comes from an oak tree. Compared to other common wood species such as birch, pine, cherry, or walnut, solid oak is more long-lasting due to its high density.
Solid oak wood has been used for manufacturing different types of furniture for centuries due to its durability, versatility, natural grain patterns, and beauty.
Aside from that, the exceptional strength and stiffness levels of solid oak are also why furniture pieces made out of solid oak remain popular. Many interior designers even considered oak one of the best furniture-making materials.
Oak Wood Durability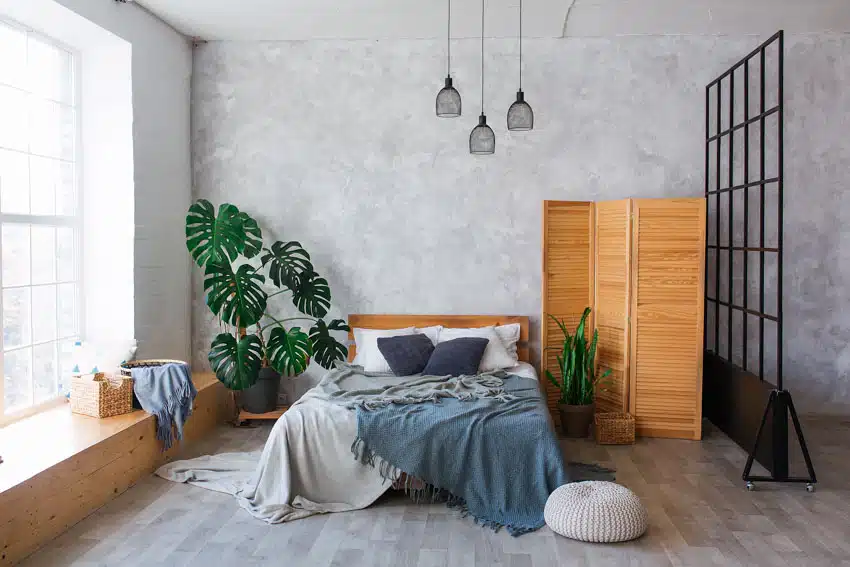 Resistance to rotting, outdoor elements and insect attacks are among the notable characteristics of oak wood, which further highlight its durability. Unlike any other wood, oak wood can withstand major temperature fluctuations.
Hence, oak wood is ideal for building indoor types of chairs, tables, and desks and outdoor benches, chaises, and dining tables.
Oak Wood Hardness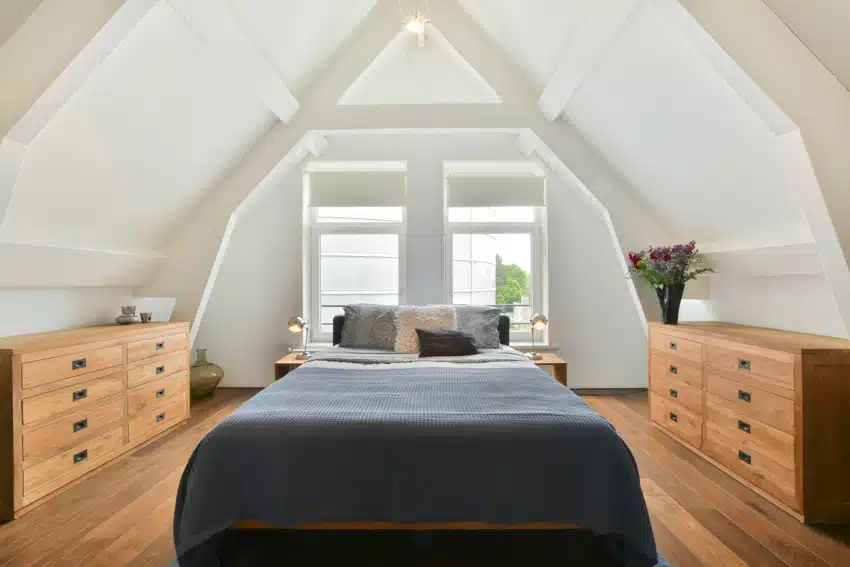 There are two types of oak hardwood – white oak and red oak. However, both of these oak species are generally ideal for constructing highly durable pieces of furniture. White oak has a high Janka hardness score of 1360 lbf, while red oak has a hardness score of 1290 lbf.
Since both of these oak wood species have a high Janka hardness rating, most furniture makers believe that they are ultimately dent-, scratch-, and shock-resistant.
Oak wood can absolutely survive daily wear and tear, making these wood species an ideal furniture wood option for high-traffic locations inside or outside the house.
Oak Wood Color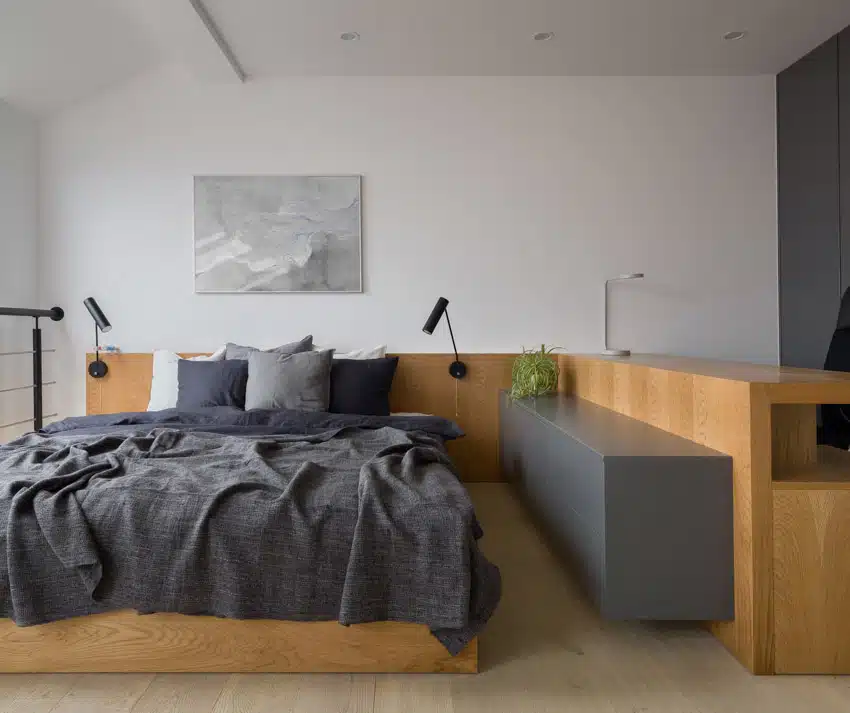 The color of oak wood, generally speaking, varies from light beige, cream, to golden brown. Red oak, as the name suggests, often features a reddish-brown hue with delicate pinkish undertones.
Conversely, white oak has a medium to light brown hue with grayish or yellowish undertones.
Oak Wood Grain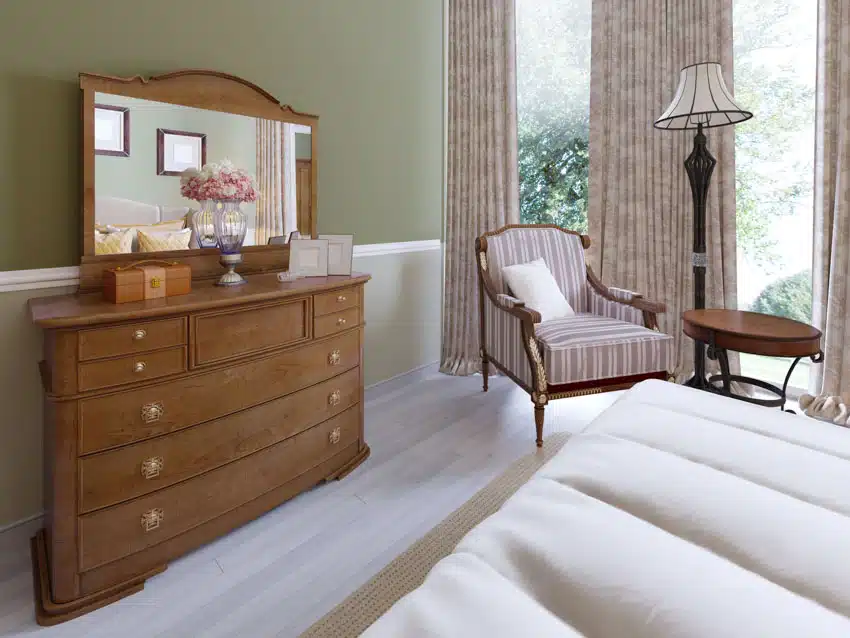 Based on our expertise and utmost observation in oak wood, its grain is normally straight, and its texture is uneven. However, for some furniture builders, oak is recognized for its distinctive grain pattern, which helps in emphasizing the beauty of a particular piece of furniture.
Natural variations in the solid wood gtain help to make cherry and the oak furniture very beautiful. Every piece of the Garden Oak Furniture would have unique charactertistics as oak wood grains vary in its color. – American Cultivation Wonders, R Smith
Moreover, the open grain pattern of oak wood is also what makes it special. It evokes a rustic, homely, and nature-loving feel that highly boosts the warmth of the home interiors.
Plus, the oak's open grain pattern serves as an excellent base for various wood finishes such as varnishes and stains, which allows oak wood types of furniture styles to be easily customized and enhanced.
White Oak Bedroom Furniture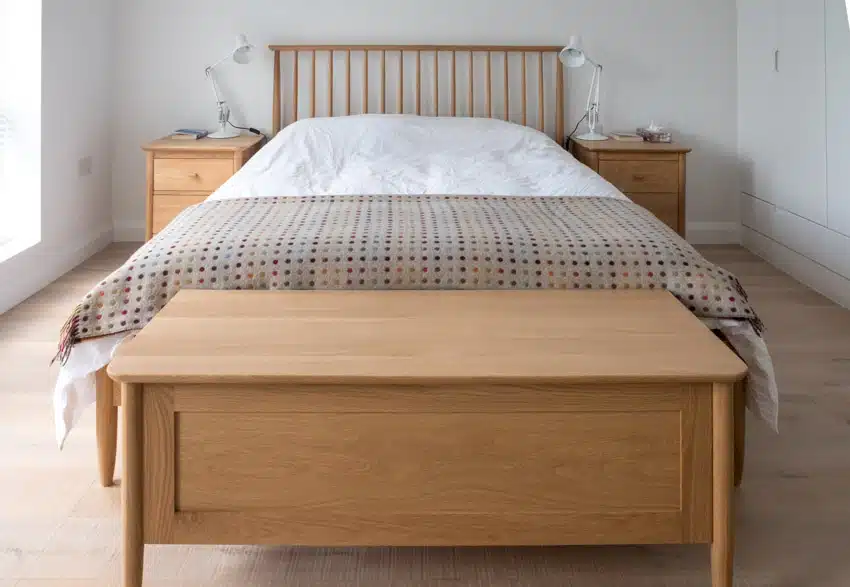 White oak is a closed-grain oak wood species; hence it is less porous than red oak. That quality also makes white oak moisture-resistant. When it comes to bedroom furniture, white oak is indeed more durable than red oak. Bedroom furniture constructed of white oak, as we know, can last for decades.
The most common bedroom furniture pieces that can be made out of white oak include bed frames, wardrobes, nightstands, dressers, and many more.
White oak bedroom furniture pieces are very much ideal for different home decor and styles, whether it is modern, contemporary, traditional, rustic, or a combination of these.
Moreover, white oak does have an eye-pleasing pale yellow to grayish-brown color that helps enhance the bedroom's warmth, giving you an added sense of relaxation. Its color also makes it an incredible option for bedrooms with minimalist decor.
Red Oak Bedroom Furniture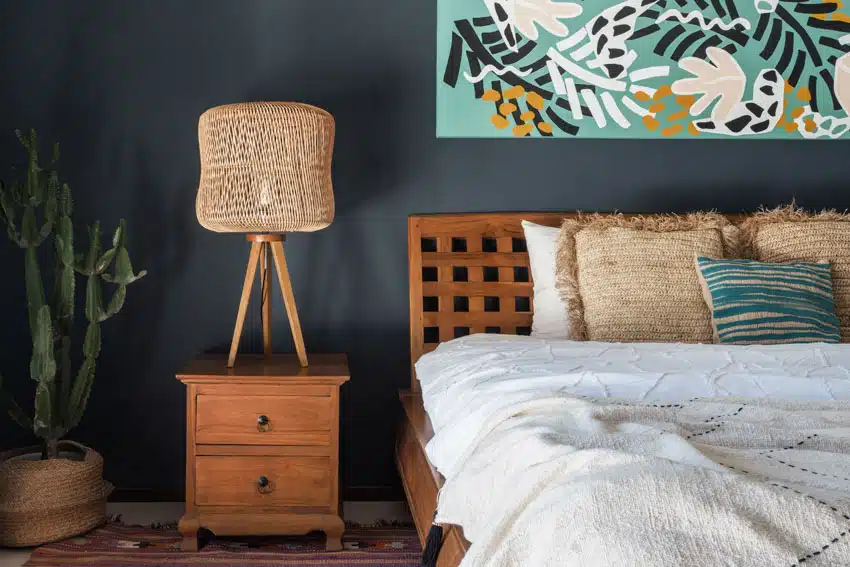 If you are planning to decorate and finish your oak bedroom furniture with stain or varnish, then read oak might be the better option since it is more porous. Well, the porosity of red oak can both be an advantage and a disadvantage.
As aforementioned, stain, varnish, paint, and the like can adhere well to red oak bedroom furniture. However, if you are only planning to use red oak furniture as it is, then it might be prone to moisture damage. Fortunately, bedrooms are not damp areas like bathrooms; thus the porosity of red oak won't be that big of an issue.
Red oaks are similar in many properties to white oaks. A major difference is that red oak, because it lacks tyloses in its pores, is extremely porous. – Bohumil Francis Kukachka, Wood Colors and Kinds (Tyloses are balloon like membrane outgrowths in the wood)
Although less hard than white oak, red oak still makes high-quality bedroom furniture that will last many years. Numerous homeowners also prefer using red oak since it is much more popular and widely available, thus making it more affordable than white oak. Red oak types of bedroom furniture pieces are much easier to find than white oak!
Golden Oak Furniture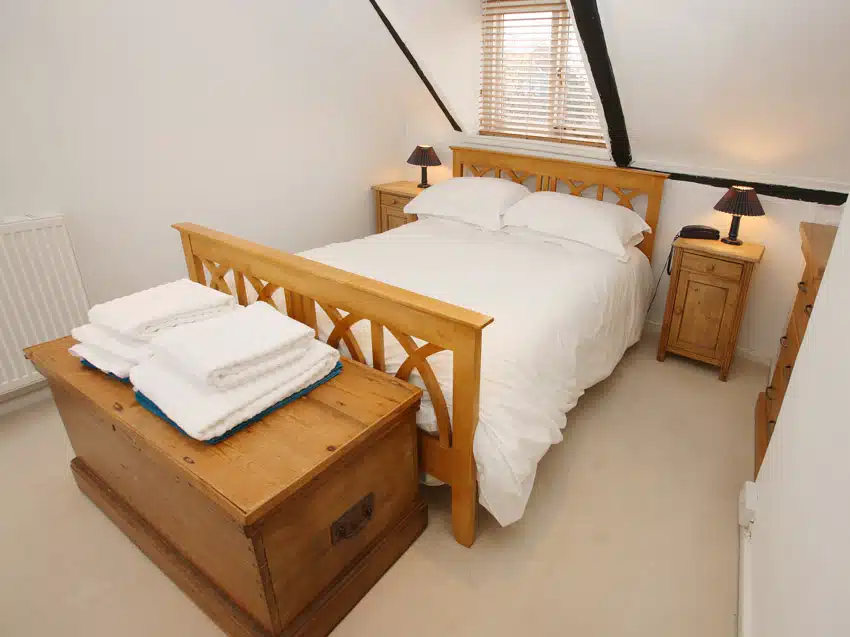 If you wish to add a major accent to your bedroom using your furniture pieces, you can use golden oak furniture. Red oak or white oak can be refinished or stained using a golden treatment.
The golden color present in a piece of oak furniture is often achieved by using a particular type of stain, varnish, or even paint that augments and emphasizes the brown and yellow tones of the wood.
Country- or farmhouse-style bedrooms can be further enhanced using golden oak furniture. Most often, golden oak furniture pieces have more elaborate carved details, which makes them look a lot more luxurious than standard oak furniture.
Unfinished Oak Furniture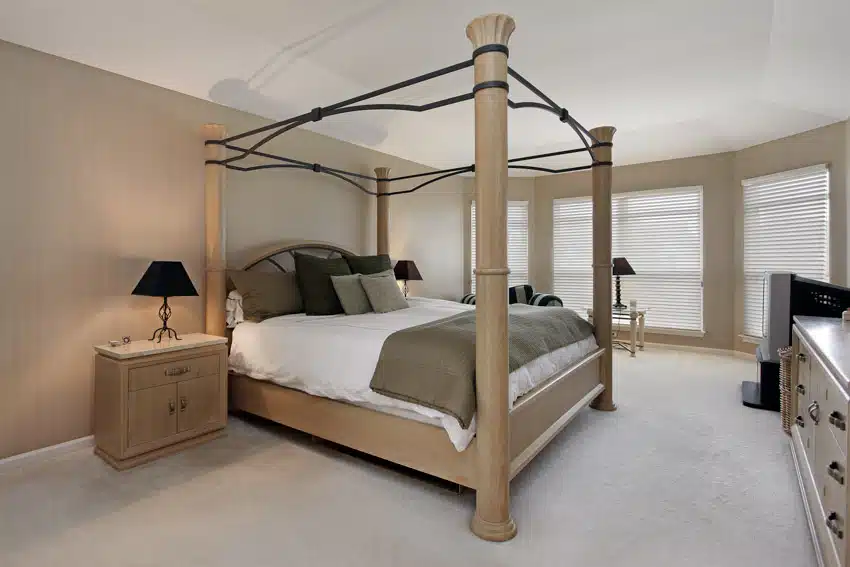 Unfinished oak furniture indicates that the bedroom furniture piece has been produced by a craftsman but is not yet sanded, finished, or treated. It may appear straightforward, but it opens up more possibilities for homeowners who are looking for more customized and unique bedroom furniture pieces.
If you choose to have unfinished oak furniture pieces within your bedroom, you are free to choose what type of stain or paint you want to apply to them.
Moreover, interior designers prefer using unfinished oak furniture in traditional-style bedrooms since it looks a lot more rustic and natural.
Finished Oak Furniture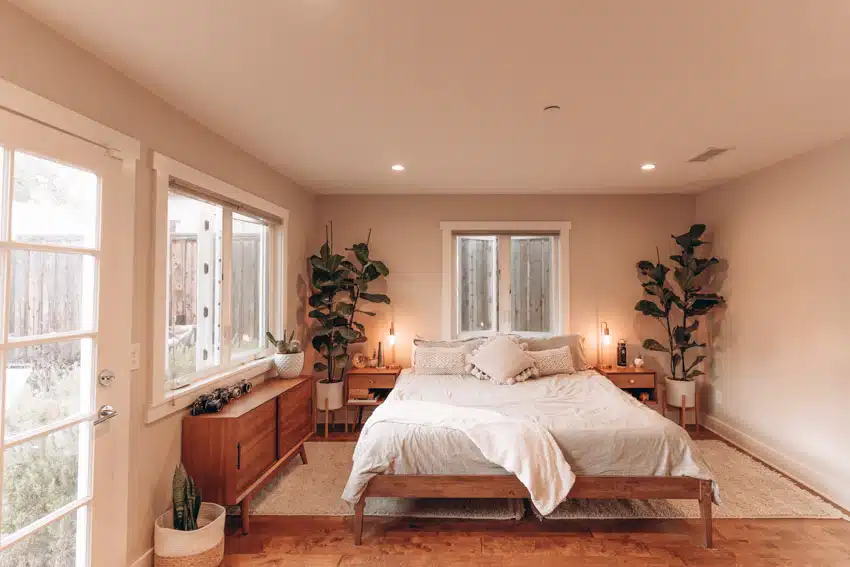 This type of oak furniture is just the opposite of the unfinished one. Finished oak furniture pieces are already sanded, stained, painted, or treated with a clear coating, The type of finish that is used for furniture may differ in terms of texture and appearance.
Some may be matte, glossy, or semi-glossy. Those who want ready-made furniture pieces in their bedroom would normally prefer finished oak furniture as they are already polished, protected, and beautified.
Painted Oak Furniture
Indeed, oak furniture, especially red oak due to its high porosity, can be painted using the color of your choice. We highly recommend opting for this selection, especially if you want your bedroom decor colors to be well-coordinated and balanced.
Countless homeowners prefer using bedroom furniture pieces that complement the colors of the other bedroom elements.
Moreover, painted oak furniture pieces are commonly found in modern and contemporary-style bedrooms due to their customized and uniform color.
Plus, if you want to extend the longevity of your oak furniture, painting it will add a layer of protection. Once the paint gets damaged, all you have to do is repaint it. Simple as that!
Bleached Oak Furniture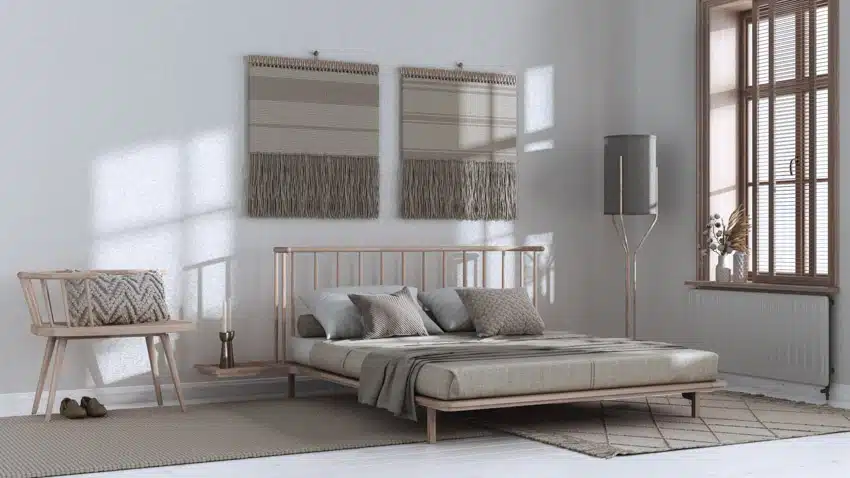 If you want your bedroom oak furniture color to be a lot lighter, you can go with bleached oak furniture. This type of oak furniture option uses bleach or any bleaching solution to lighten the color of the oak wood and make it look more unique. It removes the brown, red, or yellow tones present in oak wood.
Some furniture manufacturers use bleaching agents on oak furniture not to lighten it but to highlight the grains of the wood. Hence, a piece of bleached oak furniture can serve as an accent to minimalist bedrooms.
However, if you choose this type of oak furniture, we suggest applying either a tinted sealant or a clear coating to protect the surface.
White Washed Oak Furniture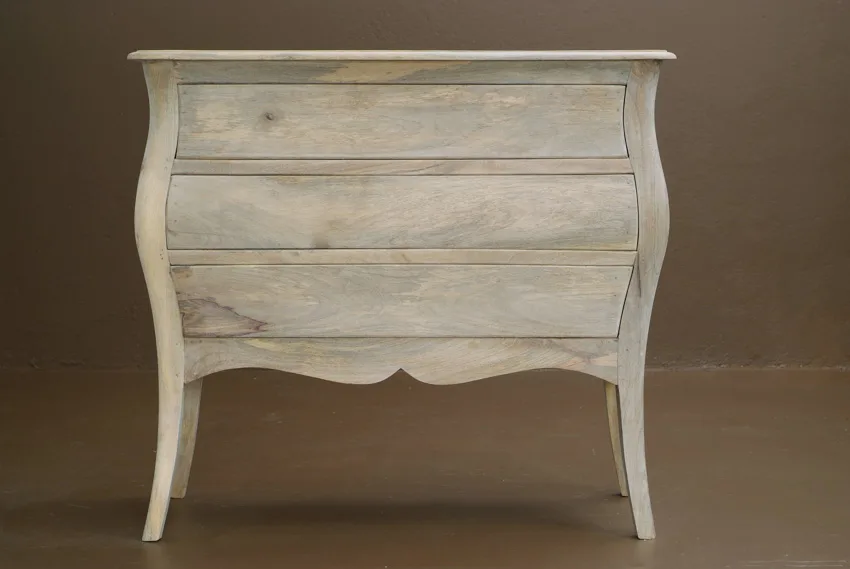 Do you have a coastal-style or rustic bedroom decor? Well, we highly recommend going with white washed oak furniture.
As the name suggests, this bedroom oak furniture option is treated with a white-wash finish, which uses a diluted white paint treatment to the surface and then wiped carefully to produce a subtle and unique wood finish.
Experts love white-washing bedroom furniture as it provides a light and airy atmosphere, which elicits a beach or coastal vibe. If you want a bright, cheerful, and naturally balanced look for your bedroom, you can go with white-washed oak furniture.
Oak Bedroom Furniture Styles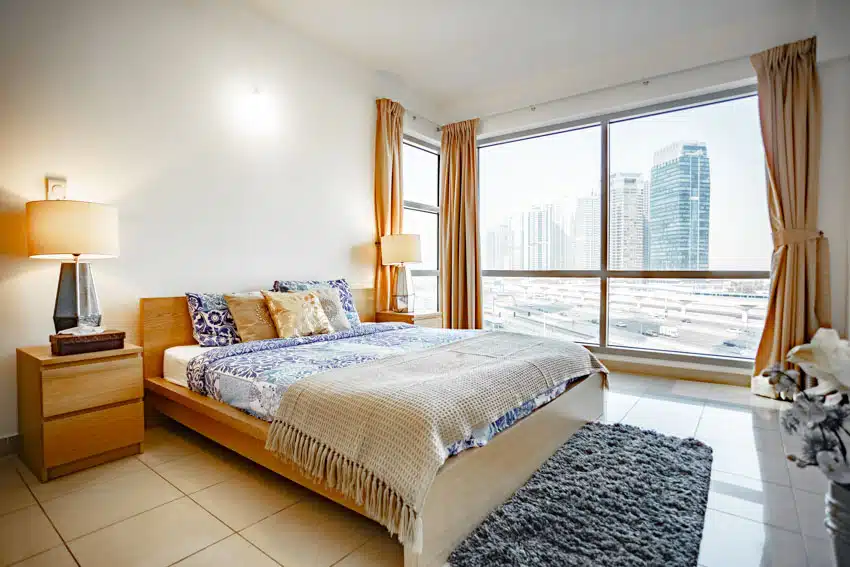 Here we share the different styles of oak bedroom furniture.
Traditional Oak Bedroom Furniture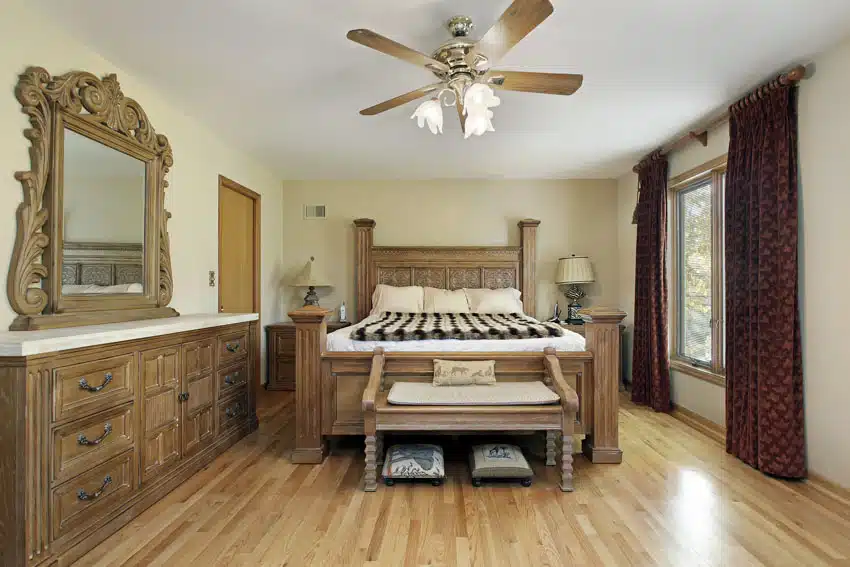 Are you a fan of ornate and decorative details within your bedroom? Well, traditional oak bedroom furniture has all these eye-catching characteristics. Most traditional oak bedroom furniture pieces such as tables, chairs, and sofas include turned or carved legs along with embellished moldings.
Indeed, this style of oak furniture evokes elegance and luxury. Some furniture pieces even use highly elaborate carvings and scrolled accents to give your bedroom a more classic appearance and design.
Normally, traditional oak bedroom furniture pieces are usually made out of solid white oak or red oak and are finished using dark-colored stains to accentuate the beautiful grains.
If you decide to choose this bedroom furniture style for your home construction or renovation project, we recommend aiming for consistency. Meaning, it would be ideal to make sure that each of your bedroom furniture pieces is made out of oak and are using the traditional style to make the overall bedroom well-coordinated.
For example, it would be displeasing to the eye if you are using traditional oak bed frames and bedside tables and at the same time, you are still using some chairs and closets that are made out of artificial wood materials.
Rustic Oak Furniture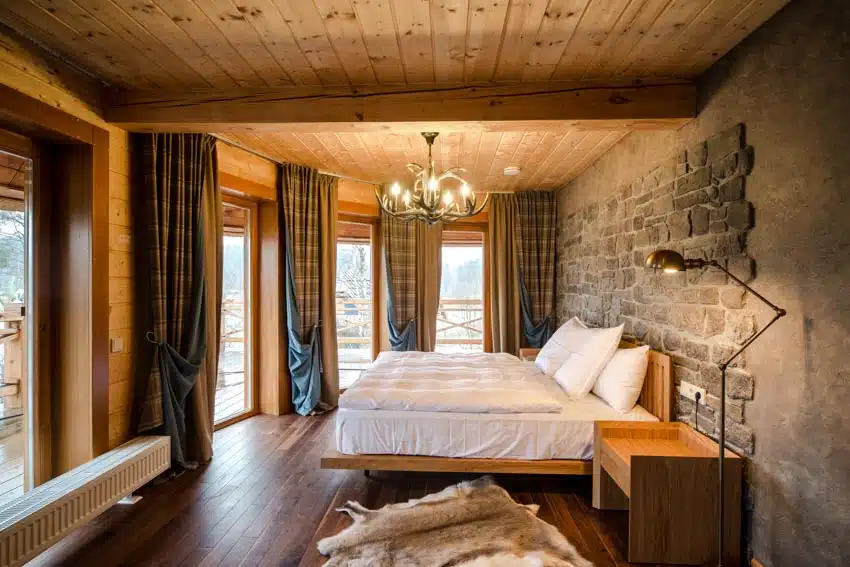 Rustic oak furniture is highly inspired by nature, but its appearance is usually quite simplistic. Nonetheless, rustic oak furniture pieces use natural materials and complex details including weathered oak wood with added woven materials to promote comfort, warmth, and coziness.
Furthermore, rustic oak bedroom furniture uses stains that make the furniture look like it is weathered or aged. However, these stains would usually highlight the natural beauty of the oak wood grain.
The rustic wood frequently includes a medium to dark stain color as well as a natural oil-based protective coating to provide an appealing satin finish that is exceptionally hardwearing and low-maintenance.
Among the primary reasons why the rustic oak style has become such a widely known option for many residents is its versatility. Yes, its rich honey color matches both modern and traditional-style bedrooms and suits a variety of decorating styles.
Amish Oak Furniture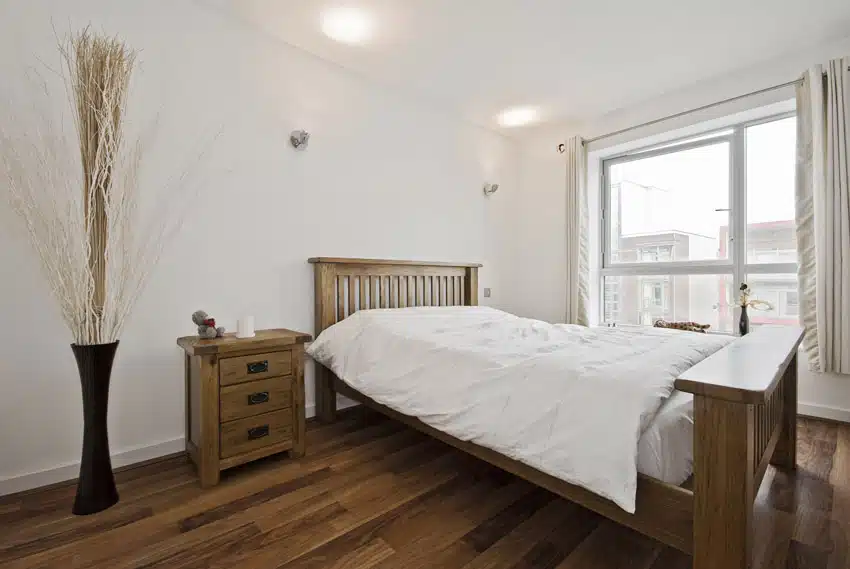 If you want your beloved bedroom to feature distinctively designed furniture, look no further than Amish oak furniture. Normally, these furniture pieces are handcrafted by professional artisans that are well-familiar with the classic
Amish style. Amish oak furniture customarily uses a light stain or finish that makes the oak grains and texture to be outstanding.
We have observed that most Amish oak furniture pieces are built of top-quality craftsmanship that can last for many decades.
Indeed, durability, longevity, luxury, and agelessness are what define this style of oak furniture. Interior designers usually prefer putting Amish oak furniture pieces in master bedrooms.
Mission Style Oak Bedroom Furniture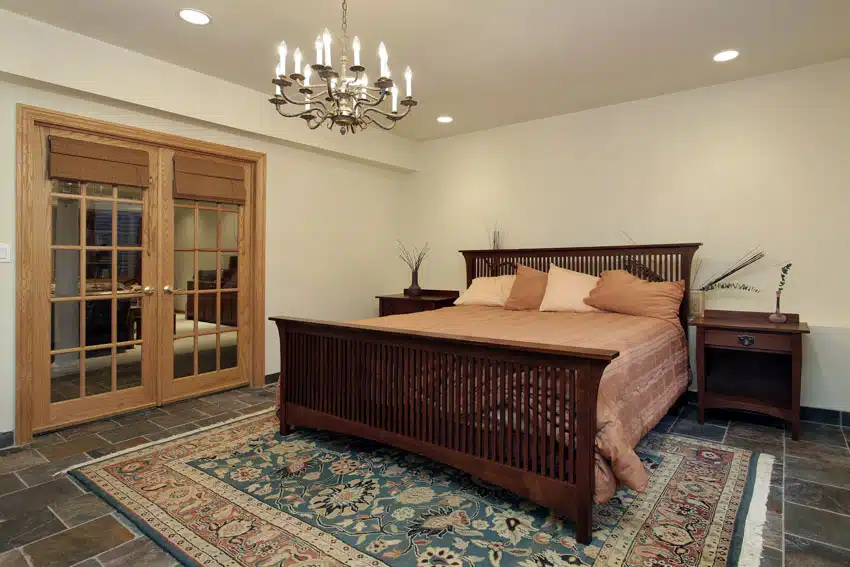 Another oak bedroom furniture style that might pique the interest of homeowners who embrace vintage furniture pieces might love the mission style.
Truly, mission-style oak bedroom furniture pieces are characterized by their minimalistic yet high-end designs, which are influenced by the Arts and Crafts movement in the late 19th to 20th century.
Professional designers who adore minimalism usually pick mission-style oak bedroom furniture pieces as they feature very straight edges, sleek lines, and warm colors. Traditionally, they pair oak with leather to make the furniture look a lot more premium.
Solid oak is often coated with medium stain to subtly enhance the natural look and intricate details of the wood. If you wish to combine traditional with modern bedroom design, we suggest going for this oak bedroom furniture style.
Tiger Oak Furniture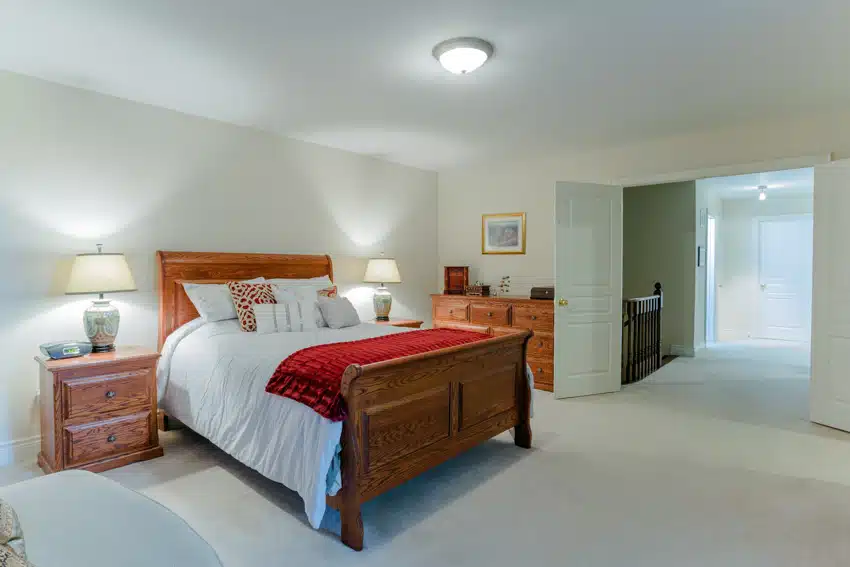 Not all homeowners prefer minimalism in their bedroom designs. Some want pieces of bedroom furniture that are bold-looking and extremely noticeable.
Well, tiger oak furniture could be an interesting oak bedroom furniture style as it is quite unique and striking. It features a highly noticeable striped grain pattern that mimics the stripes of an actual tier.
The eye-catching and bold design of tiger oak bedroom furniture is what makes it a popular selection for those homeowners who want an exceptional statement and accent piece within their bedroom.
In addition, this oak furniture style customarily uses classic design elements like carved legs and elaborate carvings that elicit splendor and formality. Dark stain and glossy coating are the most common finishes for this oak furniture style.
Quarter Sawn Oak Furniture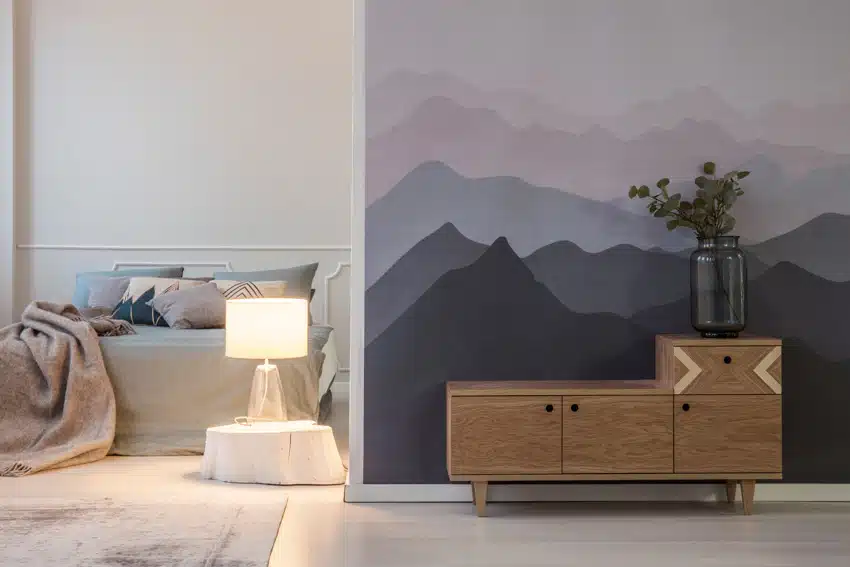 We have seen that numerous furniture makers are also opting for quarter sawn oak bedroom furniture. When you say quarter sawn, it implies that the oak log is initially cut into quarters. Every quarter is then turned and chopped again.
The planks are milled from the center of the log. In fact, this method results in a distinctive and appealing pattern that makes the furniture piece ideal for different bedroom designs.
Moreover, quarter sawn cuts provide greater stability and tolerance to bending and warping. Plain sawn and quarter sawn oak are both sturdy and long-lasting. However, quarter sawn oak furniture is a lot more stable and expands and contracts less when exposed to constant humidity.
One popular way quarter sawn oak is used is in kitchen cabinets. Quarter sawn white oak cabinets are available as well as honey oak cabinets which is quarter sawn white oak wood that has been treated with a stain.
How To Clean Oak Furniture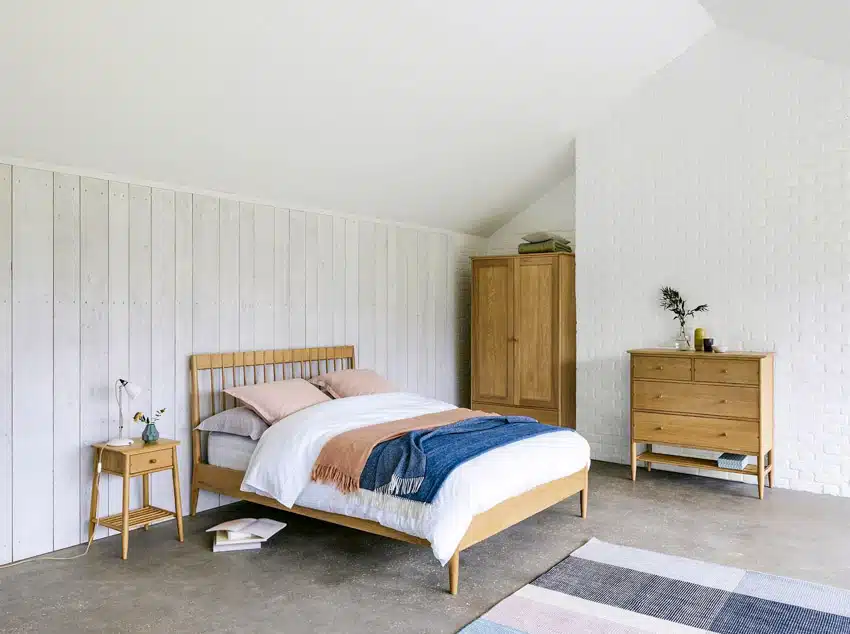 Whether you have a modern or traditional piece of oak bedroom furniture, we are quite sure you will agree that keeping it clean, dust-free, and well-maintained helps extend its longevity and maintain its beauty.
If you want to spruce up the appearance of your oak bedroom furniture or keep it looking brand new, read the guidelines, tips, and reminders below:
General Guidelines on How to Clean Oak Furniture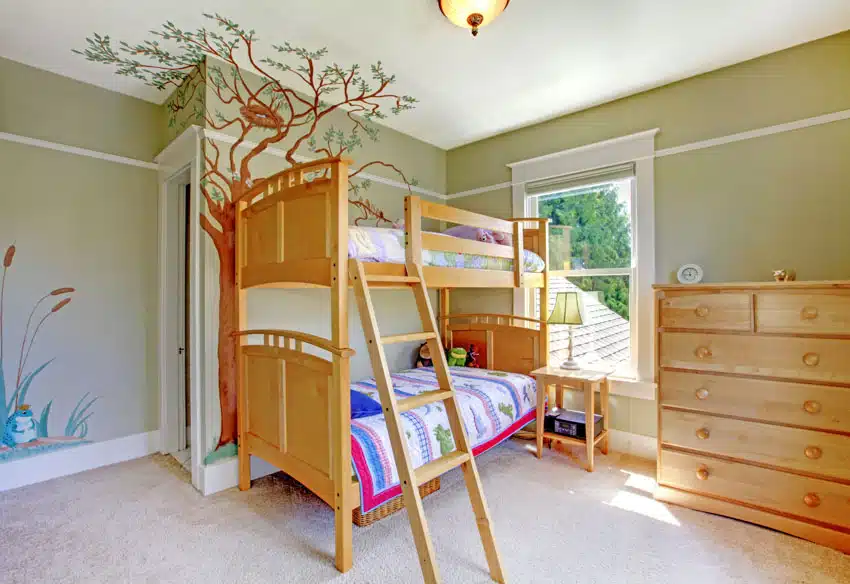 1. Dust the oak bedroom furniture on a regular basis. Keep in mind that allowing dust to accumulate can cause harm to oak furniture, therefore you have to make this part of your daily routine.
2. Once dusted, make sure to always wipe your oak furniture with a soft and moist cloth.
3. If you ever plan on using cleaning solutions, always ensure to use the safest ones. Do not use harsh cleaners and abrasive scrubbers as they can badly damage the quality of your oak furniture.
Rather, use a mild soap or a specialized furniture cleaning agent. To ascertain if it is effective, test the solution first on an inconspicuous area.
4. After that, wipe the piece down with a gentle, dry cloth to eliminate any excess moisture. Do not ever leave the moisture dry on the oak furniture surface on its own as it may leave unwanted watermarks, or worse, molds.
5. Buff the major surfaces of your oak bedroom furniture. This step will help in gradually restoring its luster.
6. Furthermore, you should always ensure to reapply protective coatings such as wax, as often as your oak furniture manufacturer recommends.
How To Remove Stains From Oak Furniture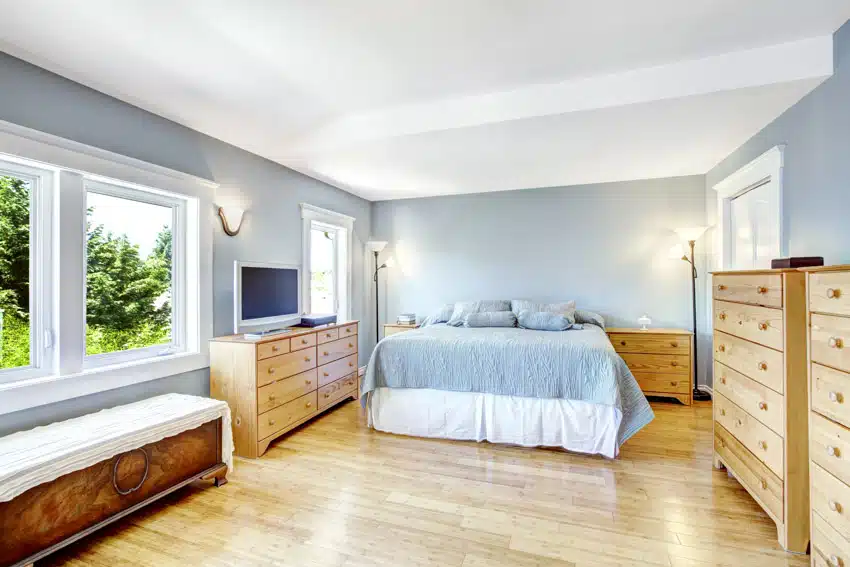 It is critical to understand how to correctly remove stains from oak furniture. Whenever something bad happens, you must know how to remove the stain as soon as possible.
In terms of removing fresh water stains, responding immediately could allow you to fix the problem quickly. All you have to do is wipe away any excess moisture using a dry cloth, then use a hairdryer on low heat to properly evaporate the remainder.
You will need to perform a little extra effort if the stain has settled. Understanding how to remove stains off oak furniture requires being cautious and patient.
Here are basic tips and tricks you can apply when removing stains from your oak furniture:
1. Mix vinegar with olive oil or water. Gently rub the stain using this cleaning solution and a soft cloth.
2. If the stains are caused by grease, you can try combining the vinegar with baking soda for a more powerful removal effect. You can put this solution in a spray bottle, spray some on the stained part, and wipe it with a moist cloth.
3. If the stain is hardened, try mixing toothpaste with baking soda in a container. After mixing, apply some of the toothpaste and baking soda mixture onto the hardened stain and leave it for at least 15 minutes. After that, try to wipe it away with a moist cloth.
Note: Whenever you are cleaning a stain on your oak furniture, remember to work starting from the outer areas towards the center of the surface to prevent the stain from spreading.
Plus, before using a particular cleaning solution on your oak furniture, make sure to test it first on a tiny and inconspicuous area first to verify its effectiveness.
1. If the stain is not yet removed even after following these steps, repeat the process until every stain is gone.
Oak Bedroom Furniture Maintenance Reminders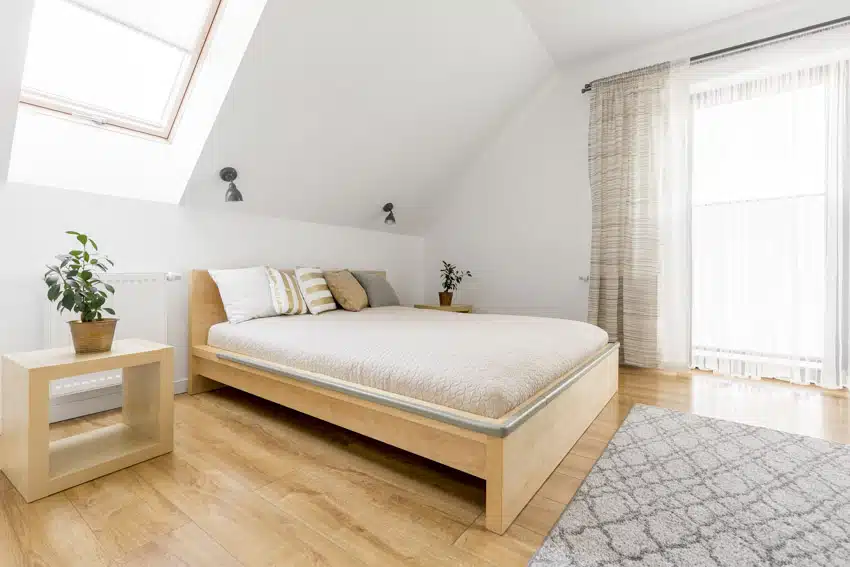 Proper maintenance is always the key to prolonging the service of a particular wooden furniture. Without further ado, here are some reminders if you want to keep your oak bedroom furniture well-maintained:
Place the bedroom furniture in a location that is entirely out of direct sunlight. Remember that the arrangement of your bedroom is quite critical, particularly for larger furniture pieces.
Excessively bright sunlight can cause oak furniture to split and discolor, which badly affects its longevity and appearance.
You must also arrange the furniture pieces in a spot where there are no constant temperature changes. Aside from that, you have to avoid placing hot, cold, or wet substances directly on oak furniture.
Make sure to always use coasters and placemats on certain surfaces like oak bedside tables to protect the furniture from accumulating watermarks or stains.
See more related content in our article about red oak flooring on this page.