Find out all about apple wood furniture including what it is, its uses, if the material is a hardwood, its hardness, and different apple wood designs.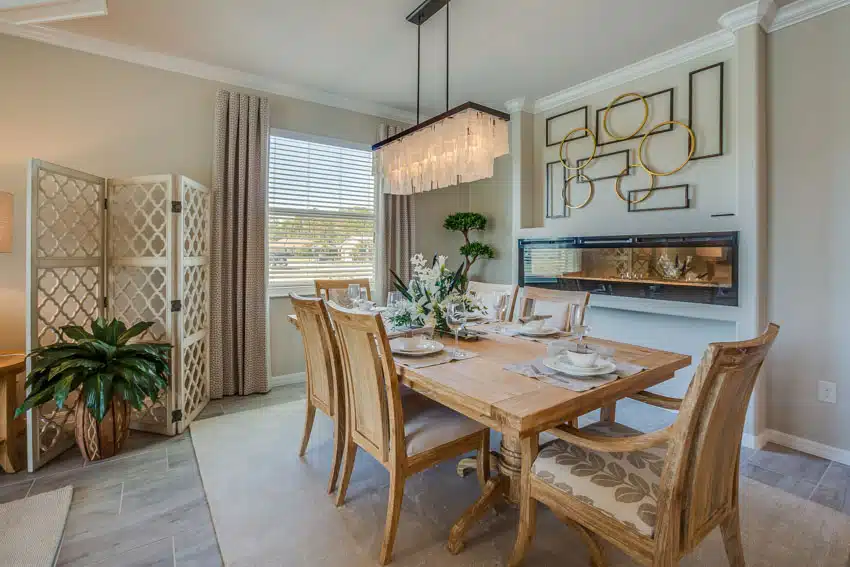 One of the most beautiful hardwoods on the marketplace is arguably apple wood. This wood species would make a fantastic option for furniture-making because of its substantial, powerful solidity as well as its consistently fascinating straight-grained texture.
In actuality, apple wood is robust, long-lasting, and versatile. It is therefore the ideal option for carpentry and woodworking projects. Apple wood is frequently used in sculptures, musical instruments, and decorative works.
However, apple wood still continues to be more of an exotic option for furniture-making, while being a high-quality wood type for a broad range of materials.
What Is Apple Wood?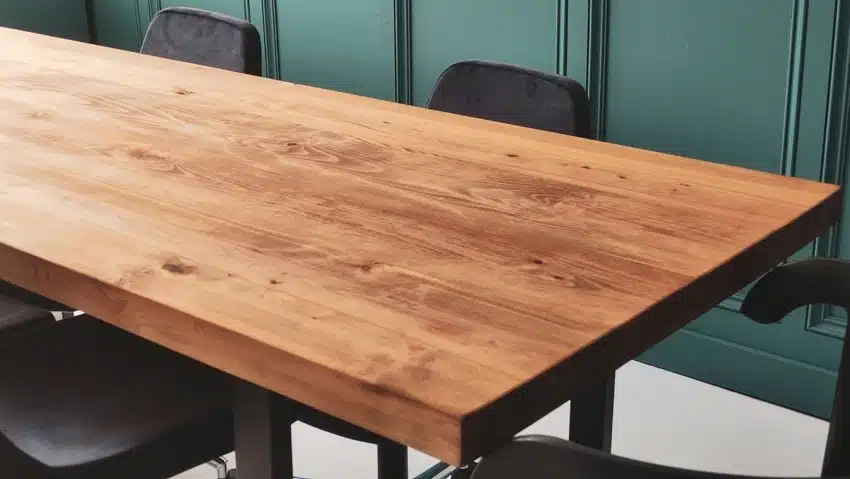 Apple wood is a heavy, powerful hardwood that is denser than cherry or other types of hardwood timber. It is therefore employed in the production of exquisite wood products including furniture, musical instruments, and equipment handles.
Apple wood's heartwood can range in color from a pale grayish or reddish brown to a darker red or brown. Apple grains may have streaks of color that are lighter and darker, resembling olives. Its sapwood has a light cream hue.
When apple wood is accessible in lumber format, it is generally in very small amounts. It is typically only intended for small projects and specific purposes, and it is expected to be quite expensive.
Exquisite furniture, tool handles, carvings, sledgehammers, turned items, and other small specialty wood products are frequently made from apple wood. Moreover, apple wood has a considerable density and can burn readily while being machined, making it slightly challenging to deal with.
Apple works great for glue, stains, finishes, and turning. While being handled, a light, sweet aroma would be noticeable. Furthermore, apple has not been linked to any particular health issues beyond the typical concerns of exposure to wood dust.
In addition, apple wood exhibits significant periodic movement while in use and has a significant rate of shrinkage. Its texture and look are remarkably similar to cherries, a type of fruit tree as well. Aside from that, apple wood is much heavier, tougher, and better for turning when compared to types of cherry wood.
Apple Wood Uses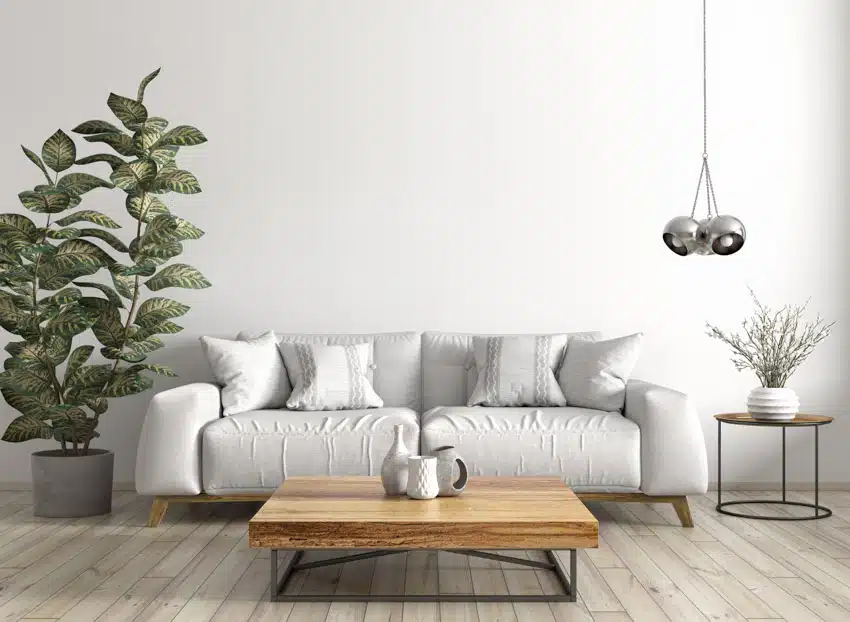 Furniture: Although apple wood is used for many other kinds of wooden objects, it is most frequently utilized as the preferred material for wood-turned types of furniture styles. Due to the deep grain, nails and screws can firmly grasp the material.
Additionally, due to its high resilience, it is excellent for producing durable furniture as well as for wood-turning. Nonetheless, it is quite unlikely that your local miller would sell you apple wood in large quantities.
In general, it costs more, particularly in comparison to the cost of pine. Apple wood is typically supplied in a restricted range of sizes, making it more of a premium lumber option. Instead of massive furniture pieces, it is more suited for little, unique woodworking projects.
Sanding and finishing are quite important when using apple wood as furniture. The sanding procedure will remove any flaws with the wood and bring out the natural elegance of the grain.
After sanding, the apple wood must be finished because this is when the wood reveals its intricacies and shines. The procedure involves using stain and polyurethane coatings.
Before applying this, the surface must be sanded. To achieve the best smoothness and sheen, use sandpaper. Following that, you can finish the wood and make the apple wood furniture reveal its shine.
Carving: Apple wood is suitable for carving. Because of its toughness, it holds up very well to difficult carving procedures like inlay work and chip carving.
Because of the alternating dark and light streaks that run across its grain, it has a particularly beautiful appearance. Allowing apple wood to dry for a while after shaping it results in a lovely polished finish that resembles a glass-like surface.
The wood from apples turns wonderfully. Apple wood may be easily carved into complex objects like wooden figurines, bowls, and spoon-making. The fact that apple wood objects are long-lasting is its best feature. Depending on where you keep it, apple wood might sometimes be too dry or too moist. You can paint the ends to ensure uniform moisture loss.
Whittling: When using apple wood, whittling is achievable. Nevertheless, apple wood's strong density makes it difficult to whittle. That tenacity makes it ideal for inlay work, but it also makes it difficult to whittle with a basic carving tool.
Smoking Food: Food smoking is a great use for apple wood. A delicious sweet flavor is imparted by apple wood. It imparts a rich aroma to dishes but is very subtly done. The natural flavor of the meats or veggies is not overpowered by the sweetness.
Apple wood is the preferred choice for tender products like fish and pork because of its mild flavor. You can still use it on some seafood and meat, though.
Although you may also use it on chicken, you have to pay close attention to how it is smoked. In this instance, the entire cooking time is important. If you leave the fowl there for too long, the light and fruity flavor of apple wood will overpower it.
Is Apple Tree Wood A Hardwood?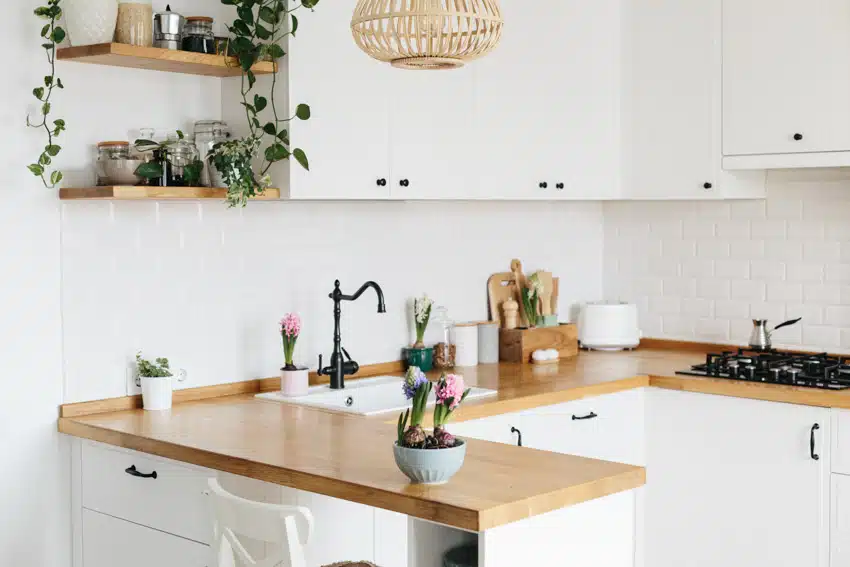 Yes, apple tree wood is considered hardwood. The most significant distinctions between hardwoods and softwoods are found at the cellular level. Such trees are known as angiosperms in hardwoods and are typically flowering or fruit-bearing trees. Thus, apple trees are examples of widespread hardwoods.
Is Apple Wood Good For Furniture?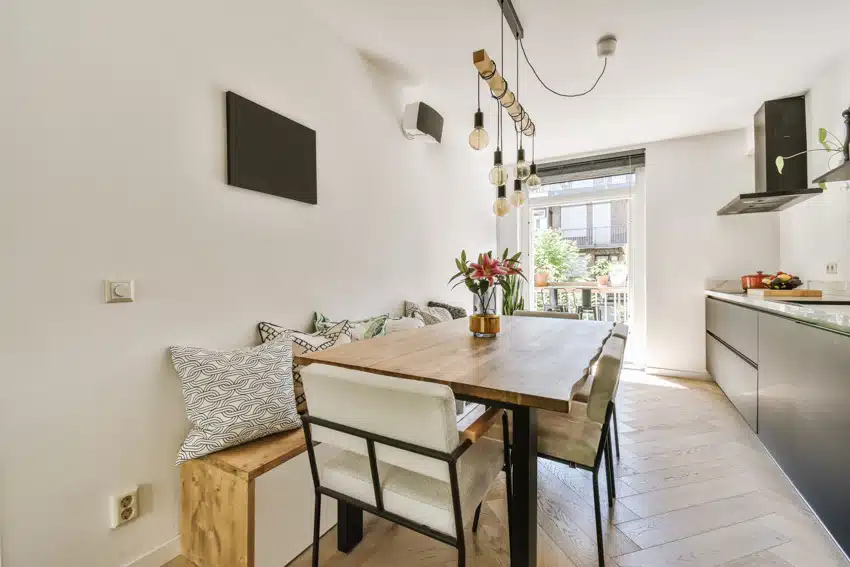 Yes, apple wood is good for furniture. Apple wood is a very stable, durable, and long-lasting type of wood that can be used for making different types of furniture pieces.
Apple wood is utilized for a wide variety of purposes. It is commonly used to make certain types of tables, doors, various equipment handles, cupboards, bars, and frameworks.
However, wood-turned furniture is its most common application. The density of the grains is among the reasons for apple wood's desirability. This allows components like screws and nails to stay intact. When combined with its resilience, apple wood furniture can be an incredible option due to its strength and durability.
When dried, apple wood, like most fruit woods, grows fairly hard. Because of its toughness, apple wood holds its shape effectively. This certainly ensures that the tiny lines carved into the wood will be preserved. Furthermore, when the wood dries, it becomes more impervious to scratches as well as impacts.
Nevertheless, carving extremely dry apple wood can be challenging. Although you can carve with fresh, young apple wood, when it dries, the wood might crack or split, potentially ruining your furniture-making effort.
Apple wood has a lovely caramel color. It is not usually evenly distributed, with some regions having sporadic brighter spots and others appearing much darker.
One of the primary reasons why customers prefer apple wood for furniture is its stylish and earthy color. Although carving is not particularly enjoyable, the color of the wood makes the effort worthwhile.
Apple Wood Hardness (Janka Rating)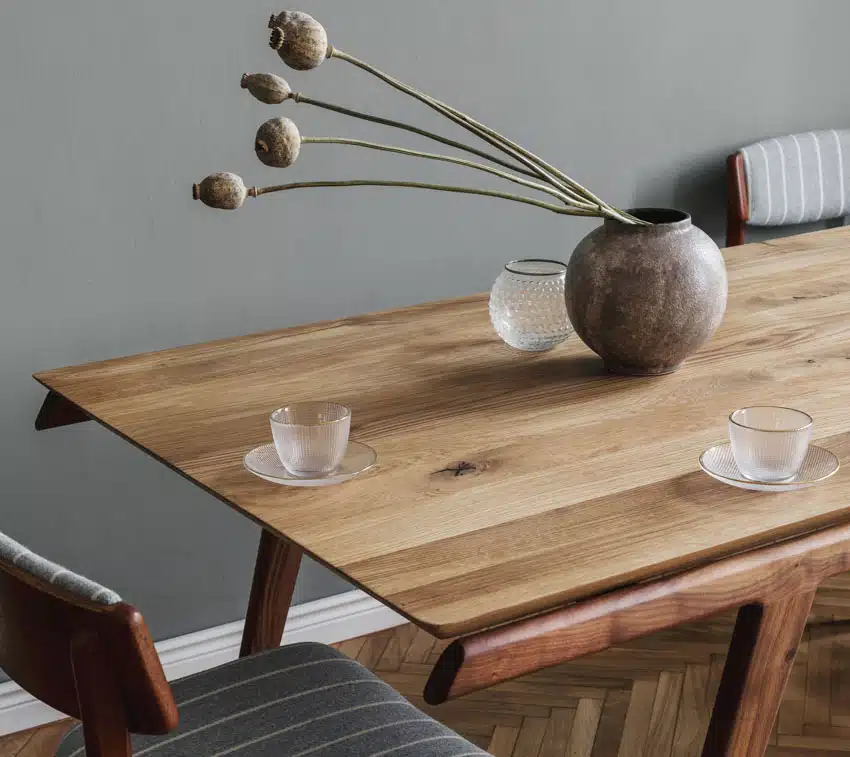 Apple wood has a Janka hardness rating of 1,730 lbf or pounds of force (7,700 N). This wood is harder and heavier than cherry wood. Hence, it unquestionably belongs to the hardwood species.
When it comes to wood density, apple trees are considered to be medium- to high-density wood. Apple tree woods can weigh anywhere between 657 and 833 kilos per cubic meter. It all relies on the apple tree species being used.
Apple Wood Slabs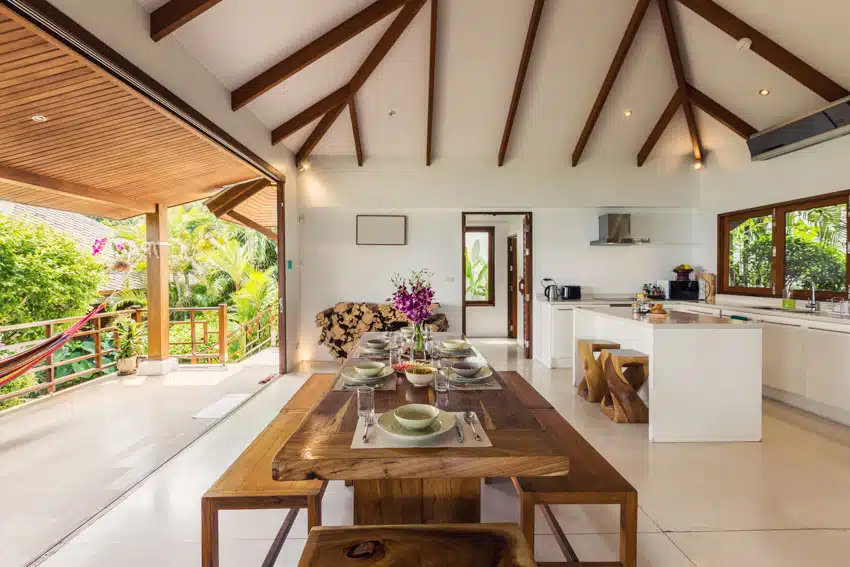 Apple wood slabs are usually hardwood used for tool handles. An apple wood slab is often a knotted or twisted wood, and while most of the chunks lay relatively flat, you must expect slight twisting, bowing, cupping, as well as knotting.
Cherry Vs Apple Wood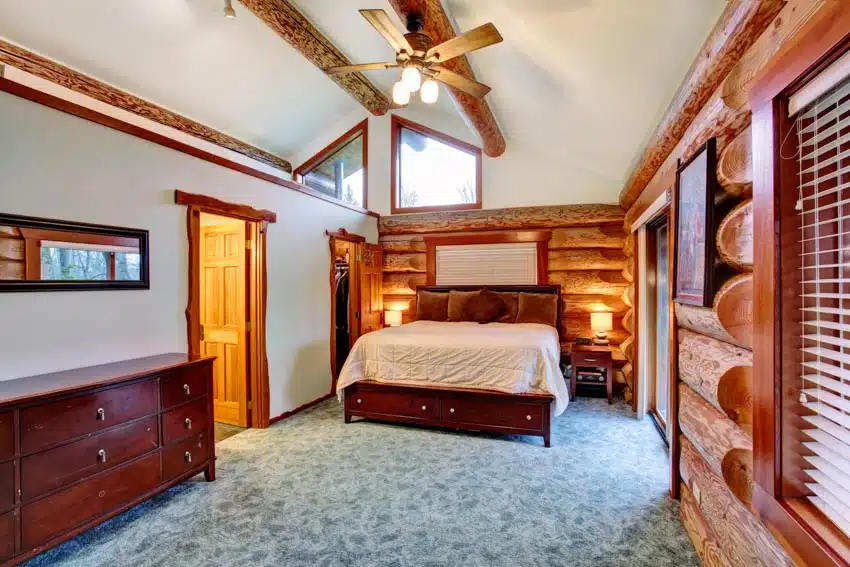 In Terms of Durability and Appearance: Numerous people admire the apple's finely pored wood. It is medium-hard, and has a distinct characteristic for a wooden piece of furniture. It does not have any long fibers and is quite easy to work with mechanically.
Due to the rarity of the required grade, apple wood may not always be widely accessible on the market. Some specialists can produce excellent wooden furnishings from wood that has not fractured during the drying procedure.
Cherry, on the other hand, is another hardwood that has among the most beautiful and linear types of wood grain patterns that span in color from reddish-brown to tan. It is commonly employed in carved chairs, but it can also be seen in clean-lined Shaker-style cabinets and furniture.
Customers are undoubtedly drawn to the combination of the somewhat dark and bright colors of cherry wood. It shapes readily and shines wonderfully. It has a rich, attractive color when not stained.
In Terms of Being Able to be Carved: Apple wood is one of the most adaptable materials for carving. It carves nicely with practically any type of blade or carving instrument, is durable, and boasts a natural grain that gives it a weathered appearance.
When it comes to carving, cherry is not the easiest wood to deal with. It is relatively tough to carve, but its reddish-brown color and delicate forms make it an appealing wood to carve. Cherry wood shrinks significantly while drying but remains genuinely solid afterward.
In Terms of Hardness Rating: Apple wood does have a Janka hardness rating of 1,730, whereas cherry wood possesses a Janka hardness rating of 950.
See more related content in our article about the different types of furniture styles on this page.