These rustic kitchen backsplash ideas feature a variety of materials such as tile, stone, brick, copper, tin, wood, subway tile, and peel & stick backsplash ideas.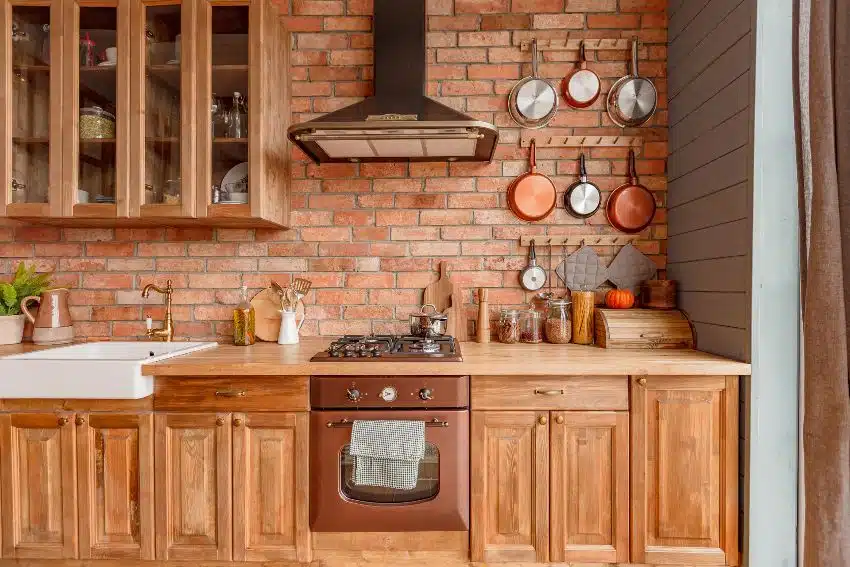 A rustic kitchen works perfectly well for homeowners who value a cozy and nostalgic ambiance when cooking or preparing a meal. If you feel the same way, the best way is to collaborate different elements in the kitchen towards this style. One of the best elements to be used as an accent is the backsplash.
Sprucing up your backsplash to match your rustic kitchen can be accomplished in a variety of ways. You can use specific materials to stay true to the rustic style and elevate the look of your kitchen.
What Is A Rustic Backsplash
A rustic kitchen backsplash offers natural materials and often a rough-hewn (unfinished), textured appearance. This style is frequently associated with country or farmhouse aesthetics and can add warmth and charm to any space.
Popular materials used for rustic kitchen backsplashes include reclaimed wood, stone, brick, tile or even different types of metal like copper, aluminum or tin. These materials are often left in their natural state or finished with a weathered or distressed look to enhance the rustic feel.
Rustic backsplashes can be incorporated into a variety of design styles, from traditional to modern farmhouse. They add character and texture to any kitchen space and can create a unique focal point that adds personality.
Styling a rustic backsplash is essential if you want a rounded look for your kitchen. The first step in turning your backsplash rustic is by choosing materials that can give you a sense of time.
The key is to make sure that the backsplash does not look brand new. It should have this distressed and used look that signifies that the space is lived-in and used. Some of the key terms that will describe a rustic backsplash are worn, rugged, cozy, and warm.
Rustic Kitchen Backsplash Design
To give you an idea, here are some design tips regarding the elements you should stick with and the ones you should avoid for rustic kitchens.
• Use natural elements – Stick with a rustic backsplash made from natural materials, from wood to stones. Natural elements have an authentic look needed for this nostalgic and lived-in feel. Metal backsplash can have this sun-exposed and oxidized appearance perfect for this style.
For wood, distressed and reclaimed wood are better. Recycled materials also work well to show the evolution and incorporate life into your backsplash.
• Choose matte finish – Stay away from glossy and glazed finishes and go for the texture of a matte finish. The shine can look too artificial and fake, which would be the opposite of what you want to achieve for a rustic backsplash.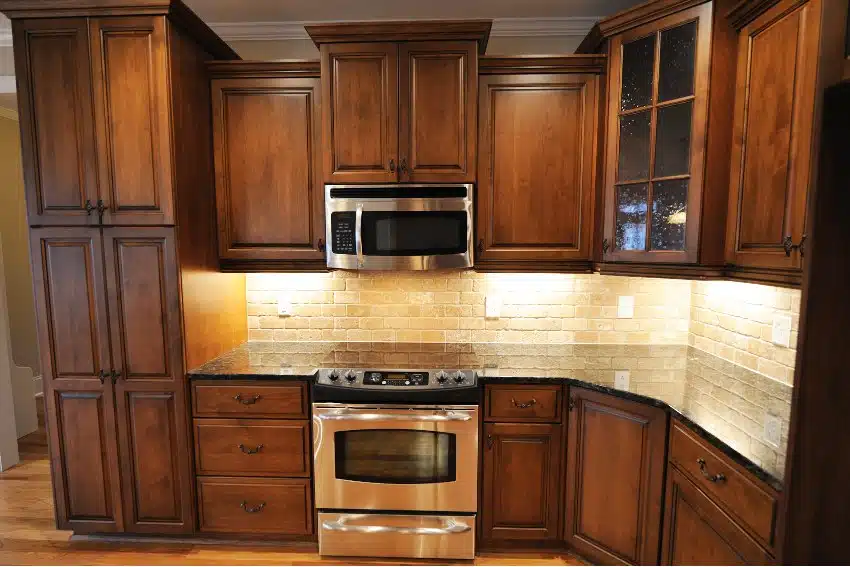 • Add accent to the backslash – Elevate the look of your backsplash by installing floating wood shelves. Texture is an important element in rustic style and so by adding these shelves, you can contribute to that texture by building a new layer.
• Concrete MAY be considered – Concrete backsplash is becoming a trendy option in rustic kitchens but there's always this distinct feeling that pertains more to the farmhouse and industrial styles. If you're choosing concrete for your backsplash, make sure that you like the ambiance usually associated with industrial and farmhouse styles.
Much more than following these basics, you should also be able to decide on the ambiance you want for your rustic kitchen backsplash. There are specific styles that can be combined with rustic style and you can get an elevated feel in your kitchen.
The rustic style works so well with the farmhouse style that they are usually interchanged with each other. There's this earthy and natural feel to both styles that make your kitchen feel cozy and inviting. But to get a rustic style, you don't have to stick with the farmhouse style despite their similarities.
While a rustic-style kitchen backsplash needs to be rugged and worn, it doesn't mean it can't be stylish. You can style them to look more luxurious by going for a darker shade of backsplash and creating a contrast using warm wood tones and light-colored cabinets. The right combination of materials can set the rustic mood you're envisioning for your kitchen.
Rustic Tile Backsplash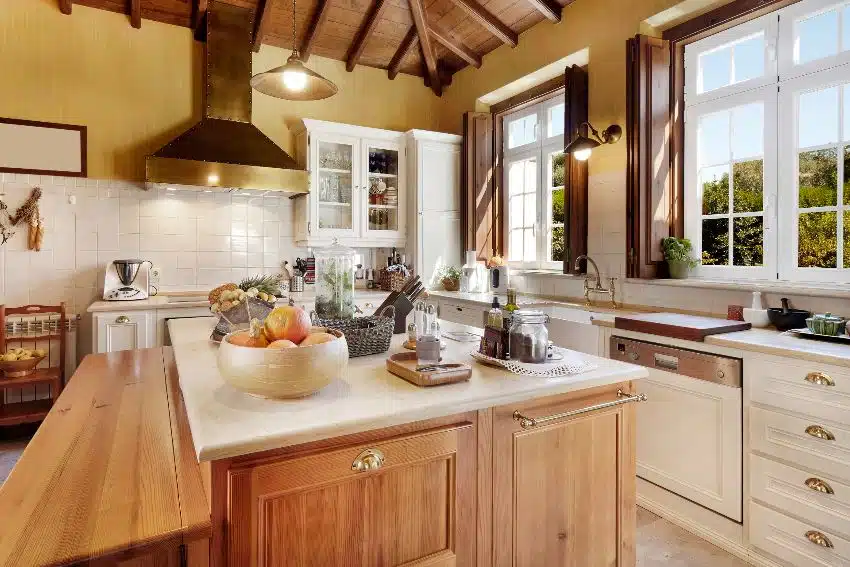 Advantages
• Wide selection of natural materials to consider
• Easily available
• Easy to install
Tiles are considered popular material options for a rustic backsplash, because of how easily they can imitate the look of natural materials. You have the option of going for stone tiles and even wooden tiles but make sure they are not too neat and clean to look at.
These tiles are also widely available in the market, including online stores. They are also easy to install since they are not that heavy to lift and difficult to handle.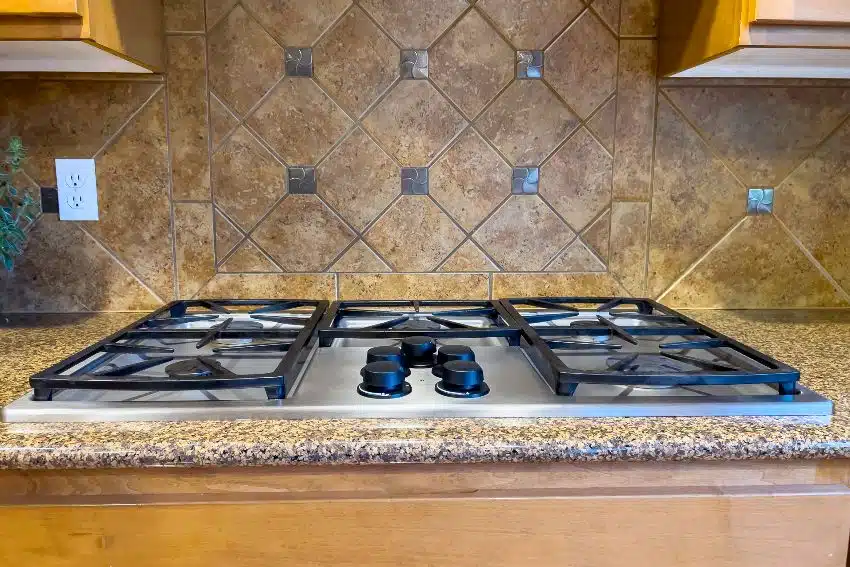 One of the most popular tile options for a rustic backsplash is terracotta. Terracotta tiles are known for their durability and warm aesthetics.
They can last for a long time and if you decide on them make sure you like them. They are also considered to be one of the oldest tile materials you can use and so it only makes sense that they can easily showcase the passing of time.
Rustic Subway Tile Backsplash
Advantages
• A timeless and rustic appearance
• An endless variety of designs
• Affordable option
Choosing subway tiles for your backsplash is to be expected if you're building a truly rustic kitchen. Subway tiles can be made with different textures and designs so you have quite a list of options to go on. The pattern though is what many homeowners are after because of their classic and timeless quality.
If you are using a rustic subway tile backsplash, you can go for maximum effect by using distressed tiles. Besides terracotta tiles, distressed tiles are also famous for rustic kitchen backsplash. They are structured to look weathered and worn out, adding a rustic touch to your kitchen. These tiles are also easy to clean so you won't have a hard time maintaining them.
You can also consider beveled tiles for your rustic subway backsplash. They will add a layer of texture and many dimensions to your backsplash. The walls will look more real and appear unique.
Rustic Stone Backsplash Kitchen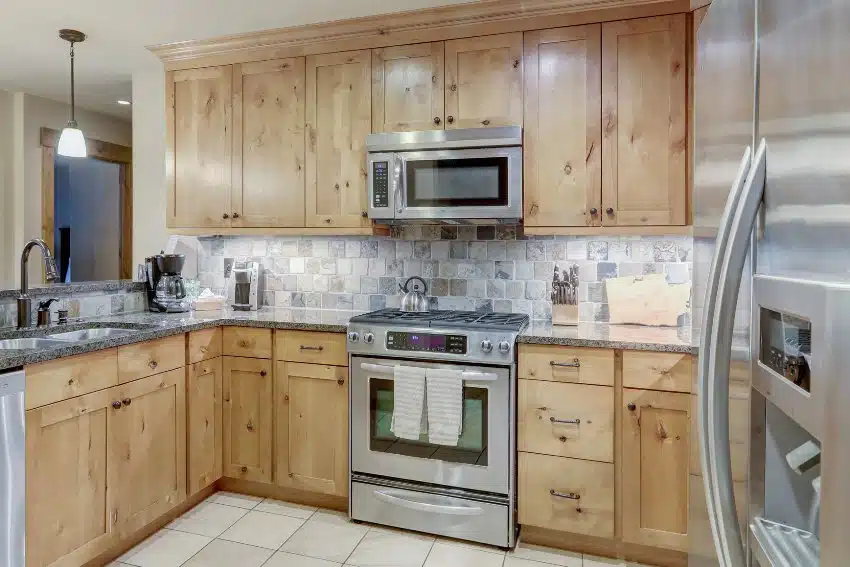 Advantages
• Natural, unique, and authentic aesthetics
• Versatile applications and installation
• Challenging to clean and maintain
• Requires regular sealing
Stones are another popular material to use for your rustic kitchen backsplash. The natural look of the stones gives it the rustic feel you want to have for your backsplash. They have this raw and cozy mood to them that will definitely make you feel you are in presence of nature.
It also helps that each stone is unique with its imperfections and not all similar to hand-made tiles. Many types of stones are textured and so ideal for a rustic style backsplash.
In terms of installation and application, stones are flexible and versatile. You can align them evenly or use them in a more layered look. You can even create diverse patterns by using different sizes and shapes of stones all in a single backsplash.
The major downside in choosing a rustic stone backsplash is that since the material is porous, they tend to stain easily and has a buildup of bacteria. The trick is to regularly seal the backsplash so that you won't have to worry about it.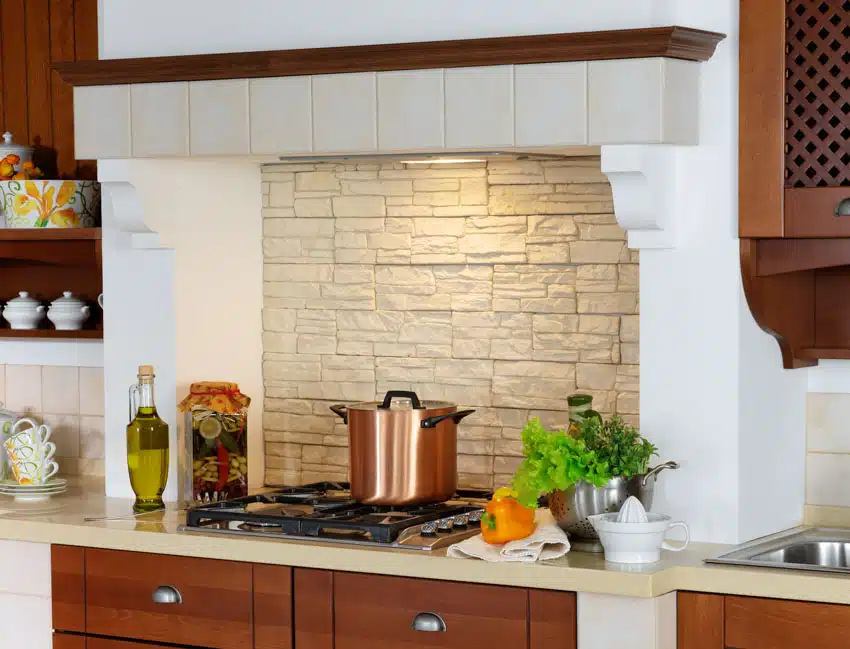 Another alternative to traditional stone tiles is to use a stacked stone backsplash. Stacked stone are typically tiles that are designed to give the appearance of layered stone that are stacked on top of each other.
This gives an interesting three dimensional look that provides visual interest and adds character to a rustic style kitchen. The materials most often used include granite, quartz, slate, travertine, and marble.
One of the most prominent trends in kitchen design is to give texture to interior & exterior vertical surfaces, and stacked stone is one of the best materials you can use to achieve this stunning effect – interior designer Rachel Razal-Padilla.
Rustic Granite Backsplash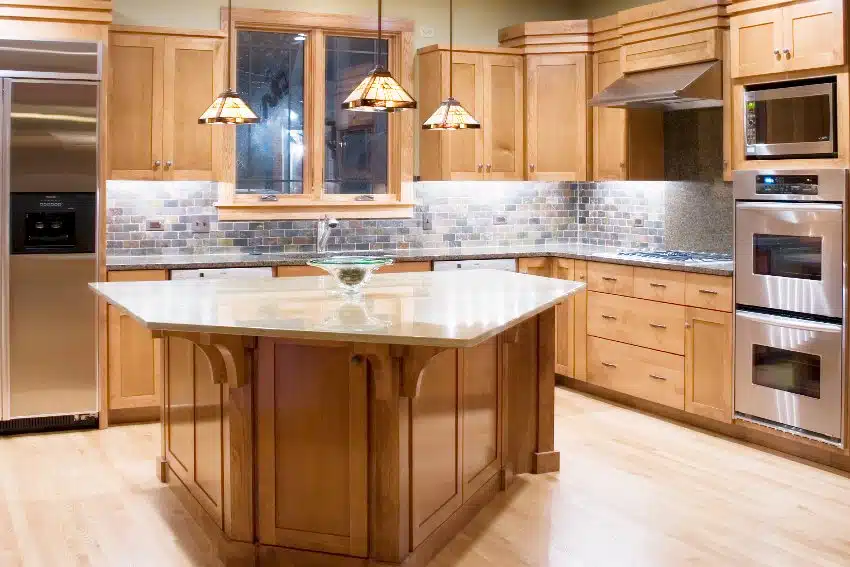 Advantages
• Durable and hard
• Wide variety of styles and colors
• Requires less maintenance compared to other stone options
A rustic granite backsplash offers a durable and rustic element in your kitchen, easily giving you a lived-in and cozy vibe for the space. Granite adds visual value to your kitchen, showcasing a stronger and more grounded look. And the best thing about using granite for your rustic kitchen backsplash is that it requires way less maintenance than other stones.
These stones come in different colors and styles, you have quite the freedom to match them with other colors to achieve the look you're envisioning. A rustic kitchen backsplash tends to be stunning and visually dynamic and granite can bring that to the table. Choosing the right color for your granite backsplash will help create the layers and textures for your kitchen.
You can consider a granite backsplash with mixed tones of beige and gray and pair it with walnut cabinets to round up the look. You can also match when with darker colors like black and brown for richer aesthetics.
Rustic Slate Backsplash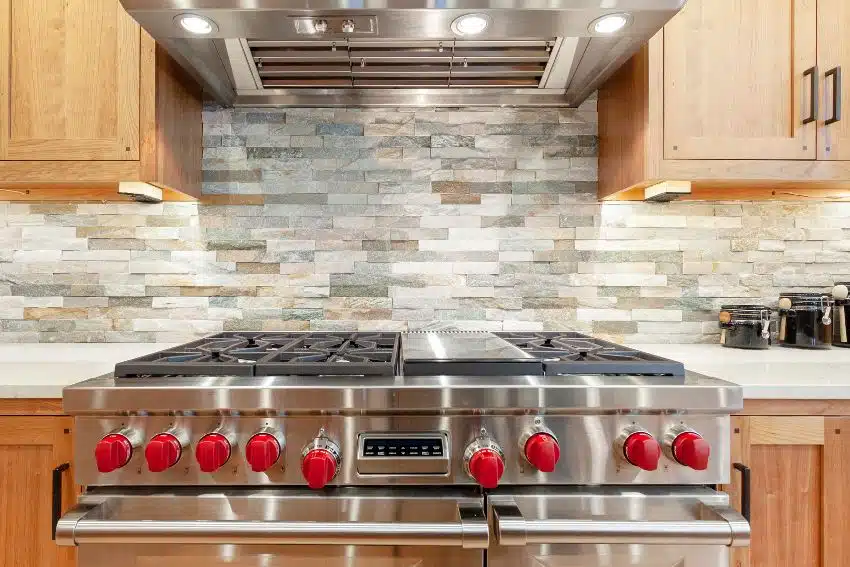 Advantages
• Durable
• Naturally textured
• Most are in deep gray color
While the materials are usually gray, slate usually comes in a wide selection of color tones, including green and brown. If you want to settle on the more classic look for your rustic backsplash, you can stick with the color gray. For a more unique approach though, get a green rustic slate backsplash if you want.
A rustic slate backsplash is a durable option that features a texture that's natural and striking to look at. These slates can be described as chunky and if you want to stay true to its rustic style, you can choose a raw and unpolished slate for an authentic feel. But they can be easily combined with other stones and result in a colorful and mixed rustic appearance.
Rustic Limestone Backsplash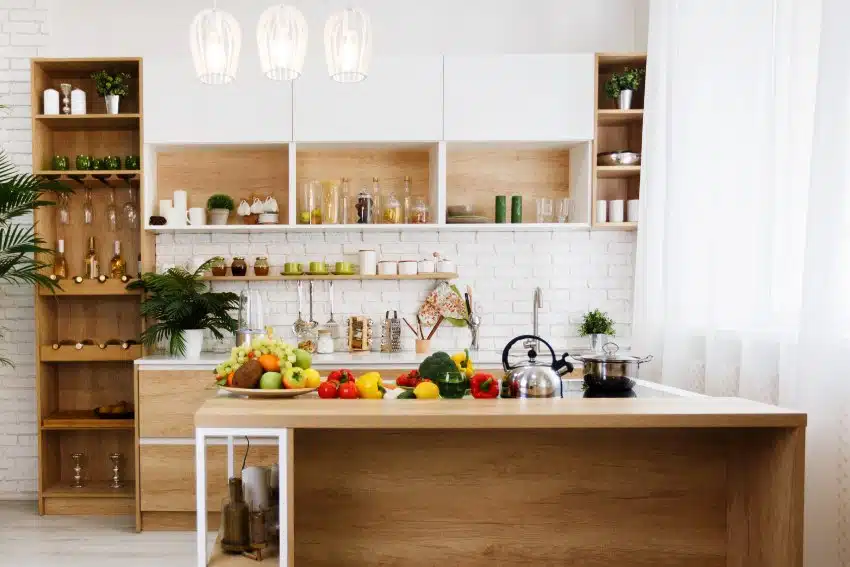 Advantages
• Feels antique and old-world
• Tumbled limestone is the best option
• Requires regular sealing
If you're going for a rustic limestone backsplash, choose tumbled limestone for your material to get an authentic texture that will take you back to the past and make you feel like in the old world.
Tumbled limestone has this curved edge and gentle surface but to achieve that look, it needs to undergo this tumbling procedure to get the worn out and weathered appearance.
With tumbled limestone, because of the procedure it undergoes, it tends to lose its natural luster and so will require the application of color-enhancing sealer. More than adding color to the material, the sealer will also be a way to protect it from moisture.
A rustic limestone backsplash adds an all-rounded look to the kitchen, giving a touch of elegance to the space with an aged charm to stay true to its style. It's one of the reasons why this backsplash can act as an accent wall at the same time.
Rustic Brick Backsplash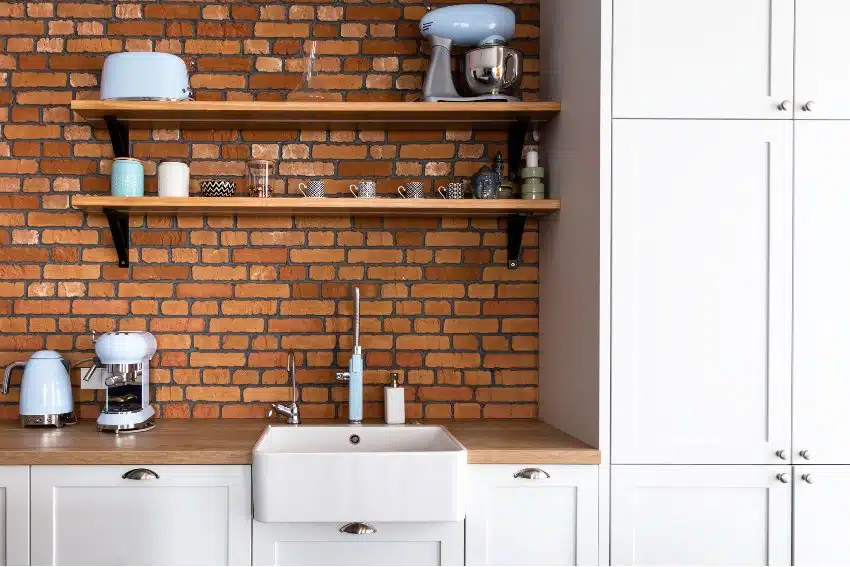 Advantages
• Earthy and soil palette
• Flexibility in designs and styles
• Limited color options
Bricks are common options for rustic style, whether you're dealing with your bedroom or the kitchen. A rustic brick backsplash seems like an obvious choice because of its soil palette and earthy palette that's a natural ambiance.
If you are not fond of this soil look, you can whitewash the bricks instead and give the material this illuminating effect. The color options for bricks are very limited if you choose to work on a rustic brick backsplash.
For rustic red bricks used in a backsplash, you can balance the warmth that comes from this element by pairing it with wooden countertops and cool-colored cabinets. The contrast to the warm ambiance of the red bricks can enliven the look of the space and give it a unique look. If you want a more classic combination, white cabinets and black shelves can also work with your rustic red brick backsplash.
For a whitewashed brick backsplash, sticking with wooden cabinets and countertops can ensure a rustic impression to your kitchen. There will be an industrial feel to the space but the warmth and cozy feel of the bricks will even things out.
Rustic Copper Backsplash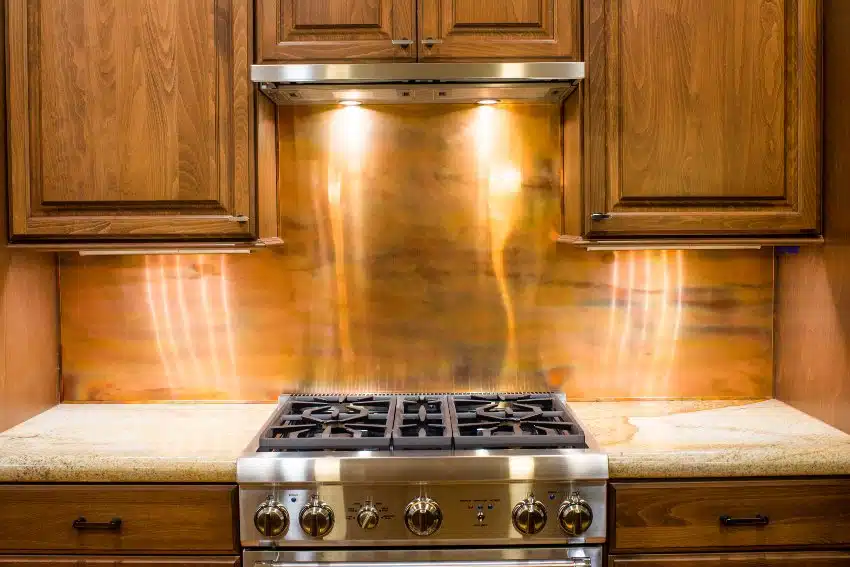 Advantages
• Authentic rustic aesthetics
• Often handcrafted and customized
• Flexible design and pattern
Copper is a common material associated with the rustic style because of its color and naturally worn look. The material can be customized and carefully crafted so that the copper will heave this seasoned look you will only find in age-old pennies. This will be perfect for your rustic backsplash and will definitely help you stay true to the style.
Besides a standard antique copper, you can also use a rustic copper plate to create a mosaic backsplash. Once you choose a rustic mosaic backsplash, you get a textured element in your kitchen with rough edges and surfaces.
This type of backsplash will look good when matched with a light-colored countertop. This will incorporate interesting and visually appealing aesthetics into your kitchen.
A rustic copper backsplash can be meticulously customized and handcrafter, depending on your kitchen's look. Some copper may feel heavy though so if you DIY the task, it may be difficult.
Rustic Tin Backsplash
Advantages
• Flexible shape and installation
• Inflammable material
Tin is another material you can consider for a rustic metal backsplash. The great thing about tin is that it can be customized and worked on to have different shapes and finishes, depending on what the homeowners want to have.
While copper has this naturally oxidized look that gives it a rustic look, tin has this malleable appearance that can also be associated with a worn and rugged look. Another advantage of tin is its inflammable nature, which makes it a good option for a backsplash.
If you want a rustic tin backsplash, you can set it on a part of the wall and then coat the rest of the walls with a different material like bricks or stones. Installing this tin backsplash can be easy with only the use of sheet metal. This tin backsplash is ideal for both rustic and farmhouse styles kitchens.
Rustic Peel And Stick Backsplash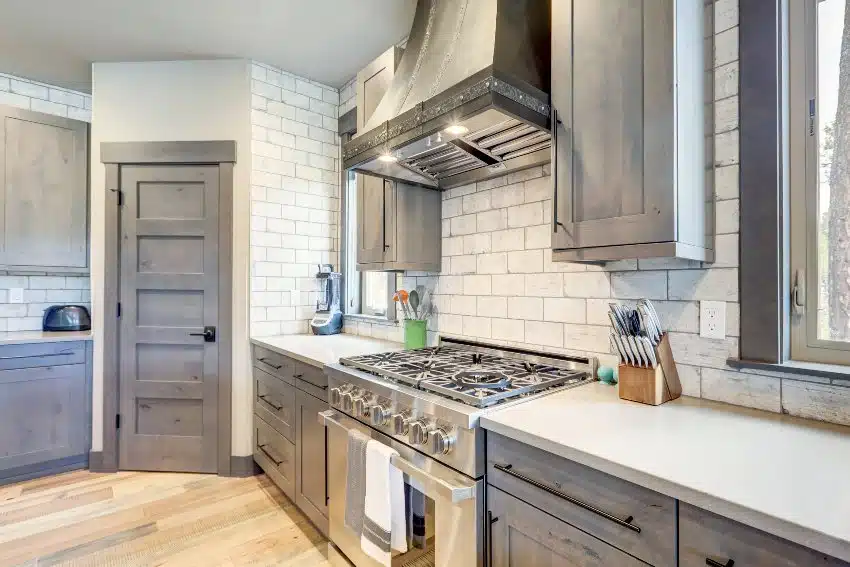 Advantages
• Easy and convenient installation
• Ideal for rental properties
• Wide selection of designs, colors, and patterns but may be limited in rustic designs
If you choose a rustic peel-and-stick backsplash, you get to have the flexibility of choosing the colors and patterns you want to add to your kitchen. Of course, if you want to be loyal to the rustic look, make sure to choose a pattern and design that looks rugged and replicates rustic materials. And with unnatural materials, getting this rustic look is more difficult to achieve.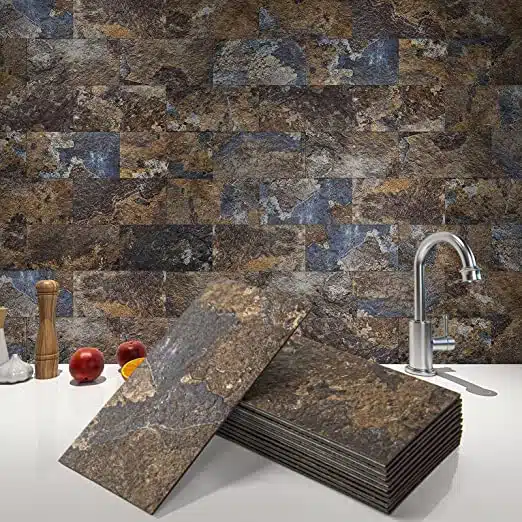 See this rustic peel and stick tile backsplash at Amazon [Sponsored link]
The peel and stick backsplash is easy to install and remove. You won't need an expert's touch and work tools just to install or take it out.
This is the reason why it is a good option for rental properties or for homeowners who are planning to move sometime later. It is also the perfect choice for those who can be quite indecisive and tend to change the look of their kitchens every now and then.
Rustic Wood Backsplash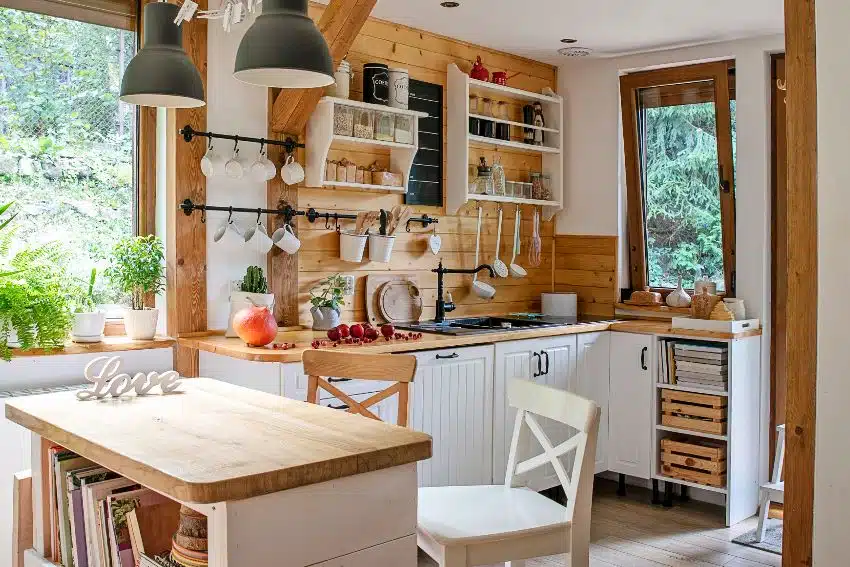 Advantages
• Versatile in forms and applications
• Most requires regular sealing and maintenance
• Delivers authentic and natural vibe
Wood is a common and popular material used at home, in any capacity that homeowners want them to use. It is a versatile material that can come in the form of expensive hardwood or the more affordable shiplap. This material is an excellent option if you're working on a rustic backsplash.
A rustic wood backsplash will carry inherent stains and graining, adding a rustic touch to your kitchen. Depending on your preference and vision, you can go for dark or light-colored wood. The former look will showcase richer and more dramatic aesthetics for your kitchen while the latter offers a more subtle and classic look.
Depending on the type of wood you choose for your rustic backsplash, maintenance can either be low or meticulous. Some wood will need regular dealing while some won't need it at all so make sure you choose right. Moisture is the major antagonist of all wood and when installed in a kitchen, you need to do everything you can to protect the wood from moisture as much as possible.
Adopting a rustic look for your kitchen backsplash requires your full understanding and attention. Considering the right materials will make it much easier for you. Make sure that the material you choose will match everything else in the kitchen for a more unified look.
See more related content in our gallery of beautiful rustic kitchens on this page.