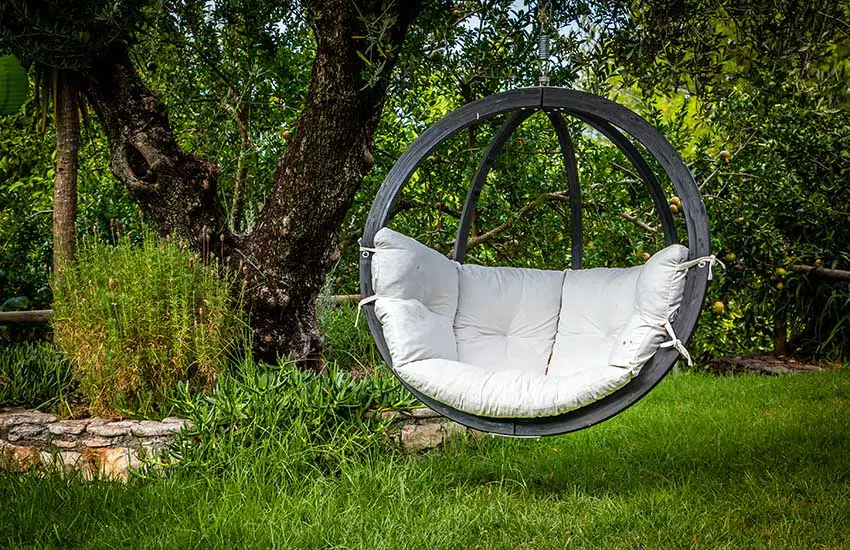 Here we explore fun hanging cocoon swing chairs in a variety of rooms and designs. What better way to enjoy the summer breeze than to hang out and relax outdoors? It's even better when you have outdoor furniture where you can lounge and enjoy the best of summer. If a normal outdoor chaise or sofa isn't enough, a cocoon swing chair would be a gorgeous accent piece, which you can put both outdoors and indoors.
The wooden cocoon swing chair in the picture above is made of thick wood framing and lined with soft, removable cushions for the seat and the back. It has an open frame style, so it doesn't provide much shade, so it is ideally placed under a tree or any shaded area for comfort. Since it's top part is kept open, air easily passes through, ensuring a comfortable temperature.
What is a Cocoon Swing Chair?
A cocoon swing chair is like a hybrid of a hammock, a swing and a canopy chair – it usually has comfortable cushioned seats, hangs from a rope/chain and has a canopy top for a sense of privacy and to help shield you from the sun.
Nowadays, there are many different cocoon swing chairs you can choose from, and you can choose the perfect type for you depending on your style preference & area of application/installation.
To help you trim down your choices, you can choose between these 2 general types of hanging cocoon swing chairs:
Ceiling & Overhead Mounted Cocoon Chairs
This is great for both indoor and outdoor application and will allow you to hang your chair in the height you prefer. You can fix your chair on a sturdy tree branch, a beam, or a sturdy ceiling/slab.
This type of swing chair gives the best stability & durability, with a little disadvantage of mobility or being able to change its location easily. When using this type of swing chair, make sure you choose a durable surface to hang it or attach it on, to ensure safety and stability.
The gorgeous round hanging cocoon swing chair pictured above is made of rattan and attached on a sturdy ceiling. The lightweight design and small size makes it ideal for indoor application, a gives a casual, laid-back appearance. The natural color of the rattan gives an organic feel to it. You can add cushions and pillows, just like in this example, to make it more comfortable. See our gallery of types of chairs for more decorating ideas.
Freestanding Cocoon Chairs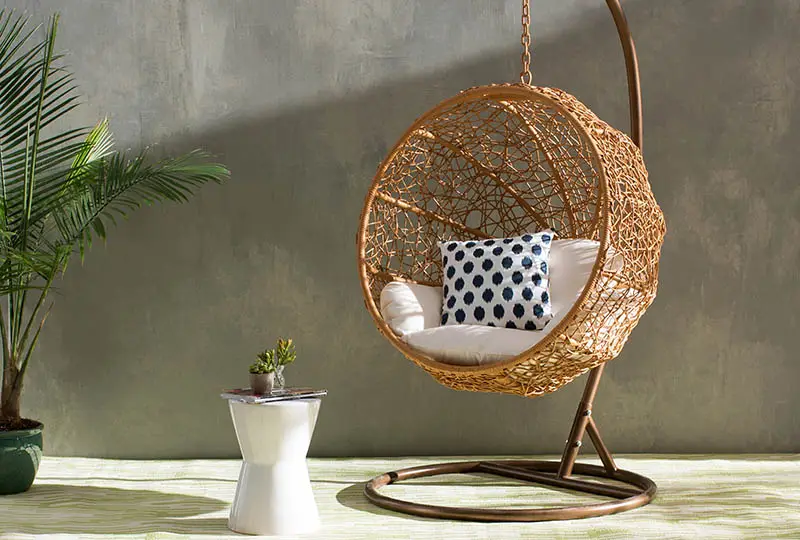 Outdoor hanging rattan swing chair with stand – Wayfair
This is a freestanding hanging cocoon swing chair made of a sturdy metal base and lightweight metal chair framing and synthetic rattan. The random cobweb style of the synthetic rattan gives it a very natural/organic look, reminiscent of bird's nests, and gives it a light, airy feel as well. This one is suitable for both indoor and outdoor application, and its small size makes it easy to place anywhere.
This type does not require you to hang it on a branch or ceiling, as it has its own stand and base so that it is able to stand and swing on its own. This is the perfect choice if you don't have anywhere to hang your swing chair, or if you want to easily move/relocate your chair.
The disadvantage of these types of chairs is that it feels a little less stable and holds lesser weight than an overhead-mounted one, and you have very limited choice in its hanging height.
Hanging Cocoon Chairs
Hanging cocoon swing chairs comes in different shapes, styles and materials. You should choose depending on your needs and the look you are going for. There are many different material varieties used on cocoon swing chairs and the most common materials are wood, rattan, synthetic rattan, wicker, plastic and in some cases, metal with a stretchable fabric.
Remember to choose outdoor-appropriate materials and finishes if you intend to use it outdoors. For indoor application, both outdoor & indoor-appropriate materials can be used. As for the shape, styles and designs, there are a lot you can choose from, and it will really depend on your preference.
Placed indoors in a modern industrial style space, the hanging cocoon chair in the image above matches the whole theme of the interior design. The chair is attached on the concrete ceiling using sturdy chains, while the round indoor cocoon chair looks very cozy and comfortable as the whole thing, even its outer framing, is lined with cushions. The neutral-colored fabric used gives it a soft look which can easily suit any color scheme or interior style.
Since these types of chairs are eye-catching and serves as an accent piece, popular outdoor application areas would be under a large tree, in the patio area or the gazebo. Indoors, you can place it in any nice, spacious corner of your bedroom or living area, serving as a great accent piece where you can relax. Visit this page to see more ideas for a hanging chair for the bedroom.
Cocoon Chair Indoor and Outdoor Designs
Below are some gorgeous examples of hanging cocoon swing chairs.
Another great area to place your hanging cocoon swing chair would be under a gazebo. In this example, you will see that the ceiling-hung swing chair was placed right in the middle of the wooden gazebo, helping shade it from the sun.
The chair itself is made from outdoor-grade metal framing and synthetic rattan so it stays durable even when exposed to outdoor elements. It has a bean-like shape, making it slimmer and consuming less space.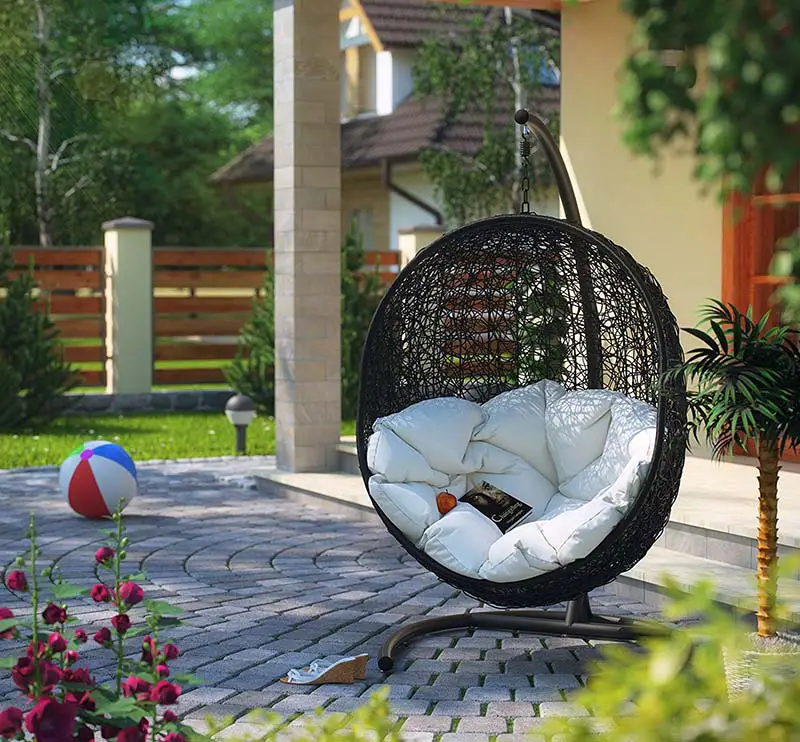 Hanging patio chair
This is another example of a free-standing cocoon swing chair, with a c-shaped metal base and chair made out of metal framing and synthetic rattan shell. The web-like weave pattern used on the outer shell makes it resemble a bird's nest and allows air to pass-through. The oblong shape gives you sufficient headroom, as well as sufficient sitting area lined with soft cushions.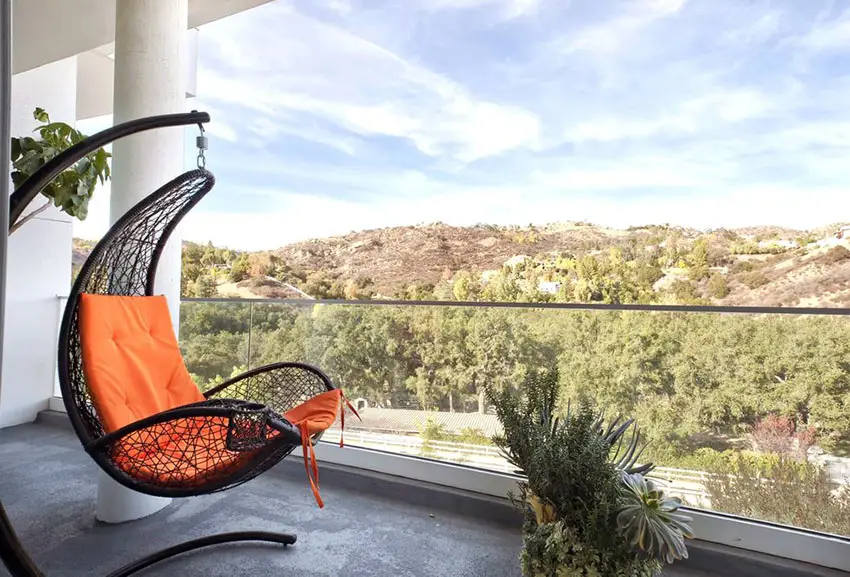 The balcony is another great area of application for hanging cocoon swing chairs, as it allows you to enjoy the view and the fresh outdoor air, while giving you a semblance of privacy. This example is a modern freestanding type, with metal base and synthetic rattan & metal framing for the chair.
Instead of the usually round or oblong shapes, this is crescent moon-shaped, making it slimmer and allowing more air to pass-through. It has a slight disadvantage in terms of providing you shade, but if you place it on a shaded area, it should be fine.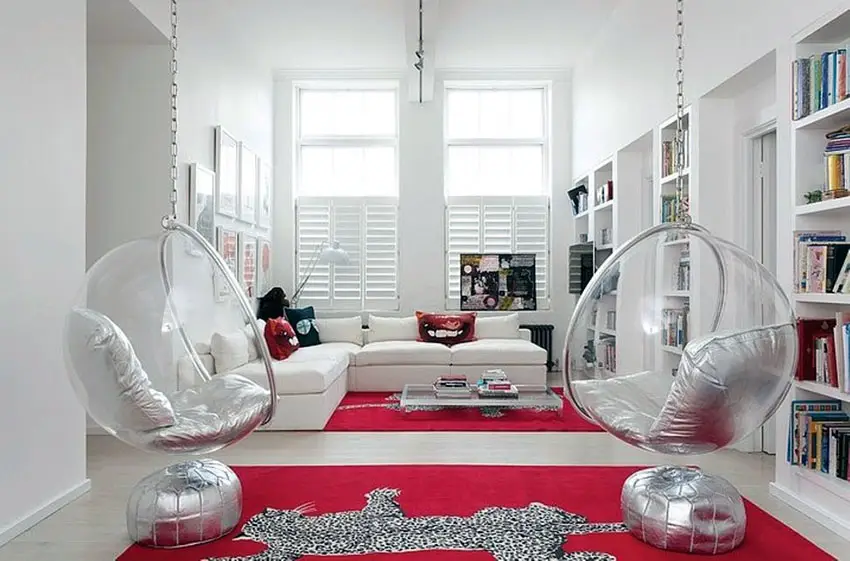 The Bubble Chair by Eero Aarnio is a classic example of iconic Modern Furniture pieces. It is made of metal frame and clear acrylic, giving it a very futuristic appeal.
This example shows a pair of bubble chairs placed in the living area right beside bookshelves, making it a great reading nook inside this modern living space. The use of silver metallic cushions adds to the modern feel of the chair, and makes it stand out from the rest of the furniture pieces.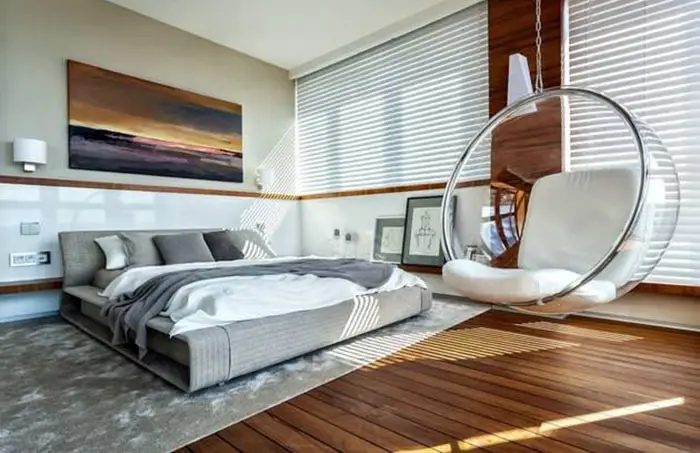 The bubble chair, with its see-through shell, is also a great accent piece in modern bedrooms, just like in this example. It adds an interesting element to the space and also indicates movement and a more, casual feel. The modern platform bed and minimalist furnishing provide a stylish appearance to the design. See more types of beds here.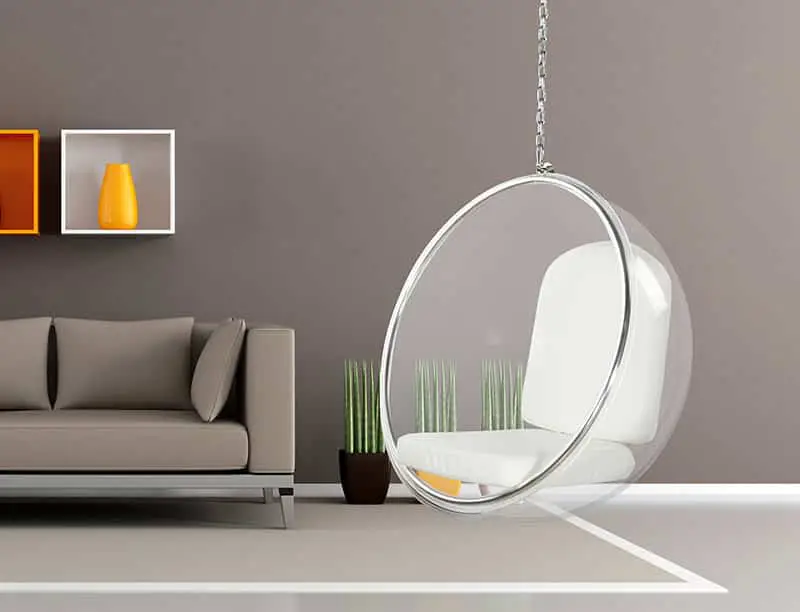 Modern clear hanging bubble chair
This example uses the Bubble chair as the Accent chair for the living room, where it is attached to the ceiling. Simple white leather cushions were used to match the modern design of the living room.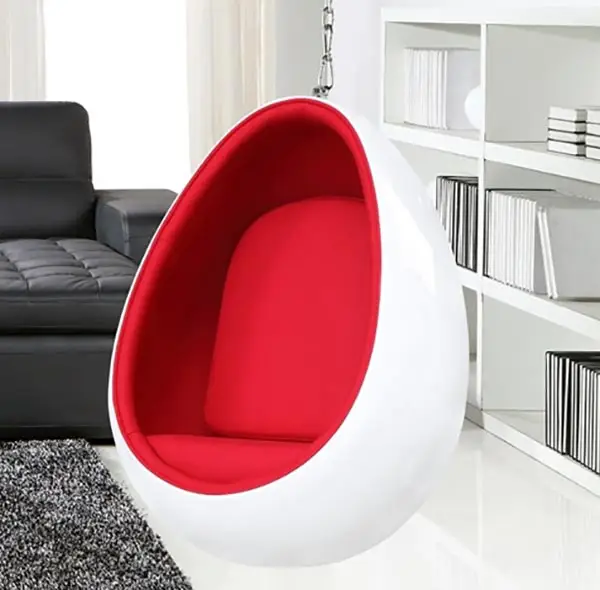 Modern hanging egg swing chair
This hanging cocoon chair is made from opaque white acrylic and has an egg-like shape with red cushioned interiors. The egg shape makes it slimmer, so it is ideal for smaller, modern spaces. The shiny acrylic body gives it a durable and a very sleek & modern look as well.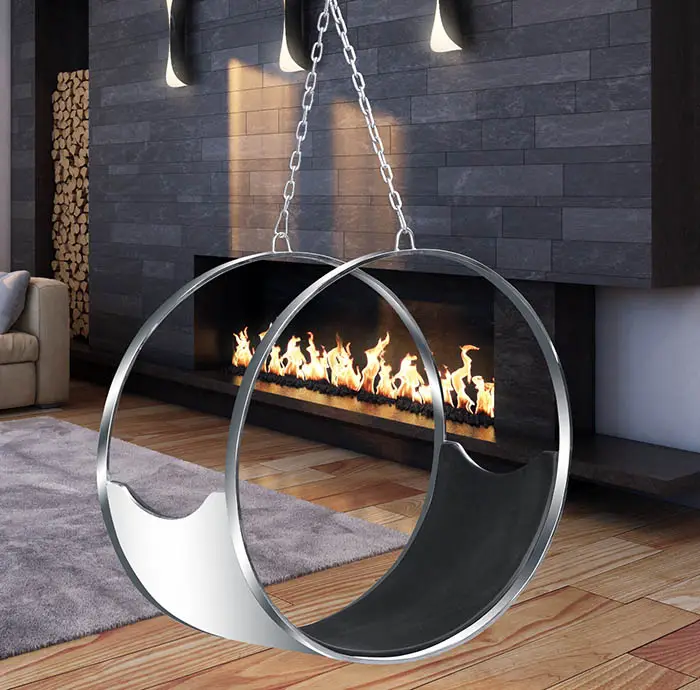 Modern hanging ring swing chair
This cocoon swing chair has a very unique design. It is made out of two round stainless steel rings and an upholstered metal base that covers the rings halfway. You can sit on it like you would a normal swing, or lounge on it sideways so you can lean back and relax. This would look great on modern and industrial style spaces.
This is an egg-shaped ceiling-hung cocoon swing chair made out of rattan. It keeps the natural color of the rattan and adds a white seat cushion for added comfort. The egg-shape chair has a slim silhouette and offers a bit of shade and privacy, without feeling claustrophobic.
Inspired by the hammock, this single-seater hanging chair is made from bent rattan frame and fabric ropes to create this very light-weight design. The design is reminiscent of the knot techniques used on classic hammocks, making it durable and also very "breathable" as the large openings allows air to pass-through.
A modern type of a hammock made from durable and stretchable fiber material. Compared to most nylon thread hammocks, this one has thinner fibers, this making it feel softer, allowing it to adapt to the shape and position of its user. It is also more lightweight, and allows air to pass-through for added comfort.
Hanging cocoon swing chairs also come in geometric shapes, such as this example. Aside from using a metal geometric framework, the use of colorful nylon strings adds a very fun and youthful vibe to the piece, making it a great accent and conversational furniture piece in your home.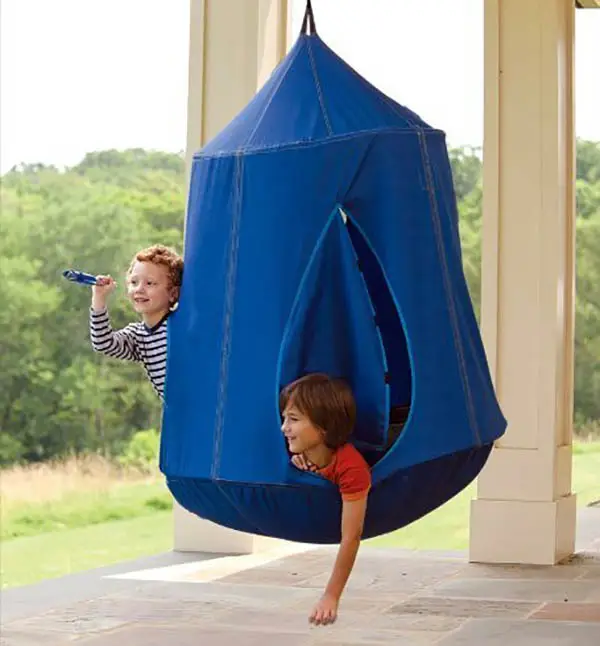 Hanging tent for kids
Another type of hanging cocoon chair has a tent-like design, complete with zippers and durable fabric, making it lightweight yet durable. This also gives you more privacy and protects you from the sun and other elements better. It is also easily transportable, and due to its light weight, you can use it on outdoor trips and camping vacations as well.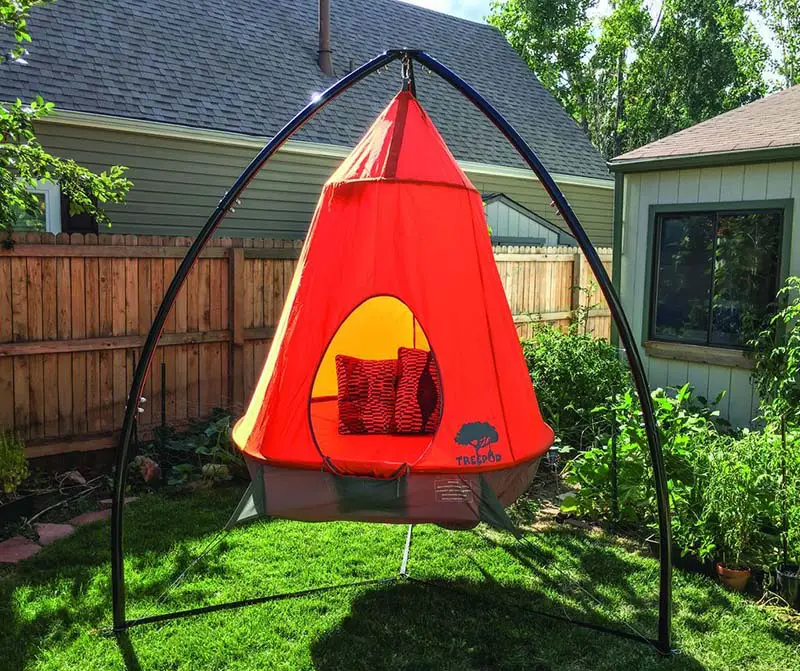 Treepod hanging tent
Just like the previous example, this is also a tent hanging cocoon chair, but placed on a freestanding base. However, this design is made to be stable and stationary, so it doesn't swing like the others.
Inspired by dream-catchers, this modern cocoon swing chair would be a great accent piece both indoors and outdoors. The egg-shaped chair has a metal framing and covered with colorful fabric ropes, giving it a fun, summery vibe.
This is the same style of egg-shaped cocoon swing chair as the previous example, but this one uses more muted, earthy colors, giving it a more subdued look, but still serving as a gorgeous accent piece.
A unique all-metal hanging cocoon chair made from tubular metal framing and bent metal sheet shell. It has a teardrop shape an open upper-back area to allow air to pass through. The hammered look of the metal sheet gives it a rustic industrial appeal, while the use of loose seat cushions helps give it a softer, more comfortable look.
A gorgeous modern cocoon swing chair made from bent rattan, its framing is a more rectangular version of the egg-shaped cocoon chair. The curved/s-shaped bent rattan framework on its sides, adds a softer, more organic feel to it, however. The white finish also makes it look lighter and slimmer, allowing you to use it even in small indoor spaces.
This hanging cocoon swing chair is inspired by the shape of classic canopy chairs. It has a small seat base and tapers out and high to create a small canopy. This example has a more modern style to it, so it has a square-patterned framework, wrapped in synthetic rattan in a light pine color.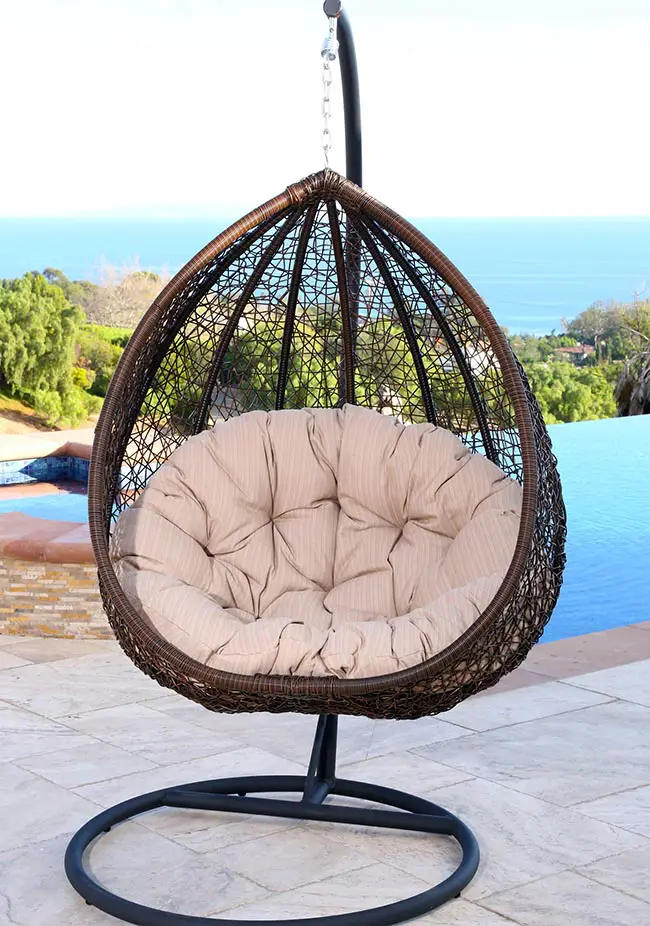 Egg shaped hanging swing chair
A gorgeous teardrop shaped freestanding cocoon chair made from a solid round metal base and metal-framed chair wrapped with mocha brown synthetic rattan. The shell has a cobweb pattern to give it a lighter feel and a more breathable design.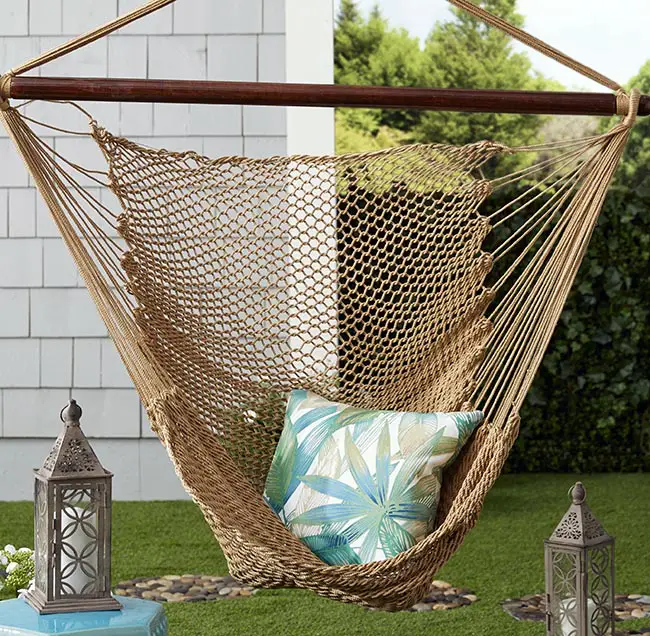 Hanging hammock swing chair
This hammock-inspired swing chair is made from natural jute ropes to give it that organic look and texture. This is hung on a horizontal wood support to hold its shape and carry the weight of the seat.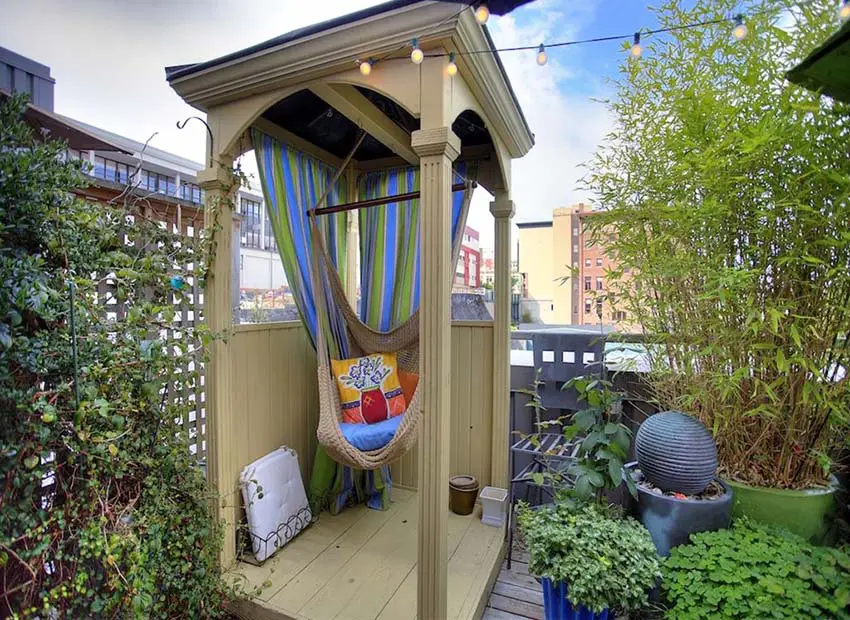 This cozy hammock is placed on a small zen design gazebo for a more shady and private feel. The swing chair was placed on a sturdy beam to hold its weight, and cushions were also added for more siting comfort.
[expand title="Show Image Sources" swaptitle="Hide Image Sources"]
#1 Wickerparadise from Flickr (Creative Commons License)
#2 nanpalmero from Flickr (Creative Commons License)
#3 Wickerparadise from Flickr (Creative Commons License)
#4 Designmilk from Flickr (Creative Commons License)
#5 Wickerparadise from Flickr (Creative Commons License)
#6 Yellowleafhammocks from Vimeo (Creative Commons License)
#7 Wickerparadise from Flickr (Creative Commons License)
#8 Wickerparadise from Flickr (Creative Commons License)
#9 Wickerparadise from Flickr (Creative Commons License)
#10 Wickerparadise from Flickr (Creative Commons License)
#11 Wickerparadise from Flickr (Creative Commons License)
[/expand]