Here's our card table dimensions guide including standard widths & heights, different table shapes and tablecloth card table sizes.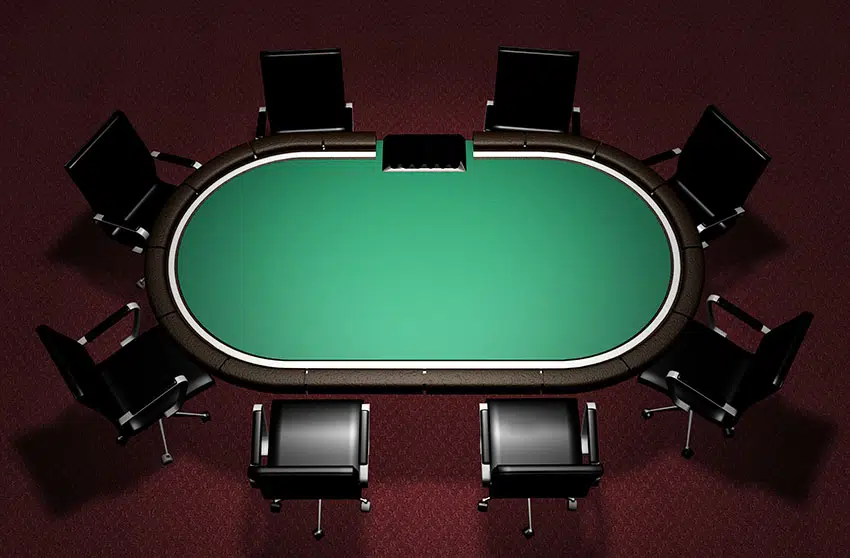 Card Tables are a fun addition to any home for Friday game nights and extra space to do your leisure activities like scrapbooking or even journaling. Here, we provide the standard dimensions for each card table shape to guide you.
Standard Card Table Size
The novelty of card tables came from England, where card tables are a necessity in homes of the rich. It is also a sign of prosperity and the development of leisure time.
Luckily for us now, not only the super-rich get to enjoy the novelty of having a card table at our homes available for any games and activities we would like to do in our free time.
Standard sizes of game tables vary on what shape you want your table to be. There are square, rectangular, or circular card tables for you to utilize for your needs. Here are the typical dimensions for these card tables.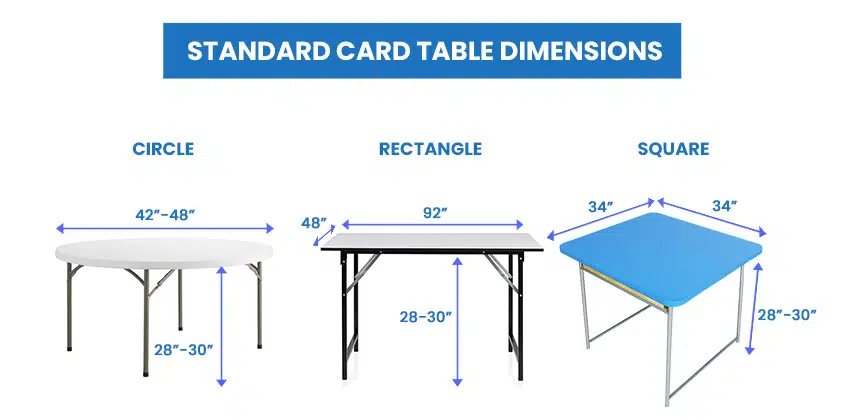 Card Table Dimensions Width
The measure of standard card tables from side to side varies for each type. A typical square card table generally has a width of 34 inches. For rectangular game tables, it's usually a width of 48 inches. Circular ones typically have a diameter of 42 to 48 inches.
There are also oval card tables that you can usually see in casinos or game houses. They typically have a width of 32 inches. There are also hexagonal tables that have grown in popularity in recent years and are usually utilized in poker games. The more common size has a width of 48 inches.
Card Table Dimensions Length
A standard square table usually has a length of 34 inches, the same as their width since a square has four equal sides. A standard rectangular table is 92 inches long, and a standard circular game table also follows its diameter of 42 to 48 inches.
Oval tables with a width of 32 inches have a length of 48 inches, while a hexagonal card table with equal sides also has a length of 48 inches.
Card Table Dimensions Height
All standard card table height often follows the height requirement of 28 to 30 inches. This table height is enough to fit a regular chair with a seat commonly 17 to 20 inches above the ground.
Dimensions of a Square Card Table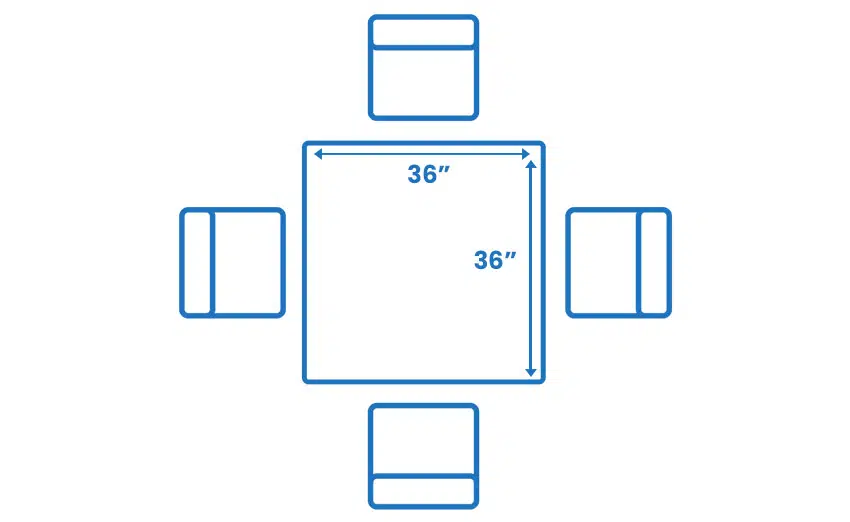 A square card table is perfect to fit in small and confined spaces, especially for small families of four living in apartments and buildings where rooms are usually smaller and more cramped.
Square tables are also lightweight, so moving and putting them into storage will be easier—a perfect piece of starter furniture for college students and young couples.
One standard square card table comes in sizes of 34 by 34 inches, but you could go littler or bigger depending on your needs, the available space in your house or apartment, and how many people will be using the table.
If you prefer a square table, but you have more than four-person in your family, or you'd like a more oversized table, square card tables are available in a size of 60 inches, and it could fit up to eight persons.
Rectangular Card Table Sizes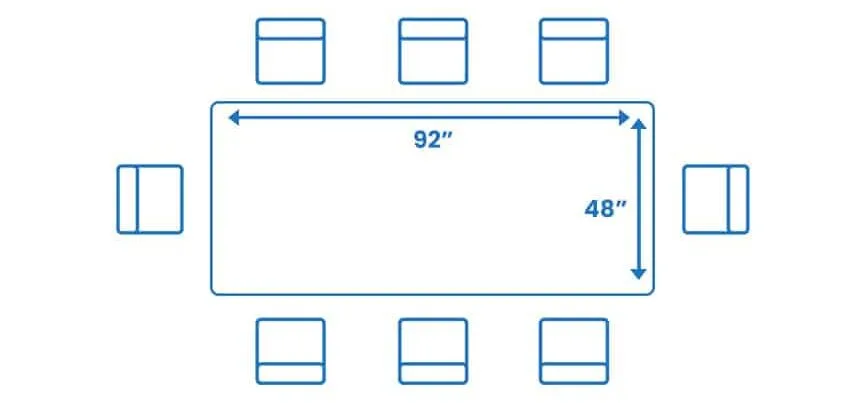 Rectangular card tables are great, especially for bigger families or people who love to have friends over and host a game night.
This larger table can accommodate and provide ample space for several people to spread out and be cozy. It is also an excellent choice for bigger homes as the table's proportion will usually complete a bigger room.
As for being a rectangular table, the widths are more extended than their lengths. Rectangular card tables usually have dimensions of 24 inches by 36 inches and up to 48 inches to 92 inches.
This rectangular card table can comfortably seat eight people in a long game of Monopoly or Uno and have enough leg space and room for them to stretch out.
How Big is a Folding Card Table?
Card tables can come in squares or rectangles and have a range of dimensions with the ones mentioned above, and more often, they can have a folded version. Folding card tables are convenient because they can be folded and be kept easily once you are done with game nights.
Folding tables are not only available in the usual square or circle shapes, but you can also have oval and hexagonal card tables as we mentioned earlier. Not only can this be another option to choose from, but they could also easily seat a large number of people.
Oval foldable card tables, significantly the bigger once in diameter, can seat up to 10 people. This is another excellent option for a bigger family. Oval card tables can have a diameter between 36 to 60 inches for your needs, and they fold in half, so it is easier to keep and take out once you need them.
On the other hand, hexagonal card tables can have dimensions of 48 by 48 by 30 inches for the ones that fold flat. But you can always go bigger to up to 50 inches wide to fit every single one of the family members. This type of table can often be found in materials made of wood, plastic, or even steel.
Round Card Table Dimensions
Round card tables are probably the most versatile option. It can easily seat up to six people for 48 inches ones. Circular card tables are available in the following sizes: 36 inches could fit four people, 54 inches could work for six persons, and you go up 6 inches more for your circular card table to fit 8 of your family and friends.
What Size Tablecloth for Card Table
For people planning to cover almost every table with a tablecloth, there is a drop length or an overhang allowance to consider. This is the same for card tables.
To illustrate, to cover the surface of a 36 inches square card table, you need to add 6 inches on all sides, so you will need 42 inches of the tablecloth to cover the 36-inch square table.
Did you find what you need with regards to card table dimensions? Let us know and don't hesitate to comment your questions below! See more related content in our article about pool table dimensions here.