Below are the velvet sofa pros and cons including the types of velvet material, answers to interior design questions, and tips on how to clean your velvet sofas at home.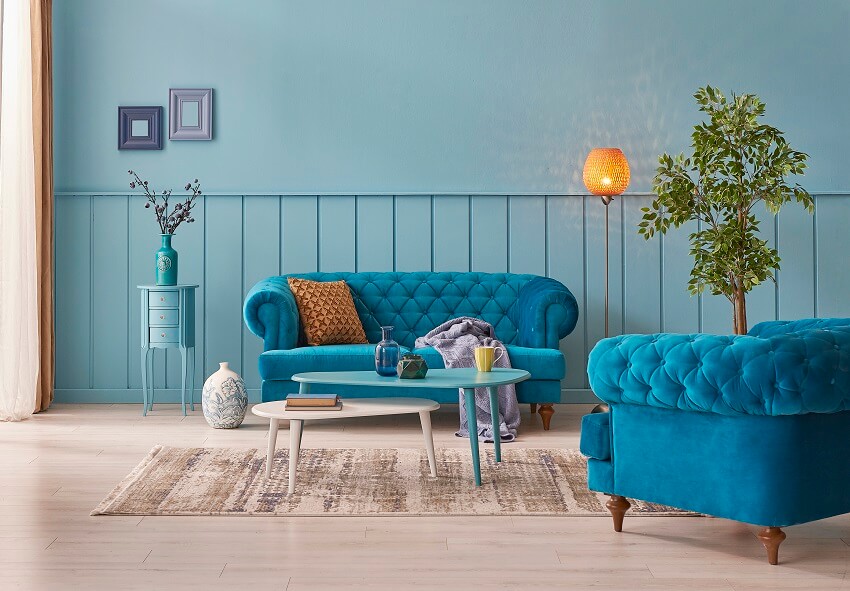 When you need a place to relax and chat at the end of the day, you probably drop down on the sofa. As such, if you're trying to renovate your home or decorate a new place, a sofa is essential.
With so many options out there, though, it can get a little overwhelming. One option that can really set your home apart is a velvet sofa and we're here to teach you everything you need to know!
Pros Of Velvet Sofas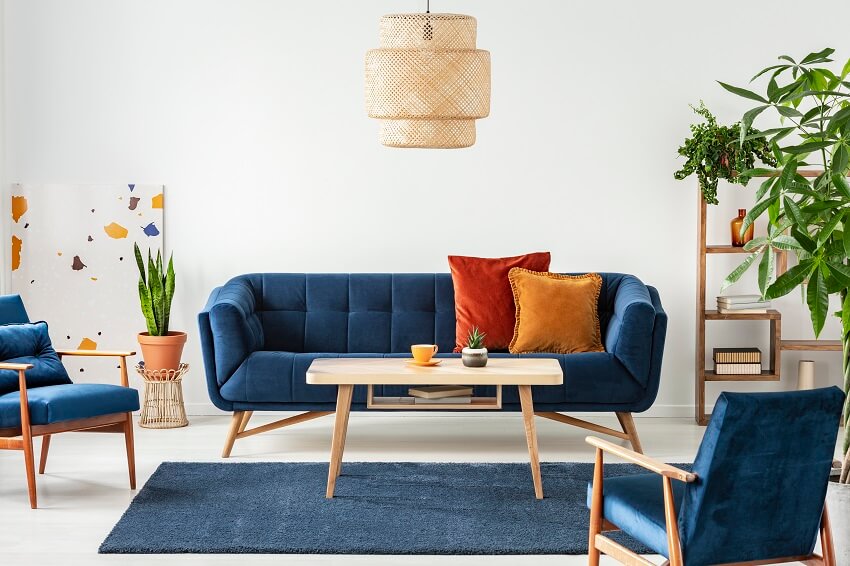 Just like anything else, velvet sofas have some pros and cons that you should be aware of before you commit to a velvet sofa. So, let's get started with the benefits of a velvet sofa first!
Many different options – Starting off aesthetically, there are some immediately noticeable benefits to velvet sofas. For example, you'll notice that you have a lot of options! This is because it's available in a variety of designs, colors, and even textures thanks to different velvet materials.
Beautiful texture – Of course, velvet offers a distinct aesthetic thanks to its texture. As we said, there are a few different options here, giving you some room to find something that fits your taste and preferences. The textured finish gives these sofas a one-of-a-kind appearance.
Durable – For one, velvet is durable and long-lasting. This means that you aren't going to have to replace it anytime soon.
Great for families or entertaining – Not to mention, the durability of velvet can make it a great choice if you need a sofa that will hold up to high traffic or accommodate a family. There are some caveats to this concept, though, so we'll look at it again when we discuss velvet sofa cons.
Easy to clean – All in all, velvet sofas are fairly easy to clean too. We'll take a closer look at the exact steps later but it won't add much time or effort to your cleaning routine.
Material resists snagging – Another detail about velvet sofas that's particularly handy is that they aren't likely to snag or pull. This means you won't be left dealing with a lot of loose threads as your sofa ages and sees more use.
Cons Of Velvet Sofas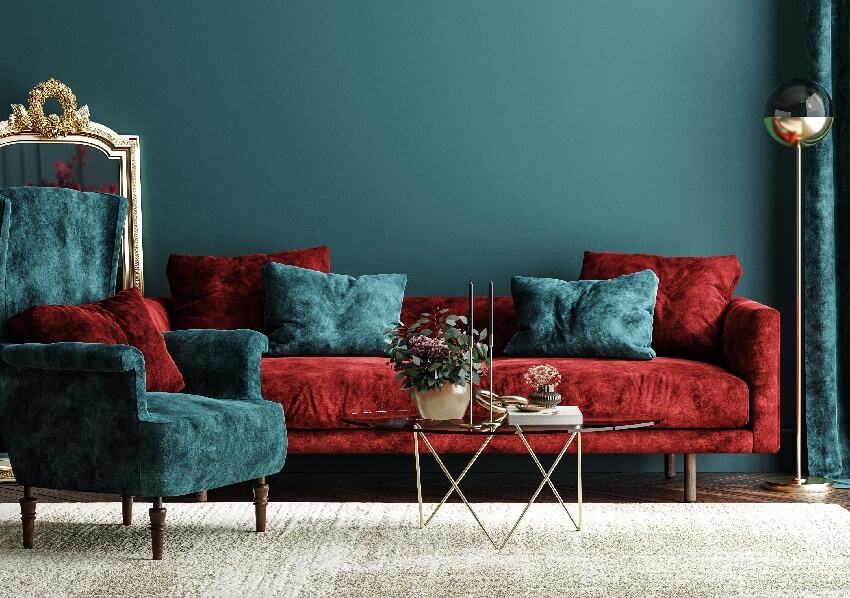 Now that we've looked at some of the benefits of velvet sofas, we have to look at the other side of the coin. What are some of the weaknesses of velvet sofas and how can you make sure that your velvet sofa lasts quite a while.
Attracts pet hair and dust – First, we should address that there's a caveat to the durability of a velvet sofa. While they'll hold up well to frequent use, you'll likely have to clean them more often to avoid collections of pet hair and even dust. It's a good idea to brush it off or even take an upholstery attachment for a vacuum to the sofa about once a week.
Spills need to be cleaned quickly – While it's resistant to staining too, you'll still want to act fast. You'll still see lasting damage if you let a spill – especially liquid – soak into your velvet sofa. A good rule of thumb is to act fast since a velvet sofa will take on watermarks and stains quickly.
Direct sunlight will damage the sofa – Finally, placement is key if you want to take full advantage of the durability of a velvet sofa. Direct sunlight will start to weaken the fibers in your sofa, so it's better not to keep it in direct sunlight or sit in front of a sunny window.
The good news is that most of these cons are easily managed with the right care. If you keep your sofa clean, maintained, and properly positioned, you'll be able to enjoy your velvet sofa for years to come!
Types Of Velvet Sofa Materials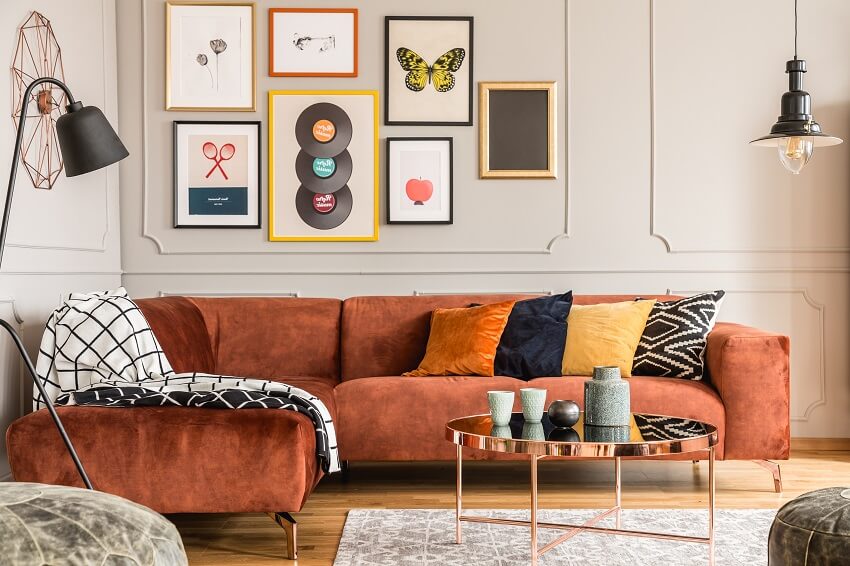 All in all, there are seven velvet textures that you'll come across. The types of velvet materials include;
• Plain velvet
• Crushed velvet
• Panne Velvet
• Embossed velvet
• Stretch velvet
• Pile-on-pile velvet
• Ciselé
Plain velvet is also known as cotton velvet and doesn't offer a lot of stretch or shine. However, it's a strong, material. If you want a little more stretch, unsurprisingly, you can turn to stretch velvet which is made with a more spandex-like material.
Crushed velvet is another popular option that looks, well, like it was crushed. It offers a lot of texture and usually a bit of shine. Panne velvet is similar in concept and lets you shift the pile of the velvet. Pile-on-pile velvet will offer you an even taller pile.
You can opt for a more unique texture with embossed velvet. This involves stamping the velvet with a pattern. Visit our guide on sofa fabric types for more information.
Is Velvet Good For A Sofa?
All in all, there's one big question to answer at the end of the day: is velvet a good choice for a sofa?
Well, after looking at all the pros and cons, we have to say that it's a perfectly viable choice for your sofa! Just like any other material, you have to make sure to care for and maintain it properly but, ultimately, it's a strong material that holds up.
Most importantly, it'll still hold up well whether it's an occasional seat or a high-traffic living room sofa.
Which Velvet Is Best For A Sofa?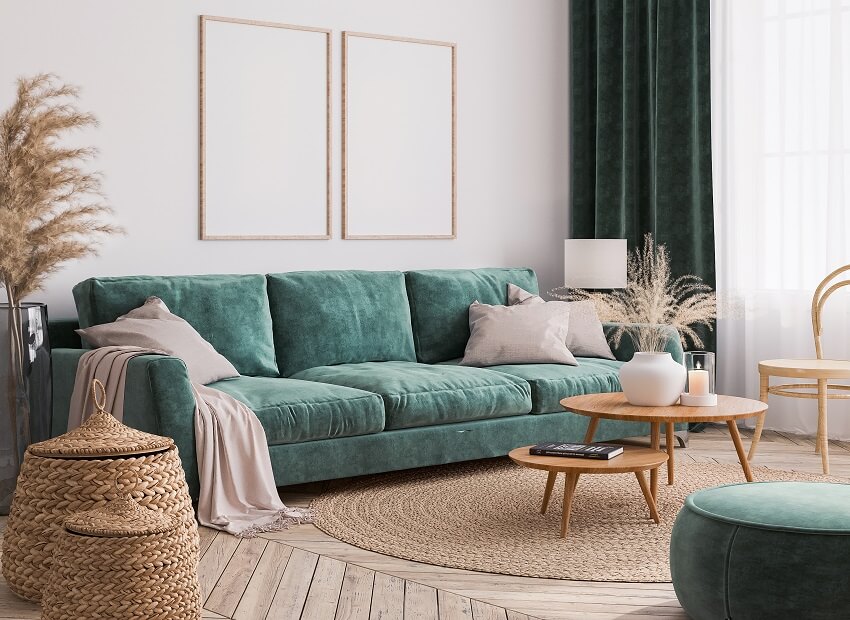 We've talked a lot about different velvet textures and options. When it comes to material, though, what's your best choice when you're considering a velvet sofa?
Generally, the best choice is mohair velvet which is often used in velvet upholstery and has a heavy-duty design that will hold up to high traffic.
On the other hand, if you want to save some money on materials, synthetic options like nylon velvet or rayon velvet are great as well. If you live in a warmer climate and want to avoid the "heavy" texture of traditional velvet, linen velvet is a popular alternative with a short pile.
Do Velvet Sofas Smell?
Over the years, if you aren't careful, you might notice that your velvet sofa starts to smell. This is usually because, over the years, the couch collects some mess that can give it an unpleasant smell.
The good news is that this scent isn't permanent. The easiest way to do this is to create a mixture that's equal parts water and vinegar. Once you have this mixture ready, just pour it in a spray bottle and mist your couch with it.
Does A Velvet Sofa Get Hot?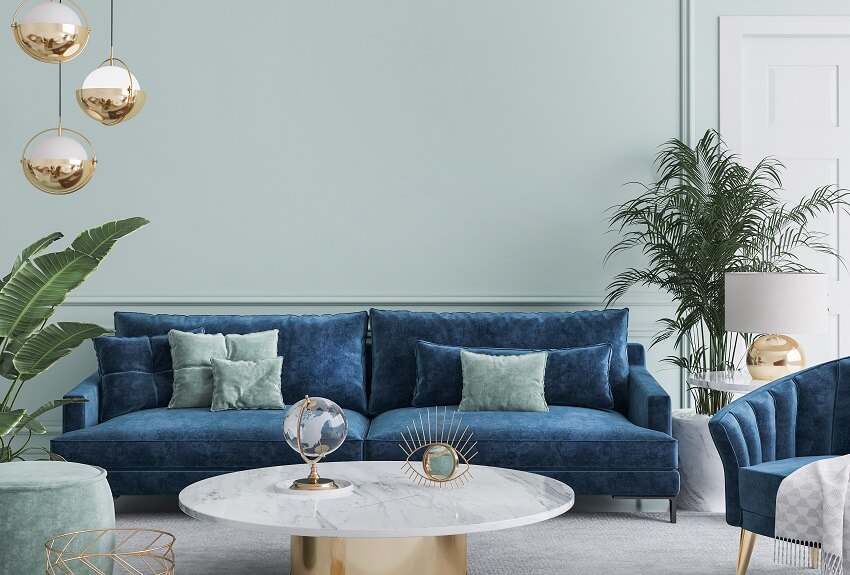 Since velvet is such a heavy fabric, generally speaking, some find that it's not very comfortable when it gets hot. Similarly, some have the same feelings regarding high-piled velvet.
That's why it's great that there are so many different velvet materials to choose from. As we touched on earlier, if you want something that isn't quite as heavy or high-piled, linen velvet is a great choice.
Is A Velvet Couch Timeless?
Yes! Velvet is a material that rarely goes out of style and a velvet couch is a great way to use that material as both a focal point in almost any room and a comfortable place to lounge. To help you choose the right sofa, read our guide on sofa styles here or our sofa arm styles guide on this page..
How to Clean A Velvet Sofa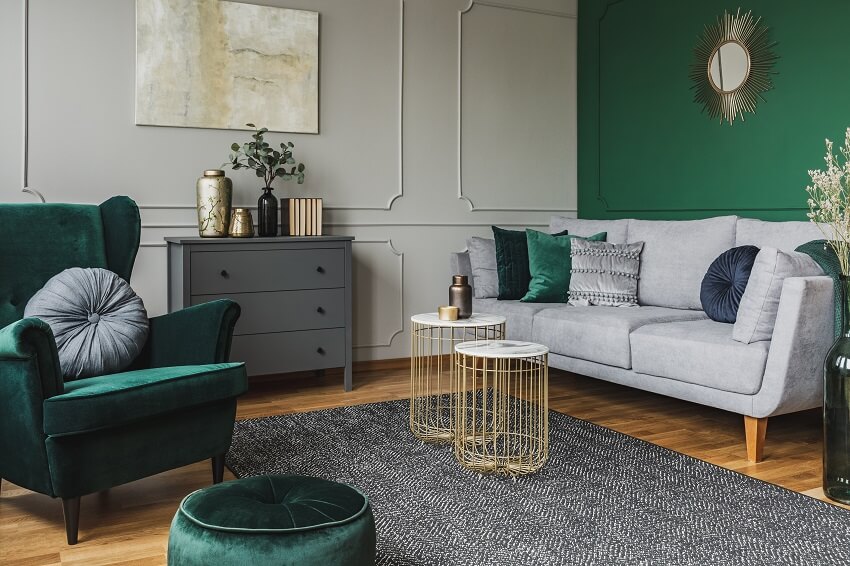 In addition to stopping to fluff the pillows, you'll want to regularly clean your velvet sofa to make sure it stays looking like news.
One tool to keep on hand is a steamer. You can simply use this on your sofa when you start to notice creases in the velvet.
If you need to spot clean, it's a good idea to reference any tips from the manufacturer and then start by blotting up any excess with a cloth.
Then, you can mix a cup of water with a couple of drops of dishwashing soap to tackle the spot.
As for regular cleaning, you can use a vacuum with an upholstery accessory for standard maintenance.
Visit our guide on how to measure a sofa and sofa dimensions size guide for more related content.