Here we share our aspen wood furniture guide including what it is, its characteristics, durability, where it's used, and if it's a quality material to use.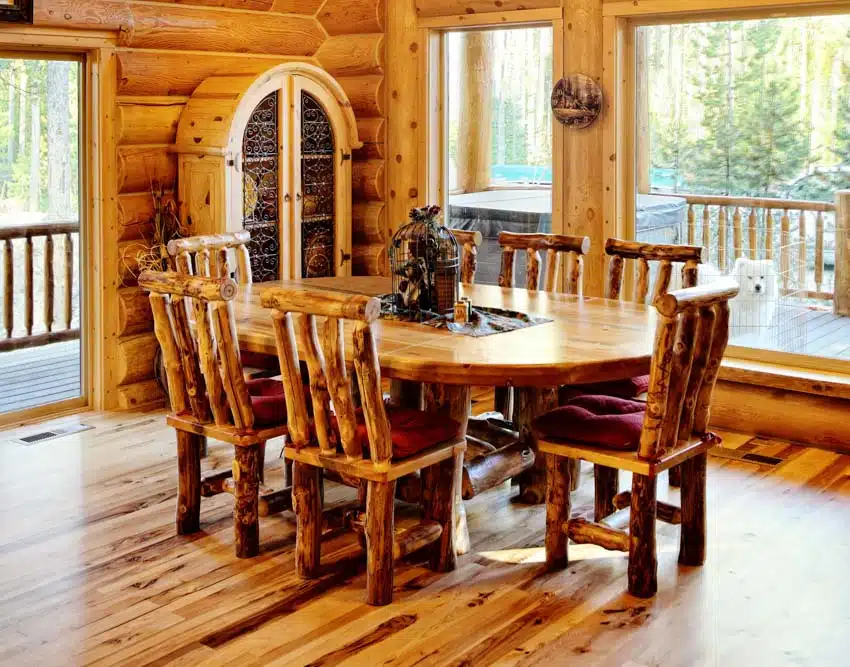 Aspen is not the most common type of wood, but it is excellent for making furniture. Think of furniture made of aspen wood, and you think of rustic and natural style. Aspen wood is ideal for making log cabin-style furniture because it looks natural and is easy to manufacture.
Aspen wood is easy to get and useful for many things, from furniture to doors to household items. This article will tell you everything you need to know about furniture from aspen wood.
What Is Aspen Wood?
Aspen trees grow all year, even in the winter, and multiply quickly. They are common and grow all over North America. The bigtooth aspen and the quaking aspen are the most common types. Aspen trees are usually between 40 and 60 feet tall, but some can grow as high as 100 feet. Aspen trees can have trunks that are 2 to 3 feet wide.
Aspen wood is a beautiful mix of light brown and white where sapwood and heartwood meet. Aspen wood has a rustic look because it often has streaks and spots of different colors. Aspen wood comes in three different kinds.
• Bigtooth Aspen: soft hardwood
• Quaking Aspen: soft hardwood
• European Aspen: (common type) soft hardwood
The hardness of all three types of Aspen wood is almost the same. The only differences are in the shape of the leaves and the tree's height. Where it is widely available you can often find aspen wood is used for furniture and particle board for construction projects.
Aspen Wood Characteristics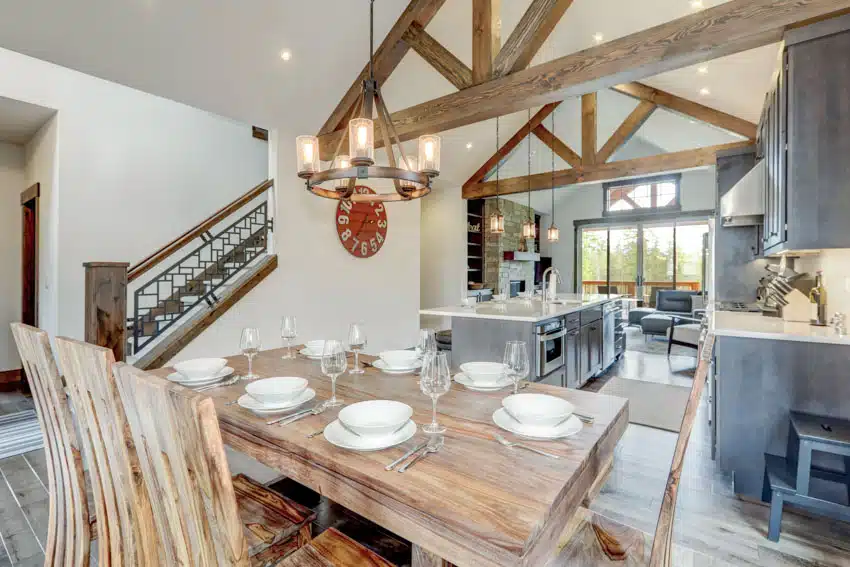 Aspen is a "soft hardwood" with a straight grain and smooth, delicate texture. Aspen wood doesn't split and is also hard to set on fire, which makes it a good choice for nails and screws. It sticks well and is easy to work with by hand because it is soft. It is easy to carve and shape because it is solid and bendy. Its colors and style are suitable for rustic furniture.
The Janka value of quaking aspen is 350. It is a softer hardwood but can still help make sturdy and robust types of furniture styles. It is a hardwood with many tiny pores spread out evenly over each year of growth. Aspen that is dry doesn't smell or taste in a certain way. On the other hand, green aspen can have both, most likely because it has wet wood.
Aspen doesn't shrink much, is easy to nail, and tends to stay intact. But because the strength of a nailed joint depends on how dense the wood is, low-density woods like aspen don't tend to work as well as higher-density woods. Aspen is one of the woods that is easiest to glue together. It works well with a wide range of wood glues and in many different bonding situations.
Is Aspen Wood Durable?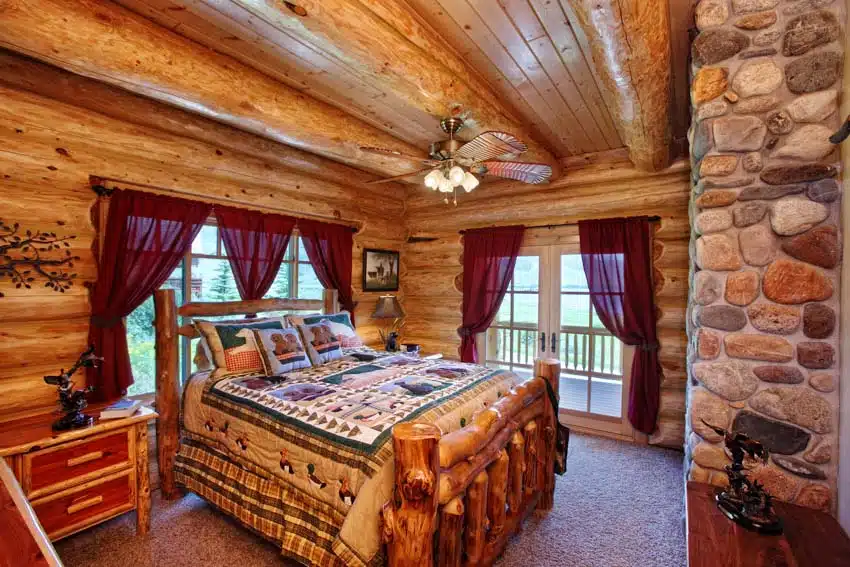 Aspen wood has a porous structure spread out all over the wood. Aspen fibers are close together, and the wood is dense compared to softwoods. It is considered a hardwood but only lasts for a short time. Unfinished furniture made of aspen wood tends to damage quickly. It's also easy for insects to damage it.
Aspen wood is not hard enough to resist scuffs and dents. So, if it gets scratched, water will eventually get inside the wood and cause it to rot quickly. So, aspen wood is not suitable in bathrooms, basements, and kitchens where it would get wet.
Even though aspen wood is beautiful and flexible, it's less strong and durable than oak or maple. But in its favor, it is a stable wood, and its unusual color and patterns make for an exciting floor that is very different from oak or maple floors. It is also less likely to get bigger or smaller when environmental conditions change.
Besides the downside of aspen wood, it has many good qualities that are useful in any woodworking project. Aspen wood is soft, so it is easy to cut and easy for even a beginner woodworker to work with.
Aspen Log Furniture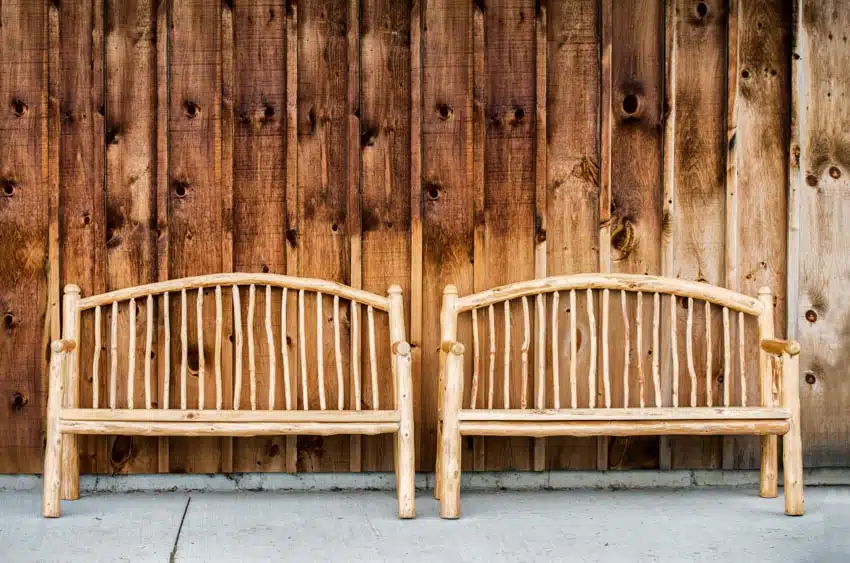 When decorating your house, everything should have a natural appearance while being modern and elegant. One of the best ways to do this is by selecting to furnish your house with aspen log furniture to give it a rustic but elegant atmosphere.
Finding and collecting dead-standing aspen trees benefits the forest and the ecosystem. The best method for creating the most attractive aspen wood furniture is to use a draw blade to peel the wood, followed by hand sanding to highlight the wood's natural knurls and textures. Manufacturing aspen log furniture needs a drawn-out, careful procedure.
You will have your own distinctive, authentic-looking pieces throughout your house since, as in nature, no two pieces of aspen wood are precisely the same. Your rustic log furniture requires very little maintenance and very little time. High-quality furniture polish and a soft, non-abrasive cloth are crucial in aspen log furniture.
Always use a lightly wet cloth and wipe against the grain. After cleaning, ensure no moisture on the furniture for a long time. Because you don't want your rustic aspen furniture to dry out, keep it away from heat, chemicals, water, and direct sunlight.
Aspen Bedroom Furniture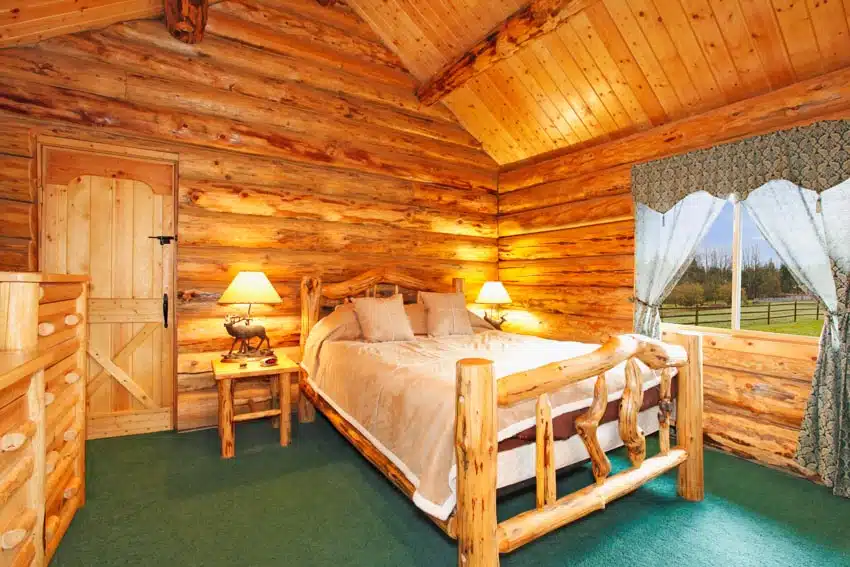 Imagine falling asleep every night on a personalized bed supported by aspen wood. This distinctive experience may be added to any bedroom in your cabin or lodge with handcrafted aspen furniture.
A group of aspen logs cut from dead-standing trees is ideal for rustic types of bedroom furniture. The logs are then carefully hand-hewn, preserving their original character. Each log has a unique arrangement of knots, warps, fissures, and other "beauty marks" from nature.
You may choose to have the bed constructed with "extra character" aspen logs if you want a bed that showcases the uniqueness of aspen wood. The cabin decor's understated design allows the lovely wood to take center stage. Support slats may support your mattress, and you can upgrade to double-log side rails for even more stability.
If you want to add even more warmth, go with a honey glaze finish or clear catalyzed lacquer. You will get the same exquisite craftsmanship in every size, whether you want a twin bed for your guest room or a California king bed for the main bedroom.
Aspen Dining Furniture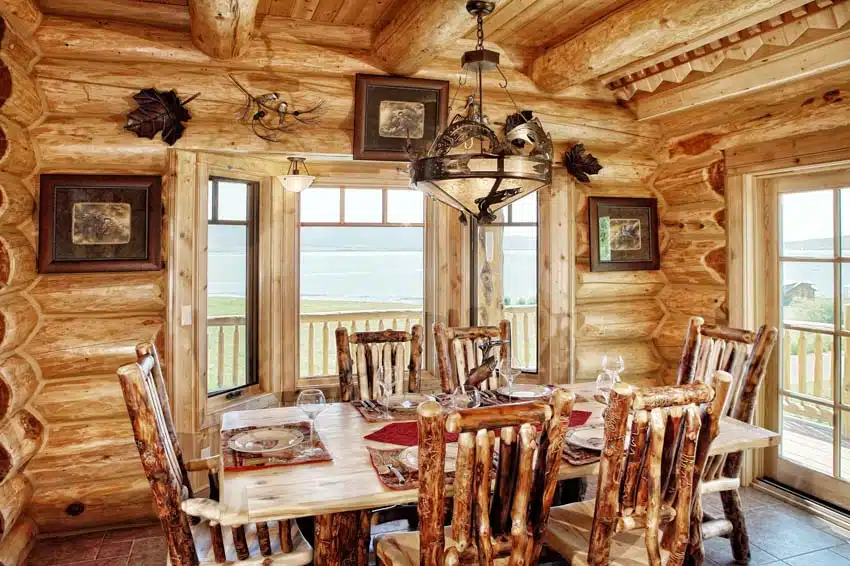 Consider aspen wood dining furniture to convert a plain bar area into a beautiful gathering spot or design a country-style dining room that inspires family get-togethers. You may make any underused dining room a place where meals and meetings turn into feasts and celebrations with cabin-style aspen dining furniture.
Adding or swapping aspen log benches for conventional dining rooms and bar seats can add a western furniture atmosphere to any space. For an aspen dining room or kitchen area consider pub types of chairs if you prefer a more traditional contemporary appearance. Aspen log furniture's sturdy design and rustic comfort provide a distinctive vibe.
Pass the aspen chairs down with your favorite dining customs by protecting them with a clear lacquer finish or darkening the wood with a honey pine finish. Particleboard made of aspen wood is also common for making the insides of dining furniture. Aspen can make excellent particle boards, softwoods, and other hardwoods.
Aspen particleboard also has the proper density and working properties, like being stable in size, easy to cut, and able to hold screws, so you can use it to make furniture and cabinets. It also has a light color that looks good on dining furniture.
Is Aspen Furniture Good Quality?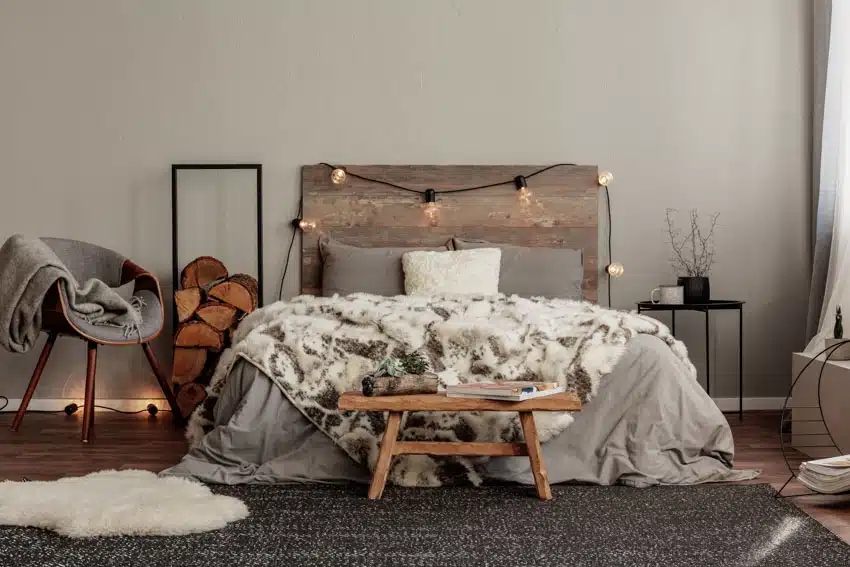 Aspen is a good wood for making rustic-looking furniture. It takes paint and stains well, and it also sands well. Even though most stains work well on it, you may want to use a sealer.
Some of the major complaints of Aspen is that it could be better for bending and doesn't stand up well to shocks. When machines work with aspen wood, the wood can get "fuzzy." Sharp tools are essential and can help keep the fuzzy sheen away.
The wood fibers of aspen are strong, the trouble lays in the weak lignin bonds that connect the wood fibers together. This has an stringy effect making it difficult to get a perfectly smooth finished surface.
For the smoothest look, you may need to sand it more. Each piece of furniture made from aspen is different because of its stripes and color combinations. Putting a coat of varnish on furniture made of aspen wood can help keep its colors and give it more protection.
Aspen is typical for making toys for kids and smaller woodworking decor objects because it doesn't break into small pieces. It's so smooth that it is ideal for lining saunas' walls. Aspen trees are also easy to find, which makes furniture made of aspen wood more affordable.
You can take care of aspen wood furniture in a different way. Dust it often and use the right cleaner and polish for cleaning and maintenance. Most of the aspen wood furniture is beautiful, whether unfinished or not. Adding a varnish to aspen wood can help keep its look even longer.
Staining Aspen Wood: Tips and Tricks
Aspen wood is a beautiful and popular choice for furniture, cabinetry, and other woodworking projects. While it has a natural pale color that many find attractive, some may want to add more depth or warmth using stain. Aspen wood typically takes to painting better than stain, which may be changing for getting an even stain finish due to the wood fibers.
If you do decide to stain aspen wood, here are some things to keep in mind:
Prepare the Surface – Before applying any stain, make sure the surface of the aspen wood is clean and free of dust or debris. Sand the surface with a fine grit sandpaper to ensure an even finish.
Choose the Right Stain – There are many types of stains available on the market, from oil-based to water-based options. Choose a stain that suits your specific needs and preferences.
Apply Even Coats – Use a brush or rag to apply the stain in long, even strokes across the surface of the aspen wood. Make sure you cover all areas evenly, including corners and edges.
Wipe Off Any Excess Stain – After applying the stain, use a clean cloth to wipe off any excess before it dries. This will prevent blotches or streaks in the final finish.
Allow Drying Time – Give your stained aspen wood plenty of time to dry completely before adding any additional coats or finishes.
Test a Small Portion First – Always do a test spot on an inconspicuous area of your project before applying any stain to ensure you get the desired results.
Another popular option to using stain is applying boiled linseed oil or polyurethane. Boiled linseed oil will provide a tougher exterior finish to the wood with a natural looking shine.
Staining aspen wood can enhance its natural beauty. Do keep in mind that since aspen wood is a relatively soft wood it is not always recommended for use with large furniture pieces.
In conclusion, aspen is a popular wood species for many products because it has a straight grain, doesn't split easily, has a neutral color, and doesn't have a strong smell (because it's not resinous).
It's easier to figure out what to do with aspen wood. To make designs that work, you need creativity. You can make furniture for your home or sell it if you know how to work with wood and follow plans. Either way, you'll be better off turning aspen from a simple wood into something useful.
See more related content in our article about pine wood furniture on this page.