Find out what is a loveseat including why it's called a loveseat, its uses, sizes & seating capacity, comparison to a sofa, and when to choose a loveseat for the living room.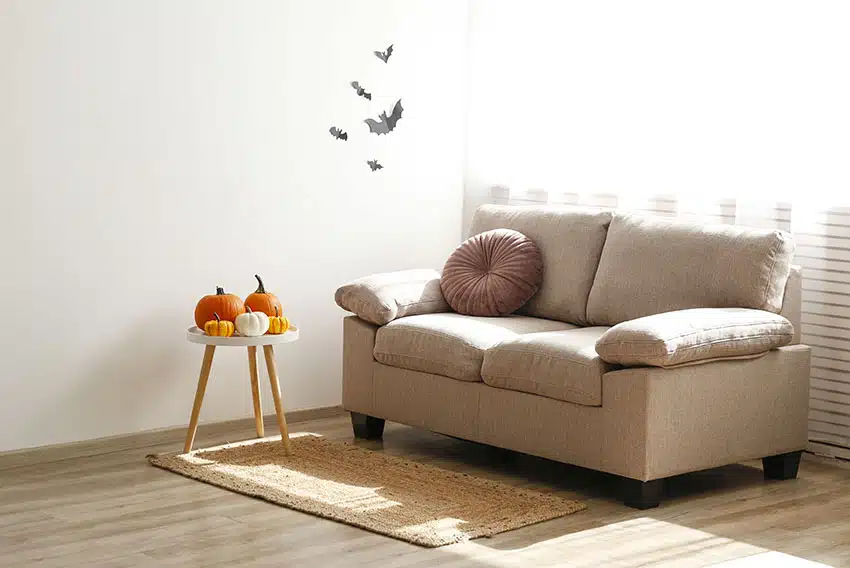 A loveseat is sometimes referred to as a two-seater couch and is often used when a sofa wouldn't fit in a room. It's versatile and has a 'small but mighty' pretense of working in almost any room for many purposes.
Loveseats are shorter than their larger versions, a couch; however, they are just as deep and the same height. These two-seaters work well for intimate conversation between two people and are also used in an entryway to sit and change shoes or in a teenager's room for watching movies or playing video games.
Read on as this helpful guide discusses why it's called a love seat, its uses, sizes and the benefits of adding one to your home. You'll find many reasons why a loveseat is such an adaptable piece of furniture.
Why Is It Called A Loveseat?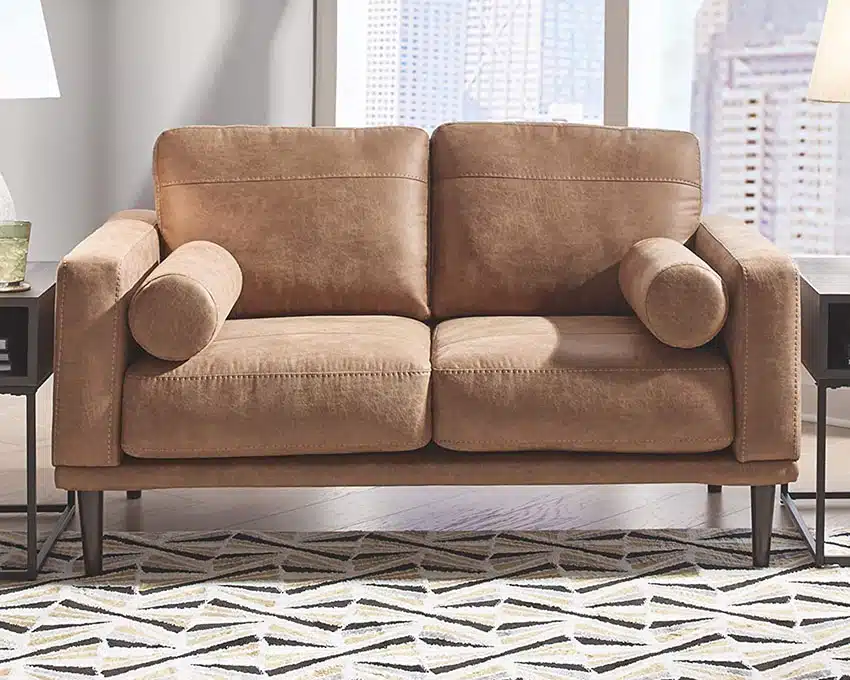 See this loveseat at Amazon [sponsored link]
Loveseats appeared in the 17th century when couples were expected to behave modestly. The small size allowed the two to sit close and still appear respectful, permitting an intimate conversation and visit.
At times, family matchmakers would encourage a couple to squeeze together on a loveseat, hoping attraction would ensue. Loveseats are sometimes called a British two-seater piece of furniture due to the prudish mannerisms of Brits.
Why Choose A Loveseat?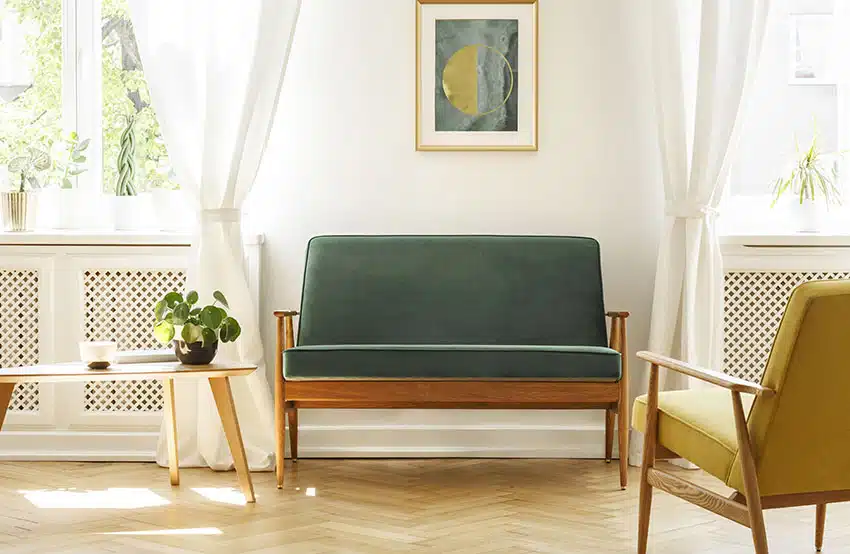 A loveseat provides an excellent option for a small room where you need comfortable seating. Studio apartments, lofts and even large homes that need seating for a large family are perfect reasons to purchase a loveseat.
Sectional sofa loveseats are easy to rearrange and create sitting areas based on a room's shape and size. Whatever limitations prevent a couch from fitting, a loveseat will work well.
Master bedroom: Place a loveseat near a large window, such as a bay window, paired with a small coffee table to create a reading nook, morning coffee spot or a comfy place to polish your fingernails and toes.
Children and teens' bedrooms: Loveseats make great accessory furniture for kids' and teenagers' rooms. Their size makes them great for TV, movie time with friends or gaming.
Laundry room: If your home has a large-sized laundry room, a comfy loveseat provides a comfortable spot to fold clothes or sort laundry.
Sunroom: Homes with a sunroom provide a warm and sunny place to relax or entertain during cold, wintery months. Loveseats add flexibility and unique seating where you can cuddle up with a blanket and bask in the sun.
Poolside: For ultimate poolside relaxation, gather several wicker or other weather-resistant loveseats in groupings. Add some café tables and market umbrellas, and you've created a stay-cation and an outdoor party spot for entertaining.
Home office: When you need a break from working at home, you can stretch out on a loveseat and take a short nap, listen to music or enjoy your lunch.
Alcove: An alcove or nook may be too small for a couch and too small for an armchair not to look out of place. Loveseats are perfect for these offset spaces, and they create secluded little cubbies for a private phone call, a confidential conversation, or a sleeping baby snuggled in its mom's arms. Add some wall décor and a fluffy rug for a comfort factor.
Loveseats are less expensive than couches, and adding an armchair may give you all the seating you need at a lower price tag.
What Size Is A Loveseat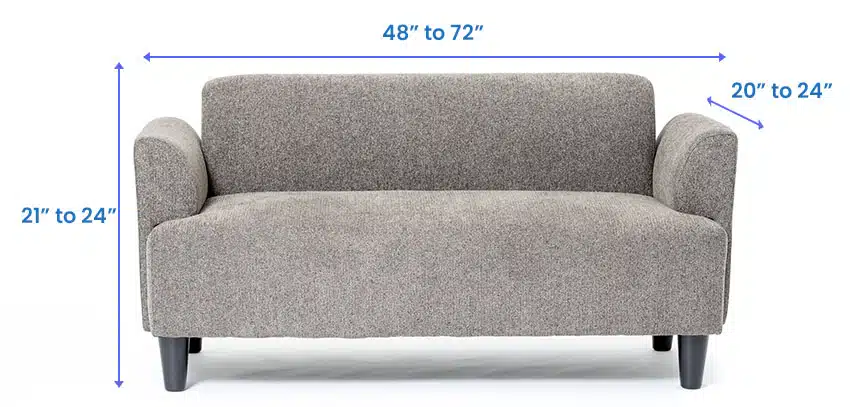 Loveseats are a smaller version of couches and larger-sized than armchairs without set sizes. However, there are some measurements for commonly found pieces within a general size range.
The following loveseat sizes are for the length and measured armrest to armrest.
• Standard loveseat range: 48 to 72 inches
• Small loveseat: 48 to 52 inches
• Medium loveseat: 58 to 72 inches
• Large loveseat: 72 inches
The average loveseat depth, like a couch, is 20 to 24 inches and the average height is 21 to 24 inches. Custom-ordered loveseats include options such as:
• Extra deep seating
• Rounded armrests
• Flat armrests
• Adjustable headrests
• Middle consoles
• USB connections
• Wireless phone chargers
• Reclining seats
Loveseat sizes will depend on the features ordered and your preferences depending on the space you have available.
Loveseat Seating Capacity
The loveseat's origins include its original design as an S-shaped courting bench. The S shape allowed two people to sit and have a connected conversation, face-to-face yet in a formal manner.
The original S-shaped loveseats were also called courting benches, kissing benches, conversation benches and gossip benches. Loveseats have room for one or two people and are not normally large enough for a third person.
Can You Use Two Loveseats Instead Of Sofa?
Some rooms or spaces may have awkward shapes and dimensions; an angled wall, a work-around for interior ductwork or a house addition's mismatched corner. Using two loveseats instead of a couch allows for more configurations than one large sofa.
They're more compact and easier to arrange with a minimalist style for modern homes. Still, keep in mind the way you arrange one or several loveseats is essential. Mismatched or crowded loveseats can cause a room to appear smaller or chaotic.
Angled loveseats can create better walkway space for a dining room, patio or balcony and creating a V-shape is perfect for a family room with a media center.
Two or three loveseats can be placed in a corner as an L-shape or arranged away from the wall to cordon off an area of an expansive room. 'Floating' L-shaped loveseats also allow everyone to see each other when visiting. Read more about arranging two sofas in a living room here.
An outside patio layout with planters and garden areas is perfect for loveseats. Although they may not be connected, they can be placed close together to create an ideal spot for drinks and conversation. These smaller versions of couches have almost limitless uses in just about any room at home or at the office.
Use your creative side and the information in this guide to make a perfect pairing of loveseats and décor for a fun gathering room or even a formal living room with plenty of seating for entertaining.
Visit our loveseat vs sofa comparison guide for more related content.