Here's our armchair dimensions guide, including standard, small, and popular brand sizes, chair seat height , and clearance space needed.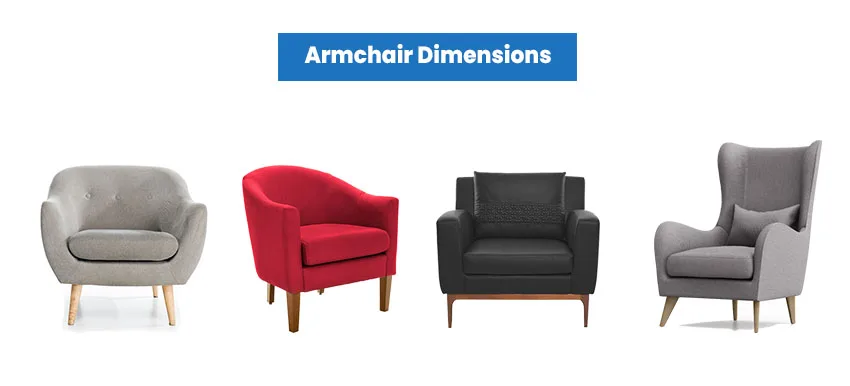 Armchairs are another variation of standard chairs. The only thing distinguishing them from regular chairs is the inclusion of fixed armrests supporting the user whether sitting or exiting the chair. They are often seen as supporting furniture for sofas or loveseats in the living room.
You can choose from a wide variety of styles to complete and complement the design and feel of your living room, from reclining ones to those that fold out for maximum comfort but are space-efficient.
Although they can vary in design, color, or upholstery fabric, most share the range in approximate measurements.
Standard Size Of An Armchair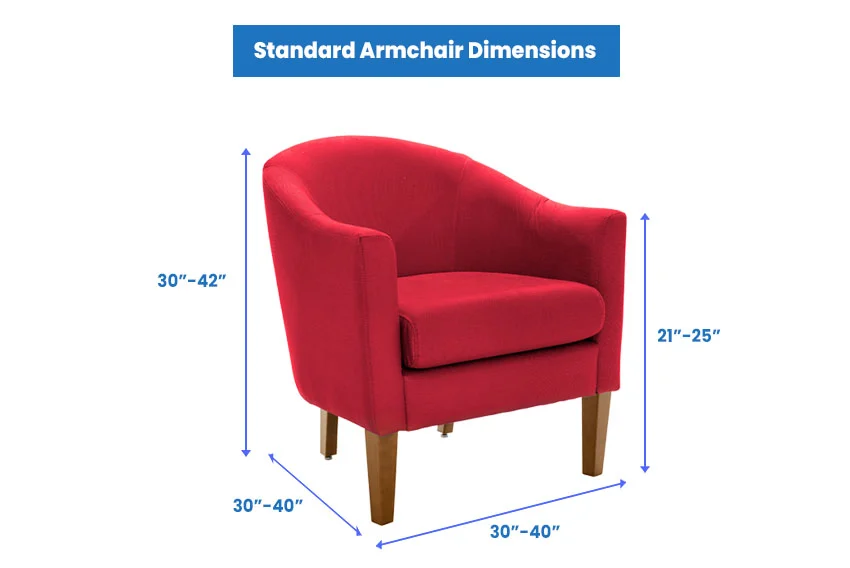 The most common armchair is the square-shaped product you might have in mind. These seats usually have widths just a few inches more extended than their depths. For height, it will usually follow the height of the standard sofa size.
A standard armchair's width and depth usually range from 30 to 40 inches or approximately 76 to 102 centimeters. Since the height usually follows the height of a sofa, it will usually be around 30 to 42 inches or about 76 to 107 centimeters.
The seat's armrest height will range from 21 to 25 inches or 53 to 64 centimeters from the floor . For different styles, see our guide to the types of chairs here.

Standard Seat Height For An Armchair?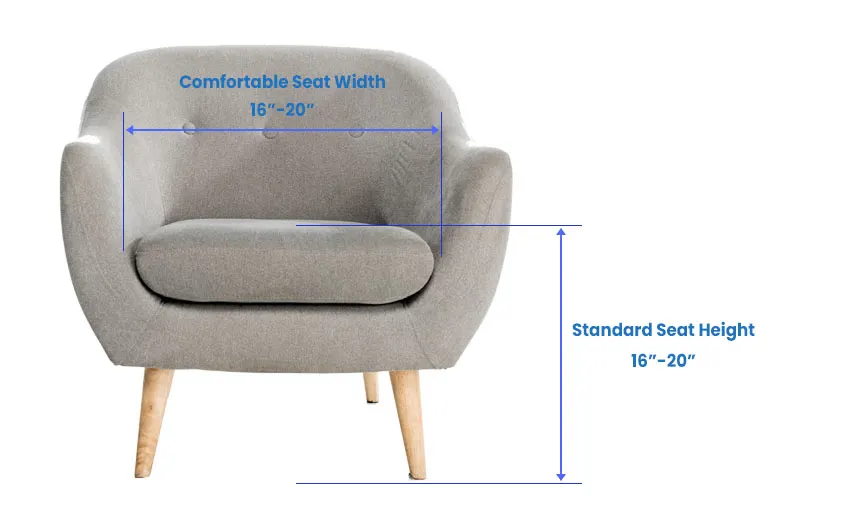 The standard seat height for an armchair will vary from one design to another, although they will range from around 16 to 20 inches or 41 to 51 centimeters.
There are low-sitting chairs like the Como style with a seat height from floor to seat of only 16 inches or 41 centimeters, giving it a low profile height.
There are also higher ones like reclining chairs with an average seat height of 20 inches or about 51 centimeters and and others with an average height of about 19 inches or 48 centimeters for many products available in most furniture stores. See our recliner dimensions guide here for more options.
What Is A Comfortable Seat Width?
According to the Cornell University Ergonomics site, a seat width of about 20 to 22 inches or 51 to 56 centimeters is the minimum for an average clothed person to be accommodated by the armchair.
For armrests, consider the elbow-to-elbow width of the average person in the home who will be utilizing the seat.
For the seat cushion to maintain good contact with the backrest, a seat angle of about 5 to 10 degrees recline is advised and recommended.
This will allow the person to sit and reach the backrest with their knees bent comfortably.
Small Armchair Dimensions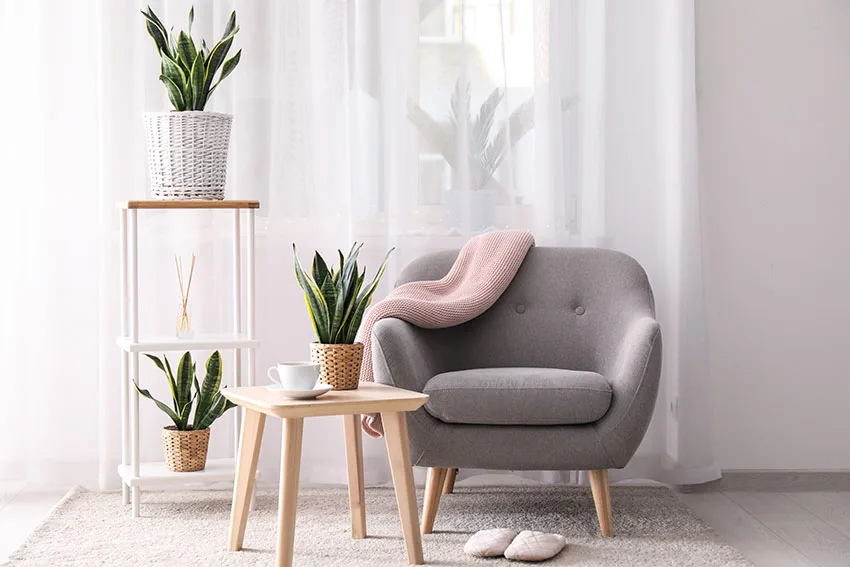 There are many advantages to opting for a smaller armchair, but the main benefit is its smaller depth, allowing you to sit flush against the backrest. With this, the natural curvature of the spine is retained, and less back pain for the user will be felt.
An example of dimensions for a smaller-than-average armchair perfect for people with smaller stature is a seat angled at 12 degrees, with a full seat width of 31 inches or 78 centimeters.
The armchair will have a seat depth of 33 inches or 84 inches and a height of 37 inches or 94 centimeters.
Occasional Chair Dimensions
As there is no fixed standard size for an armchair, a range of sizes gives you an idea of what size you will need for your living room.
Many of these can be as large as loveseats, while some can come small and even shorter than your dining table; the choice is up to you.
However, clearance space of 30 by 30 in any area should be allotted to fit any size of seat with enough space to walk around it, even if a side table is positioned beside it.
IKEA Ektorp Armchair Sizes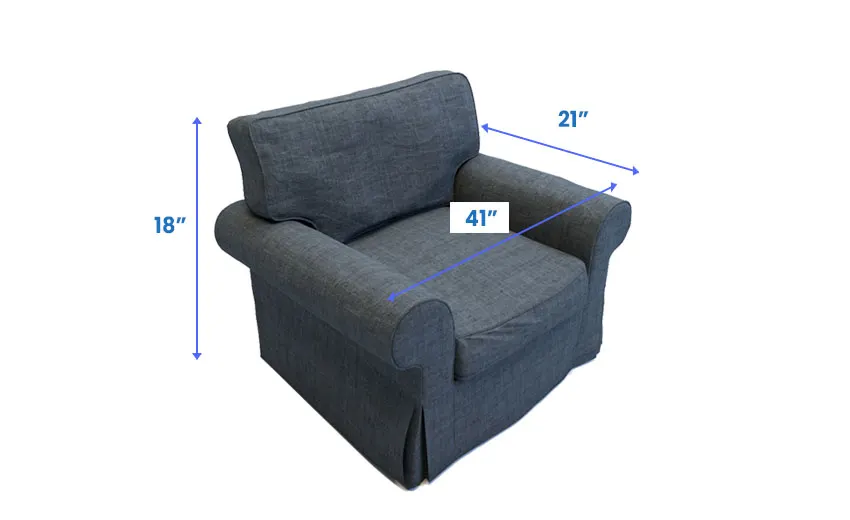 If you are a fan of comfortable and thick cushioning, then the Ikea Ektorp Armchair is the one you need for your living room. This product is one of Ikea's bestsellers due to its timeless design and the changeable cover to fit the motifs and decorations of any room.
This chair's overall width is 41 inches or 104 centimeters, plus a depth and height of 34 5/8 inches or about 88 centimeters. The depth is 21 inches or 54 centimeters for the seat itself, with a seat height of 18 inches or 45 centimeters.
If you love the traditional styles of chunky and comfortable furniture, this is the one for you.
Karlstad Armchair Sizing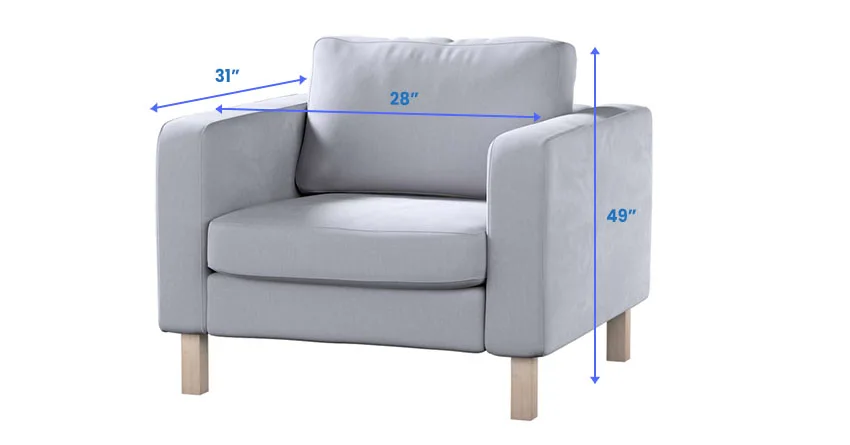 Ikea designed the Karlstad Armchair. It is a seat perfect for compact and smaller spaces and is made to fit a wide range of interiors because of the variety of colors available for the cushion covers for this product.
If you are planning to get the Karlstad for your humble abode, here are the dimensions they come in:
A width of 28 inches or 71 centimeters and a depth of 31 inches or 80 centimeters, plus an overall height of 49 inches or 125 centimeters.
You can easily change the cover if renovations are done to fit the whole vibe of the room. The Karlstad collections also come with a matching sofa.
Eames Armchair Measurements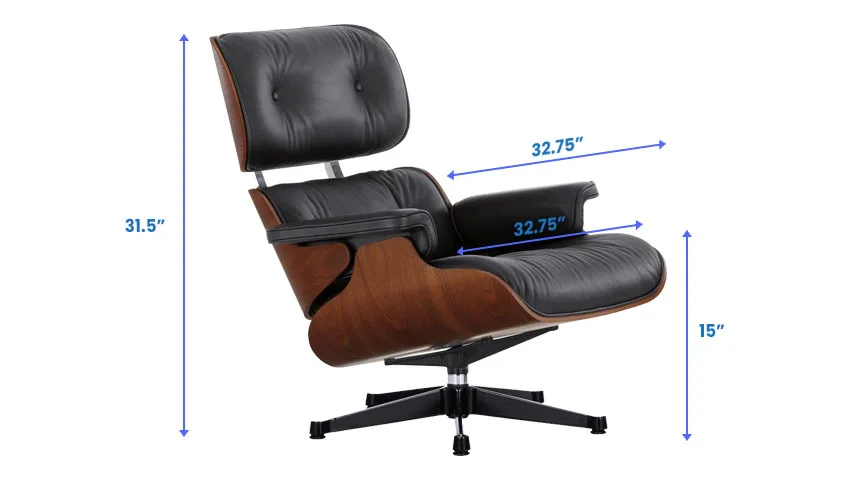 The Eames lounge chair is an iconic and coveted piece of furniture designed by Charles and Ray Eames in the mid-1950s. It is made with materials of leather and molded plywood that redefined the furniture world on what it means to recline and lounge. It also swivels in its aluminum metal base.
If you are planning to acquire the Eames Lounge, it will usually come with these dimensions:
The Eames chair has a width of 32.75 inches or 83.2 centimeters. The cushion depth is also 32.75 inches or 83.2 centimeters, with a back height of 31.5 inches or 80 centimeters and a seat height of about 15 inches or 38 centimeters.
For more related content, visit our types of dining chairs guide here.