Here we share our light blue bedroom ideas guide including the different tips, best paint options, suggested shades, and what accent hues work well with this color.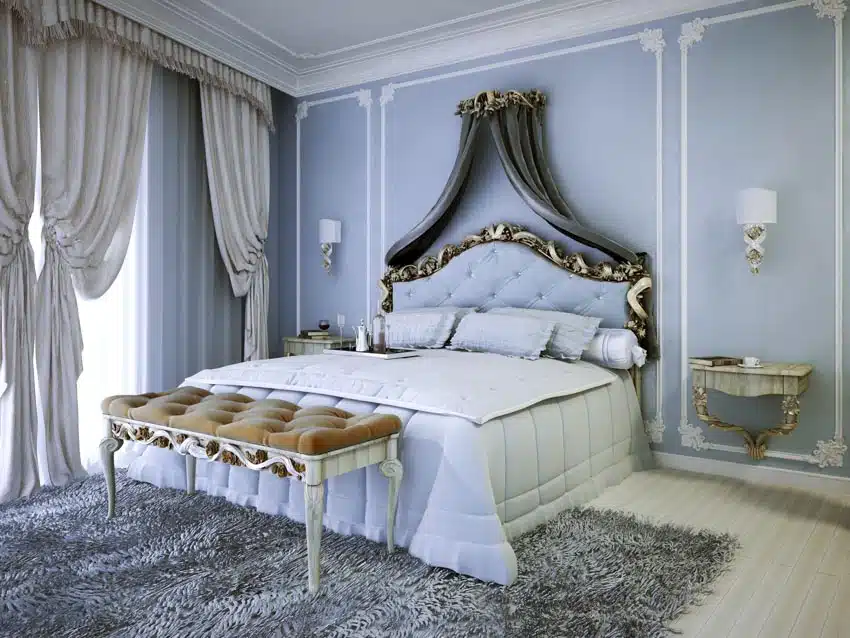 Blue is a timeless hue that offers a calming effect on our minds and bodies to its subtle ability to bring warmth and life into an interior, light blue is a classic and timeless color.
From pale to navy shades, and creative inspirations, this blog post will guide you in exploring some exciting light blue bedroom ideas for incorporating light blue into your next bedroom design project.
Light Blue Bedroom Color Ideas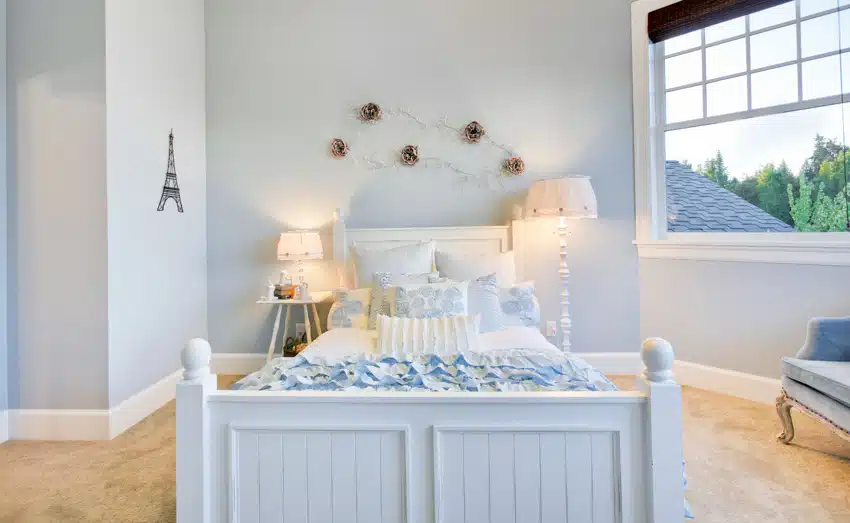 Nothing shines brighter than blue, whether it's the walls, bedding, or accent pieces. Light blue has been known to be calming and tranquilizing, providing quality for any great bedroom.
This hue is an excellent color choice in the modern home as it provides a calming yet vibrant atmosphere. It is an ageless color that is versatile and can easily complement any existing decor.
Here are some ideas and tips on how to best incorporate various shades of blue into your space, and how to accessorize for maximum visual appeal:
Use Light Blue For a Calming Influence: Light blue enhances the calming vibes in your bedroom as it offers a fresh and modern vibe to your private sanctuary. Icy tones like white and gray have cool undertones which complement well with the light blue's cheerful and calming feel.
You can match teal bed covers against light gray wall paint and white furniture, creating an irresistibly serene atmosphere.

Use Light Blue on the Ceiling: A light color blue accent can brighten up your bedroom and transform it into a cozy retreat. Create a bold new look for your room by painting light blue on the ceiling.
This will not only bring vibrancy and refreshment, but it can also make any space appear larger by making walls seem higher.
Pair with an Accent Hue: Light and medium hues of blue can add dimension to your bedroom. Layer together varying shades of light and medium blue for an artfully crafted space and incorporate an accent hue for balance.
It also creates an enveloping atmosphere that radiates tranquility such as sandy-colored neutral and light-washed wood on fabrics, bedding, and furniture. This combination evokes calm feelings for a relaxing retreat that is reminiscent of the seashore.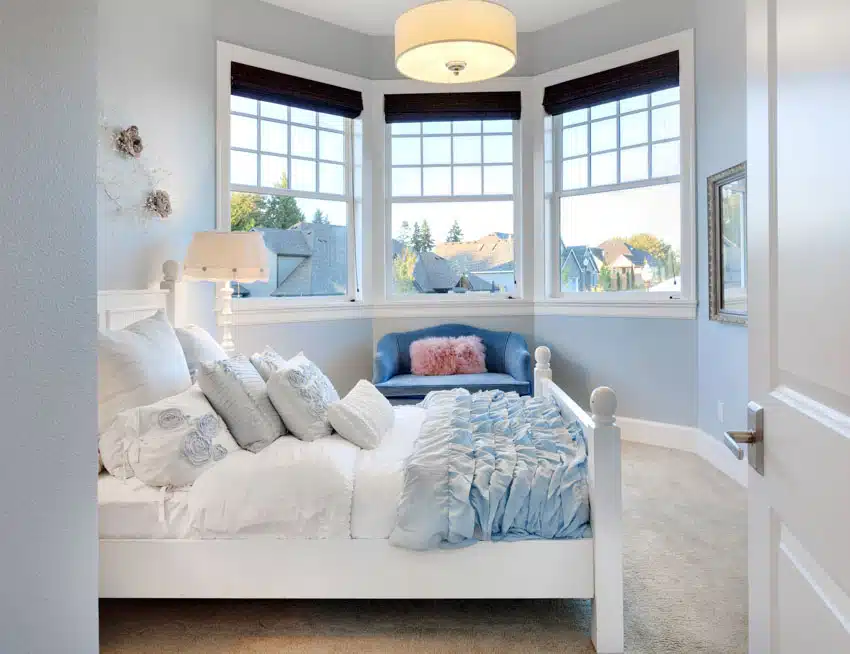 Use Light Blue for Decor and Furniture: Light blue home decor products can be the perfect way to add a touch of sophisticated focal point and elegance to the bedroom. Incorporate this dreamy light blue hue into your home decor with throw pillows or even an upholstered bed.
Pairing light blue with purple offers a regal look and class since purple suggests majesty and light blue adds benevolence to the space.
Bring In Light Blue Patterns and Textures : Incorporate different shades of light blue throughout all elements of your bedroom including the different types of bedding, floors, candles, and curtains for an inviting atmosphere.
Mix it up by playing around with textures or patterns that coordinate in color and fill your room with the cool hues of a blue oasis.
A warm saturated shade of purple combined with light blue makes a pleasing pair resulting in a colorful and soothing effect. For a feminine feel, pair light blue with shades of pink, coral, or apricot giving your bedroom a lively and inviting sensation.
Light Blue Paint For The Bedroom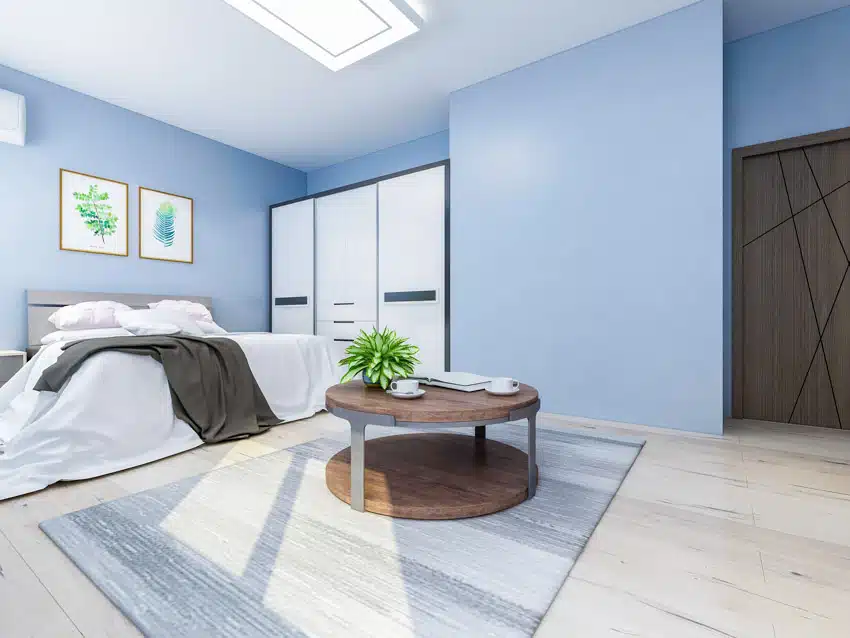 Paint colors are important to any home design since these colors choose a mood and set an atmosphere. However, finding the perfect hue is essential when you're looking for a perfect color to use in your bedroom.
Light blue paints offer great versatility with their airy, calming vibes which create an uplifting ambiance with freshness and a sense of freedom.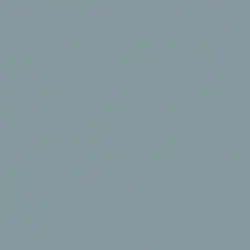 1. Benjamin Moore Water's Edge (1635): Want to feel like you've brought the outdoors inside? The icy blue-gray shade of Benjamin Moore Water's Edge 1635 in a high-gloss lacquer for that perfect reflective finish creates an impression of bringing in clear skies from the outdoors. Now you can have clear skies all day long – without ever leaving the comfort of home.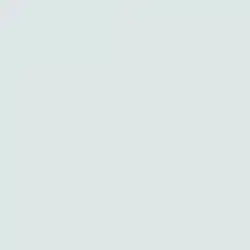 2. Pratt & Lambert Smoke Ring: Pratt & Lambert Smoke Ring creates a cool yet cozy look with this icy blue base. Then add different shades of navy and slate with fabrics to give it a layered look. Incorporate contrasting colors like brown or red to spice up your décor and create a warm and cozy feeling.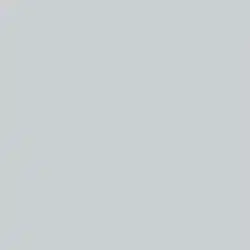 3. Benjamin Moore Early Frost (CSP-590): There is much more to this pale gray color than meets the eye. It's not just a single shade – it contains blue and purple hues that evoke the color of fog, a blend of blue, pale gray, and purple. Benjamin Moore Early Frost CSP-590 delicate shades blend seamlessly for ultimate tranquility and serenity.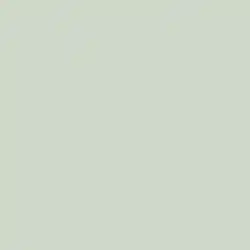 4. Farrow & Ball Light Blue (#22): The hue of Farrow & Ball Light Blue 22 creates the calming effect of a lake in soothing tones. As opposed to moving with energy like waves crashing on shorelines, this color washes over rooms in an almost soothing manner, like a gentle fog hiding away any clutter or distraction for a moment of peaceful reflection. This gray-green-blue hue washes away chaos and brings contentment – lakeside serenity to your walls.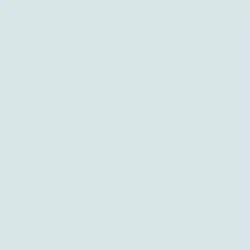 5. Benjamin Moore Sweet Bluette (813): Benjamin Moore 813 Sweet Bluette, a timeless and soothing color from the Classics collection. It brings an air of relaxation with its soft tone. It fits perfectly into any design theme from traditional to modern.
Beyond looking beautiful, this soft color tone also helps create an atmosphere with a touch of serenity and healing vibes, making it one of the ideal bedroom or nursery paint colors.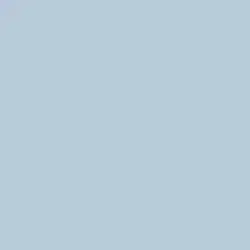 6. Dunn-Edwards Drenched Rain (DE5883): Dunn-Edwards Drenched Rain DE5883 captures the romance of Paris in an alluring, soothing shade. A dreamy blue with subtle gray undertones evokes misty skies and silvery reflections after rain.
For interior design ideas, we recommend adding pops of yellow and orange to enrich this calming hue for use as either a bedroom or breakfast room accent.
Icy Light Blue Bedroom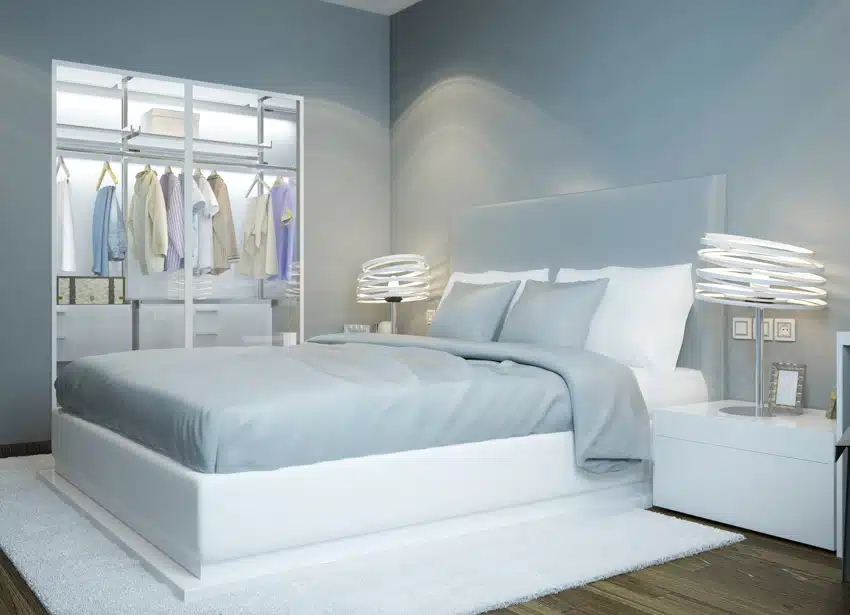 Icy Blue is an excellent choice for a bedroom since it is known for its soft, calming, and tranquil qualities that can bring a modern and chic look to your bedroom. Decorating with light blue and adds an interesting contrast to the other colors in the room.
It has an interesting brightness that can enhance the vibrancy of your room without being too overwhelming or too dark. The slightly greyish hue of the icy light blue makes it ideal for adding depth to the walls and creates an interesting contrast to your furniture and decor.
Icy Blue is extremely versatile when it comes to decorating your bedroom. An ice-blue palette can create depth using monochrome colors by using light and dark blue colors and adding a touch of steel tones.
The perfect harmony of icy blue, aqua, and silver creates a modern and fresh color palette that offers a serene and relaxing feel for any bedroom.
You can pair it with other colors like beige and brown for a more neutral look. The light touches of bright colors such as yellow, pink, and green make the ice blue shine even more and present an energizing atmosphere.
No matter what type of decor style you're going for, icy blue is a great choice that will give your bedroom an elegant and stylish look.
Pale Blue Bedroom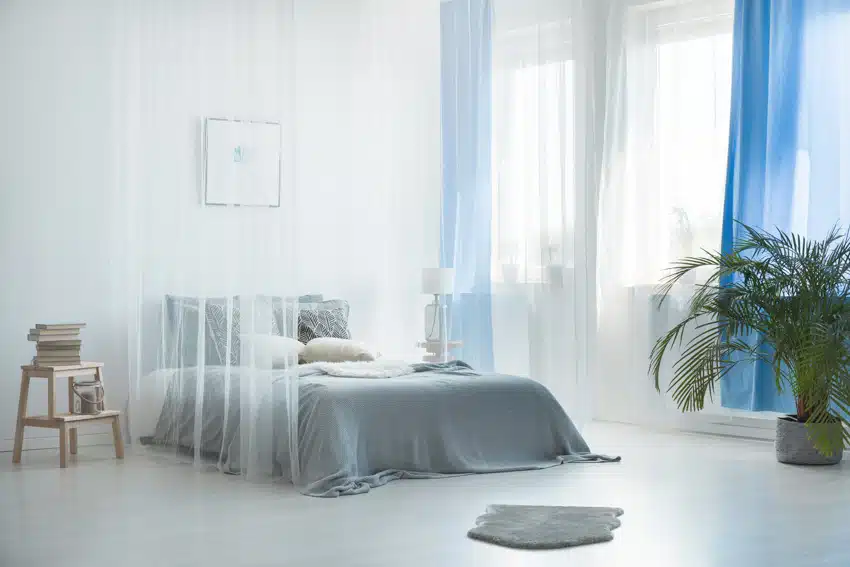 Pale blue is a great color to use in your bedroom since it has some physical and mental health benefits such as helping in reducing stress levels for those looking for some peace and quiet in the bedroom.
Looking at pale blue is thought to resemble a summer sky and subconsciously reminds us of relaxation, thus helping in promoting better sleep. Research also shows that pale blue color can also lead to better sleep, mental clarity, and even lower blood pressure and heart rate.
Therefore, this color is perfect for reading or doing work in your bedroom since it provides a soothing environment that's good for both physical and mental health. Whether you're trying to relax, focus on a task or just sleep better, it's worth considering the pale blue hue for your bedroom.
Like a breath of fresh air, the pale blue color offers a divine quality that is uplifting, refreshing, and relaxing. This color is commonly referred to as baby blue, light blue, pastel blue, or powder blue which is often associated with soft and mellow nature.
It is a popular choice for bedrooms and nurseries which are facing south since the pale blue color helps to balance the warm afternoon sunlight giving the room a tranquil airy feel.
Sky Blue Bedroom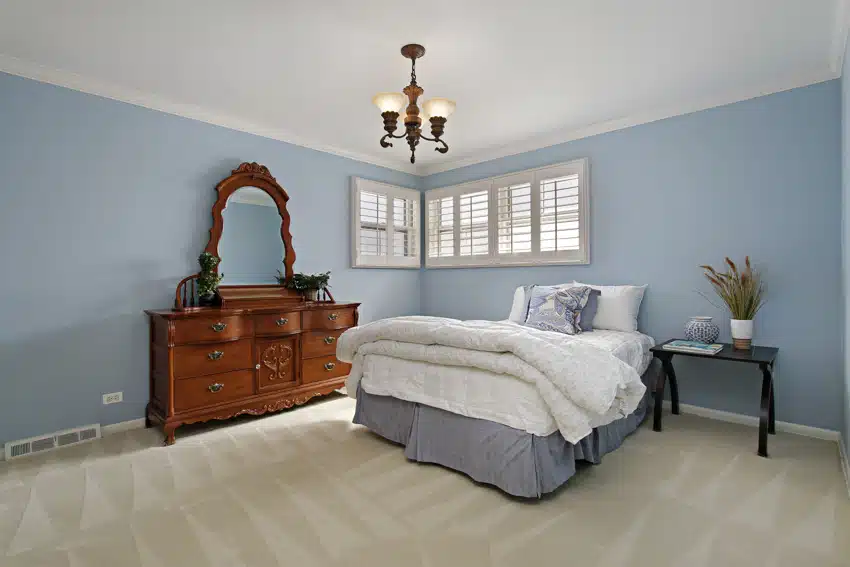 Sky blue is a calming color that gives off a tranquil vibe, which makes it ideal for bedrooms to achieve a feeling of refreshed and relaxed atmosphere. It's a light, airy hue that makes rooms seem spacious and inviting. Not only does it look beautiful but using sky blue in your bedroom décor is that it will brighten up the space.
This delicate sky-blue color is a perfect shade for a bedroom backdrop since it let other elements stand out. Subtle patterns around the room such as curtains, stools, and throw pillows with sky blue hue create visual interest without overpowering.
Neutral colors will pair well with the classic sky-blue color which helps the hue to offer a natural look and create a relaxed atmosphere. T
ry using beige or cream instead of cool white, this neutral color blends well with sky blue which offers a vintage look especially when antique furniture is incorporated into the design scheme.
Modern Light Blue Bedroom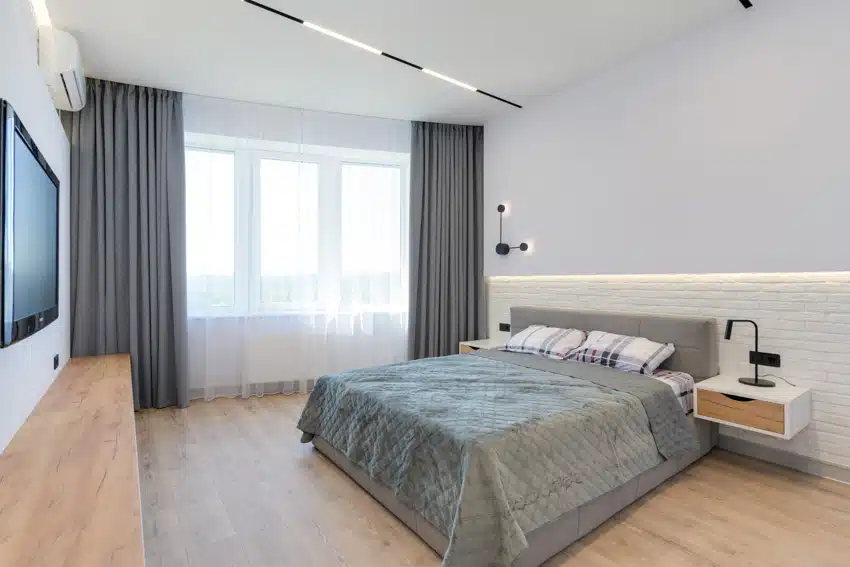 Modern, contemporary, and chic, light blue is the perfect color to create a tranquil and peaceful atmosphere in your master suite.
Light blue creates a serene and calming atmosphere with its soft, inviting tones that evoke a sense of peace and serenity that can help you relax after a long day.
The modern look of light blues comes in a wide range of shades that can easily be matched to any modern-day decor. From pastels to jewel tones, there's sure to be a hue that will match your existing furniture and accessories.
Light blue enhances natural lighting in a modern bedroom design scheme since it reflects natural light and makes rooms appear brighter, airier, and more open. This is especially beneficial if you have a smaller bedroom size or limited natural lighting.
When combined with neutrals like ivory, cream, or white, light blue will instantly add a touch of sophistication to any space. The combination can create a beautiful, modern look that will never go out of style.
Light blue offers creative freedom from painting all four walls or just one accent wall in a muted hue to mixing shades for a more playful vibe, there are endless possibilities with this versatile color. No matter your style, light blue paint and home decor can bring a touch of modern elegance to any bedroom.
What Accent Colors Go With Light Blue Walls?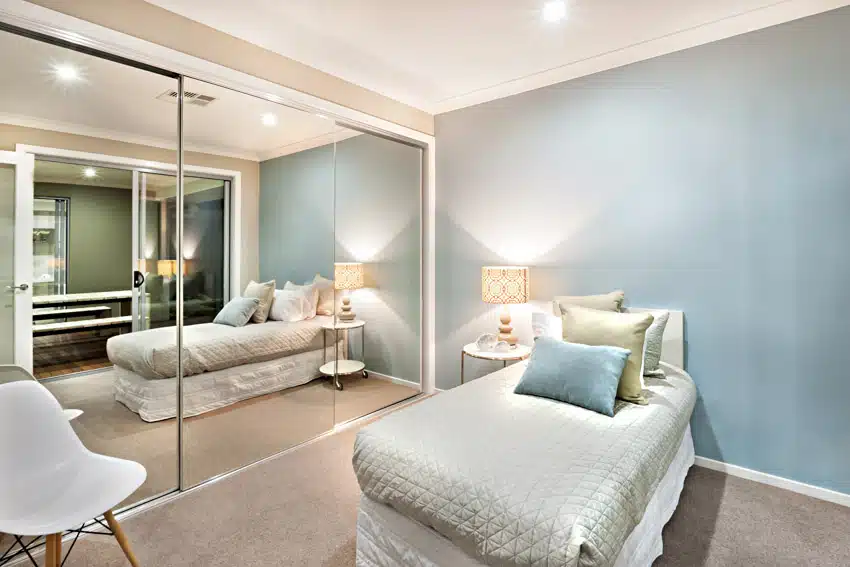 Accent colors are a great way to add depth and interest to any room. And when it comes to light blue walls, they provide the perfect backdrop for incorporating other colors into your decor.
Wallpaper with light blue patterns can elevate a space and adds a layer of texture and visual interest that offers a particularly elegant look.
Light blue and bright white colors are a perfect match as these colors create an invigorating, refreshing, and uplifting color palette. This combination is a classic pairing dating back to the Regency period, which is timeless and elegant.
For a monochromatic color scheme, build up layers with different shades of blue and mix them with light blue. Incorporate it in patterns and textures through printed fabrics, upholstery, window treatments, rugs, and accessories. Add a candle collection, sconces or lamp to play with lighting.

For a more classic look, consider using navy or black as accent colors. These colors will provide a bold contrast against the light blue walls.
A sweet and whimsical color scheme can be achieved by pairing pale blue with a baby pink pastel color that suggests a fresh playful, fanciful feel.
A sophisticated look for a bedroom calls for blending light blue with a light shade of gray for a cohesive, dramatic, and classy look. And if you're looking for something a bit softer, then muted shades of purple can also be used to add an air of sophistication to the room.
Light blue and orange are complimentary colors, these two colors have a high-contrast dynamic when paired together. They create a fun, lively, vibrant yet composed and calm feeling at the same time.
For a gentle, warmer color palette, try using a more subtle shade of orange such as terracotta or autumn burnt orange accent color. Add a mid-tone gray or taupe for an elegant and comforting touch.
Accent colors can transform a space, so choose the ones that complement your vision. Whatever color scheme you choose for your light blue walls, be sure to consider the overall style of your room and how you want it to feel.
See more related content in our article about modern bedroom colors on this page.