See if pine wood furniture is a good choice for you including its durability, hardness, best types for furniture, pros & cons, different pine furniture designs, and painting & refinishing.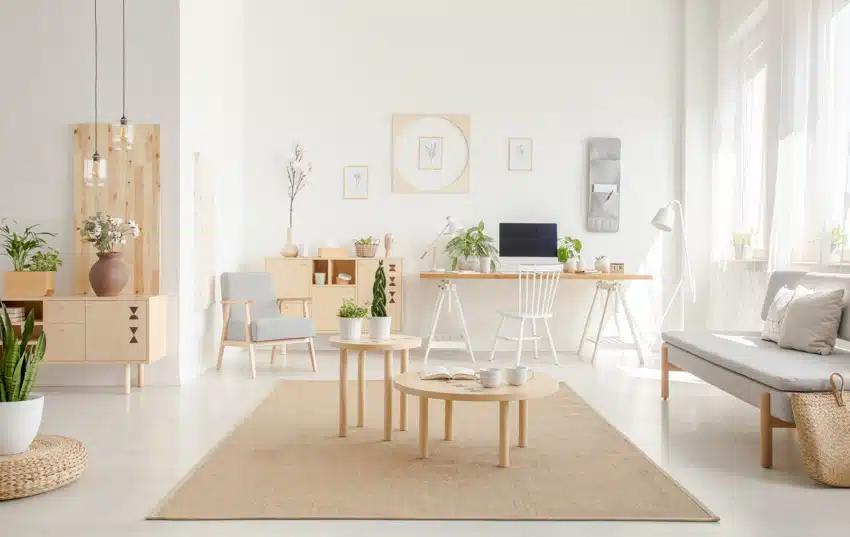 Pine wood is one of the most common materials used for cabinetry and other furniture building. And if you are also considering buying or constructing pine furniture you will need to know how well it holds up and and how to take good care of it.
The first step of the process is understanding what pine wood furniture is and the characteristics that come with it. Weighing the pros and cons of this type of wooden furniture will help you know what to expect.
What Is Pine?
Pine wood is a popular furniture option for a reason and it's because many homeowners and woodworkers consider this type of wood as excellent material.
Since planted trees grow quickly, harvesting them for wood won't have a negative impact on the environment. This means that it is an eco-friendly option to take into account.
Light in color specifically in the shades of white, cream, and yellow, pine wood can easily blend well with other colors, as well as other types of wood. This means that getting pine wood furniture will be easy to match with the styles and aesthetics of your room and home.
Pine wood is ideal for country and rustic styles because of its nostalgic knots and can even look stunning with natural varnish or an unfinished surface.
In terms of durability, pine may be soft compared to most hardwood options but it is still strong enough to withstand the daily wear and tear, both indoors and outdoors.
The major downside though is that they also tend to easily dent and nick and so might need more caring and maintenance. More than just being a more affordable option, pine wood also has high workability, considering the material is easy to work with, cut, shape, and stain or paint.
Is Pine A Hardwood Or Softwood?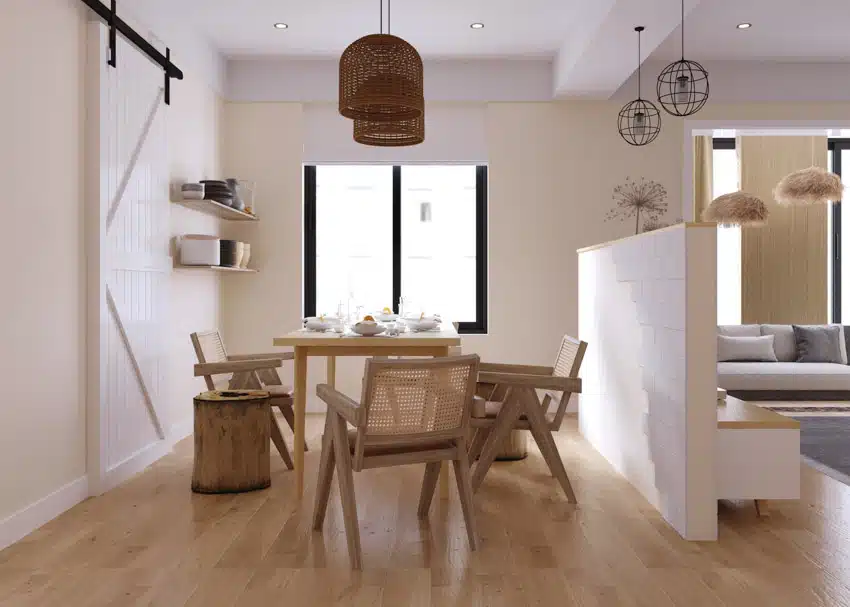 Pine is not a hardwood but a common softwood that's often used in many ways, from main construction application of flooring to cabinetry and furniture building. While it may not be as hard or dense, it is excellently pliable and relatively softer than most woods which makes it popular among woodworkers.
Compared to many hardwoods, pine is also more lightweight which makes it easy to lift from one place to another. This means shipping won't be too expensive too. And if constructed well, pine wood furniture can last for decades similar to the lifespan of most hardwood types of furniture styles.
Pine Hardness (Janka Scale)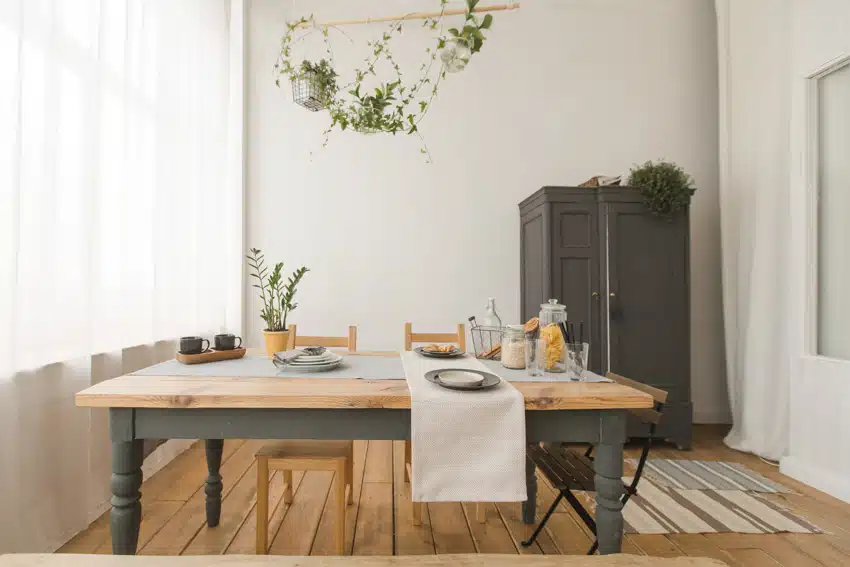 While categorized as softwood, pine is hard and strong enough to be a favorite among woodworkers and homeowners. Softer compared to hardwood options, pine is still harder and stronger than many softwood furniture.
Pine comes from an evergreen coniferous, making it in the same league as Douglas Fir and Cedar. Pinewoods don't have visible pore structures making them similar to hardwoods. But similar to softwoods, they carry light-colored grain.
Many of the pine species are significantly less dense and soft but are stable and durable enough to be used for furniture building and are highly workable allowing easy carving without the wood chipping.
When it comes to hardness, pine wood differs based on what type they are. Here is a glance at the different types of pine woods and their respective Janka hardness rating.
| | |
| --- | --- |
| Types of Pine Woods | Janka Hardness Rating |
| Red Pine | 1630 |
| True Pine | 1570 |
| Caribbean Heart Pine | 1280 |
| Longleaf Southern Yellow Pine | 870 |
| Shortleaf Southern Yellow Pine | 690 |
| Loblolly Southern Yellow Pine | 690 |
| Sugar Pine | 380 |
| White Pine | 420 |
| Eastern White Pine | 380 |
Pinewood varies in hardness depending on the species it is so specific ones can be used on the flooring while some species are not ideal for it. Red Pine is the hardest while Eastern White Pine is the softest based on their Janka hardness rating, which is 1630 and 380 respectively.
When comparing Yellow Pine, White Pine, and Sugar Pine, the first one is significantly harder and stronger than the other two. This is why Yellow Pine is used more often for tougher woodworking applications than White Pine or Sugar Pine.
Southern yellow pine is durable and can be used for flooring in low to moderate use areas. Read more about pine wood flooring on this page.
What Type Of Pine Is Best For Furniture?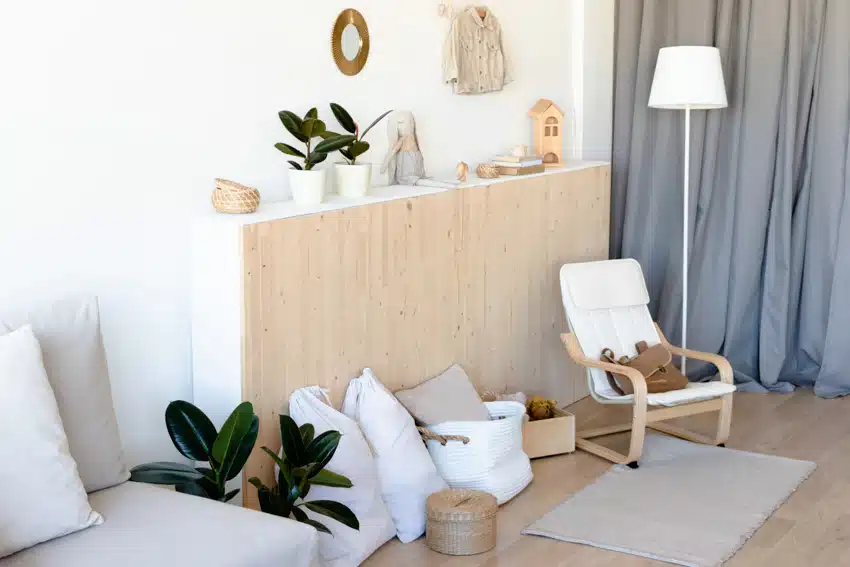 Pine wood is a magnificent material for furniture building and cabinetry not just because of its abundance and fast growth but because of its considerable strength, stiffness, and shock resistance.
Most solid wood will be influenced by humidity and either expand or contract based on humid conditions. And while it is softer compared to other wood options, it is more resistant to swelling and shrinking.
With pine wood, though swelling and shrinking are much more minimal so can easily maintain its original shape even over decades. Since there are different types of pine wood, particularly based on their species, their performance and characteristics may also vary.
Durability and hardness are two characteristics that can contribute to a wood furniture's quality. These characteristics can also be different from one type of pine wood to the other.
The most common pine species used for wood furniture are white pine and yellow pine, with 420 and 690 to 870 Janka hardness ratings respectively.
White pine trees grow in North America and grow quite large, which is why they make a wonderful source of high-quality wood that you can use.
Yellow pine trees, on the other hand, grow across Mid-Atlantic and South regions. Yellow pine wood is popularly used for home construction, especially in the United States.
Furniture Grade Pine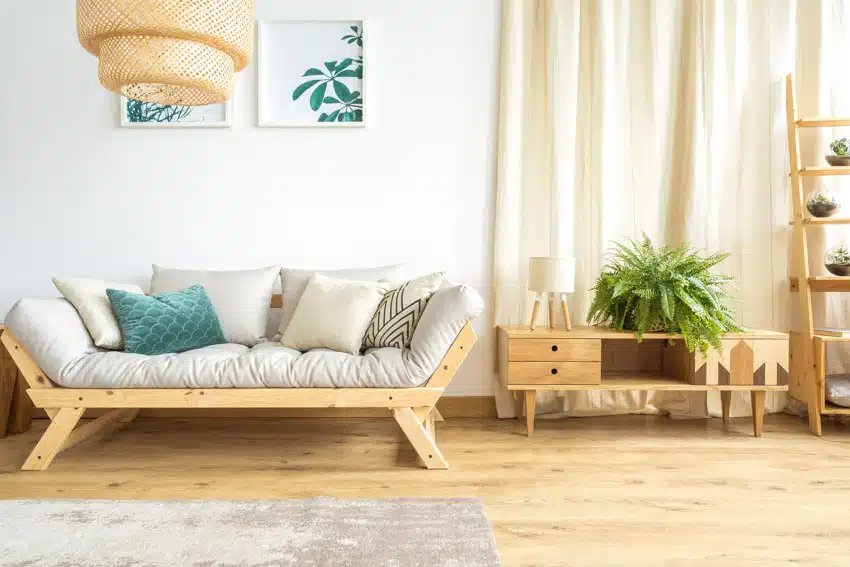 If you're looking for furniture grade pine, this means that you will be dealing with softwood with incredible quality which makes it an excellent option to be used for cabinets and pieces of furniture.
More than just the excellent strength and durability, this specific pine wood is highly workable so you can easily cut and shape it according to the size and form you prefer using both hand and machine tools. In addition to that, the wood also finishes well and glues well, making it easy to build and customize.
Some of the main uses of furniture-grade pine include the following:
• Boatbuilding
• Construction lumber
• Boxes
• Crates
• Interior millwork
• Carving
• Cabinets
Pine Constructed Furniture Pros And Cons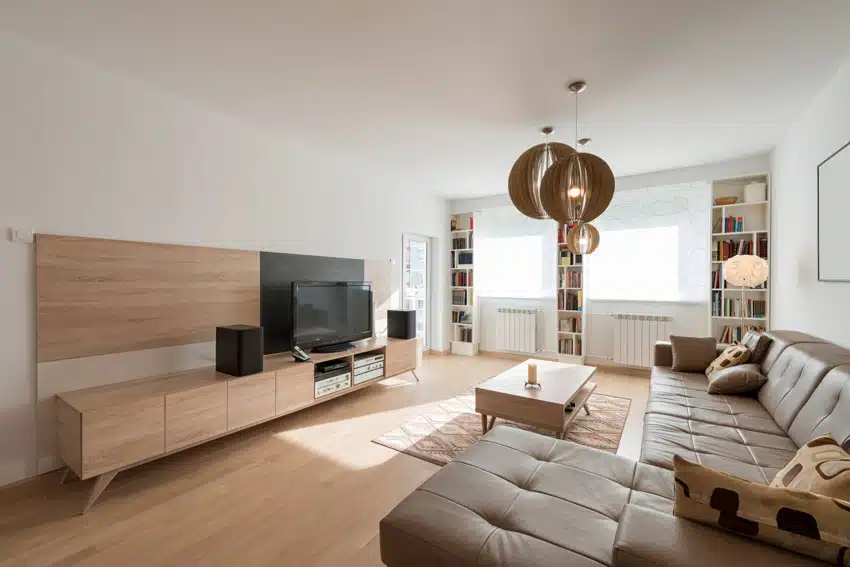 Pinewood come with benefits and drawbacks that you will need to weigh in so that you can consider your decision well-informed and thoughtful. And if you believe that the drawbacks that come with these advantages are worth it then you can definitely give this type of furniture a shot.
Pros of Pine Furniture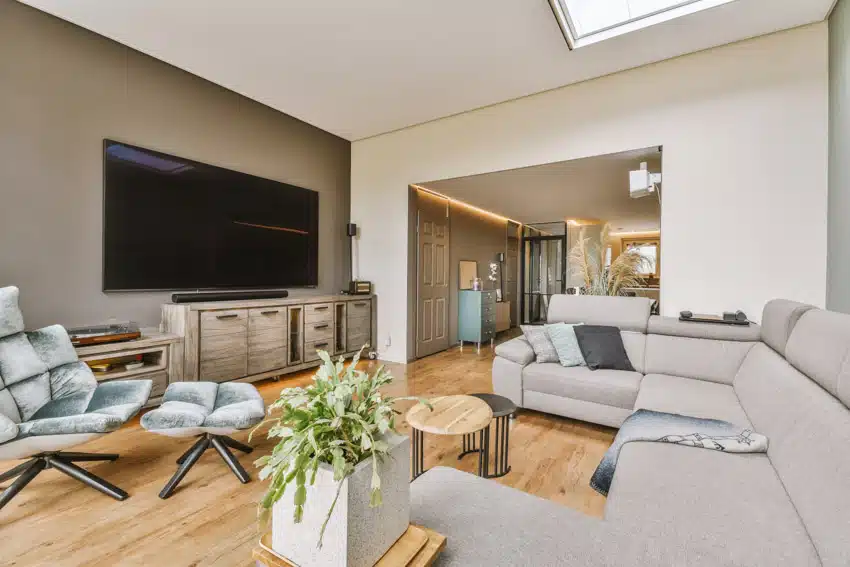 Pinewood can be a good addition to your home and some of the best reasons why are the following:
• Affordability: Because of how readily available pine wood is in the market, you can easily get it at affordable prices. This means that you won't have to worry about working your way around a budget in the first place and yes, you will get high-quality pine wood even with a lower price tag.
• Lightweight: Lighter than most wood options, pine wood can be very practical and handy to have, especially when moving furniture from one location to another. If you're fond of moving things around every now and then, pine wood furniture may be a great choice for you.
• Environmentally friendly: Pine trees grow fast and plentiful and this means that harvesting wood from these trees won't create that much impact on the environment compared to other wood options.
• High Resistance to Swelling and Shrinking: While most wood responds to humidity changes, pine wood is a bit more resistant compared to many. Too much moisture absorbed from the air because of the humidity can lead the wood to swell while losing moisture can shrink the material. Pinewood holds its shape well though compared to others.
• High Workability: Pinewood paints easily and takes stain well because of its straight grain and uniform fine texture. The material can also be carved easily and can work well with hand and machine tools. This is one of the reasons why many woodworkers love this material.
Cons of Pine Furniture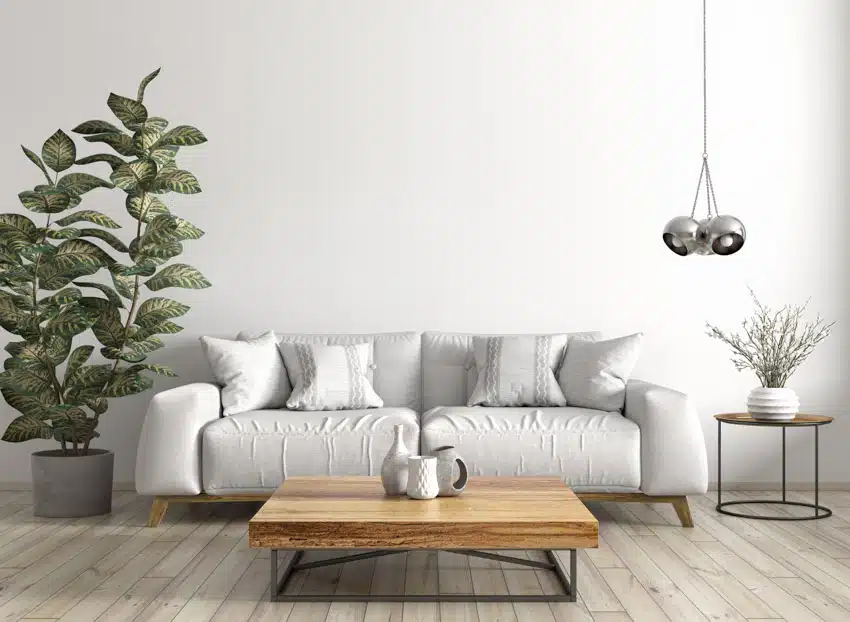 Balancing the advantages that come with pine wood, there are also disadvantageous that you have to be aware of and accept. Some of these drawbacks include the following:
• Tends to Easily Dent and Nick: Pine is a softwood so it's understandable that the material comes with a bit of softness. This is why despite its strength and durability, the material can easily sustain damage and is susceptible to nicks and dents on the surface.
And while some may treat these flaws as a negative thing, they can easily add to the weathered and rustic look that many pine wood features.
• Requires More Maintenance: Refinishing the pine wood is needed every now and then, especially since it tends to nick and dent.
This is important for people who don't like marks on their furniture but you can always choose to keep the marks if you want to have this rustic piece of furniture at home. If you're into a weathered look, you can leave your pine furniture unfinished.
• Not As Versatile Compared to Other Wood Options: One of the major downsides with pine furniture is that when it comes to style, it's not as flexible compared to other wood options. Pine is associated more with rustic appeal and not modern or contemporary.
• More Visible Knots: Pine wood is also known for its knots, making it easily different than other wood options. The knots contribute to a more rustic look, which many can consider an advantage while some can take as a drawback.
• Bleed-through on the Wood's Surface: There's a possibility of a sudden stain appearing on your pine wood and this is something that's called bleed-through, which is depicted by a brownish-yellow discoloration.
This is one of the reasons why the choice of paint or stain you apply to the pine furniture is vital since you can either correctly hide the bleed-through or not.
Darker shades of paints and stains are recommended to avoid the bleed-through from showing. But similar to the dents and knots, the discoloration can also be regarded as a rustic touch to your furniture.
Pine Lumber Furniture Designs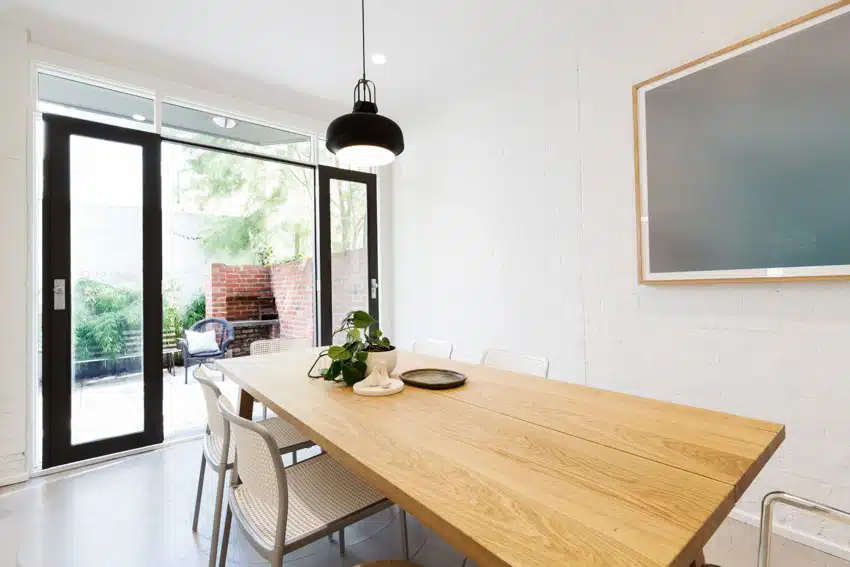 Once you've set your sights on getting pine furniture, the next step to take is to explore the different choices you have. And there are several designs that pine furniture features that you can consider from unfinished and finished fine furniture to rustic and knotty ones.
Explore these pine furniture designs one by one and decide for yourself which one is the most ideal for your home and your personality.
Unfinished Pine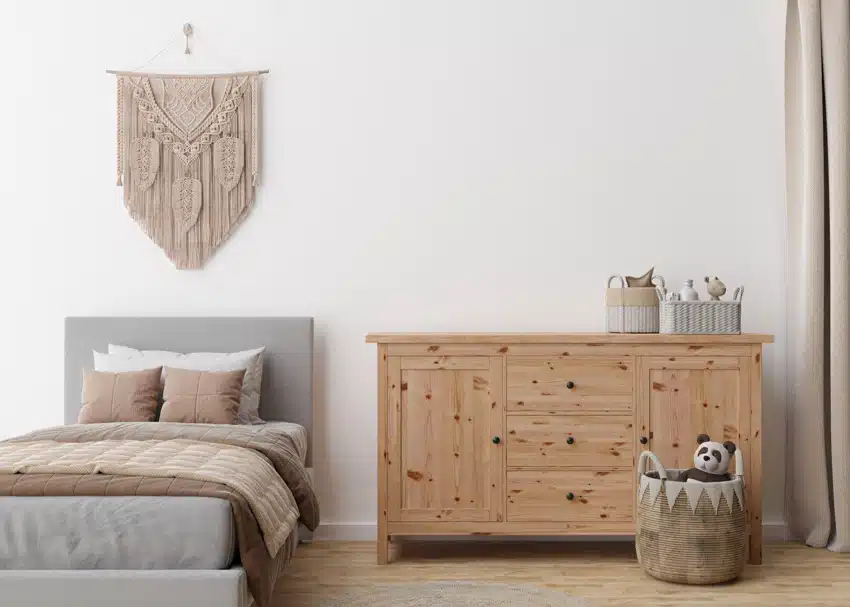 One of the options you can go for is unfinished pine furniture, which basically means that even when the furniture has been crafted and put together, it lacks stain or varnish and still needs finishing. If you choose this design, this means you're going for a simpler and more basic look for your furniture.
But the best thing about this option is that you have the creative freedom to turn it into whatever you want it to be. In contrast to mass-produced pieces of furniture, this option offers the opportunity to be more personal in designing it.
Unfinished pine furniture can be left as such if you prefer the naturally weathered look of wood. This can be further achieved if you place the furniture outdoors and be exposed freely to weather elements. This will lead to your furniture looking more rustic and nostalgic-looking.
This unfinished pine furniture can be ideal for people who are on a budget since these almost incomplete pieces of furniture are offered at a more affordable price. It is also perfect for people who have all the time to get dirty and create something with their hands.
Finished Pine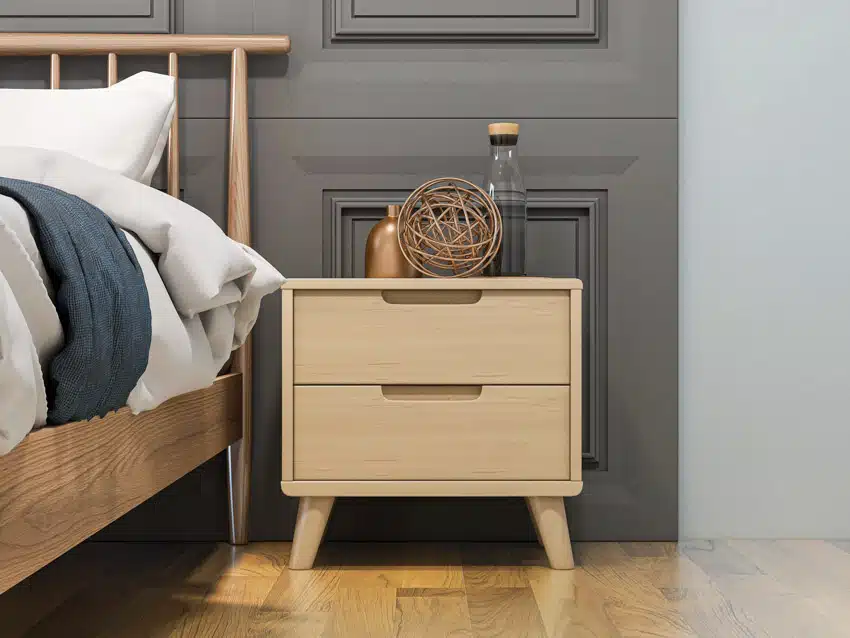 If you choose finished pine furniture, you are choosing a piece of furniture that's more refined compared to its unfinished countertop.
It is either stained or painted, depending on your preference. The downside with this choice though is that once it's finished, customizing the furniture will be more limited now and you just have to make do with what you have.
While you may not be able to customize this furniture, you also won't need to work further on it since it's basically complete.
Many finished pine pieces of furniture are mass-produced and can come at higher prices but they are perfect for those who don't have the time to get their hands on the furniture and do the finishing themselves.
Rustic Pine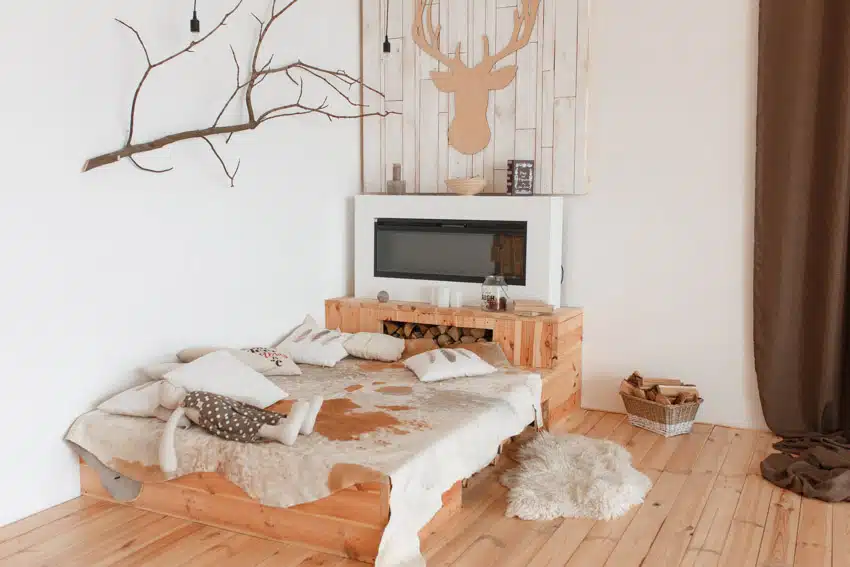 Pine wood is all about its rustic vibe and choosing rustic pine furniture simply means that you're choosing a piece with a mid-tone brown color on the surface and a red undertone to boast. This combination of these colors makes you feel nostalgic and rustic at the same time.
For a more rustic look, you can stain your pine furniture with a lighter-colored one so that all the marks, dents, and bleed-through that make pine wood authentically rustic can easily be seen.
If you want to paint on it though, simply go for the basic neutral colors and steer away from popping ones that stand out.
Knotty Pine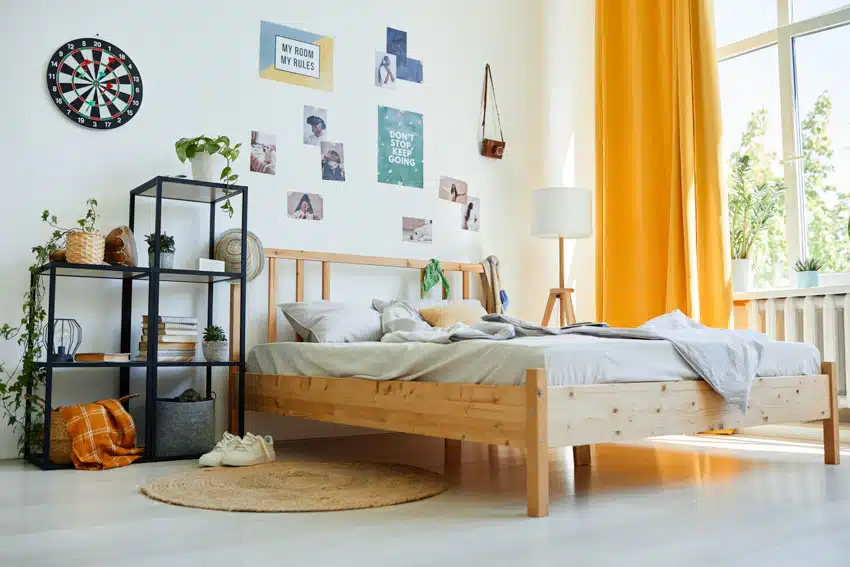 Pine wood is naturally knotty and if you want to make the most of this notable element, steer away from dark-colored stains so that the knots will be the main attraction of your furniture.
Your knotty pine furniture can be installed in a modern home but the truth is that these knots are more inclined to support a rustic ambiance than a contemporary one. See pictures of knotty pine kitchen cabinets on this page.
If you're going for the modern style, it might be a better option to avoid this roughly-finished pine furniture and go for a more seamless look, showcasing clean lines and minimalist appeal.
Pine Log Furniture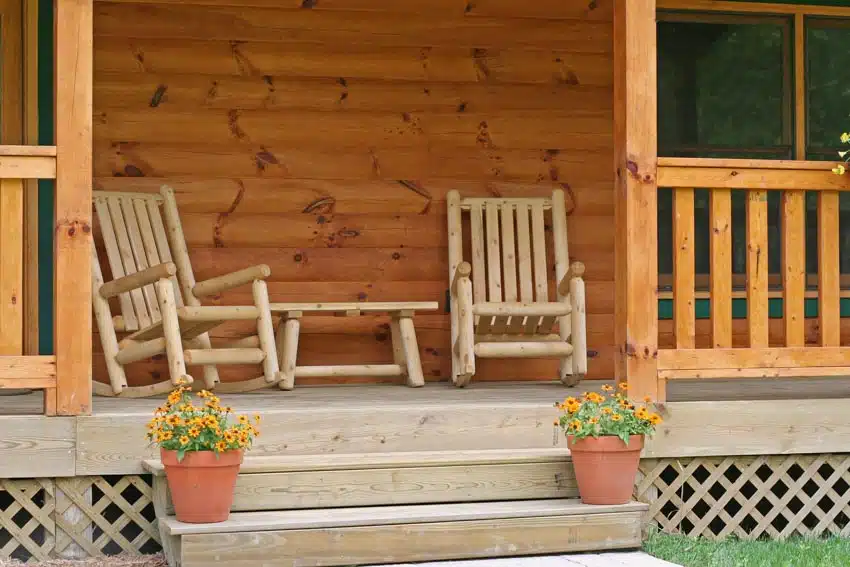 Pine is a soft wood and working on log furniture is an option you can consider, especially with its smooth surface free from raised types of wood grain patterns.
This type of furniture offers a rustic look at an affordable price, especially when paired with dovetail drawers and ball-bearing drawer glides. The rustic feel of the pine wood itself contributes to the nostalgic style of the log furniture.
Solid Pine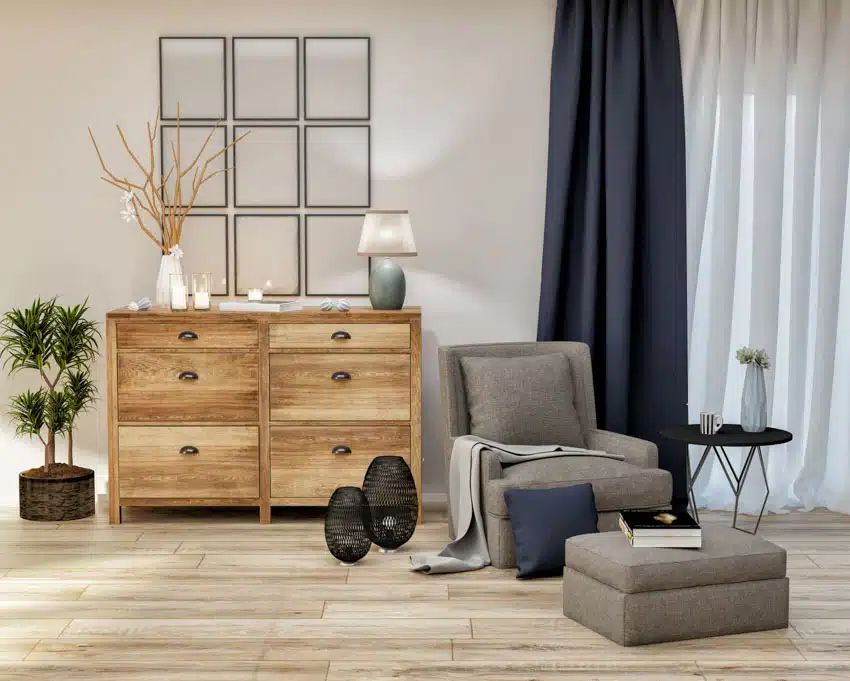 If you're going for a more authentic wooden look, solid pine furniture might be great both for its durability and aesthetics. Besides good resistance to temperature variations, solid pine is a more economical and lighter choice compared to solid oak.
This is very beneficial, especially since working on solid wood can be very challenging if the material is dense and heavy. This is not the case with solid pine furniture.
Scrubbed Pine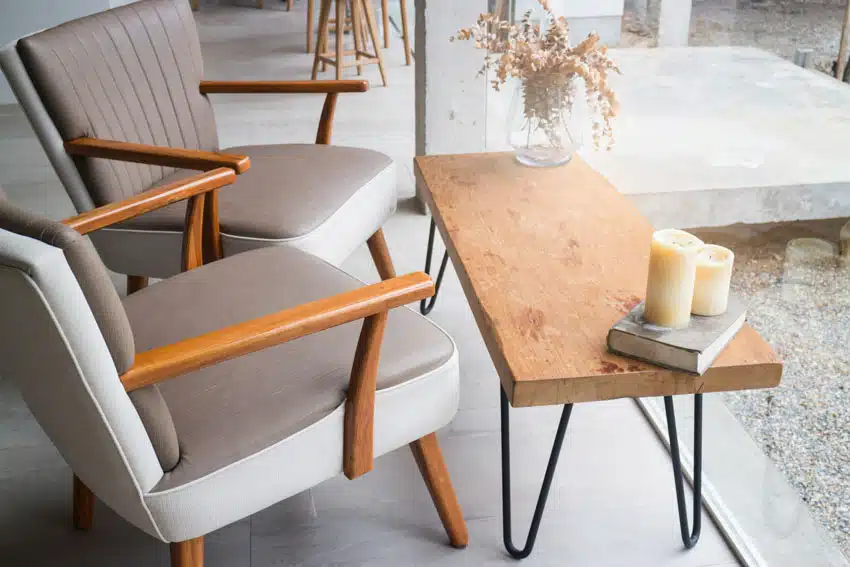 Known for its abraded surface, scrubbed pine furniture features worn-away knots and rings that can look charming on their own. The scrubbed look may sometimes be referred to as pre-loved because of its weary look.
The problem with it though is that it lacks protection so you may think about applying a coat of varnish over the wood stain for added protection.
Pine Outdoor Furniture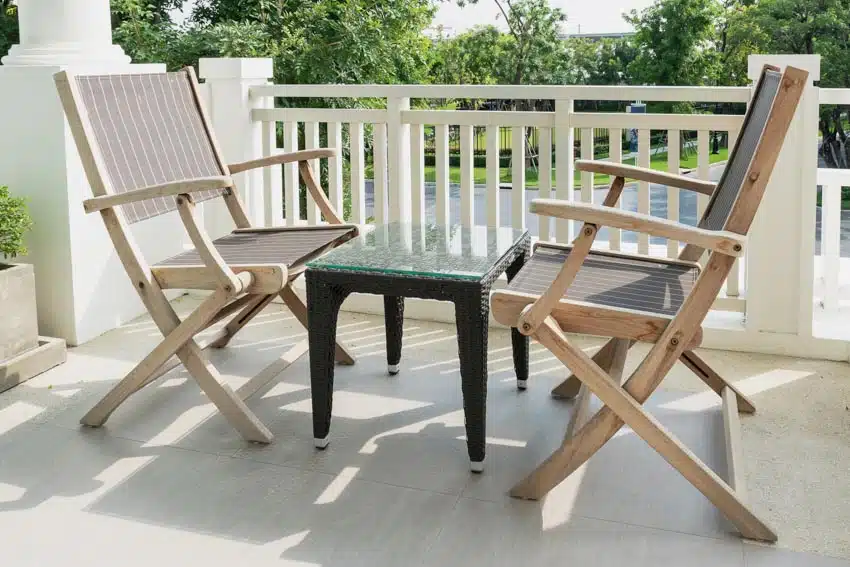 Pine wood can be used to build outdoor furniture, especially since the material is resistant to temperature changes. If you want to commit yourself to rustic style and appreciate an authentic worn look in furniture, leaving it free from varnish and stain may be an excellent consideration.
While most homeowners are concerned with wooden types of outdoor furniture and their reaction to weather elements, it's not something you have to worry about with pine outdoor furniture.
Mexican Pine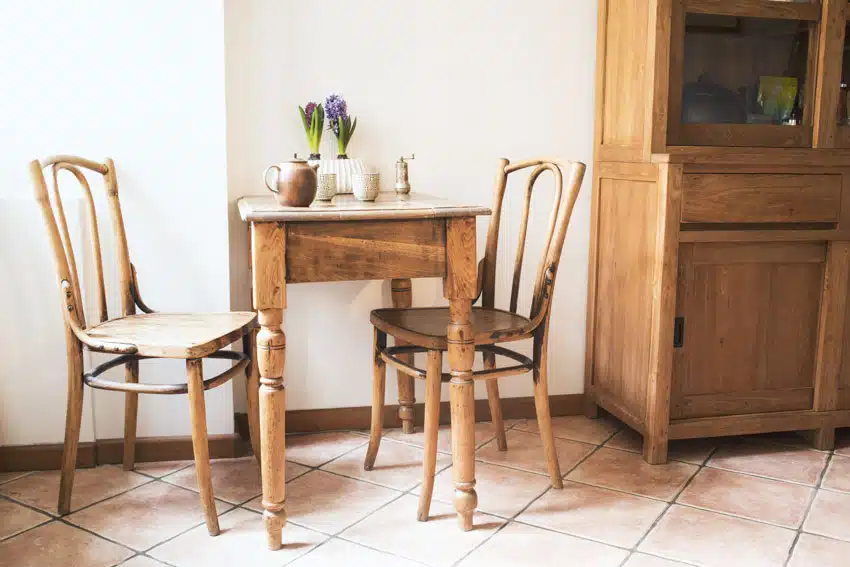 This type of pine furniture is normally handcrafted and made from solid kiln-dried pine, adding a rustic ambiance to this unique style.
More than the rustic theme, you can also associate the ambiance this furniture offers with Western Ranch Santa Fe, and Log Cabin styles.
English Pine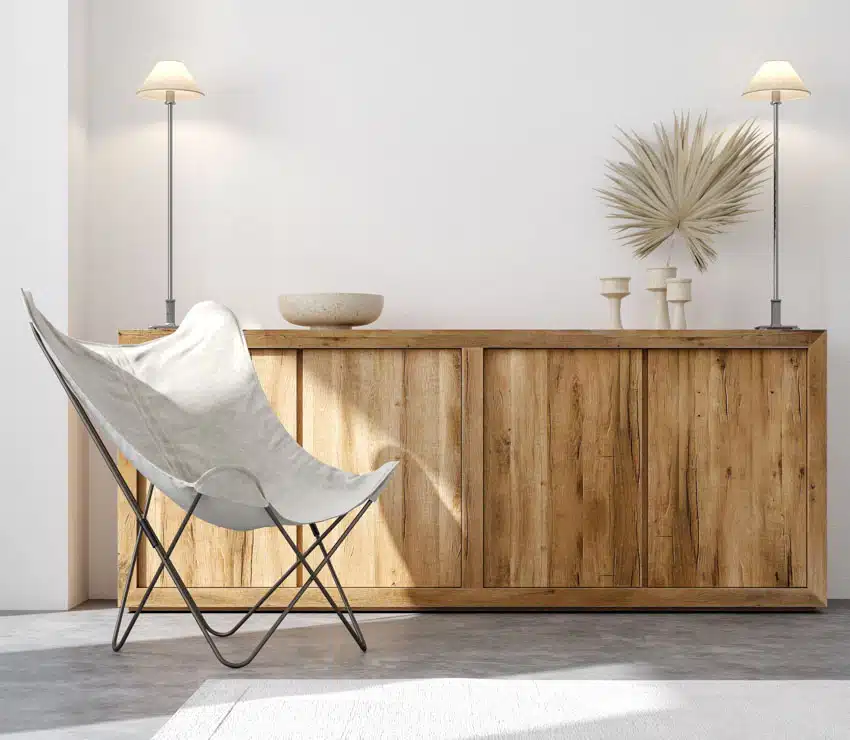 Going all traditional with cabinetry and furniture building, English pine furniture may be a great option. This is usually associated with a lovely rich brown color on the surface with a hint of red hue even when the pine wood is in its raw state.

Refinishing Pine Timber Furniture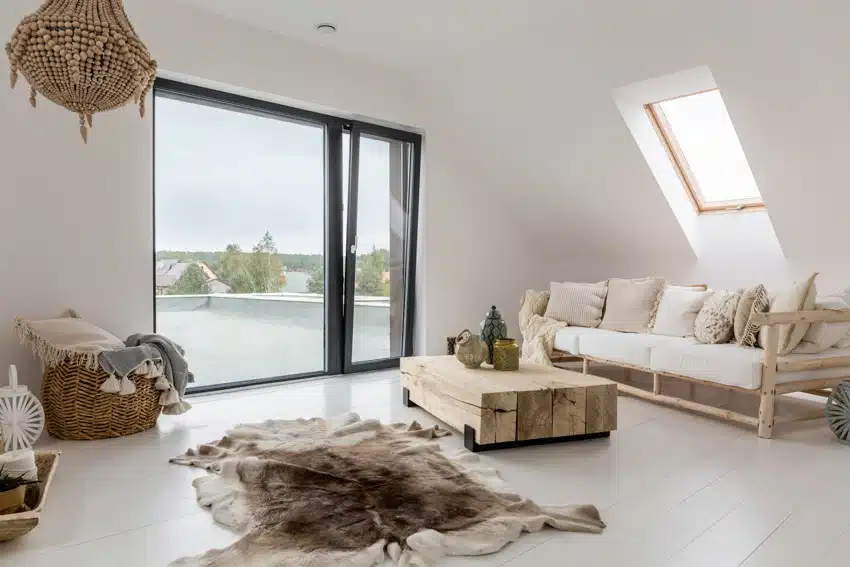 Refinishing your pine furniture is relevant if you want to keep it free from dents and nicks. And the good thing about pine wood is that the material takes paints and stains well. If you need a guide, here are some steps to follow in refinishing your furniture:
1. Wear proper safety gear: Before getting hands-on with the task, make sure to take proper precautions by wearing a long-sleeved shirt, long pants, protective gloves and eyewear.
2. Prepare the work area: Apply protective tape to areas you want to stay clean and make sure to keep the doors and windows open to allow maximum ventilation while working. A fan can help tremendously to draw out the fumes.
3. Disassemble the pine furniture: Take off all removable parts, including the pulls, drawers, and legs. Make sure you take out the items you don't want to be stained.
4. Strip the furniture with old stain: Get a no. 2 steel wool, dip it in a stripper, and scrub the surface of your furniture to get rid of stains embedded deep in the wood grain. Apply mineral spirits or water to fully remove the stripper from the surface then make sure to leave it for 24 hours to completely dry.
5. Sand the furniture: Get 120-grit sandpaper and lightly sand the furniture to remove stain remnants and level out rough patches on the surface. Use 220-grit sandpaper though if you're dealing with solid pine wood without veneer covering and 180-grit sandpaper for veneer-covered surfaces.
6. Apply the wood conditioner or sanding sealer: Get a stiff-bristled paintbrush and apply the sealer. After allowing the surface to dry, scrape the excess filler away but make sure that you won't gouge the wood.
7. Sand the furniture surface for the second time: Take out 220-grit sandpaper and rub the surface lightly to open the wood pores for sealing and staining. Get a clean rag to wipe the surface of the furniture and remove the sand dust.
8. Apply stain on the surface: Get a brush and apply the first coat of paint or stain evenly on the surface. Leave the stain sitting on the surface for around 15 minutes before wiping the excess using a clean rag. Leave it for at least 4 hours before applying a second coat on the surface and then let it completely dry for 24 hours.
9. Seal the surface: Get a clear polyurethane sealer and apply it on the surface to seal the material. Let it dry for 4 hours before applying a second layer and then wait for at least 24 hours for the sealer to completely harden.
Painting Furniture Made From Pine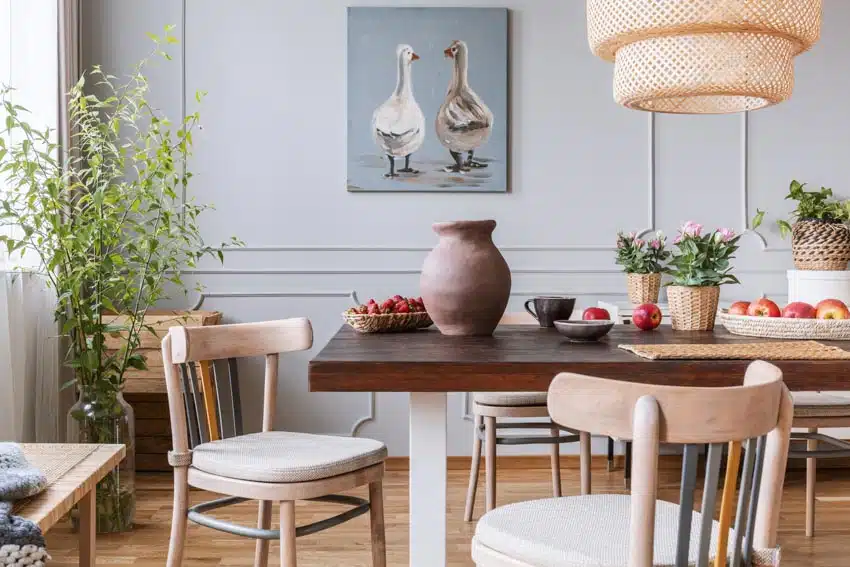 Similar to staining your pine furniture, painting it can be quite a handful especially if you have no idea where to start. Make sure you have all the necessary materials and tools for the task, including the following:
• Stain-resistant primer
• Paintbrush
• Roller
• Sandpaper
• Clean rag
• Protective gear (Protective eyewear, dust mask, and gloves)
To help you with this painting task, here are the step-by-step instructions you can follow:
1. Clean your pine furniture: Take out damp cloth and run it on the surface of the furniture to get rid of debris, grass, and dust then let it dry for at least 30 minutes for finished surface and at least 2 hours for unfinished one.
2. Sand your pine furniture: Get 120-grit to 150-grit sandpaper and run it firmly across every surface to get rid of debris, splinters, and bumps on the porous wood. Make sure that you're in your protective gear as you sand the furniture.
3. Sand the pine furniture for the second time: Get 200-grit to 220-grit sandpaper to sand the surface of the furniture again and make sure that all blemishes have been removed and scratches are smoothened. Take out remaining wood splinters and dust using a brush or a dry cloth.
4. Prime your pine furniture: Tape off all parts you want free from paint using a painter's tape and remove all parts that can be removed, from the metal handles to leg covers.
Fill the paint tray with your chosen primer and use a roller to apply the solution on the surface of your furniture. Make sure all surfaces are covered and use a brush for parts that are difficult to reach and then wait for 12 to 24 hours for the primer to completely dry.
5. Paint the pine furniture using a roller and brush: After selecting your preferred color, roll the paint on the surface and then brush in the dents and corners. Let it dry for 6 to 12 hours before sanding the surface and applying a second or third coat of paint.
6. Apply protective finish: Add a layer of protective finish after the last coat of paint dries out and then wait for at least 72 hours for the finish to completely dry.
Is Pine Good For Furniture?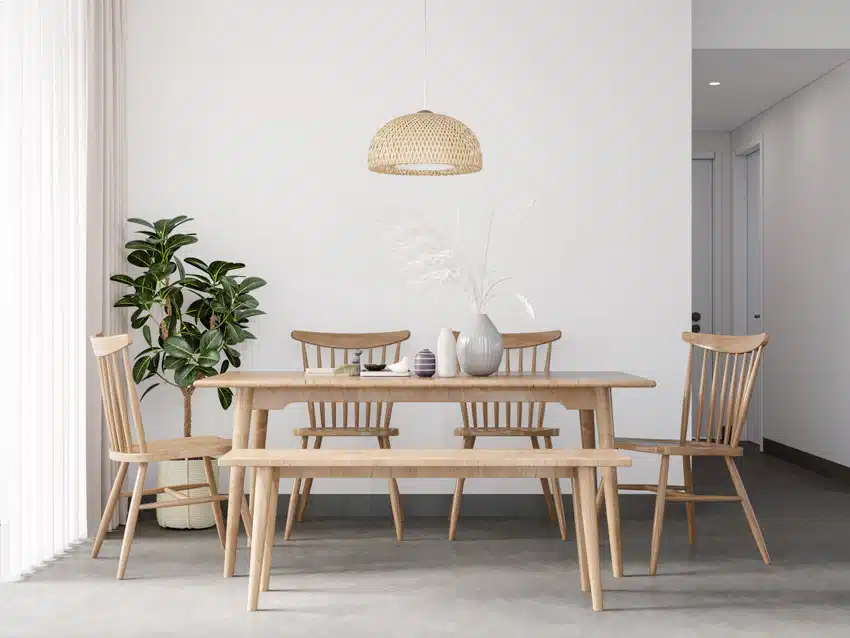 Pine wood is an excellent option for furniture building because of its durability and excellent workability. Being softwood, the material can easily be shaped and carved but is durable enough that it can stand daily wear and tear.
Another great thing about pine wood that makes it a good option for furniture is that it's a lower price, so there's room to get creative with it so you can benefit from whatever design you want it to have.
Is Pine Recommended For Bedroom Furniture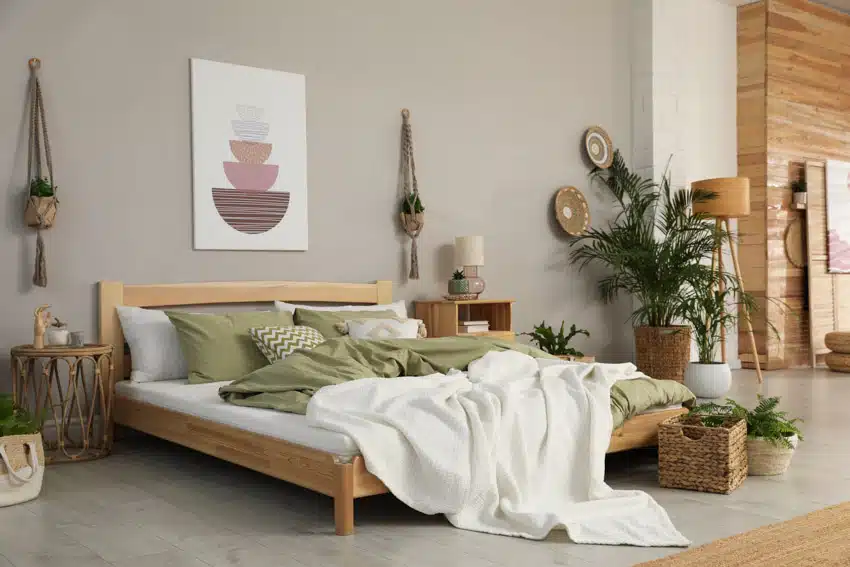 If you want to have a bedroom with a rustic vibe to it, adding pine furniture can be an excellent choice, especially for those on a budget. Pinewood offers aesthetics that blends well with other decor and when it comes to the bedroom, it can provide a cottage and country feel to your personal space.
See more related content in our article about manufactured wood on this page.