These unique sofas include a variety of contemporary & modern designs. These unusual couches are sure to add excitement to your interior design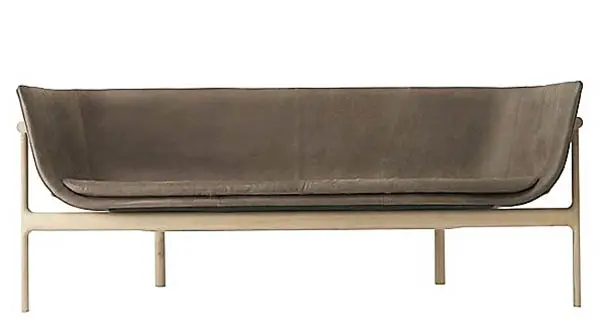 Every room needs an element of surprise, and what better way to pump up some excitement into your living spaces than with a piece of striking and unique sofa furniture.
In a world where unique is king, you'll find that our living room is just the perfect spot to showcase our personality. If you want to revamp the look of your living space start off with the focal point of your living space, and that is your sofa seat.
Since your living room sofa is a place of gathering the right furniture piece can inspire you and work out as a theme for your interior.
Side Standing Charleston Sofa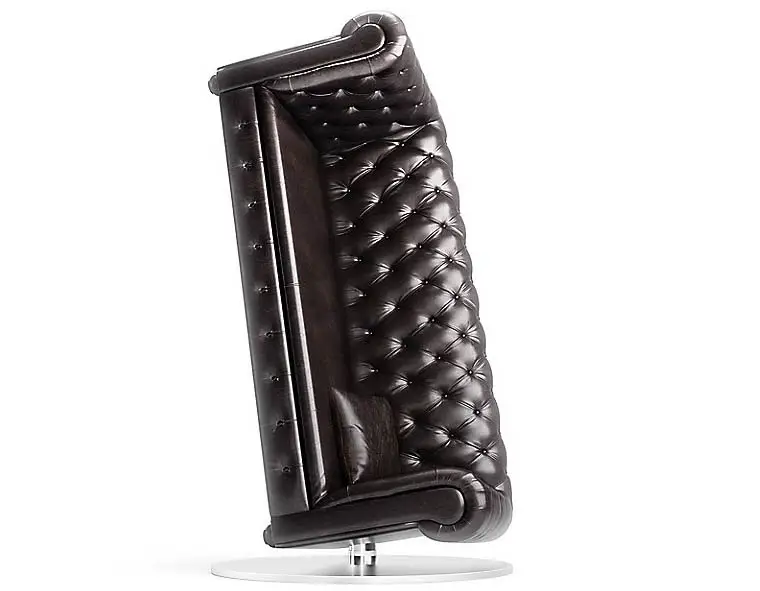 Buy this at Lumens
Where vintage meets modern with a twist, well that is in a literal sense. This elegant piece can stand on its side and turn 360 degrees making it a tempting sofa furniture when you dread cleaning it underneath.
From an imaginary mind by Marcel Wanders, you'll love the classic detailed button tufting and deep brown upholstery made from eco-friendly leather. Standing strong, the elegant Charleston Sofa is framed in wood with a strong steel base making it a safe sculptural piece to showcase.
As traditional sofa styles are coming back in a huge way, the classic Side Standing Charleston Sofa may be what you're looking for to add some oomph to your transitional space.
Cannes LED Sofa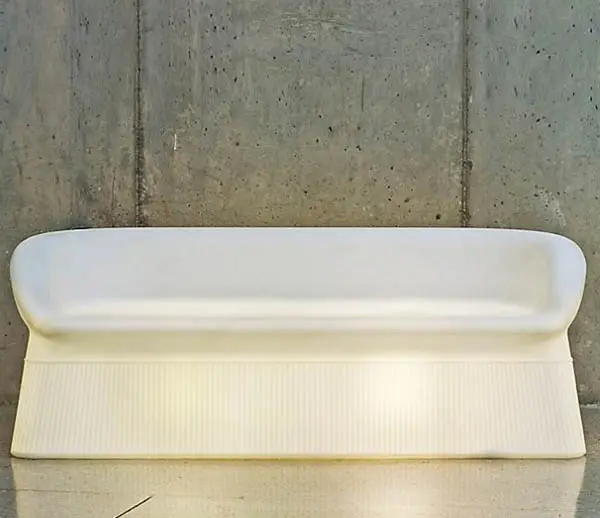 See more pictures at Lumens
Create a lighthearted mood in your living spaces with this smooth-edged sofa from Artkalia. Christened as Cannes LED Sofa, you'll find it visually relaxing while its soothing lights illuminates through its opaque polyethylene material.
If you're looking for the perfect lounger for your pool parties, the shockproof and waterproof sofa is a great option. It has an average of 50,000 hours rated life, so you can enjoy its features for a lengthy time.
Modular Arc Sofa
Gus Modern sofa – see more details at Lumens
Get a slice of versatility and comfort with Modular Arc Sofa by Gus Modern. If you got an oddly shaped room or have a tightly-spaced area, the customizable sofa can be matched with other Arc sofas and wedge chairs to create your desired configuration.
Like a Lego piece, it includes concealed connectors to securely join with the other sections. The expansive living roof sofa has an inward arc that opens up a central core making it an ideal place for a sculptural coffee table.
Made for modern comfort, the upholstery fabric comes in neutral gray tones making it easier to mix and match with your existing décor or theme.
The durable fabric envelopes a PET Synthetic-down material that's equally hard-wearing. You'll love that both the framing and woodblock legs are made from FSC-certified materials, which means the wood used is sourced from responsibly managed forests.
Modern Velvet Button Tuft Sofa
See this velvet sectional couch at Amazon
The luxurious velvet is making a comeback, and you'll probably see more of the texture as its versatility can be used on any Transitional themed living space. But, for the Da Vince Chaise Sectional Sofa, it's apparent that velvet thrives with the classics.
This gorgeous sofa is so inviting, showing off its classic button tufting, double row nail heads, and polished silver metal legs.
Its extremely comfortable thanks to its luxurious plush and rich texture, so you can enjoy lounging anywhere in your living room, office, or den. You can match the set with a Da Vinci Club Chair to complete the classic look.
Big Lips Sofa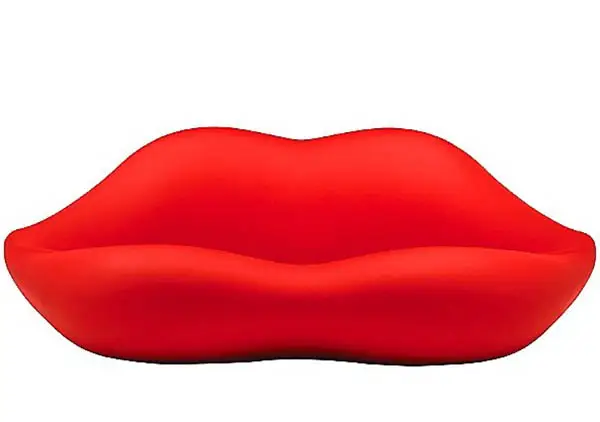 See more pictures of the Big Kiss at Lumens
Grab a piece of pop art from Salvador Dali's playful imagination. The reenvisioned version is called Boca by Studio 65, an undeniably cool conversational piece that has an accommodating length of 7 feet.
With its iconic red lip color, it is definitely an attention grabber in any room. This version comes with a pouty lower lip made from resin, a comfortable lounger that will keep your guests' tongues wagging. The surrealist art sofa can steal your show indoors and in your outdoor spaces as well. Definitely one of the more unique sofas you'll see in a home.
Baseball Glove Sofa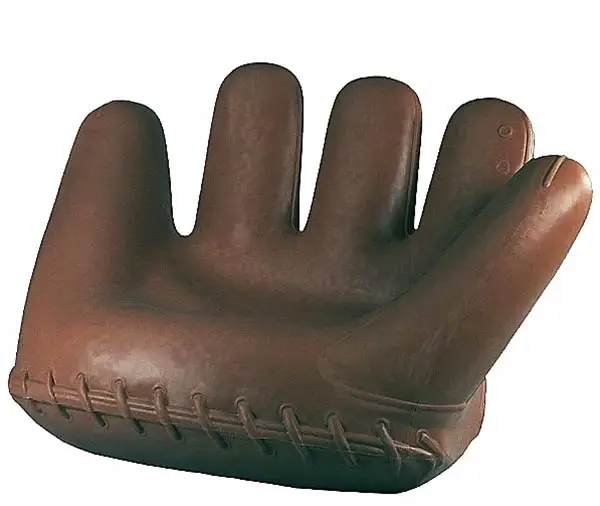 Buy this big baseball glove sofa at Lumens
Fittingly named from the legendary "Joltin' Joe" DiMaggio, the Heller Joe Sofa is a big baseball glove that was an original piece from Studio De Pas. With its very large 63.19″ width will definitely catch you when you fall.
In collaboration with designers Vico Magistretti, Frank Gehry and Mario Bellini they have made an industrial production using new materials and innovative methods and the result is a smooth durable polymer that can be used outdoors.
Nelson Marshmallow Sofa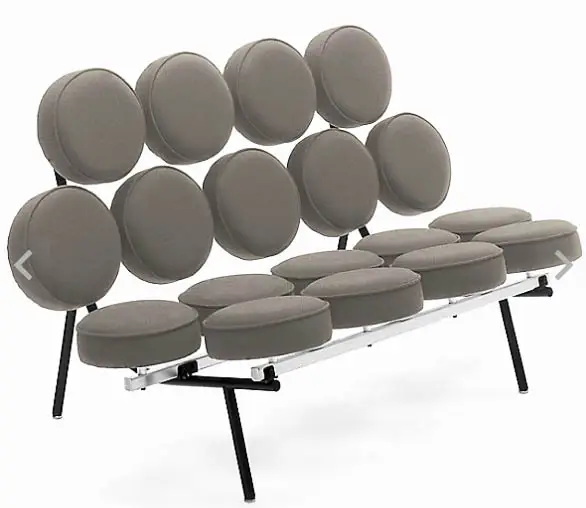 See more pictures at Lumens
Spawned from the creative mind of George Nelson, this iconic furniture is a must-have for its practical and ergonomic features. Like many of the designer's furniture concepts, you'll have that playful yet sensible design, making it suitable for any modern interior.
The Nelson Marshmallow Sofa by Herman Miller comes with 18 pieces of round cushions, each with a 10-inch diameter that are evenly spaced and held along a solid frame of tubular steel.
If you're concerned with the cleaning, you'll be happy to know that each round cushion can be detached for easy maintenance.
And If you're not feeling the black leather covering, you can easily change or swap the cushions with additional color variation. Not only is it versatile, but all Herman Miller products are made with sustainability in mind.
Tokyo Pop Sofa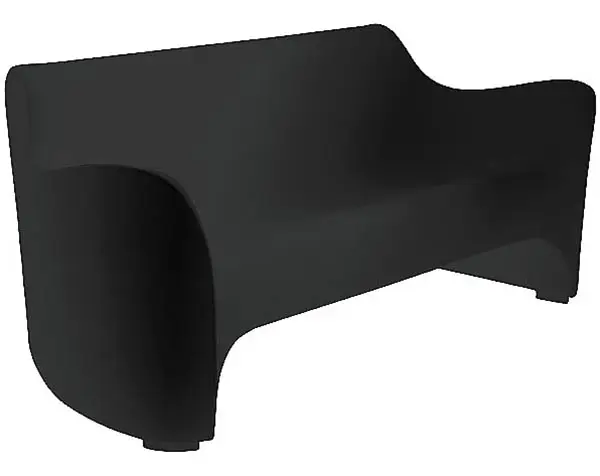 Get more details on this couch at Lumens
The Tokyo Pop Sofa by Driade is definitely not your average piece of furniture as it brings that cosmopolitan feel to any space. Energized and artistic, the smooth curves molded in polyethylene plastic creates a dimensional art perfect for an interesting juxtaposition.
The sculptural piece can be enjoyed outdoors as it is made to withstand the outdoor elements. You'll need to choose between black or white versions to fit your outdoor space.
Sofist Sofa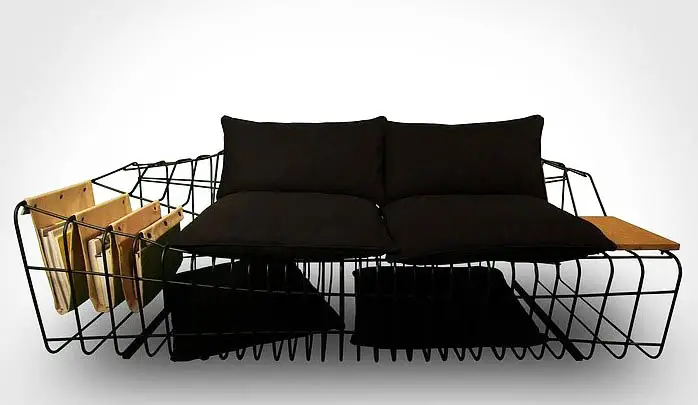 Get more information about this product at https://www.sulekoc.com/sofist
The Sofist is a sure-fire in maximizing your space yet with an artistic sense. A novel idea from an award-winning industrial designer Sule Koc.
The utilitarian sofa furniture strips away everything unnecessary giving way to a usable space for filing paper and reveals a comfy spot for your pets to lounge.
On the right side is a secured flat surface for placing other objects such as your coffee or mobile phone. Practical and creative it truly bears the notion that less is more.
Cloud Sofa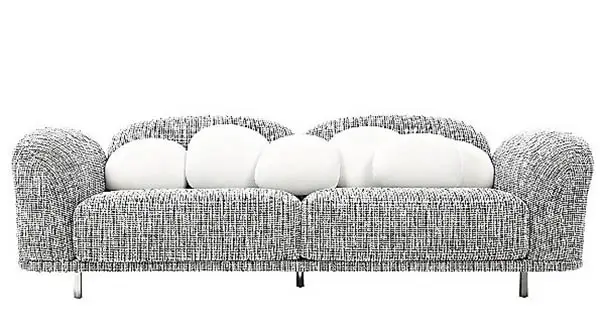 See all the colors of this sofa at Lumens
Go gaga with this poufy sofa by Mooi, appropriately named Cloud Sofa it looks and feels so relaxing, just like floating on clouds. As the cute and chubby interior is getting popular, you might want to grab one now for yourself.
The comfy lounger comes in several color versions that include Boucle Black or White, Boucle Blue, Boucle Brown, Boucle Rainbow, Velour Coral, Velour Moss, or Velour Stone.
These gorgeously comfortable unique sofas come in either a Boucle or Velour fabric upholstery that's filled with Dacron wrapped molded foam. Sturdily framed with steel and the back and arm connectors are also made from durable metal.
Tailor Sofa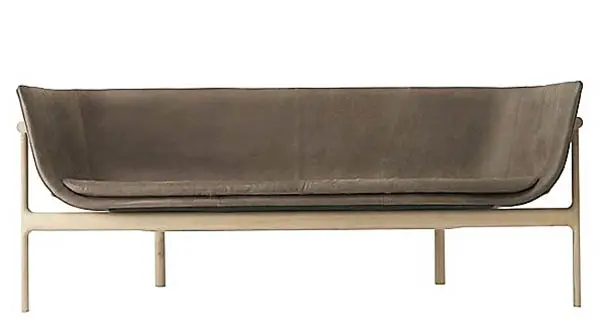 Read more about this couch on this page.
The Menu Tailor Sofa shows how our childhood memories are usually the most profound sources of inspiration. Created from nostalgia, the Menu Tailor Sofa is designed to be as authentic as its source of inspiration.
Carefully designed to look good in all angles, the practical and comfy seating has an upholstered seat that's light and airy, a practical and robust furniture for everyday use. The soft foam is covered with leather upholstery and you can choose from soft earthen hues in either Dunes Dark Brown or Light Grey.
It has that mix of Scandinavian and Industrial themes to it making it just the perfect modern furniture for your home or office.
Stone Sofa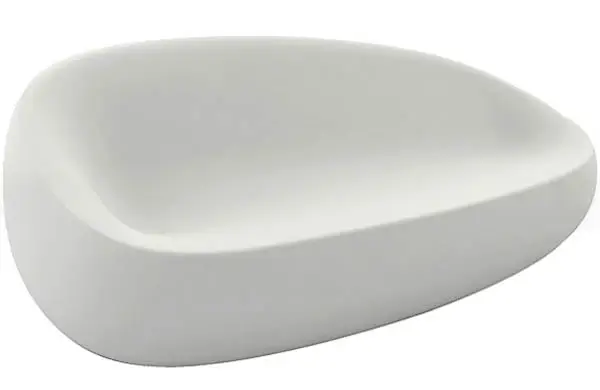 See more pictures of this outdoor sofa at Lumens
Avant-garde and organic, the Vondom Stone Sofa encompasses the soft side of the modern theme showcasing soft curves and rounded lines with a sleek and modern geometry.
A comfortable sofa seat is made from rotation molded polyethylene resin and is 100% recyclable. The outdoor furniture is a creation by Stefano Giovannoni and Elisa Gargan, a husband-and-wife team.
Barcelona Couch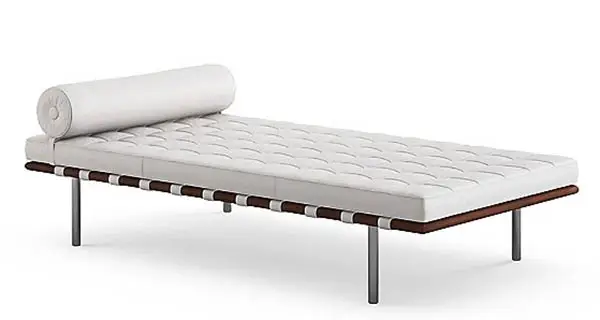 Get more details on this furniture piece at Lumens
Simply elegant, the classic Barcelona Couch is a vestige of Ludwig Mies van der Rohe's International style that mainly features structural honesty and simple rectilinear geometry.
If you want comfort in style, the Barcelona Couch is the perfect sofa lounge for any formal interior. The wonderful piece comes with premium cushions and
Made all the way back in 1930, this wonderful and classical piece of furniture comes in many configurations but all equally well made. The couch is fire retardant, cowhide strapped from all edges: front, back, and sides. The straps are stained to match the upholstery's color to make it blend seamlessly.
When it comes to durability, the skeleton is made of tubular stainless steel that supports a Sapele mahogany platform. To protect the finish, it's coated with lacquer to give it that sheen we all want from our furniture.
The couch itself is anchored by simple lock snaps for easy maintenance. The product comes at a generous volume of 39 x 73 x 15.35 inches and should position well as a center piece in any living room set.
Trix Modular Seat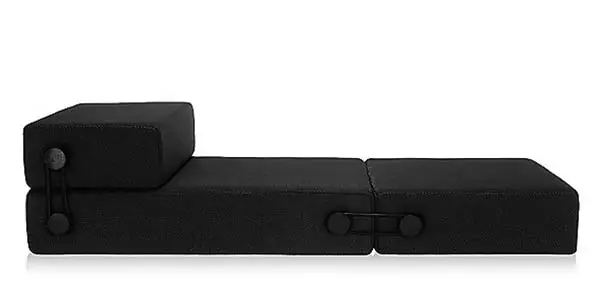 See different seat configurations and more details at Lumens
The Trix Modular Seat is versatile piece of furniture that can be reconfigured in different ways all thanks to simple mechanism of combining the components through the use of "rubber bands".
This Italian made furniture allows us to make a cozy bed, armchair, or lounge chair. The seats themselves are made from expanded polyurethane, woven in 3D technical fabric.
Customers can avail of this product in either orange, black, or white. The small footprint of 78.74 x 14.2 x 29.5 inches allows for it to be placed anywhere in the living room without taking up too much space.
Love Sofa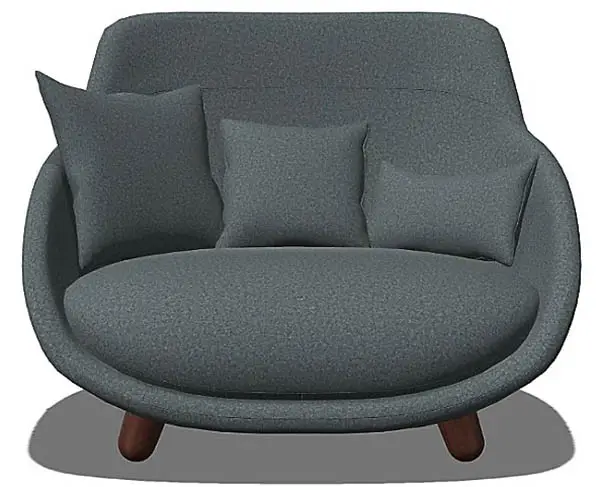 See more sofa colors and details at Lumens
This furniture boasts a comfortable and cozy experience while sitting in front of the television. There is a wide variety of fabrics and colors to choose from when shopping for this particular sofa. The sofa also comes with pillows so customers don't have to be concerned about looking for a pair to match.
A quartet of ash wood peg legs peak from below that should match any type of flooring, especially a wooden one. Now about the sofa fabrics, buyers can pick Divina Melange 120, 170, or 180 or Summit Melange Slate, or Jacquard Andaz, Summit Melange Twig, and Trickle Dust.
The whole furniture sports an adequate volume of 50.8 x 30.3 x 30.3 square inches with a total weight of 125 pounds.