Find out all about industrial bedroom furniture including what this style is, the different materials used, and the best modern & rustic elements for an industrial design.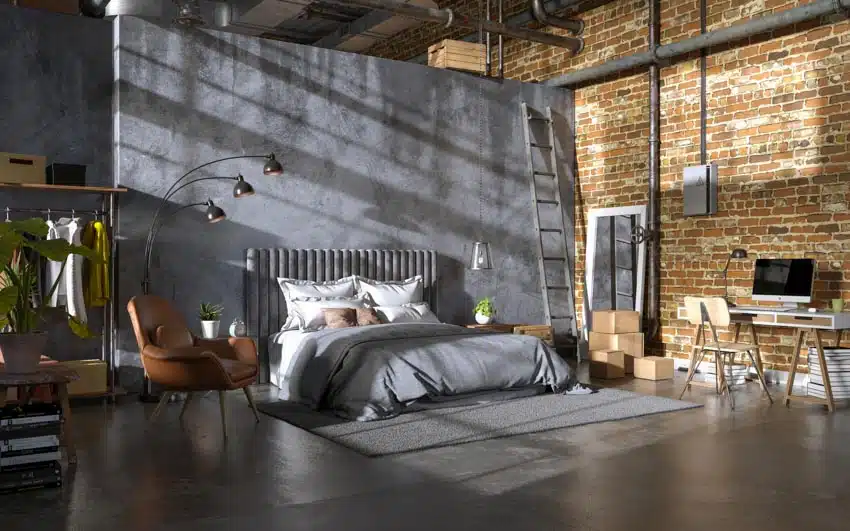 When first designing your bedroom, the industrial style does not often first come to mind for offering a relaxing and peaceful ambiance. However, you can regard many of the characteristics of an industrial bedroom as something that can be cozy in ways you wouldn't expect.
One of the best ways to spruce up your room in an industrial style is by placing pieces of furniture of the same style. This can either be an industrial-style bed or a rustic wood armoire, exuding a relaxed and calming feel. You have a wide variety of industrial bedroom furniture pieces to choose from to create the ambiance you're envisioning.
What Is Industrial Style Furniture?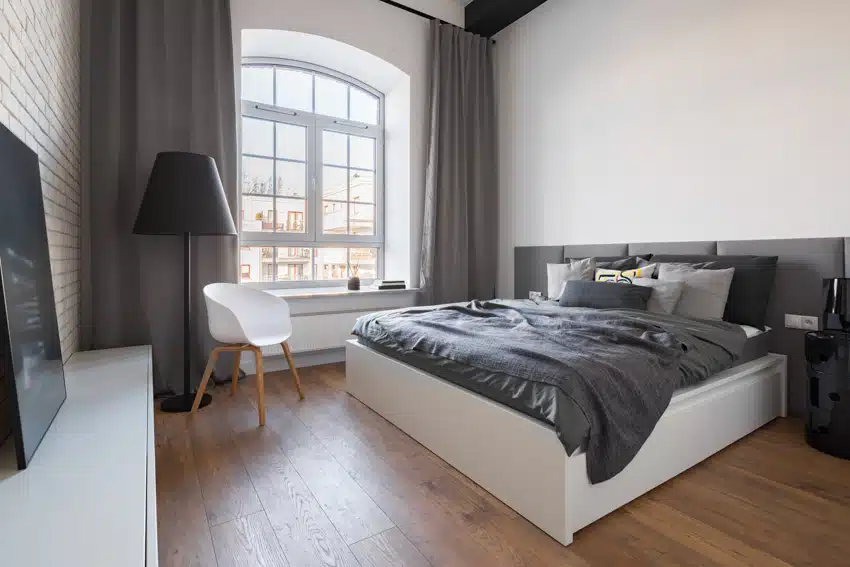 The Industrial style refers to a straight-to-the-point and no-nonsense look, which compared to other styles like traditional and minimalist styles, features fewer notable patterns and designs.
This is because the decor is inspired by the humble and functional appearance of industrial facilities like factories and warehouses. Because of the use of these facilities, the look they have is pretty much basic and raw, and does not really pay mind to how they look. The rise of the industrial style started in the late 18th century in the United States, when industrial buildings were first built.
These buildings were associated with open floor plans and high ceilings, accommodating a generous amount of light and maximum space for workers. But as the industrial revolution ended, these facilities also started shutting down and relocating to other countries with all the industrial buildings being left empty.
This happened simultaneously with the increase in population and shortage of housing, which is how the old industrial facilities were turned into residential buildings. And many new tenants and homeowners chose to keep the original look and key elements of these buildings, giving birth to the industrial style.
The rawness and nakedness in design are what differentiate industrial style from other styles. This leads to the use of bare materials, from wood to metals. Other recycled and salvaged materials are also taken into account, prioritizing functionality and cost-effectiveness above aesthetics.
Because of this laid-back appearance, it delivers incredible benefits including versatility, timeless look, and budget-friendliness. The industrial design style is becoming even more popular because of its no-fuss look.
Being the mix of traditional and modern design styles, you get to have a middle-ground for these two styles, making it a good option both for residential and workplaces.
Characteristics
Here are some of the notable industrial bedroom furniture characteristics and features to look out for.
• Stripped-down Elements: Industrial style is characterized by materials that have been stripped down to their bare nature and look, whether it's unpolished floors or exposed brick walls.
• Neutral Color Palette: If you want to set the right mood for an industrial style bedroom, using neutral colors and shades will do the trick. Some of the common colors used are similar to modern bedroom colors with white, black, and gray, as well as other deep-toned and gloomy shades.
You can also go for the earthy tones if you want to. To add some sort of edge to the look, you can play with pops of pastel and neon colors to the mix.
• Minimal Accessories: An industrial style bedroom is clean and clutter-free, with accessories kept to a minimum. There are a few exceptions to this rule though, including posters for the bed and certain types of mirrors.
• Prioritizes Simplicity and Comfort: The goal of the industrial style is to use the simplest materials and bring out the beauty in them, as well as incredible comfort. The beds can have rails and bed rest made of wood for comfort and security.
• Artistic yet Effortless Storage Inclusion: With functionality being one of the priorities for the industrial style, storage is an incredible addition to the furniture to turn it into a multi-functional piece. One example of a piece of furniture that can integrate storage is a sliding drawer installed on the front and side of the bed.
---
Ask the Expert
We asked our resident architect, Ellen Siloy what she thought makes up the industrial bedroom furniture style and she replied:
Incorporating industrial bedroom furniture is all about having that nostalgic feel from the spaces during the industrial period, particularly the old factories and warehouses. The "old school vibe" of bedroom furniture showcases the natural and raw appearance of materials with metal and wood extensively used.
Industrial bedroom furniture satisfies the minimalist and utilitarian styles with a hint of the brutalist aesthetic due to its use of the bare and honest beauty of its industrial materials.
Industrial Bedroom Furniture Features
Unpainted wood with gray to black shades that shows natural graining of the wood.
Warmer wood hues can be used sparingly to balance the coolness of the other elements. Either as framing or accents, metals used are galvanized, corrugated and rusted forms.
Salvaged or repurposed industrial items such as old bikes, shipping crates, and apothecary cabinets.
Machine hardware and parts such as clock gears, nuts, bolts, casters, and pulleys can be created as fascinating accent pieces.
Along with its use of the vintage forms of wood and metal, industrial bedroom furniture keeps a neutral palette often with black, gray, white, and brown hues.
Design Ideas
Repurposed wood assembled with exposed hardware such as a corner or angle bolt plate creates an interesting bed frame.
Metal grates and warm wood are made as bed sidings and headboards.
Side table drawers with a gray or distressed look paired with hairpin legs create a stylish addition to a bedroom ensemble. With slim legs, it appears airier and balances the bulky and heavy look of wood.
Handmade furniture works best in providing unique and personalized furniture. A trending way to get that vintage look with a hint of modern quality is charring the wood surface with a traditional Japanese technique called Shou-Sugi-Ban. Not only does it achieve an amazing black finish it also adds an interesting character to your bedroom furniture.
---
Industrial Furniture Materials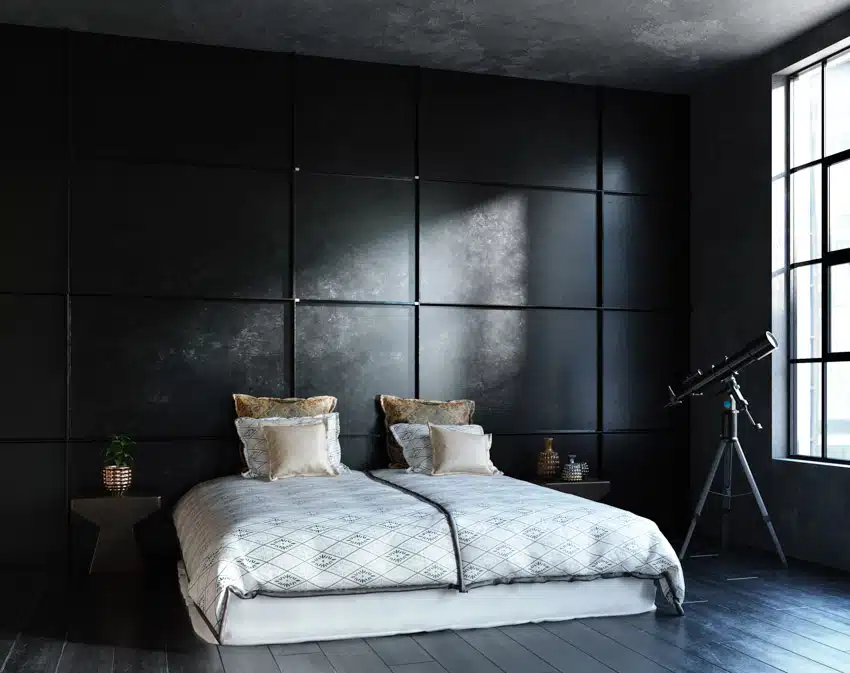 One of the most obvious ways to set up an industrial style into a piece of furniture is by the choice of materials used to build it. There are particular materials that can be used for furniture building and you can automatically point toward this particular style.
In a similar fashion, there are materials you will need to avoid using if you're set on creating a piece of industrial-style bedroom furniture.
Plush textiles are materials that will not be suitable for industrial-style furniture because of how lavish they can look and be the exact opposite of the simple aesthetics that it is known for. The materials need to be industrious and practical and they can either be stripped down or repurposed.
The most common materials used for industrial bedroom furniture are wood, steel, stone, iron, copper, and tin. Go back to the basics and imagine the rough and raw looks that come with an unfinished structure and you'll find yourself face-to-face with hard and uneven textures.
If you're thinking about building your own furniture though, here are some worth taking a look at.
Metal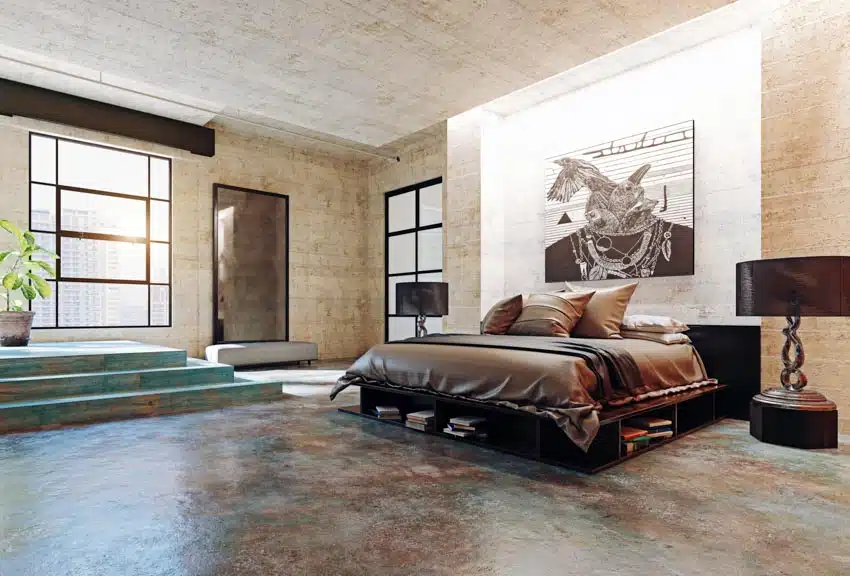 The industrial revolution is all about the rise of metallics and this is evident even in today's industrial style in residential spaces. The material gives you the feeling of productivity reminiscent of factories and warehouses that can also be perfect for a minimalist style.
Incorporating raw materials like metal can give this furniture style an unfinished look that's excellent for a statement. Metal also features a modern and sleek look with the right texture and light. A silver metal finish is one of the common looks for industrial types of bedroom furniture.
You can get a silver metal bed frame, which will look great with white brick walls and concrete flooring. This will be a good addition if you want to lighten up your room and make the space shinier.
You can also include a black metal bookcase open-shelf in your bedroom and a trendy metallic white swing chair hanging from the ceiling.
Some of the metals you can use to build your industrial bedroom furniture are the following:
• Aluminum: Lightweight and soft, this silvery-white metal is malleable and can easily be customized as detailing for your cabinets, drawers, and bed frames.
• Tin: This pliable and soft metal can be used in many ways but its rust resistance and high polish make it a good option for industrial bedroom furniture.
• Steel: Made from iron, this alloy, while not metal, is a variant that can be used for industrial bedroom furniture. Steel rods are particularly a common look for this style.
• Copper: This industrial material is known for its malleability, high ductility, and resistance to rust, making it great for industrial bedroom furniture.
Creating an industrial style mood includes incorporating brushed and polished metals such as – iron and steel, concrete, and bare brick effect wall finish. – interior designer Maria Bott
Pipes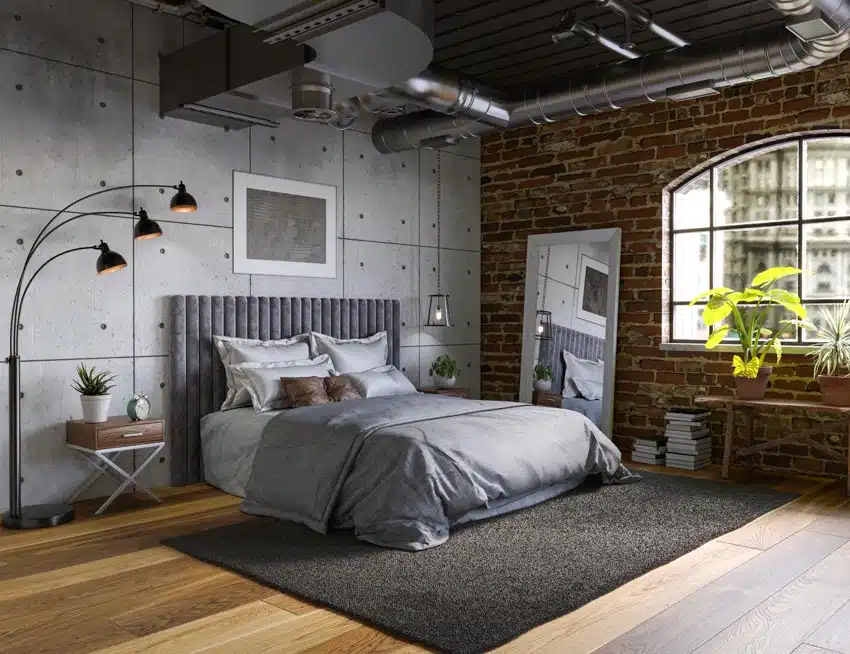 Metal pipes are another great material for industrial bedroom furniture, particularly exposed piping. Hanging iron pipes can serve as incredible accessories for your bedroom furniture, whether for your cabinet or bed frame. You can even try out a wardrobe cart with an industrial plumbing pipe design.
Wood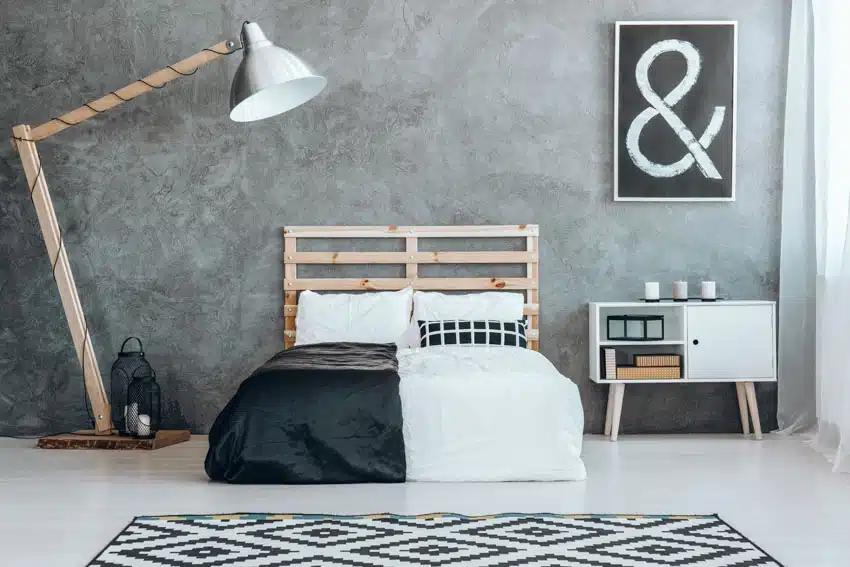 Wood is a versatile material that can even be used for the construction of your industrial bedroom furniture. The material easily adds texture and warmth to a space it's added to.
Some of the wood options you can use for your industrial-style bedroom included distressed wood, weathered wood, or repurposed wood.
If you want some ideas on what industrial bedroom furniture you can build or purchase, here is some worth trying out:
• Roughshod Wooden Bed: You can design this roughshod wooden bed by tying it to the ceiling using metal chains.
• Dark Weathered Wooden Bed: This bed can be made of dark-colored weathered wood that can create a great contrast with light-colored types of bedding and blankets.
• Rustic Wooden Desk: If you want to keep a desk in your bedroom, build or buy a rustic desk that will fit well with the other pieces of bedroom furniture you have.
• Sliding Wood Closet: For a stunning factory charm, an industrial-style sliding closet will be a great home for your coats and other articles of clothing. A closet in this style will look great with a background of brick walls.
• Wooden Bed Hoisted Upon Large Iron Castor Wheels: This combination of wood and metal is an excellent example of industrial bedroom furniture that offers an authentic feel to it. Pair it with silver pendant lighting and gray wood panel walling to maximize the industrial feel.
Stone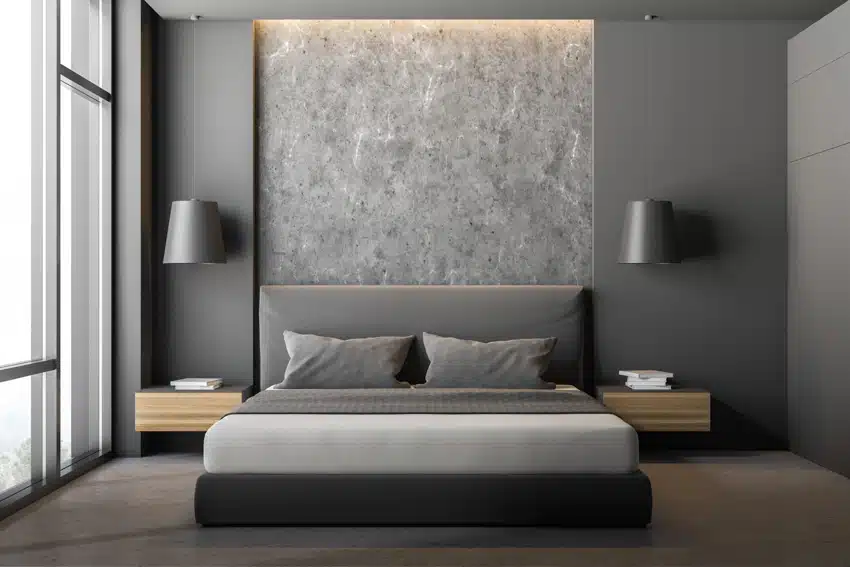 When it comes to industrial bedroom furniture, the stone is quite a stretch in material but it's not impossible. You can create industrial bedroom furniture with stone but because of the material's weight, it needs to be a permanent or a long-time addition to your bedroom.
This is the reason why if you're renting or plan to move every now and then, this might not be a good material to use for your industrial bedroom furniture.
With stone industrial bedroom furniture, you have fewer options in style and you will need to build the piece of furniture into the space. This rare option for furniture might be considered but it's less often chosen in the end.
Glass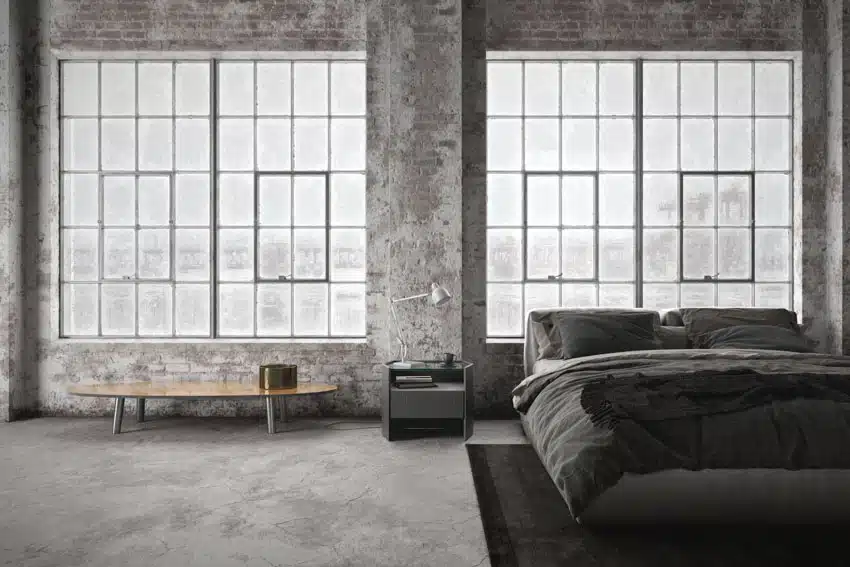 Glass is a smooth and elegant material you can also use in your industrial bedroom furniture but you need to use this at a minimum.
Considering glass is a bit of a luxurious material, it needs to be a minimal addition to your industrial-style bedroom but you can do so if you're going for a modern industrial-style aesthetic for your bedroom.
One great addition you can use for your bedroom is a glass pane black metal door for your closet. The metal in the mix delivers the industrial part of this furniture while the glass door offers it a modern touch. The closet with a glass-metal door is a good option for small bedrooms since the glass offers an illusion of more space.
Industrial Modern Furniture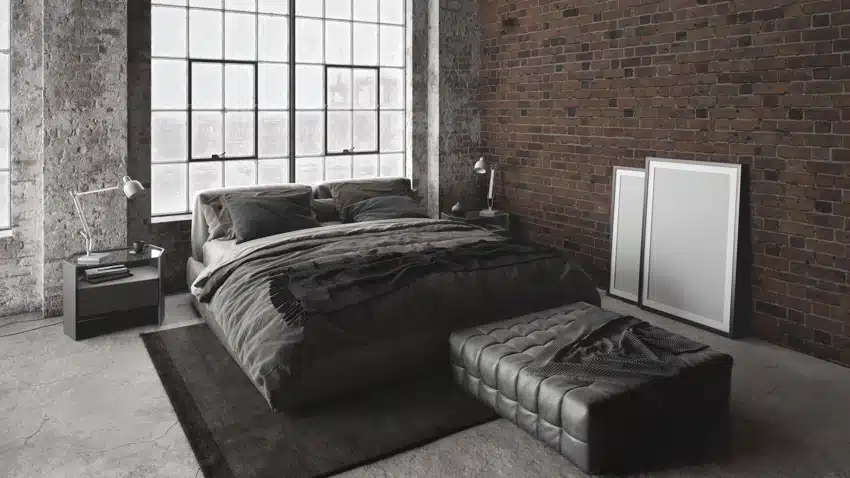 The industrial style delivers versatile aesthetics that can easily be matched and combined with other styles. One of the styles that match well with the industrial style is the modern style because both prioritize simplicity and minimalism. The use of popular materials metal and wood is also a major similarity between the two styles.
The modern style, besides minimalism, is popular for its clean and straight lines as well as smooth surfaces. The big difference comes in the form of the combination of warm neutral colors and vivid hues accent for the modern style.
The perfect combination of industrial and modern bedroom furniture is with the use of raw and distressed materials customized in geometric shapes. One idea you can do is to place two black metal nightstands shaped like pillars.
Industrial Rustic Furniture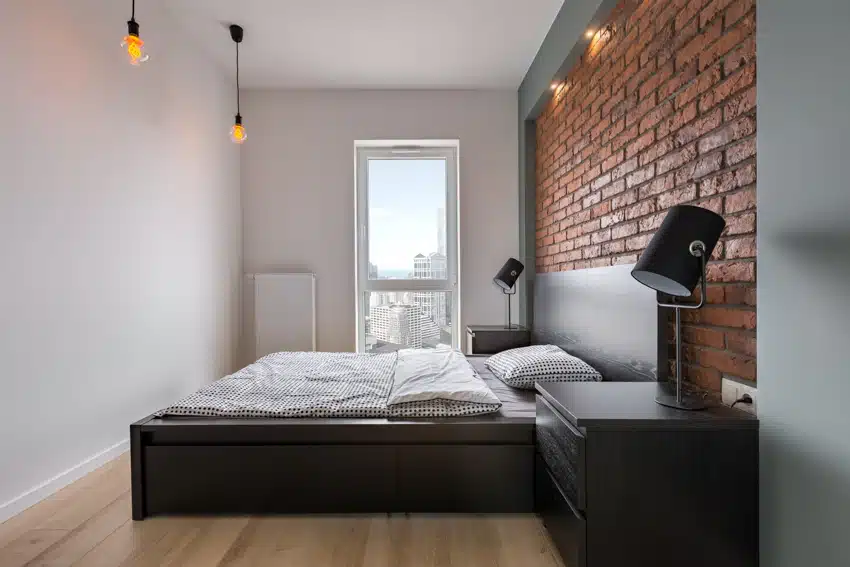 The rustic style is associated with aged, organic, and natural materials (sometimes distressed materials too), which is similar to the materials used in industrial style bedroom furniture. Completely the opposite of contemporary and modern designs, the rustic style is also unpretentious like the industrial style.
While the rustic style is warm and relaxed though, the industrial style is straightforward and no-nonsense. And if you want to get industrial rustic bedroom furniture, here are some ideas worth considering:
• Rustic Wood Bed with Distressed Wooden Headboard: This piece of furniture is a great combination of rustic and industrial styles, giving emphasis to the distressed wood used as a headboard in the bed.
Match this with simple clean white sheets and a white nightstand for the full effect of nostalgia. And to add more emphasis on the headboard, use a hanging lighting fixture installed on the ceiling on top of the headboard.
• Rustic Wood Armoire: This industrial rustic bedroom furniture is an excellent storage option you can add to your room. The downside though is that it tends to be bulky and so you can only consider it if you have enough space to accommodate it.
The benefit though is that it can act as decor and at the same time as a cabinet for your coats and other articles of clothes you want to keep hidden.
See more related content in our article about industrial kitchen backsplash on this page.