Discover the types of office furniture including desks, chairs, file cabinets, bookcases, sofa sets, conference tables, cubicles, desk lamps, and reception furniture.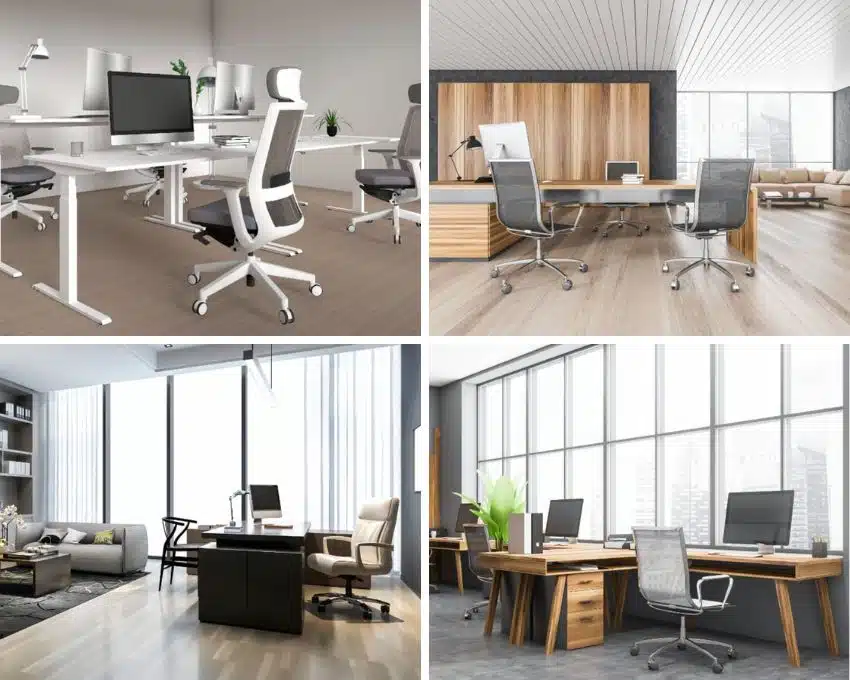 A fully-functioning office can only be effective and productive with the help of different pieces of furniture. And selecting the right furniture to place in your office is essential to make this possible.
The most basic office furniture pieces are desks and chairs, but there are others you can include to make your stay in the office more comfortable and help you be more productive. Some of the most popular pieces of office furniture to consider are the following:
Quicklook: Different Office Furniture Types
• Desks
• Chairs
• File Cabinets
• Bookcases
• Cabinets
• Sofa Sets
• Reception Furniture
• Conference Tables
• Cubicles
• Lighting
Desks (Executive, Computer, Corner)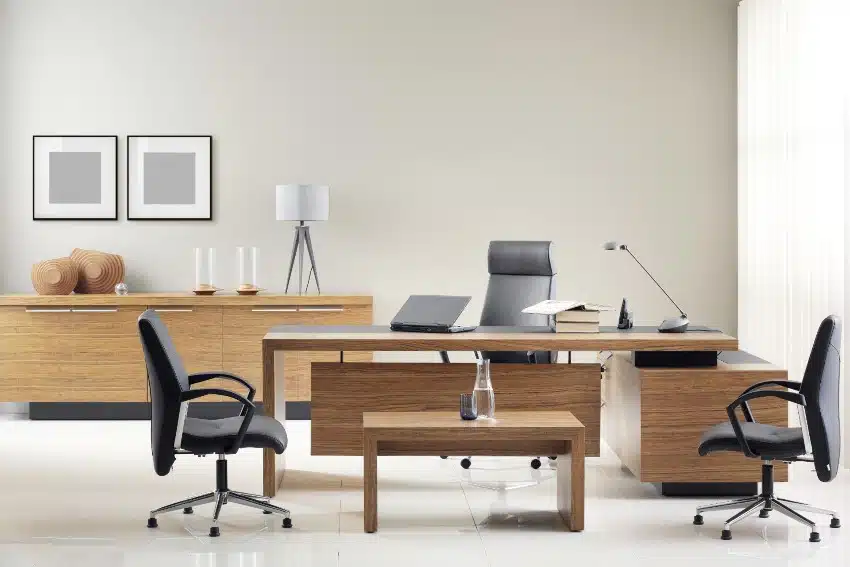 Desks are a staple in offices, whether they are located in homes or commercial buildings. Each type of desk has its corresponding function and this is a vital consideration in your choice, along with other requirements you may have for your office.
Executive Desks
Notable Characteristics:
• Huge in size
• Single work surface
• Double-pedestal design
• Central location
Many executive desks have this double pedestal design, where box and file drawers are integrated as storage for documents and supplies.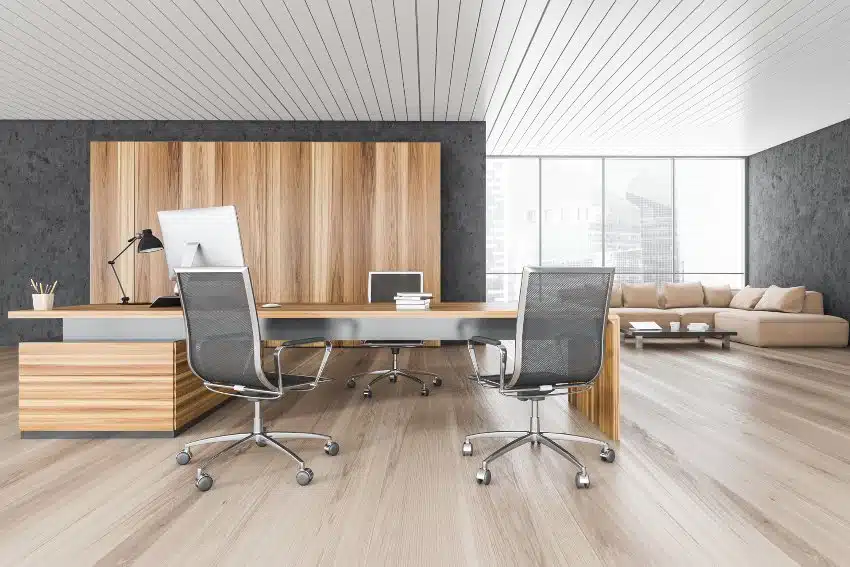 They are commonly expansive and ideal for large offices with enough space to accommodate the furniture. And with a single work surface, these high-quality desks need to have enough surface space to tackle all aspects of an executive's job.
Usually featuring a comfortable design, executive desks can vary in style and design. And while most executive desks are shaped like a standard desk, they can also come as L-shaped or U-shaped, especially if you need more surface space to work on. Many prefer placing the desk at the center of the office for maximum effect and functionality.
Managerial Desks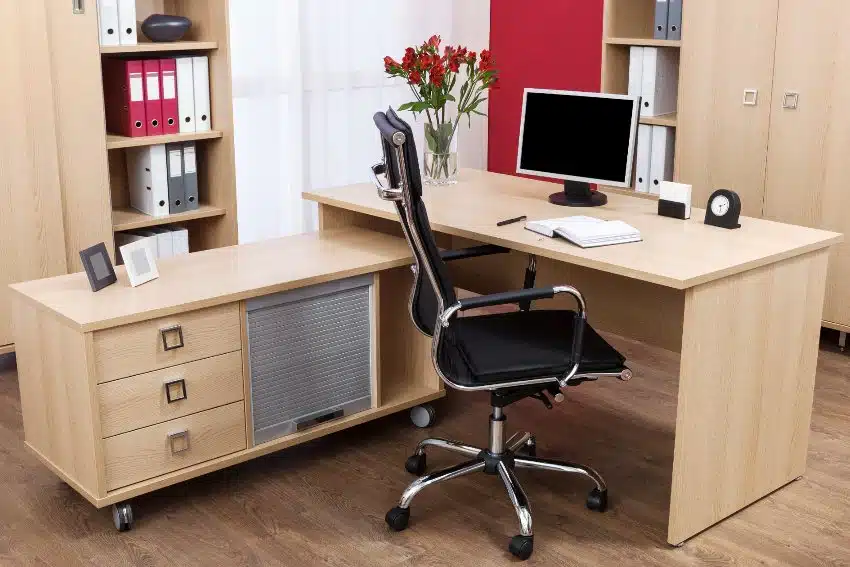 Notable Characteristics:
• Reserved for managers and supervisors
• Usually smaller than executive desks
• Can come with an extended table and storage space
Managerial desks are tables commonly used by supervisors and managers, and so in terms of size, they tend to be smaller compared to executive desks.
The style and design may vary based on the nature of the work and the regular tasks they have to deal with. They can come with extra space on the surface of the table or storage space for office essentials.
Secretary Desks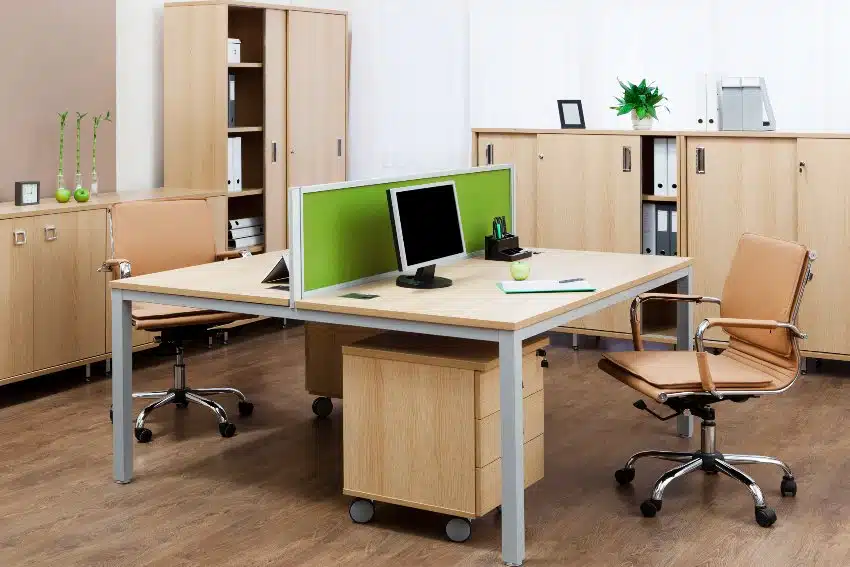 Notable Characteristics:
• With cubbies and storage
• Usually built with a small hutch (rises from the back of the desk)
• Comes in either a classic or modern style
Secretary desks are structured to allow people to write and work on documents by hand. This is one of the reasons why enough flat space should be made available.
These desks usually have a small hutch at the back, along with cubbies and storage to keep office files and supplies organized.
For a classic style office, secretary desks in mahogany, cherry, and oak are available. For a more modern look and functionality, they tend to have enough space to accommodate a laptop and mouse. There are also secretary desks with a keyboard tray and cable management system.
Writing Desks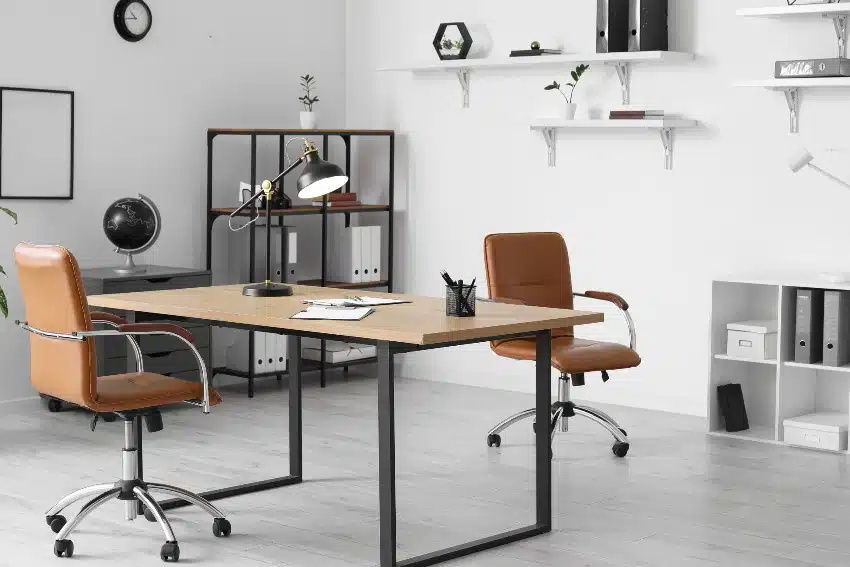 Notable Characteristics:
• It comes with a clean, flat, and smooth surface
• Usually free from other features
• Not reserved for writers despite the name
Writing desks are a bit similar to secretary desks in the sense that they provide enough flat surfaces dedicated to writing. Also known as composing desks, most writing in these desks is done by hand and not using devices. While they also come in an array of designs and finishes, most have a simple look, with a clean and smooth surface.
Many writing desks may also come with shelves, drawers, and cabins but if you stay true to the function of these desks, you might not need them.
Computer Desks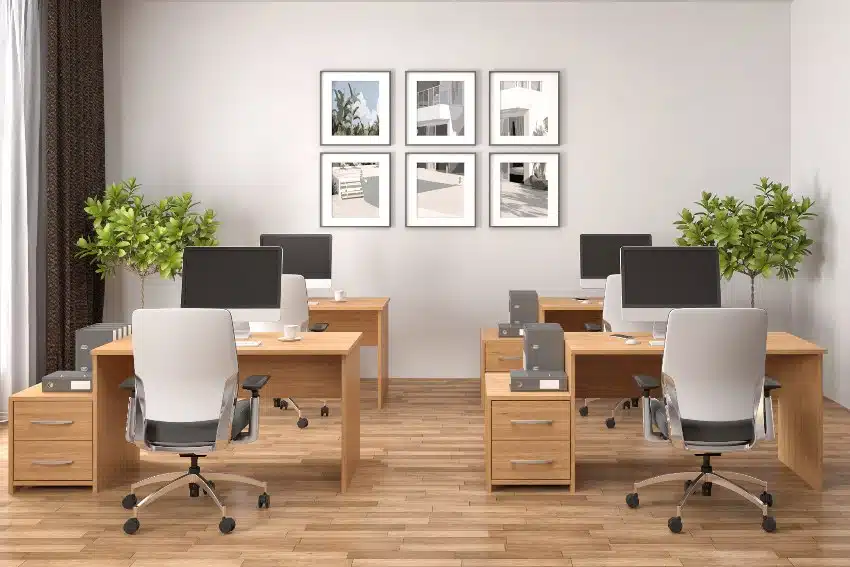 Notable Characteristics:
• Allotted spaces for computer parts and accessories
• Essentially modern in style
• Not limited to computer use
If you tend to spend so much of your time at work in front of the computer, a computer desk may be the ideal choice for you. These desks are structured with spaces for the following items:
• CPU
• Monitor
• Cables and connectors
• Keyboard (Pull-out trays)
• Mouse
Computer desks are normally in modern style, with seamless and smooth appearance since the addition of gadgets will make the ensemble look too much. Despite the special slots though, they are not limited to computer usage and may be used for other purposes.
Height-adjustable Desks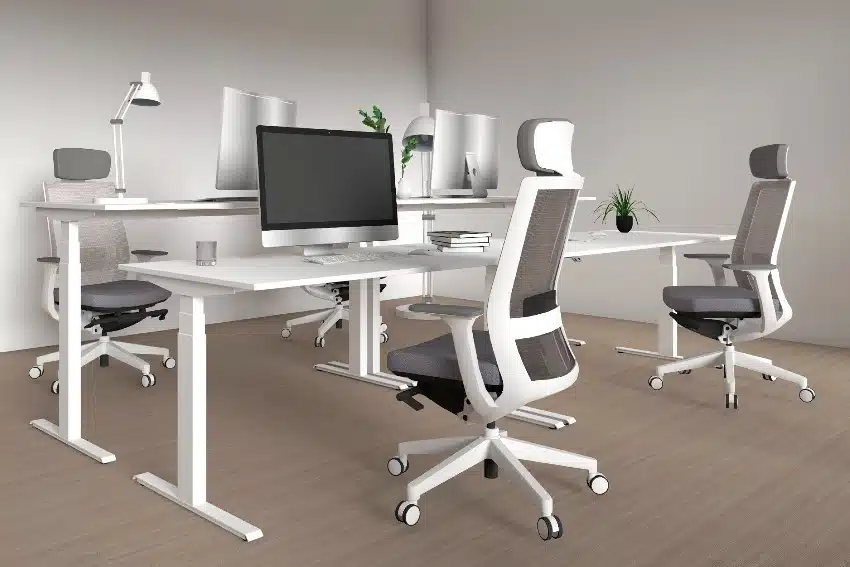 Notable Characteristics:
• Flexible and adjustable height
• Ideal for designers and customers service representatives
• A healthier option to avoid sitting for a long period
Height-adjustable desks are considered innovative furniture that, as the name suggests, can be set at the ideal height. With these desks, durability and proper mechanism are necessary for these pieces of furniture to function more effectively.
Even if you are reasonably active, hours of sitting are harmful to your health. – Strained and Drained: Tools for Overworked Teachers, Connie Hamilton, Dorothy VanderJagt
Also known as standing desks, these height-adjustable desks can be raised or lowered depending on your needs. This is why it is a good option for workers who tend to stand up and sit down for work, including the following:
• Architects
• Designers
• Customer service representatives
• Reception professionals
These height-adjustable desks are also a healthier solution to the dangers of long periods of sitting. Alternating between sitting and standing is a healthier habit compared to sitting all day.
Floating Desks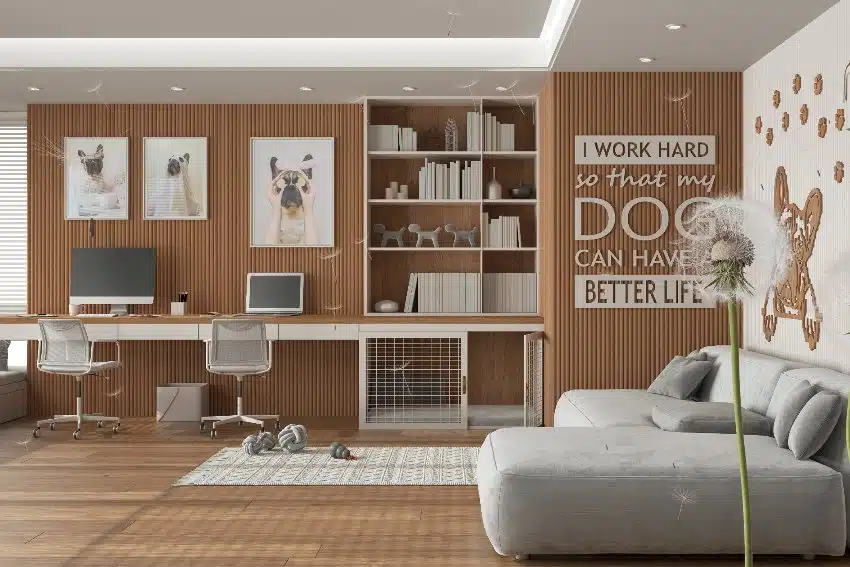 Notable Characteristics:
• Helps to have a clutter-free space
• Saves floor space for other functions
Floating desks may also be considered for the office, especially if you don't have enough floor space to accommodate a standard-size desk. These desks are space-saving since they are mounted on the wall and so won't need legs or floor space. They will be perfect for small offices with a limited floor area.
Besides lessening the clutter on the floor, they can also be used to add a modern feel to your office. If you install the desk near a window, you can enjoy the view outdoors, which can be a refreshing sight after a day's worth of work.
Corner Desks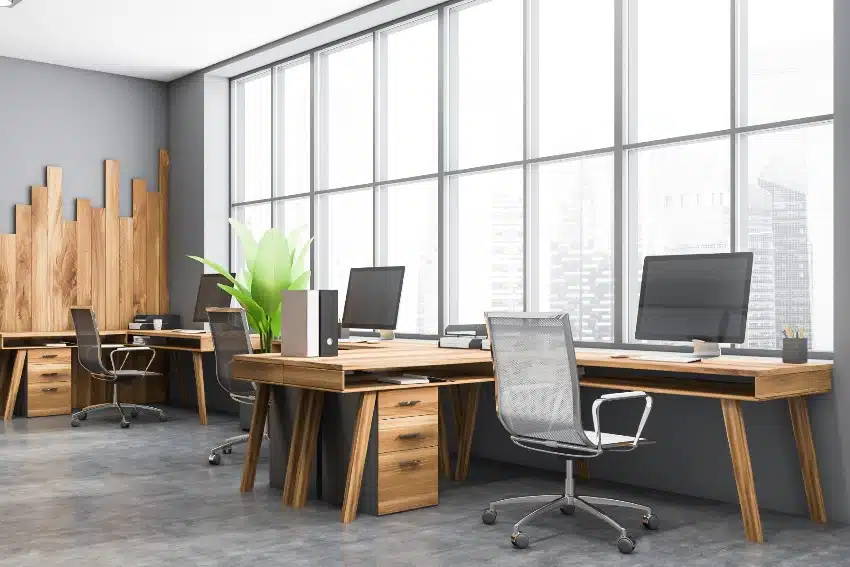 Notable Characteristics:
• Structured to fit a room's corner
• Rounded corner seating
A corner desk is a bit similar to an L-shaped desk in terms of shape and form, involving a 90-degree angle in the mix. The difference lies with the layout since while you will sit at an angle when in an L-shaped desk, you will be seated in the rounded part in a corner desk. This type of office desk is a good option if you have a corner space that's left unused.
Chairs (Executive, Task, Conference)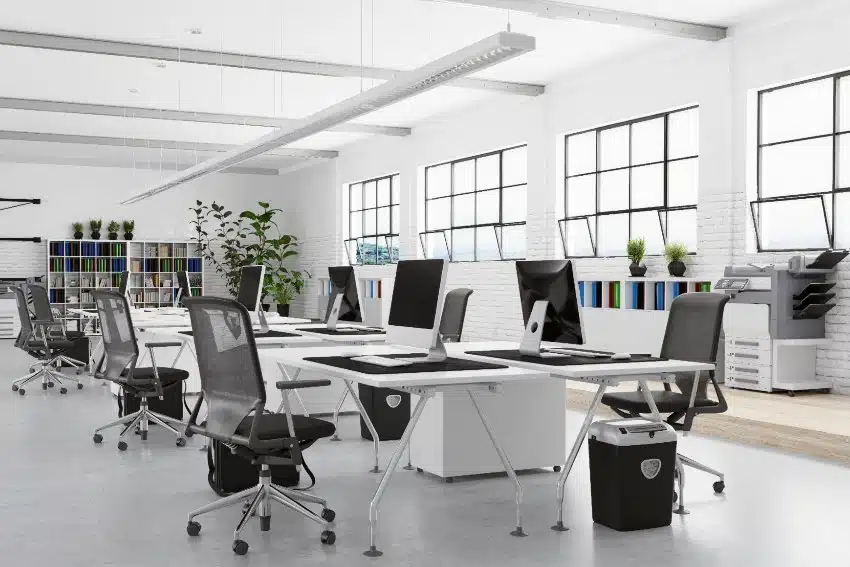 An office desk must come with a matching chair for the office furniture to be effective. Similar to desks, there are different types of office chairs you can choose from in different designs and styles. The top two factors often considered when choosing an office chair are comfort and back support.
Executive Chairs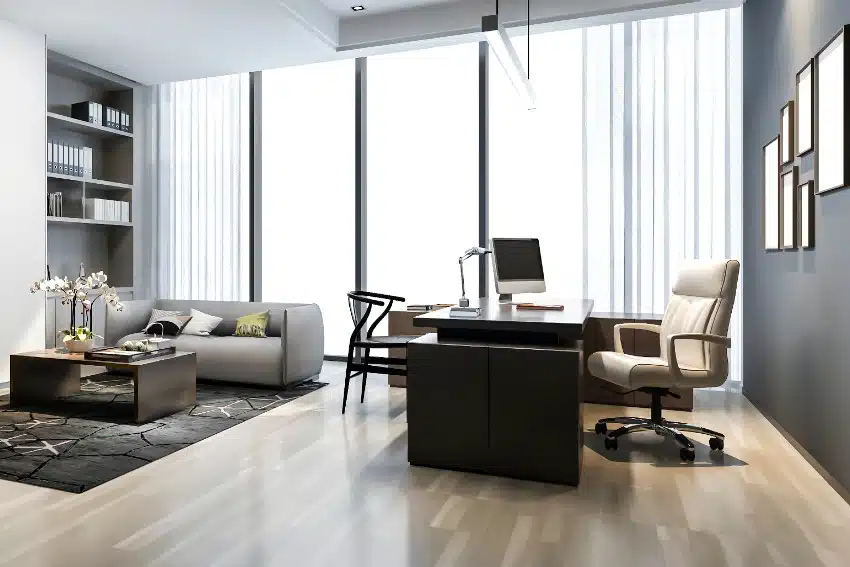 Notable Characteristics:
• Paired with executive desks
• Comes with high-end designs and features
• Easy to move around
• More expensive compared to other types of office chairs
Executive chairs are paired with executive desks and they are usually bigger in size and use the same materials and colors. These chairs are significantly more comfortable to use, especially since they showcase features like a padded armrest and comfortably high backrest. It also doesn't hurt that they are commonly made from soft materials like polyurethane foam and durable ones like leather.
These executive chairs are also able to move around the office with the help of their casters and wheels. And because of their premium features and incredible comfort, they tend to cost more compared to other office chairs.
Task Chairs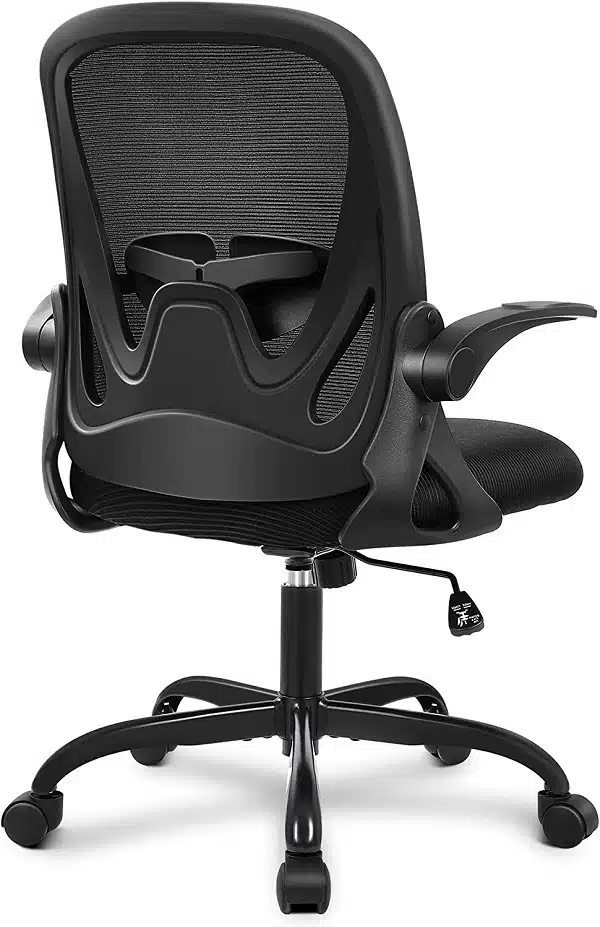 See this task chair with lumbar support at Amazon [Sponsored link]
Notable Characteristics:
• Affordable
• The basic design comes with wheels and casters
• Height-adjustable with lined-up foam
Task chairs, also known as operator chairs, are common and abundant. They come in different looks and configurations but the most basic one includes some wheels and casters.
They allow these chairs to easily rotate and move around the office. These chairs are made comfortable with the addition of lined-up foam.
These types of chairs can be considered for workers who tend to stay a long time sitting down. This is the reason why they need to be comfortable and with enough lumbar support to avoid neck and back problems in the long run.
Conference Chairs
Notable Characteristics:
• Placed in boardrooms and business meeting rooms
• Used for collaboration
• Not as mobile or adjustable compared to other types of office chairs
Conference chairs are the ones often found in meeting areas, conference rooms, and boardrooms. Also known as meeting chairs, they are designed for collaboration and meetings rather than all-day work and grind.
This is why they are not as functional, comfortable, and mobile as other office chairs despite the built-in wheels sometimes added to them. This setup encourages workers to be more active in the meeting and collaboration rather than stay sitting for the entire duration.
Despite not being that functional, conference chairs are stylish and aesthetically pleasing because they are often used to leave a good impression on clients and other companies involved in the collaboration.
Ergonomic Chairs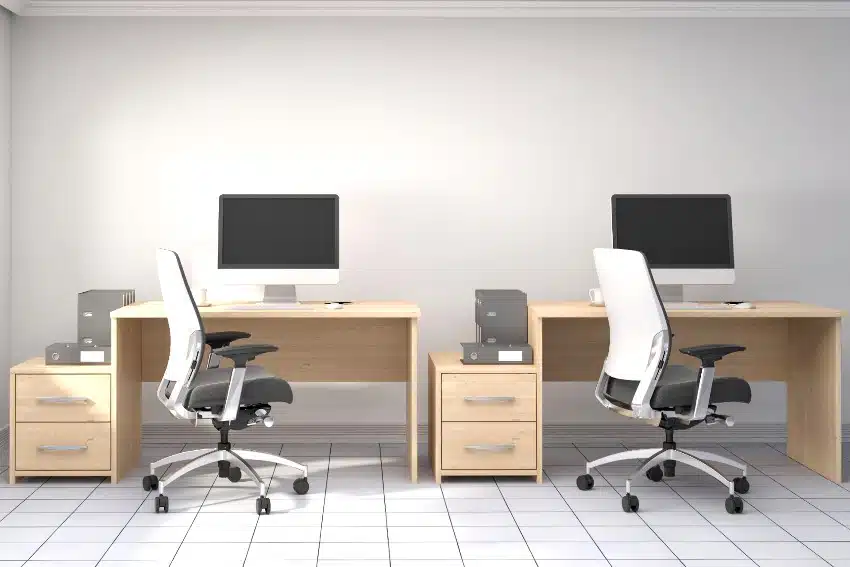 Notable Characteristics:
• Ideal for workers with spine and back problems
• Most comfortable options
• Adjustable height, headrest, and armrest to support proper posture
Ergonomic chairs are highly preferred by many office workers because they are designed to be comfortable and provide top-notch back support. They feature a contoured back support that will help those with spine, neck, and back issues.
Although sitting for prolonged periods in postures can be detrimental to health, the chair is an antigravity device that reduces the workload on the body, and it is important that a worker has the ability to sit in a comfortable chair for at least a part of their workday. – Ergonomic Workplace Design for Health, Wellness, and Productivity, 2016
Many office workers choose this type of chair, especially if they tend to sit for a prolonged period. This is the office chair to go for when you have comfort and wellness in mind.
Besides incredible lumbar support, ergonomic chairs also have adjustable height, headrests, and armrests to be set in the positions that can be most comfortable and help you maintain proper posture.
Stools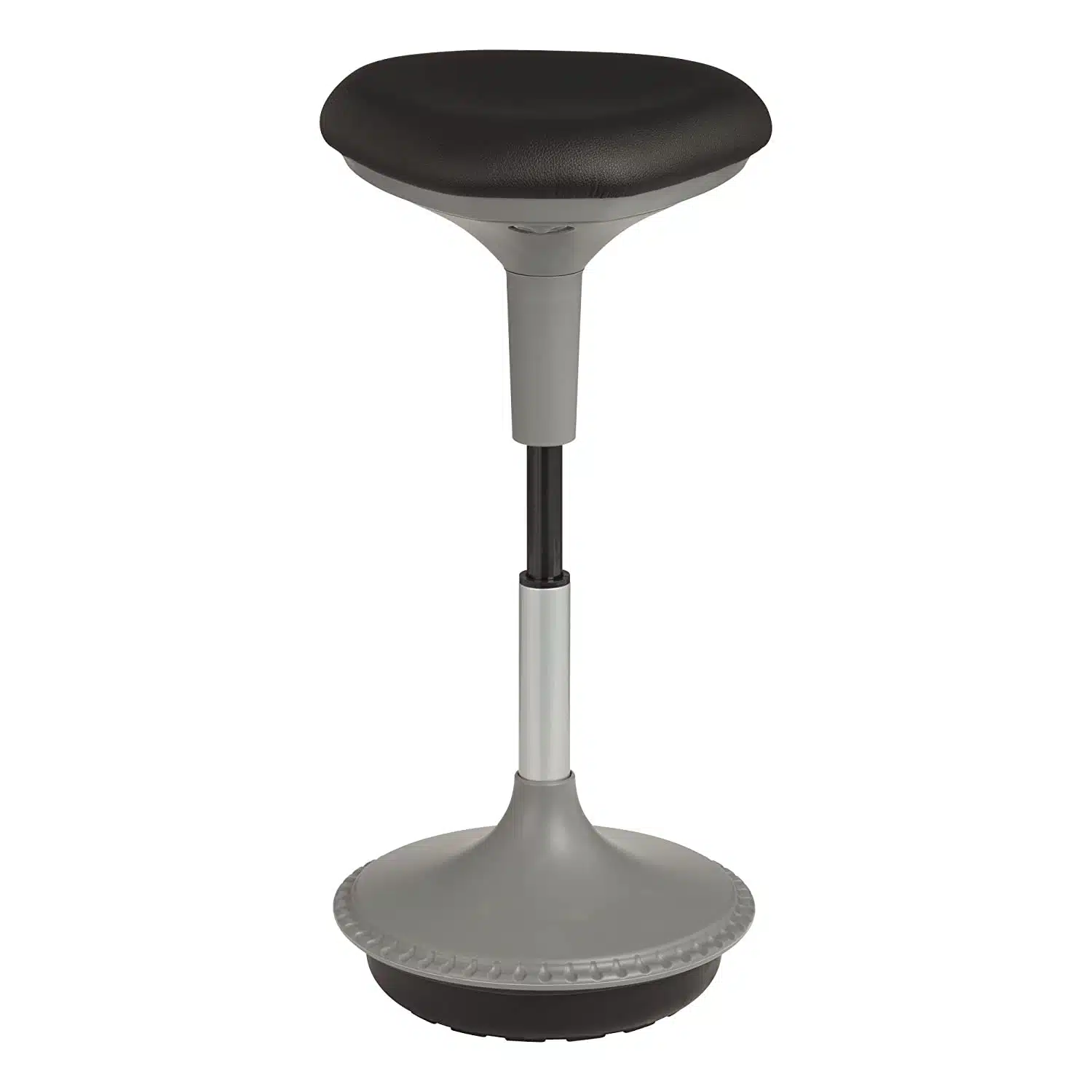 See this modern adjustable stool office chair at Amazon [Sponsored link]

Notable Characteristics:
• Ideal for simultaneous standing or sitting for work
• Come with footrests
Stools are not exclusive to office spaces but they can also be an option. They are great for office workers that will need to simultaneously stand and sit down while working on a task.
When it comes to comfort, these are not the ideal option to consider despite the additional support brought by footrests. They are also ideal for breakout rooms and bar rooms.
File Cabinets (Vertical, Lateral)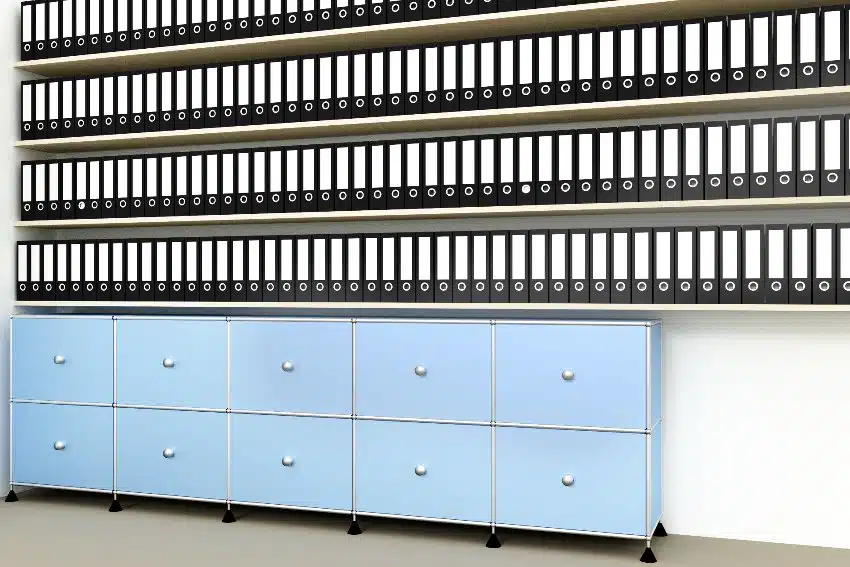 When it comes to the old-school filing system, hard copies in file cabinets are preferred over soft copies in computers. File cabinets are safe storage for documents and when added to an office can make the space feel more professional.
They are also preferred by people who tend to write by hand. There are also different sizes, styles, and designs you can check out so you can have one that will match your office. Here are some options to look into:
Vertical Cabinets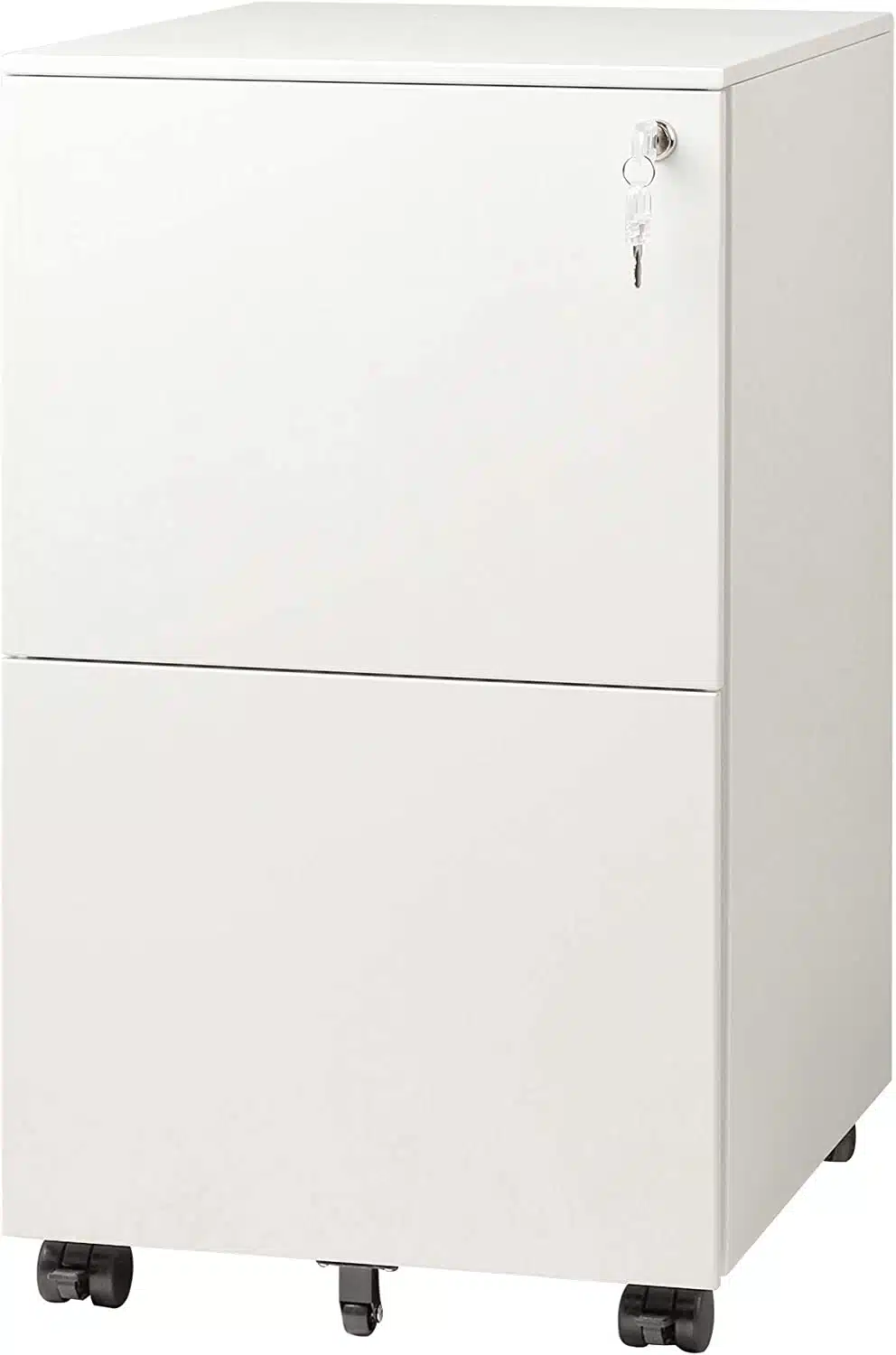 See this vertical filing cabinet at Amazon [Sponsored link]
• Compact file storage option
• Stands vertically
• Does not take too much floor space
• Can be made of solid wood, wood veneer, metal, and laminate
Lateral Cabinets
• Also known as horizontal file cabinets
• A wide filing system that can hold both paper sizes (Both letter and legal size paperwork)
• With a variety of colors and styles to consider
• Can come in materials like wood, laminate, metal, and veneer finishes
Waterproof Cabinets
• Safe and fireproof storage option
• Ideal for offices with large documents to store (artworks, blueprints, maps, drawings)
Mobile Cabinets
• Ideal for under-desk filing
• Serve as a portable file system
• Come with convenient casters for easier transport
Bookcases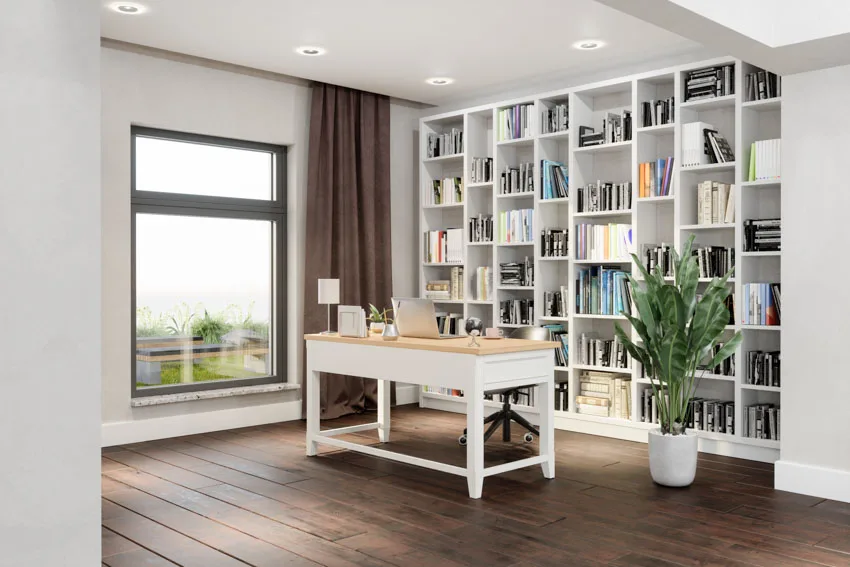 If you're into books or you want documents to be displayed for easier access, bookcases will look stunning. You can choose a traditional wooden bookcase, a more modern and industrial metal model, or whatever looks good with your office desk.
There are bookcases with adjustable shelves so you can also consider that if you want to customize your office's aesthetics.
Cabinets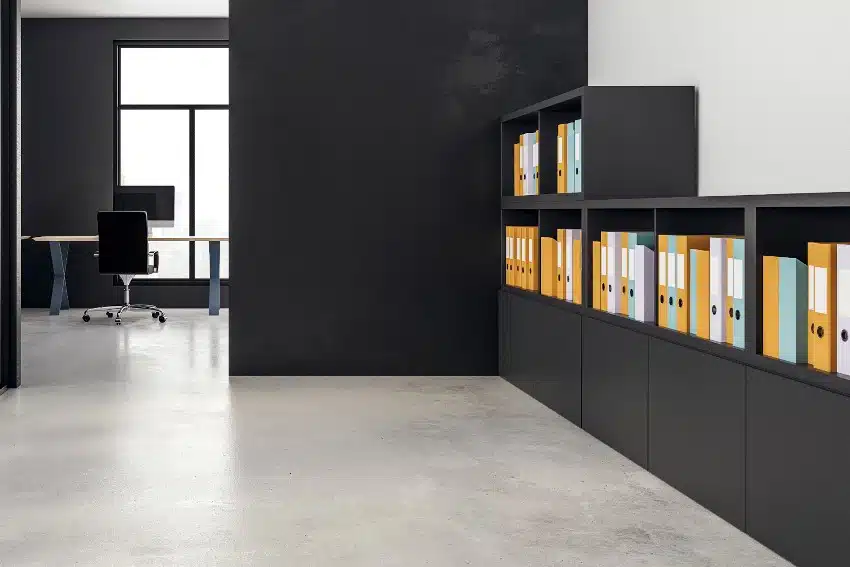 More than file cabinets, you can also go with the regular kind for your office. This is ideal if you have the physical inventory you need to keep safe. Choosing regular cabinets over file cabinets gives you the flexibility of storing more than just files, documents, and paperwork.
Sofa Sets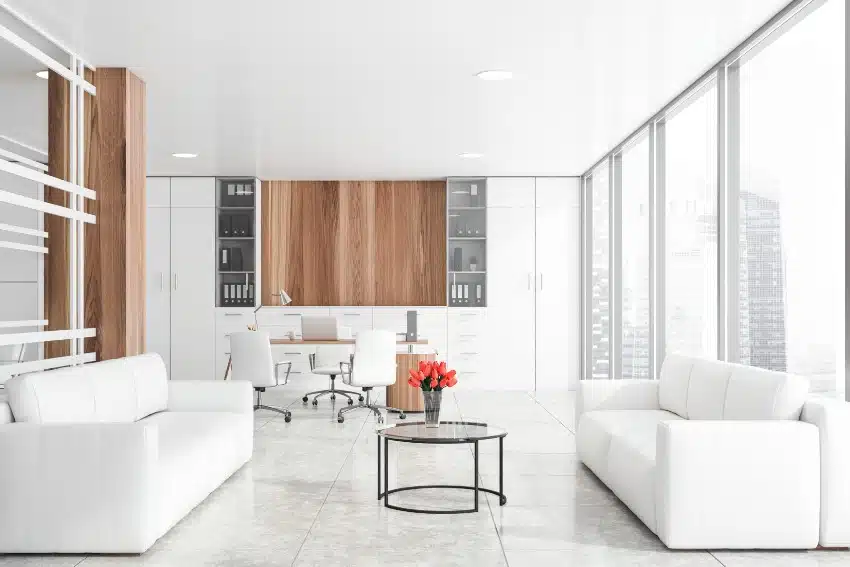 Adding sofa sets to your office will add a more comfortable and relaxing ambiance to the area. While they may sometimes be seen as counterproductive since you can't be too relaxed in your workspace, they can be a great element to welcome guests. They can also be a good place to lay your head for a satisfying power nap.
Sofa sets can be placed in waiting rooms and lobbies to be able to accommodate more people. Adding a homey feel to your office can be strategic, especially for prospects and investors.
Reception Furniture
Considered the most overlooked piece of furniture in the office, reception furniture simply refers to the pieces of furniture you will use in the waiting area. This can come in the form of reception tables for the receptionist and sofa sets and comfortable chairs for guests waiting in the area.
Of course, this can only be considered for large office spaces and buildings. But creating the right impression for guests and prospective clients is vital to your success. So, don't forget to add reception furniture if you have the space for it.
Conference Tables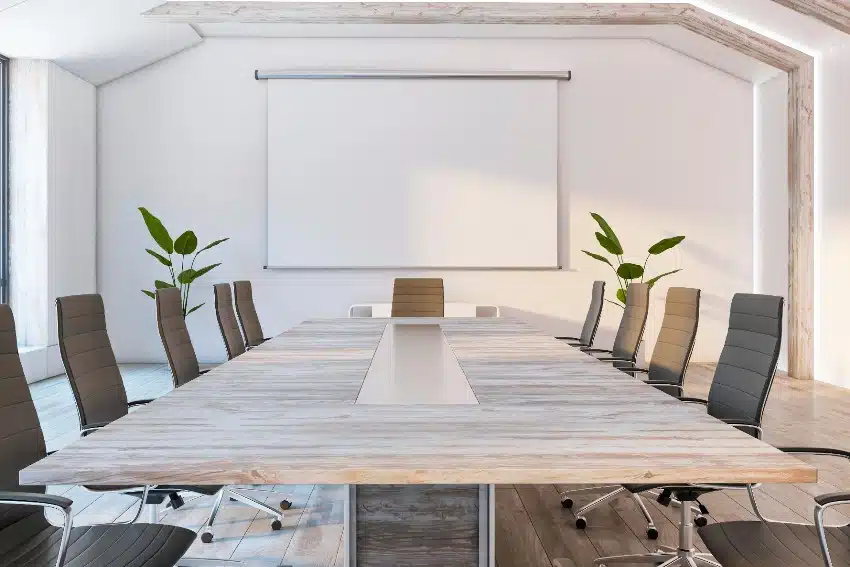 Meetings and conferences occur in a professional setup, whether at the executive level or just a collaboration between regular employees and departments. This will require the need for a conference table.
Conference tables are large to accommodate all the people invited to the meeting. Depending on the number of people usually included in the meeting, the table can be gigantic. Pair this table with the right number of conference chairs to make the entire set more effective.
Cubicles
Also known as workstations, cubicles are similar to desks but only with partitions set up between each station. These partitions give a balance of privacy to people while working and at the same time prevent too much interaction between employees to make sure that optimal productivity is achieved.
Cubicles are more often used for call center companies and offices that involved typing. They are also ideal for open-plan offices that can accommodate many desks and workstations all in one space.
Lighting (Desk Lamps, Floor Lamps)
Lighting is a vital element in the office and if there is a lack of natural light, fixtures like bulbs and lamps can work effectively as alternatives.
It is vital because inadequate office lighting can cause negative effects on employees, including eye strain, low productivity, and poor energy levels. Here are some options you can choose for your office.
Desk Lamps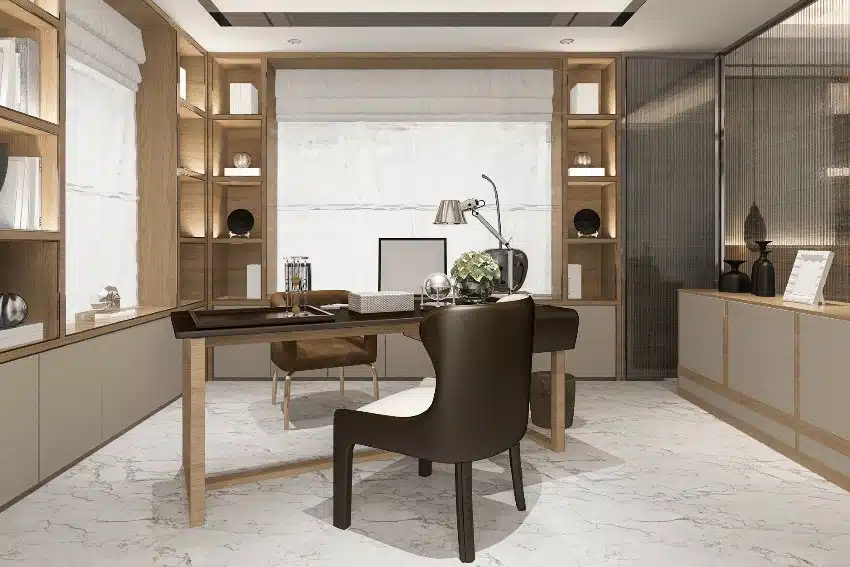 • Ideal when taking notes, reading and answering emails, and working on documents
• Help reduce fatigue and eye strain when working
• Easily illuminate work surfaces and keyboards
• Very useful when working at night
• Does not take up floor space but desk space
Floor Lamps
• Light up the entire office and not just the desk unlike desk lamps
• Take up little floor space
• Flexible and can be moved from one area of the office to another
• Offer a sophisticated touch to the office space
Office Furniture Accessories
Whiteboard: An office whiteboard is a visual tool that can be used in many ways to enhance communication, collaboration, and productivity in the workplace.
It can be used to brainstorm ideas during team meetings or presentations, to illustrate complex concepts or processes visually, and to keep track of tasks and deadlines.
A whiteboard can also serve as a visual aid for training sessions or as a space for employees to share important information with each other. In addition, it can be used as a creative outlet for employees to express their ideas and thoughts freely.
Ergonomic accessories: These are accessories like keyboard trays, monitor stands, footrests, armrests and other supplemental furniture pieces to help with day to day use and comfort in the office.
Room dividers:
A
room divider
or partition can help provide privacy and promote noise reduction in an office environment. They can be useful for limiting distractions and increasing work productivity.
How to Choose Office Furniture
If you are having a hard time deciding whether a specific piece of furniture is ideal for your office or not, here are some factors to look into to help you make a decision.
• Budget: The money you've allotted for your office furniture will affect your choices. Some pieces of furniture are more expensive than others so if you have more then you have the freedom to get ones like hardwood furniture.
• Durability: Choose durable office furniture that can last for a long time so that you can label it as an investment rather than an expense. In this case, hardwood is better than most softwood so make sure to look into your options while at the same time considering your budget. And if you want to be sure it will be durable and last long, look for furniture with a sun-mica surface.
• Aesthetics: In offices, creating the right ambiance can help you feel more productive and set you in the right mood to perform well. Your furniture choice can also contribute to creating the aesthetics that will produce the right vibe for inspiration.
This is also important when you entertain guests in the office to make them feel comfortable and at ease. One thing to do is to avoid a glossy finish to lessen glares that can increase tension.
• Fire Risk: Good office furniture can withstand fire and won't turn to ash and completely get destroyed when subjected to heat. This can then be considered a good investment. And this is a vital characteristic, especially when you keep essential documents in the office.
Visit our guide to the types of office equipment checklist to get more ideas about the types of office furniture.