We've put together a gallery of minimalist playroom designs including what it is, how to create a organized playroom space, and creative minimalist playroom ideas.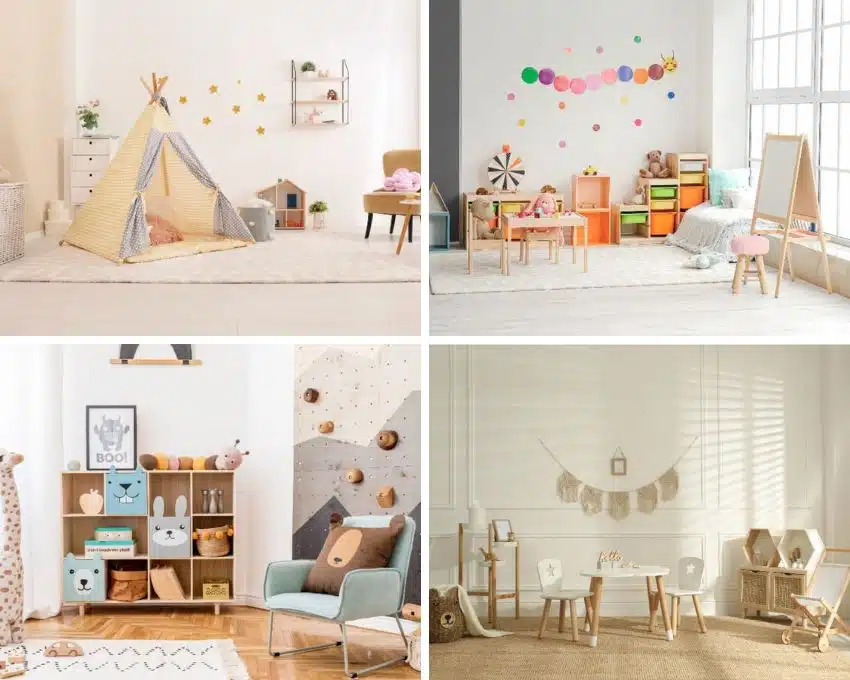 A playroom is an area filled with constant clutter and mess but this is not surprising because of the kids and their activities. Despite the room's tendency to be messy and all over the place, it doesn't mean that you can't have a minimalist playroom.
The truth is that this can be a challenging feat, especially since a playroom and minimalism seem at the opposite of the spectrum. This is because while minimalism is all about clean lines and uncluttered space, a playroom almost always looks cluttered.
This is achievable by simply integrating key elements of the minimalist style into the playroom's design.
What Is Minimalist Design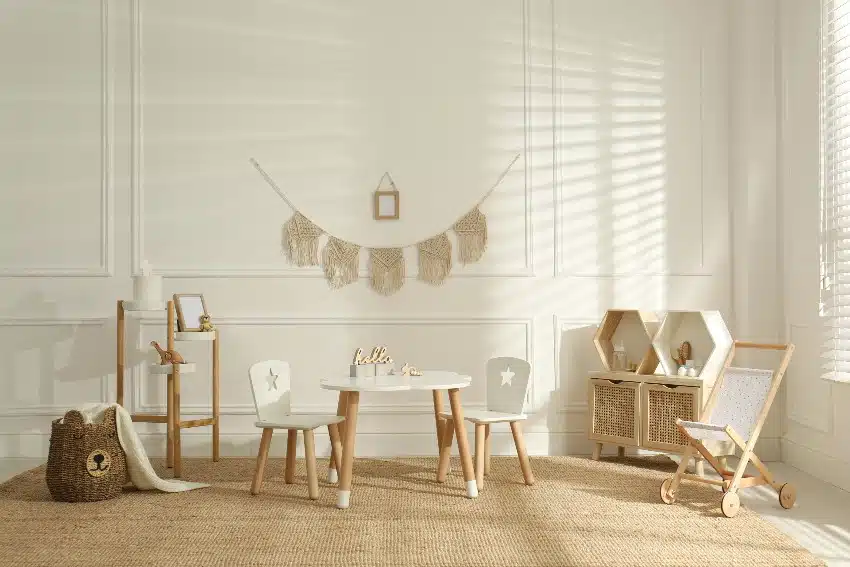 With the minimalist design, less is always more. The style is popular for its reductive and uncluttered concept, which is aided by clean lines and simple patterns. If you plan to apply this style to a room or your home, you will get a serene and refreshing vibe for the space.
Although downsizing your house mat take a huge part of your journey to becoming a minimalist, minimalism is so much more than that. It is not a goal you should strive to achieve, but a lifestyle you should adopt in order to live simply, freely, and happily. – Minimalism: Minimalism for Beginners. How to Live Happy While Needing Less in This Modern Material World, Ito Watanabe
The concept "less is always more" is actually harder than it seems. Since you will choose only a few pieces of furniture, there needs to be a clear intention in your every choice.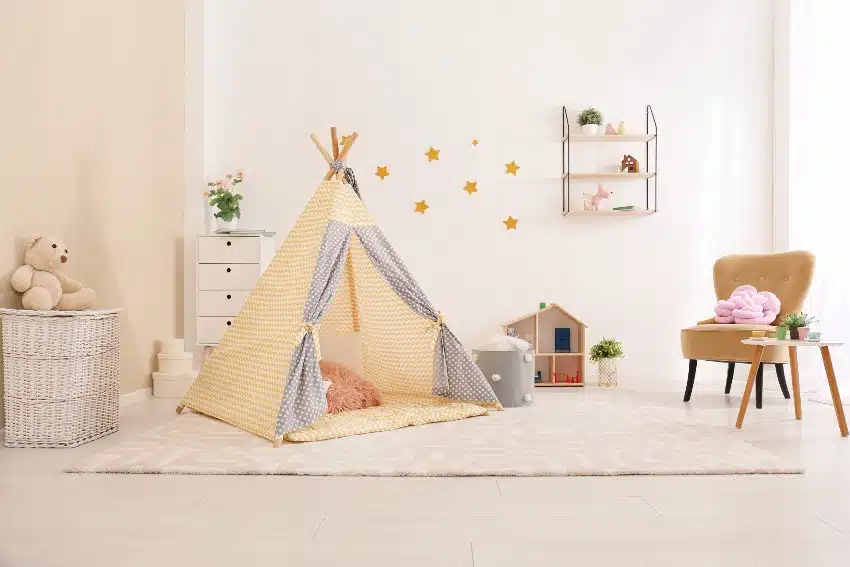 This also means that you will have to be choosy and so picking the furniture pieces will demand a more meticulous evaluation. And it can be quite challenging to do just that.
Similar to modern style, minimalism focuses on stripping the space down to its most basic form, accenting the architectural features instead of layering the aesthetics by adding different decorative things to the mix. Some of the key and vital elements of minimalist design are the following:
Clean Lines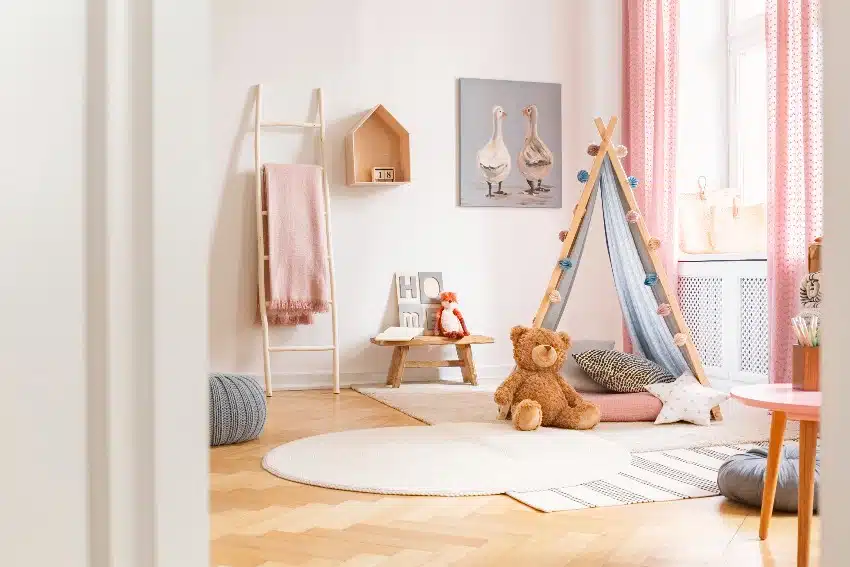 Minimalism is all about strong lines and flat surfaces, creating bold statements by outlining the items included in the room. Meticulous details and complicated patterns are avoided and not an option for this style's ornamentation and furnishings.
Smooth bare walls and clear and clean surfaces are prominent, along with the need to eliminate the possibility of piles and clutters.
Monochromatic Palette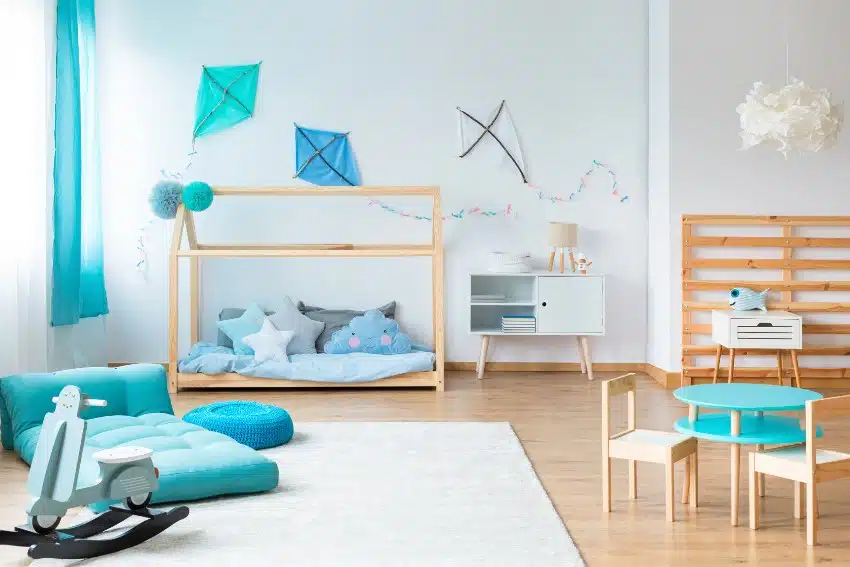 To make sure that the focus of the style is not on the colors, a monochromatic palette is preferred for minimalist design. Much more than the basic white and beige, here are some colors you can use in this style are the following:
• Warm and cold gray
• Nude tones
• Aqua shades
The key to choosing the shades to include in your color palette is to stick with the ones that can create a bright and airy ambiance. You can combine textures and shades to produce this light and soothing effect.
Form & Functionality-focused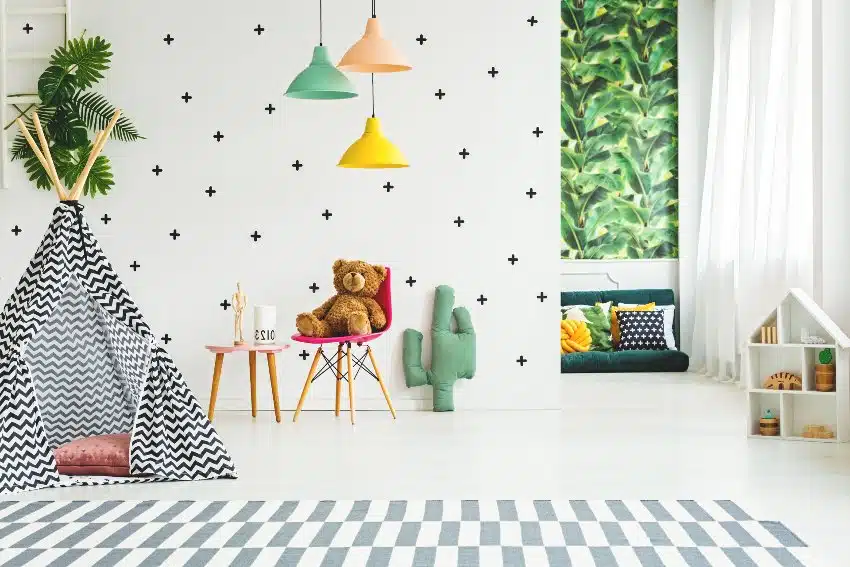 Functionality goes well with minimalism because this style is focused on form and functionality. This can come in the form of the following elements:
• Open floor plan
• Abundant lighting
• Functional furniture pieces
The minimalist style focuses on the form and structure of materials, as well as the texture and simplicity of the elements. Architecture-wise, the style prefers reductive design elements and strays away from decoration and ornamentation.
Bare Essentials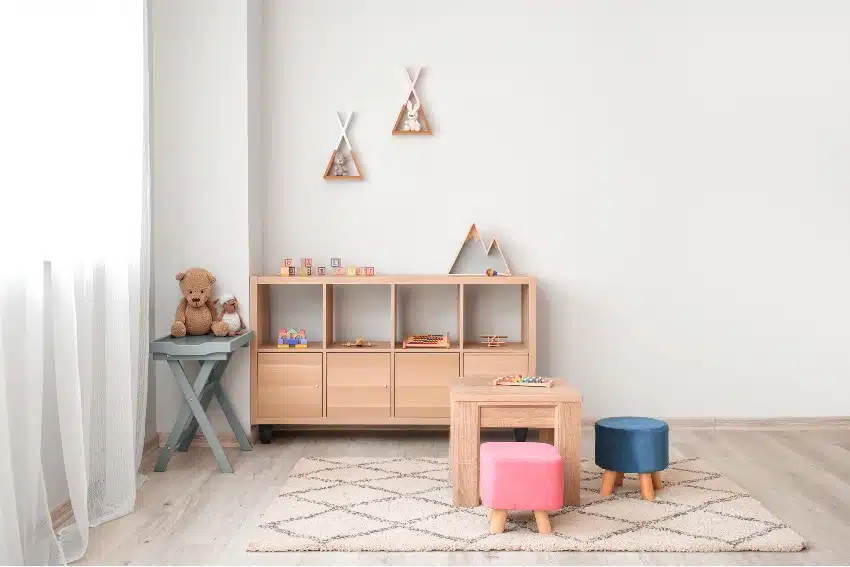 Since the minimalist style is all about creating simple and uncluttered space, it is necessary to only choose the essential elements. To avoid clutter excessive decoration and ornamentation are a big no-no.
The content of the room is condensed and sticking to the bare essentials aims to showcase the true nature of architecture and the authentic structure of the materials. And this is further accomplished by prioritizing the bare essentials.
The design of the space needs to be simple and clear but it doesn't mean that it should be boring. The key to using only bare essentials is allowing the form and texture of the elements to shine more than just their surface looks.
Limited Well-chosen Materials
Minimalism is all about purposeful choice in furniture pieces and materials. Every element you choose when styling for minimalist design needs to have its own place and purpose.
This is the perfect opportunity to make use of things exactly how they are designed and built in the first place. But since you need to limit the elements to include in your room, you need to be detailed with your decisions.
How To Create A Minimalist Playroom Space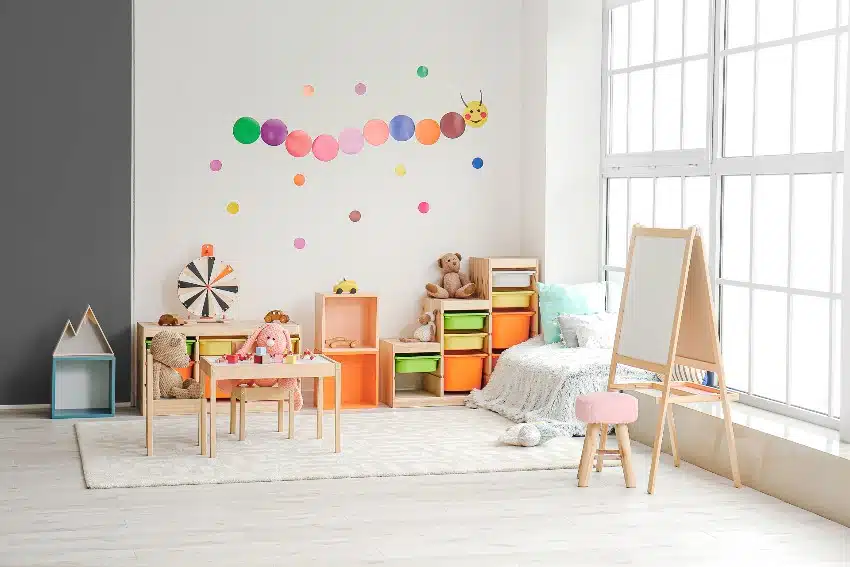 A minimalist playroom is designed following a minimalist style, which means that it focuses on what the room is for in its essence.
When creating your minimalist playroom, you will need to design an environment that can be safe and productive for your child, free from distractions because of too much clutter and toys.
The ideal minimalist playroom would include elements that can occupy kids for hours without distracting them from too many toys that they will be overwhelmed with the decision that they won't start at all.
The number of toys and other elements you place inside the room will depend on several factors, including the size, layout, and furnishings of the playroom, the ages of the children, and the usual amount of hours dedicated to playtime.
A minimalist playroom is an incredible option for children because they are designed to offer the following:
• Open space that features freedom of movement
• More opportunities for imagination and creativity
• Less clutter to clean up
If you need assistance in designing your minimalist playroom, here are some simple tips you can consider.
1. Keep Aesthetics Simple
Once you've integrated all the basic elements and essentials, make sure to stop yourself from adding decor and ornaments to the room.
Keeping it clean and simple is vital, and this goes even for the toys and books in the playroom.
Choose light colors for your walls and furniture, to make the room look bigger and airy, helping you stay true to the minimalist style.
2. Choose A Space-saving Kids' Table And Chair Set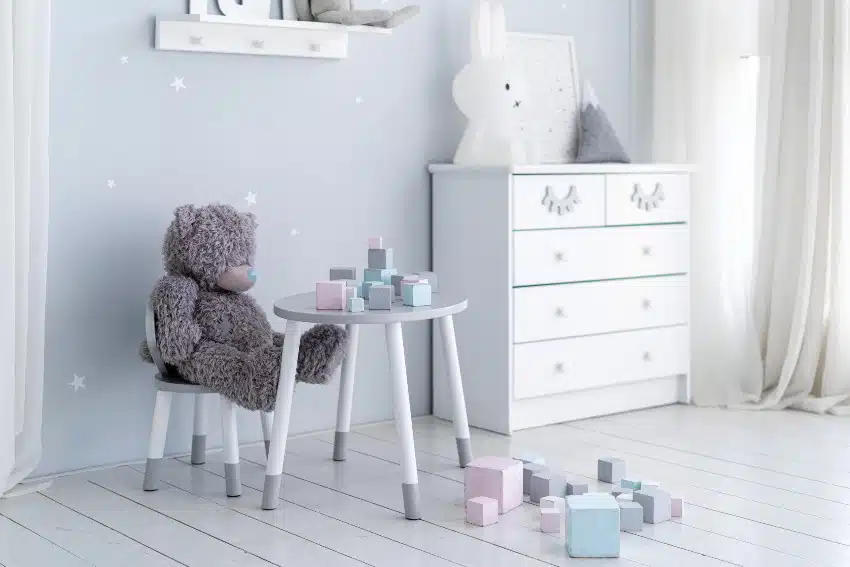 A table and chair set will be required for a playroom and getting a modular one will allow more functionality, flexibility, and versatility. Choose multi-functional pieces of furniture like chairs that can be flipped to make the seat lower or higher, depending on your child.
A high chair works wonderfully for children but make sure that you have enough space for the furniture since you need enough for an expansive playroom to give kids the freedom to move around.
With the table, place it at the center of the playroom. This will make sure that you won't end up having a toy pile to clean up and organize in the middle of the floor every after playtime.
3. Use Small Space Storage
Whether you have a small or large space intended for the playroom, use small space storage. Having a small capacity for storage means that you won't be able to hide toys and things that can potentially clutter the playroom.
You can strategically distribute the storage space in terms of cabinets, drawers, cupboards, and shelves. You can even use bins to make it easier for the kids to access and keep once playtime is over.
Small storage space means that you get to allot more space to the play area. This will make the playroom look airy and light, achieving that open-floor minimalist feel.
4. Practice Toys, Art Supplies, and Books Rotation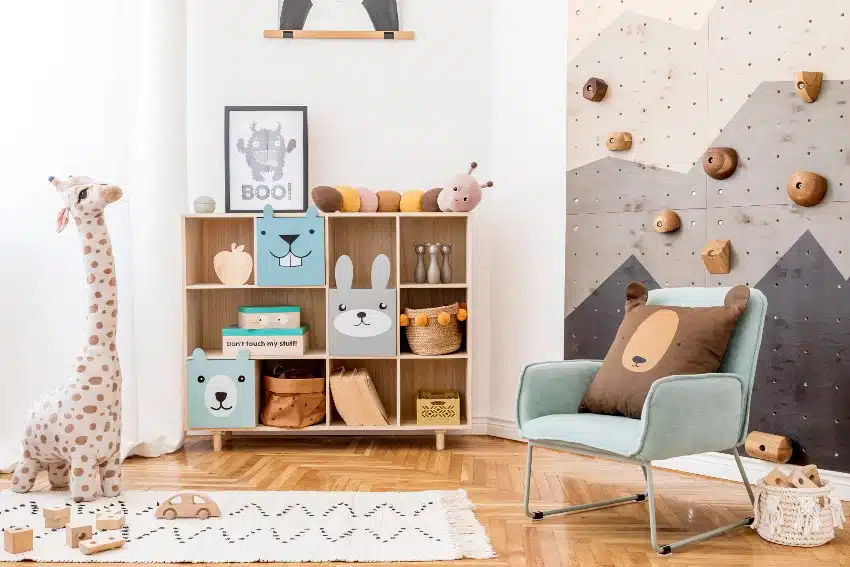 In making sure that your playroom won't look cluttered, one thing you can practice is rotating toys, books, and art supplies. This means that you can display some of the toys and then keep others in the storage bins and cabinets.
You can assign specific days or weeks to focus on toys, books, art supplies, and even puzzles. Of course, this will require some of your time and attention when you need to change the displayed elements in the playroom. But you have control over how often you can do it with proper scheduling.
Another option to consider is to use a cart, in which you can store your arts and crafts supplies, as well as books for your rolling library if you prefer that.
If you have too much stuff in the playroom, you can donate them or throw out the ones your kids have outgrown and haven't played with in months.
5. Install A Reading Corner
Besides the play area, you can structure your room with a reading corner, especially if your kids prefer books over art supplies. Install wall-mounted shelves to keep your books organized but make sure that they can be reached and accessed by your kids.
You can choose a reading corner to place all the books into but the play area should be located at the center of the playroom.
Minimalist Playroom Ideas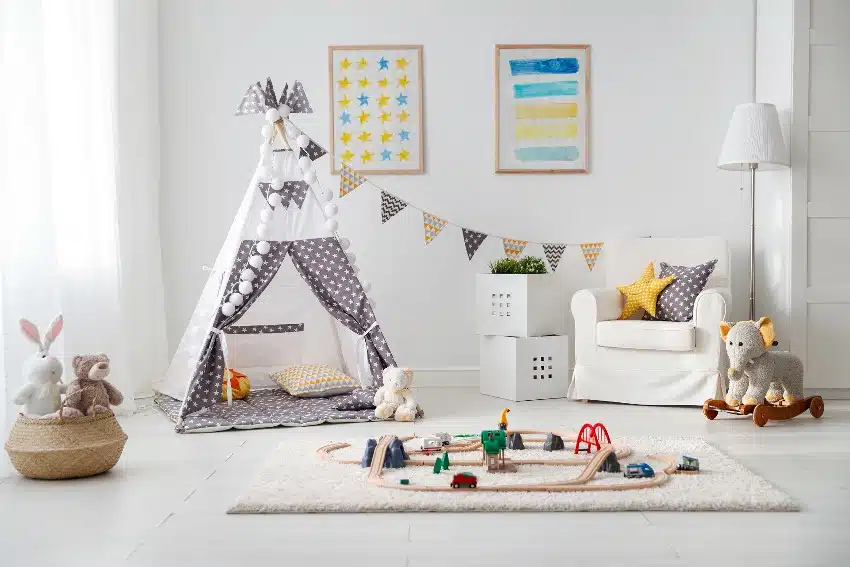 Styling a minimalist playroom is a lot easier than it seems. You just need to stick with the key elements and everything else is considered excess.
More than just sticking with the bare essentials though, you can also consider multi-functional elements and pieces that will serve their main purpose and more.
If you're having a hard time practicing your creativity when styling a minimalist playroom, here are some ideas worth exploring.
Consider neutral colors for your playroom
For a minimalist playroom that looks airy and light, neutral colors can help you accomplish that look. Neutral shades have this soothing effect that you would want your playroom to have, especially after an entire day filled with different activities.
Use baskets and other unique storage options for storing toys
Choose unique storage options you can add for the playroom like baskets and bins. While you want to stay simple in style, adding these storage options won't have the opposite effect on your minimalist playroom.
Make sure that you use the baskets and bins together with the rotating schedule of toys and books. If the schedule is for toys, place them in the bins and baskets within the children's reach. The same goes for when the schedule is for books.
Get a wall mural for the playroom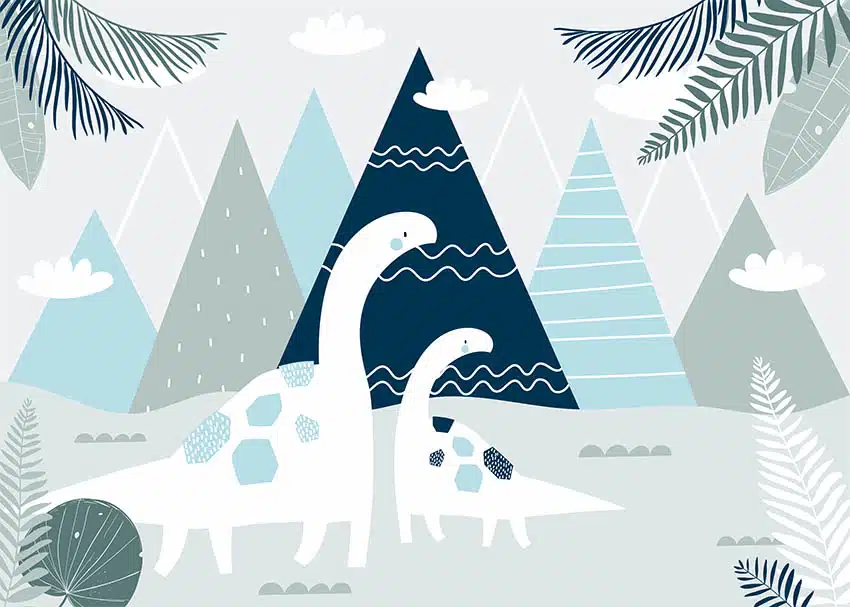 Going for minimalism doesn't mean you can't do something to the room to make it look stunning. Adding a mural on the wall can be possible but make sure you choose simple designs and patterns so that it will not look too much and overwhelming. If you have neutral-colored walls, this will make it easier to paint patterns on the wall.
Explore multi-functional furniture pieces
Minimalism has many similarities with modern style and one of which is their preference for simple-looking multi-functional pieces of furniture.
Get a shelf that can also transform into a table or a chair that can turn into a high chair. Explore your options and consider the ones that offer versatility and space solutions.
Choose a corner if you don't have a room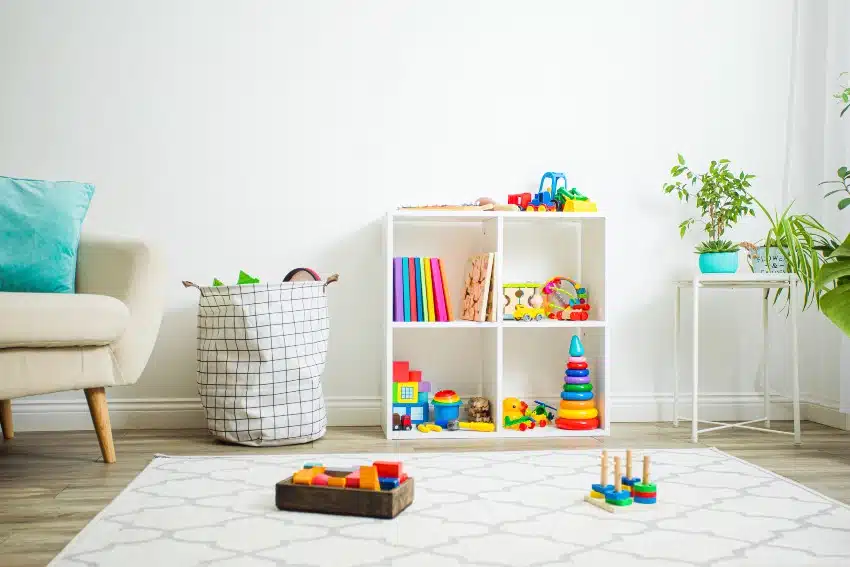 If you don't have a room in your home you can turn into a playroom, you can still get a minimalist playroom for your child by using a corner of your living room.
Though it's true that this will be more challenging to style and spruce up, it is even more necessary to stick to the key elements of minimalism. Choose your pieces well and try to have as much play area as possible despite the limited space.
These are only some of the ideas you can incorporate into your minimalist style. Feel free to integrate the things you want for the room without straying from the minimalism key elements.
Visit our gallery of playroom paint colors for more related articles.