Here's our guide to picnic table dimensions including different tablecloth measurements and a variety of picnic table sizes.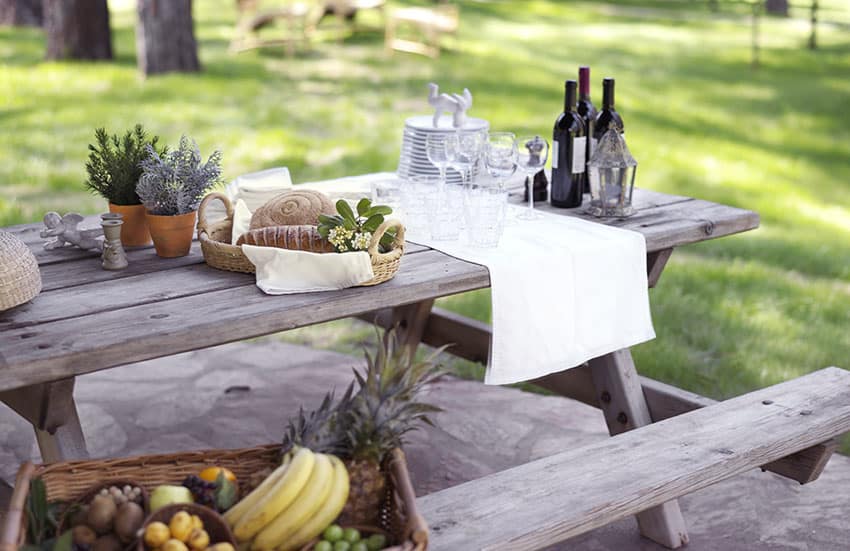 There are many picnic tables available in all shapes and sizes. Some are for kids, some for six-seaters, and some big enough to seat the whole family.
In this article, we talk all about picnic tables and their dimensions to guide you on your quest to find the one for your backyard.
Standard Picnic Table Dimensions
Picnics are designed in an array of specifications, but there's always one recognized standard.
The standard picnic table dimensions usually have a height from the ground of about 28 to 34 inches, with most manufactured ones standing at 30 inches.
A classic rectangular picnic table usually has a width range from 28 to 30 inches and 6 or 8 feet long.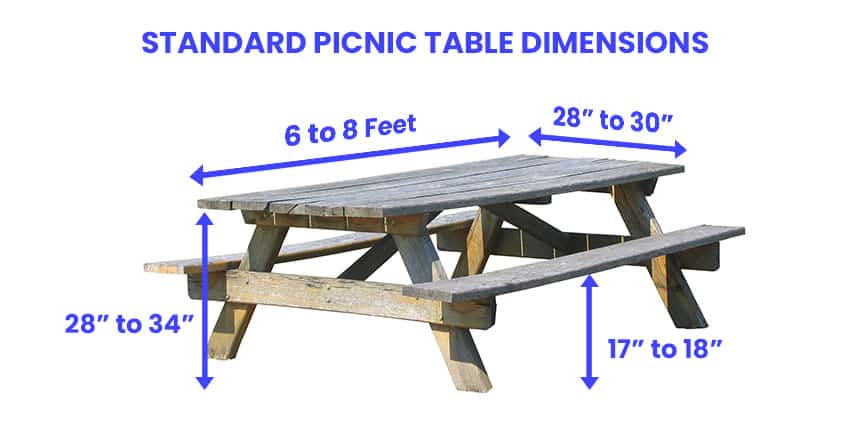 How Tall is a Picnic Table?
How tall a picnic table varies from one table to another, but the usual picnic table seen on parks and picnic grounds usually has a height, from the ground up of about 28 to 32 inches. The benches on the table have an average elevation of about 17 to 18 inches from the ground.
This dimension allows more than enough room for an average adult to go in and out of the table.
How Long is a Standard Picnic Table?
Again, how a picnic table spans on the tabletop varies from one manufacturer to another. Still, the usual picnic table seen on parks and picnic grounds has a tabletop length of about six feet. This dimension allows 24 to 30 inches of seat perimeter for each person.
What is the Length of a Picnic Table Leg?
A standard picnic table leg has two measures. First, we measure the length of a table leg from the ground to the tabletop, and frequently picnic table leg from this side is 30 inches. Second, we calculate a table leg length from the floor to the benches, and the standard measurement for this side is 17 inches.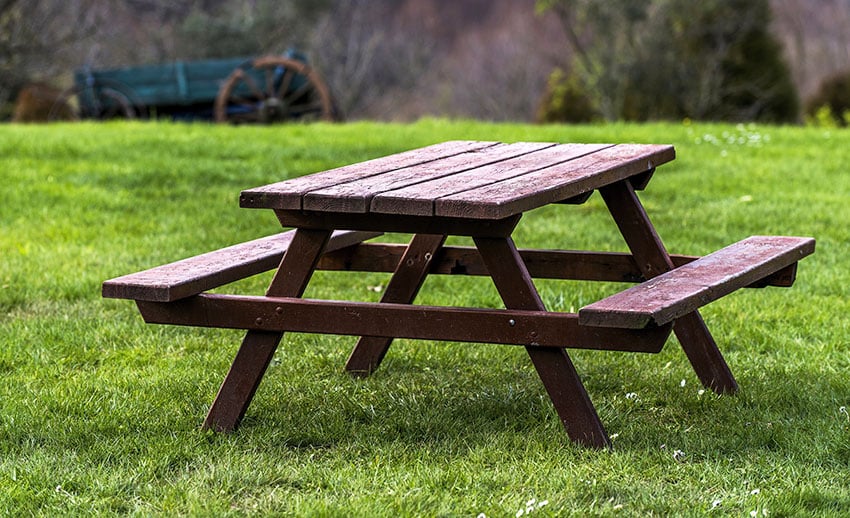 6 ft Picnic Table Dimensions
Six-foot picnic tables are the type of picnic tables you regularly see on picnic grounds, beaches, and parks. This size of picnic tables could seat zero to eight persons.
Rectangular six-foot tables have dimensions of 6 feet in length and have a typical 30 inches in height. They have a median elevation, from the bench to the ground, of about 17 inches.
8 ft Picnic Table Dimensions
Eight-foot picnic tables are quintessential for large families and groups. This type of picnic table could seat up to eight people comfortably (it could seat up to twelve if a person were to sit on each end).
Rectangular eight-foot tables have a dimension of about 8 feet in length, and like its six-foot table counterpart, eight-foot picnic tables are 30 inches in height. They also have a median elevation, from the bench down to the ground of about 17 inches.
Visit this page to find the measurements for other dining table sizes.
ADA Picnic Table Dimensions
According to rules and regulations, a commercial ADA picnic table should generally have one seat taken out or one side of their benches shorter to guarantee wheelchair users can freely approach the picnic table and fit comfortably. But ADA picnic table regulations can vary from state to state.
Thus, researching these rules is essential before purchase or construction.
Generally, here are the dimensions needed on most of them. The surface table height should be about 28-34 inches above the ground. It should have a knee clearance of about 27 inches in minimum.
There is a clear floor area of 30-40 inches at each seating space and an accessible route for the wheelchair to get to the seat. At least 19 inches from the table inward is needed for the leg and knee to extend comfortably.
There should be a 36 inches wide floor space around the picnic table's perimeter for the seat to be accessible by the wheelchair. If a wall is present on the ground, 36 inches of wheelchair-accessible space should be provided.
On locations where tables are immovable from the wall or the floor, 5% of the tables should be ADA regulation compliant.
Read more about different dining chair sizes on this page.
Picnic Tablecloth Dimensions
What size of picnic tablecloth do you need for a standard picnic table? The tablecloth for a picnic table varies according to the size of your picnic table.
If you have the square 54-inch all-over table, then essentially, you need a picnic tablecloth that is at least 60 inches or even longer.
A regular rectangular six-foot picnic table should have a tablecloth of about 80 inches in length to fit a 72 inches picnic table length. The width of the tablecloth should at least be 35 inches long to cover the 29 to 30 inches width of the picnic table.
Options round tables include covering a standard round table with a circumference of 54 inches to 60 inches all around tablecloth.
There are many tablecloths to choose from, but vinyl, pleather, and plastic can work best on picnic tables because of their weatherproof properties.
For another related article see our maintenance free outdoor furniture guide.