Shiplap fencing guide including its cost, durability, materials and some ideas about horizontal, cedar, and types of panel fence designs.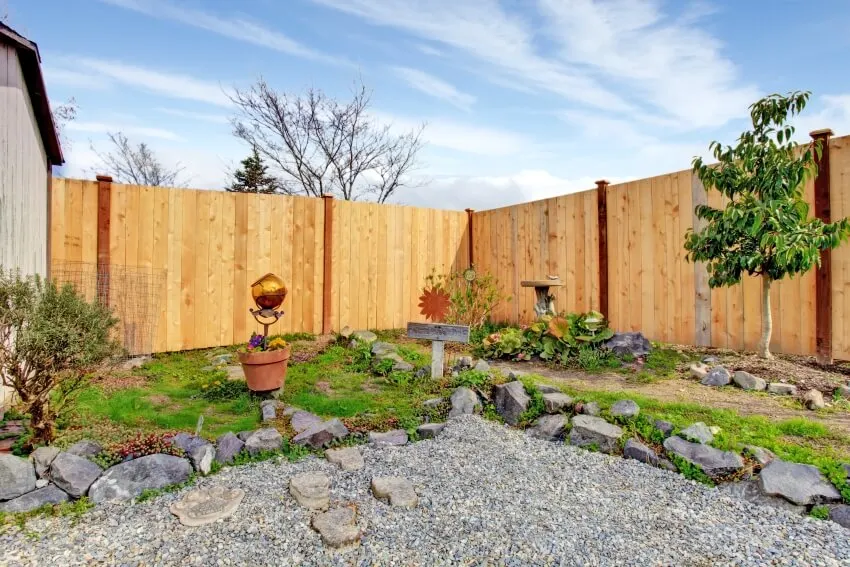 Shiplap wood panels originated years ago as a way to wrap ships to make them waterproof. It's made from wood paneling with a v-shaped groove called a rabbet cut at each panel's top and bottom.
The panels are interlocked, creating a water-tight seal. The success of shiplap protecting boats against water and wind translated into shiplap siding being manufactured to cover homes, barns and other outdoor structures.
Although shiplap was designed for the outside of boats and homes, its practicality came with an aesthetic touch—it was considered a decorative material for fencing. Typically, shiplap used as siding for homes, buildings, and fences is not curated from ships or boats but made from wood panels.
Shiplap also expanded into a handsome material for fencing using wooden or vinyl panels that interlock and lay horizontally or vertically. This guide contains information on shiplap fencing, materials it's made from, its uses, and pricing to help you shop for shiplap fencing materials.
What Is Shiplap Fencing?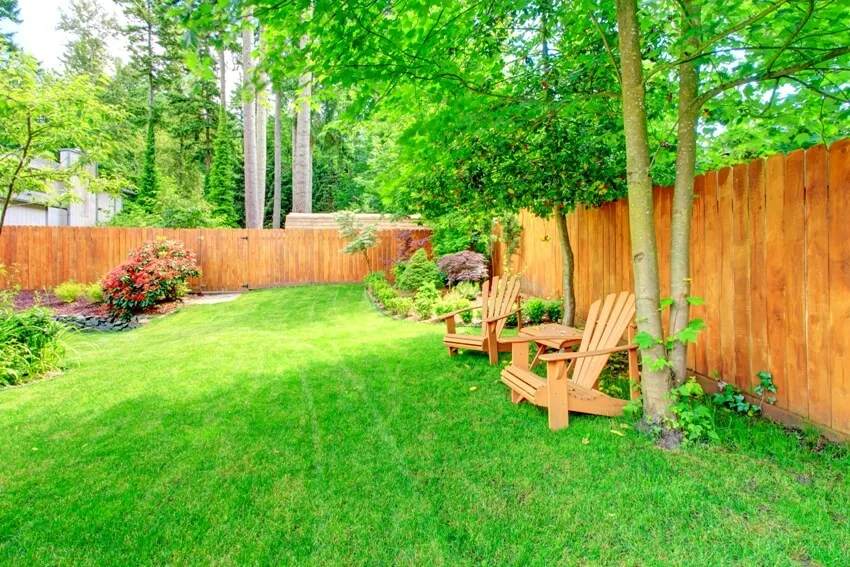 Although shiplap fencing is not made from actual shiplap used on ships, it carries over the nautical, rustic and recognizable look and design.
The boards used for shiplap fencing are commonly made from rough-surfaced wood to create the recognizable look and have a v-joint similar to tongue and groove boards. Shiplap boards are used for fencing, single, double, or sliding gates.
Horizontal Shiplap Fencing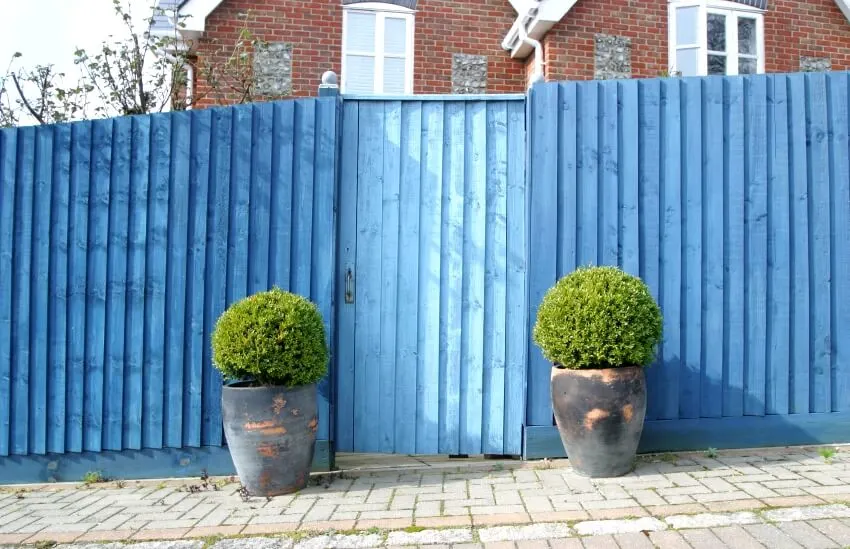 Of course, shiplap boards for boats and ships were layered horizontally, and horizontal fence boards create an authentic design statement for shiplap fencing. Any type of wood boards can be used to create this type of fencing.
The horizontal direction of the boards already offers the sleek and trendy look shiplap makes. Horizontal shiplap fencing can be built without gaps between the panels or with small gaps to vary the look of the fence. Check out more fence designs here.
When pairing shiplap fencing with other landscape elements in your yard, you can create a modern, contemporary, or rustic contemporary look.
Horizontal shiplap fencing that runs into borders or corner pieces that are taller and shorter gives your yard an artistic and unique design factor. It turns a plain yard into an eye-turning space, and the horizontal lines also make your outdoor space look larger.
Shiplap Fence Panels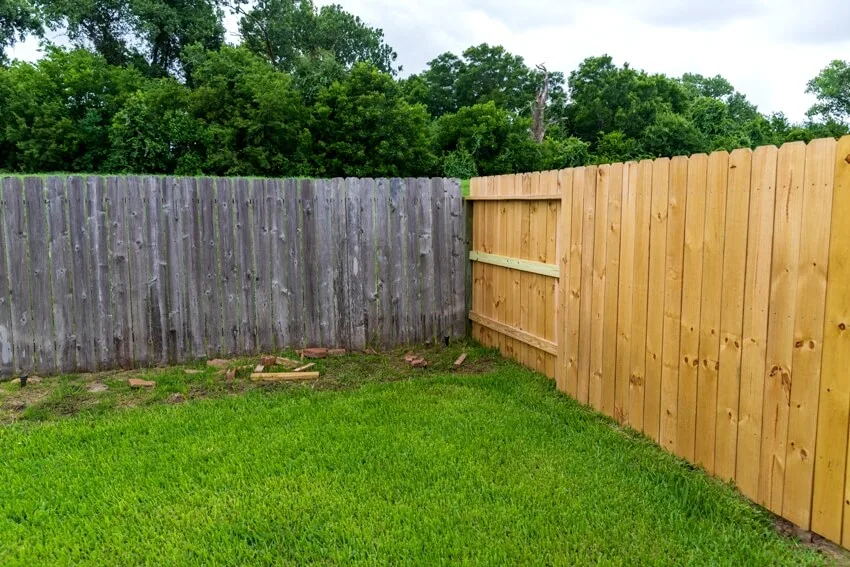 How you want the shiplap fencing to look depends on the type of wood used for the panels. Shiplap fence panels come either with a rough finish or a smooth finish. Rough lumber has a coarse surface and provides a sturdy and rustic look.
It's a gritty material and may even have some imperfections, such as saw marks or divots. Rough sawn lumber creates panels that are thick and heavy.
The fence frame needs to be sturdy enough to support rough lumber panels and proper hardware must be used to support the boards.
Smooth lumber shiplap fence panels are thinner and have a sanded surface to create a silky finish ready for whatever stain or color you choose.
These panels are thinner and lighter than rough lumber panels and have a more cured look. Shiplap fence panels made from smooth lumber typically have beveled edges.
Shiplap Privacy Fence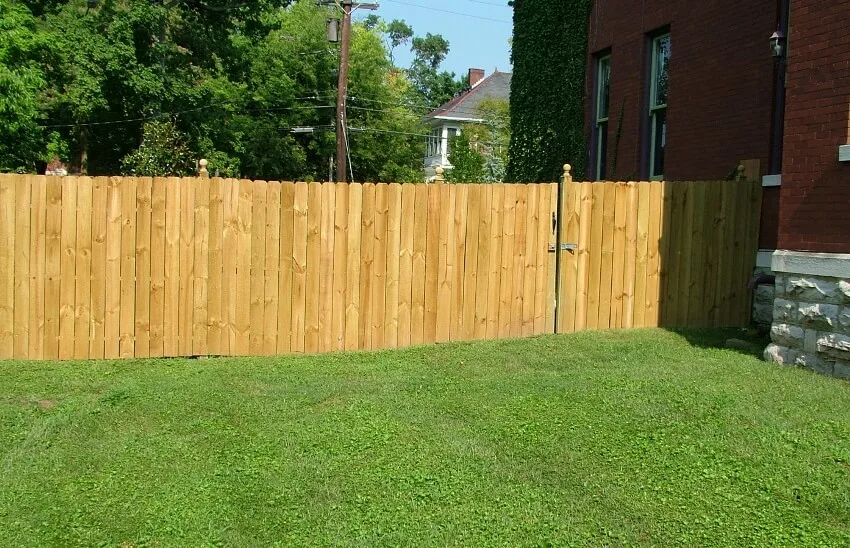 To create a shiplap fence that provides privacy, the horizontal boards are placed with the edges up against each other or interlocked with the rabbet's v-shaped groove.
The groove interlocks and eliminates any gap between the boards for complete privacy. Read more about privacy fencing here.
A small amount of space can be created between the shiplap boards to allow some gaps. There will be enough of a space to peek through the panels but still provide privacy. The gaps also let the wind come through the fencing, which is helpful in areas with strong winds.
Cedar Shiplap Fence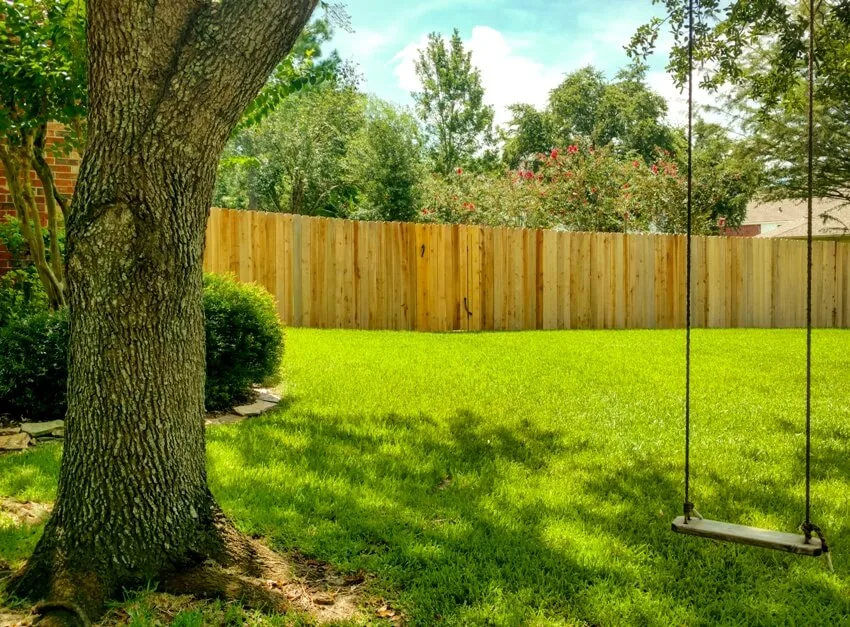 Cedar is the most common wood used for shiplap fencing and provides benefits over other wood materials due to its natural oils. These oils are a deterrent to bugs and result in a wood panel that is resistant to rot, resulting in a longer-lasting fence.
Cedar boards that are split using a band saw typically have an uneven thickness, which works fine for fencing.
The naturally rough surface of cedar helps create the irregular surface design of the original shiplap boards used for ships, making it a natural choice for this fencing. For more related ideas, visit our guide to the best garden fence ideas.

Shiplap Fencing Prices
Shiplap fencing is made from different materials, which affects the pricing of each board. Pricing is also affected by the type of design or finish.
Pine shiplap boards may differ in prices based on the finish, including options such as charred, stained, white-washed or unfinished.
Vinyl shiplap fencing comes as a larger panel and is very expensive. See the pros and cons of vinyl fencing here.
When installing this type of fencing, determine the width of each section and the height. Once the width is decided, you need to measure the area to install the fencing for distance.
The prices below are for shiplap boards only. Other fencing needs include posts, end caps, hardware, stain and labor. The prices below are for the shiplap boards only.
| | | |
| --- | --- | --- |
| Type of Material | Length and width | Price Range Per Board |
| Pine | 1" x 6" x 8' | $14 to $22 |
| Spruce | 1" x 6" x 8' | $14 to $22 |
| Cedar | 1" x 6" x 8' | $24 to $30 |
| Poplar | 1" x 6" x 8' | $35 to $40 |
| PVC | .38" x 7.38" x 8' | $180 to $195 |
How Long Do Lap Fence Panels Last?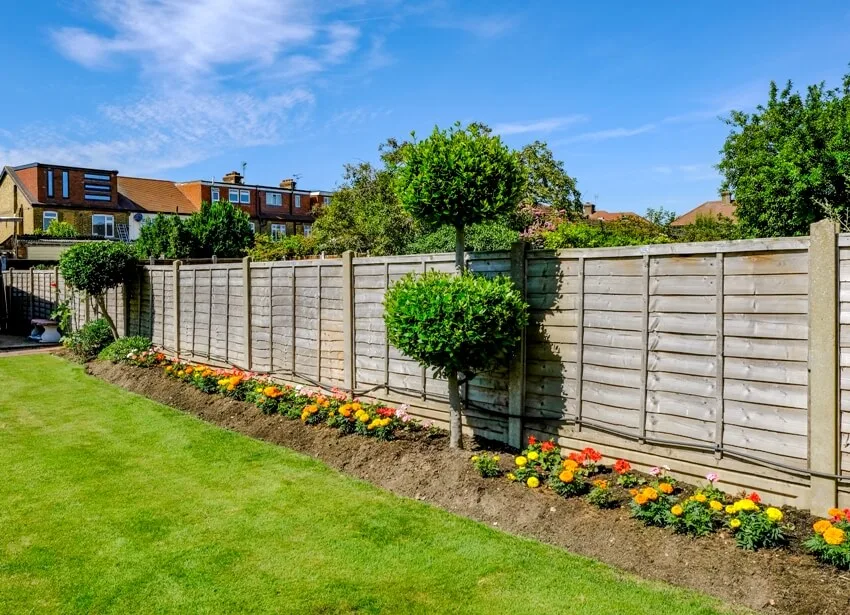 Shiplap fence panels will last as long as the material they are made from is rated to last. Wood shiplap must be stained or oiled every few years to prevent rot and deterioration.
Properly maintained shiplap fencing made from high-quality wood can last an average of 15 to 20 years.
Vinyl or PVC shiplap fence panels can last from 20 to 30 years, depending on the climate where the fencing is installed.
Shiplap fencing is a popular choice for many homeowners, and in addition to securing property or working as a privacy screen it creates a landscape centerpiece.
The numerous choices of materials, board lengths, gap sizes and height combinations form an artistic design for your property that easily blends with other landscaping elements.
If you are designing your yard there are a variety of programs that can help with materials, planning and layouts. See our top picks for fence design software here to help visualize your project before purchasing any fencing.