See the best places to look for free landscaping rocks including things you can do to increase your chances of getting free rocks and what's the best type of rock for landscaping.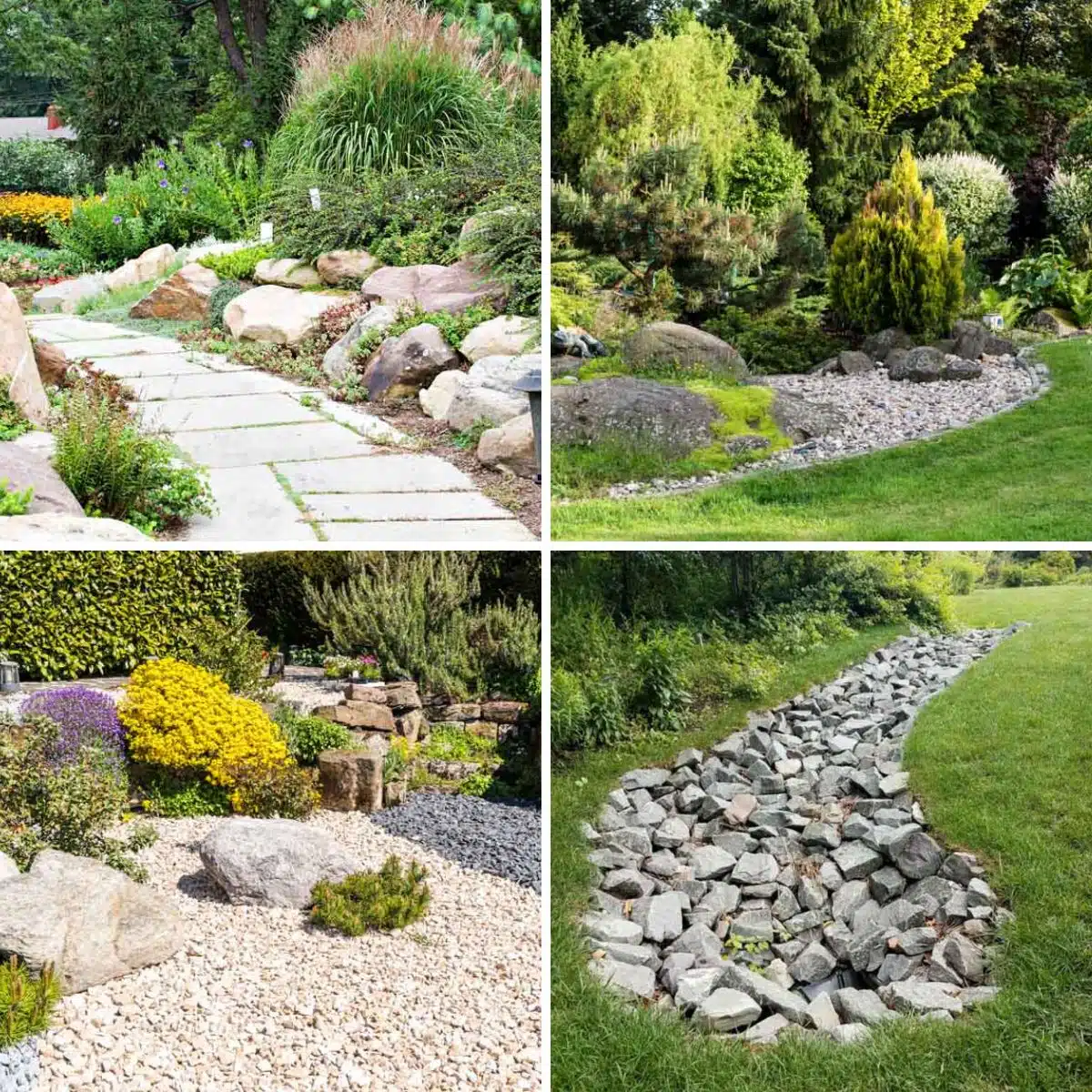 Landscaping rocks can be an incredibly useful tool in giving your yard the final touches to finish off its curb appeal. However, you might be wondering if you really have to shell out plenty of cash to put a natural item in your yard. Luckily, there are a few avenues you can try to snag plenty of free landscaping rocks to reinvent your outdoor space.
How To Get Free Rocks for Landscaping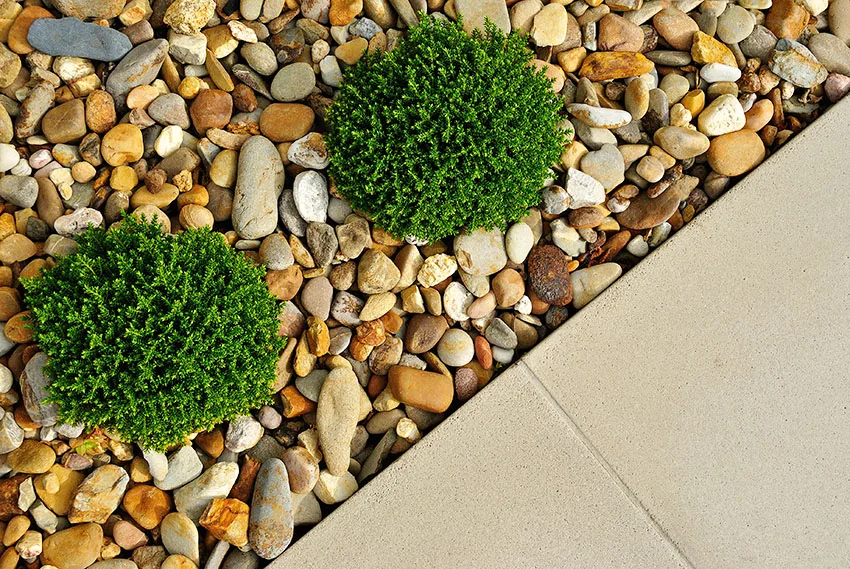 When you're looking to increase the appeal of your landscape with landscaping rocks, you don't have to worry about breaking the bank to do it. These are some of the best places to look for free landscaping rocks.
Check Craigslist
Craigslist is among one of the most popular consumer-to-consumer websites to sell items. You can find almost anything you need here and it's categorized for easier searching.
This includes the chance to see a post about cheap or even free landscaping rocks someone wants to get rid of. Since this site is updated often with a lot of users and often treated on the basis of as-long-as-supplies-last, you'll need to check back regularly and act quickly if you see something you like. If you don't see something right away, keep checking back in from time to time as long as you're looking.
Place An Ad For A Free Haul-Away Service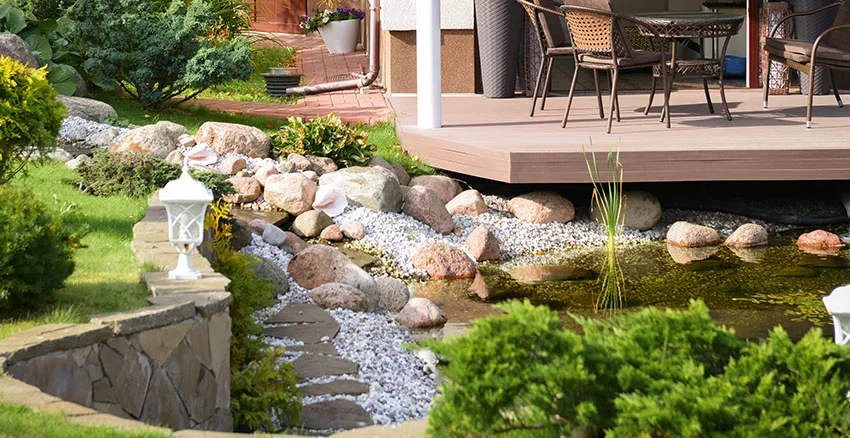 Sometimes searching means more than just looking around. There are times when it's helpful to reach out to express what you're looking for to expand your resources and have people who know what you're looking for and how to contact you.
Haul-away services are often hired to remove things from people's yards or homes when they don't have the space, time, or interest to do it themselves. This means that they come into possession of a lot of things they don't have much use for. There's a chance you can snag some hauled-away rocks.
Facebook Marketplace
Social media is a great tool for connecting with other people. This includes sales or giveaways when someone is trying to get something they don't need off of their hands.
The study of the micro-landscape focuses on the rock surface itself, the relationship between the rock art and the rock, and the occurrence of individual compositions and accumulations on boulders. – Carving Interactions: Rock Art in the Nomadic Landscape of the Black Desert, North-Eastern Jordan, Nathalie Østerled Brusgaard
When it comes to finding things in your neighborhood at a discount or even completely free, you can't go wrong with Facebook Marketplace.
These pages are great to keep an eye on when you're looking for almost anything in your home – including landscaping rocks. You can even create a post of your own, asking anyone to reply if they have the landscaping rocks you're looking for.
Freecycle.org
Just like Craigslist, there are other websites you can use to find items you need. Unlike Craigslist, though, you don't have to worry about paying money for the things you find.
According to the mission statement from The Freecycle Network, the nonprofit is dedicated to helping people by "giving or getting stuff for free in their own Towns." The goal is to keep these belongings from just ending up in a landfill while also helping out your neighbors. They aren't specifically landscaping rocks but you can check around as you might on a site like Craigslist.
Nextdoor.com
A good place to find free rock materials and landscaping supplies is in your own neighborhood. Joining Nextdoor and searching their 'For Sale & Free' section may help you find what you need.
As I was writing this article I did a search and found several listings for free landscaping rocks that just needed to be picked up and hauled away. During my search there were free lava rocks, decomposed granite, river rock, and tons of fill dirt. Looking further I found free wine barrels, cut wood , and garden pots.
Check Local Newspapers or Online Forums
Any place where neighbors or others in a wider locale can communicate with one another is a great place to look for free landscaping rocks. After all, these spaces often foster a sense of community and may offer spaces for giveaways like this.
Your local paper is a good place to start. Here, you can see if anyone has any announcements that could help your search. Don't just stick to print newspapers, though! You'll have even more luck if you widen your search to include local online forums.
Help A Farmer Or Landscaper
Farmers tend to spend a good portion of their time making sure their land is ready and working to help them enjoy a bountiful harvest when the season ends. One thing that really doesn't help is a field full of rocks.
You can help them clear these away and you might even get to keep some! If you're really fortunate, maybe they'll already have the rocks cleared and just need someone to take them away.
Similarly, if you help out a landscaper, there's a chance they'll have leftover or old rocks that you can use in your own landscaping.
Building Construction Sites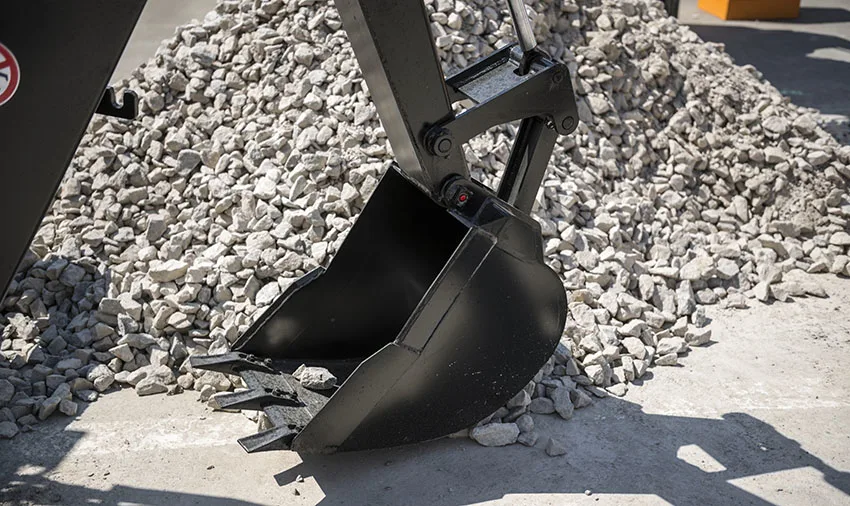 When a construction crew starts working, they often have to clear away a good amount of rocks and stones. To the crew, this is a bit of a mess and they usually end up hauling a lot of this waste away at the end of their project rather than using it.
So, if you stop by the foreman's office and ask if they have any of these stones, they might just be happy to let you take some of them off their hands. Just make sure to ask – you should never just wander onto an active construction site!
Road Construction Crews
Similar to a construction site, you might find luck finding free landscaping rocks thanks to a road construction crew. Once again, they're likely clearing away a lot of rocks and stone while they work.
Once again, don't forego safety here. You don't want to just stop your car in traffic and hop out to wander onto a construction site.
Remember, construction sites can be really dangerous if you aren't careful. It's better to contact a foreman about getting rocks to avoid distracting workers or endangering either them or yourself.
Rockhounding in National Forests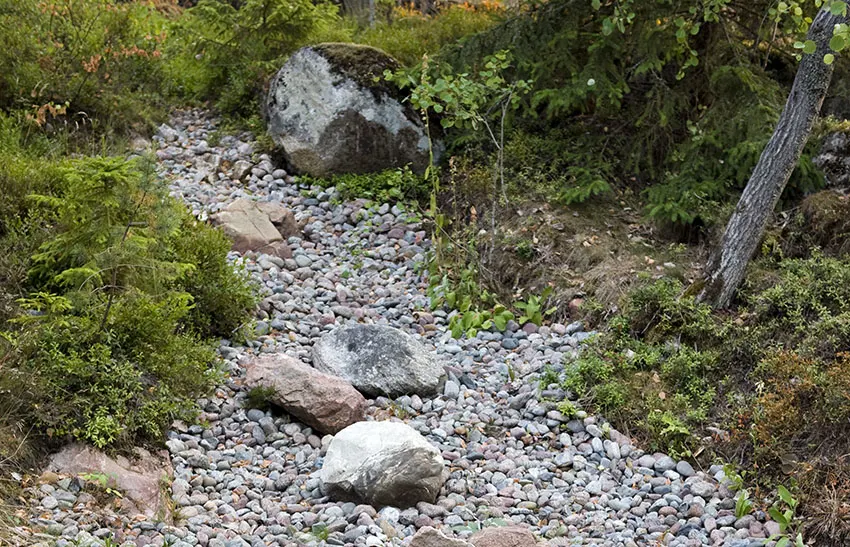 "Rockhounding" refers to the activity of searching for and collecting rocks while you're out and about. The best part is, that the end result is completely free! This is a great way to get free rocks while you enjoy your hike and explore National Forests.
However, there are some rules to rockhounding. While you can rockhound in most National Forests, you can't practice rockhounding while you're visiting a National Park. Keep in mind, that there are sometimes limits to these allowances but they're often quite high. For instance, you can rockhound up to 250 pounds of rocks a day in Utah.
Check For Free Signs In Your Own Neighborhood
We've already talked about a few ways that your neighbors can help you out when you're looking for landscaping rocks. If you have an afternoon to curb shop for a while, you might just get lucky!
Naturally, you can't just walk up to someone's yard and steal their landscaping rocks. On the other hand, you can keep an eye out for signs that neighbors are giving something away or giveaways and trash piled on the curb. After all, your neighbors may have just completed a renovation of their own and might be trying to get rid of landscaping rocks they no longer need.
Call Local Junk Removal Companies
Much like haul-away services, junk removal companies are there to help remove copious amounts of trash or debris from a home. They're pretty common when someone is moving or after a major renovation.
The latter can really help you out here! After all, this is a junk company. What they collect is simply headed to a landfill, in most cases. So, there's not much harm or disadvantage to the company if they give the landscaping rocks to you rather than toss them out.
How To Increase Your Success Getting Free Landscape Materials
Keeping a vigilant eye on the resources we've seen here but there are some things you can do to help increase your chances.
One of the best ways to do this is to make a social media post or some sort of public announcement that you're looking for landscaping rocks. Having people come to you with answers while you look around yourself can really help expedite the process.
The other best tip is to keep checking! You might not find free landscaping rocks around your neighborhood or online right away. These resources aren't static, though, and you might find what you're looking for by checking back in a little later if you don't see any landscaping rocks.
What Size Rocks Are Best For Landscaping?
Different sized landscaping rocks are used for different purposes but, as a standard rule, you'll want to look for rocks that are about an inch or two in diameter.
Rocks that are an inch or two are the perfect size to pile up around your garden, on a pathway, or decoratively around the yard. This is a rather standard size for landscaping rocks as well, making it easier to find when you're looking for free landscaping rocks as well.
What Other Materials Are Available for Free?
Along with stones, and boulders you can find a variety of other materials for free. Some of the popular finds include dirt, planting soil, mulch, sand, shrubs, and even trees.
Free dirt is always in supply and can be useful for back-filling a retaining wall, raised planters for herbs, or planting flowers around the house. Sand is useful for a flagstone patio plan, backyard path, or mixing with soil for plants with fine roots.
Before agreeing to pick up dirt make sure to ask for information such as where the dirt came from to ensure it's suitable for your project. Fill dirt from construction sites is often chock full of stones that are not usable for gardening soil.
What Is The Cheapest Type Of Rock For Landscaping?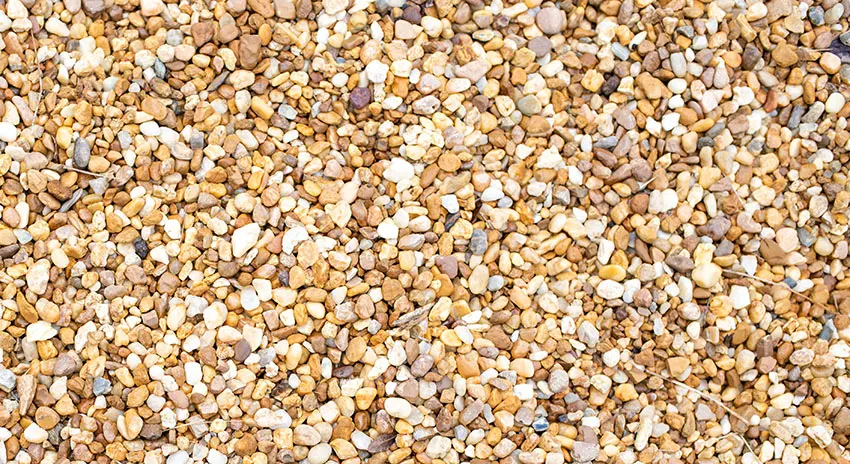 If you don't find success looking for free landscaping rocks, don't give up just yet! There are affordable options on the market as well.
When you want to keep your budget low, different types of gravel such as pea gravel or crushed gravel are some of the cheapest options available. Pea gravel runs at about $4 to $7 for a 0.5-cubic-foot bag. By comparison, crushed gravel costs about $0.50 to $2.00 for every square foot.
See more related content in our article about the types of landscaping rocks here.