Welcome to our gallery of desert landscape ideas including front yard, and backyard designs.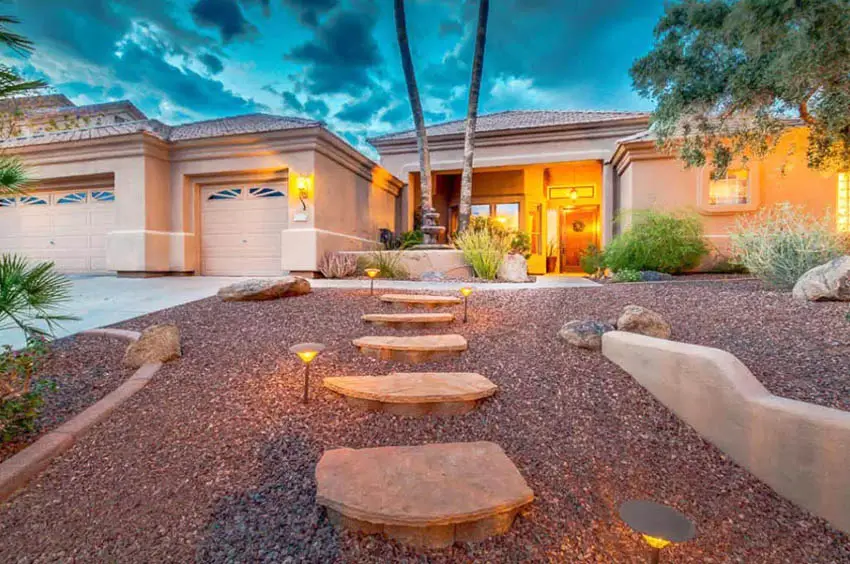 Landscape design is just as important to the appearance of your home as the furniture you keep in it and the design of the house itself. However, if you live in the desert, you might be worried that your options are limited due to the harsh climate.
Actually, desert landscape design holds a lot of potential! These ideas will help you set your own desert exterior up in a way that will make you happy to enjoy the sun.
Hardscape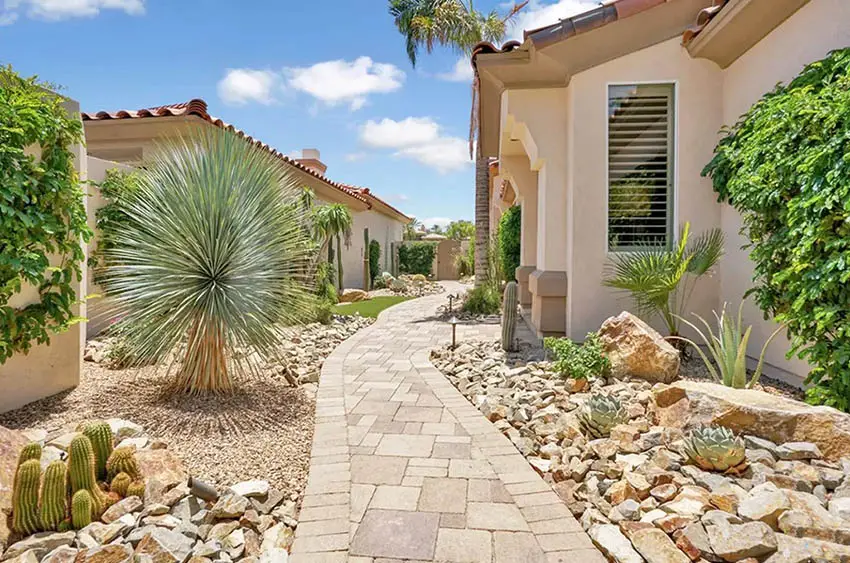 Hardscaping is the part of your landscape that uses man-made materials rather than plant life. This can include pathways, driveways, and any clearings made of fabricated materials. This can serve as a great way to contrast any vegetation you might use.
Traditional building materials are the best choice for Southwestern-style hardscape. This includes gravel, stacked stone, and adobe-mud, just to name a few. You can also incorporate more contemporary materials such as concrete & brick pavers or steel accents to add a modernized touch to your hardscaping designs.
Softscape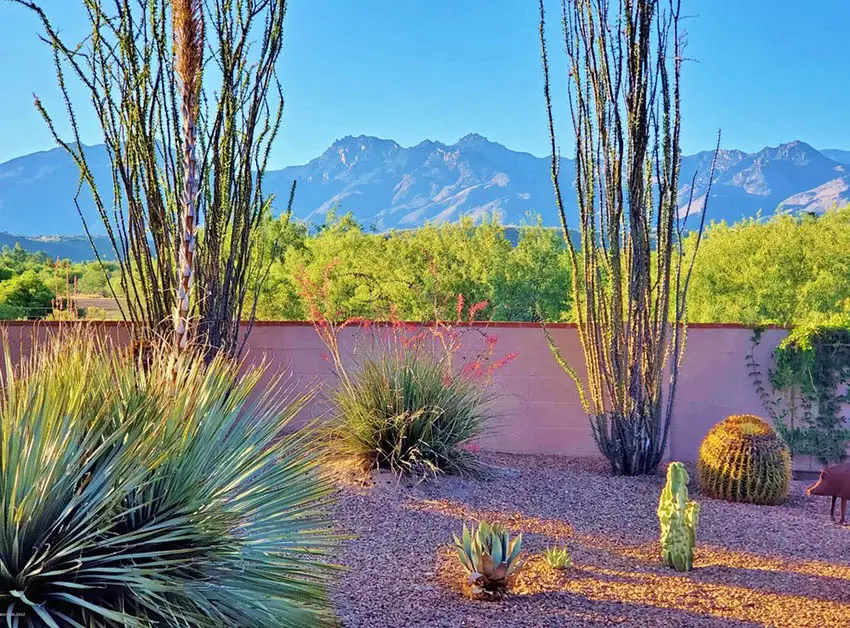 Softscaping, as the name suggests, is the opposite of hardscaping. The practice uses natural materials to decorate your landscape. For instance, the use of trees, bushes, flowers, and natural stone to design your yard would fall under the category of softscape.
Sandstone and sun-bleached wood are both great additions to desert landscape ideas. Wildflower blooms and plants such as the hairy desert-sunflower are also good choices to add to your yard.
Walkways & Paths
Walkways and paths are an essential part of any design. They guide you and anyone else outside from place to place. Walkways also serve as a way to keep guests from trodding on parts of the landscape where they should such into gardens.
In desert landscapes, it's best to keep these walkways paved and clear. To keep the natural look consistent, many homeowners choose to use stone walkways. Beds of gravel or pebbles are also a common choice.
Accent Walls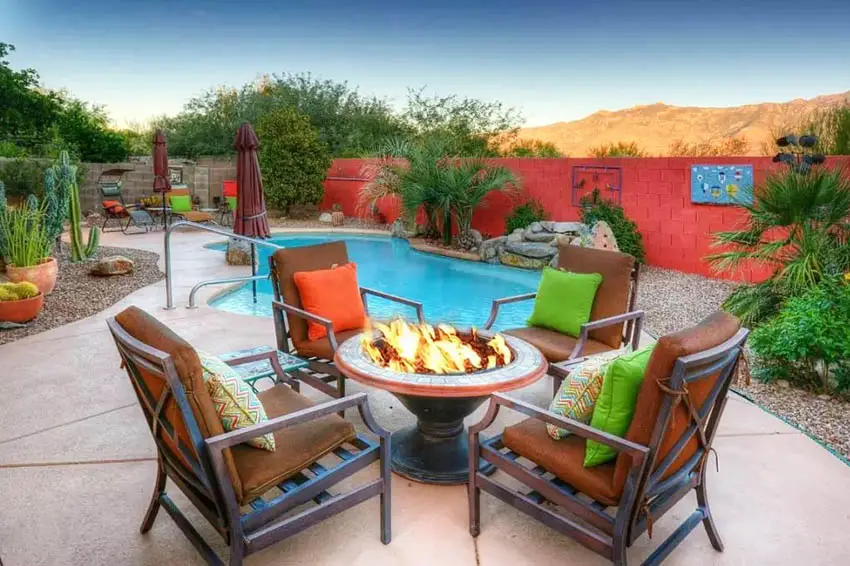 An accent wall doesn't necessarily serve any structural purpose but offers a visual effect. They may serve a functional purpose, such as offering some privacy or as a pool waterfall, but many are used as a backdrop for other features, such as a garden or bed of ornamental grasses.
These walls are also a great way to add a pop of unnatural color to your landscape design. For instance, a popular choice is to add an accent wall and paint it a rich, warm color such as rusty orange.
Dry Creeks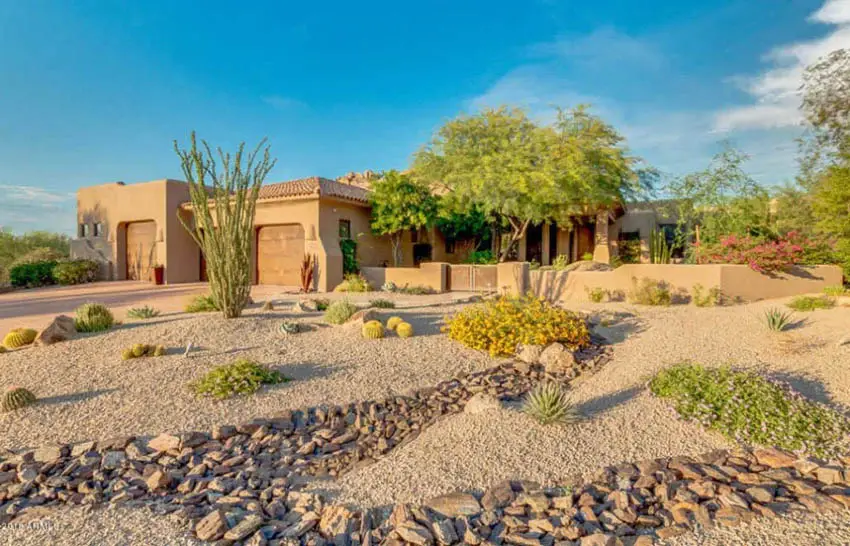 If there's one defining feature of the desert, it's the arid environment. Deserts aren't well-known for their large water supply, which can be used to your advantage in landscape design.
One of the best ways to denote a desert-like landscape is to imply a lack of water just as much as you worry about designing what is in your garden. This can be accomplished by using a dry creek bed in your design.
Water Features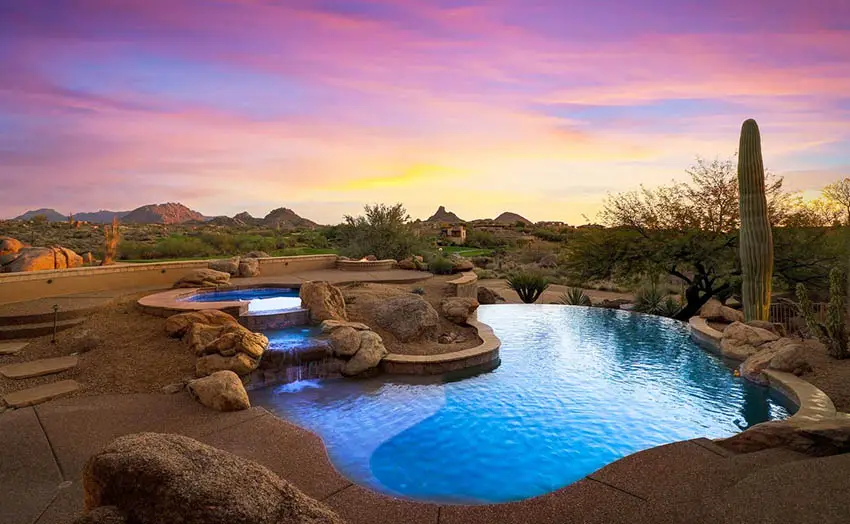 When you think of a desert landscape, you might not think of water right away. However, water is essential for life and is often used as a showcase in desert landscapes as an oasis of sorts. These are often limited and ecologically considered. Proper desert landscaping isn't going to waste a high amount of water. After all, it's often in limited supply in these climates.
One of the best patio water feature ideas is to have a small fountain in your yard. Recirculating fountains are particularly popular because they don't easily fall prey to excessive evaporation. Additionally, many homes with swimming pools have water features such as waterfalls, bubblers, and fountains.
Pergola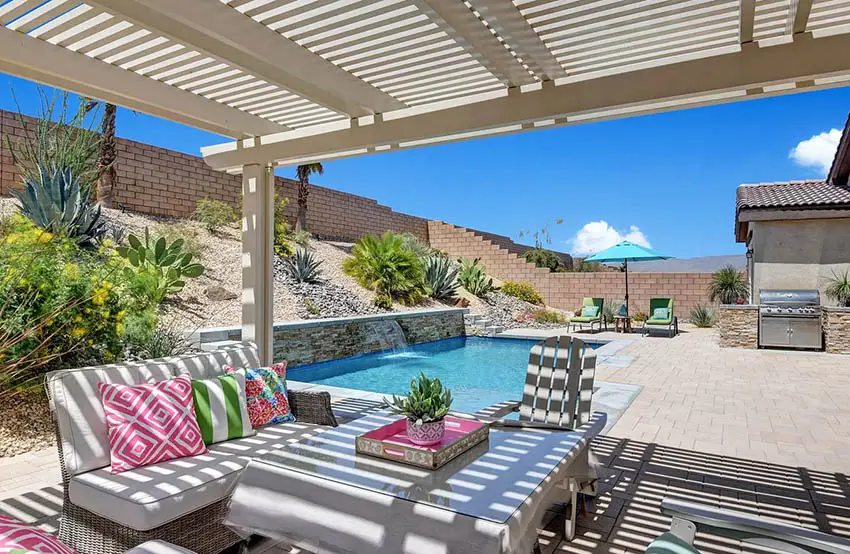 While beautiful, the desert can be deadly hot. The last thing you want is to spend an afternoon lounging in direct sunlight. This could easily lead to problems like sunburns alongside probable discomfort. By using pergolas in your landscape, you can give yourself some refuge from the shade when you need it. See more pergola ideas here.
Fire Pit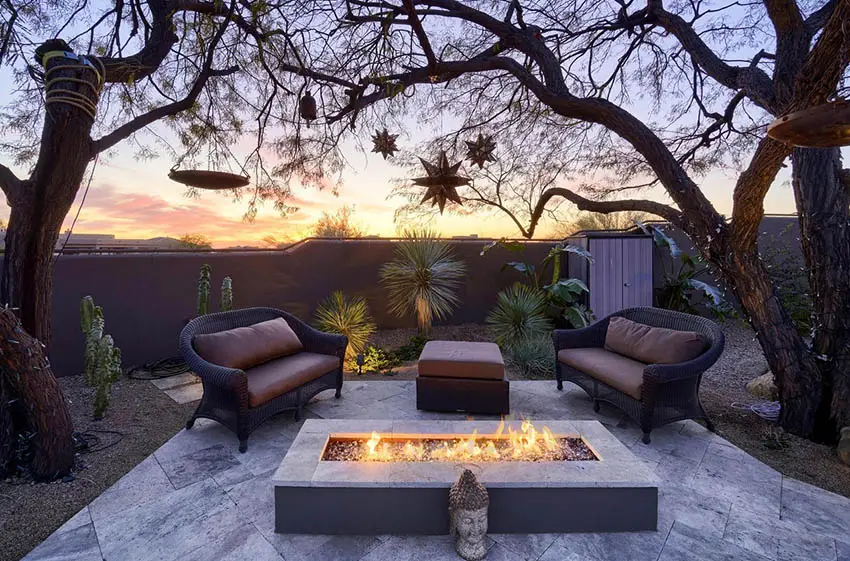 While the daytime sun heats the desert up to intense temperatures, that temperature drops rapidly after the sunset. Yet, you might not want to abandon your carefully-designed landscape the minute the sky starts to darken.
A great way to add a little warmth and plenty of ambiance is to add a fire pit to your yard. Fire pit designs can be installed in-ground or above ground and work well with plenty of seating around them.
Shade Trees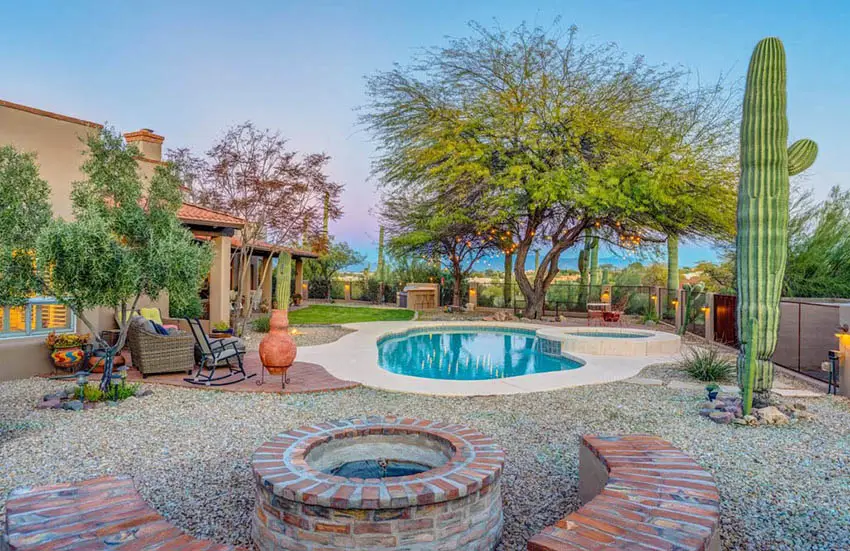 As we've covered already, desert days are hot. The sun beats straight down, and there isn't a lot of water to offer relief. To make your yard a place that you want to spend time in, you're going to want to make it comfortable.
One of the best ways to combat the heat is to plant leafy trees to offer you plenty of shade. Desert willow and mesquite options are great places to start.
Decor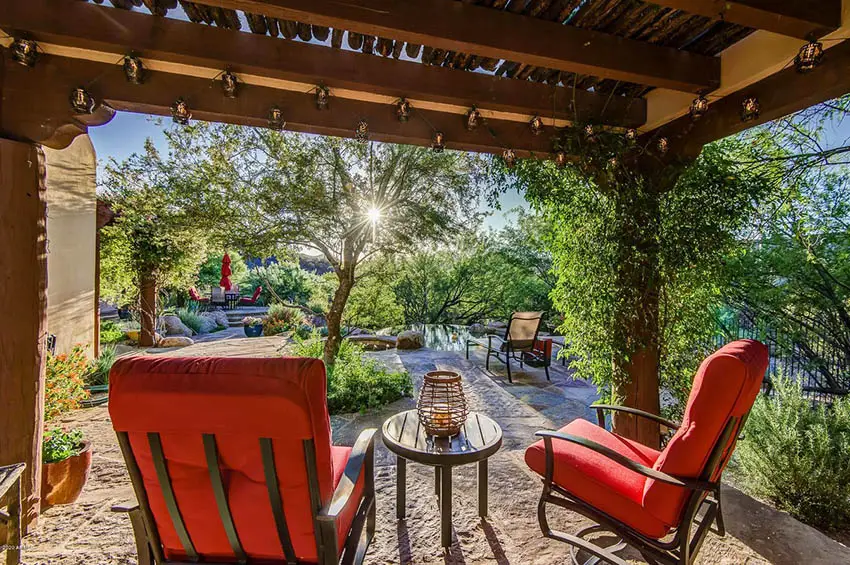 For decor, you can use iconic symbolism that has become a traditional choice in desert landscapes over the years. This can include natural elements like plants and bleached skulls. Alternatively, you can use man-made items that capture the environment, such as Native American woven patterns.
More contemporary desert landscape ideas sometimes use materials like metal to create sculptures and other modern decor.
Lighting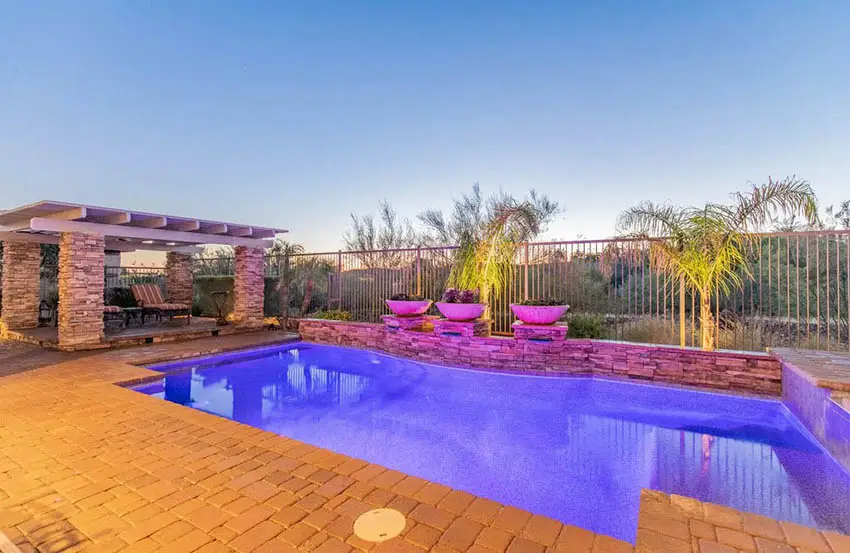 Outdoor lighting can be used to provide ambiance and highlight areas you want to use as a focal point. From string lights to those that illuminate the pathway to dramatic accent lighting they all can make a big impression in the yard.
Front Yard Desert Terrain Landscaping Ideas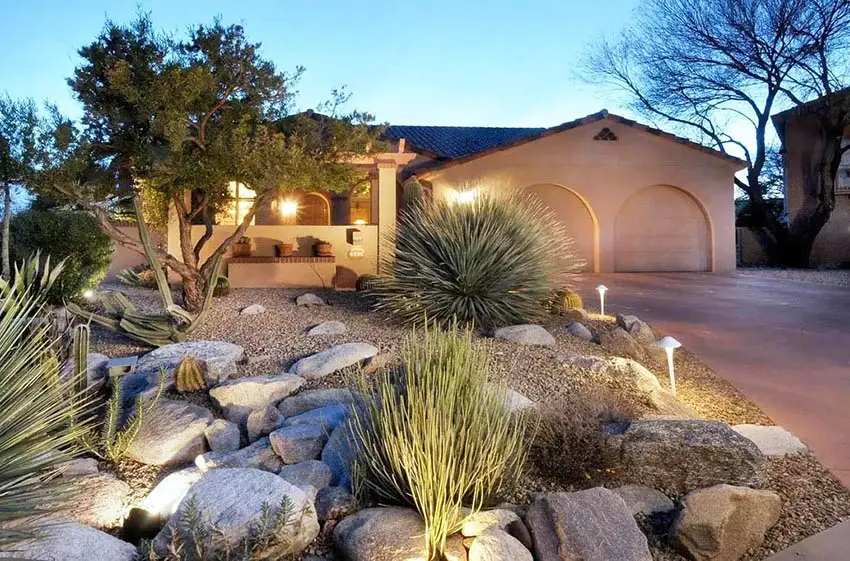 When landscaping your front yard, you might not be as worried about having places to entertain. This is often a task relegated to the backyard. Yet, the appearance of your front yard is the first thing someone sees when they visit or even drive past your house, and it's essential to your home's curb appeal.
The front yard is a great place to add plenty of plant life. You'll also want to ensure you have a walkway guiding visitors to your door.
List of landscaping elements and plants:
| Landscaping Element | Description |
| --- | --- |
| Cactus Garden | Various cacti shapes and blooms. |
| Desert Wildflower Bed | Colorful flowers e.g., Desert Marigold. |
| Gravel & Stone Pathways | Gravel paths with stone borders. |
| Succulent Arrangements | Mix of agaves, aloe, and sedums. |
| Native Shrubs | Desert shrubs like sagebrush. |
| Rock Gardens | Plants among boulders and pebbles. |
| Raised Planting Beds | Terracotta or stone-raised beds. |
| Desert Grasses | Grasses like Blue Grama. |
| Xeriscape Design | Drought-tolerant plants & efficient irrigation. |
| Water Feature | A small recirculating oasis. |
| Desert Trees | Trees like Palo Verde or Mesquite. |
| Yucca Plants | Spiky statement plants. |
| Natural Mulch | Crushed stones, pebbles, decomposed granite. |
| Art & Sculptures | Desert-themed yard art. |
| Night-time Lighting | Lights for pathways, plants, and boulders. |
Desert Arid Landscape Backyard Ideas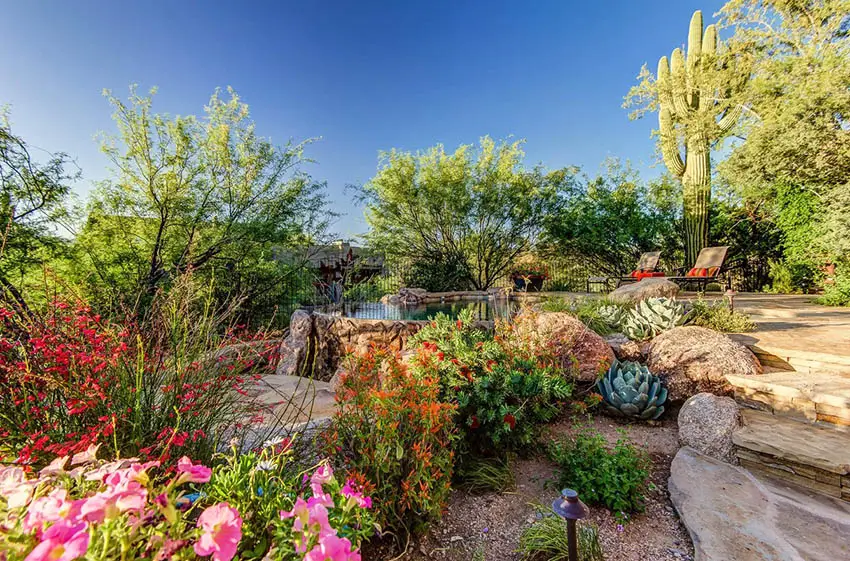 When you're creating a landscape design for your backyard, you want something that isn't only nice to look at but comfortable to relax and entertain in as well. This is why many homeowners opt for more lavish features in their backyards such as fire pits, pools, or even just additional seating.
These all offer not only something aesthetically pleasing but give homeowners the chance to enjoy their landscape with friends and family.
Desert Rock Landscaping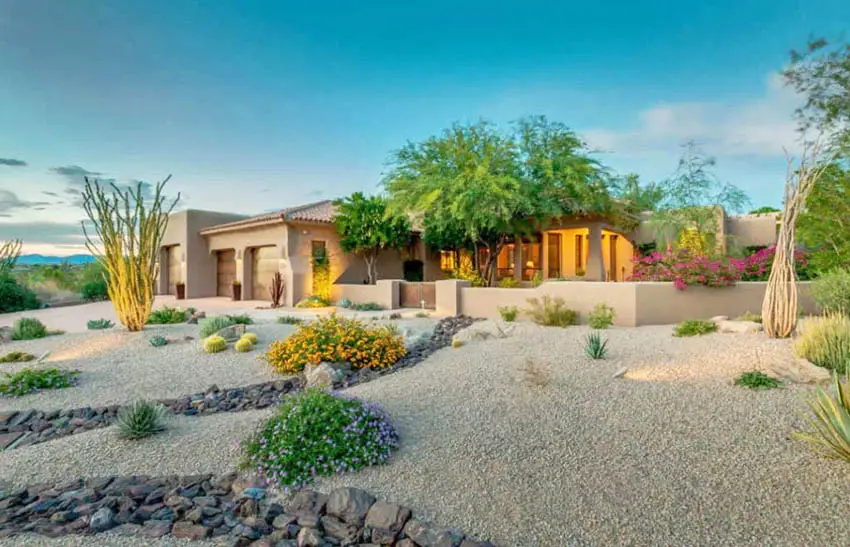 Rocks and stone work well in desert landscapes because they're naturally occurring material that enhances the appearance of your yard. These stones and rocks can be used in a variety of ways, too.
The idea that comes to mind first for many is stone walkways or gravel driveways, but these materials can be used for much more. They can be incorporated into dry creek beds, gardens, fire pits, and more. Different sizes, colors, and types are a good way to add some variety to your landscape.
Desert Drought Tolerant Plants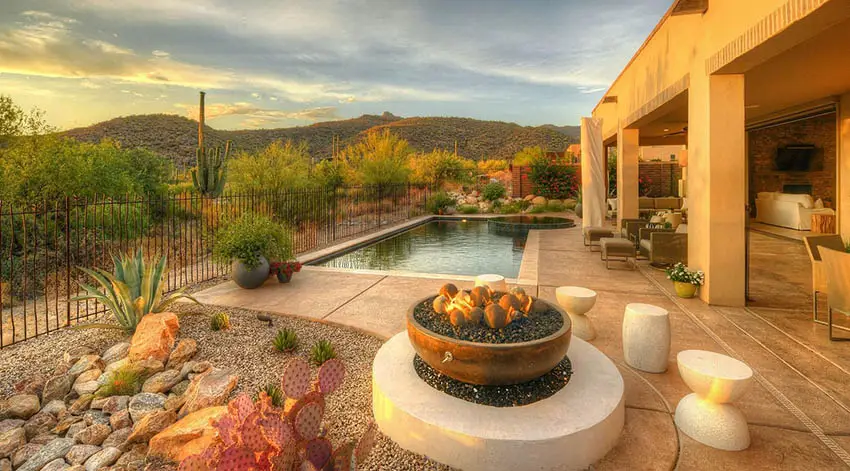 There are many different types of gravel one can use for desert landscape ideas. An assortment of gravel can give your design a more natural look or help create visual interest. The backyard above uses a gravel light feature with cacti for an alluring focal point.
Flowering Desert Plants for Landscaping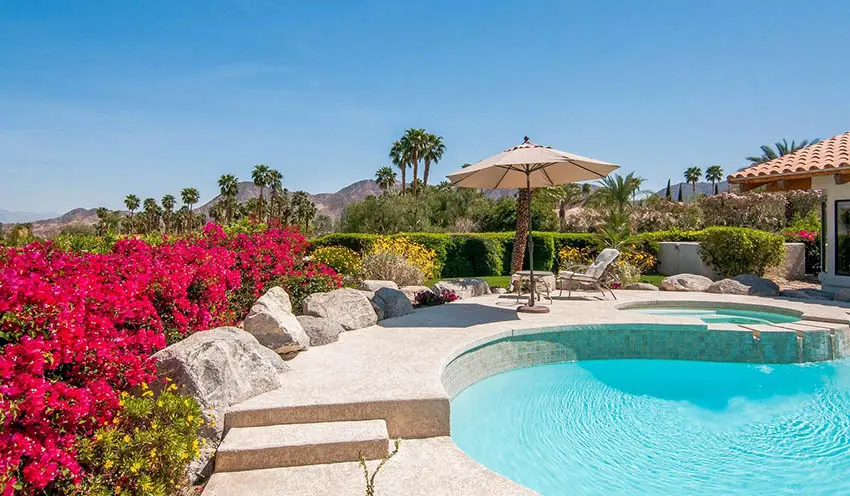 When you're considering flowering plants, it's a good idea to keep the color of those blooms in mind. Using blue, purple, or even silver plants like shrubby germander (Teucrium fruticans) works well because they add a cooling effect to the landscape.
Plants that change hue with the seasons are also great, such as the skunkbush sumac (Rhus trilobata).
Bougainvillea is a hardy vine that needs full sun and provides vibrant colors to the yard. They are a vine that can reach 30 feet tall and can readily climb an arbor or trellis.
Remember, whatever plants you use in your desert landscape need to be able to survive drought weather.
Desert Trees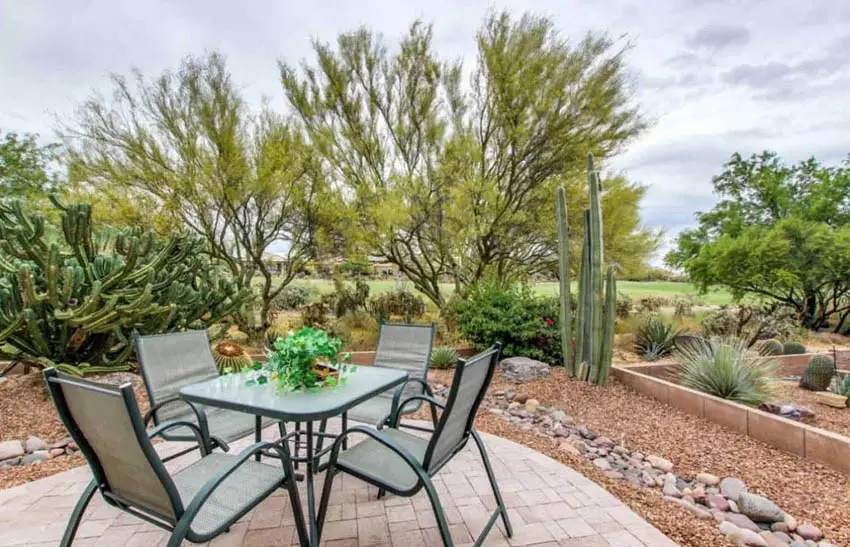 We've already discussed trees for shade, but you don't have to limit this plant to functionality. Trees are beautiful and are often used to add aesthetic value as well as shade to your yard.
Desert Shrubs for Landscaping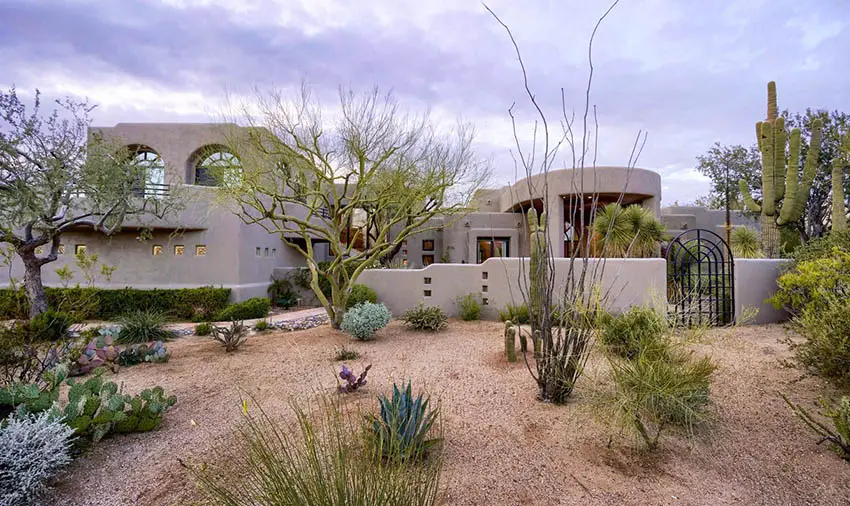 Again, the best way to add plant life to your garden is to use plants that already tolerate a desert environment. This means you'll want to look for drought-resistant shrubs that won't suffer for the lack of water outside of your home. If you don't do this, you'll struggle to keep these plants alive.
Plants like Ruby Muhly Grass (Muhlenbergia reverchonii) and Gray Creeping Germander (Teucrium aroanium) are good examples of what could work.
Convert Lawn to Desert Rock Landscape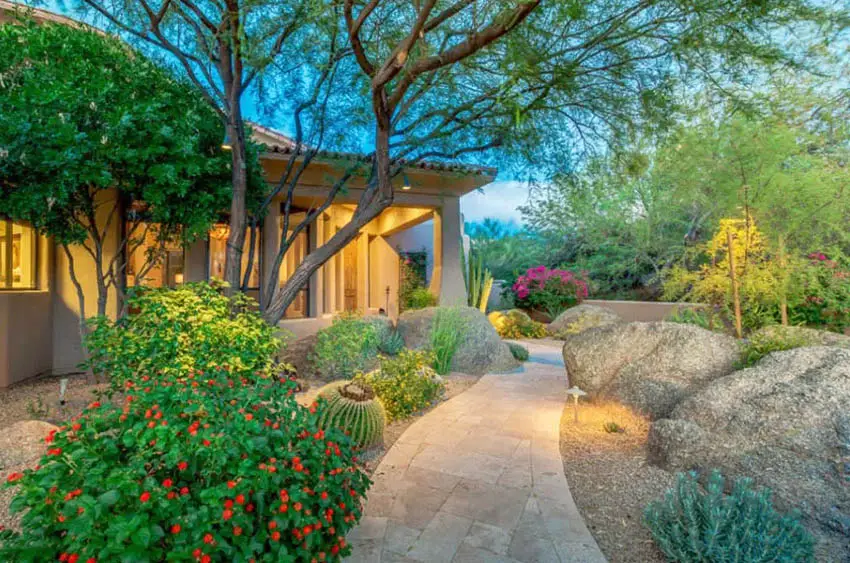 The best way to convert your standard lawn into a desert landscape is to switch it out with xeriscaping, a type of irrigation-free landscaping.
Xeriscape doesn't require as much water, which will help you not only achieve a more desert-like appearance but it'll also save you money on watering your lawn later on.
Of course, the more perplexing step to many is how to "get rid" of your old lawn. This is often accomplished easiest by killing the grass through a process such as solarization, sheet covering, or vinegar. Alternatively, you can manually dig and remove the lawn.
Another way to convert your lawn to get a more drought resistant backyard is to install artificial grass. While artificial grass can be expensive at first, it can pay for itself by cutting maintenance costs.
Examples of Xeriscaping for reducing water demand.
| Xeriscaping Element | Examples/Description |
| --- | --- |
| Drought-Tolerant Plants | Cacti, Succulents, Grasses, Shrubs, Trees |
| Irrigation | Drip systems, Soaker hoses, Early morning watering |
| Mulching | Organic (bark, straw), Inorganic (gravel, crushed rock) |
| Soil Improvement | Enhance soil for water retention and use compost. |
| Limiting Grass Areas | Ground covers, Native grass replacements |
| Water Features | Recirculating fountains, Efficient ponds |
| Pervious Paving | Gravel paths, Permeable pavers |
| Zone Planting | Group by water needs, Separate water-use zones |
| Maintenance | Check for leaks, Prune plants, Remove weeds |
| Design | Capture rainfall. Use berms and terraces |
Desert Landscaping Ideas with a Pool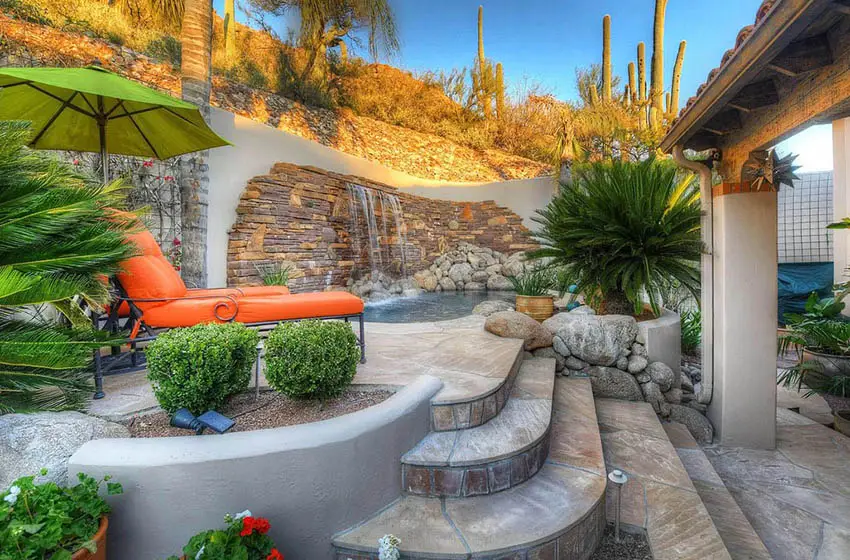 As mentioned earlier, desert landscapes are often conservative with water features. After all, there isn't a lot of water to waste in waterless environments.
However, if you want to go a step beyond and install a pool in your landscape, you can use a small pool to blend in with the landscape design. Plus, this is a great way to cool off on hot days!
One of the best ways to add desert landscaping around a pool is by adding drought-tolerant plants. Choose plants that don't drop their leaves or needles, which is helpful to minimize the amount of pool cleaning required.
Examples of plants to use include Agaves, Aloe, and many different types of cacti like the Barrel Cactus. Also, consider a raised planter bed with an assortment of succulents. These are durable, require little water, and provide interesting colors and textures.
For maximum enjoyment, make sure to install a shade structure or canopy. You can build a pergola, cabana, gazebo, or hang a shade sail to provide a place to get away from the intense heat of the sun.
Just because you live in the desert doesn't mean that you have to settle for a dreary landscape. You can use any or even all of these ideas to upgrade your landscape into the yard of your dreams. You can use one of the available landscape design software programs to help visualize your ideas.