See the details of glazed porcelain tile including what it is, the different types, uses, where to use them, and the pros and cons of glazed porcelain tiles.

Glazed porcelain tiles are an excellent choice for residential purposes. They feature outstanding aesthetic and technical features, making them a solid standard for all residential usage, both floors, and walls. This technology is frequently represented by character designs that are detailed and modern, with colors that are rich in expression.
Glazed porcelain tiles are distinguished by elegant and unique hues with varying aesthetic impacts and significant stylistic diversity, resulting in refined living spaces. It is indeed a tile design that will never fail to amaze. Due to their longevity, these types of tiles can also be utilized outdoors, which helps in creating an eye-catching patio or backyard.
Additionally, having a very low water absorption rate, these tiles are as moisture-resistant as they are attractive. As you read on, you will come to learn everything there is to know about glazed porcelain.
What Is Glazed Porcelain Tile?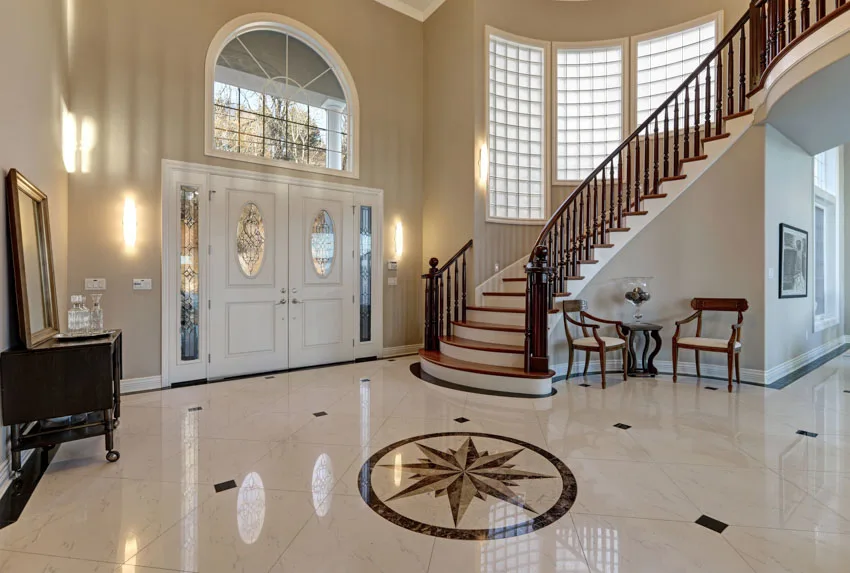 Glazed porcelain tiles are constructed of clay. The tiles are also fired thoroughly to achieve their ideal, glossy appearance. They seem to be less durable than their unglazed counterparts, but the glazing process allows for a larger selection of shapes and colors to help you achieve the exact aesthetic you want. Not to add that it decreases their stain vulnerability.
Moreover, glazed porcelain tiles can be made by coating the tile with enamel. The glaze has a significant stylistic advantage since it allows for the production of a variety of more specific visual qualities that are not always feasible on other types of materials. As a result, certain collections are distinguished by a more intricate and refined look.
For millennia, people have always used glazed porcelain tiles. These tiles can be found in Nanjing, China's 15th-century Porcelain Tower as well. Furthermore, various historical documents record the usage of porcelain tiles in European countries throughout the 15th century.
Glazed porcelain tiles continue to be the flooring material of choice for many homeowners, despite significant changes in production processes, textures, and designs over time.
Porcelain Tile Glaze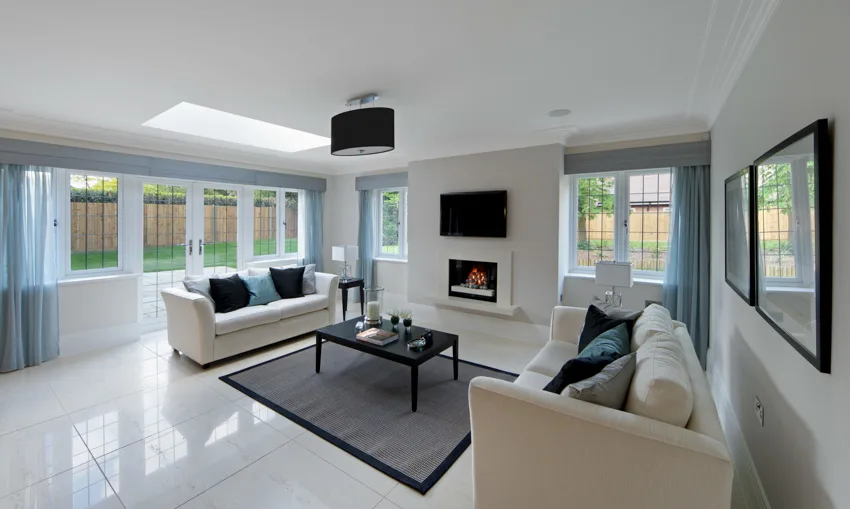 Most people think the word "glazed" means "glossy" or "shiny." In the porcelain tile industry, meanwhile, the term "glaze" refers to the decorative or patterned covering that is poured on the surface of a porcelain tile. Porcelain tile glaze is a particular type of coating or paint-like substance, not a type of textural finish that is applied to certain tile material.
For instance, both unglazed porcelain and marble can have surfaces that are "shiny," yet neither material is "glazed." You can consider glaze to be similar to standard paint in that you can have matte paint for your walls as well as glossy paint for your skirting and doors. Glaze, simply put, is a type of paint for porcelain tiles.
Recent improvements in glazing technology have enabled inkjet printing devices to print digitized images of anything one can conceive onto porcelain tiles. Inkjet processors contain up to 1000 nozzles and can print in 6 different colors at a resolution of up to 1000 dpi.
The incredible versatility of this printing method is its most important characteristic. The integration of absolute image clarity and screen elimination produced a pixelated look.
It also has the capability to print to the tile's edge and can imitate natural stone, wood, terrazzo, concrete, or any other graphic image.

Glazed Porcelain Floor Tile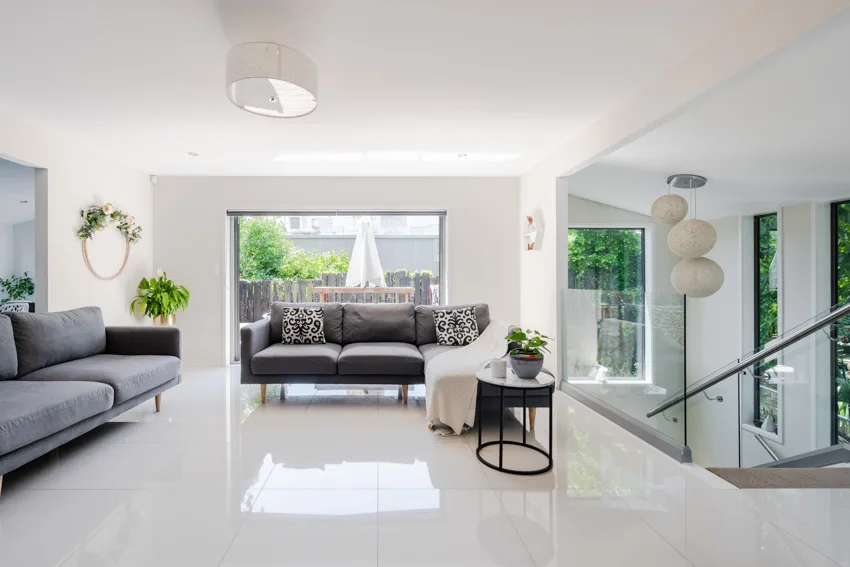 The vast majority of porcelain floor tiles are glazed. The glaze is added before the tile reaches the kiln, and it adheres to the porcelain tile's surface during the firing procedure.
Glazed porcelain floor tiles go through a second fire procedure to protect them with a liquid glass covering. This protective layer makes the floor tiles slightly slick, but it also enables inkjet printing of a wide range of designs and patterns.
Furthermore, glazed porcelain floor tile is actually a widely used flooring option. Since there are so many design possibilities available in glazed porcelain tile, there is a complementing option for any home decor. They are preferred for flooring applications due to the tile's smooth, non-porous finish, which makes cleaning a snap.
Glazed porcelain floor tiles are visually appealing and easy to maintain. Their natural luster will shine through even the dirtiest floors, and a quick mop will always restore them to their sparkling brilliance. They are more expensive than unglazed tiles, but once you see your stunningly smooth floors, your investment will be worth it in the end.
The commonly used wooden floors are particularly vulnerable to water and scratch damage. Fortunately, because glazed porcelain floor tiles are water- and scratch-resistant, they may be used in most types of rooms in a house, such as the foyer, kitchen, or bathrooms.
Glazed porcelain floor tile usually comes in four different glaze finishes glossy, matte, lappato, and textured. Lappato glazing tiles feature a brighter sheen than matte tiles but a softer touch than glossy tiles. This delicate polishing method is named after the Italian term for "semi-polished" or "honed."
Glazed Porcelain Wood Look Floor Tile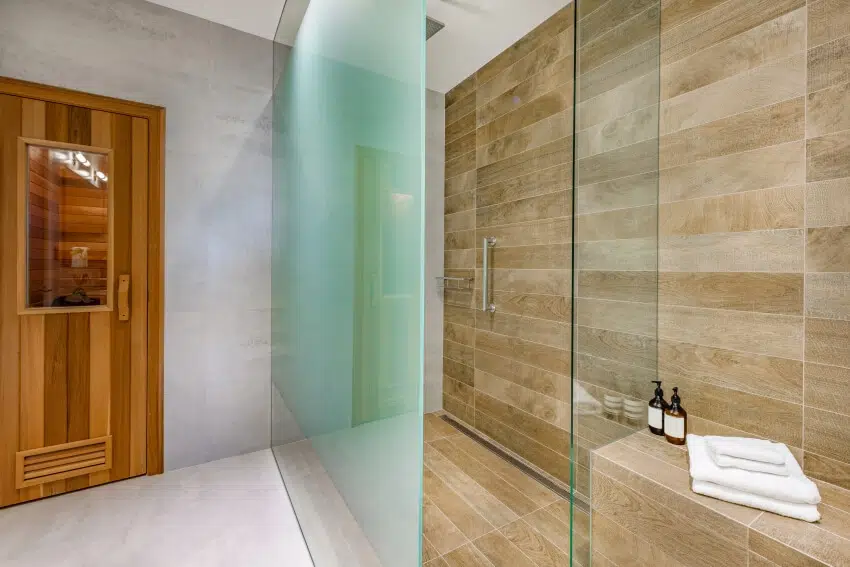 Wood-look porcelain floor tiles are a common choice for homeowners who appreciate the classic grandeur of hardwood but appreciate the versatility and permanence of porcelain tiles. It is not hard to locate porcelain tiles that mimic the visual effect of wood. Truly, they can improve the décor of any place because there is such a vast assortment available.
Glazed wood-look porcelain tile is among the greatest flooring options available at a reasonable cost. Tile that resembles genuine wood is a more cost-effective solution than classic wood flooring since it offers a cheaper price per square foot as well as some beneficial properties that make it very easy to maintain.
The advanced inkjet printing technique utilized in the manufacturing of porcelain tiles is also applied in the fabrication of glazed porcelain wood-look floor tiles. The appearance of hardwood is printed on the topmost layer of porcelain tiles with remarkable accuracy.
This is intended to make the tiles look to be made of actual wood. Sometimes, these tiles often have a slightly rough surface that accurately resembles wood grain and come in a range of styles.
Customers do have so many options to choose from when purchasing glazed porcelain tiles that mimic wood as they are manufactured and are available in a wide selection of hues, finishes, and patterns.
Several of the veneers that are obtainable are traditional oak, driftwood, and cherry, to mention a few. There is also a wide range of other high-quality types of wood veneer available on the market.
In addition, this less expensive and more water-resistant substitute to laminate flooring is suited for use in all sections of the house including damp environments, and it makes it easier to create a uniform wood look throughout a massive space.
Glazed Wall Tiles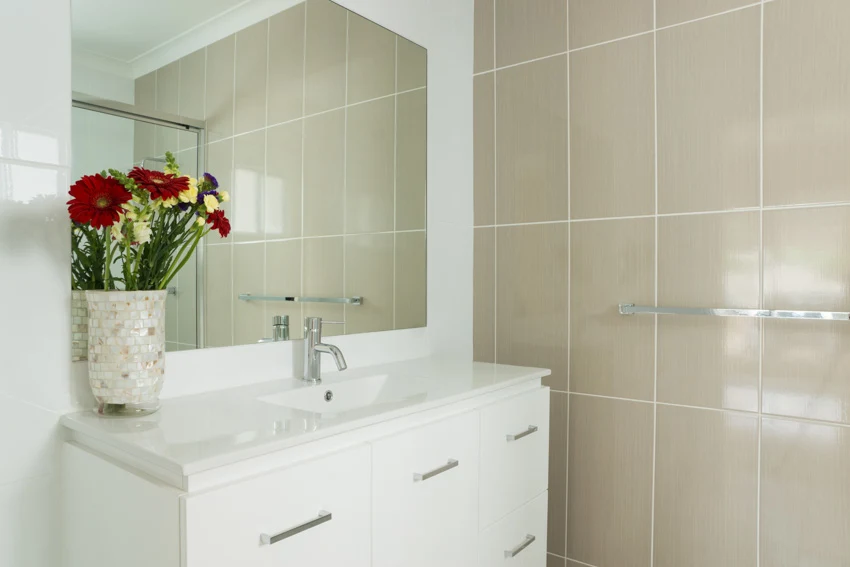 Almost all wall tiles are glazed. Glazed wall tiles do not necessitate sealing because the glaze fulfills that function. You can consider them similar to your ceramic tableware; your plates do not require sealing to prevent discoloration, but they do require washing. Therefore, glazed wall tiles are an excellent wall choice since they are long-lasting, protective, and low maintenance.
The popularity of glazed porcelain tiles for walls is still increasing, with both matte and glossy glazed tiles commonly used on walls. Another distinguishing characteristic of the advanced glazing technology is the amazing capability to print on non-flat surfaces.
Some examples include contoured or textured surfaces. This greatly expands the range of images that may be created and where the wall tiles can be installed and mimic natural wall materials like stone and brick.
Glazed Porcelain Tiles For Bathroom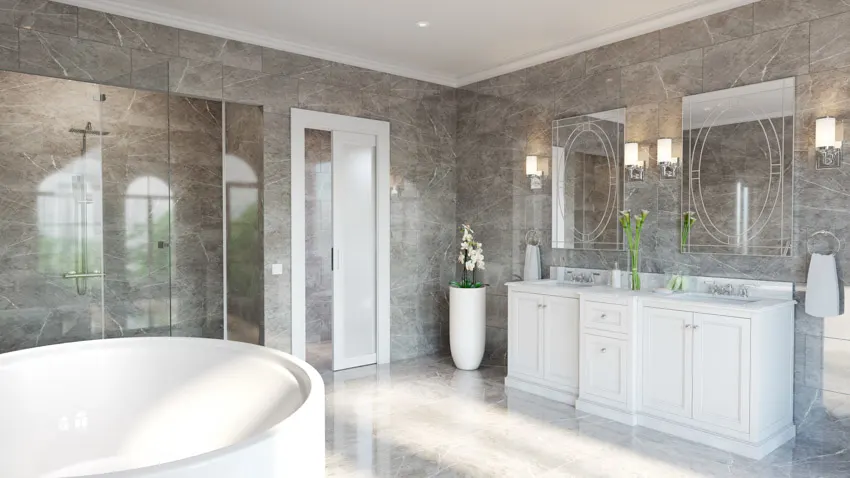 Because of the constantly wet and moist conditions involved with every home, water resistance is indeed an important feature in bathroom tiles. Fortunately, glazed porcelain tiles have a functional protective coating that makes them resistant to both moisture and stains.
This will be beneficial when your bathroom tile flooring gets wet, the room gets humid after taking a bath or shower, and when scrubbing your bathroom walls or floors with detergent and water.
Glazed porcelain tile flooring is resilient and exceedingly unlikely to crack from normal wear and tear, unlike some forms of tile. And it is no wonder that glazed porcelain is a widely used material for bathroom flooring tiles, with expertly placed and treated tiles lasting more than 10 years.
Additionally, glazed porcelain tiles are simple to keep clean. In seconds, you can just wipe off or mop up drinks, dirt, as well as other dirty spots.
Bathrooms are especially prone to stains and spills, henceforth low-maintenance glazed porcelain types of floor tiles should be the main priority for busy homeowners who want to keep their bathroom looking great without the bother.
Glazed Porcelain Tiles For Shower
Glazed porcelain tiles that are placed within a shower area are more light-reflecting. Hence, if your shower area needs additional lighting, glazed porcelain tiles can be very reliable to boost illumination.
The tiles are also water-resistant, although this makes the shower floor slick. Water can penetrate the tile due to the pores within the tile. The porosity of the tiles determines how much water they absorb.
Nonetheless, if you are renovating the shower area, you can perform a gloss test on the glazed tile. The gloss test is performed by thoroughly washing the tile to see if the surface is seamless or moderately glossy. This will help you decide if the glazed porcelain tiles are slip-resistant for your shower tile floor.

Glazed Porcelain Tiles For Kitchen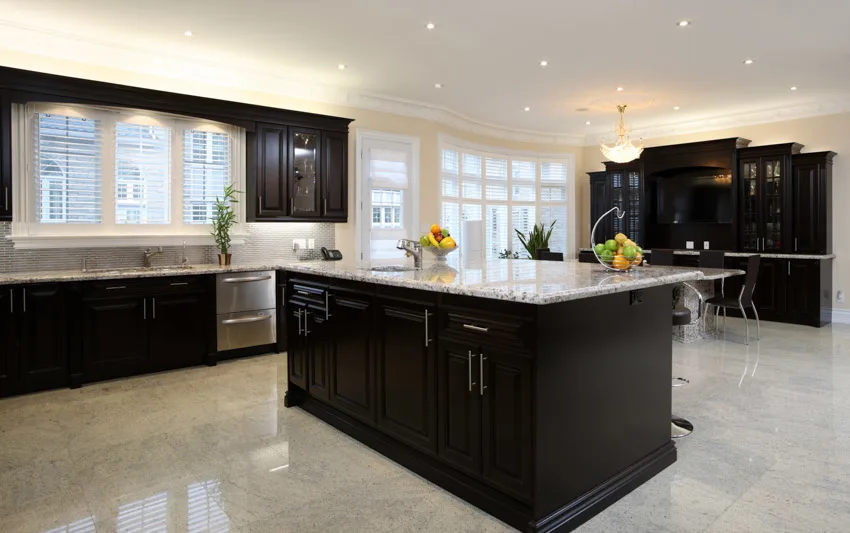 For areas like the kitchen, where the tile's seamless, non-porous finish results in an extremely easy cleanup, glazed tiles are usually preferred. Glazed tile is shielded by the protective layer from bacteria and stains as well.
It is possible for glazed porcelain tiles to still retain some texture and not always display a high shine, making them acceptable for a variety of applications in the kitchen.
Ease of maintenance is very important for tiles that are placed in the kitchen. Porcelain tiles' tougher and glazed surface helps make them easier to maintain over time. Glazed porcelain tiles require regular cleaning with a common cleanser.
Regular use of hard cleaners will aid in the removal of hard stains as well as the restoration of the glazed porcelain tiles' original appearance.
Glazed Porcelain Mosaic Tile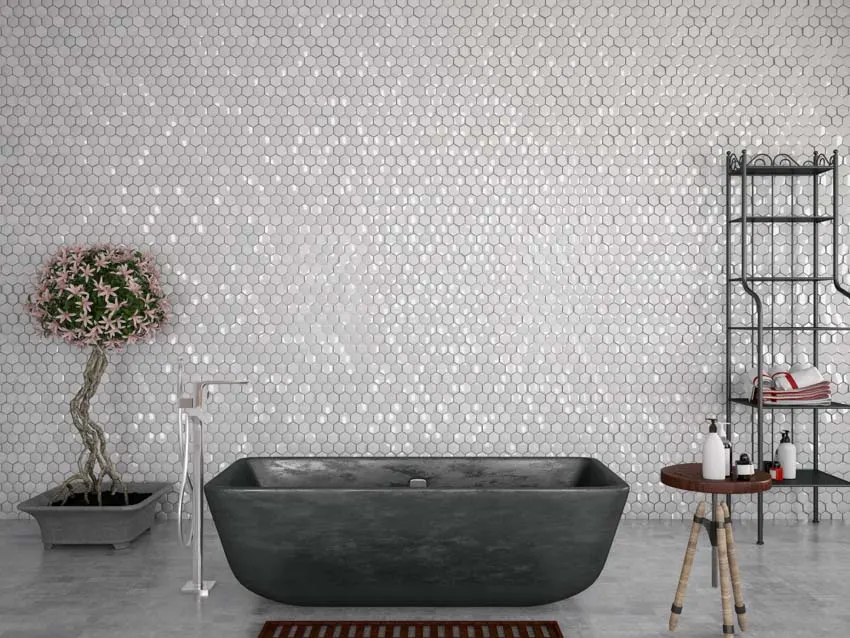 Glazed porcelain mosaic tiles are well-known for their beauty and individuality. They come in a variety of finishes and sizes to ensure a proper fit. In reality, glazed porcelain is a fashionable and long-lasting option for your mosaic tile design, which contributes to making your house very unique and eye-catching.
The mosaic is glazed to a gleaming sheen and protected to retain its luster. Hence, the mosaic tile pattern is brilliant, glossy, uniform, and rich in depth. See pictures of mosaic tile for shower walls here.

Glazed Porcelain Subway Tile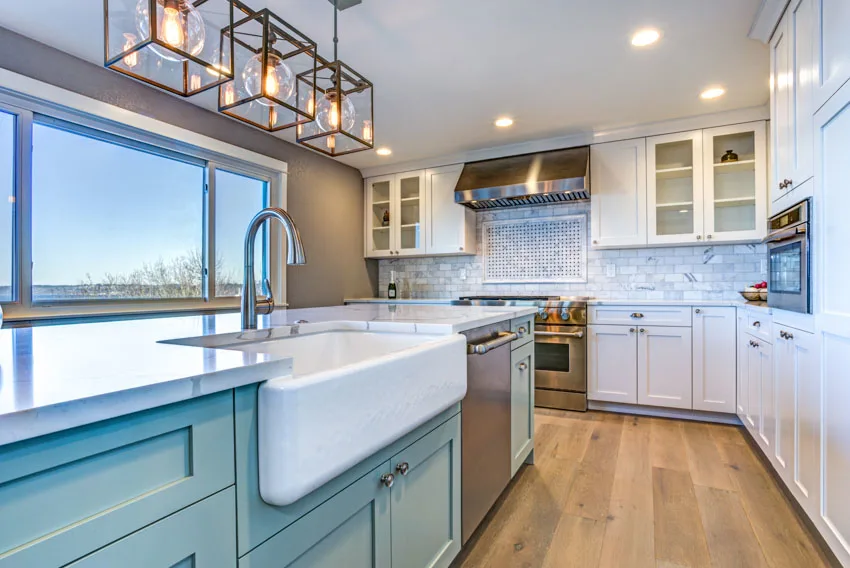 The name "subway tile" comes from the appearance of the tiles in New York City's subway station, even though those original tiles were primarily constructed of white glass.
Subway tile is normally a rectangular, solid, low-fired, glazed porcelain tile that is generally 3″ by 6″, although it is available in a range of sizes for household use. Glazed porcelain subway tile is a thin yet durable wall or floor material that is popular in kitchens.
Glazed Porcelain Tile Pros And Cons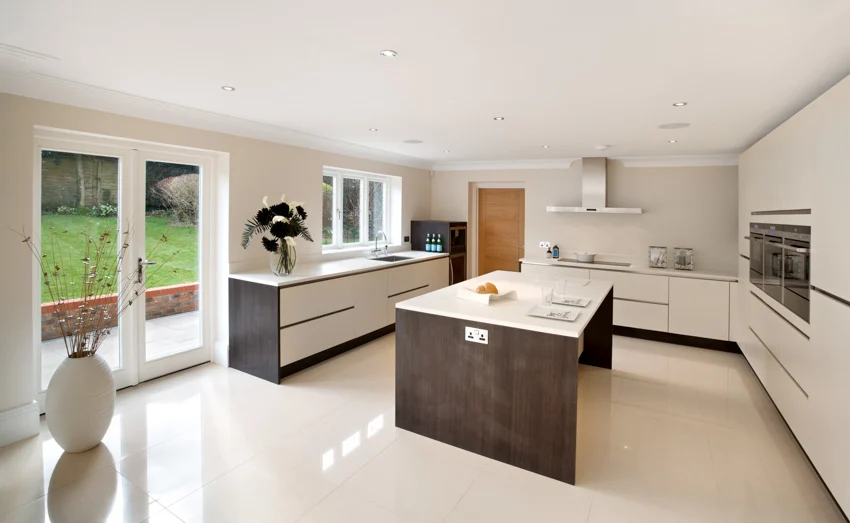 Here we share the advantages and disadvantages of glazed porcelain tile.
Pros Of Glazed Porcelain Tile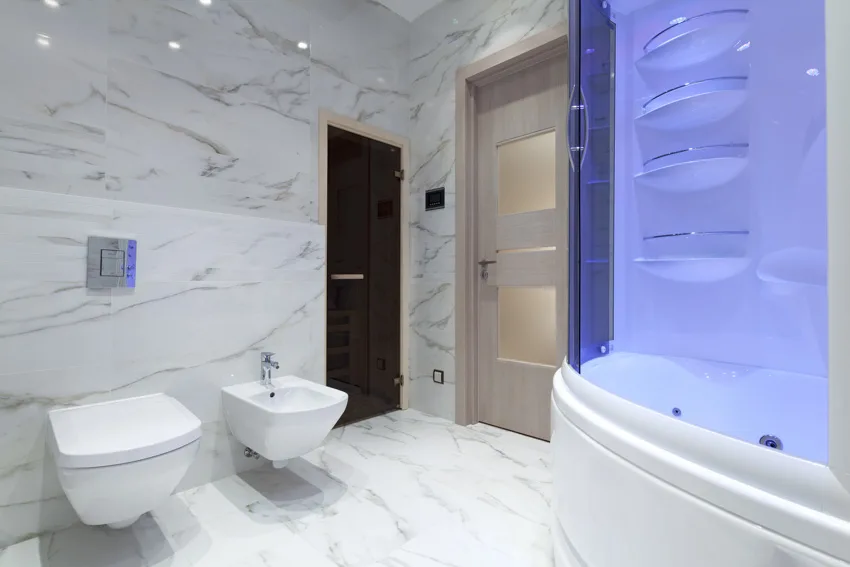 Incredible Moisture Resistance: Glazed porcelain tiles are thicker and almost non-porous due to the manner they are made. Glazed porcelain tiles must be on your checklist if you need a flooring option that can withstand moisture very well.
Since they are extremely water-resistant, they are ideal for use in bathrooms, cellars, as well as other moist areas. Porcelain kitchen countertop slabs can hold up to the daily wear and tear of a busy kitchen space and mimic the look of real marble.
Very Stain-Resistant: Glazed porcelain tile is also impervious to stains. When stains develop on the surface, they penetrate through and solidify, making them tough to remove.
Because porcelain tiles are solid, they are highly resistant to most contaminants, and stains are not given the likelihood to seep down and settle. Since spilled wine, coffee, and other liquids wipe right up, glazed porcelain tile serves as one of the greatest tile flooring solutions for kitchen use.
Easy to Clean: Glazed porcelain tile is also ideal for pet parents since it is very easy to clean whenever there is mud, spills, and other dirt that might otherwise be an issue. It is also the ideal tile flooring solution for a floor that can withstand stains effectively even in the long run.
High Durability: Precise manufacturing procedures contribute to the durability of glazed porcelain tile, reducing cracking and other problems. Glazed porcelain tile is a wonderful option if you intend to employ tile in a business setting or in a high-traffic area. When it comes to durability, glazed porcelain tile is just more reliable over time.
Long Life Expectancy: Glazed porcelain tile can be hard to break and is extremely durable, making it challenging to scratch or damage. Glazed porcelain tile is a nice and reliable option to take into account when searching for the best in the newest tile trends.
Minimal Maintenance: Glazed porcelain tiles are easy to maintain due to their excellent reliability. Simply washing them and cleaning the grout in between will keep them in good condition for years or even decades. Even if they become broken or damaged, they will still appear good because they have a consistent color throughout.
Beautiful Look: These are a tremendous amount of glazed tile options to choose from that look stunning. You can find a tile to match practically any type of material available. There are porcelain tiles that look like marble and other natural stones to fit your design needs.
Cons Of Glazed Porcelain Tile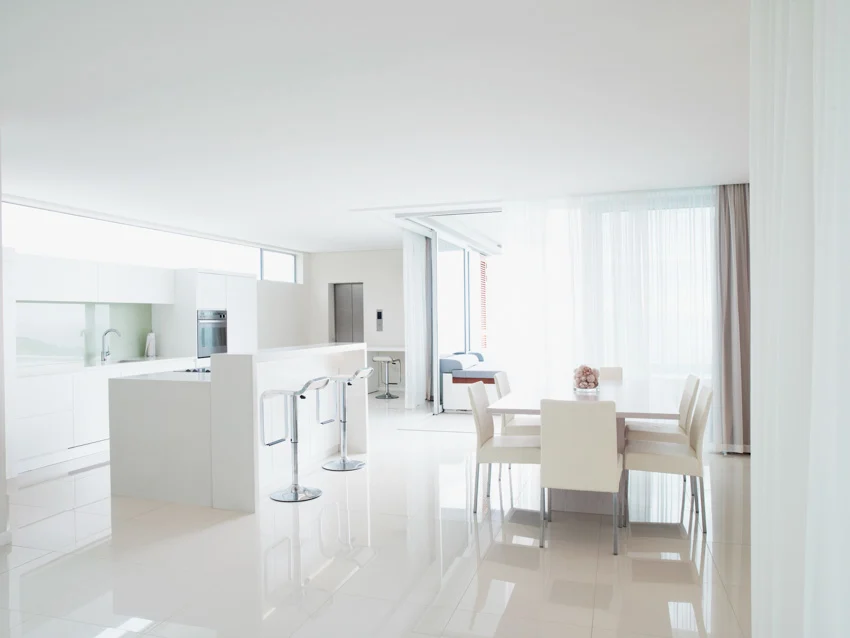 Hard to Install; Costly: Since glazed porcelain tile can be somehow hard to work with, it is also more pricey and time-consuming to lay than lighter tiles.
Builders are less keen on laying glazed porcelain tiles as they foresee a more complex process. If you opt to have these tiles installed, you must anticipate paying a bit more for expert installation.
Moderately Heavy: One of the most significant benefits of glazed porcelain tiles is their great density and toughness.
Nevertheless, if you are concerned about the weight, they can be a drawback. This is due to the denser tile being slightly heavier than ceramic tile and considerably heavier than traditional flooring options such as wood.
Is Glazed Porcelain Tile Durable?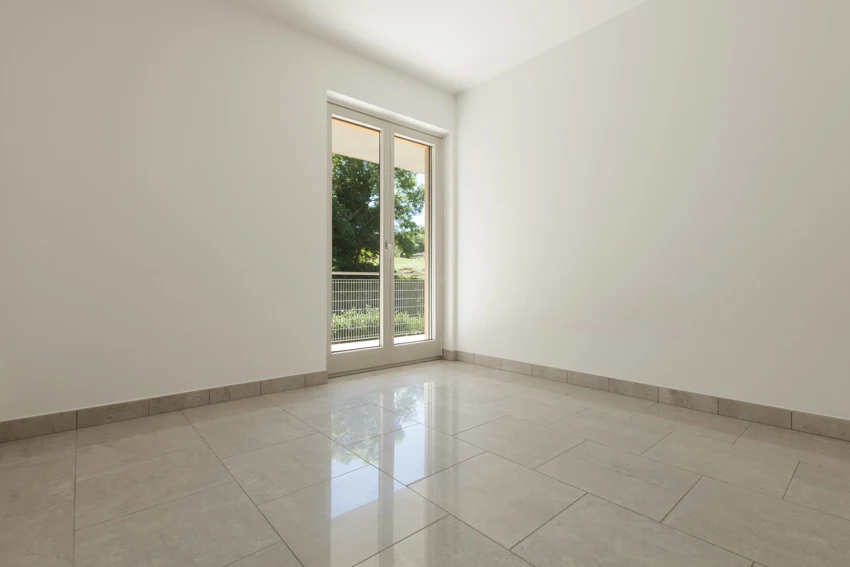 Generally speaking, yes! Glazed porcelain tiles are indeed durable. These tiles are often designed for high-traffic areas and can be applied on both the floors and the walls.
Glazed porcelain backsplash is one of the most popular kitchen options due to its well-known strength. Due to its durability, glazed porcelain tiles can even be applied outside, supporting you in creating the ultimate patio and dependable outdoor space.
Are Glazed Porcelain Tiles Slippery?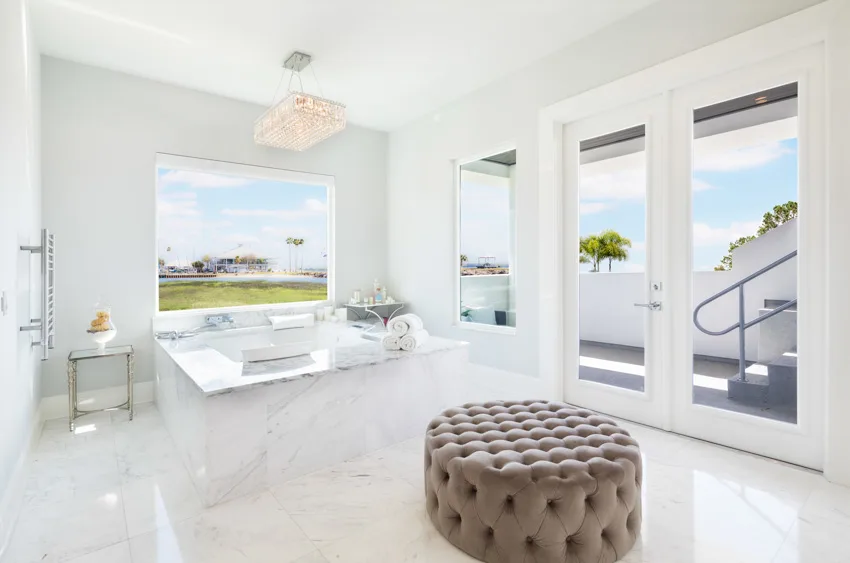 Unglazed tiles are reportedly the better option if you are searching for a very slip-resistant surface to utilize in wet locations like bathrooms, pool surrounds, or shower spaces. This is not an incorrect answer.
However, despite their usually glossy finish, modern glazed porcelain tiles are no more prone to slip on than other matte-finished tiles. Water will surely make glazed tiles more slippery, but you have to remember that this can also be applied to any type of floor. If you really want to go all out, you can even install glazed porcelain in your shower area.
In a nutshell, glazed porcelain tiles are slippery when wet, but the same goes for other tiles. Nonetheless, to increase slip resistance, you can look out for glazed porcelain tiles that are textured.
Porcelain Tile Glaze Repair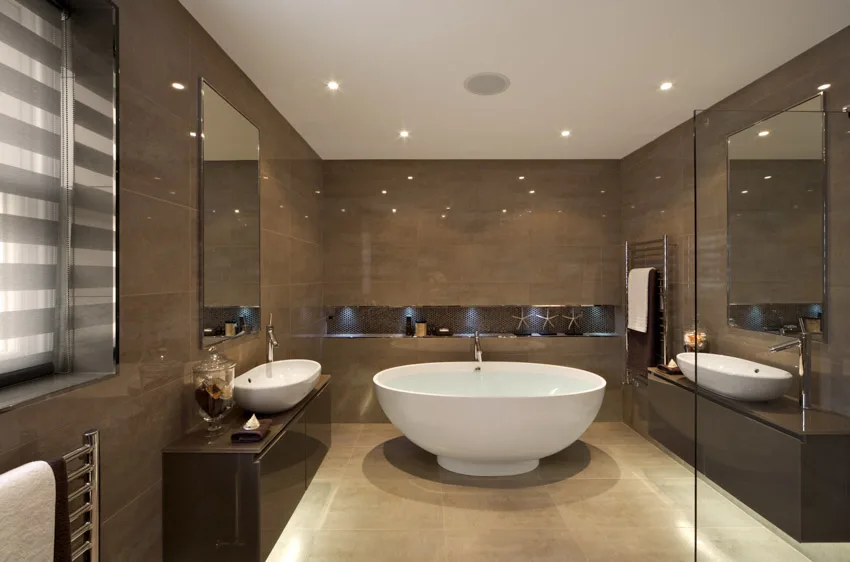 Here we share the steps on how to repair porcelain tile glaze.
• A tile refinishing kit can be purchased at a local home construction store: Tailor the kit to your tile's kind and finish.
Certain kits, for instance, specialize in matte, glossy, or speckled finishes. To restore the sheen to the tile glaze, you can use a kit that matches your current tile finish.
• Wipe down the surface with a non-abrasive cleaner: Finely gritted sandpaper can be used to remove any residual paint or caked-on impurities.
Remove mildew with water and bleach. Eliminate any metal elements in the workspace like drains, or protect their edges with masking tape. Clean the tile with a pad and completely rinse it. Allow it to fully dry.
• Stir each of the kit's supplied solutions: Both the activator and the base should be included in the package. Add them together using the ratio recommended by the manufacturer. Combine them in a clean, empty can or the receptacle that came with your kit.
• Apply the compound: Use a fine-bristle varnishing brush, which is normally supplied with the kit, to distribute the compound to the surface. Brush in a single direction carefully to create a uniform glaze.
Depending on the condition of the glazing, apply as many as four applications. Allow roughly an hour between coatings.
Give it at least 48 hours for the refinishing product to cure, or as directed by the manufacturer. Once the refinishing solution has dried, clean your tile using a non-abrasive cleaner like a cloth or microfiber towel.
Can You Seal Glazed Porcelain Tile?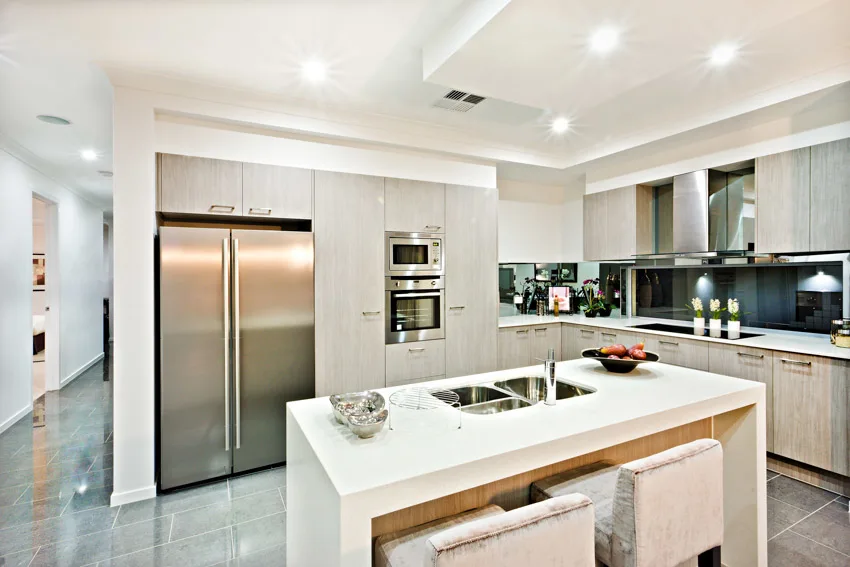 Glazed porcelain tiles have a porosity of less than 0.5% and do not need to be sealed. The uppermost surface also safeguards the tile by making it impermeable, which means that nothing can get through. As a result, glazed tiles do not require sealant.
How To Clean Glazed Porcelain Tile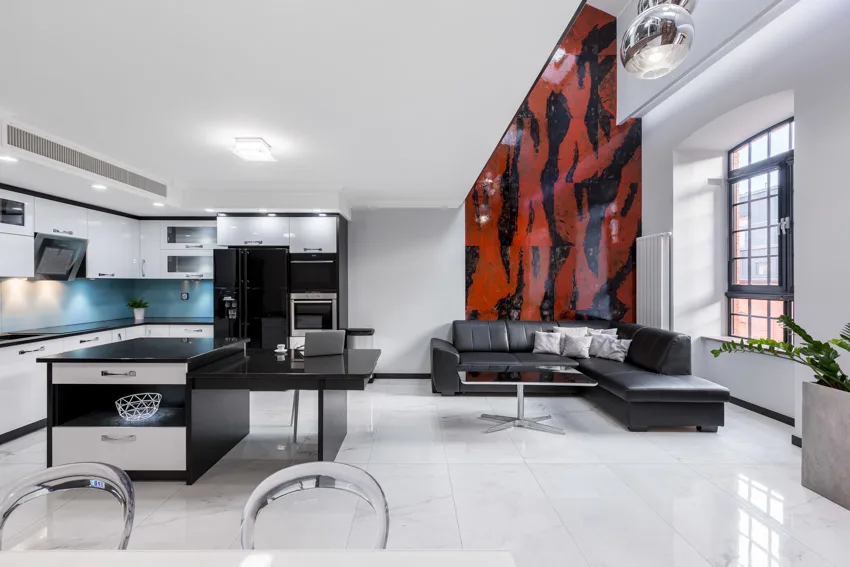 You may clean glazed porcelain tiles with a commercial cleaning solution or with white vinegar. To totally remove the discoloration, you can use a warm-water wash with half-strength vinegar. Let the area rest for 10 minutes before rinsing with clean warm water. If you select a store-bought solution, follow the instructions carefully.
Red wine and coffee stains can be cleaned with baking soda as well as water paste. Combine the two, administer to the stain, and scrub gently with a little soft bristle brush such as an old toothbrush, until the stain is removed. Afterward, rinse with warm water and repeat as needed.
After you have cleaned any unwanted stains or blemishes from the glazed porcelain tiles, you can start mopping the whole floor. You can use the white vinegar and water mixture you previously made.
Vinegar is great for bringing out the shine of glazed porcelain tiles. After mopping, you can begin rinsing the floor with clean water once more. Wipe the tile dry using a microfiber cloth to eliminate staining and water penetration into the grout.
Can Glazed Porcelain Tile Be Used Outdoors?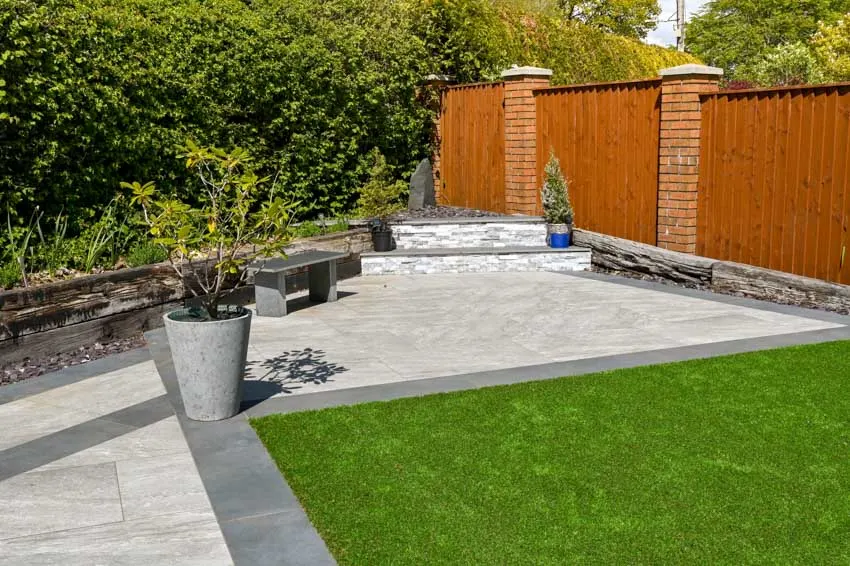 This question has a simple answer: yes. Because it is highly durable and long-lasting, glazed porcelain is perfect for usage outside. Patios are frequently covered with genuine stone or concrete structures.
Nevertheless, these materials may necessitate frequent cleaning and sealing and may appear outdated. Glazed outdoor porcelain tile is an excellent long-lasting and contemporary-looking alternative to standard paving products.
Glazed Vs Unglazed Porcelain Tile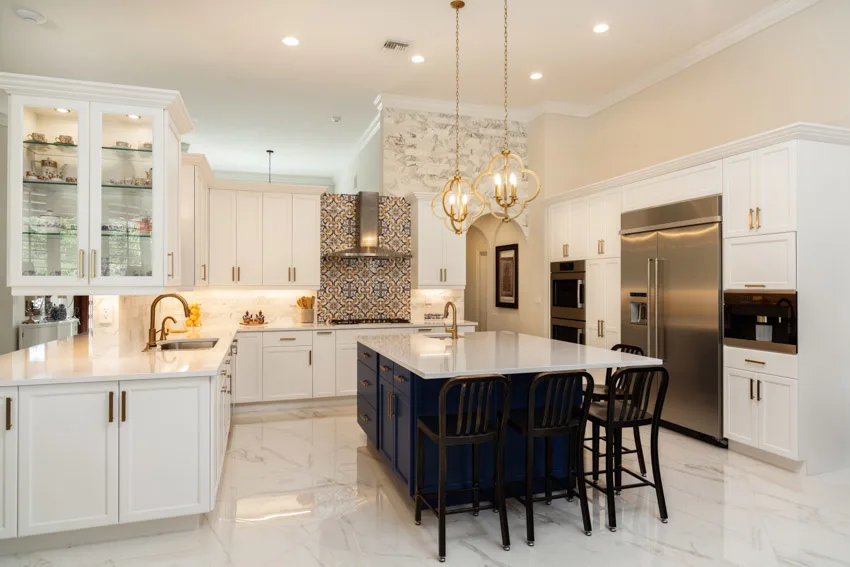 • Glazed porcelain tiles are covered with a layer of enamel before getting fired at high temperatures, but unglazed porcelain tiles do not require any further coating and are prepared to be used after getting fired in a kiln.
• Due to their smooth and usually glossy finish, glazed porcelain tiles are commonly utilized in residential structures. Nevertheless, unglazed porcelain tiles are commonly used outdoors, in commercial establishments, and in damp places due to their slip-resistant and natural feel. However, glazed porcelain tiles can also be used outdoors.
• Glazed porcelain tiles are infrequently stained because of their non-porous and scratch-resistant finish provided by the liquid coating on them. However, due to their natural surface, unglazed porcelain tiles can readily become stained even after their scratch-resistance treatment.
• Glazed porcelain tiles are less thick and thinner than unglazed porcelain tiles.
• Glazed porcelain tiles come in a wide range of designs and prints, featuring digital prints created with inkjet printing innovation, whereas unglazed tiles have a more natural, rustic, and earthy appearance.
• The entire body of porcelain glazed tiles cannot be made of porcelain; it must also incorporate additional materials to make it more durable and more reliable, whereas the entire body of unglazed tiles is made of porcelain to provide them with a uniform appearance.
Glazed Vs Matte Porcelain Tile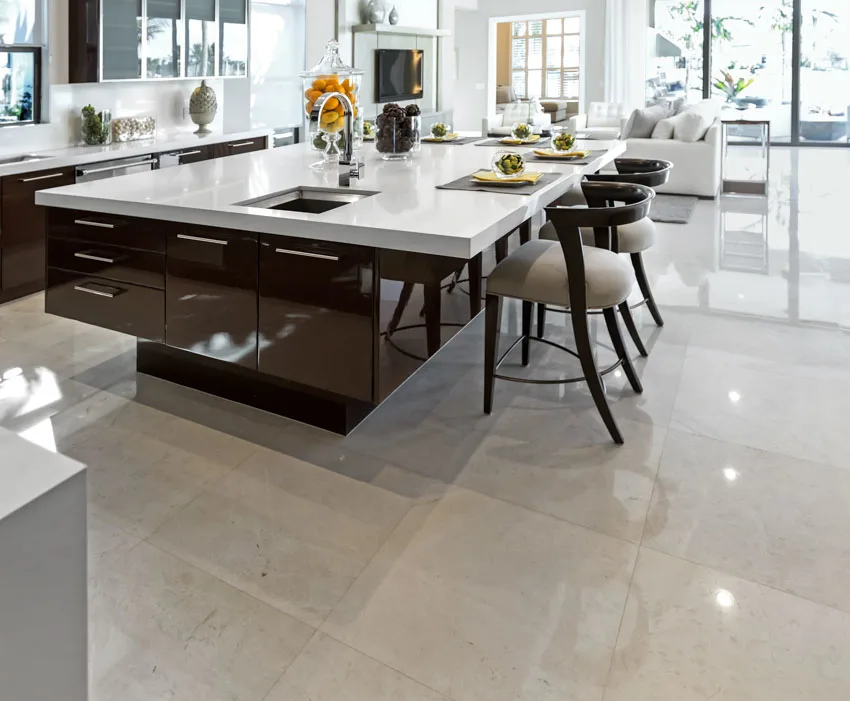 Glazed tiles can make even the tiniest rooms look bigger. The effect is a bit comparable to putting a mirror in space.
The light reflection widens out the area and fools the eye into thinking the room is broader and more open than it is. Glazed tiles are a wonderful design alternative for smaller and tighter bathrooms and corridors.
Moreover, glazed tiles are ideal for making a room feel brighter and warmer. Glazed tiles improve natural light in rooms with limited natural light by enhancing illumination. This is an excellent choice for small rooms.
The smooth quality of the glazed surfaces makes them extremely easy to keep clean and maintain, requiring only a simple washdown to shine. This is just among the numerous reasons why glazed tiles are ideal for use in busy areas such as kitchen floors and shower walls.
Matte tiles, on the other hand, offer stronger traction than glazed tiles, despite their lack of a bright and dazzling appearance.
Matte tiles have a better non-slip popularity in high-traffic areas that are frequently in direct contact with moisture and steam. Matte tiles will improve areas such as corridors, kitchens, as well as bathrooms.
Matte tiles, as opposed to glazed tiles, can disguise smudges, stains, and dried water drips effectively. Matte tiles do not need to be cleaned as frequently and you do not have to be as concerned about water and detergent markings.
Can You Glaze Porcelain Tile?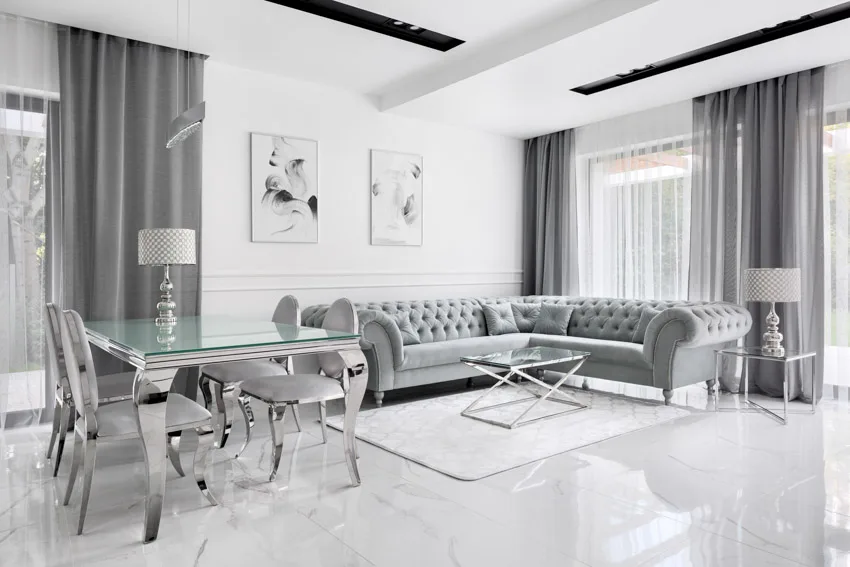 Most porcelain tiles are already glazed. However, you can also re-glaze porcelain tiles using resurfacing kits that can be purchased in home improvement stores. Usually, glazing tile kits are white or off-white in color and contain a brush or spray-on epoxy that bonds well to porcelain tiles.
See more related content in our article about the different types of flooring materials for interior design on this page.