Find out what is Coohom used for including its technical details, features, pros and cons, if it's easy to use, and what makes it stand out.
Created and structured for interior designers, Cohoom is a 3D modeling software dedicated to floor plans and home decor. Powered by a fast and robust engine, it allows users to visualize interior design ideas into photo-realistic renders in 4k and in an easy and fast way.
Coohom is ideal for freelancers, small businesses, large enterprises, and others in between. With its simple and interactive structure, it can be used by users who don't have any BIM or CAD knowledge.
Technical Details

Creators: Kareem Azees & Louise Yu
Platform: Web-based
Deployment: Cloud-hosted
Devices Supported:
• Windows
• Mac
• iPhone/iPad
Customer Support: Email
Cohoom features a user-friendly interface with an expansive 3D model library comprised of many smart AI templates. These templates can make it a lot easier for you to create and improve your designs.
Your creative 3D models can be turned into full-fledged home or room designs. These lifelike models will give you more insight into what you're designing and the probable limitations you've overlooked when you're creating the design. Designed for cloud deployment, this web-based platform can easily be accessed from any compatible device and browser.
Coohom Custom Design Tutorial
You can check Coohom out at: https://www.coohom.com/
With home decor 3D visualization made easy, millions of designers and brands worldwide rely on this software for better digital experiences and more cost-effective solutions.
If you are also considering using this innovative interior design software program, there are several versions you can explore, including the following:
• Basic Account: Free Sign Up
• Coohom Plus: $14.9/month
• Coohom Pro: $30/month
• Coohom Enterprise: Quote-based
Features And How They're Used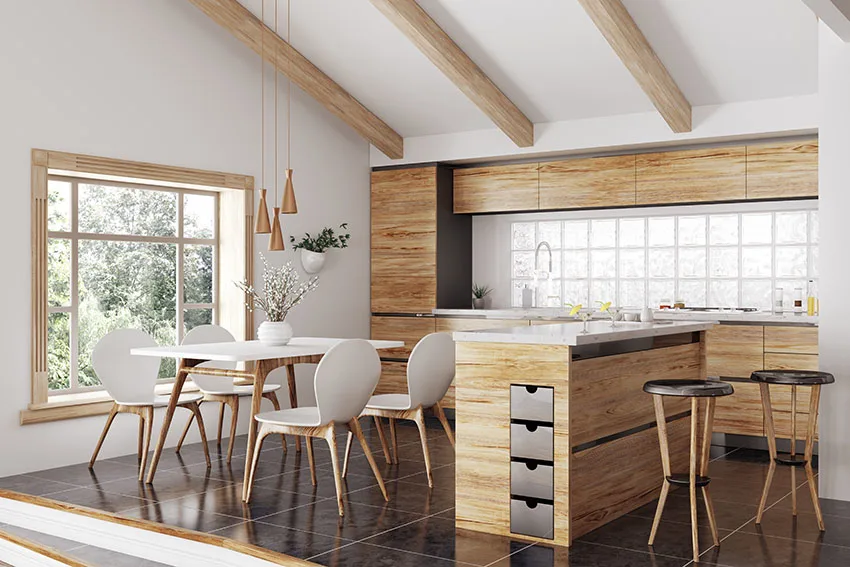 If you are unsure whether this interior design software is exactly what you're looking for, look into the different practical features you can benefit from.
• 3D Modelling: The software allows the drawing and intuitive creation of 2D and 3D floor plans and interior design models.
• 3D Models Library: It is filled with abundant templates that can easily be integrated into the design, which are built-in and render-ready (with pre-set lighting and plan templates).
• Advanced Modeling Tools: This one-stop platform has easy-to-use design tools that allow the creation of high-quality renderings, incorporating AR and VR technology.
• Fast Rendering Engine: Equipped with a powerful and fast rendering machine called the ExaCloud engine, this software offers shorter render wait, turning hours of rendering to only five minutes.
• 3D Objects: The software offers 3D objects you can use and incorporate into your designs.
• Drag & Drop Interface: it uses a simple and user-friendly interface, where you just have to drag and drop objects and files from one location to another.
• Cloud & Mobile Access: Since the platform is cloud-based, you won't need to spend time and money on multiple licenses and expensive and complicated hardware setups.
• Cross-Device Publishing: The software imports custom 3D models and textures and exports CAD drawings and creations, as well as shares the project and renders in a single click.
• Virtual Reality: It delivers high-quality 4k renderings with 360 panorama and 720 virtual walkthroughs.
Pros And Cons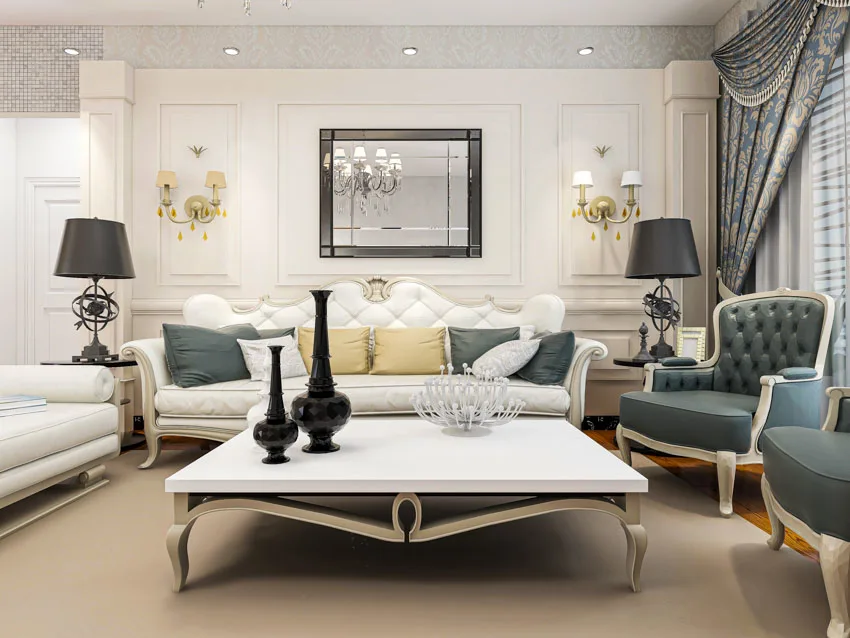 Coohom has pros and cons that you would have to consider and look into. Some of the benefits it offers are at the cost of giving up other features to give way to them. Here are some of the notable benefits and limitations that the software provides its users.
Pros of Coohom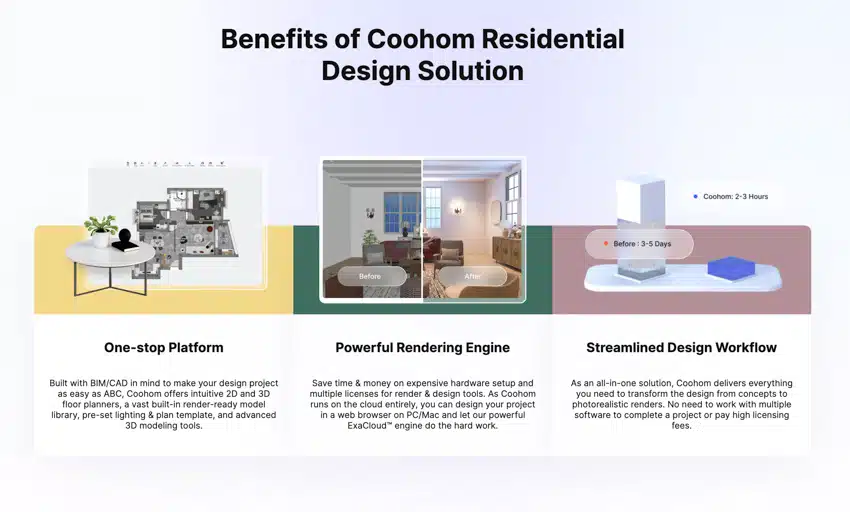 When you consider Coohom, these are the benefits you'll get to enjoy.
• All-in-one solution: The software is designed to be an all-in-one package that includes everything you will need in transforming your conceptual designs into realistic renders. Besides cloud-based tools, you also get to have access to its built-in library, advanced 3D modeling tools, and its top-speed rendering engine.
• Cost-effective: Compared to other similar platforms, Coohom is more affordable not just because of its basic free interior design software plan but also its low initial cost of investment. Since you only need to avail yourself of one solution rather than multiple platforms, you won't have to pay expensive licensing fees.
• Time-efficient: With a faster rendering time, you won't have to spend hours on your photo-realistic engines with high-quality ones under a minute.
• Versatile and flexible: Coohom works seamlessly with different devices, especially with the web-based platform operating entirely on the cloud. You can use the software, wherever you may be.
• User-friendly: While built with CAD and BIM in mind, you don't have to learn about them to work on Coohom. It uses a simple drag-and-drop interface that makes it easier to use.
• High-quality and realistic photos: The software easily supports 4k renders, which is currently the highest image quality. The platform also offers 720 virtual walk-throughs and 360 panoramas.
• Ideal for education and training purposes: Since it's easy to use, the software is ideal for training and educational purposes.
Cons of Coohom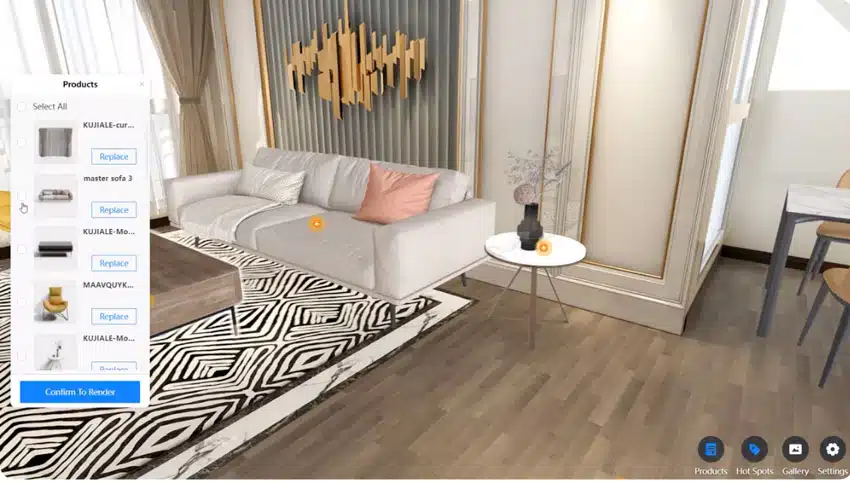 Coohom offers many advantages but it also has specific limitations, including the following:
• Unpopular: Compared to other platforms, Coohom is fairly new and so is not as popular for users, especially when it comes to 3D modeling.
• Reported technical issues: Many users are claiming to experience many technical issues when using the software.
Is Coohom Easy To Use?
Definitely yes! Cohoom is simple and easy to use because of its intuitive platform and drag-and-drop interface, where you can easily drag elements across the working space. It follows a simple 3-step process that includes floor planning, furnishing, and rendering.
• Step 1 – Floor Planning: You can effortlessly draw a floor plan that can be shown in 2D and 3D versions. You can also simply upload an existing floor plan or CAD file to work on.
• Step 2 – Room Furnishing: You can furnish certain types of room in a house using around 750,000 3D models by dragging and dropping customizable items into the project. You also have the option of uploading your textures and 3D models you can use.
• Step 3 – 3D Rendering: You get photo-realistic 4k quality renderings in around 60 seconds! You can also easily export or download these renders in PDF or JPG formats.
What Makes The Software Standout

There could be several things that can easily make Coohom stand out so listing them all will take too much time. Here are the top three factors that will definitely make you consider this interior design software.
First, its ExaCloud engine is incredibly powerful and the waiting time for renders is significantly cut. Second, its user-friendly and intuitive interface makes the platform usable even for beginners and newbie interior designers who have never encountered CAD or BIM in their lives.
And finally, the 4k photo-realistic renders, along with the 360 panoramas and virtual 720 walk-throughs will make you feel like you're already living in a reality where your designs are brought to life.
If these features and benefits are some of the elements you're looking for in interior design software, this platform is worth exploring. It will be perfect for beginners and newbies in the field.
See more related content in our article about the best virtual staging software programs on this page.