Find out all about wood grain kitchen cabinets including the popular types, vertical & horizontal style, how to cover wood grain, and different kitchen cabinet wood grain designs.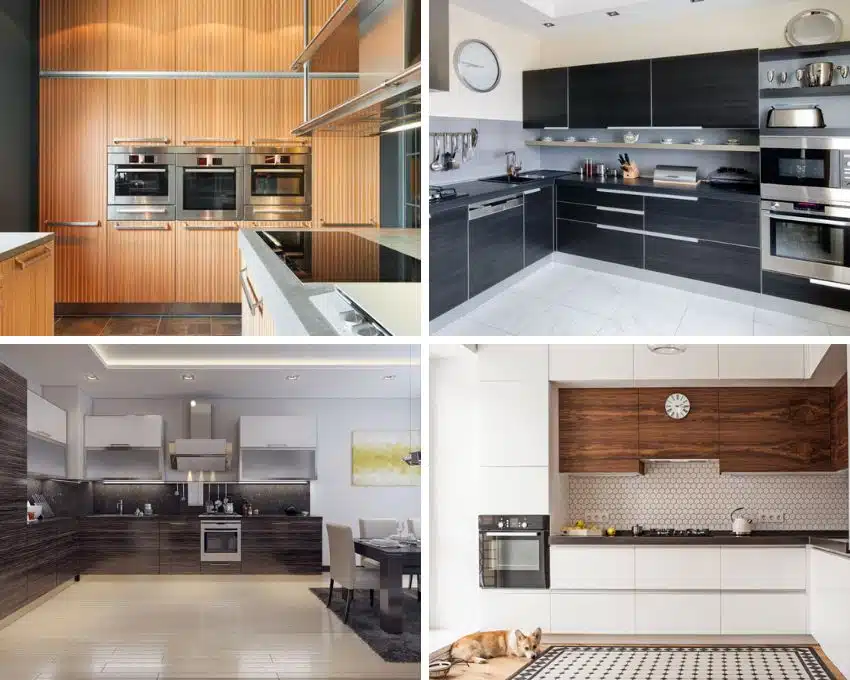 The quest for that homely vibe and return to the basics is one of the many reasons why the contemporary stylized home has rediscovered the love of wood. That is, as much as possible, preserving the natural appearance of the organic material. Wood grain, together with color, texture, and luster, is one of the most desirable features of the wood.
An imprint of nature, these striations come in a variety of directions and forms. For a wooden kitchen cabinet, understanding the types of wood grain makes it easier to choose the best type of lumber for your furniture. Moreover, each type of wood grain cabinet has corresponding workability, a crucial detail to know when building your own wood grain kitchen cabinet.
The simulated look of wood grains such as white, black, and gray gives another dimension to the material and is a favorite option for contemporary kitchens. Get to know the types of wood grain cabinets and the methods that can be used to enhance or cover your wood graining.
Quicklook: Wood Grain Cabinet Types
• Straight Grain
• Vertical Wood Grain
• Horizontal Wood Grain
• White Wood Grain
• Black Wood Grain
• Modern Wood Grain
• Grey Wood Grain
• High-Gloss Wood Grain
Popular Types Of Wood Grain Cabinets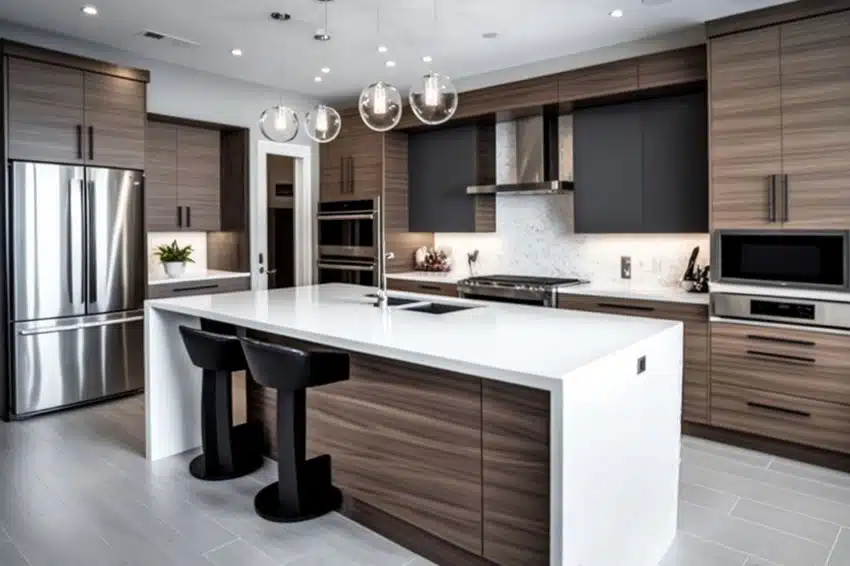 Wood grain refers to the pattern of growth rings, knots, and other natural markings that are present in a piece of wood. These markings are formed as the tree grows, providing a unique and recognizable pattern for each wood species.
Wood grain can be described as straight, curly, wavy, or spiral, and it can vary in color, texture, and size depending on the species of the tree, the age of the tree, and the environment in which it grew.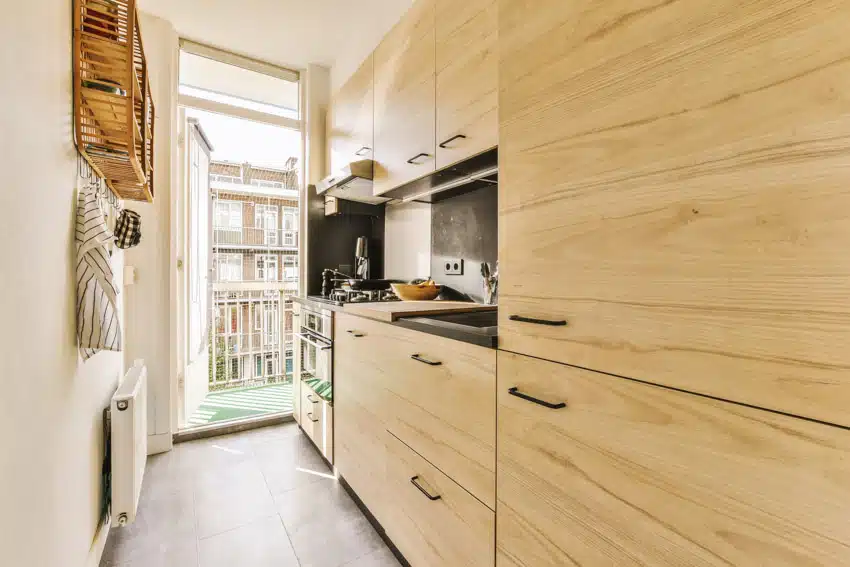 When it comes to woodworking design, wood grain is a key factor in determining a piece of wood's strength, stability, and appearance. For example, the grain pattern can affect the way a piece of wood bends and reacts to stress, and it can also influence the way a stain or finish is absorbed by the wood.
In furniture and cabinetry, the wood's grain pattern can be a major factor in the overall design and aesthetic of the piece. Woodworkers can use different techniques to enhance or conceal the grain pattern, depending on the desired look and feel of the final product.
Straight Grain Kitchen Cabinets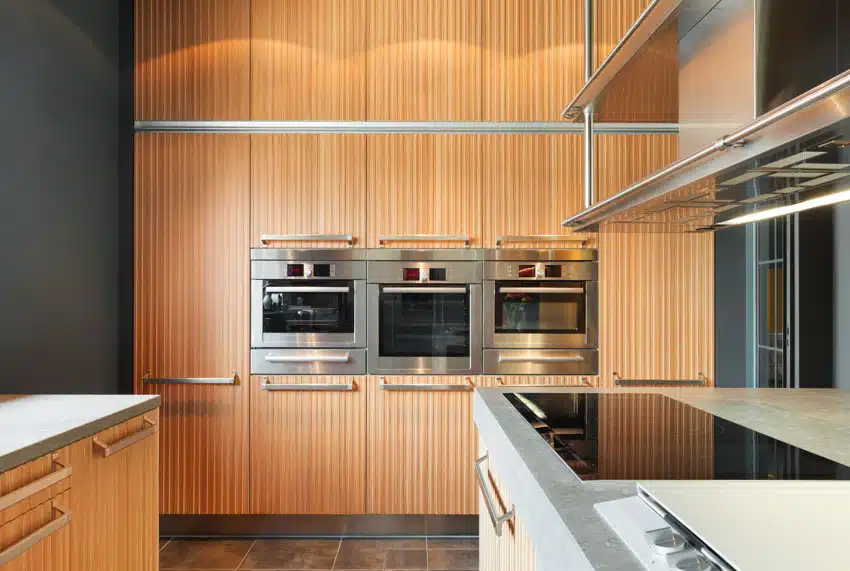 For a smooth texture and minimal variations in color, a wood grain kitchen cabinet that has a straight grain is a great option, as the fibers are parallel to the center of the log pith. Moreover, these types of wood grain patterns are easier to work with because fibers run in one direction.
Straight grain runs vertically through the wood and is quite easy to understand. – Whittling: A Step-by-Step Guide to Wood Carving and Fun Whittling Projects for Beginners, Tony Gordon
Straight-grain kitchen cabinets are usually interchanged by flat graining, but the difference lies in how the lumber is cut. Straight grains are cut from the center outward, creating vertical slices from the tree's center ring, while the flat grain is cut parallel to the center of the pith or center of the log that is tangent to the growth of the rings.
Another advantage of straight-grained kitchen cabinets is that it is generally more durable due to having more fiber layers. The most common species that have straight and parallel graining are grand fir, pine, bald cypress, redwood, fir, mahogany, and pine.
Modern-styled kitchens love to incorporate cabinets with straight graining and can even be more dramatic for expansive and open-plan kitchens as it showcases the horizontal orientation.
Vertical Wood Grain Kitchen Cabinets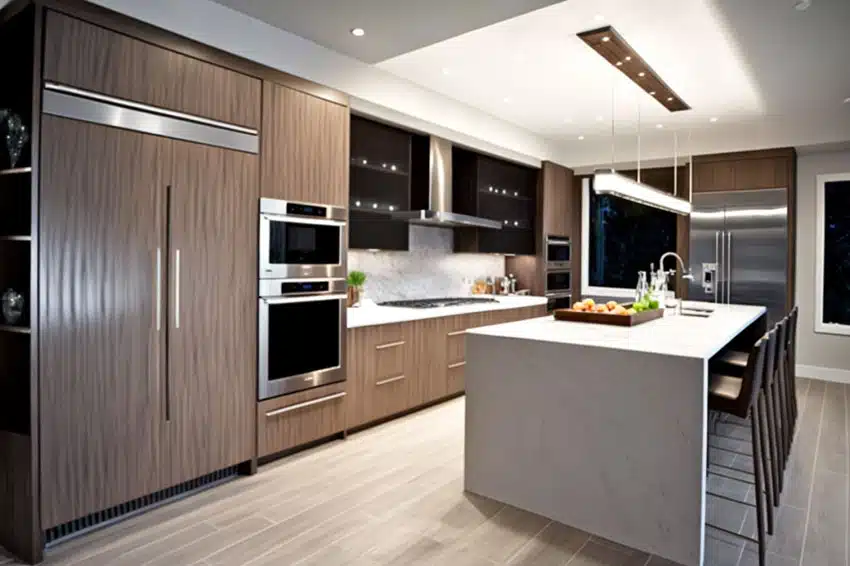 A kitchen with a lower ceiling height can benefit from a row of kitchen cabinets that have graining oriented vertically as the lines optically elongate the space.
Aside from creating a sense of having a higher ceiling, the rhythmic pattern of vertical lines suggests a feeling of freedom and stability which add to the visual appearance of a larger space.
Vertical wood graining, when stained, usually appears lighter compared to your horizontal wood graining, especially when combining the two. For instance, the stiles with horizontal lines will appear darker than a panel with vertical graining creating a framed appearance.
Modern kitchens usually incorporate vertical wood graining in furniture as it has that uniform and straight-edged appearance and works well with a matte or opaque finishes.
Horizontal Wood Grain Kitchen Cabinets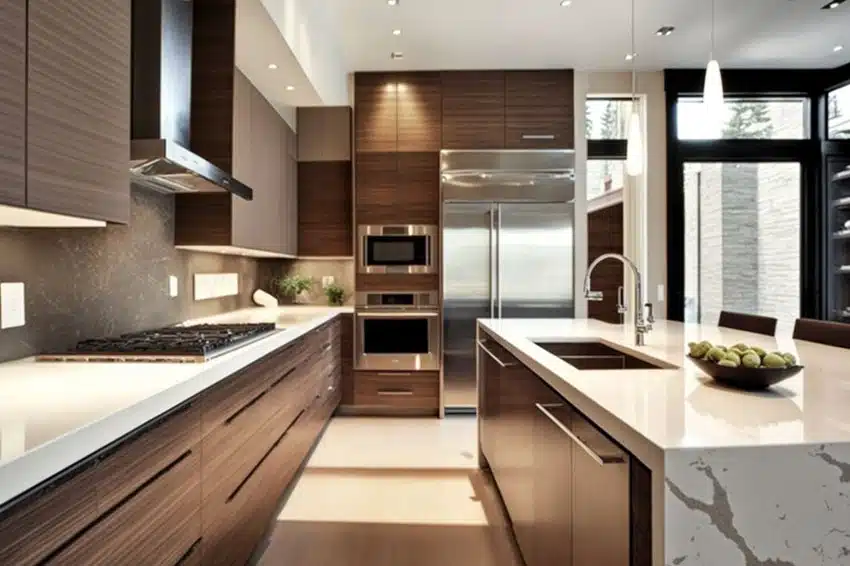 Similar to vertical wood-grained cabinets, wood-graining oriented horizontally can visually expand a space. The difference is that the restful lines tend to emphasize and elongate the optical direction from left to right, while vertical grains will make a space look higher.
The effect of horizontal wood graining along a row of cabinets also makes the kitchen area look restful yet elegant. Open-plan kitchen and dining concepts benefit from horizontal wood grain furniture, especially with handleless drawers or flat slab cabinet doors, as it creates a continuous pattern.
Aside from giving that impression of having more space in a kitchen, horizontal wood graining is also deemed more durable when it comes to the cabinets' build. The fibers in these horizontal grain kitchen cabinets better support the load as it runs along the length of the board, preventing any splitting or cracking.
Horizontal wood grain has become a popular option in integrating organic materials in modern settings, and the kitchen cabinets are the perfect element to explore the sleek wood graining. The uniform direction also creates a cohesive look and can be juxtaposed or matched with a wood flooring grain.
White Wood Grain Kitchen Cabinets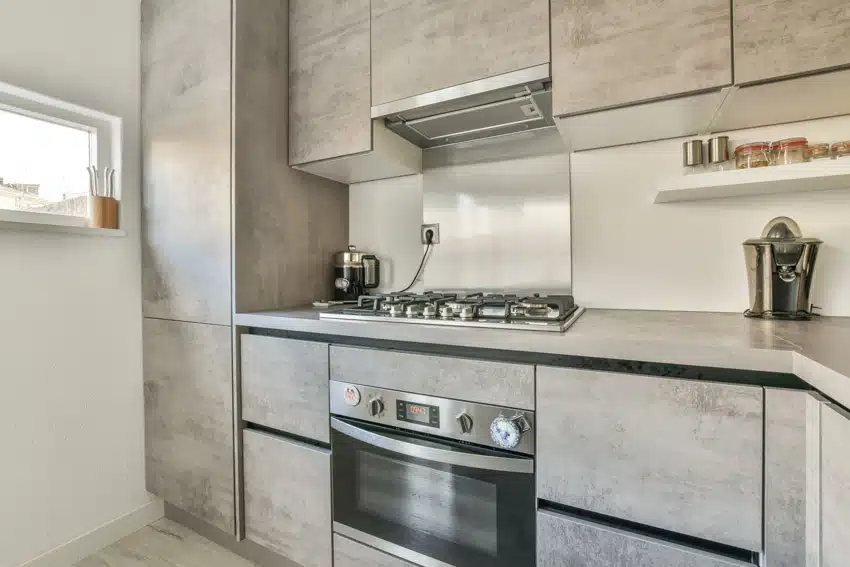 A crisp white wood grain kitchen cabinet is easily matched with the modern aesthetic. Scandi-inspired kitchens will use white wood grain against a light brown hue, while rustic farmhouse loves distressed wood with undulating white and gray graining.
Stronger contrasts, such as a white grain against a black or dark brown wood, are suitable for industrial-styled kitchens and occasionally injected in minimalist kitchens with either vertical or horizontal orientations. This versatility of white wood grain makes it a contemporary option and an opportunity to have both organic materials and a minimalistic profile.
The popularity of beautiful white kitchen designs signals that they are clean, hygienic, and luxurious spaces. White wood grain kitchen cabinets can retain that organic feel without leaning towards the more rustic feel of traditional interiors. Naturally occurring white grains are seen in species like maple, ash, birch, poplar, and beech.
Maple: Maple wood is known for its light color and uniform white to creamy white grain pattern.
Ash: This wood specie has a light-colored, straight grain with a white to pale yellow appearance.
Beech: Beechwood has a light tone and straight grain pattern that ranges from white to light brown.
Birch: Birchwood has a fine, even grain pattern that ranges from white to light brown. It's commonly used for furniture, cabinetry, and paneling.
Poplar: The poplar is wood that displays a light color and straight grain pattern with variations from white to yellow.
For artificial or faux wood grain can be achieved by using a faux wood graining tool. Apply white paint over your material and let it dry. Mix your chalk paint with a varnish (color depending on preference).
Then simply run the wood graining tool throughout the length of the material. The orientation depends on how one intends the texture to appear. When adding a white wood grain on natural wood, be sure to run the wood graining tool along the grain.
Black Wood Grain Kitchen Cabinets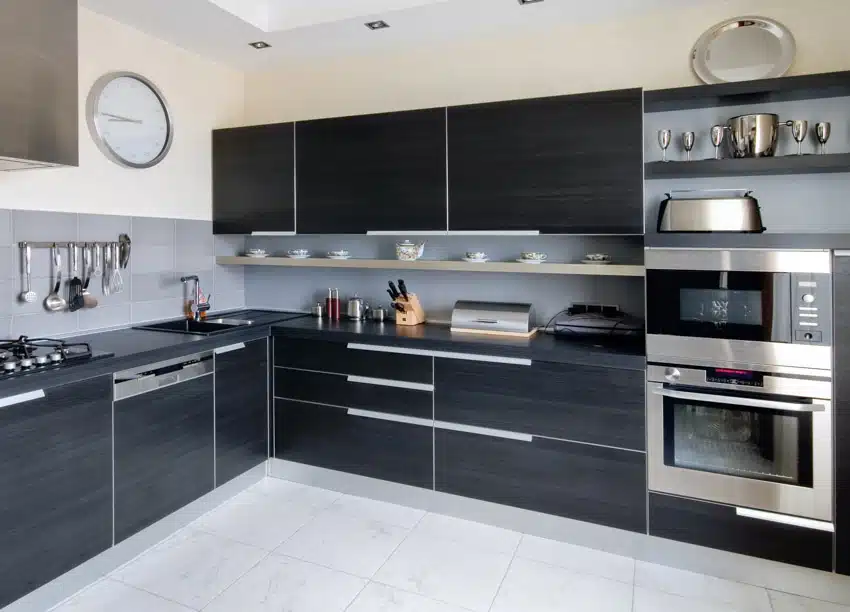 A black wood grain kitchen cabinet can look luxurious and sometimes have mood-evoking quality. Naturally, black-colored grain occurs in wood species like wenge, ebony, zebrawood, koa, and walnut.
Similar to achieving a faux black wood grain, wood graining can be used to simulate the look of the black wood grain. Other advanced techniques, such as the shou sugi ban of Japan, further emphasize wood graining and are dominant in producing black graining.
The wood is charred, cleaned, and brushed, then finished with wood oil. Kitchen cabinets intended for the outdoors can benefit from black wood graining as the wood increases its durability.
Wenge: A tropical hardwood, wenge wood species originated in Africa and is known for its dark brown to black color with a fine and distinctive graining pattern.
Ebony: Ebony is a dense, heavy hardwood prized for its deep, dark black color and uniform grain pattern.
Zebrawood: Sourced from West Africa, the zebrawood has a distinctive graining pattern that alternates between light and dark stripes. The dark stripes of zebrawood kitchen cabinets are often a deep brown or black color.
Koa: The Hawaiian hardwood is prized for its unique and highly decorative graining pattern. The graining can range from light golden brown to dark brown with black streaks.
Walnut: Walnut wood graining has rich, dark brown color with black streaks.
Grey Wood Grain Kitchen Cabinets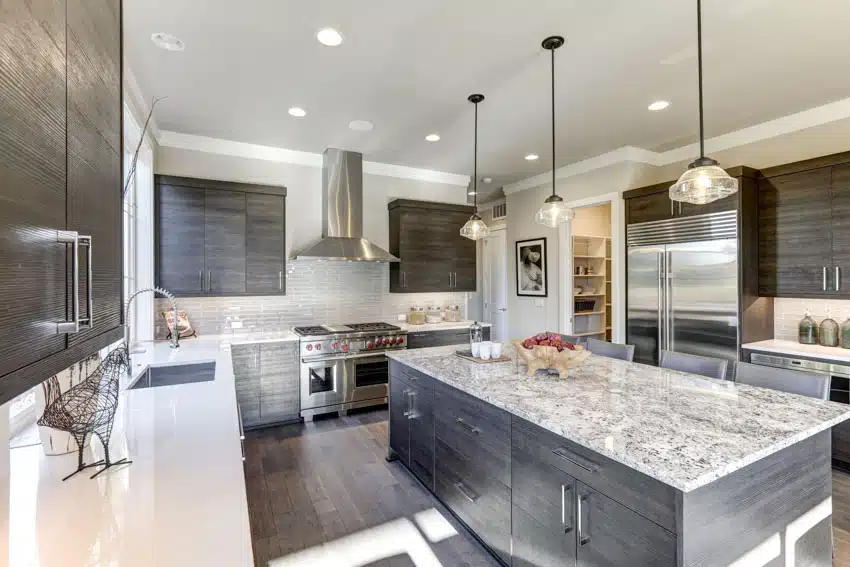 Grey is a neutral hue that can come in a variety of shades, making it easy to pair with another wood coloring. Gray or silver wood grain can naturally occur in quarter-sawn oak and sycamore lumber, which has a very prominent silver-gray graining. Gray wood grain is versatile in works both for contemporary and traditional kitchen cabinets.
Sycamore: This type of wood is known for its distinctive silver-colored grain patterns that give it a unique and eye-catching appearance, but it can be hard to work with due to the lumber's high density.
Oak: White oak, particularly, is a hardwood species that is prized for its light gray to gray-brown color with a distinct and attractive grain pattern.
Cedar: A wood specie known for its light gray to reddish-brown color with a fine and even grain pattern.
Ash: Ashwood showcases light gray to light brown color with a straight and uniform grain pattern.
Cypress: Cypress kitchen cabinets come from a softwood species that is known for its light gray to light brown color with a distinctive knotty grain pattern.
Elm: The hardwood specie has light gray to brown color with a distinctive and attractive grain pattern.
Modern Wood Grain Kitchen Cabinets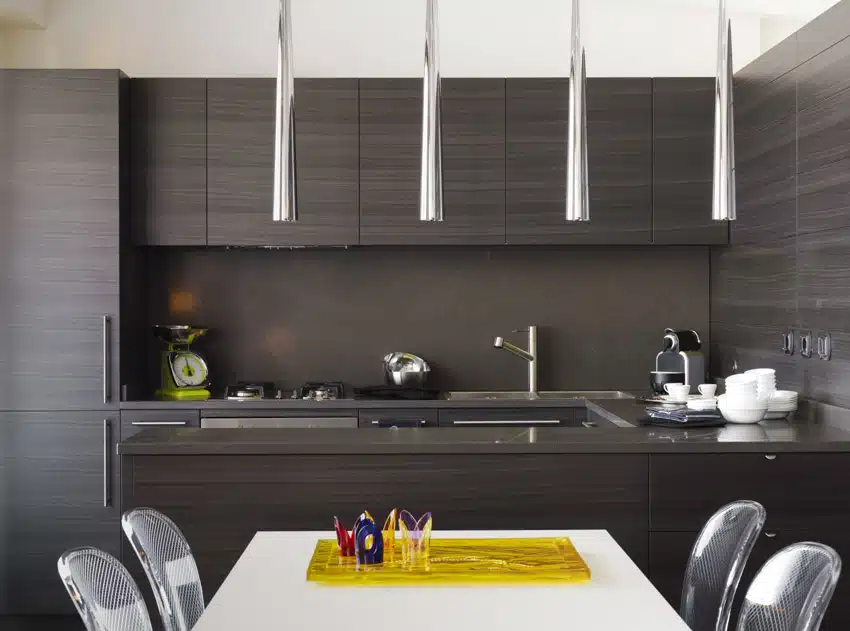 Modern wood grain kitchen cabinets refer to kitchen cabinets that feature a contemporary design and a wood grain finish. They are designed to add warmth and natural beauty to modern kitchens while also providing the necessary functionality and storage space.
The wood grain finish on modern kitchen cabinets can be achieved through various methods, including using real wood veneers, high-quality printed or textured laminates, and painting techniques that simulate the look of wood.
Modern wood grain kitchen cabinets come in a variety of styles and designs, including flat-panel, raised-panel, and slab-door styles. They can also be customized to fit the specific needs and preferences of the homeowner, including the choice of wood species, finish, cabinet hardware, and other design elements.
Some popular wood species used for modern wood grain kitchen cabinets include maple, oak, ash, cherry, and walnut. The grain pattern and color of these woods can be enhanced with stains and finishes that range from light and natural to dark and dramatic.
High Gloss Wood Grain Kitchen Cabinets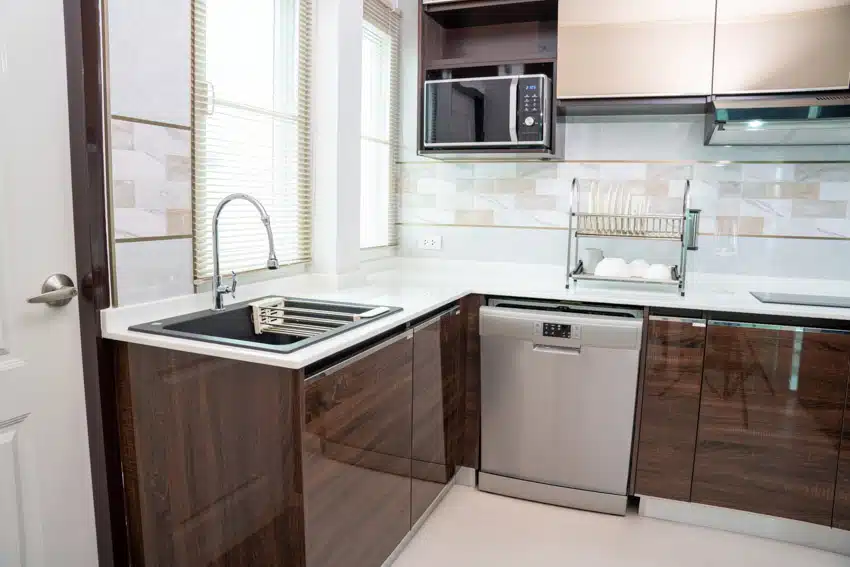 High-gloss wood grain kitchen cabinets are kitchen cabinets that feature a smooth, reflective finish with a wood grain pattern. The finish can be achieved by using varnishes and oils. Other finishes to apply for that glossy wood grain are shellac and lacquer, but they are not as easy to apply.
The added layer of protection prevents moisture from seeping through and adds durability to a wood surface. While it can be resistant to scratches, dark wood, especially with a gloss finish, can leave fingerprint marks.
Types Of Cabinet Wood Graining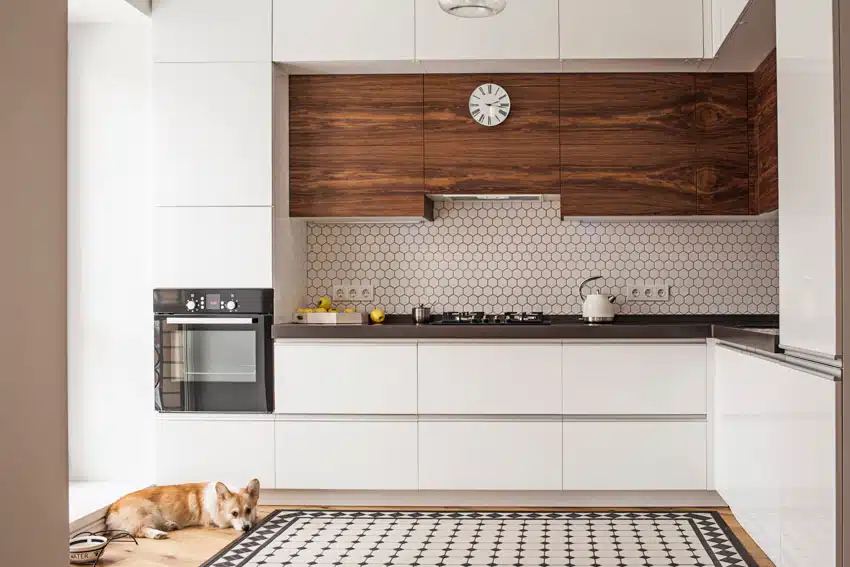 Cathedral Grain: Distinct with its straight grain features raised ridges, giving the wood a pyramid-like appearance.
Cathedral Cross Grain: A wood grain that combines the straight and pyramid grain patterns with ridges that run at a 90-degree angle to each other.
Flake or Wavy Grain: Features wavy lines and ripples, creating a distinctive and eye-catching look.
Wormy or Burl Grain: A wood graining that features irregular knots, twists, and curls, giving the wood a unique and rustic appearance.
Bird's Eye Grain: This is a type of wood grain that features tiny circular markings resembling the eyes of a bird.
Tiger Grain: The wood showcases feature stripes or rays resembling a tiger's markings, creating a bold and striking look.
How To Cover Wood Grain On Kitchen Cabinets?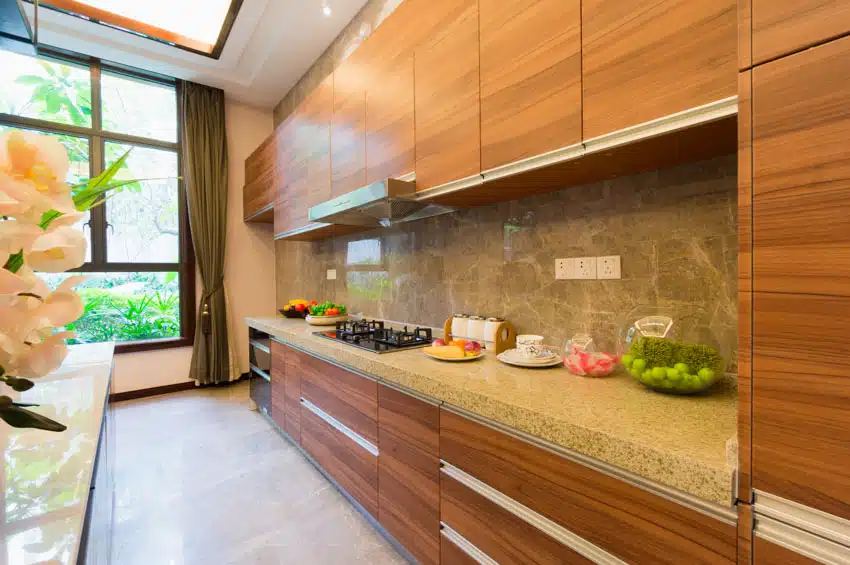 Wood Filler: The most common method of covering wood grain is using a wood filler. A wood filler generally comes as water or petroleum based. Water-based wood filler comes with a butter-like consistency that can be reconstituted by adding water that will eventually dry out.
Usually, it takes only 30 minutes for the water to evaporate. Thus, the application of wood filler is faster compared to drywall mud.
Wood fillers come in a variety of colors that can match your existing wood coloring. Water-based fillers have lower VOCs which have less odor and are a safer option when working indoors and with less ventilation.
Petroleum-based wood fillers typically have a smoother consistency and are practical for wood that has received a lot of damage or has existing knots or grooves, as the mixture can be easily poured. This type of wood filler is also leaving a coating that protects the wood from moisture and humidity.
Applying Wood Filler: Mix up the wood filler in a container using a trowel or putty knife. For water-based wood filler, water should be added until having that peanut butter consistency and reaching a uniform texture and coloring.
Apply the mixture on the surface of the wood. It is best to apply along the grain to effectively fill in the gaps. The number of coats to be applied depends on how prominent the wood graining is. Two coats are usually sufficient for overall coverage to fully cover the textured surface.
After drying, which can take around 15 to 30 minutes (check for manufacturer's instructions), sand the surface with a 180-grit set to smoothen the surface, a blow dry can hasten the drying process, especially when there are filled in knots and dents.
Remove dust and debris with a damp cloth and let it dry. Then, apply one coat of primer to the surface. A dried primer is ready now to receive the paint. For wood grain kitchen cabinets, semi-gloss paint is typically used, but a matte finish is also a popular option for contemporary kitchen cabinets.
Dry Wall Mud: A cheaper alternative to wood filler, and the application is a little easier than your wood filler due to its consistency. Though, drywall mud can dry slower, which can take 24 hours.
When opting for a surface that slightly shows the texture of your wood, the drywall mud is a great option but can also completely cover the wood graining with several coat applications.
Covering wood grain for kitchen cabinets has a similar process to that of wood filler. The only difference is the waiting time in-between each application.
Other Methods Of Covering Wood Grain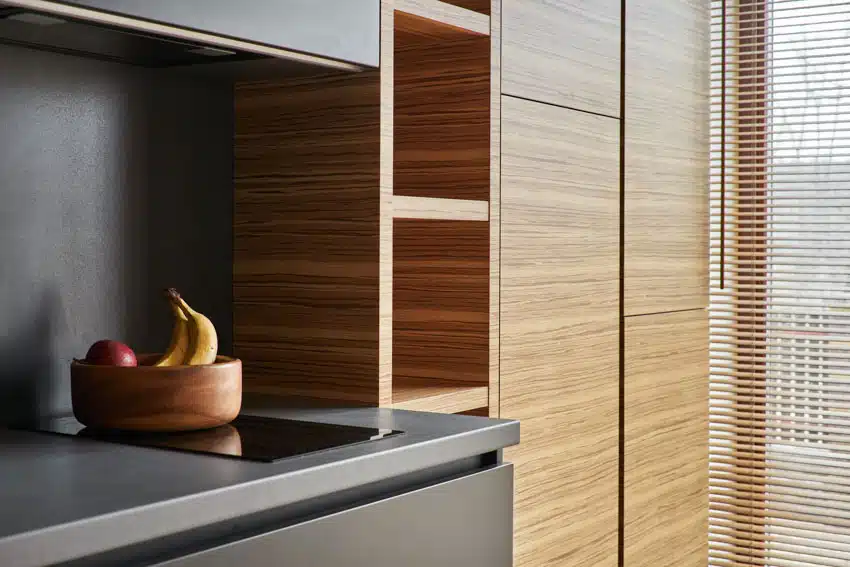 Painting: An easier way to hide away the graining in wooden furniture is by directly painting on the surface. Directly applying paint without any fillers works when opting for a semi-coverage.
The surface will still have noticeable graining as the paint has less volume than your fillers and is likely to be absorbed within the porous material.
Before applying paint, make sure the wood surface is prepped to receive paint. Remove dirt or oils and sand the surface to help the adhesion. A primer coat is also needed before applying the actual paint.
Laminate: Probably the cheapest method of covering the wood grain in kitchen cabinets is by placing a laminate sheet over the wood surface.
Laminate is a thin sheet of material that can be applied over the surface of the cabinets to cover the wood grain. Laminate is available in a wide range of colors and patterns, making it a versatile and cost-effective option for covering wood grain.
Veneer: Veneer is a thin layer of real wood that can be applied over the surface of the cabinets to cover the wood grain. Veneer can be purchased in a variety of wood species and finishes and provides a natural, wood-like look to the cabinets.
Textured Finish: Another option for covering wood grain is to apply a textured finish to the cabinets. This can be achieved using textured paint or applying a textured material like stucco or a special coating.
Vinyl Wrap: Vinyl wrap is a flexible material that can be applied to the surface of the cabinets to cover the wood grain. This option is available in various colors and patterns and is easy to clean and maintain.
Compared to laminate kitchen cabinets, vinyl warps are known to be more resilient. The edgings are also more consistent and rounded, giving the kitchen cabinets durability and aesthetic appeal.
Are Wood Grain Cabinets Outdated?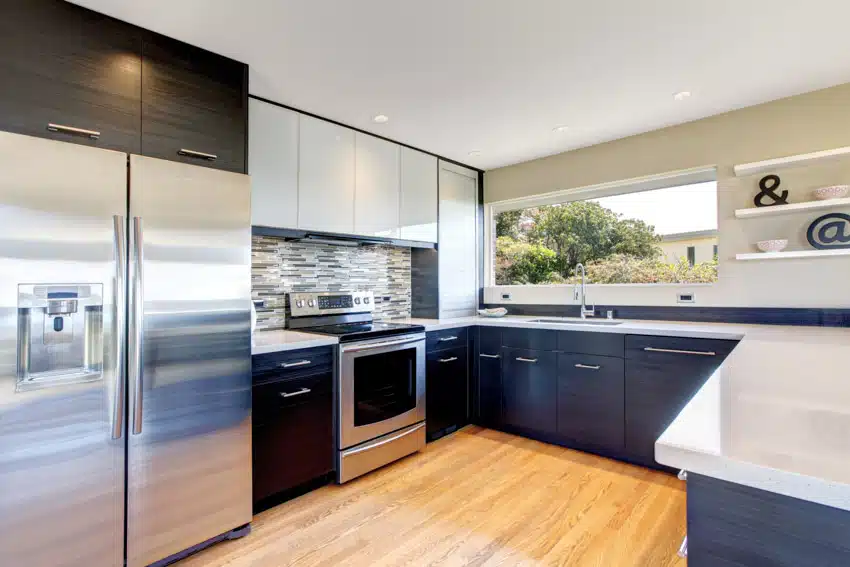 Wood grain cabinets are far from outdated and back with a more subdued and lighter coloring. In fact, the showcase of natural textures is welcomed even for contemporary settings utilizing the organic quality of wood to enhance and juxtapose man-made materials.
See more related content in our article about pressed wood cabinets on this page.