Welcome to our gallery of black accent wall ideas including bedrooms, kitchens, living rooms, bathrooms, offices and dining rooms.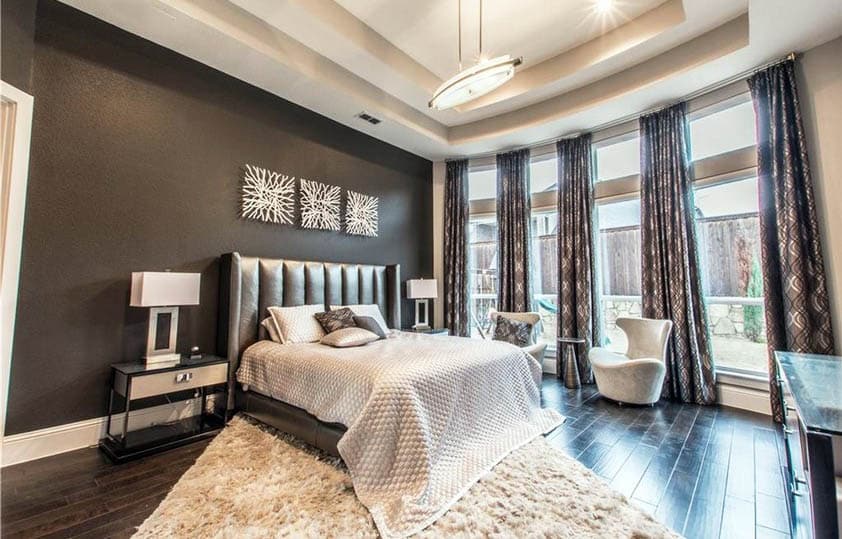 Most homeowners are hesitant to use the color black in their houses because of the wrong perception that a dark color may dull down a room. This is pure misconception, because the color black is actually a stunning addition to an interior and it does not overpower the room.
One of the most effective ways to introduce the color black into a space is through the use of an accent wall. Aside from being stylish, there are a number of other reasons why you should go with a striking black accent wall.

Here are some of the benefits of adding a black accent wall to a space:
Brings urban sophistication and modern finesse to a space.

Offers design flexibility and versatility. The color black is as flexible like the color white in terms of design and it can suit any color palette.

Can break the monotony and starkness of a color scheme.

Adds depth and drama to a space.

A black accent wall instantly becomes the focal point of a room and creates a statement.

Gives the space a more curated and contemporary appeal.

Suits any design style, whether it may be traditional, contemporary or modern.

A black accent wall can usher in elegance without feeling too overwhelming.
A black accent wall can either make or break the overall look of your home, so you have to use it wisely an find the perfect spot for it. Below, we have created a list of the most effective ways you can use it in the different areas of your home, along with some design tips to help you pull off this unique look.
Black Accent Wall in Bedroom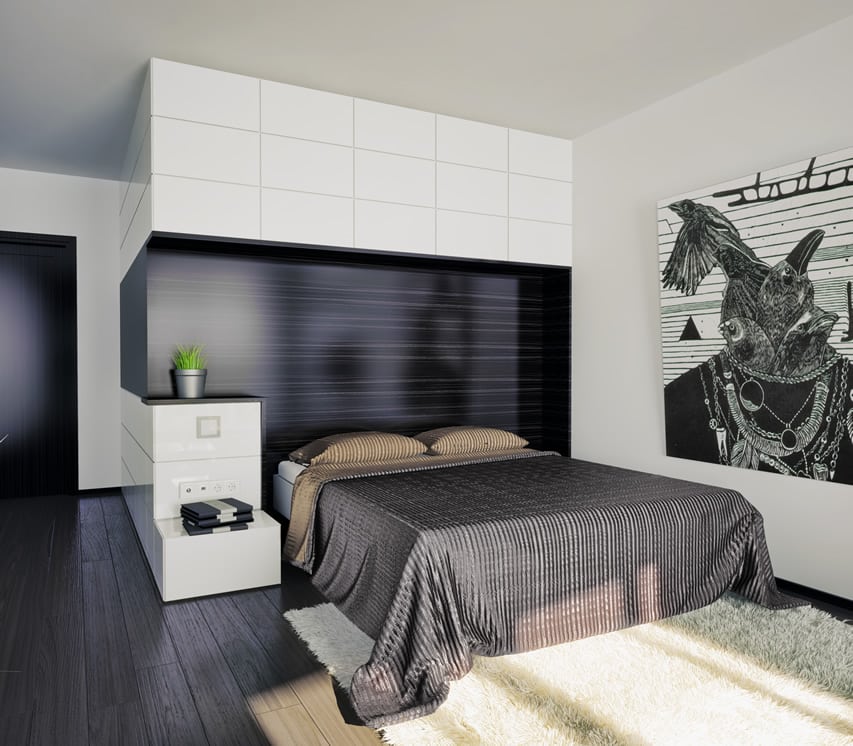 Headboard : The most common place to use a black accent wall in the bedroom is the headboard. Finishing a wall with either black paint or black wallpaper can instantly become the focal point of a bedroom. It also keeps the attention in the room focused to the most important feature in a bedroom, which is the bed.
Side wall or gallery wall : Of course, the headboard isn't the only place that you can use a black accent wall in the bedroom. Alternatively, it can be a side wall and instead of being kept blank, you can use it as a gallery wall wherein pieces of artworks or framed pictures may be hanged. Built in shelving with books or minimalist accessories is also a great way to finish a black accent wall in the bedroom as it can add character to the space. .
Design Tip: Combining a black accent wall with dark colored paint is not the best idea for a bedroom setting because it will make the room look heavy and overwhelming – defying the very essence of what the bedroom is for which is rest and relaxation. Instead, paint the rest of the walls of the bedroom in a shade of white of use light pastels to keep your bedroom soothing.
Repeating the color black in other elements of the room, such as the accessories and furnishings will keep your color scheme tied together. The pops of color will also add to the level of sophistication and elegance of the bedroom. Just make sure that you don't overuse it. Remember! Unless you are going for a "black and white" theme, the key is to feature the color black in just the right amount to prevent the space from looking too heavy.
Black accent walls in bedrooms especially work for spaces which are mostly clad in white furnishings and furniture pieces as it breaks the monotony and starkness of the room.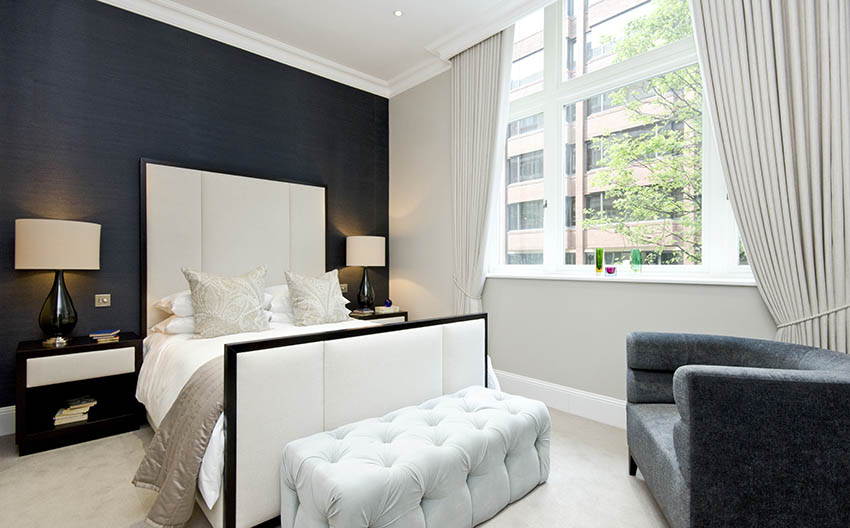 A black accent wall finished in textured wallpaper serves as a contrasting background to a pristine white bed with an upholstered headboard. Juxtaposed to a greige colored wall, the black accent wall also brings in just the right amount of contrast and elegance to this contemporary styled bedroom.
With a bit of navy blue undertones, this black accent wall in the bedroom has the right balance of a laid back and refined appeal. The light natural colored wooden floor also complements the dark accent wall and keeps the bedroom light and visually spacious. printed bed covers and pillows keep the overall look tied together by showcasing pops of color which match the accent wall. See more accent wall color ideas here.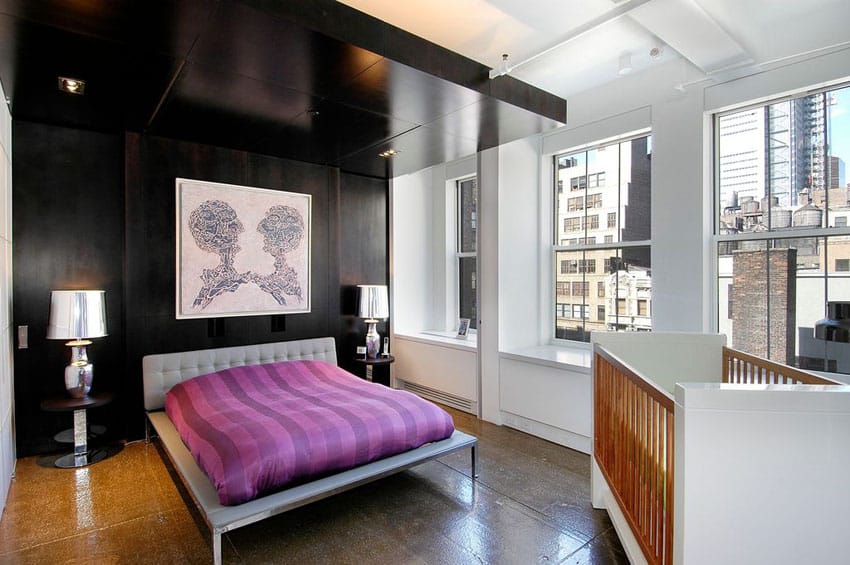 Laminates and panels add extra character to the balck accent wall of this contemporary style bedroom. The built up wall for the headboard also makes the accent wall less boring while also adding some depth and drama to the space. To keep the bedroom more lively, a pop of magenta is used for the bed linens.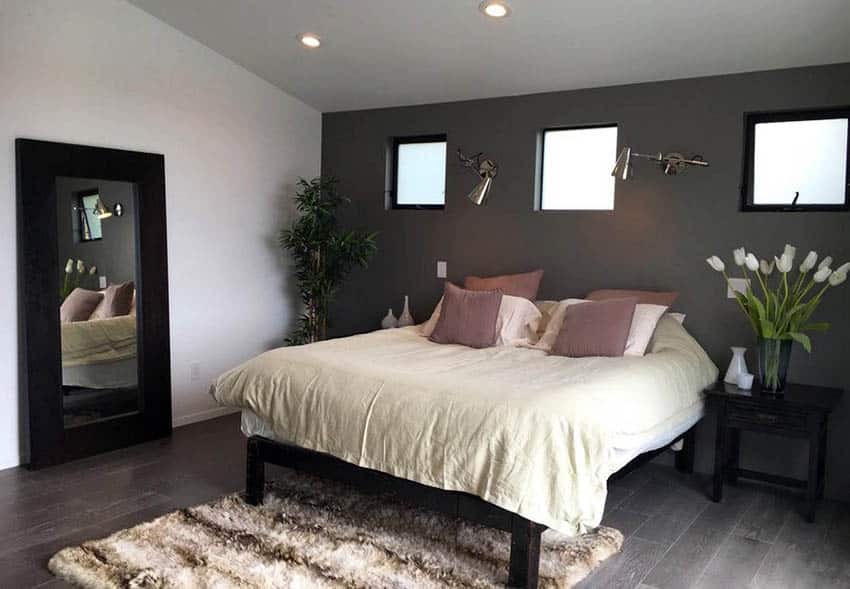 An equally elegant alternative to the black paint is a warm tone of gray. A gray accent wall renders a sense of quiet strength to a space and gives out a refined visual appeal. Since gray is also a neutral color, it is easy to pair with complementing accessories and furnishings. Design wise, a gray accent wall can fit any style whether it may be modern, transitional or contemporary, just like the bedroom shown above.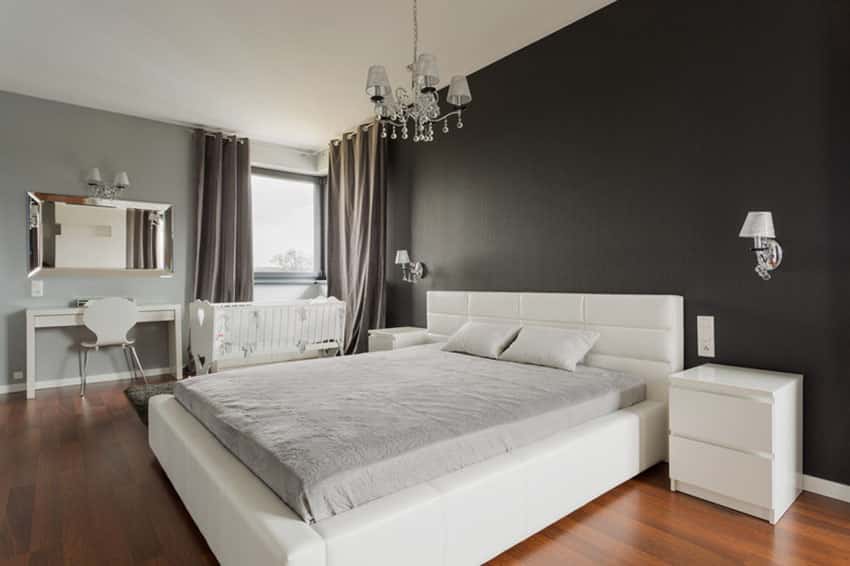 To keep a black accent wall bedroom design from looking too dark one can add plenty of lighter contrast. Lighter color wall paint and furniture pieces can be used to lighten up the space and compliment the drama of a black wall. See more black bedroom designs here.
Black Accent Wall in Living Room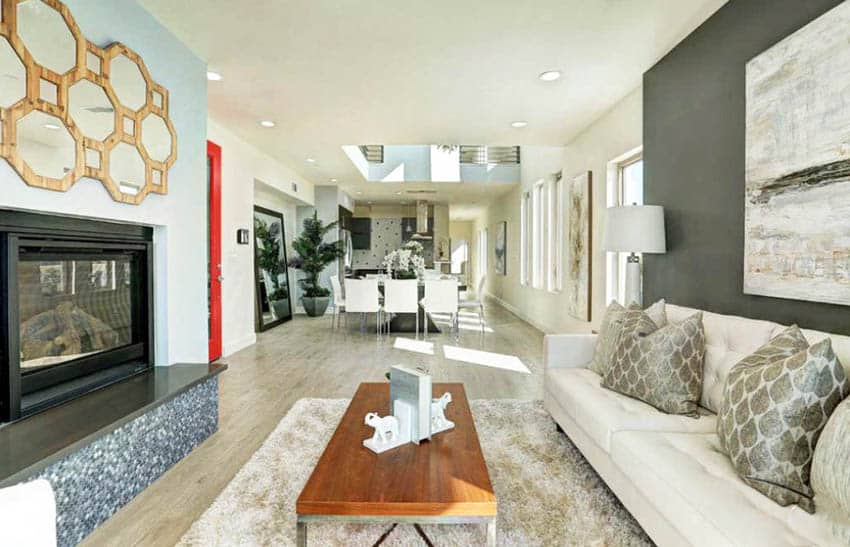 Gallery wall: A black accent wall in the living offers a beautiful backdrop for several items which you want to showcase in your home. To make your painted black accent wall in the living room less boring, you can try using it as a gallery wall where a collection of framed family photos may be hanged. Again, a black accent wall instantly draws attention towards it so it is also fitting to use for displaying other items which you want to highlight, like a favorite artwork or a modern art. It can also be finished with a floating ledge, where your favorite accessories can be placed.
Accent wall with decal or mural: If you are not a fan of knick knacks and are aiming for a more minimalist look, you can use a decal to add character to a painted black accent wall. Wall decals are very "in" nowadays and are available in a myriad of designs, like texts or quotes in calligraphy fonts, cityscapes or silhouettes of objects. Wall decals are well suited for black accent walls in contemporary and modern living rooms.
Alternatively, you can add character to your black accent wall in the living room by using textured wall paper instead of the usual paint finish. Textured wall papers add depth and dimension to the overall look of your living room without being too heavy on the eyes.
Printed black wallpaper is also another excellent option. Your choice of pattern will greatly depend on the final look and style you want to achieve for your living room. For example, geometric or striped black wallpaper are for modern and contemporary living rooms, floral prints and motifs for traditional living rooms and black with gold patterns for hollywood regency style living spaces.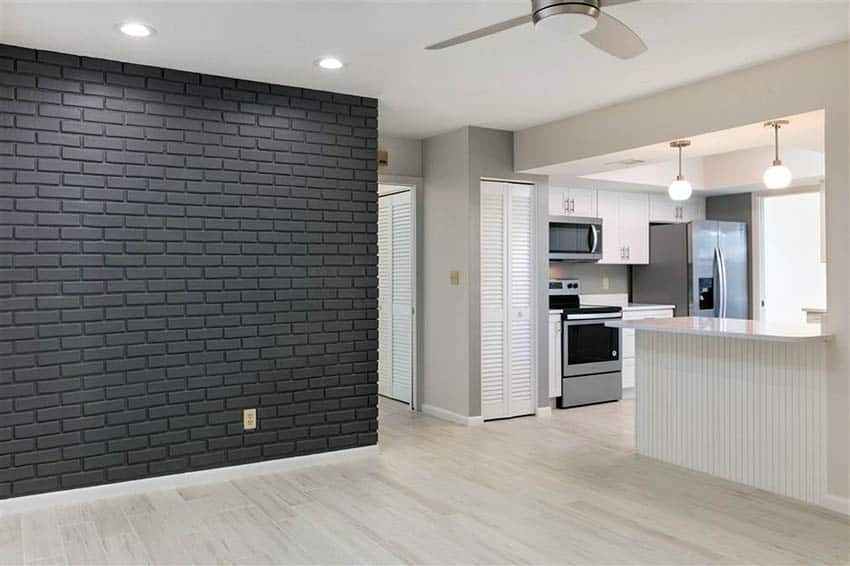 Bricks are a unique finishing material which can be explored for a black accent wall. Aside from providing contrast in terms of texture, a black brick accent wall also renders a strong industrial vibe. This type of accent wall surely draws all the attention, especially when combined with light colored flooring, walls and built in storage systems.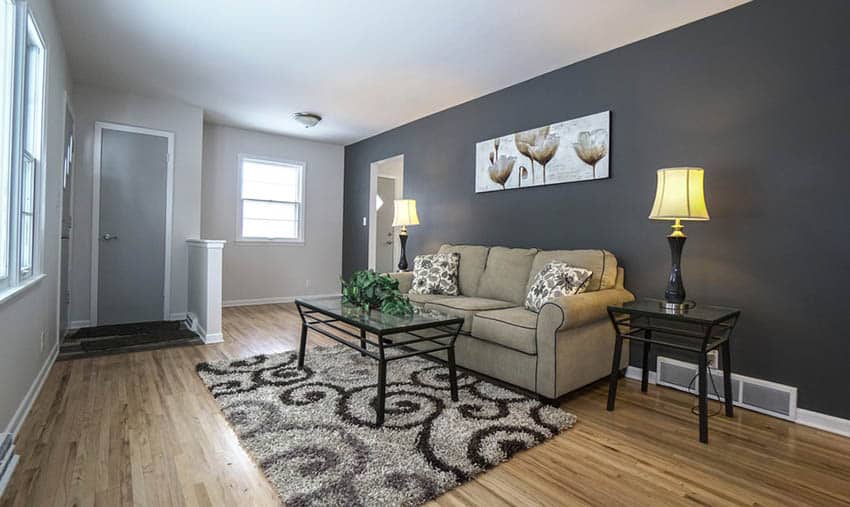 A slate gray accent wall pairs well with neutral colored furniture pieces, such as the khaki colored sofa shown above. A matching area rug and black metal side tables also complement well with the warm color palette of this living room.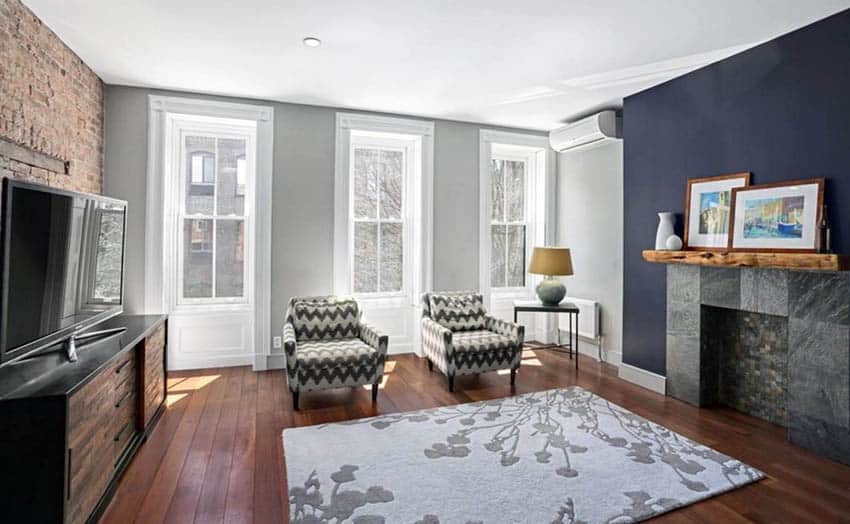 Another way to keep a black accent wall from looking too dull and boring is to use mixed materials as finishing. This living room has an accent wall which combines paint, natural slate and wood. Adding some artworks and vases in the wooden ledge also takes the visual interest up a notch.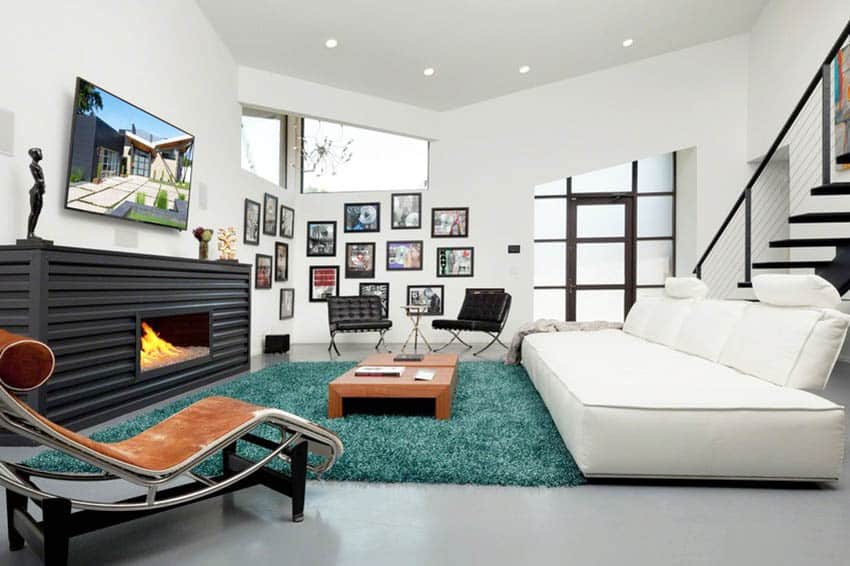 A black accent wall does not always have to be a wall per se. The living room shown above shows how a fireplace painted in black can also give out the same design benefits that a full accent wall has. Against a background of white walls and white furniture, the fireplace stands out in the space and draws all the focus to itself.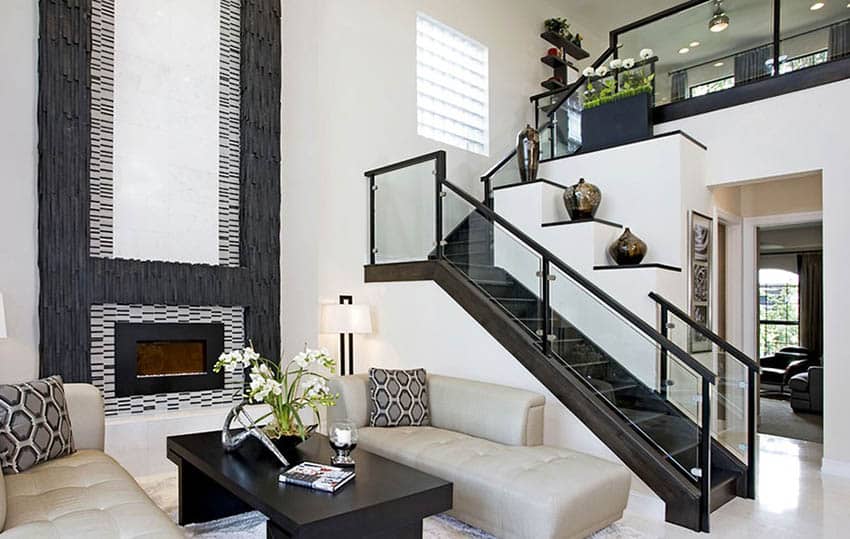 Texture and pattern are other visual elements which can amp up the look of a black accent wall. This living room showcases a fireplace bordered with black strip tiles and stone. Repeating the color black in the furniture, stairs, accessories such as the vases and throw pillows keep the overall look tied together harmoniously
Black Accent Wall in Kitchen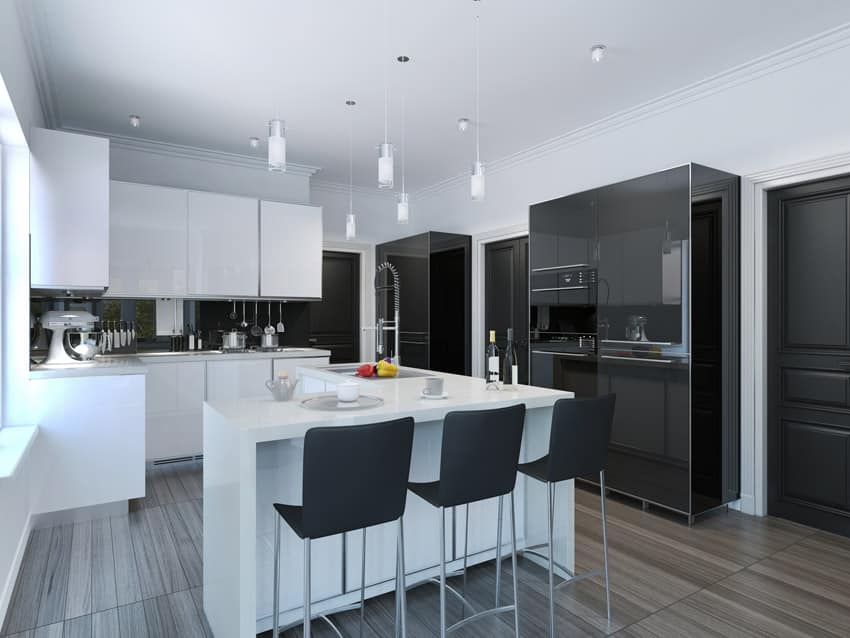 The color black, in general, is not a common color we see in kitchens simply because most of us feel that it is too heavy for the eyes and it takes away the lightness and airiness of the space. Since the kitchen is also filled already with a lot of elements like shelves with pots and pans, display of dinnerware, a large span of cabinets and appliances, — a light colored backdrop, usually white, is more favored to make the space less overwhelming and visually spacious.
Although unconventional, making the color black a part of your kitchen's color palette can bring in a totally new experience and a big visual difference. Because it veers away from the usual color schemes that we see in kitchens such as neutrals and warm shades of brown from natural woods, it adds a unique vibe to the space. When used properly, a black accent wall can make your kitchen look more elegant, stylish and sophisticated.
There are clever ways to add in a black accent wall in a kitchen such as a cabinets clad in black, furnished with black countertops or a dark colored backsplash covered in tiles.
Black cabinets and countertops : An accent wall does not always have to be a wall, per se. In a kitchen setting, at least one to three walls are alloted for a whole span of kitchen cabinets (depending on the layout), and this is a good way to introduce your black accent wall. Instead of painting a wall black, you can directly apply the color to the cabinet. Being the most dominant feature in a kitchen, cabinets finished in black instantly amps up the character of the space, while also serving as the main focal point.
Depending on the style of your kitchen, you can choose different finishes for your black cabinets. For contemporary kitchens, a wall with black cabinets in matte or semi gloss paint finish will do the trick. For a more modern setting, upgrade the look of kitchen cabinets in a high gloss black finish using high pressure laminates, veneers or glossy ducco finish. A more traditional kitchen, on the other hand, is suited with an ebony colored wood stain.
Black backsplash : If you do not want to paint your kitchen cabinets in black, another way to create a black accent wall in the kitchen is through the backsplash. A wall finished with black glass mosaic tiles will surely bring in a stylish vibe, especially if paired with contrasting light colored cabinets. Alternatively, a black backsplash will also work when paired with black kitchen cabinets, as long as your backsplash has pops of metallic or grayish accents in it. Aside from mosaic tiles, other materials like black natural stone or granite, black subway tiles or black geometric tiles are also good options to choose from.
Design Tip : If black is a too strong color for your kitchen, you can explore other alternative colors, like charcoal which will produce the same level of sophistication and dramatic effect. Also, balance out your black accent wall with light colored elements in the kitchen. Create contrast with the accents by using metallic accessories, a glass pendant over the counter or light colored bar stools. You can also never go wrong with pairing a black accent wall with white countertops as it levels out the overall look of your kitchen.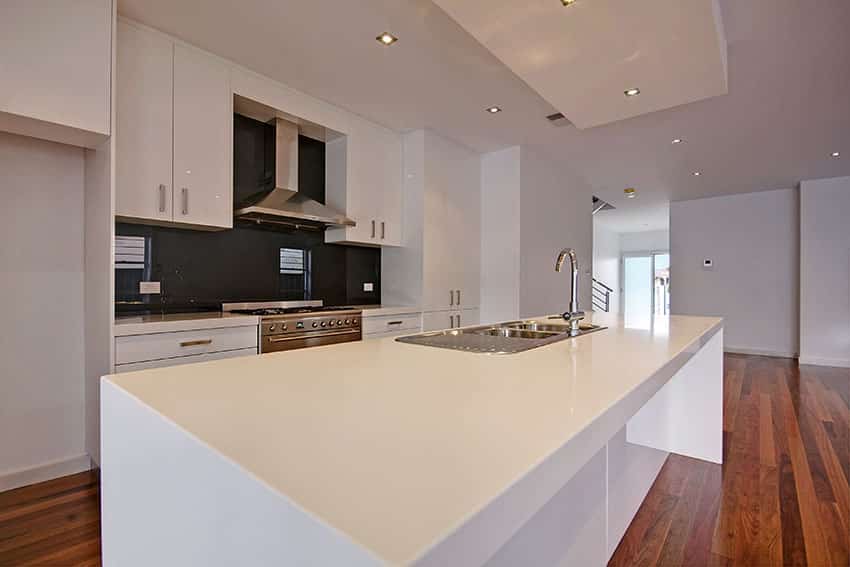 In a kitchen dominated by white, a black granite backsplash can instantly break the starkness of the white kitchen cabinets and countertops. It also prevents the space from looking too dull and monotonous.
This ultra stylish kitchen makes use of matte black finish for the kitchen cabinets and an exotic granite backsplash. The undertones from the dynamic veining pattern of the stone provides a dramatic effect and urban finesse to the space. To achieve maximum elegance and sophistication, the dark colored accent wall is complemented with black colored furniture pieces and glass lighting fixtures and accessories.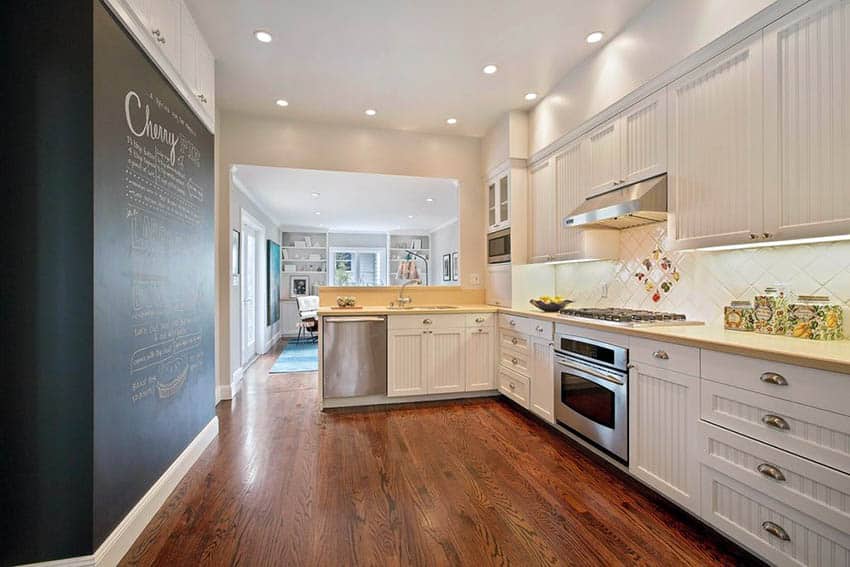 A black accent wall painted with chalkboard paint is a wise addition to a kitchen because of its functionality. It offers flexibility as family members can leave notes or reminders, or it can showcase a favorite saying, verse or recipe. In addition, a chalkboard accent wall also makes the space feel more personal.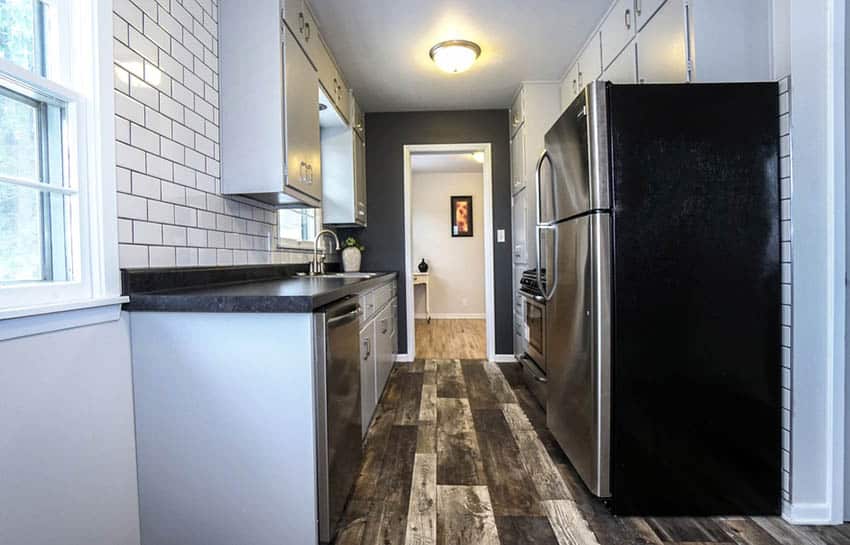 Even a small entry way, such as the one shown above, can have a big impact on a space when painted in black. This galley kitchen tastefully combines contrasting warm gray accent wall, white trims, subway tiles backsplash and exotic wood plank flooring.
Black Accent Wall in Dining Room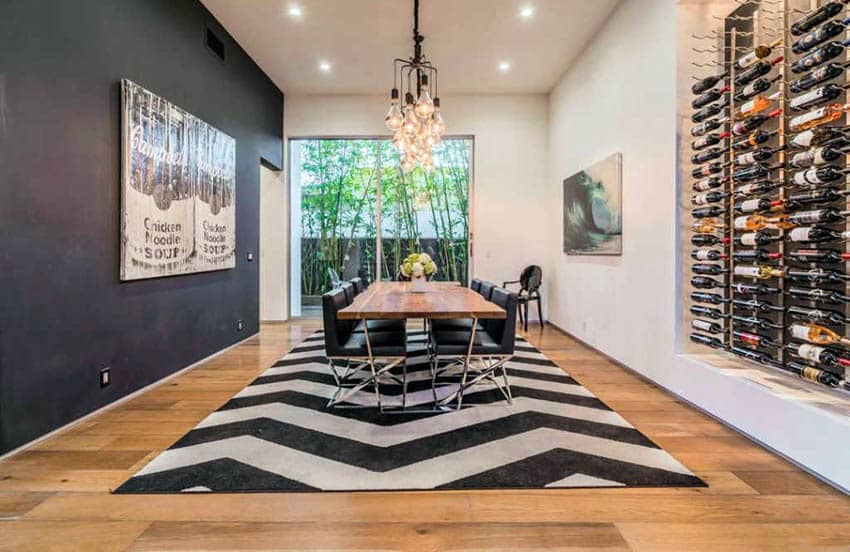 The best way to furnish a black accent wall in the dining room is to keep it simple — a single piece of framed artwork, a hanging metal art or mirror is sometimes just enough to do the trick. If this looks too bare for you, a console table or buffet table with two lamps at each end may also be added to the setup.
Plain black paint or textured wall finishes like wallpaper, wood panels or laminates are some materials which can be explored for black accent walls in the dining room.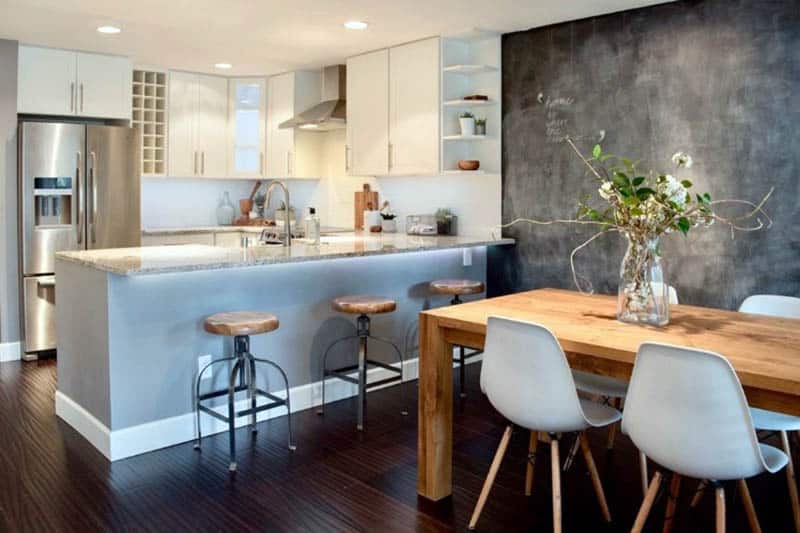 Design Tip : Black chalkboard paint is another unique finishing material which you can explore for an accent wall in the dining room. A black chalkboard accent wall may be used for notes, reminders or wall art. And if you have kids, it offers them a blank canvas where they can explore their creativity. Your family can also leave notes to one another, post reminders and keep track of each other's schedules. Aside from being functional, it brings a fun and industrial vibe to a space.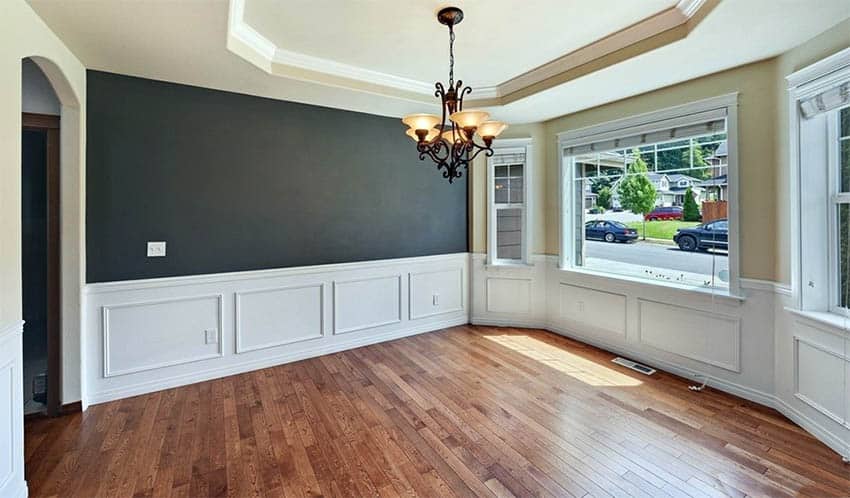 For more traditional style spaces, wainscoting and wood paneling are some other wall treatments which can be explored for a black accent wall. Combined with white trim and moldings, the black accent wall contributes a pop of color without being too loud and overwhelming. In addition, it matches the timelessness and refined flair of this classic style space. Using accent colors on a tray ceiling is another way to draw the eye and create visual interest.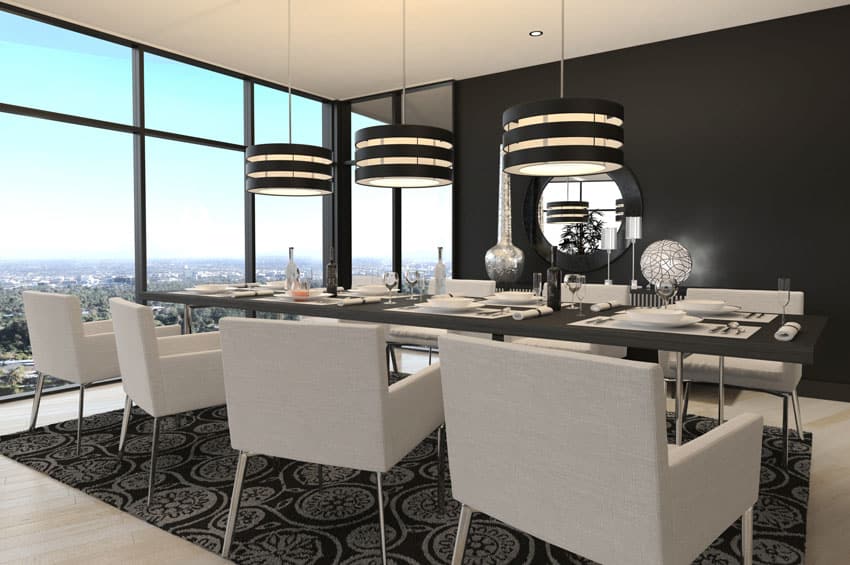 Stylish, elegant and sophisticated, this modern dining room showcases a classic black and white pairing for the design elements of the space. The best thing about this dining room is that it has large windows which take maximum advantage of natural sunlight, making the space appear airy and bright, while also lessening the heaviness of the matte black accent wall.
Black Accent Wall in Office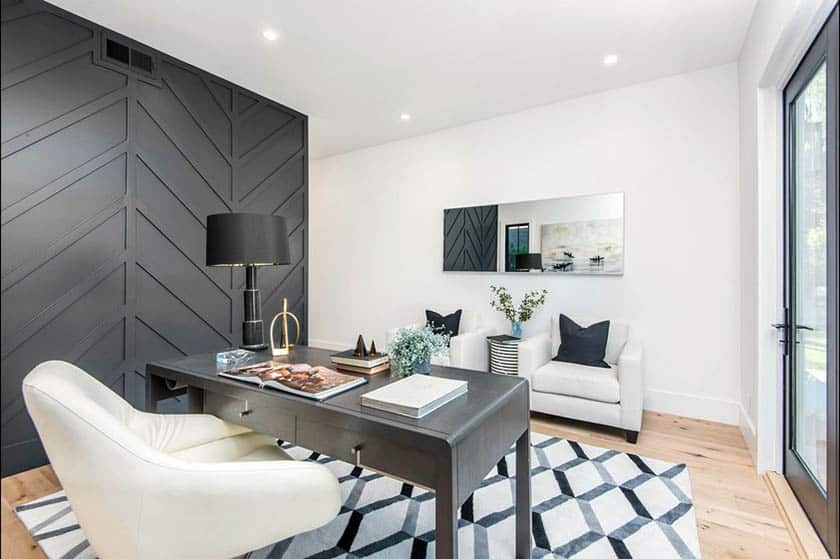 A home office does not always have to be a separate room in the house. In some cases where the space is limited, home offices are usually placed in a corner of a room or in a nook. And since it may not be enclosed with partitions, a good way to delineate the home office from other areas of the house is to use a black accent wall. A black accent wall does not only work by directing the visual attention to something, but it also keeps a space distinct and separate.
Here are some ways to use a black accent wall in the home office:
Floor to ceiling bookshelves : If the space permits, a black accent wall in the home office may be furnished with built in floor to ceiling bookshelves. A full span of storage maximizes every inch of vertical space, and aside from being functional, it also contributes a different character to your room.
To prevent your black accent wall from looking too boring, make sure to combine different types of storage systems for your bookshelves. Instead of going for the conventional box type individual compartments, you can combine shelves or ledges with a bit of closed cabinetry at the bottom or the overhead part of the wall. The accessories that you display in the bookshelves are also significant parts of the space as these small elements will add up to the overall vibe of the home office. Take advantage of the storage space available and keep a variation of your accessories by combining books with statement accessories or framed artwork.
The wall behind the desk : The main furniture pieces in a home office are the desk or office table and the chair, and an effective way to direct focus and attention to it is by putting a black accent wall behind it. Wallpaper, paint, laminates, wood panelling and special textured wall finishes are some materials you can explore for this.
Design Tip : Keep it simple with a black painted accent wall. You can never go wrong with a simple black painted accent wall. For a home office space, a plain painted black wall offers flexibility since it may double as a gallery wall and a memo wall. You can also add a single floating shelf if a full floor to ceiling storage looks too overwhelming for your taste.
For a more modern and minimalist flair, furnish your black painted wall with a series of framed black and white pictures and use furniture which have Scandinavian inspiration.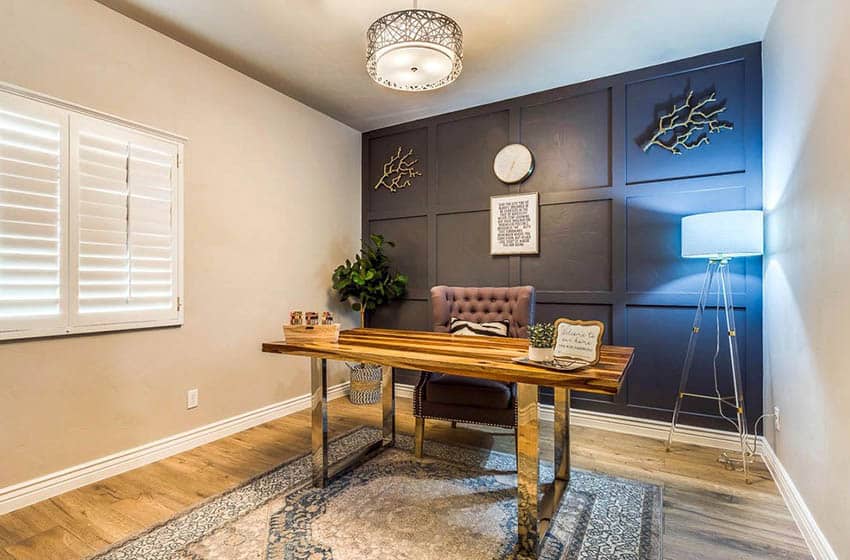 Well curated accessories and minimal pieces grace this paneled black accent wall in this home office. Notice how the color black instantly updates the look and ushers in a contemporary vibe to this traditional style space.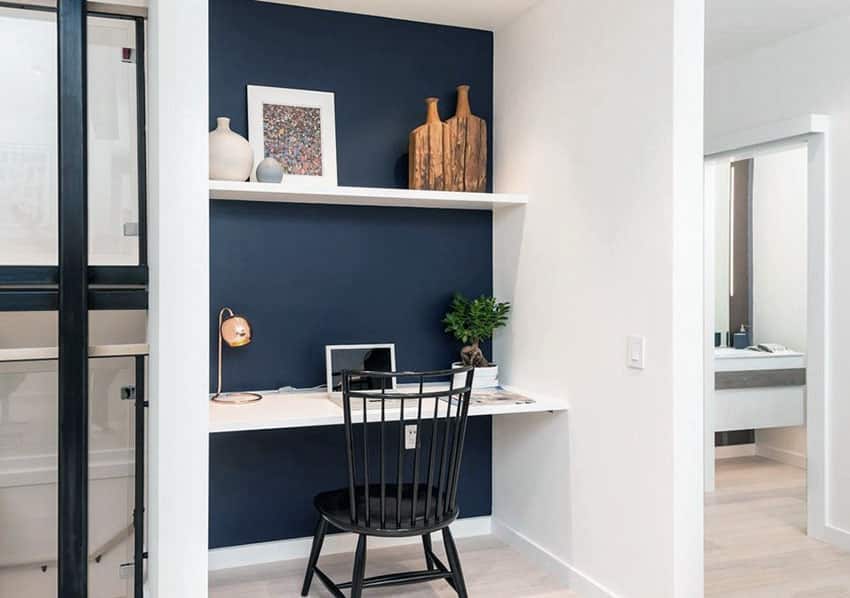 As mentioned earlier, a home office does not always have to be a enclosed room in the house. A small wall niche, such as the one shown, can be dedicated for the same purpose, while only using minimal furniture piece and furnishings. Using a black accent wall makes the space distinct and separates it from all the other adjacent areas in the house.
Black Accent Wall in Bathroom
Even small spaces like bathrooms can benefit from black accent walls. Contrary to popular belief that dark colors can often make your space look smaller, the color black – when used sparingly, actually works even for shower areas or even powder rooms. As for any type of room, a black accent wall in a bathroom can add sophistication and heighten the level of visual drama in the space.
Shower area : The shower area is the most common place for a black accent wall in the bathroom with glass mosaic tiles as the most popular finishing material. Alternatively, ceramic and porcelain tiles may also be used, depending on the style of the bathroom. Strip tiles and geometric shaped tiles in black color are also excellent choices, particularly for contemporary and modern style bathrooms.
Typically, the wall where the shower fixtures are used as an accent wall in a shower area setting, but the side wall may also be used. And to make the most out of an accent wall, wall niches which double as toiletry holders may be built in.
Lavatory wall or vanity wall : The wall where the vanity or lavatory is placed is also another perfect spot for a black accent wall in the bathroom. But unlike the shower area which is usually limited to finishing materials like tiles, there are more material options for a lavatory wall since it does not get wet as much. Black wallpaper, paint and natural stone are other alternatives which can add character to a black accent wall.
Design Tip : If you decide on using mosaic tiles for your black accent wall in the bathroom, look for the variants which have metallic and silvery accents since they complement well with stainless steel and chrome faucets. Also, you can never go wrong with white colored bathroom fixtures like lavatory sinks and water closets as they contrast well with a black wall. Black and white bathrooms can provide plenty of contrast without the room appearing too dark.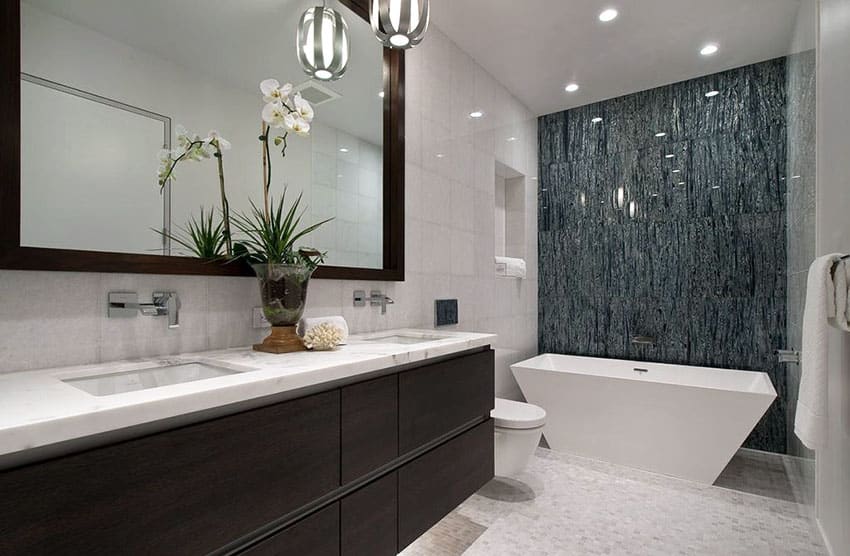 Black high gloss ceramic tiles with unique striations of gray and white undertones serve as the focal point of this contemporary bathroom. Keeping the same high gloss finish for the wall and floor tiles tricks the eye by making the bathroom appear more visually spacious. Also, high gloss finishes reflect light better compared to matte tiles so it works as a better finish for black accent walls in bathrooms.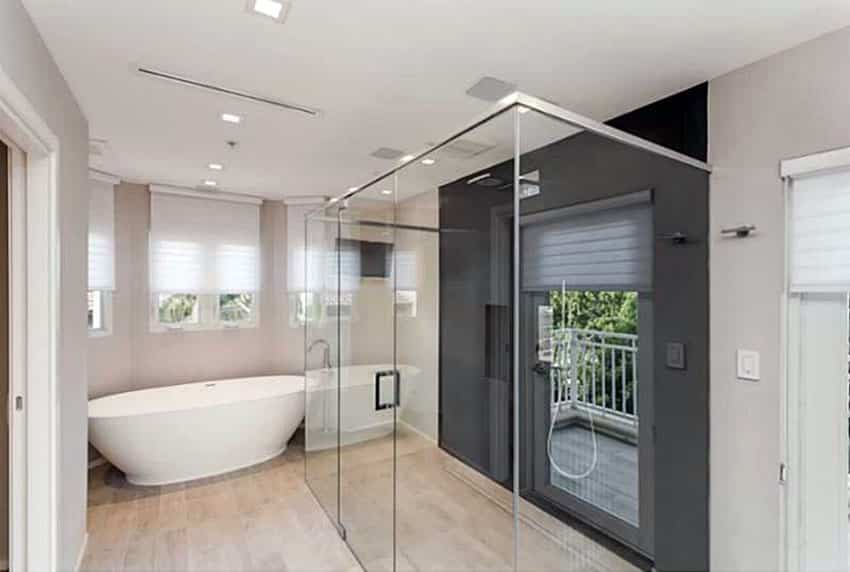 The black accent wall in this contemporary master bath visually separates the shower area from the other areas. A glass enclosures lightens up the overall mood while also doubling as a way to keep the space well lighted and prevent it from feeling too closed in.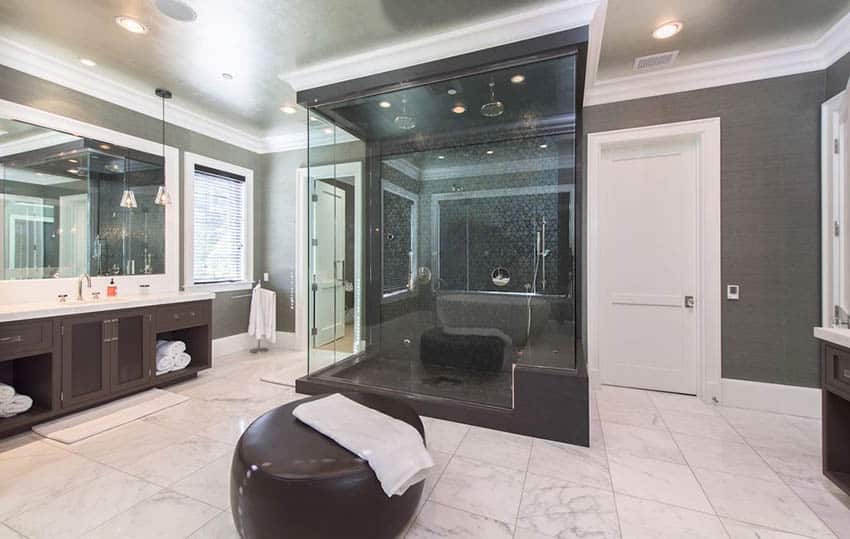 The shower enclosure with black geometric printed ceramic tiles serve as a stunning focal point for this ultra luxurious master bathroom. You can also see how white glossy marble tiles, gray walls and light colored accessories can tone down the darkness and heaviness of the color black. Juxtaposed with the right contrasting elements, the result is a bright, airy and finesse abode fro relaxation.
Black Accent Wall Design Tips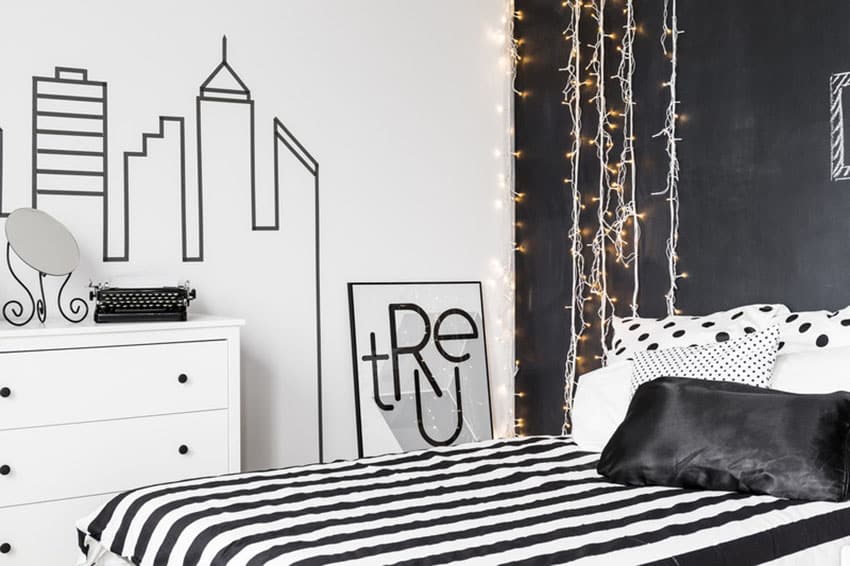 Find the right spot. The key to pulling off a black accent wall for any type of space is to find the right spot for it. Ideally, opt for a space which receives plenty of natural light so it does not look too gloomy or heavy. You can never go wrong with a wall that has a window beside it.
Explore pattern, texture and style. A black accent wall can easily adapt to different decorating styles with just a few simple tweaks. There are different material finishes which you can explore depending on the interior design style you aim to achieve. An accent wall clad in black wallpaper is highly suited for a vintage, eclectic or mid century modern space. Textured black walls, on the other hand, are bests options for traditional, rustic and Mediterranean inspired interiors.
Patterns and prints also make a black accent wall more interesting. Aside from printed wall covering, stencils and stamps provide an easy way to decorate a black accent wall. Wall decals and stickers are also effective alternatives if you want to add more decorative drama.
Keep your furniture pieces and accessories well edited. A black accent wall is a bold design element in itself, so it needs to be combined with the right type of accessories and furniture pieces. Keep your furniture simple and your accessories minimal to prevent the from competing with the strong character of a black accent wall.
Contrast. Bold contrast creates a bigger impact. You do not want to pair your black accent wall with dark colored elements unless you want your space to look monotonous. Instead, opt for light colored furniture pieces and accessories as they pop out nicely against a black background.
Take into account the colors of the other walls in the space. For the other walls in the space, you can use white, cream or ivory colored paint to keep the space from feeling too closed in. the same thing goes for the ceiling, use a light colored paint, preferably white to balance out the color scheme of the room.
Complement with the proper accents. When accessorizing a black accent wall, you don't always need to stick with a black-and – white color scheme. Bright colored decorative elements pop out beautifully against a dark colored background. Blue and green, specifically the lighter tints, also make a bold statement and contrast beautifully with a black accent wall. Introduce your accent color through the accessories like vases or soft furnishings like curtains, drapes, throws and pillows. Artwork and furniture are also other ways which you can use bright accent colors.
For related designs visit this page for more accent wall ideas.