These are the types of dishwashers showcasing different styles such as top, front control, built-in & portable designs, their benefits, features, sizes, and how to know which dishwasher to buy.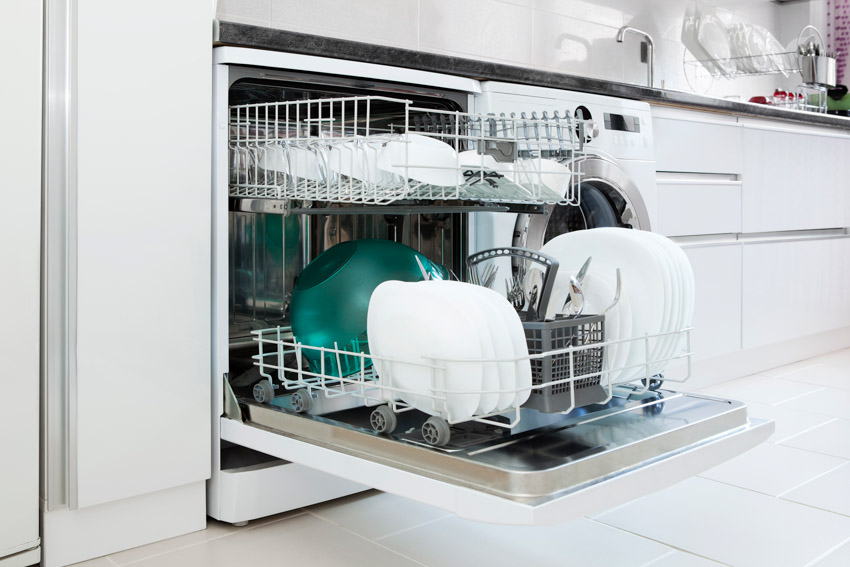 Dishwashers have become part of every home because of the convenience it brings. With many chores you have to deal with every day, it will be a big weight lifted off your shoulders just to get rid of one task. This is exactly what a dishwasher can do for you.
Whether you are planning to buy one or have one at home, it is not a bad move to know more about these vital types of appliances. And some of the benefits you can enjoy from having one at home include the following:
• Saves you time and effort with the house chores
• Helps your kitchen to run smoothly
• Lifespan of up to 10 years with proper maintenance
• Can clean a variety of kitchen-wares (Kitchen tools, plates, and glasses, sponges, kitchen appliance knobs, sink plungers, refrigerator shelves, and even food items like carrots and potatoes)
• Can accommodate even non-kitchen-related items (Toys, makeup brushes, hair ties, garden tools, baseball caps, car parts and mechanical tools, and sports gears like elbow pads and knee pads)
With many dishwashers offered in the market today, it can be a bit overwhelming at first, especially since you will need to consider different styles, brands, and even features. And getting one for your home will also be a bit of an investment so you need to be sure about your choice.
To help you settle a decision, going through the different types one by one is the most effective way. Here are some of the most popular types of dishwashers you can consider.
Built-in Dishwashers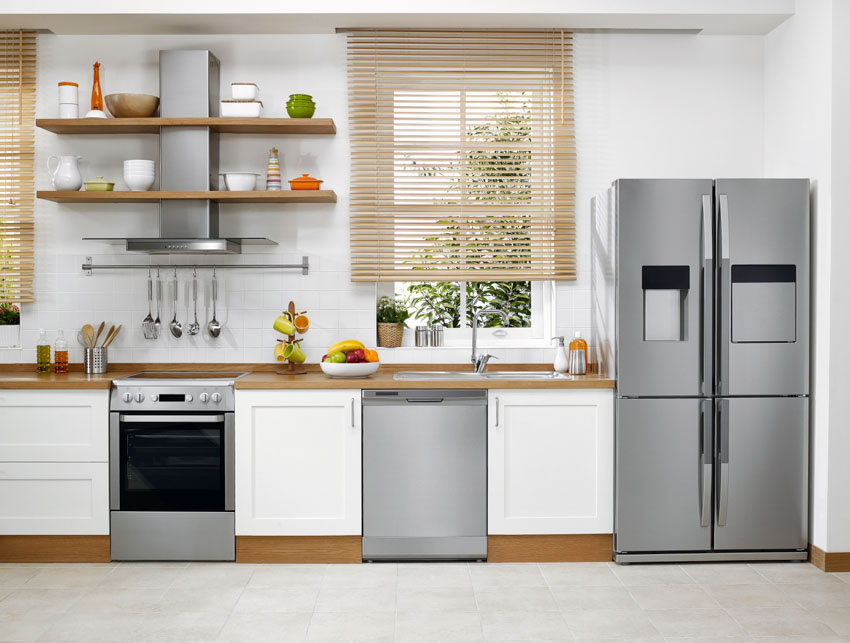 Considered the most popular among the different types of dishwashers, built-in dishwashers are designed to stay in place and have independent plumbing connections.
These traditional dishwashers are usually made to go under the benches or anywhere out of sight. They usually have unfinished sides since they are typically slid under a countertop or cabinet and won't be seen anyway.
If you're thinking about getting a built-in dishwasher, make sure you have enough space to accommodate either a compact 18-inch wide dishwasher or a 24-inch standard dishwasher.
Benefits of Built-in Dishwashers:
• Drowned out noise when in wash cycle: Since the dishwashers are flushed into a secure spot (usually underneath the cabinets), the noise when in operation is drowned out.
• Brings a sleek and clean look into your kitchen: With the dishwasher flushed with the cabinets, they will look like they're part of the cabinets instead of being an entirely different appliance on their own.
• Saves space: Compared to the traditional countertop model, built-in dishwashers free countertop space and don't even use floor space. You can use these freed-up spaces for other purposes like meal preparation and even storage.
• Convenient in operation: Since these dishwashers are not connected to the sink's faucet, you can run the dishwasher and work on the faucet at the same time.
The downside in choosing a built-in dishwasher is that this type is usually a permanent type of appliance so if you're a renter or you're planning to move into a new house, this might not be a good option for you.
Front Control Dishwashers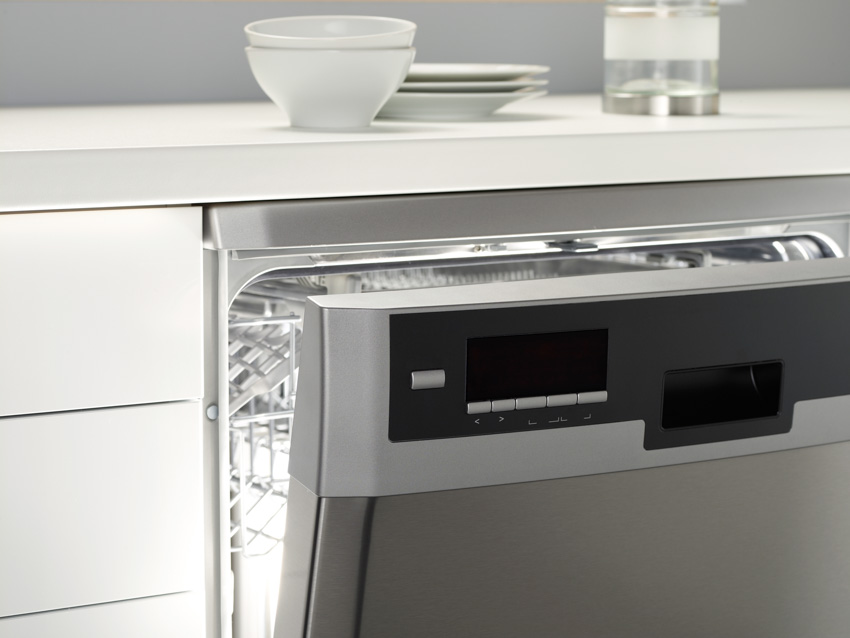 One of the types of dishwashers based on style and the location of the control panel is the front control dishwasher. This type of dishwasher, just as it's named, has its control console located in front of the appliance. At a first glance, you will be able to see the screens and buttons you need to access for the appliance's operation.
Benefits of Front Control Dishwashers:
• Quick and easy access to cycles and options: With the controls located at the front of the dishwashers, buttons are more accessible and so you won't have to crouch or look for the controls when using the appliance since it's right there in front of you.
• More budget-friendly: Compared to top-control dishwashers, front-control dishwashers are more affordable and cost less.
• Visible cycle indicator light or screen: With the cycle's remaining time visible, you don't need to open the dishwasher to know how much time is left in the cycle.
• Integrated pocket handle: You can make use of this pocket handle that's not in the way when you use the appliance.
Top Control Dishwashers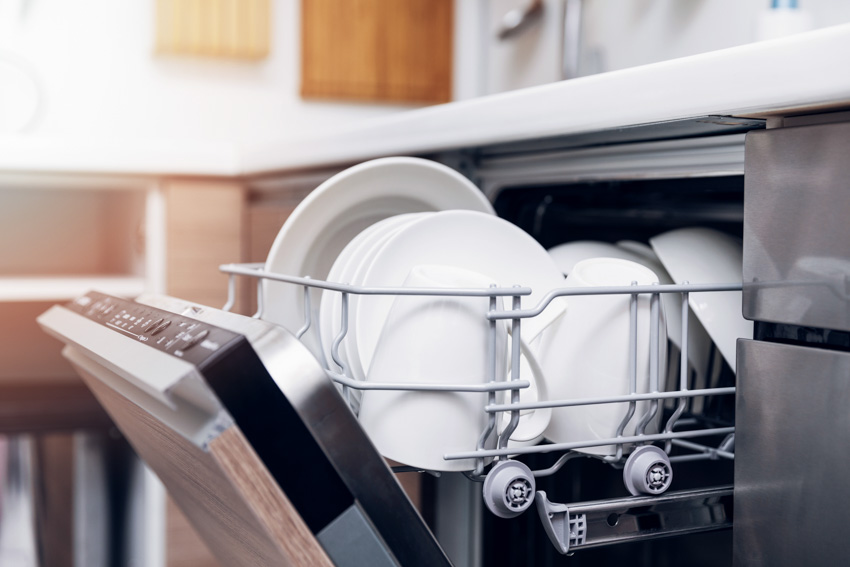 The second type of dishwasher based on the location of the control panel is the top control dishwasher. This dishwasher has the controls hidden on the top door and not at the front in order to feature a clean and seamless look.
Benefits of Top Control Dishwashers:
• Brings clean lines to your kitchen: With a smooth console and a sleek door panel, this type of dishwasher is easily considered for homeowners in need of modern kitchen design ideas, thanks to its straight clean lines and more integrated look.
• Easy to clean controls: Since the controls of this dishwasher are found at the top, you can easily wipe it clean.
• Less likely to hit the buttons on accident: You can clearly see the buttons and select options so hitting them accidentally would be less likely.
• Mostly comes with bar handles: For your towels, you can easily hang them in these racks where they can also be easily accessed.
Portable Dishwashers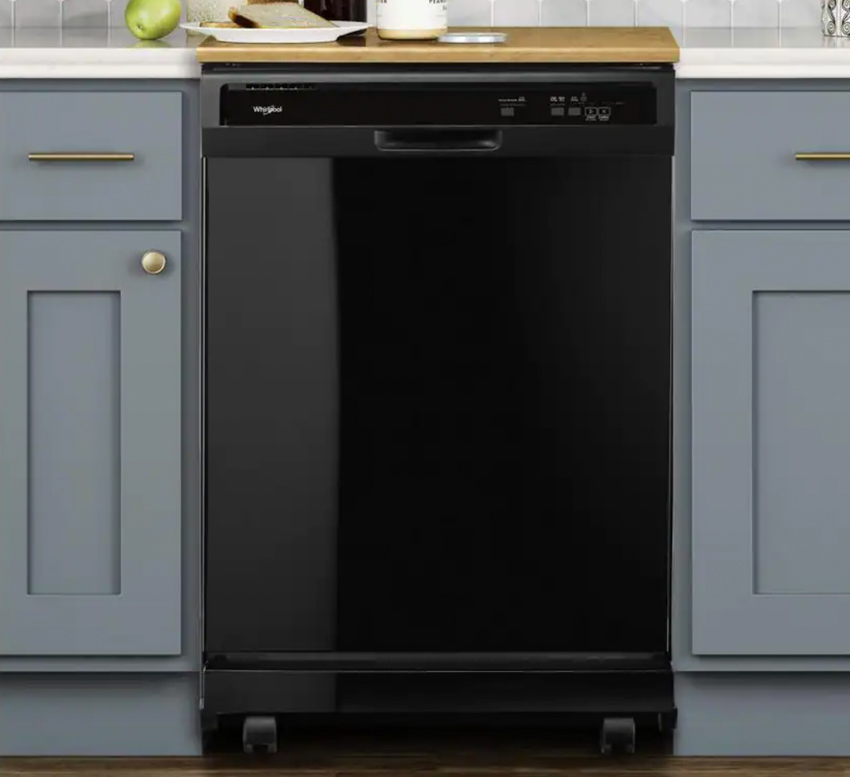 See this portable dishwasher at Home Depot [sponsored link]
If your kitchen is not that spacious and you need every space available as possible, a portable dishwasher is a good choice for you. Usually comes in a compact design, this type of dishwasher doesn't have its own plumbing and would most of the time be connected to your sink, which is what makes it portable in the first place.
In addition to that, you can easily tuck this appliance in the corner when not in use. You might need an adapter though to make the installation easier and quicker.
Benefits of Portable Dishwashers:
• Ideal for smaller spaces: Since this dishwasher is taken out when needed and stored away when not, you can make use of the space not used whenever the appliance is not in operation. See our kitchen appliance storage ideas here.

• Freestanding and flexible: This portable dishwasher does not have a permanent setup, which means you can easily move the appliance from one place to another (just make sure it's near a drain and any water source) and even when you move from one house to another (perfect for renters).
• More affordable alternative: Compared to built-in dishwashers, the portable version is much more affordable, especially since you won't have to pay for the installation costs.
• Easy to move: Most portable dishwashers have wheels attached at the bottom of the appliance, making them easier to move around.
Drawer Dishwasher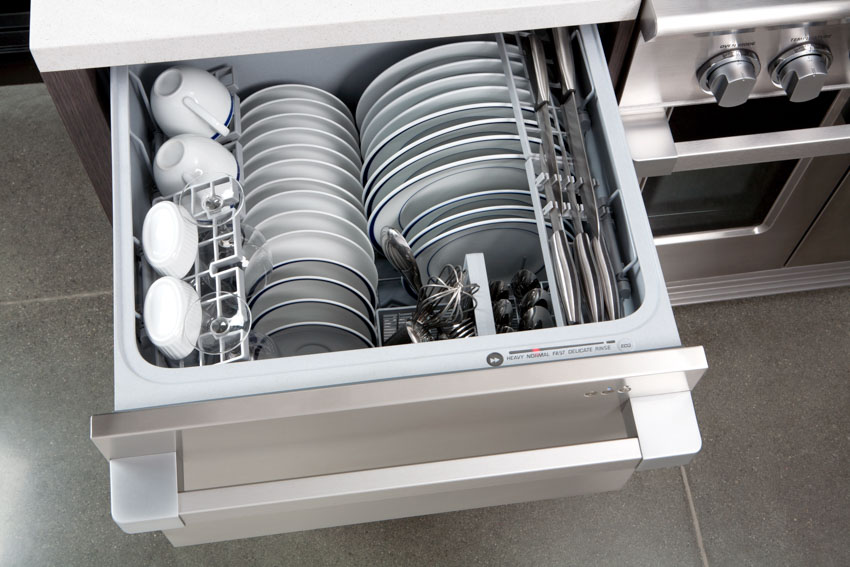 Similar to a built-in dishwasher, a drawer dishwasher is designed to seamlessly appear like it's part of the drawer's design and the kitchen in general.
Considered one of the latest dishwasher designs, this type is well-hidden in a sliding drawer, which is why they come smaller in size to make this possible. It has two versions you can make use of, you can settle with only one drawer or with a double-drawer dishwasher.
Benefits of Drawer Dishwashers:
• Less stained loading and unloading: Drawer dishwashers are designed to be highly accessible and so loading and unloading of items won't be hard to accomplish.
• Sleek and modern design: Similar to built-in dishwashers, drawer dishwashers are flushed to the drawer so they appear to be part of the drawers and the kitchen instead of looking like a separate entity from the area.
• Convenient to use: You can use this dishwasher just by sliding the drawer compartment out and using the appliance a lot easier.
• Usually comes with two levels: This type of dishwasher is usually designed with two levels or drawers, allowing you to simultaneously use them to your convenience.
• Cost-effective: While drawer dishwashers can be expensive upfront, you will be able to save money by saving energy and water when using this appliance. You can operate on smaller loads without the appliance running at full capacity.
Countertop Dishwashers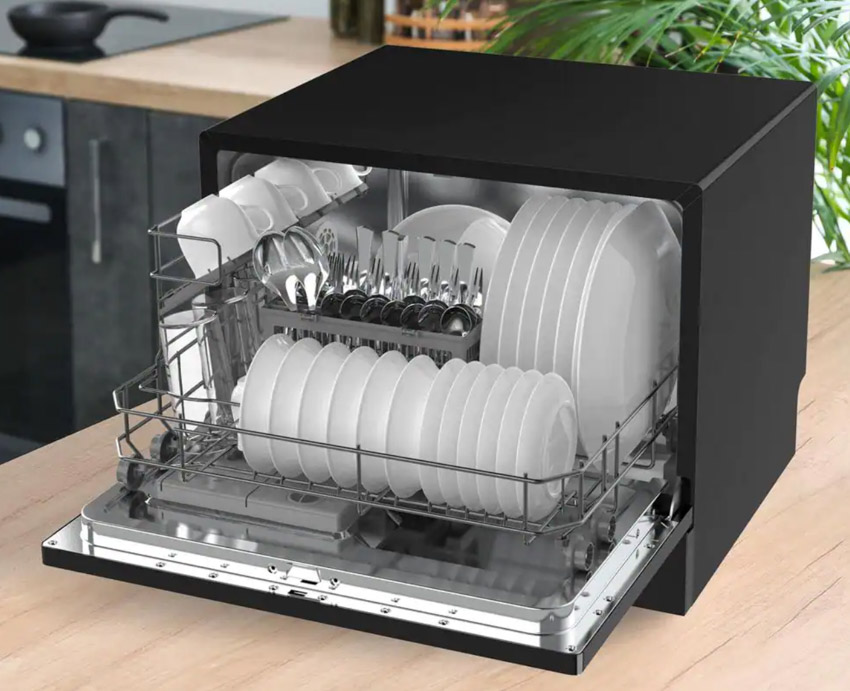 See this countertop dishwasher at Home Depot [sponsored link]
Just as its name, a countertop dishwasher refers to the type that's usually placed on your kitchen counters or island. This type of dishwasher is smaller than a portable dishwasher but it's enough to cater to a small family.
The size is also just enough to look good on top of different types of kitchen countertops. Also, you will also need to attach it to your sink and faucet so its position is also vital for its operation.
Benefits of Countertop Dishwashers:
• Easier to use: Similar in design to a portable dishwasher, its countertop version can conveniently be placed on top to have easier access.
• Sizes vary: Countertop dishwashers come in different sizes and so you won't need to be very detailed with the measurements, unlike built-in countertops.
• Can be moved around: You can move this dishwasher from one place on the countertop to another, wherever you feel is more convenient and efficient for its operation.
• More economical and energy-saving: Countertop dishwashers are designed for a small load, which won't need too much energy for the appliance to operate.
Integrated Dishwashers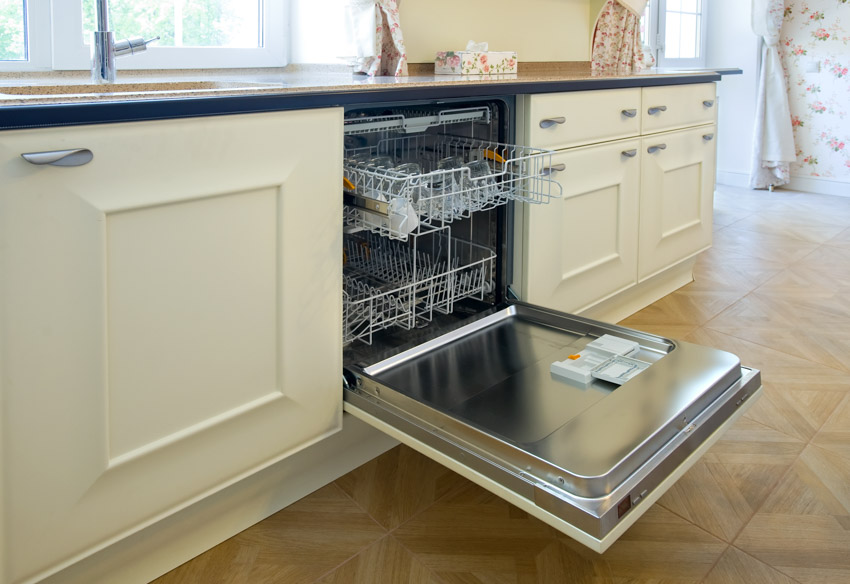 Compared to standard built-in dishwashers, integrated dishwashers are designed and customized using the same materials used to build the kitchen cabinets and cupboards to have a more cohesive aesthetics. If you want to have perfectly seamless kitchen aesthetics, this is the best dishwasher option for you.
There are two types of integrated dishwashers you can consider, which are the fully integrated dishwasher and the semi-integrated dishwasher. The former is when the dishwasher is fully concealed from your sight while the latter is styled more to blend with the kitchen cabinets instead.
Benefits of Integrated Dishwashers:
• Contributes to a cohesive, unified, streamlined, and modern look for your kitchen: Integrated dishwashers are designed to be flushed against the cabinets with the aesthetics of the appliance structured to match the kitchen cabinets.
• More room for personalization: These integrated dishwashers can be customized based on your preference and the family's needs.
• Softens up the space: Integrated dishwashers do not have an industrial look that will feel quite hard and cold.
• Panel-ready: These dishwashers have ready panels that are compatible with the customized exterior of the cabinets.
The downside with integrated dishwashers though is that since they are integrated into the kitchen cabinets, they are permanent and won't be easily portable. They will also not be ideal for renters or those who are planning to move.
Dishwasher Styles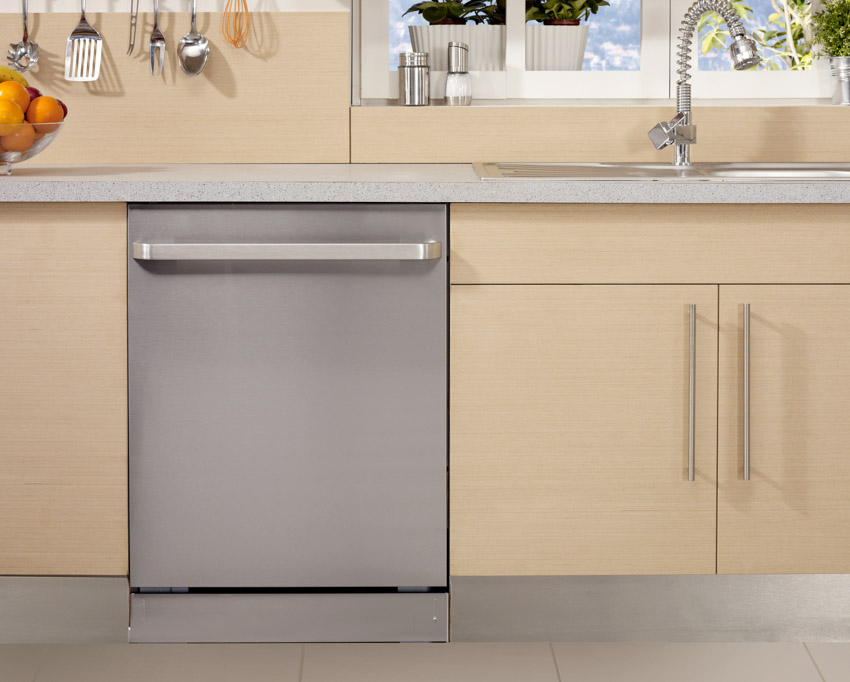 While the features and functionality of a dishwasher play an important role in its operation, the design and aesthetics should never be overlooked. Of course, you will need to choose a dishwasher that will be compatible with the style of your kitchen.
And these are some aspects of the dishwasher you can use to match your kitchen style, including the handles, finish, and control panel.
Finish: When taking into account the dishwasher finish, many dishwashers come in one of these five standard colors:
• Stainless steel
• Black stainless steel
• White
• Black
• Slate
Stainless steel is the most popular finish for dishwashers but you can always choose the one that will fit nicely with the style and vibe of your kitchen.
Handles: Another element of a dishwasher that can add to its style but is often overlooked is its handles. There are several handle types you can consider and you can easily choose one that can fit the aesthetics and vibe you prefer for your kitchen. Here are the types of handles worth taking into account.
• Bar: This type looks like a towel handle that allows you to easily grasp and pull on it. This pairs well with a control panel that's hidden in sight.
• Pocket: This type of handle features a small handle that you need to reach in since showcases a seamless and streamlined look. Smaller compared to other types of handles, pocket handles can be located at the top or front of the dishwasher.
• Scoop: Usually paired with a hidden control panel, these handles are smooth in style and fit well for timeless and classic kitchens. The hidden control panel makes it possible for the dishwasher to have a sleek profile.
• Recessed: Similar to the scoop handle when it comes to the reach-in design, recessed handles feature a flushed look since the handle is actually combined with the control panel.
Control Panel: The control panel of a dishwasher is the headquarters for all commands and functions you can make use of. Also known as the console, the panel usually goes together with the handle.
These panels can either be seen in sight or concealed within the dishwasher. When it's on top of the dishwasher, the panels are usually hidden for a more streamlined look. When it's in front though, it's hidden within the dishwasher's door.
Dishwasher Features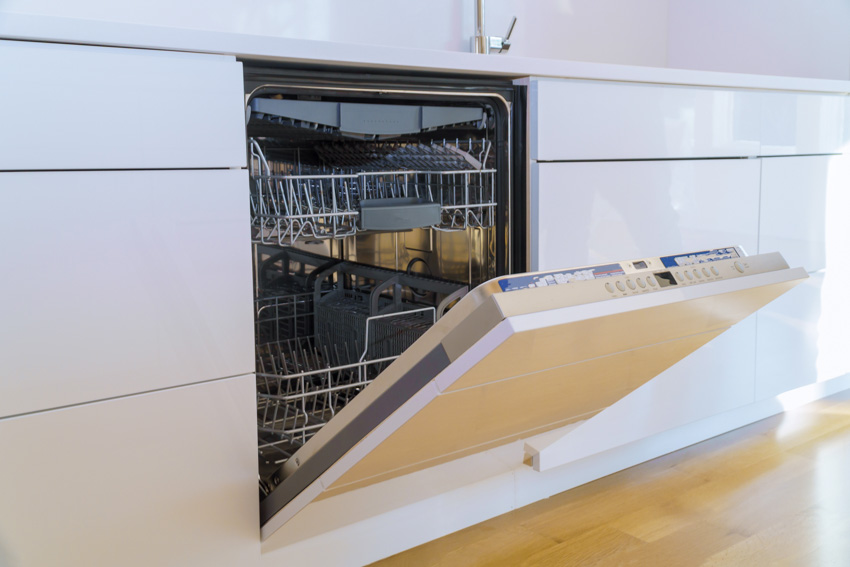 Another element of the dishwasher that you have to consider with your decision is the different features that come with the appliance. The ones with the most advanced features can be very expensive while the basic ones are also priced at a basic amount.
You can say that it's worth investing in a dishwasher if it has features that will not just elevate its functionality and aesthetics but also provide more benefits to you like saving money, effort, and time.
Besides the standard cycles of normal and heavy wash and rinse, here are other features you can explore.
Extra Rack: It's common for most dishwashers to have two racks but a third and extra rack will be a good option for sorting items and allotting the rack for silverware, cooking tools, and even oddly-shaped kitchenware. With an extra rack, washing more items becomes easier and more thorough.
Since the extra rack provides more space and can accommodate more items, it will be a good option for dishwashers that cater to large families. There is also more flexibility when loading and unloading the items in the dishwasher.
Adjustable Racks: Besides extra racks, you might want to look for a dishwasher with adjustable racks. Designed this way, these racks will then be able to accommodate bigger items since you can take out a rack to fit them all inside. This will be an entirely different matter if the racks are not adjustable.
Dishwashers with adjustable racks are perfect for kitchens with large pots and pans. You will also be able to accommodate more items in a single cycle, saving water, energy, and time.
Advanced Clean Wash System: With an advanced clean wash system, dishwashers can make use of microfiltration, which is a process that allows the continuous removal of food particles in every wash cycle and rinse cycle. This includes the circulation of clean water to all items in the racks.
Other features of an advanced clean wash system may include one of the following:
• Delicate cycle
• Heavy-duty cycle
• Quick wash
• Steam clean
Wash Sensors: If you're thinking about looking for wash sensors, you will need to check out high-end types of dishwashers. These sensors allow the adjustment of water use and cycle time based on how dirty the dishes are and how much more cleaning they would require.
Besides the promise of thorough cleaning, you will also be able to save energy, water, and money in the process since the dishwasher will be more efficient in cleaning the dishes and won't waste any resources from the process.
Low Volume Operation: For modern dishwashers, a low-volume operation in low decibel ranges is a possibility because of the following:
• Quiet motors
• Soundproof tubs
• Improved insulation
To make sure that your dishwasher has a low-volume operation, look for the dBA rating and choose the lowest you can find since it can ensure quieter operation. And more than just sound reduction, you can also expect other added features to contribute to the appliance's ease of operation.
If you have a baby at home or you're quite sensitive when it comes to noise, this feature is a priority you can look for when choosing your dishwasher.
Energy Star Rating: A dishwasher that's energy star-certified means that the appliance is able to exceed the federal standards for energy use by over 25 percent. This rating is popular in newer and more modern dishwasher models.
And compared to older models, these newer versions use drastically less water and energy, saving both these and money at the same time. These dishwashers are guaranteed to be more eco-friendly compared to others that are not energy star-certified.
Smart Functionality: A dishwasher integrated with smart functionality can be controlled using an app or software. If you have a smart home, a smart dishwasher is an ideal addition to your kitchen. This means that the dishwasher can be remotely controlled using a smartphone or any digital device.
If you tend to stay a lot of time outside of your home, operating the dishwasher even when not at home will be a wonderful feature to make use of. You will also benefit from lower electricity rates. Just make sure you adjust the settings of your dishwasher and identify the different programmable options you can use.
Timed Start: Another great feature to consider and look for in a dishwasher is the timed start of the delayed start feature. This advanced feature is popular among homeowners since it's somehow similar to a smart function but not as advanced and flexible as a remote control.
You can set a timer on when you want your dishwasher to start operating. Many homeowners set this during non-peak energy hours so that they will be able to save energy and lower their electric bills in the process. It would be great to go home after work to clean and warm dishes.
Heated Drying Systems: If your dishwasher had heated drying systems, you can be sure to enjoy warm dishes every time you place them in the appliance.
This is one of the go-to features that homeowners look for in dishwashers and this feature can guarantee that your dishes are well-cleaned. The heated drying function will further improve the cleanliness of the dishes.
Cleaning filter: A clean cycle filter can help collect food debris from clogging the machine and causing maintenance problems. This helps avoid the need for a pre-rinse cycle, but will require occasional routine cleaning.
Stainless Steel Tubs: Stainless steel tubs are interior tubs you can use as an alternative to their plastic versions. While the addition of this feature may be more expensive, they are more aesthetically pleasing and elegant to look at. In addition, they are also a lot quieter when in operation and more energy-efficient.
When you invest in these stainless steel tubs, you get an element that's better for sanitizing the dishes. These tubs can withstand warmer water when in cycles and so warm dishes are reinforced. They also dry faster and can resist stains easier and better compared to plastic tubs.
Dishwasher Sizes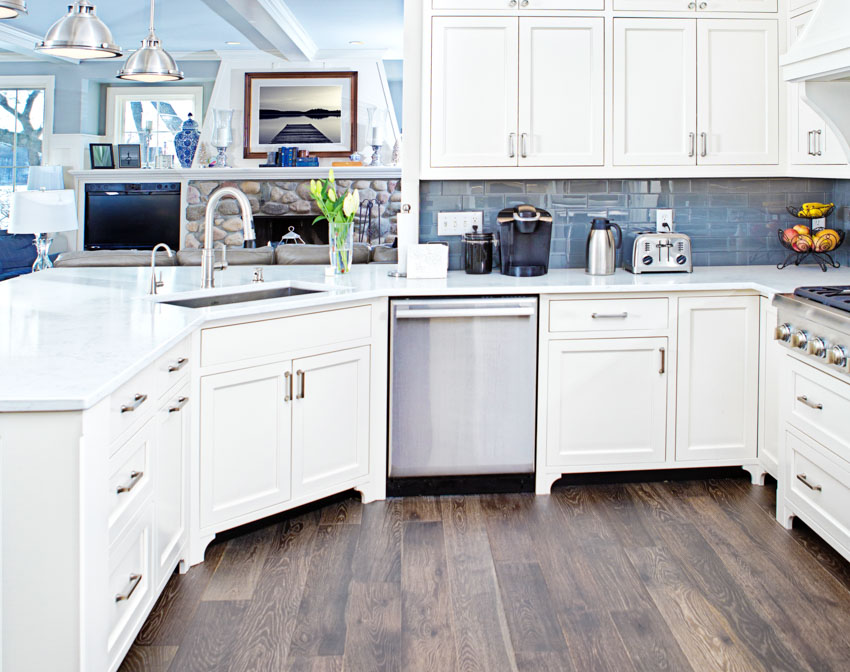 Another important aspect of a dishwasher is its size, especially since there are built-in and integrated dishwashers. You will need exact measurements when it comes to these types of dishwashers and whether you have a small or a large kitchen, you will also need to take into account these factors.
For the different dishwasher dimensions there are three options you can consider including the following:
Standard Dishwasher Size:
A standard dishwasher size measures roughly 24 inches in width, 24 inches in depth, and 34 to 36 inches in height.
Standard dishwashers usually have a variety of features, from quick cycles and timed start. Here are some of the benefits you can enjoy with a standard-sized dishwasher.
Benefits of Standard Dishwasher Size:
• Large capacity: Full-size dishwashers can accommodate 12 place settings ideal for large families.
• Save water and energy: With a large capacity, you can wash many items at the same time saving energy and water in the process.
• Wide variety of features, finishes, and price points: Since these standard-sized dishwashers are pretty common, there will be many choices to consider.
Compact Dishwasher Size:
A compact dishwasher size measures around 18 inches in width, 24 inches in depth, and 34 to 36 inches in height.
Ideal for small homes and apartments, this dishwasher offers most of the features available in standard-sized dishwashers but can only accommodate around 6 place settings.
Benefits of Compact Dishwasher Size:
• A variety of finishes and styles: While smaller in size, they are not lacking in terms of options for styles so you still have a wide selection to consider.
• More affordable: Since these dishwashers are considerably smaller, they also come at lower prices.
• Saves space: Compact dishwashers are small in size and so do not take up many cabinets or counter space.
Large Dishwasher Size:
A large dishwasher size measures 30 to 42 inches in width, 24 inches in depth, and 34 to 46 inches in height.
Benefits of Large Dishwasher Size:
• Larger capacity compared to standard and compact dishwashers: These dishwashers are perfect for large families since they can accommodate from 14 to 16 place settings, depending on how oversized the dishwasher is.
• Save water and energy: The large the dishwasher, the more items you can clean in a single cycle so you are able to save time, energy, and money.
• Usually comes with an extra rack: Large dishwashers come with a third rack to be able to accommodate more items in one go.
How Do You Know What Size Dishwasher To Buy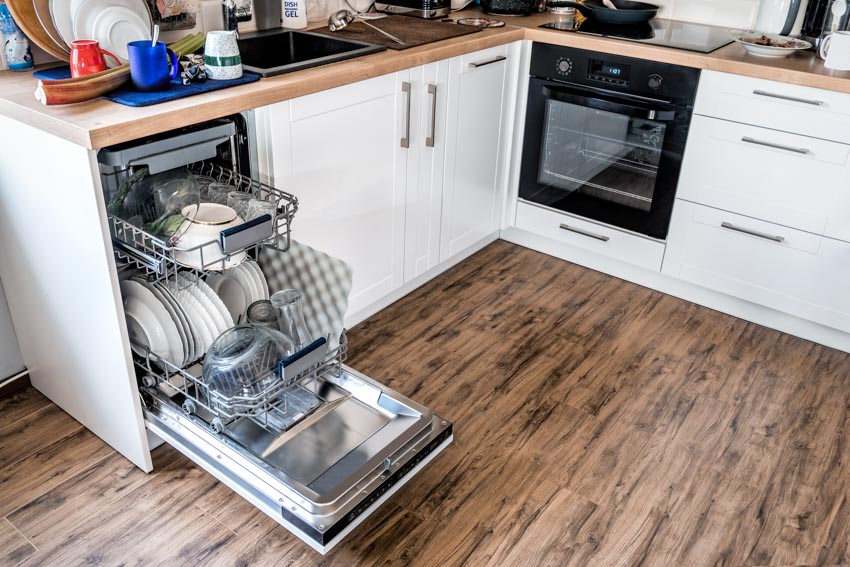 It is important to buy the ideal size of a dishwasher so that you can maximize its use and operation. In making this important decision, make sure to consider the following factors:
• Kitchen/counter space: You need to take into account the space where you will install the dishwasher so that you can check if you can go for the standard-sized one or the compact dishwasher is the best option for you.
• Family size: If you have a big family, you can opt for a large dishwasher but if you are living alone or you have a small family, a compact one is better.
• Energy-savings: For more energy savings and lower electric bills in return, choose a larger dishwasher that can clean many items in one cycle. dishwasher buying can be made easier by choosing an Energy Star certified dishwasher that can help you save in electricity costs.

What To Look For In A Dishwasher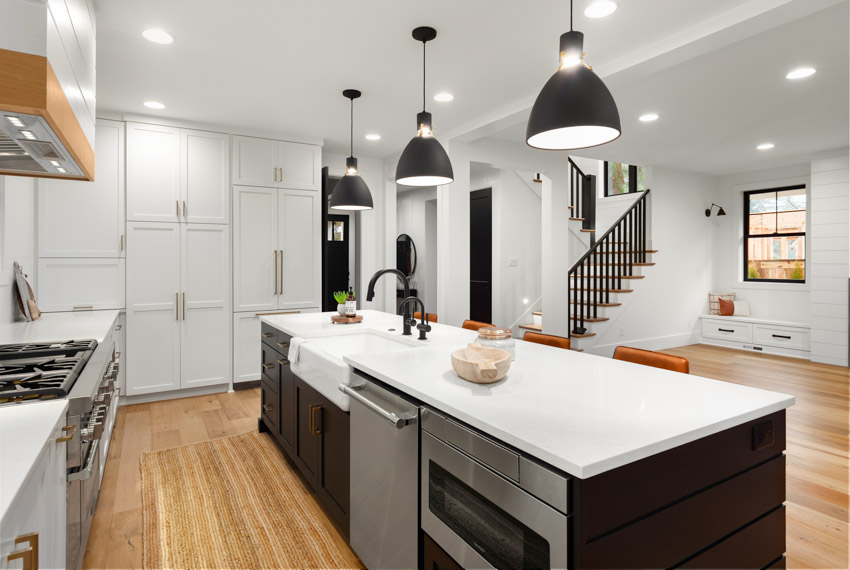 Choosing a dishwasher will mean that you will have to go through the different types of dishwashers one by one and take note of the following factors:
• Budget: Compact and countertop dishwashers are more affordable compared to built-in, drawer, and integrated dishwashers, which will require a special installation process and so are more expensive and come with installation costs.
• Capacity: Choose a dishwasher with a larger capacity if you have a large family, and go for a compact one if you're living alone. If you have a family of three or more than a compact model will generally feel very crowded.

• Cleaning and drying performance: There are dishwashers with features that offer better cleaning and drying options. One of these features is the heated drying system feature.
• Efficiency: Check for features that improve the efficiency of the cleaning and drying operations, including the timed start, smart functionality, and wash sensors.
• Noise: Choose a dishwasher with a low-volume operation if you have a baby at home and don't want the noise that comes with many loud dishwashers.
Look for products with a decibel rating below 45 which is almost silent. Models that range from 45 to 50 decibels will be more noticeable and sound like rainfall, or washing hands. 50 decibel models will sound similar to the sound output of a conversation.

Dishwasher Vs Hand Wash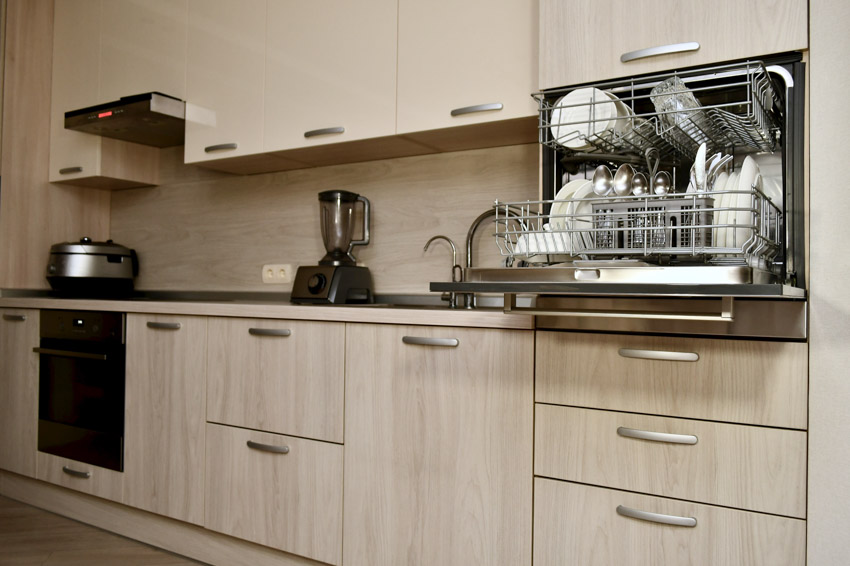 More than just the benefits of having a dishwasher, another thing that can convince you to get one is to compare hand washing the dishes to having them cleaned by a dishwasher. And when contrasting these two ways, here is a summary of their significant differences.
Factors
Handwashing
Dishwasher

Efficiency

Depends on the washer

Efficient enough

Convenience

Takes time and effort

More convenient (Can be left alone)

Capacity

Not limited

Limited by the capacity of the dishwasher bought

Space Requirement

Does not require cabinet or
countertop space for cleaning,
but may need a drying rack


Needs a dedicated cabinet or countertop space for it

Cost

Free (except for dishwashing liquid)

Depends on the dishwasher you choose to purchase
Dishwasher Cost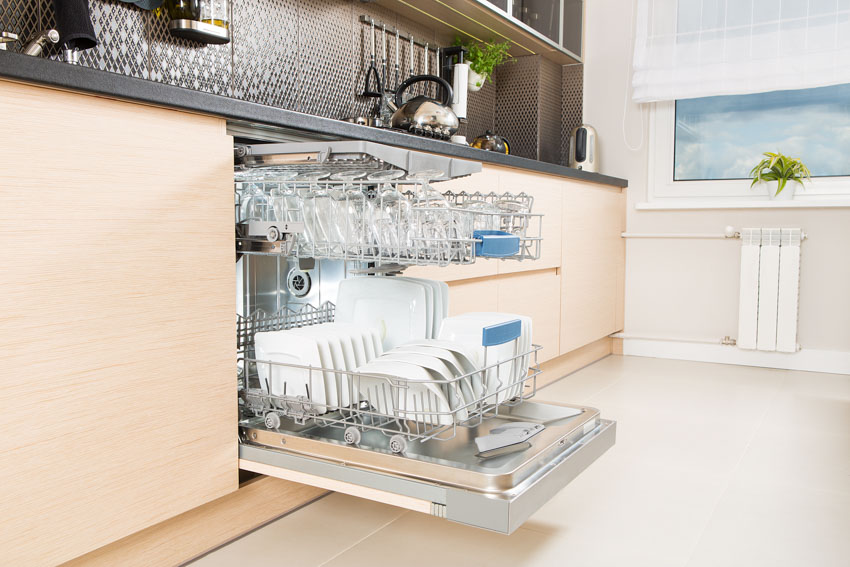 Before you go out and buy your own dishwasher or even if you're just planning to replace the one you have, it's important to consider the budget you have and prepare for the cost of this piece of appliance.
The average price you need to prepare ranges from $200 to $1,500, which depends on the type, brand, size, and features of the dishwasher.
To give you a clearer idea, here are the different costs of dishwashers based on their types.
| | |
| --- | --- |
| Type of Dishwasher | Prices |
| Built-in dishwashers | $500 to $2,500 |
| Portable dishwashers | $250 to $1,700 |
| Drawer dishwashers | $500 to $1,400 |
| Countertop dishwashers | $350 to $700 |
| Integrated dishwashers | |
| Fully integrated dishwashers | $400 to $2,500 |
| Semi-integrated dishwashers | $500 to $2,700 |
Commercial dishwashers cost more than the standard ones but they can also accommodate more items for cleaning. The materials that the dishwashers are made of can also affect their prices.
It's wise to take a look at the best performing dishwashers so you get a reliable brand model that will last for many years. Currently Bosch and Miele both rank high for dishwasher reliability according to Consumer Reports.
If you get a stainless steel dishwasher, expect to pay more compared to when you choose any metal dishwasher. The cleaning and drying power of the dishwasher may also come to play.
See more related content in our article about the different types of ovens on this page.